Find lunchbox ideas for work, simple picnic food ideas, and a professional lunchbox suggestion for to-go meals. You'll find simple lunch ideas for the whole family, plus the best lunch box for adults and kids.
If you pack lunches for yourself, or your kids, here are some great packable meal ideas! You'll love the versatility of my favorite to-go containers, plus these meals and containers are great for packing a picnic for a crowd too!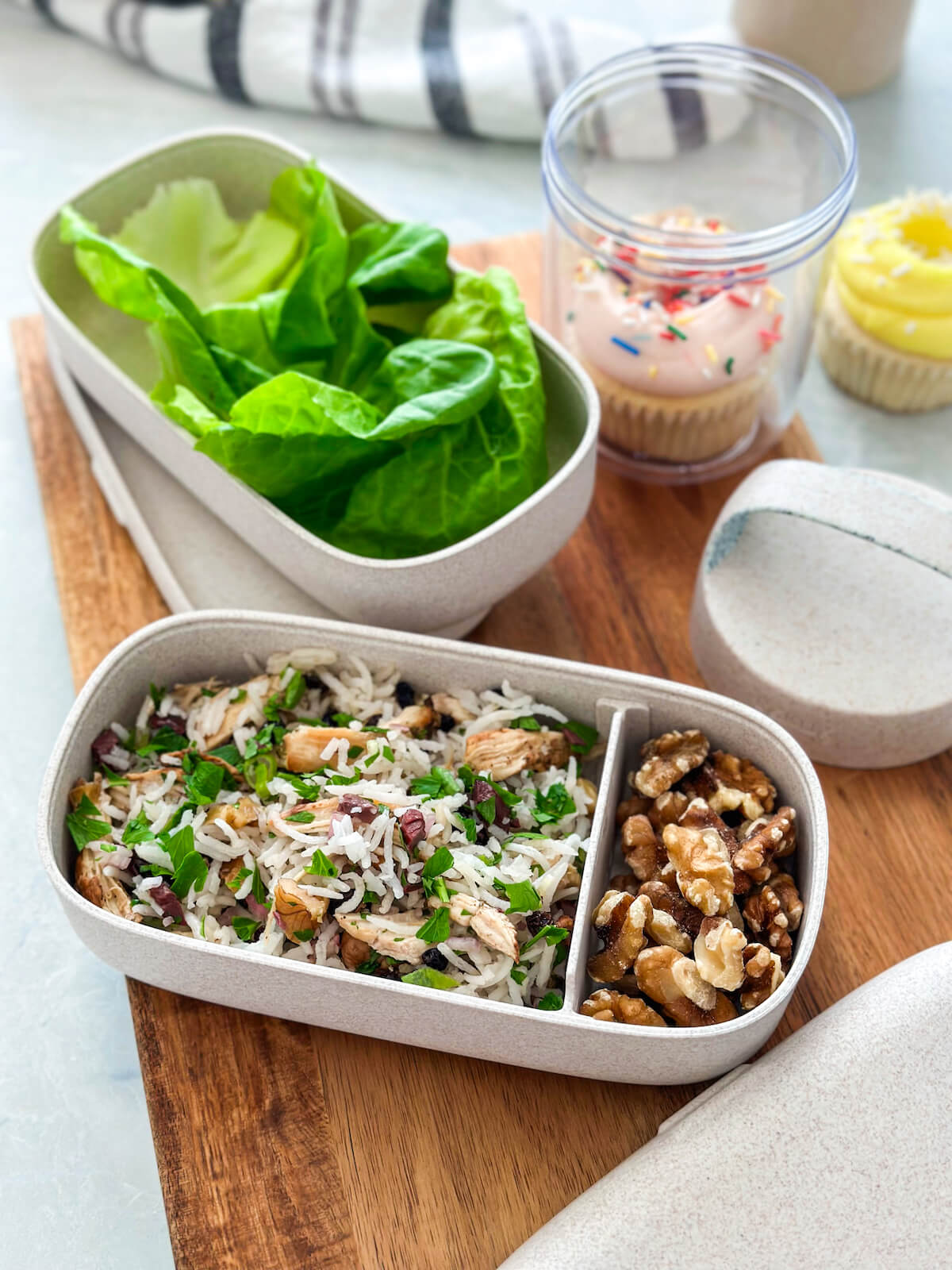 Jump to:
Finding recipes and meal ideas for packed lunches can be hard. And if you're in a rut I've got new menu plans for you! Add it to your meal planning worksheets!
I'm also sharing my favorite to-go containers that help you pack, organize, and enjoy those meals away from home.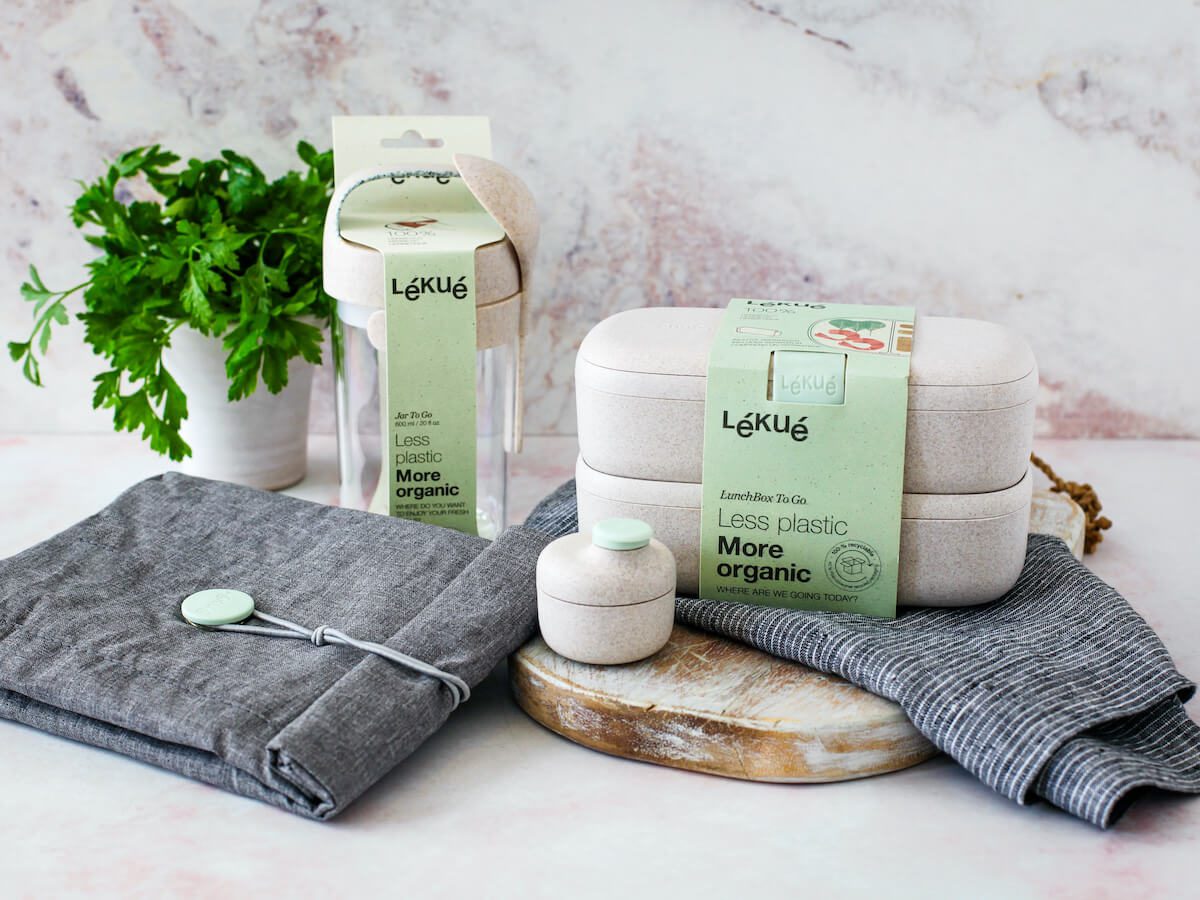 The right to-go containers are key
The challenge of every weekday is needing easy packed lunch ideas and containers too. Not just for adults and work, but for the kids.
You also need the right container for the packed lunch in case you take it to the beach, the park, an outdoor concert, or ski trip!
The Lekue Lunchbox To Go Organics have great features. Here are a few that make it the best lunch box system.
On-The-Go Feasting - Take your culinary delights wherever the day takes you! Kids lunches, the park, or work. You can even add your personal touch by customizing it with your name!
Lock In Freshness - These lunch boxes are the guardians of freshness! They're 100% airtight, ensuring your scrumptious creations stay as fresh as the moment they were made. No clips, no fasteners – just minimalist charm: A handy silicone band keeps them together, making transport a breeze.
Double The Deliciousness - The 2-pack includes not one, but two 17 ounce capacity containers – a dynamic duo ready to hold your to-go creations. You can also find pieces for your collection including the Jar To Go (in big and small), my favorite, the Sauce container, and Lunchbag To Go for keeping it all together.
Mix And Match Magic - With a built-in divider, these containers help you keep things separate, and diverse.
Nature's Touch (Eco-Friendly) - Embrace the organic blend of wood fiber (from logging waste) and recyclable polypropylene, these lunch boxes flaunt nature's goodness while being perfectly safe for your food. That makes for a sustainable duo.
Safe Heat - Feel the heat – safely! These containers are microwave warriors for up to 3 minutes, thanks to their top-notch materials.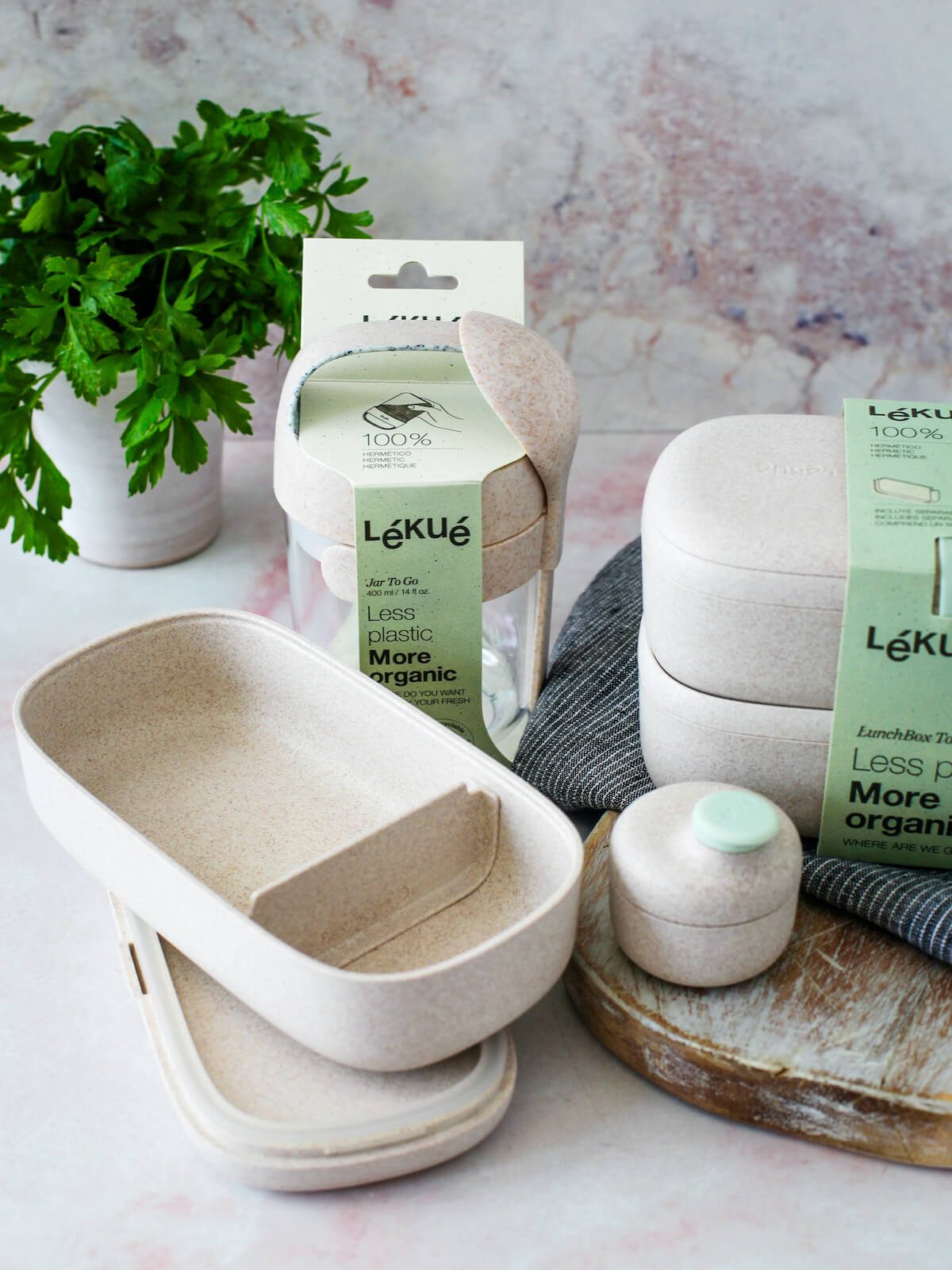 Simple lunch ideas
Here are some packed lunch ideas for those busy weekdays. Tasty enough for a professional lunchbox at work, and simple enough that kids will enjoy it as a school lunch.
Grilled chicken on top of Quinoa and Chickpeas is packed with protein to get you through the day.
Pair it with some veggie sticks and a packed container of soup. A silky Butternut Squash Soup can be eaten cold, or microwave-heated right in the Lekue Jar To Go.
To go lunch containers with separate compartments are key! Include soup toppings like nuts or croutons in the separate compartment, and extra dressing or dip in a little Sauce container.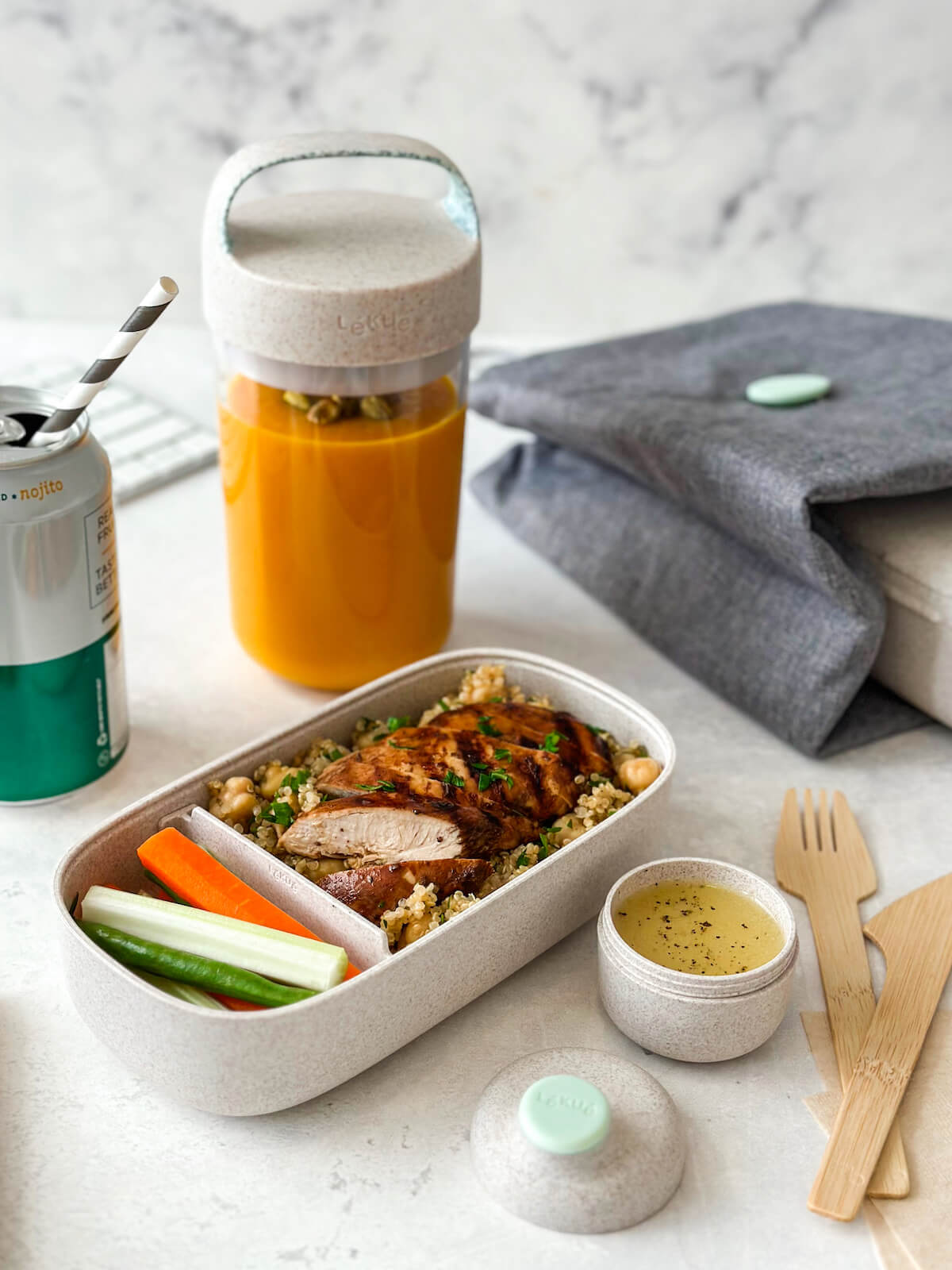 Recipes for lunchbox containers with dividers
The best lunchbox has separate containers and compartments to hold a variety of food. The dividers do wonders for keeping toppings crunchy, salad crisp, and flavors delicious.
A Chicken and Rice Lettuce Wrap is a perfect packable lunch. Kids love making their own bites, and it's a healthy and satisfying work lunch for adults.
The lettuce goes in one compartment, chicken and rice in another, and use a divider or separate container for extra crunchy toppings or sauces.
A classic Vanilla Cupcake makes for a special treat, and can be packed in a liquid container! Just nestle a cupcake into the small Lekue Jar To Go and you can transport your baked dessert anywhere.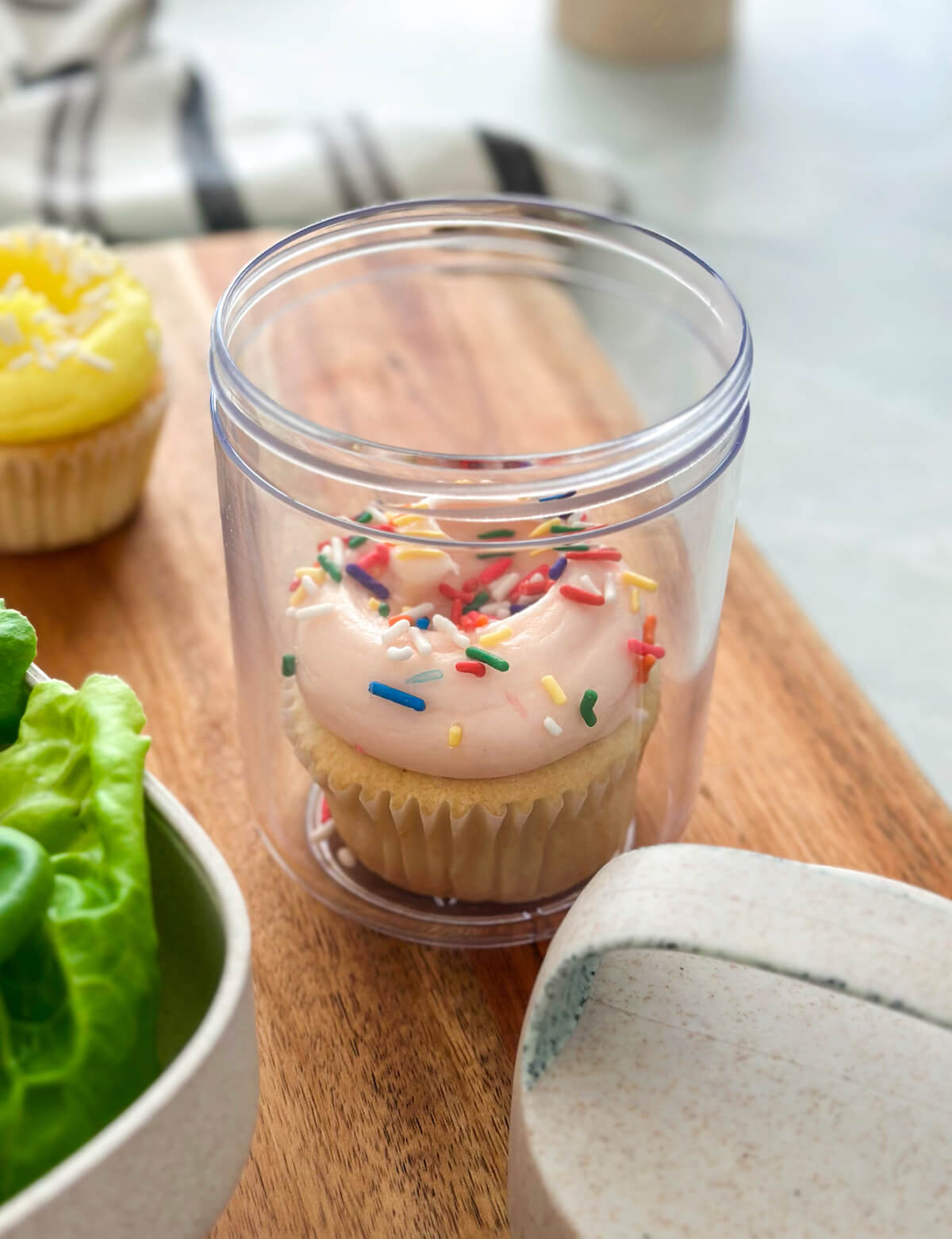 Simple picnic food ideas to go
Whether taking a family meal to the park, going on a hike, or simply just packing a work lunch, you'll want something with great flavor, and a recipe that can be enjoyed without reheating.
Pack a Pistachio Pesto Pasta with Zucchini in your to-go containers to share with your crowd. It's loaded with veggies, and stays fresh.
You can pack multiple servings, or just a single serving for yourself. Include extra water in an organic Lekue Bottle To Go, some fruit, and a sparkling drink in a recyclable can.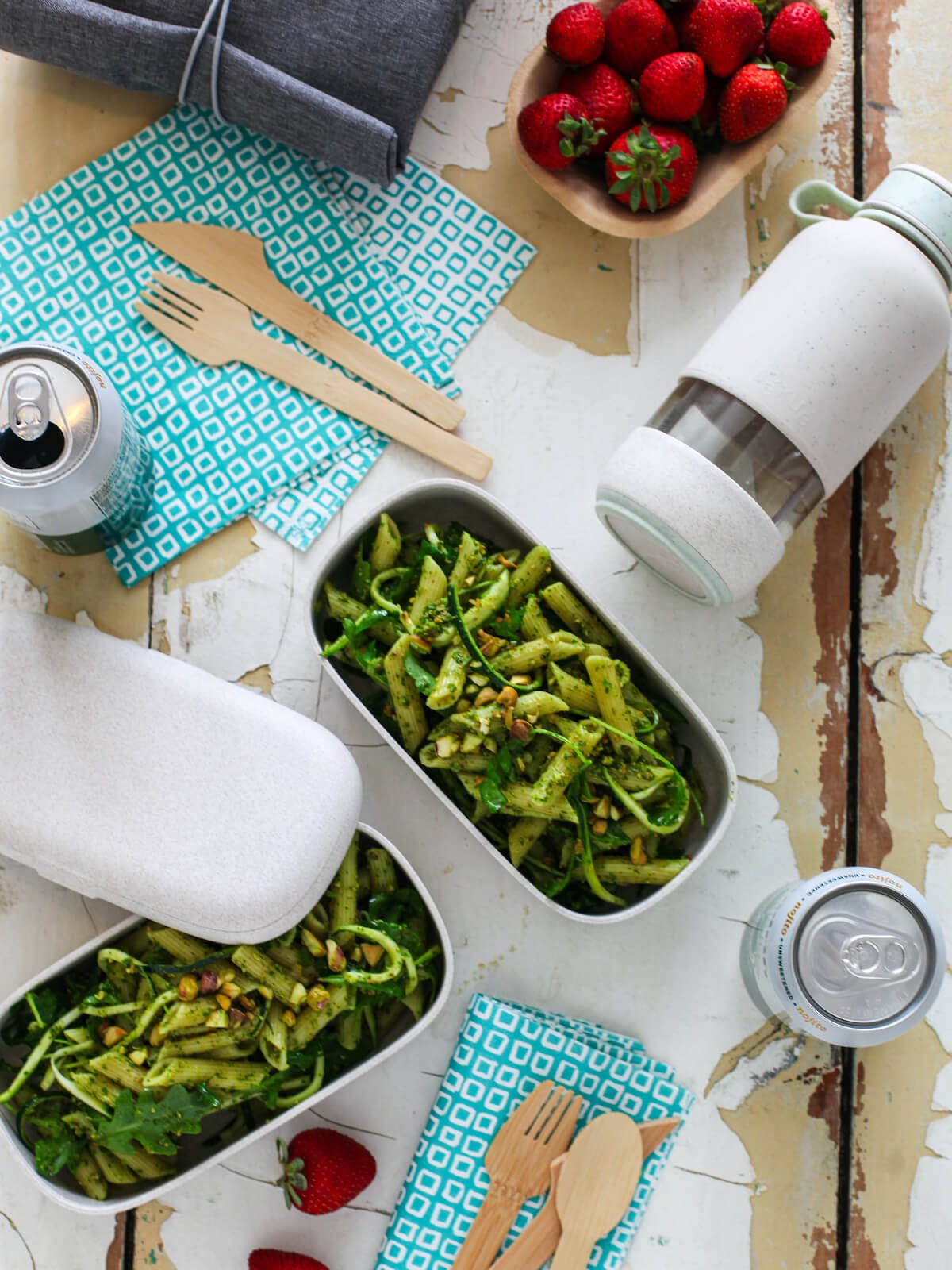 Pack any meal to go
Some days are busier than others, and if you've got to eat your first meal on the go, there's a way to pack your favorite breakfast if you've got the right container.
A soup carafe, or jar to go with separate containers makes the perfect parfait vessel.
With a little make-ahead, homemade pistachio butter, this Yogurt Breakfast Bowl recipe makes a delightful layered breakfast parfait.
You can also pack Cracked Wheat hot cereal, French Toast Bites and dip, or a savory and sweet Crunchy Bacon Granola with tangy yogurt in a small breakfast container.
Include extra toppings, yogurt, or fruit in the divider container of your favorite jar to go. Enjoy the meal at work, running errands, or after yoga meet-up!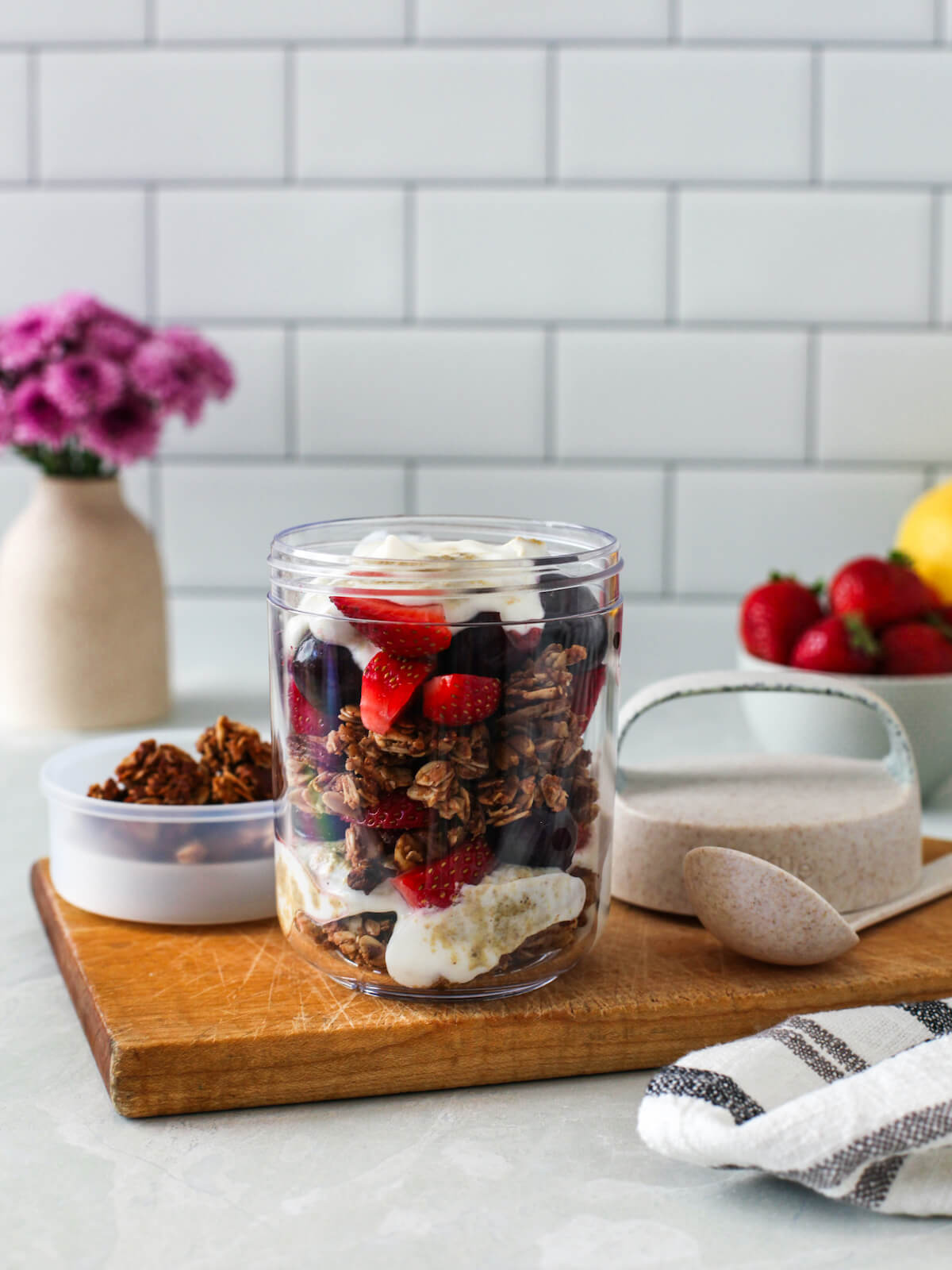 More recipes for packed lunch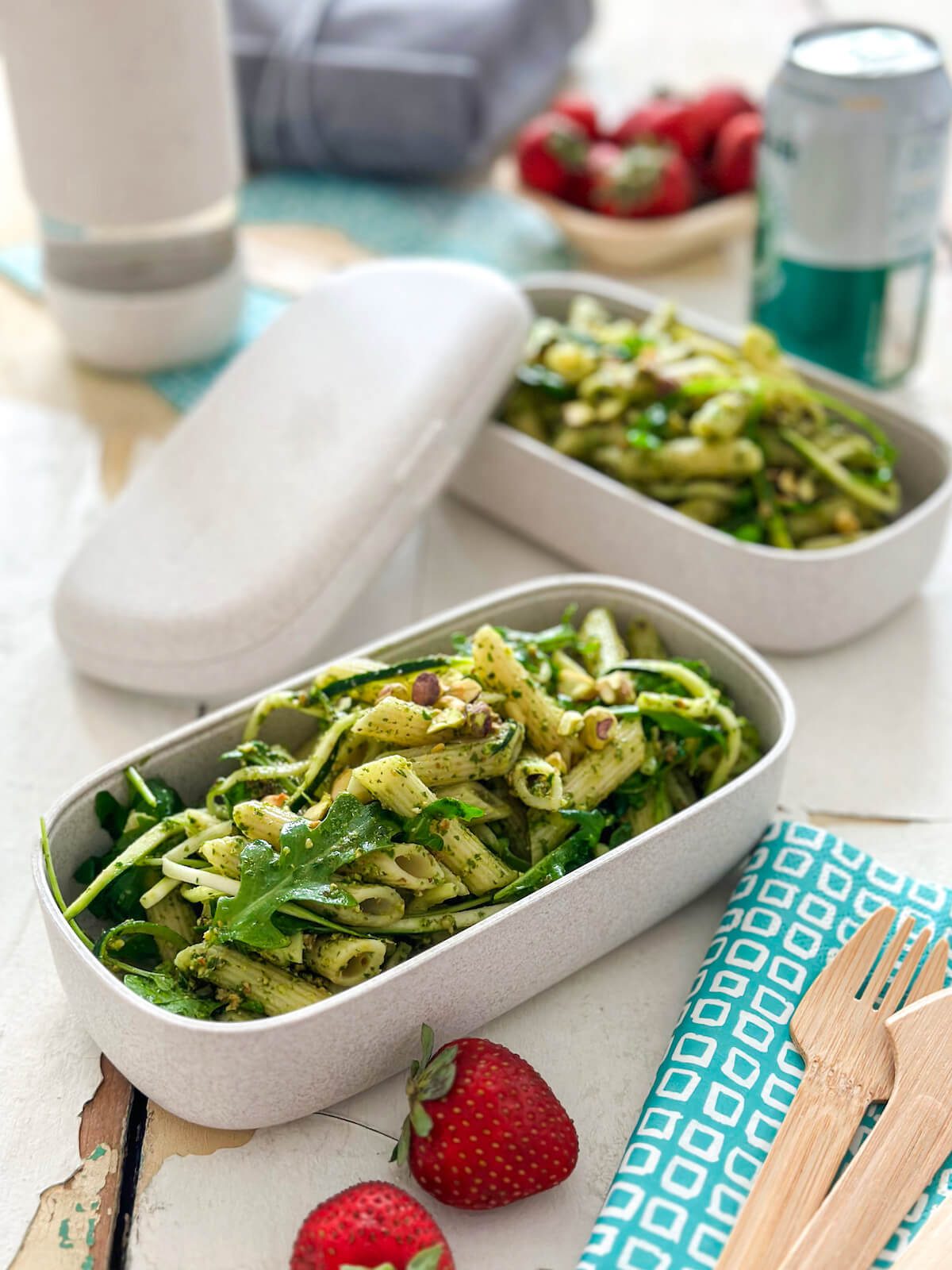 Ways to save food and leftovers
Planning ahead, meal prep, and menu planning are such time-savers. When you need a quick meal, to-go lunch, or just need to preserve dinner leftovers for another meal you can choose the best ways to save food.
Begin with a handy Meal Planning Starter Kit to make grocery shopping easier, then use airtight, silicone containers to preserve your food and leftovers for those busy nights.
Delicious sandwich recipes for every day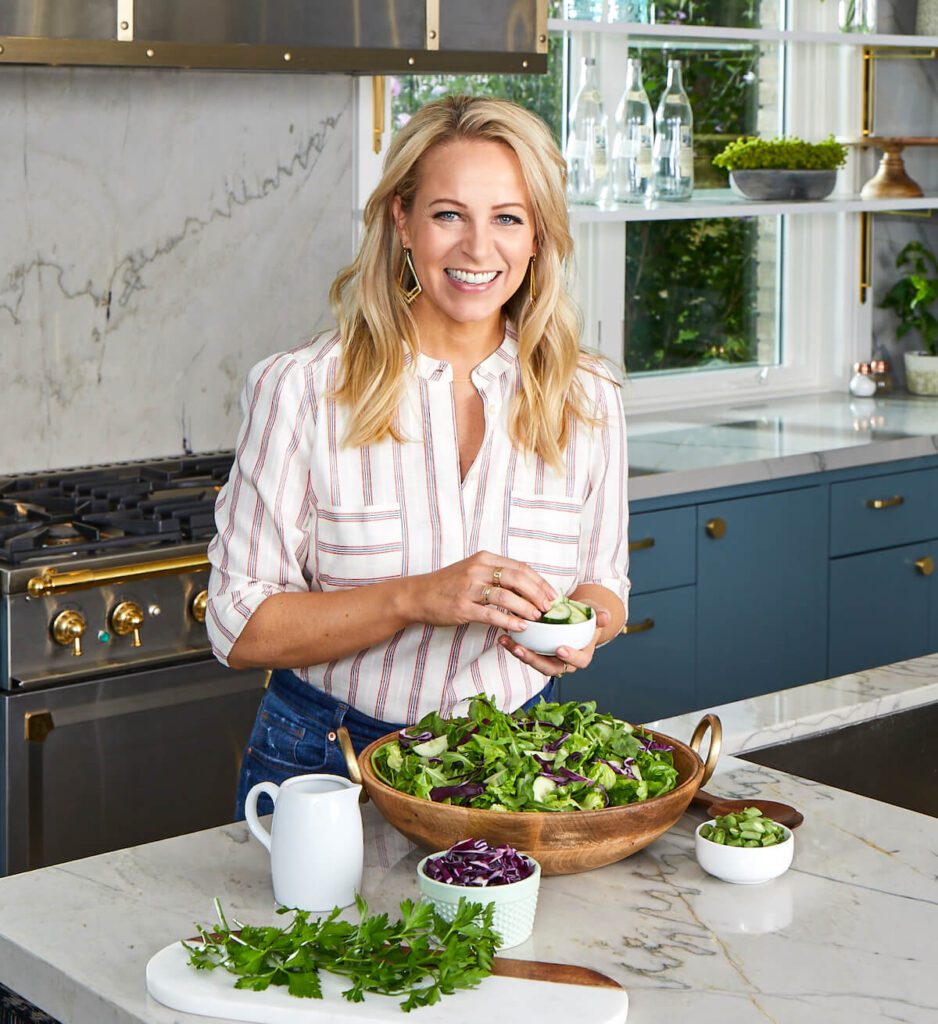 About Tara Teaspoon
I've been in the food publishing business for over 20 years, creating recipes & food-styling for magazines, books, television & advertising. Order my new cookbook & stick around for amazing things to eat.