---
Make a breakfast yogurt parfait in a bowl or a glass. This one is loaded with a homemade pistachio butter, strawberries and cherries.
---
Fresh strawberries and cherries top this yogurt bowl, and a homemade pistachio butter swirl makes it deliciously special. Make a beautiful parfait for brunch too.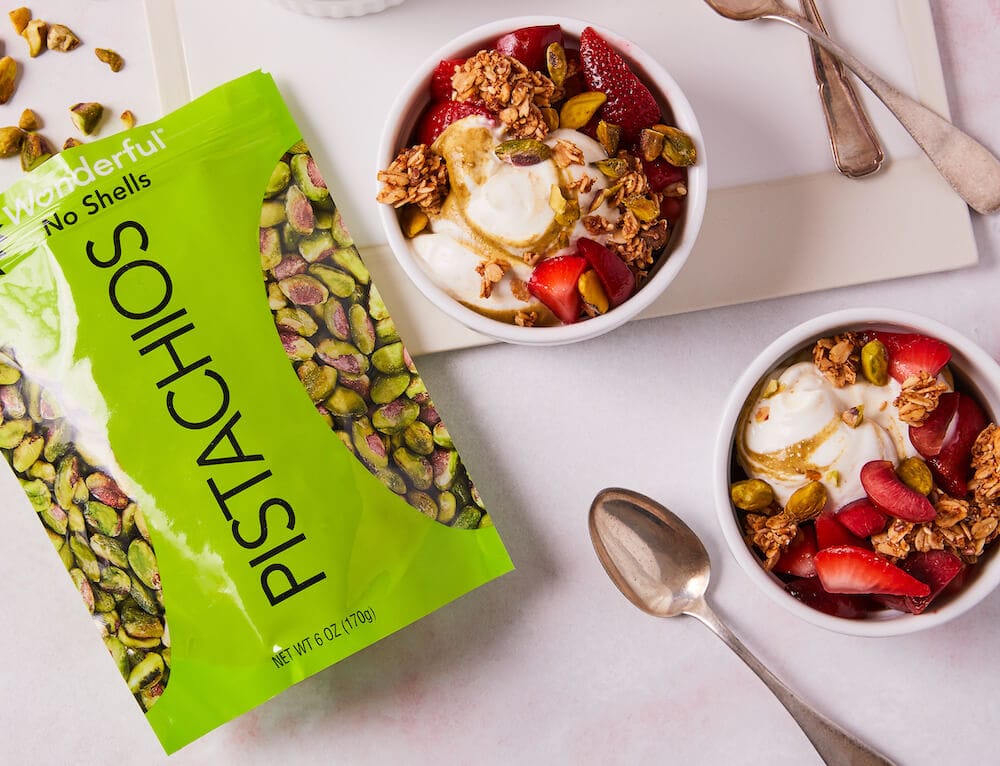 This post contains sponsored content. See my disclosure statement for information.
Yogurt Breakfast Bowl Recipe
It's amazingly easy to make a quick pistachio butter for this yogurt breakfast bowl. I swirled the nut butter into my yogurt to take my morning to the next level.
Pistachio butter? Yes, I used Wonderful Pistachios No Shells right out of the bag and blended them into a tasty, nut butter. See more about how easy this is below!
I love cooking with pistachios. On the site you'll find my other recipes like Pistachio Pesto Pasta, Cookie Bars with Pistachios and Cherries, and Sweet Chili Pistachio Grilled Chicken.
Yogurt Bowls and Breakfast Parfaits:
There are a lot of yogurt breakfast bowl recipes out there. This one is extra special because there is a swirl of pistachio nut butter.
Eating yogurt, granola and fruit in the morning is a must for a lot of people. Many of these breakfast yogurt parfait combos are gorgeously layered in glasses. Breakfast parfaits are perfect to serve for a brunch, shower, or other event.
A Breakfast yogurt parfait looks so pretty, but does take a little more time to assemble than a yogurt bowl.
When I'm grabbing breakfast just for myself or family, I stick to a simple yogurt bowl recipe. Same ingredients, easier assembly, and just as delicious.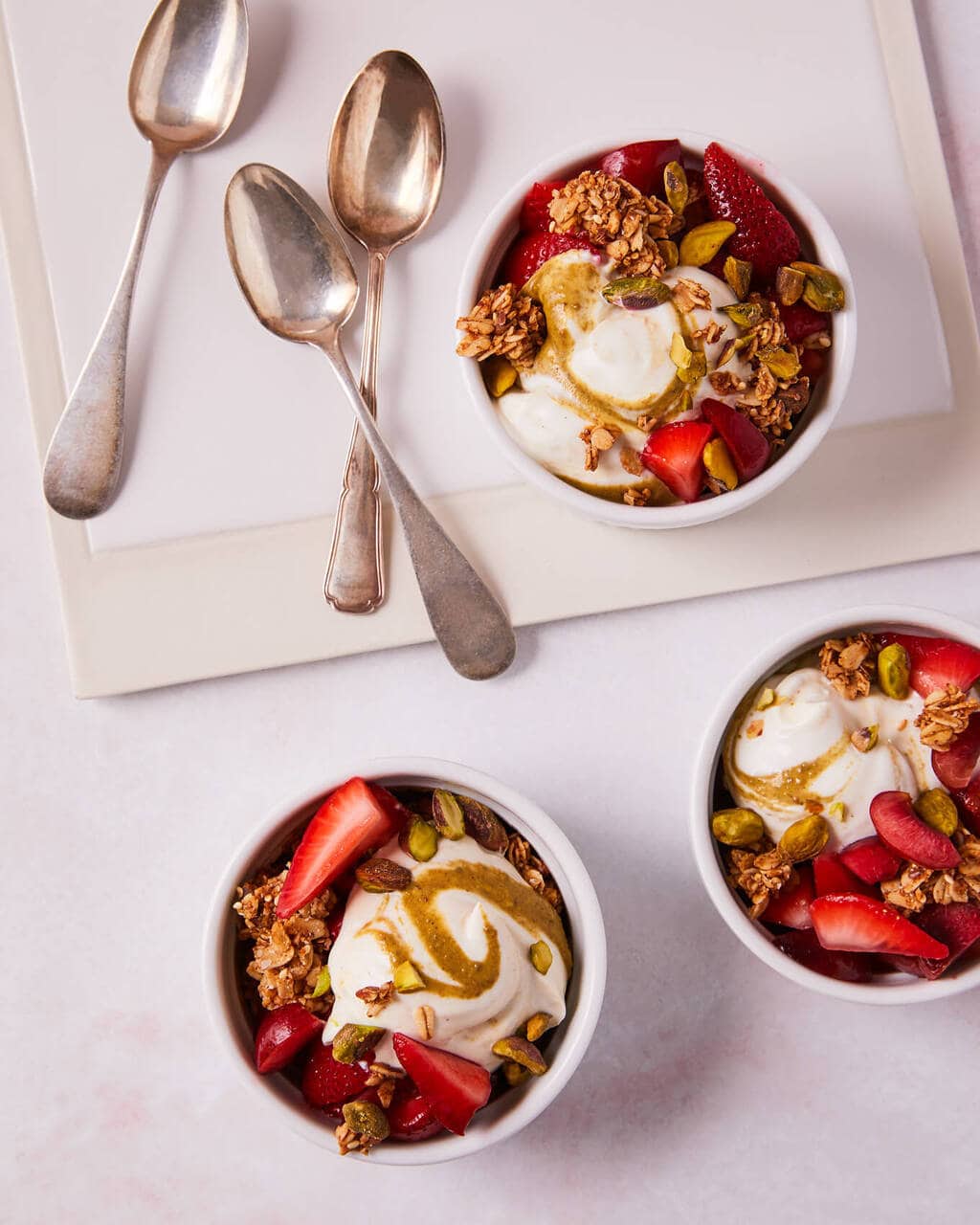 I truly can't stop eating this fresh morning combo. With summer strawberries and cherries in every bite, and swirls of pistachio butter, this granola and yogurt bowl is perfection.
How to cook with pistachios:
Pistachios are sweet and nutty and of course a glorious green color. The task of shelling each one to get to the green deliciousness might put you over the edge if you need to shell a cup of these for a recipe!
I use Wonderful Pistachios No Shells. They have the same rich taste and crunchy texture of pistachios, minus the shells of course.
No Shells are available in their eye-catching green packaging in Roasted & Salted as well as Lightly Salted. Both work in this recipe.
How to make pistachio butter:
I make about a cup of slightly sweet pistachio butter in the food processor. You can use a powerful blender as well, I just find a food processor easy for nut butters.
Pistachio butter ingredients:
These simple ingredients make a tasty, slightly sweet pistachio butter. I blended the mixture for several minutes until a smooth mixture forms.
1 cup pistachios
7 tablespoons water
1 tablespoon agave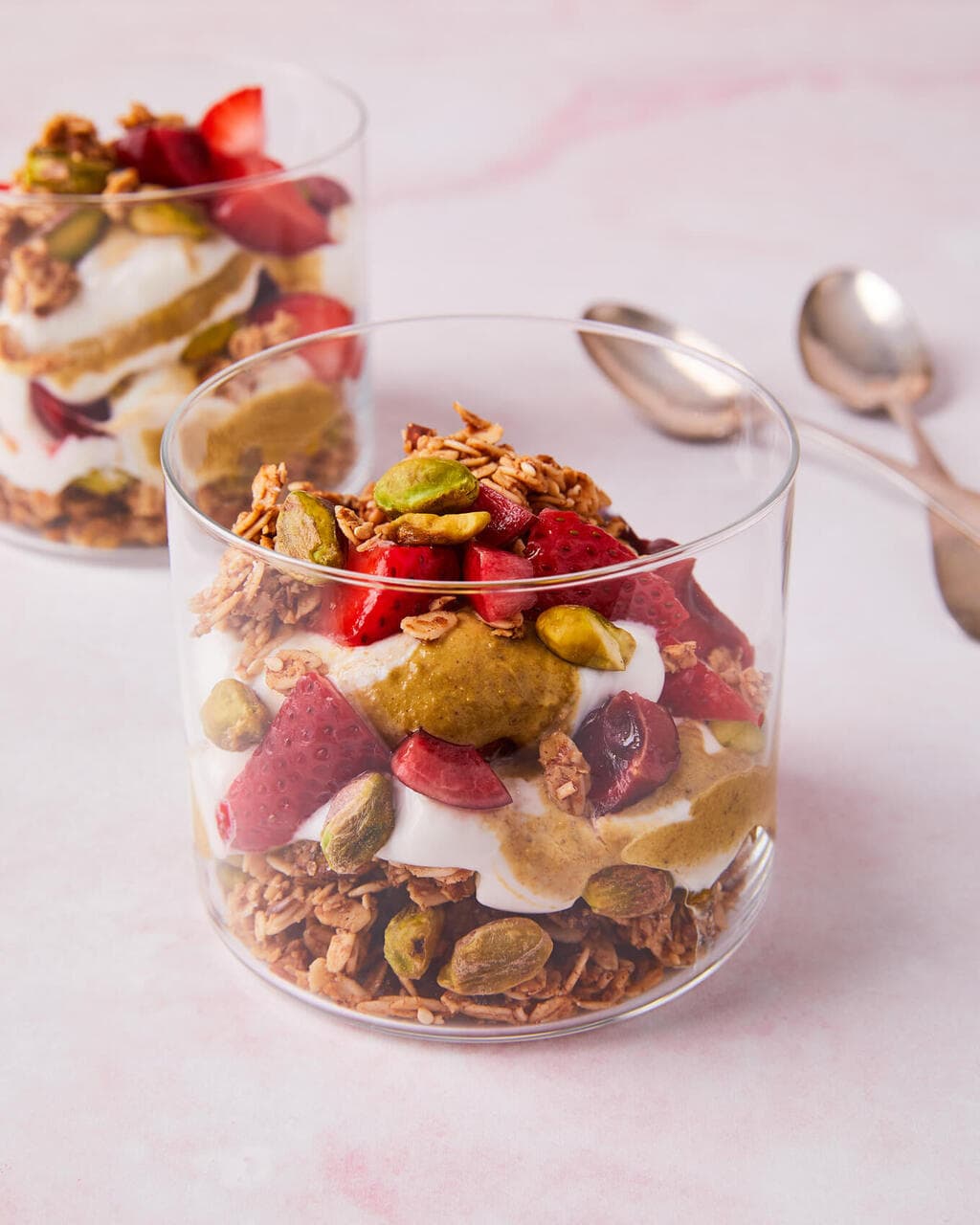 A healthy yogurt breakfast bowl recipe:
Smooth pistachio butter gets swirled into plain or vanilla yogurt to start your yogurt bowl or parfait.
I used a tablespoon or two in each bowl with 1 cup of yogurt.
You can even layer the pistachio butter in a parfait instead of swirling it.
The pistachio butter adds a sweet and nutty flavor to the yogurt and is perfect with summer fruit and granola.
Fruit for yogurt bowls:
I used strawberries and pitted cherries in my pistachio yogurt bowls. The combo is colorful, sweet and perfect.
You can use any fruit combo you'd like! Try this with citrus segments, melon, pomegranate arils, and other berries.
Granola for yogurt bowls:
I make my own granola with oats, seeds, pistachios and sometimes coconut. You can use your own favorite granola, homemade or from the store.
If you make yogurt parfaits ahead of time for a party, the granola gets soft as it sits. It's quite delicious!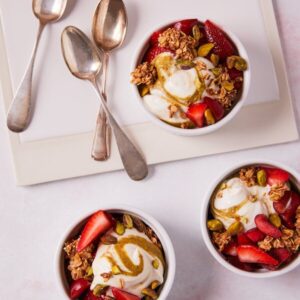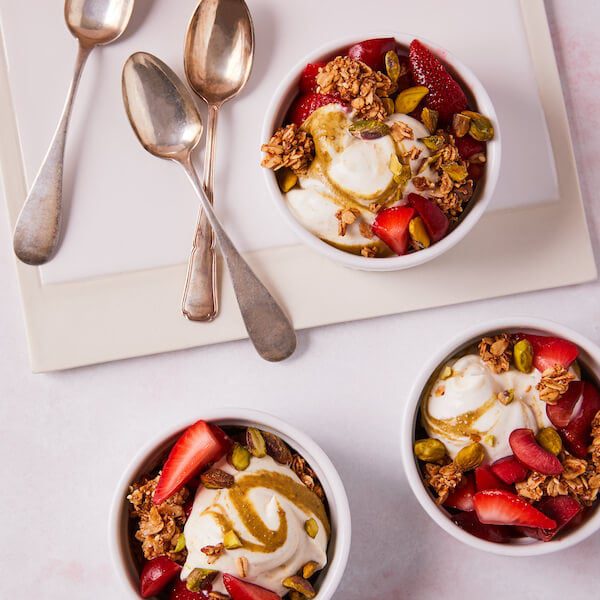 Cherry And Pistachio Yogurt Breakfast Bowl Recipe
Fresh Strawberries and cherries top this yogurt bowl, and a homemade pistachio butter swirl makes it deliciously special. Make a beautiful parfait for brunch too.
Ingredients
1 ½

cups

sweet cherries

pitted and cut

1 ½

cups

strawberries

cut into pieces

2

tablespoon

agave or honey

1

cup

Wonderful Pistachios No Shells

plus more for garnish

4

cups

plain or vanilla yogurt

1 ½

cups

granola
Instructions
Stir together the cherries, strawberries, 1 tablespoon water and 1 tablespoon agave. Set aside, stirring occasionally for 10 to 15 minutes.

In a food processor combine pistachios, 7 tablespoons water and 1 tablespoon agave. Blend, scraping sides down a few times, until mixture is smooth, and turns into a nut butter.

Swirl pistachio butter into the yogurt as you dollop it into each of 4 bowls. Top with granola, fruit and extra pistachios. You can also layer the pistachio butter, yogurt, granola and fruit into a parfait in a glass.
Notes
• You can make 2 times the pistachio butter by doubling the nuts and water and adding 2 tablespoons of agave. This will keep, covered and refrigerated, for up to 6 weeks.
Nutrition
Calories:
618
kcal
Carbohydrates:
71
g
Protein:
21
g
Fat:
30
g
Saturated Fat:
8
g
Cholesterol:
32
mg
Sodium:
129
mg
Potassium:
1070
mg
Fiber:
8
g
Sugar:
40
g
Vitamin A:
405
IU
Vitamin C:
38.3
mg
Calcium:
383
mg
Iron:
3.7
mg
Day-Starters: Breakfast & Brunch Recipes
What to make for breakfast?
More healthy, yogurt-y recipes that are great for a quick morning.
Blueberry Ginger-Sizzle Smoothie
Protein Booster Almond and Banana Smoothie
Halos Mandarins Frozen Smoothie Pops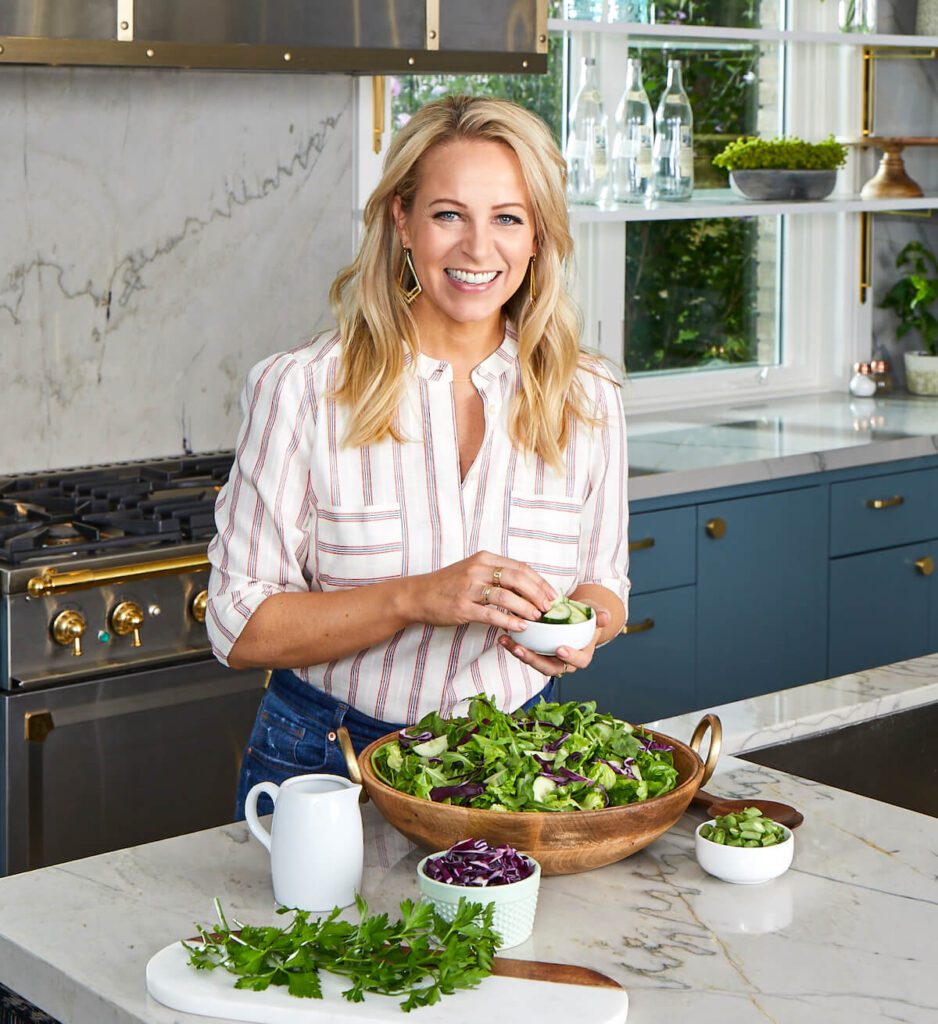 About Tara Teaspoon
I've been in the food publishing business for over 20 years, creating recipes & food-styling for magazines, books, television & advertising. Order my new cookbook & stick around for amazing things to eat.
Recipe and food styling by Tara Teaspoon. Props: Veronica Olson. Photography: Ty Mecham. Also written by Susan Vajaranant.