Crunchy Bacon Granola puts bacon where it should be, in everything! This slightly sweet, nutty granola is your new brunch go-to.
I eat granola for breakfast. I eat bacon at breakfast. I figure why not combine the two! You're probably wondering though, what do you eat bacon granola with? Well it's really quite simple: It goes with just about everything.
If you're not eating it right out of hand as a fantastic snack, your imagination is your guide.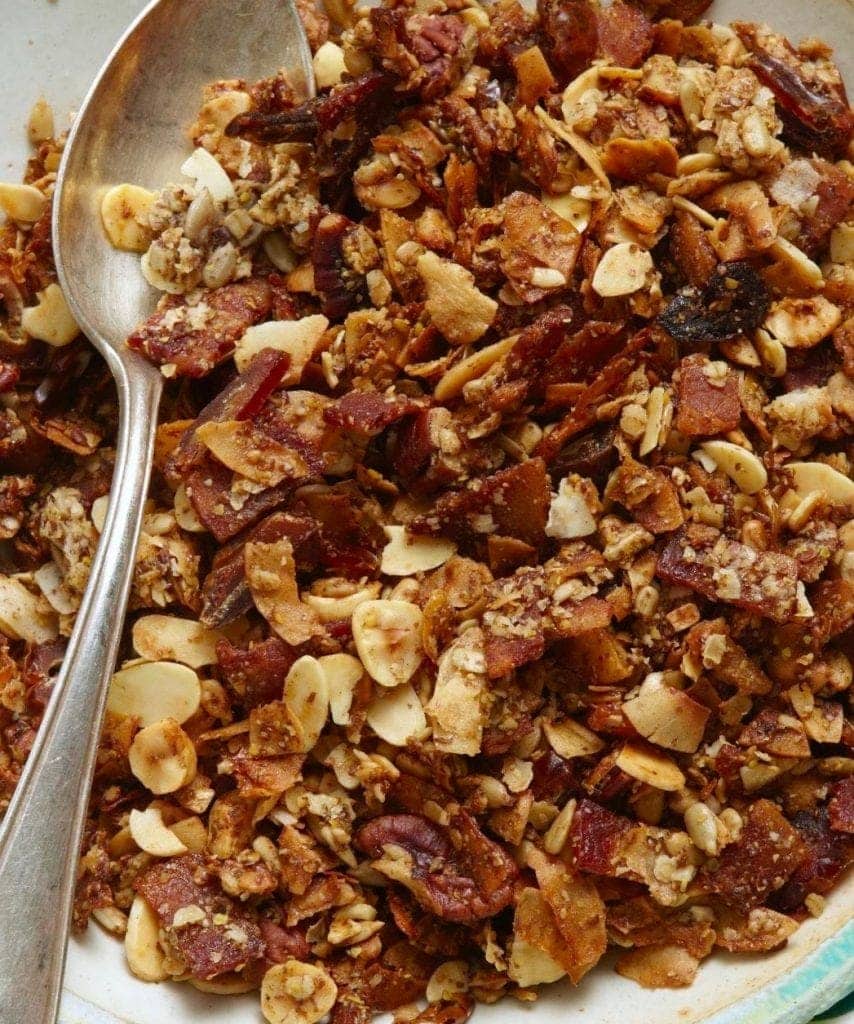 I like it with plain tangy yogurt. The sweet maple comes in to play here, but the simple yogurt flavor works well with the more savory taste of bacon. I also love it sprinkled on top of hot cereal. It is to die for over cream of wheat, with just a little extra drizzle of maple. MMM!
And one of my favorite ways to eat it is over grits. Cheesy or not! Again you get that sweet and savory situation going on that is quite delicious.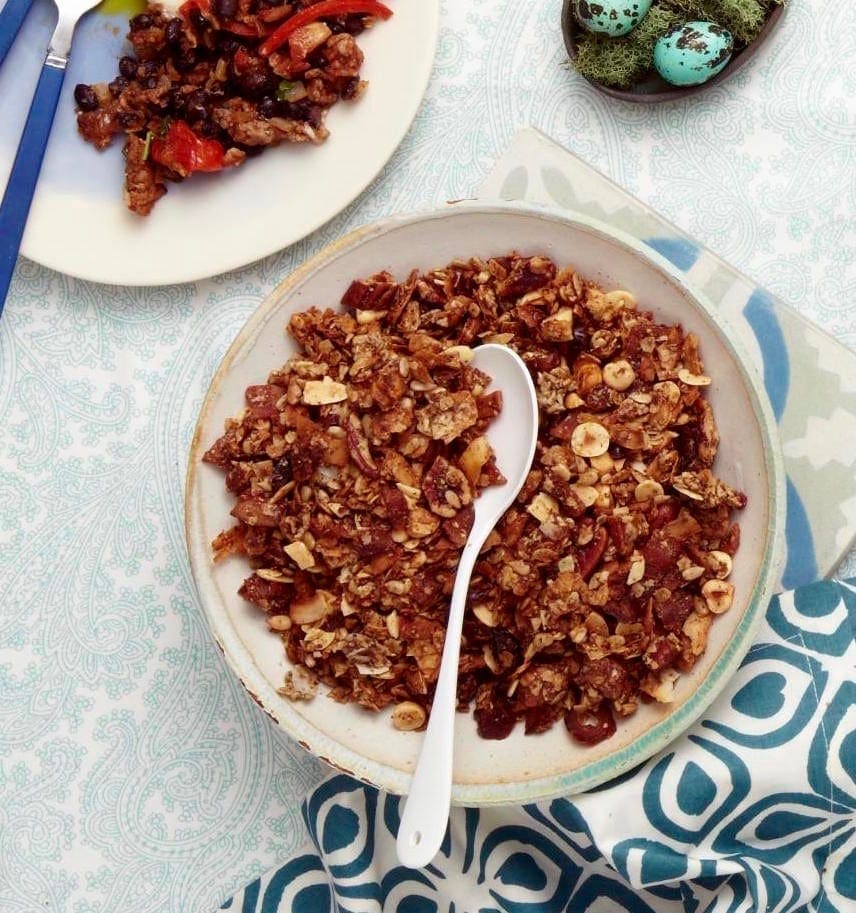 It's a very simple granola recipe. Most granola starts with plenty of rolled oats as a base, but I bulked this recipe up with coconut chips and nuts. I only used 1 cup of rolled oats because I wanted this granola to be a great topper for hot cereal. It is! Pure maple syrup and coconut oil give the mixture a sweet flavor and crispy texture. I cooked the bacon before roasting it with the rest of the granola. That extra bake in the oven crisps it perfectly.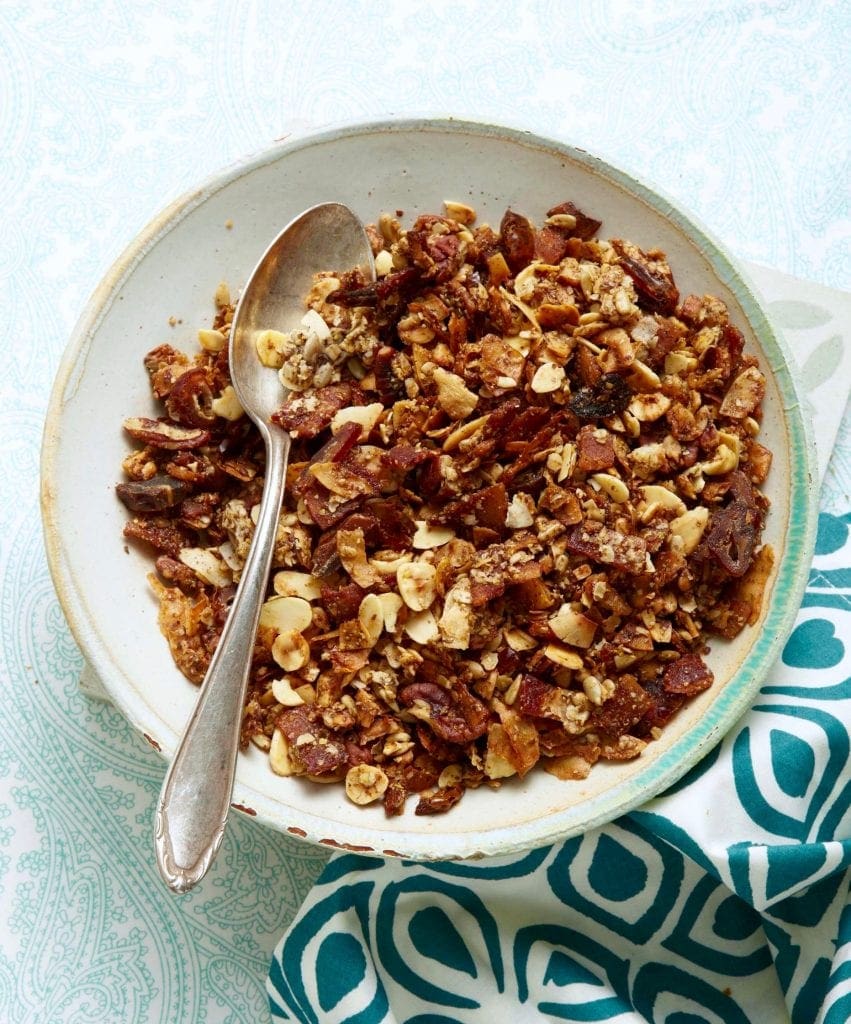 The granola can be stored at room temperature for a few days, but I suggest keeping it in the fridge just as a food safety precaution thing. Enjoy!
For other brunch buffet recipes, try my Easy Cinnamon Rolls and World's Best Bran Muffins.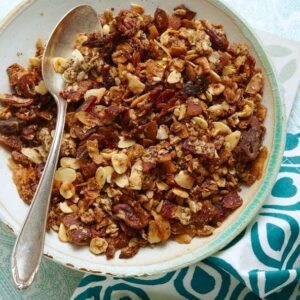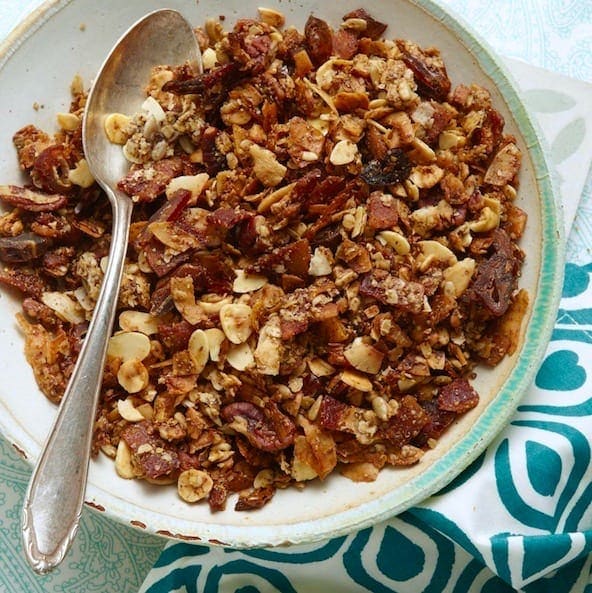 Crunchy Bacon Granola
Serve with tangy yogurt or sprinkle it on top of grits or hot cereal.
Ingredients
8

slices

thick-cut bacon

2

cups

unsweetened coconut chips

1/2

cup

ground flaxseed

1

cup

rolled oats

1

cup

sunflower seeds

1/2

cup

pecans

chopped

1/2

cup

hazelnuts

chopped

1/2

cup

sliced almonds

1/3

cup

coconut or canola oil

1/3

cup

maple syrup

1/2

teaspoon

cinnamon

1/4

teaspoon

kosher salt

1

large egg white

1/2

cup

pitted dates

sliced
Instructions
Heat oven to 325ºF. Cook bacon until done, but not crisp and chop into small pieces.

In a large bowl mix the bacon, coconut chips, flaxseed, oats, sunflower seeds and nuts.

In a small saucepan heat the oil, syrup, cinnamon and salt. Pour over the nut mixture and combine. Mix in the egg white and spread granola on a baking sheet. Bake for 20 to 25 min, then let cool 20 min. Stir in dates. Store in an airtight container, int refrigerator, for up to 5 days.
Recipe by Tara Bench
Photos Peter Ardito
Food Styling Paul Grimes
Prop Styling Penelope Bouklas
Originally published in Ladies' Home Journal April 2014