---
Sesame Ginger Beef Salad is jam-packed with fresh greens and Asian-inspired flavors. The marinaded flank steak adds a sophisticated protein to your meal.
---
I love adding a lean protein to my salad. For me it makes a complete meal. This Sesame Ginger Beef Salad mixes peppery greens like arugula, a light Asian dressing and rich flank steak to leave your tastebuds and your stomach satisfied.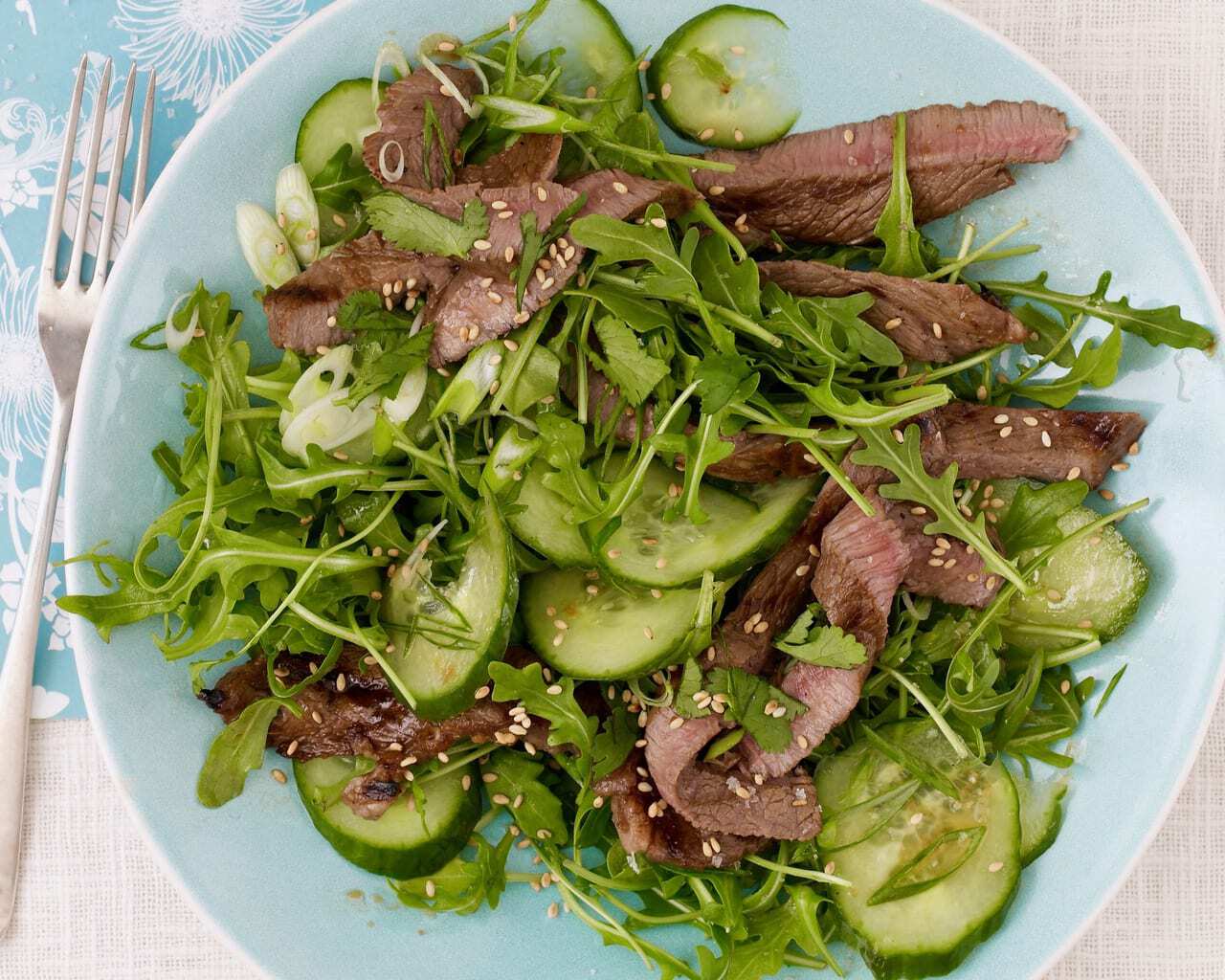 Meals I can make in under 45 minutes are my jam, and that is one reason this Sesame Ginger Beef Salad is my go-to. The recipe is simple to make and is great for lunch, but is also fancy enough to bring to your next dinner party.
I love the Asian flavors coming from the sesame, ginger and cilantro. If you're also a fan of these flavors, make sure to try my Asian Slaw with Sesame Ginger Dressing or my Veggie Spring Rolls.
Marinate your steak for up to an hour or overnight, depending on how much flavor you want in the meat.
Taw Salad:
Growing up one of our kid-duties in the kitchen was making a tossed salad. "Tossed Salad," as Mom called it, was always colorful and crunchy, using any veggies we could find in the fridge. Bonus, we'd get to use the mandolin slicer to waffle-cut the zucchini, julienne the carrots or slice the celery. All of this was tossed together with lettuce to make the salad. No joke, until my brother was a pre-teen he thought Mom was saying "Taw Salad." So that's what we call a big bowl of salad now!
Aside from throwing all of your vegetables in a bowl, all this recipe requires is marinading and grilling flank steak. The meat takes a total of 12 minutes to grill (use a grill pan inside!), six minutes on each side, and you're done! Depending on how much flavor you want the meat to absorb, you can let it marinate for just an hour or overnight.
Ingredients needed:
2 tablespoon grated ginger
⅓ cup brown sugar
Some crushed garlic
3 tablespoon soy sauce
¼ cup lime juice
¼ cup olive oil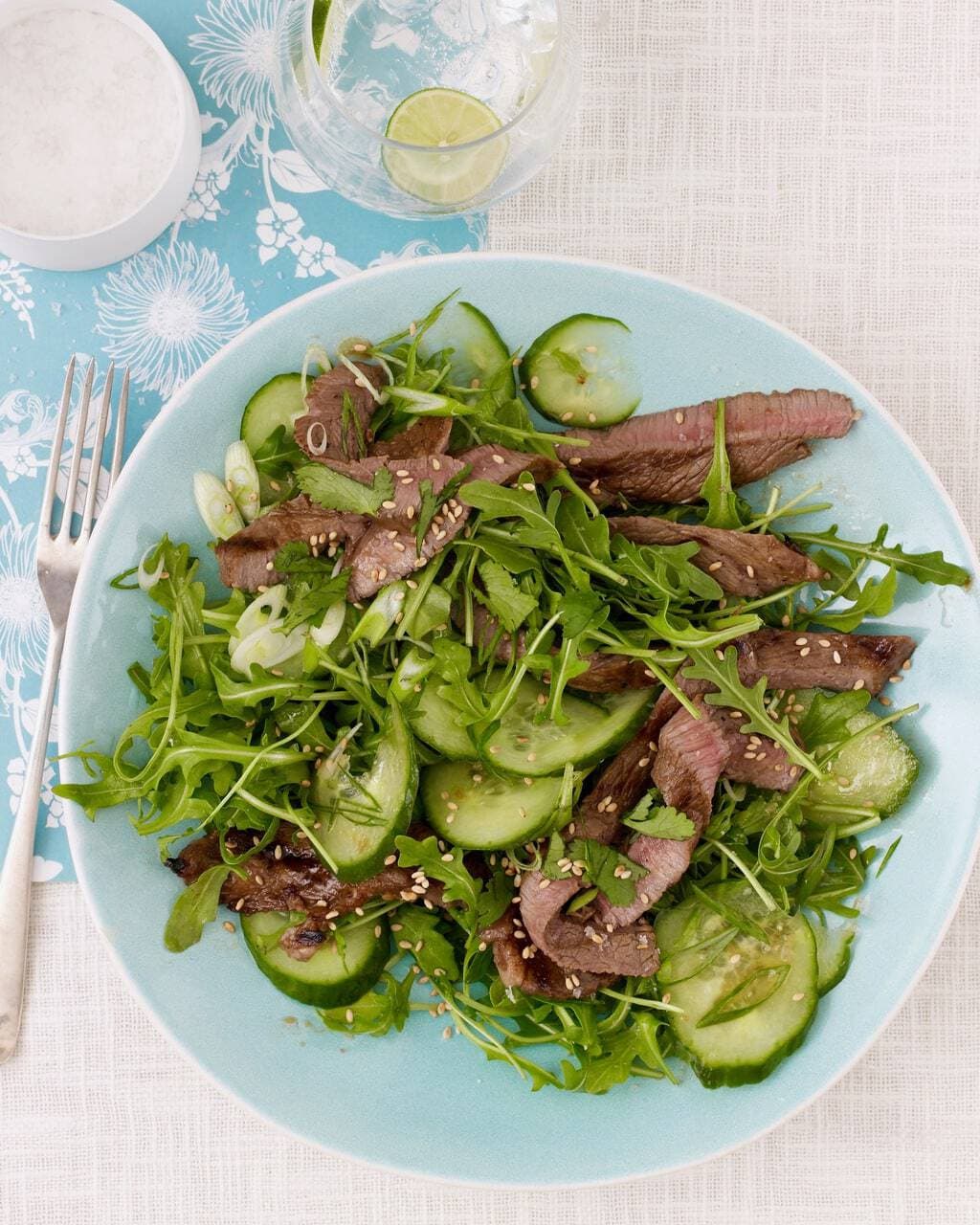 To cook your meat, you can either grill or broil it. Broiling can be more convenient, but grilling gives the meat an extra smoky flavor. Cook each side for about six minutes, or until meat is medium (about 145ºF). Before slicing the steak, I like to let it sit for about five minutes to let all of the juices settle.
Let your meat sit 5 to 10 minutes after cooking to keep it juicy.
Once your meat is good to go, slice it thinly and then serve on top of your salad with your favorite Asian dressing. I typically keep a store-bought dressing in the fridge, but I'll also make it from my Asian Slaw with Sesame Ginger Dressing recipe. It's one of my go-to Asian dressings and is tasty on so many different kinds of salads. I sprinkle extra toasted sesame seeds on the salad for a tasty touch.
Make sure to let me know how your Sesame Ginger Beef Salad turns out by leaving a comment below or tag @tarateaspoon on my instagram; I'd love to hear from you!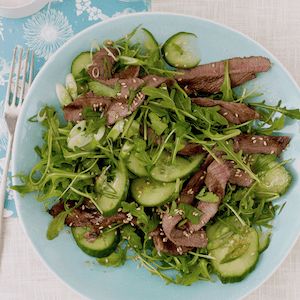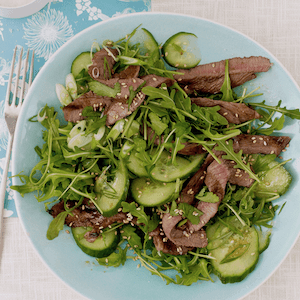 Asian Ginger Beef Salad
Asian seasoned beef in a tasty and fresh salad. Makes a great dinner.
Ingredients
Marinade
2

tablespoon

grated ginger

⅓

cup

brown sugar

Some

crushed garlic

3

tablespoon

soy sauce

¼

cup

lime juice

¼

cup

olive oil
Instructions
Marinate flank steak in marinade for 1 hour or up to overnight. Drain and discard marinade.

Make salad: In a large bowl mix together the greens, cucumber, scallions, sesame seeds and cilantro.

Grill or broil steak until cooked to medium, about 6 min per side. Slice meat and serve with a salad and dress with an Asian dressing.
Nutrition
Serving:
1
g
Calories:
369
kcal
Carbohydrates:
2
g
Protein:
37
g
Fat:
22
g
Saturated Fat:
5
g
Cholesterol:
102
mg
Sodium:
847
mg
Potassium:
626
mg
Vitamin C:
4.5
mg
Calcium:
38
mg
Iron:
3
mg
Main Dish Recipes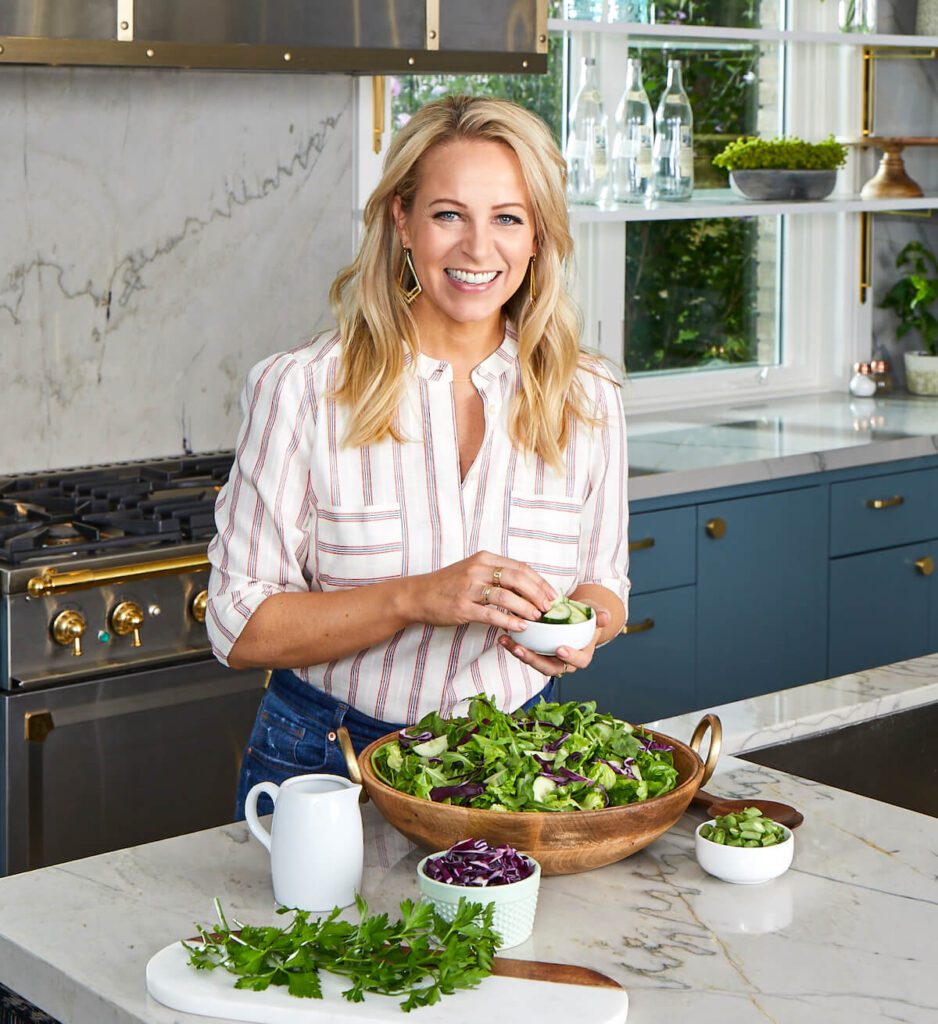 About Tara Teaspoon
I've been in the food publishing business for over 20 years, creating recipes & food-styling for magazines, books, television & advertising. Order my new cookbook & stick around for amazing things to eat.
Recipe Tara Bench, Photographs Hallie Burton. Originally published LHJ May 10