---
Mini Greek lamb burgers with yogurt sauce are packed with massive amounts of flavor. They are a great way to get make a fun dinner, or a party table hit.
---
Big kids (adults) and mini kids (actual children), will love these. They are the perfect size, almost like sliders, so they are fun to eat, but bonus...packed with awesome flavor.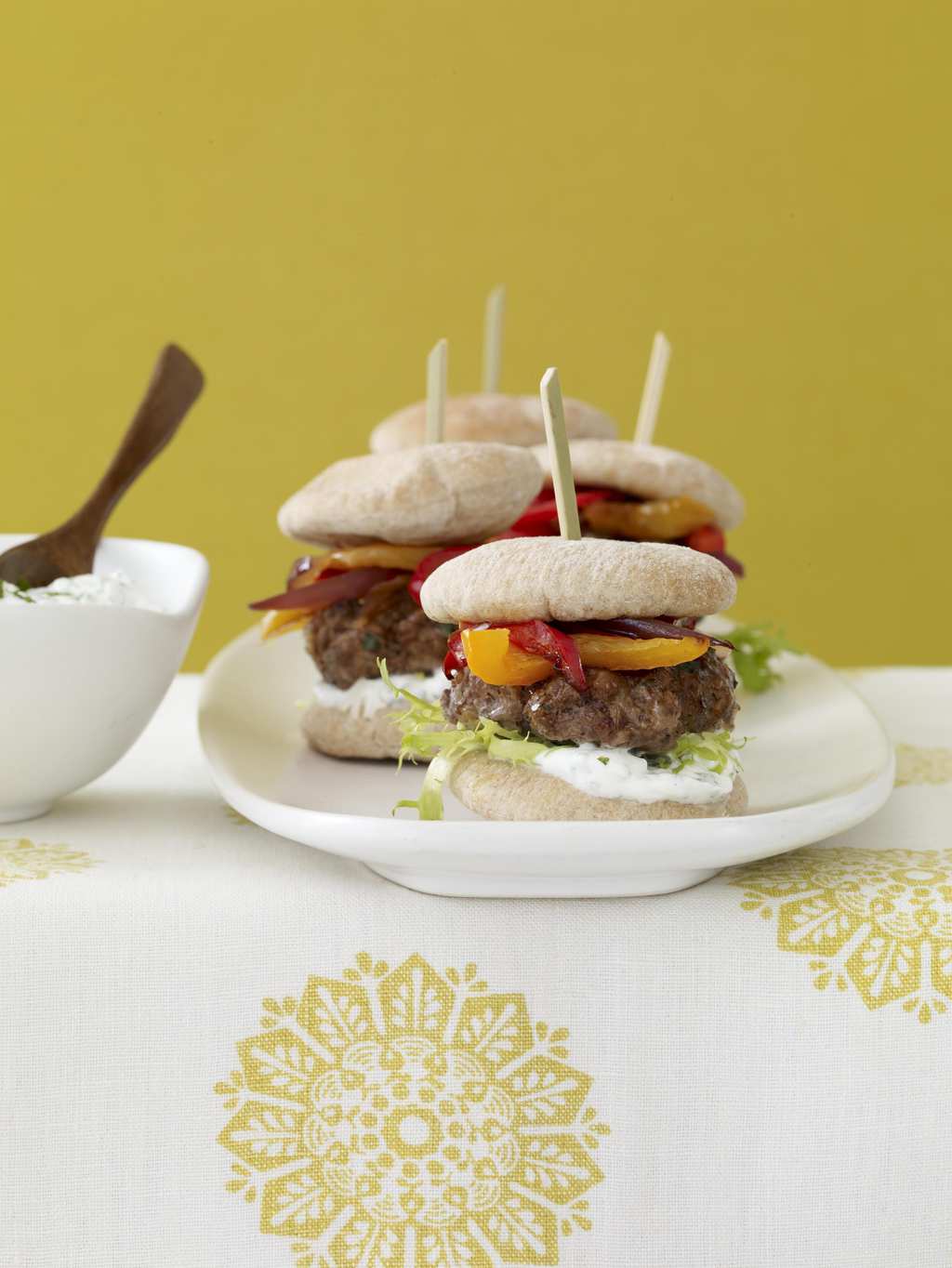 These Greek lamb burgers are a delicious mix of lean meat, garlic and spices. Super easy to mix up and grill. It's my mini slider version of Greece's favorite fast food, Souvlaki.
Souvlaki shows off the Greek's skill with charcoal-grilled and spit-roasted meats. It's typically a meal of meat kabobs wrapped in pita bread with a tomato and cucumber salad piled on top. You eat it with the most wonderful condiment tzatziki. Which happens to be one of the only condiments this picky eater (me!) likes!
What is tzatziki?
It's pretty much the main condiment in Greece! It's as common as ketchup is in the states, and actually tastes great on just as many things! Made from thick Greek yogurt, garlic, cucumber, salt, lemon juice and often dill or mint, it's used as a dip, side dish and sauce.
I left out the cucumber to make it super simple, and used mint because I like that flavor with this sandwich the best. But use dill if you love it!
The yogurt sauce for these Greek lamb burgers is a quick take on traditional tzatziki.
For the main attraction, the burgers, I made them small (I'm really into mini patties of meat!), because I love little pitas, so much. I wanted to make a non-traditional slider, something that kids will think is cool and fun to eat, and a meal that adults would find delicious too. I guess that's a tall order, but with all the right elements I think it came together pretty darn well.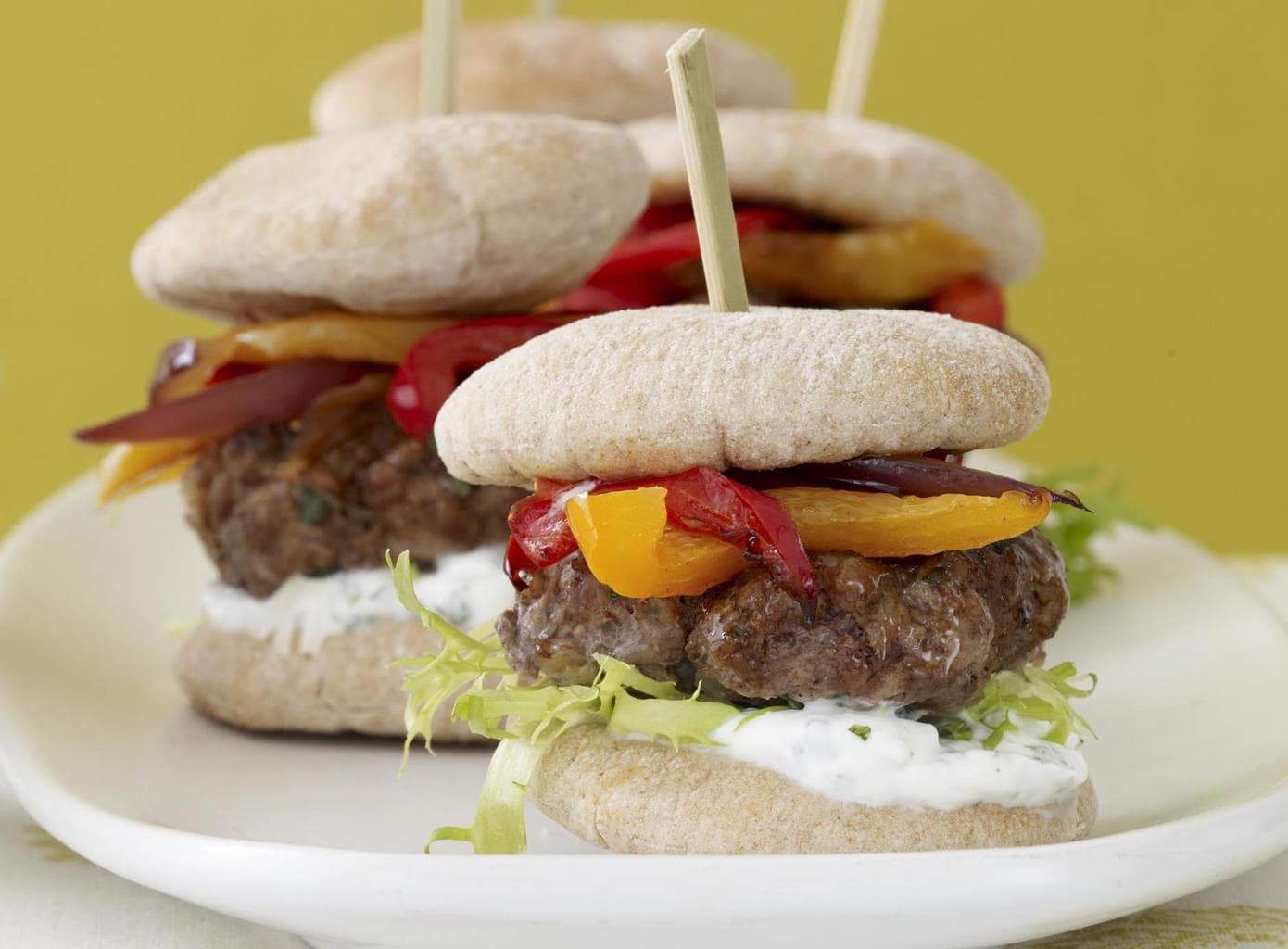 The mini pita was a no-brainer. The tzatziki too! And lamb is so easy to season with herbs and spices. I just added some garlic, parsley, paprika and cumin. Try my Lemon Herb Lamb Kabobs where I just use a little citrus and rosemary to flavor the meat!
I grill these babies on a panini press, grill press, whatever you'd like to call it. Sure you can do it on the grill in the summer. That gives them great smoky flavor, but they are just as good cooked inside.
Change it up! Greek lamb burgers taste equally as delicious when you swap the meat for ground beef or turkey.
The meat is also easy to change out. Not a lamb lover? Or do you have other things on hand? Swap the lamb for ground beef or turkey. Keep the same proportions and seasonings. If you are using ground chicken you'll have to add a few tablespoons of olive oil. It needs the fat to cook up juicy!
Why do you add milk to your burgers?
The answer to this question actually starts with the fact that I use breadcrumbs in my mini burgers. The combination of breadcrumbs soaked in milk makes what is called a panade. I don't soak my bread in milk (mostly because they are made from the soft, fresh pitas), but mixing milk and breadcrumbs into ground meat does two important things.
The panade acts as a binding agent, holding everything together. That's especially helpful for meatballs or meatloaf. The combo of milk and bread also forms a lovely starchy mixture that discourages the meat's protein fibers from forming a tough texture. More science! The milk enzymes also help tenderize meat. The results are juicy, tender burgers, meatballs or meatloaf!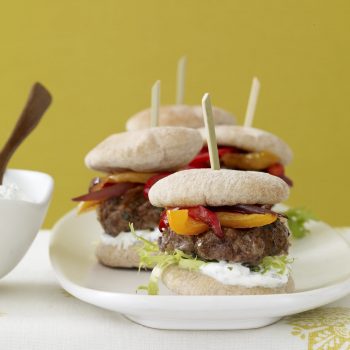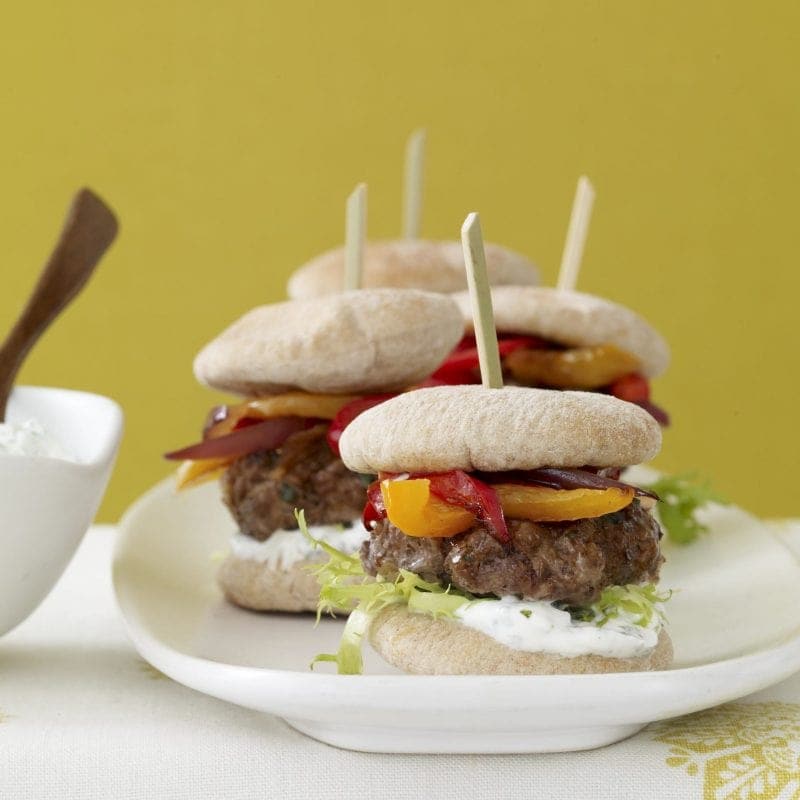 Mini Greek Lamb Burgers With Yogurt Sauce
Mini Greek lamb burgers are packed with massive amounts of flavor. They are a great way to get a fun dinner on the table, or make a party table hit. The yogurt sauce is a fresh, tangy condiment that's a simple take on traditional Greek tzatziki.
Ingredients
15

mini whole-wheat pitas

3

cloves

garlic

¼

cup

flat-leaf parsley leaves

¼

cup

skim milk

1 ½

teaspoon

kosher salt

¾

teaspoon

paprika

½

teaspoon

ground cumin

1 ½

lbs

lean ground lamb

1

red onion

thinly sliced

1

red or yellow bell pepper

thinly sliced

2

teaspoon

olive oil

1

recipe Greek Yogurt Sauce

3

lettuce leaves
*Greek Yogurt Sauce*
¾

cup

7 oz plain Greek yogurt

1

tablespoon

fresh lemon juice

2

tablespoon

chopped fresh mint
Instructions
Heat a grill pan on the stove or a grill press. Pulse together 3 mini pitas and garlic in a food processor until finely chopped. Add parsley and pulse to chop; transfer mixture to a bowl with the milk. Stir in salt, paprika, cumin and lamb (do not overmix). Roll mixture into 12 golf-ball-size patties and flatten slightly on a wax-paper-lined baking sheet.

In a nonstick skillet, cook onions and peppers with olive oil over medium-high heat until soft and just golden, about 5 min.

Grill patties until cooked through, about 6 min. Assemble sandwiches on mini pitas with peppers, onions, Greek Yogurt Sauce and lettuce.
For Yogurt Sauce
Stir together yogurt, juice and mint; season with salt and pepper. Can be stored, covered, in refrigerator for up to a day. Makes ¾ cup
Notes
Not a lamb fan? You can make these yummy mini burgers with ground turkey or beef instead.
Nutrition
Serving:
3
g
Calories:
363
kcal
Carbohydrates:
41
g
Protein:
17
g
Fat:
13
g
Saturated Fat:
5
g
Cholesterol:
42
mg
Sodium:
719
mg
Potassium:
168
mg
Fiber:
2
g
Sugar:
1
g
Vitamin A:
955
IU
Vitamin C:
16.9
mg
Calcium:
93
mg
Iron:
2.1
mg
Some more great flavors for dinner.
Main Dish Recipes
Try some of my favorite lamb recipes from my food blogging friends.
Mediterranean Lamb Meatballs in Spicy Sauce
Rosemary & Garlic Oven Roasted Rack of Lamb
One Pot Mediterranean Lamb & Mushroom Pasta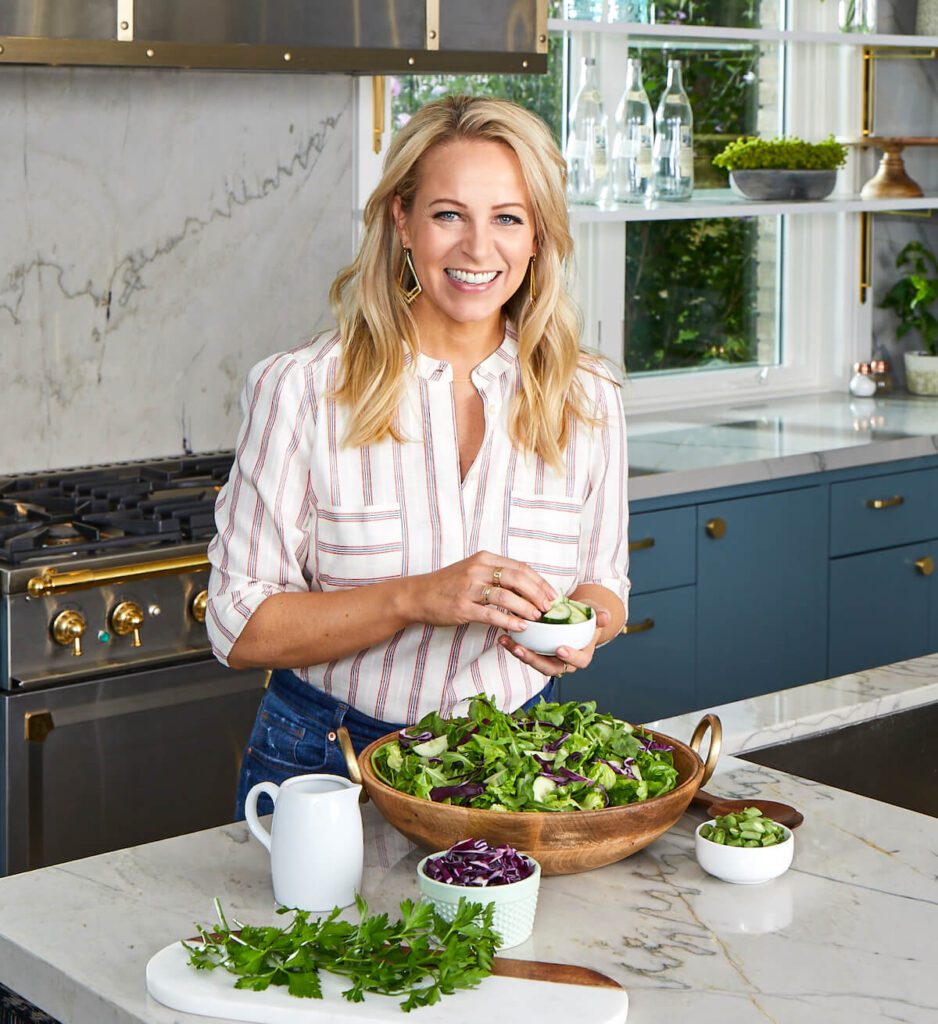 About Tara Teaspoon
I've been in the food publishing business for over 20 years, creating recipes & food-styling for magazines, books, television & advertising. Order my new cookbook & stick around for amazing things to eat.
Recipes by Tara Teaspoon. Originally published in LHJ 03/09. Photography Rita Maas. Prop Styling Tiziana Agnello. Food Styling Anne Disrude.