---
If you are going to make Spaghetti Squash and Meatballs, I ask of you one thing: just brush up on your squash knowledge, please!
---

Let me tell you why I say that. The grocery store I go to in the city is first, awesome (my opinion), second, totally bustling, packed and crazy. So, even the produce isle is sometimes like a Broccoli-Scallion Circus.
The other day I was minding my own business and weaving in and out of store workers and shoppers, checking things off my list. One store worker came up to another, reached for the fennel and asked "this is spaghetti squash?"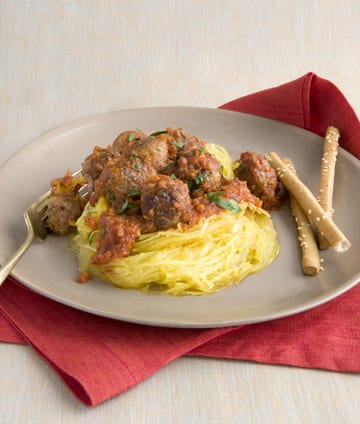 Clearly someone had asked for it and he was headed to grab it for them. I couldn't help it--my inner New Yorker came out and my brow furrowed and I blurted out "That's fennel!" I quickly realized that part of my New York personality is never really helpful, so I nicely explained that spaghetti squash is smooth-skinned, the size of a football, bright yellow and is probably over by the butternut squash. I pointed. I did. I pointed the produce guy to HIS produce! I'm terrible.
But...what is this world coming to?
Friends, this is what spaghetti squash looks like.
Cooking tips for Spaghetti Squash:
I suggest you cook the squash in the microwave for a few minutes to soften the skin. This makes it much easier to cut it in half. Then simply scrape the seeds out, season and cook. This trick works for any hard, tough-skinned squash.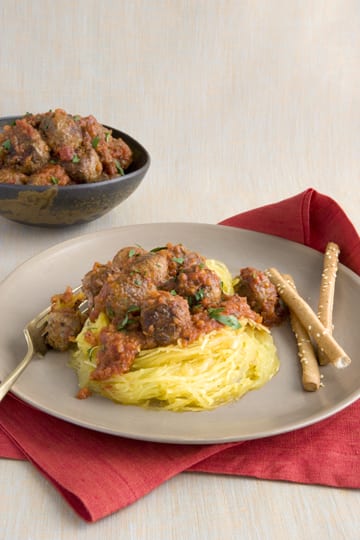 These meatballs are tender, flavorful and mini! I love making them ahead, even a double batch, and keeping them in the freezer. Meatballs take a little chopping and mixing, so I typically double the recipe whenever I make them. They're so easy to freeze and use several weeks later for a different meal. Saving time left and right.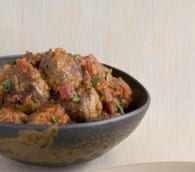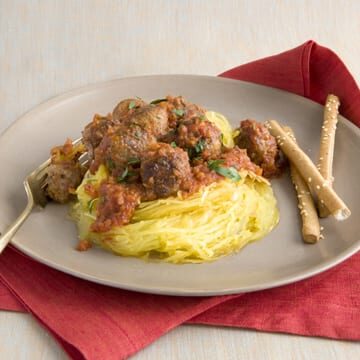 Spaghetti Squash and Meatballs
Looking for a light, easy alternative for spaghetti? Try Spaghetti squash! Then classically top it with melt-in-your-mouth savory meatballs.
Ingredients
1 3½- 4-

lb

spaghetti squash

2

tablespoon

olive oil

½

recipe Mini Meatballs

recipe to follow

3½

cups

jarred marinara sauce

1

garlic clove

sliced

¼

cup

chopped fresh flat-leaf parsley

½

cup

(2 oz) shredded Parmesan
Mini Meatballs
1

lb

ground pork

1

lb

ground beef

1

medium onion

minced (1 cup)

½

red bell pepper

minced (½ cup)

¼

cup

milk

3

tablespoon

plain dry bread crumbs

1

large egg

1½

teaspoon

kosher salt

1

teaspoon

dried oregano

1

teaspoon

fennel seeds

crushed

¼

teaspoon

freshly ground pepper
Instructions
Microwave whole squash on High 5 minutes to soften. When just cool enough to handle, cut lengthwise in half and scoop out seeds. Place, cut side down in a shallow microwave-safe dish and microwave on High until flesh is completely softened, about 8 to 10 minutes. Let stand until cool enough to handle, about 15 minutes. Using a fork, pull squash from skin in long strands; set aside.

While squash is cooling, heat 1 tablespoon oil in a large nonstick skillet over medium high heat. Add meatballs and turn to coat. Reduce heat to medium and cook, turning occasionally, until browned and cooked through, about 15 minutes. Transfer meatballs to a saucepan and add sauce (reserve skillet); cook over medium-low heat until heated through about 2 minutes.

Wipe skillet clean, add remaining 1 tablespoon oil and heat over medium heat. Add garlic and cook 1 minute. Toss in squash and sauce and cook 2 minutes; add salt and pepper to taste.

On a serving platter, mound squash, top with meatballs and sauce, then sprinkle with parsley and cheese.

Meatballs Instructions

In a large bowl, using hands, mix together all ingredients until combined well. Using 1 tablespoon mixture for each, roll into balls. (Can be made ahead: Transfer to a baking sheet and freeze until solid, about 1 hour. Divide between two heavy-duty resealable plastic bags, seal and freeze up to 3 weeks. Let stand at room temperature 10 min before cooking.)
Notes
Nutrition is for 1 meatball and 1 tablespoon squash.
Cooking tips: I suggest you cook the squash in the microwave for a few minutes to soften the skin. This makes it much easier to cut it in half. Then simply scrape the seeds out, season and cook. This trick works for any hard, tough-skinned squash.
Try my other meatballs recipes:
Nutrition
Serving:
1
g
Calories:
75
kcal
Carbohydrates:
5
g
Protein:
3
g
Fat:
4
g
Saturated Fat:
1
g
Cholesterol:
15
mg
Sodium:
184
mg
Potassium:
162
mg
Fiber:
1
g
Sugar:
2
g
Vitamin A:
195
IU
Vitamin C:
4.1
mg
Calcium:
31
mg
Iron:
0.6
mg
If this recipe looks good, you'll probably be into my Brussels Sprouts with Apricot and Pistachios and Chicken and Rice Lettuce Wraps
Main Dish Recipes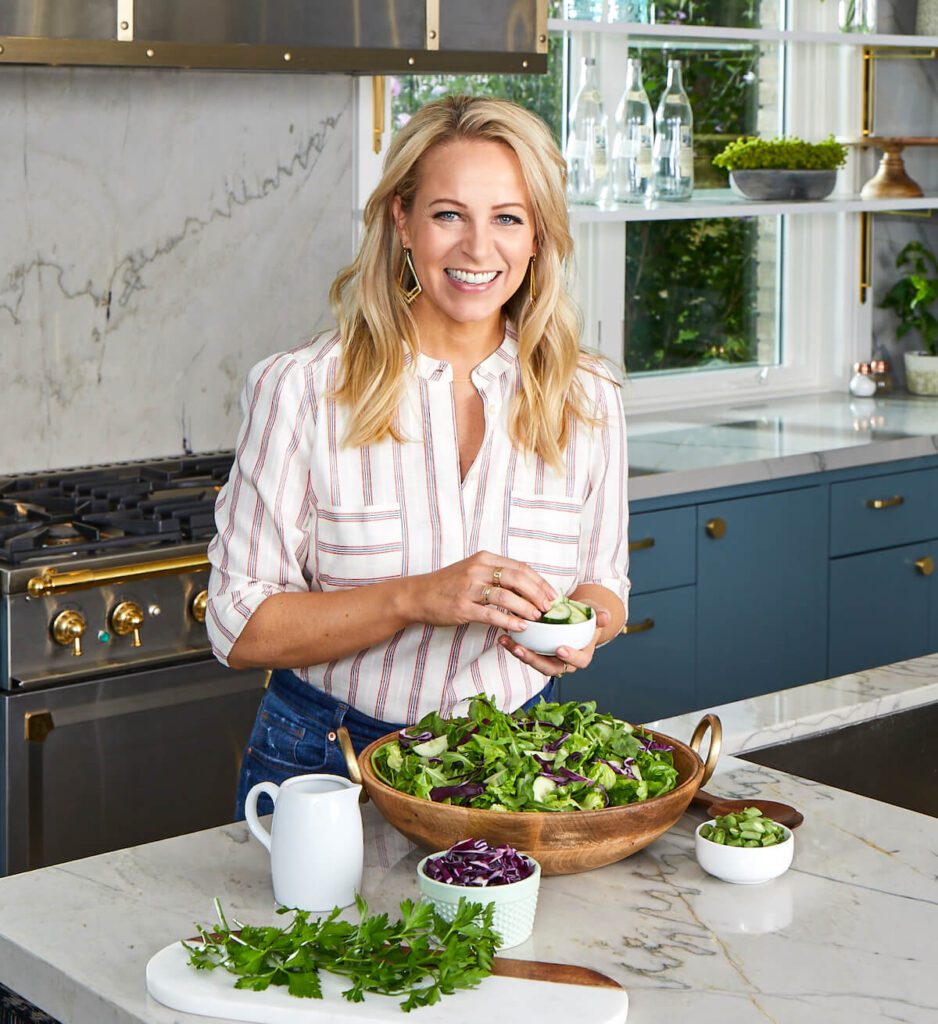 About Tara Teaspoon
I've been in the food publishing business for over 20 years, creating recipes & food-styling for magazines, books, television & advertising. Order my new cookbook & stick around for amazing things to eat.
Recipe and Food Styling Tara Bench. Photography Amy Kalyn Sims. Prop Styling Barb Fritz. Originally published in LHJ, 1/2008