---
This Cheese-and-Herb Potato Gratin is simple enough to make for a weeknight dinner but elegant enough for any holiday meal. Sweet potatoes, Yukon Gold potatoes, cheese, and lots of herbs come together to make a delicious side dish.
This recipe is from the cookbook Live Life Deliciously: Recipes for Busy Weeknights and Leisurely Weekends.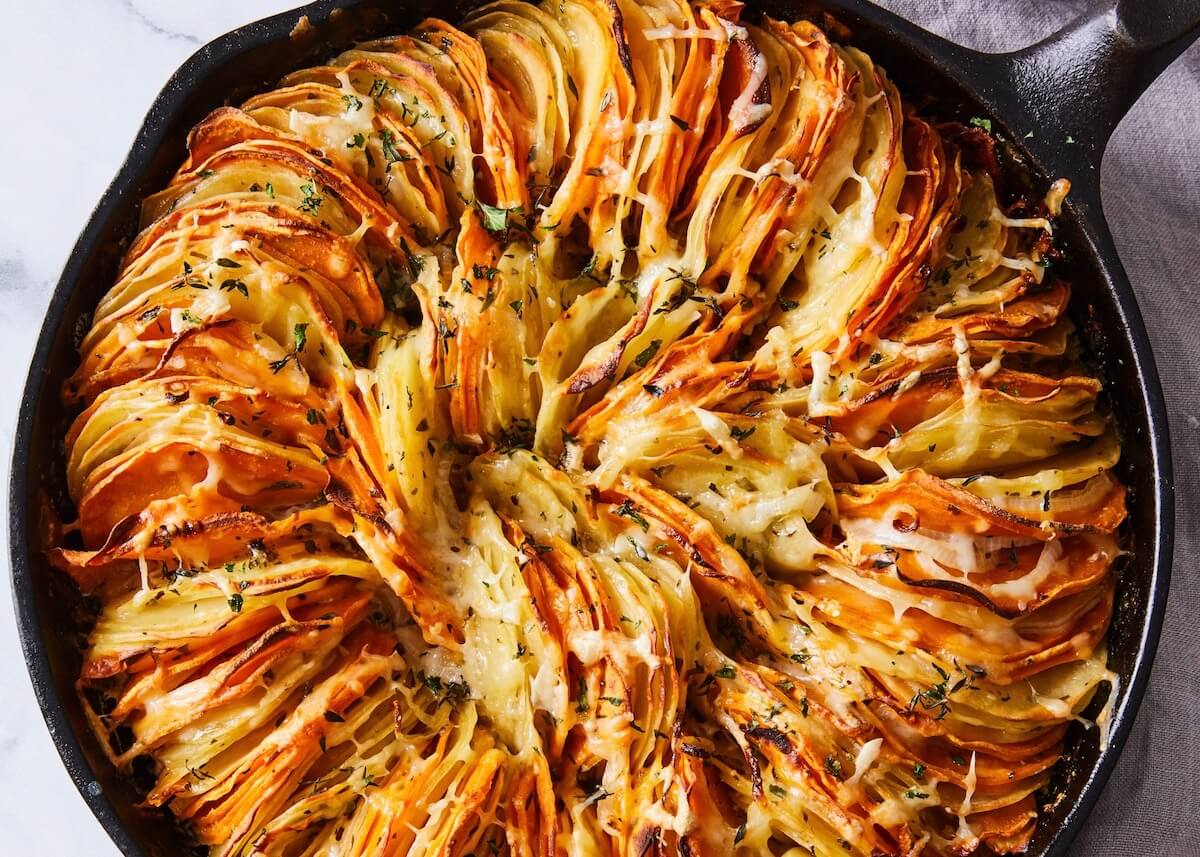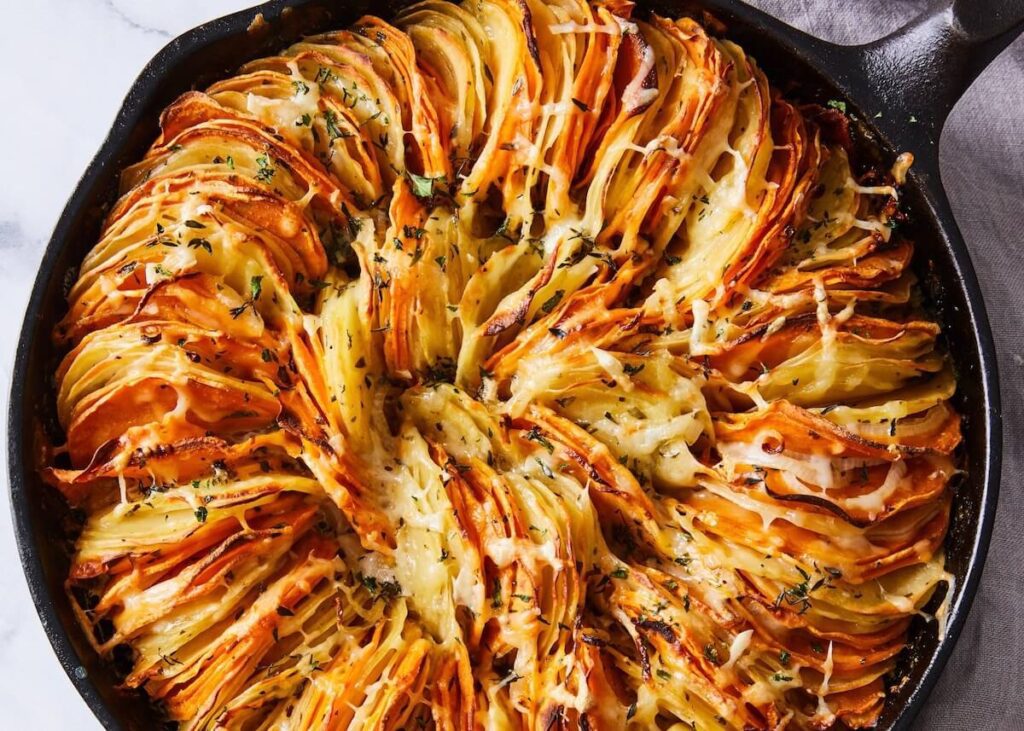 Jump to:
A really beautiful potato gratin recipe
Does making a potato gratin intimidate you? Well, it shouldn't! This dish looks so impressive but is actually SO simple to put together.
I've turned everything you know about potato gratin ON ITS SIDE!
Instead of layering the potatoes and cheese in a casserole dish, flat, I've turned the thin slices of potato on their side and nestled them into the baking pan. It's easy enough and takes zero extra time!
When you bring this dish to your next social gathering, your friends and family will think that you spent all day on this gratin.
Scalloped potatoes or au gratin?
I'm going to be honest, I've never met a potato baked in cream and cheese I didn't like, so what you want to call it is up to you! However, technically there is a difference between scalloped potatoes and au gratin.
The main differenciator between scalloped potatoes and potatoes au gratin is cheese. Potatoes au gratin uses grated cheese, usually a Gruyere or cheddar. Scalloped potatoes are cooked in only heavy cream or milk.
Listen, in all my days I've never eaten scalloped potatoes that didn't have cheese. I think the American set loves a good cheese addition, so the lines have been blurred. Again, I'm not complaining.
More differences technically include the fact that scalloped potato slices tend to be thicker than au gratin. In my cheese and herb potato gratin that is definitely the case; my slices are super thin.
Au gratin means: covered with bread crumbs or grated cheese and browned (like you would under a broiler). The French prefix "au" is often left off as a dish then becomes referred to as A Gratin.
A thought on the origin of the name scalloped potatoes is that it came from an older English word, "collops", meaning, among other things, slices of meat. It is also closely related to the French word, escalope.
How to make it: potato gratin recipe
To make this quick and easy potato gratin recipe even faster, use a mandoline to thinly slice the potatoes. If you don't have a mandoline, consider getting one. This Stainless Steel Mandoline on Amazon is a great one.
With a mandoline, you don't have to fiddle with a big knife and a little potato. All you have to do is run it across the blade and voila! Perfectly sliced potatoes.
You can make this recipe without one, but your slices will be uneven and it will take you FOREVER to cut all the slices.
To create this beautiful gratin, coat the potatoes with the herbs and cheese, arrange them in a circular pattern, and pour the milk and broth over top.
Then, pop it in the oven and you'll have soft, flavorful potatoes with crispy cheese and fragrant herbs.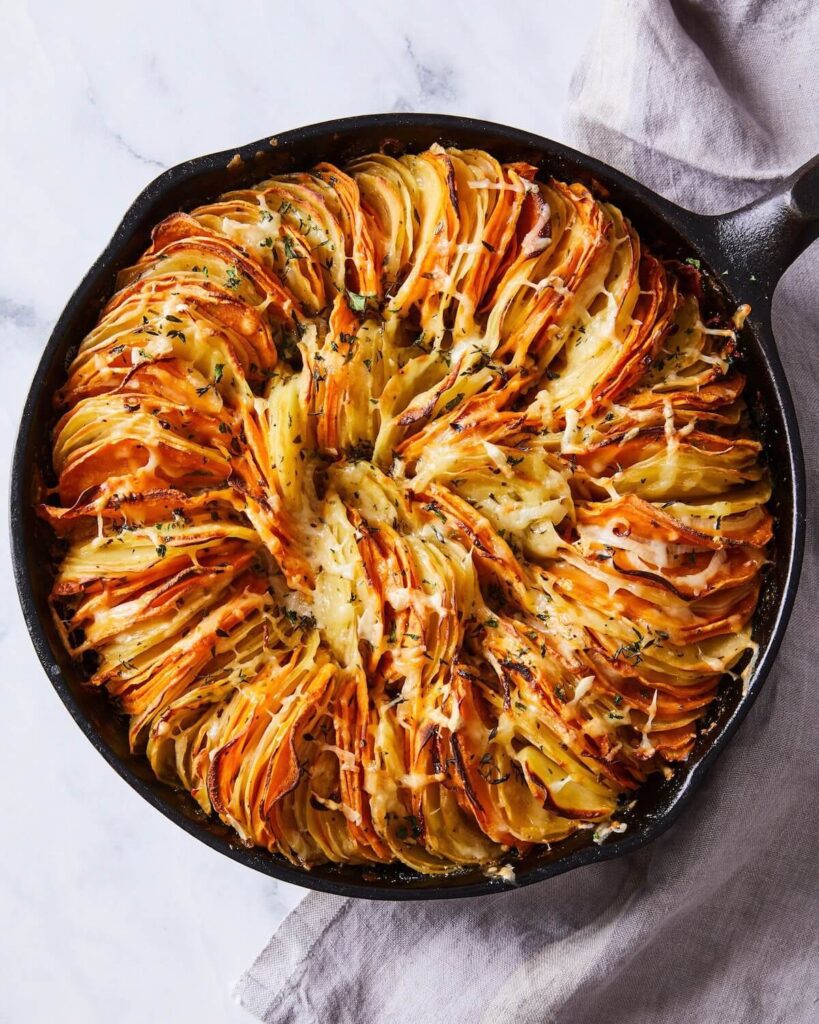 Sweet potato gratin
Sweet potatoes make this dish so flavorful and even more beautiful. I LOVE the way the alternating colors look. Plus, the different flavors make every bite of this gratin interesting.
Often, sweet potatoes dishes are sugary and taste like dessert. Don't get me wrong, I love a good sucrose-loaded sweet potato dish, but I think that sweet potatoes are so delicious paired with savory flavors too.
My most popular sweet potato recipe:
Baked Sweet Potato Cubes with Cinnamon Meringue
More potato side dishes
I absolutely love side dishes. Honestly, I think they're usually the best part of the meal. Especially if they're carb-loaded and full of flavor!
I have so many delicious potato side dish recipes on my blog to choose from.
If you love mashed potatoes, try my tried-and-true Fluffy Mashed Potatoes and throw in a few delicious Mix Ins.
My best fall side dishes
Roast Parsnips with Sage Butter
Brussels Sprouts with Apricots and Pistachios
Roasted Vegetables with Vinaigrette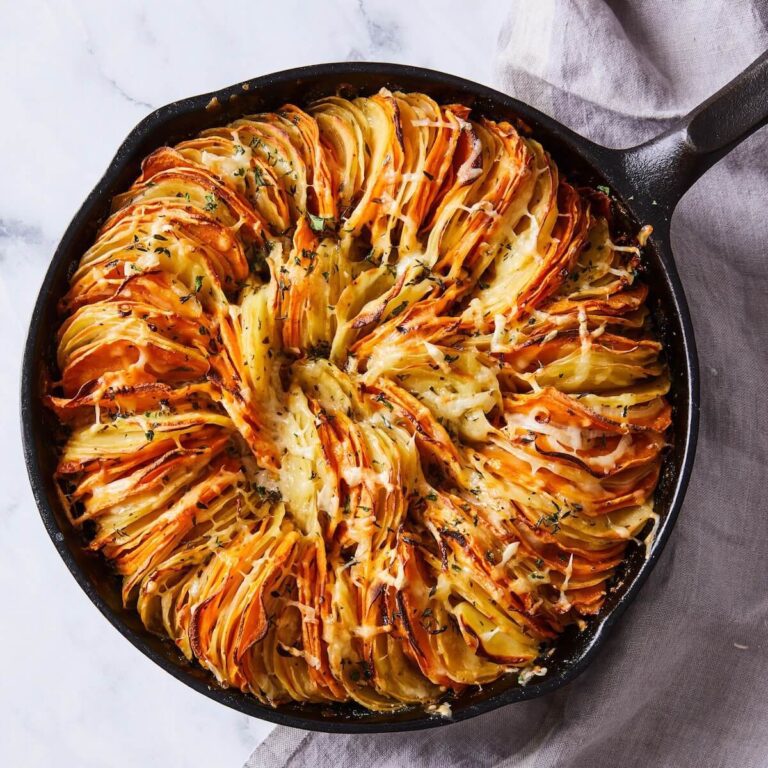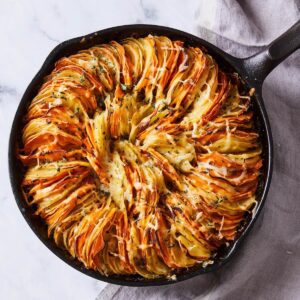 Cheese And Herb Potato Gratin Recipe
Sweet potatoes, Yukon Gold potatoes, cheese, and lots of herbs come together to make a delicious side dish.
Ingredients
3

medium

sweet potatoes

6

small

Yukon gold potatoes

1

teaspoon

kosher salt

¼

teaspoon

ground black pepper

¾

teaspoon

garlic powder

1½

teaspoon

dried parsley

½

teaspoon

dried thyme

½

teaspoon

ground sage

½

teaspoon

dried rosemary

8

ounces

Gruyère or sharp white cheddar

grated (2 cups)

½

cup

thinly sliced yellow onion

chopped

½

cup

whole milk or half-and-half

½

cup

low-sodium chicken broth
Instructions
Preheat oven to 375°F. Peel potatoes, and, using a mandolin or vegetable slicer, cut into very thin slices. In a large bowl, gently toss potatoes with salt, pepper, garlic powder, parsley, thyme, sage, rosemary, cheese, and onion, until everything is evenly mixed. Be careful not to break the thin potato slices.

Working with a small handful of potatoes at a time, gently line up coated slices in a 10-inch cast-iron skillet or 2-quart baking dish. Pour milk and broth over potatoes. Cover pan with foil and seal around edges.

Bake 50 minutes and remove foil. Continue to bake until potatoes are tender and top is golden, 15 to 20 minutes more. You can test the potatoes with a knife to see if they are tender throughout. Cool slightly and serve hot.
Notes
This recipe is a great way to use the fresh herbs you have leftover from a holiday meal or the last bits after a week of cooking. I use fresh herbs in the spring and summer when they are plentiful and cheap. I'll use my spice cupboard in the winter months. use double the amount of fresh as you would dry.
Nutrition
Calories:
302
kcal
Carbohydrates:
42
g
Protein:
12
g
Fat:
10
g
Saturated Fat:
6
g
Cholesterol:
31
mg
Sodium:
532
mg
Potassium:
897
mg
Fiber:
6
g
Sugar:
6
g
Vitamin A:
12332
IU
Vitamin C:
28
mg
Calcium:
264
mg
Iron:
2
mg
The Greatest Thanksgiving Recipes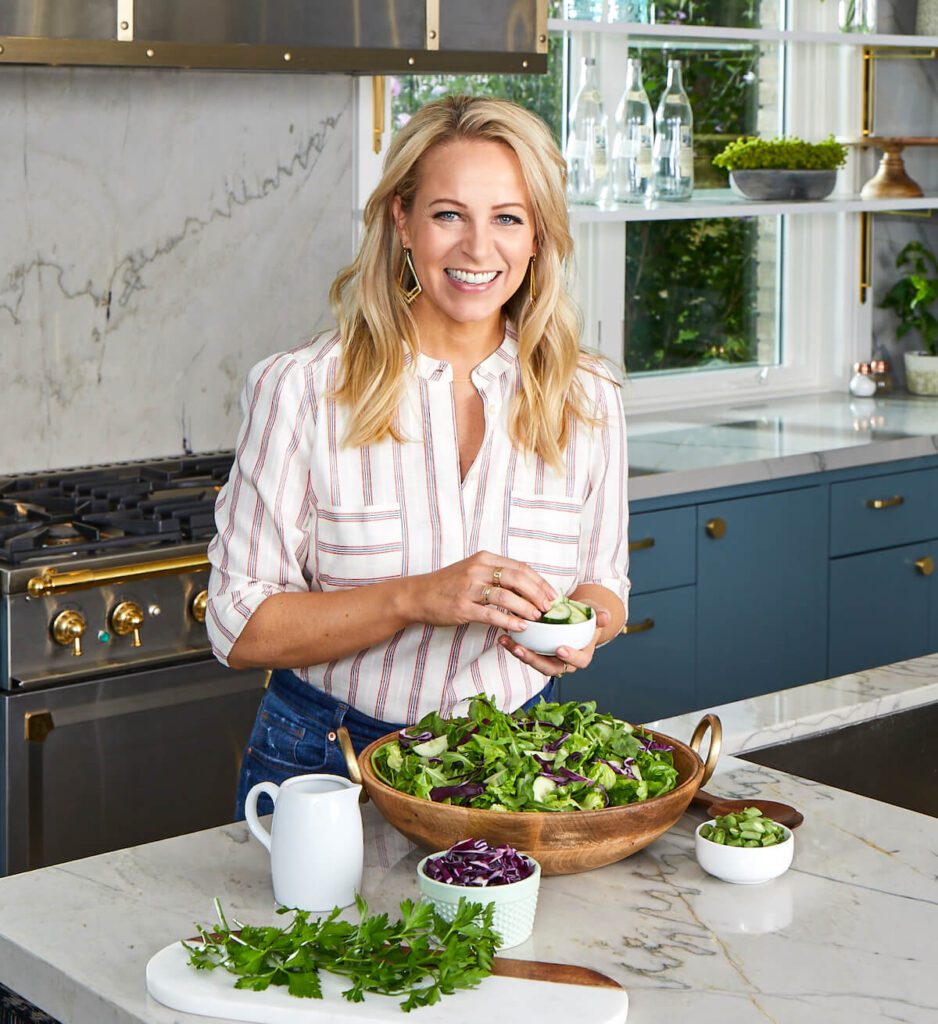 About Tara Teaspoon
I've been in the food publishing business for over 20 years, creating recipes & food-styling for magazines, books, television & advertising. Order my new cookbook & stick around for amazing things to eat.
Photography by Ty Mecham.