---
Shortcut Potato Herb Flatbread is my take on a tasty NYC bakery classic. Mine is easy, delicious and great as a finger food, or a crispy bite with some homemade soup.
---
Years ago I was introduced to potato pizza here in NYC. I was no stranger to potatoes and bread. I used to (I mean I still do if no one is looking) dip my dinner rolls in the mashed potatoes at Sunday dinner. Don't knock it till you try it!
The Pizza Patate from Sullivan Street Bakery was something different though. Thin slices of potato almost melted on to thin, crispy dough with plenty of olive oil, onions, some herbs and salt. Wow, this was revelation. Not only did I get to eat potatoes on my bread but I didn't have to hide it!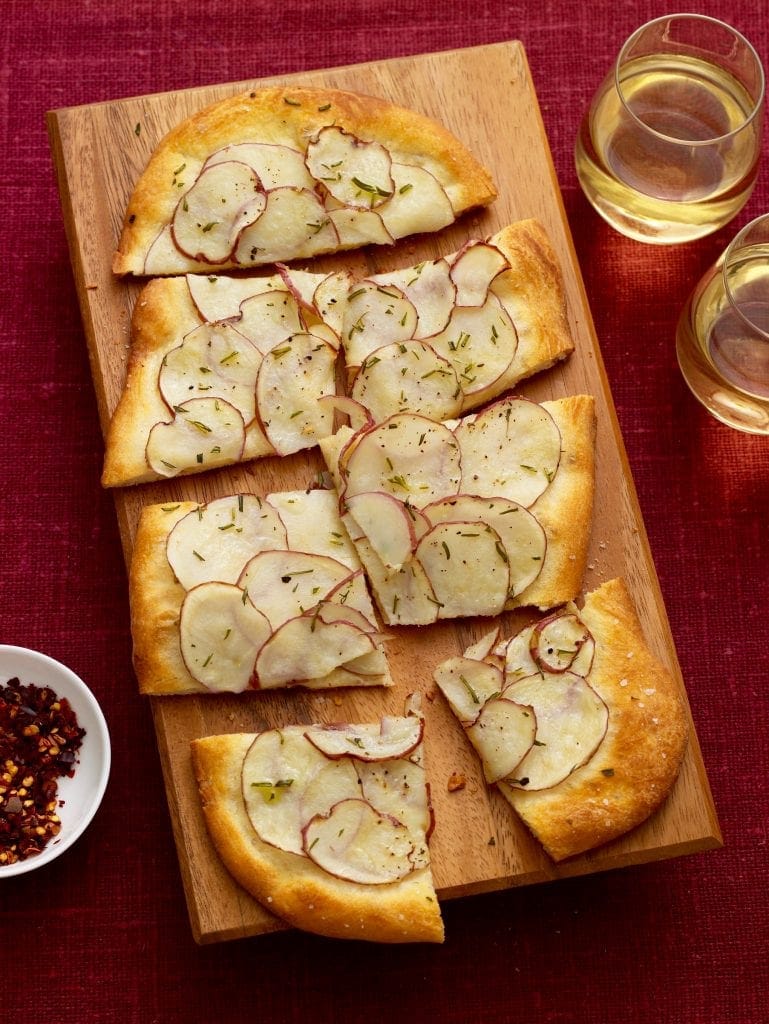 The bakery of course uses their signature dough, kneaded and proofed etc, etc. Listen, it's delicious, but ain't nobody got time for that!
I wanted to create a recipe with some shortcuts, to make this tasty bread happen in half the time. Even less than half the time! I used frozen pizza dough. You can find it in the freezer section of any grocery store. Or, actually many shops have it in the refrigerated section and you don't even have to let it thaw.
'Ain't nobody got time to make their own yeast dough for a party. My shortcut potato herb flatbread uses frozen dough so you can start nibbling in no time.
I used a shallot instead of a yellow onion on my shortcut potato herb flatbread because I wanted that sophisticated flavor. This flatbread needs to hold up in awesomeness for a party you see. Red potatoes, because they are waxy, will hold their shape, but at the same time get buttery-soft when baked. They also look quite pretty on the bread.
Stick with rosemary and sea salt as your seasonings and you can't lose. Thyme is pretty delicious too. The crispy edges of the crust, buttery soft potatoes and the other little details make this the most simple little snack ever.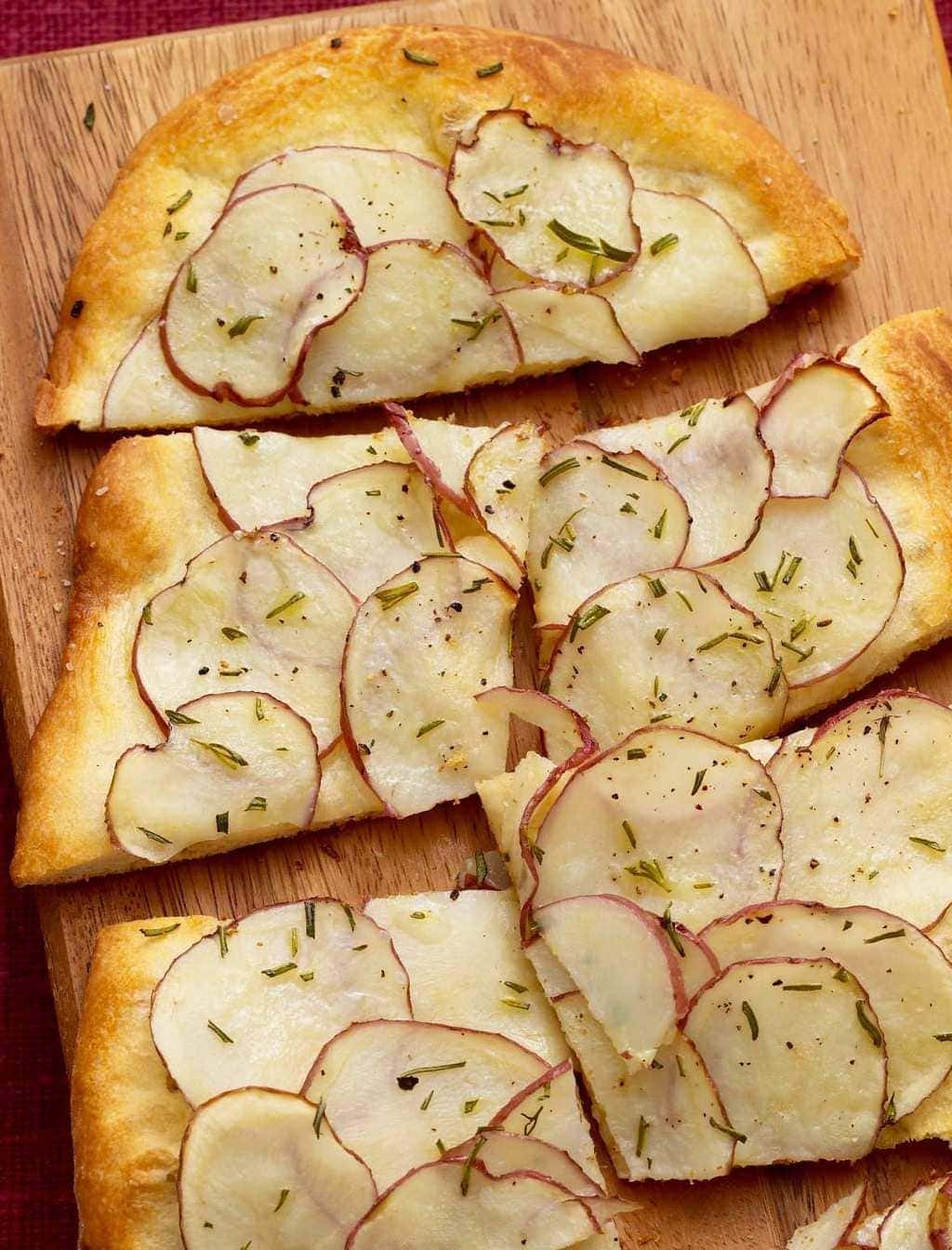 I serve this at room temperature at a party, on a wooden cutting board so guests can cut and nibble on their own accord. If you're not throwing parties all the time like me (nope, no I'm really not), then this is one of the best sides to a salad or soup you can imagine. I love that it is delicious hot out of the oven or at room temp, so you can make it ahead for dinner (or that party you're throwing).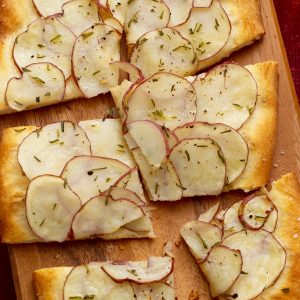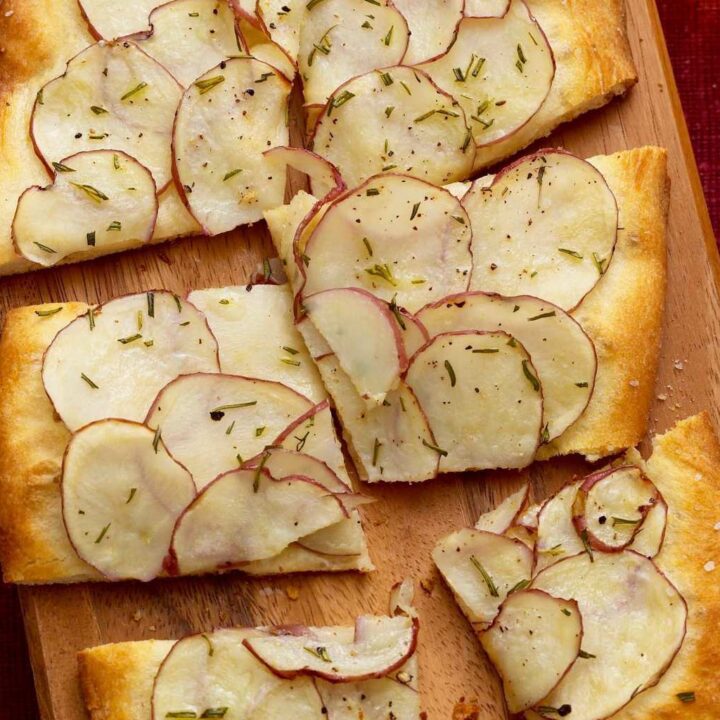 Shortcut Potato Herb Flatbread
Serve this rustic start on a wooden serving board and let your guests help themselves.
Ingredients
1

lb

frozen pizza dough

thawed

10

oz

red or white potatoes

scrubbed

1

shallot

peeled

½

teaspoon

sea salt

¾

teaspoon

finely chopped rosemary or thyme

2

tablespoon

extra-virgin olive oil
Instructions
Heat oven 400°F. Divide dough into 3 pieces. Stretch dough thinly, pressing the edges into the counter so it doesn't spring back. Let it rest a few minutes, then transfer each piece to a parchment-lined baking sheet.

Using a mandolin or slicer, slice potatoes and shallot 1/16-inch thick. Spread a bit of the sliced shallot over each crust, then top with a single overlapping layer of potatoes.

Sprinkle with salt, herbs and pepper. Drizzle with olive oil and bake 20 min, or until crust is crisp and deep brown. Serve warm or at room temperature.
Notes
One of the best sides to a salad or soup you can imagine. I love that it is delicious hot out of the oven or at room temp, so you can make it ahead for dinner.
Nutrition
Calories:
267
kcal
Carbohydrates:
45
g
Protein:
7
g
Fat:
7
g
Saturated Fat:
1
g
Sodium:
744
mg
Potassium:
213
mg
Fiber:
2
g
Sugar:
5
g
Vitamin A:
12
IU
Vitamin C:
10
mg
Calcium:
6
mg
Iron:
3
mg
Don't just take it from me. Try this shortcut potato herb flatbread with one of my favorite soups or salads here. It's tasty!
My take on a classic Lettuce Wedge Salad has your typical blue cheese crumbles, but includes crunchy nuts, meaty pancetta bits and sweet beets.
Roasted Tomato and Eggplant Bisque is cozy, comforting and rich with flavor. Delicious with a side of crispy flatbread.
Delicious bread and quick-bread recipes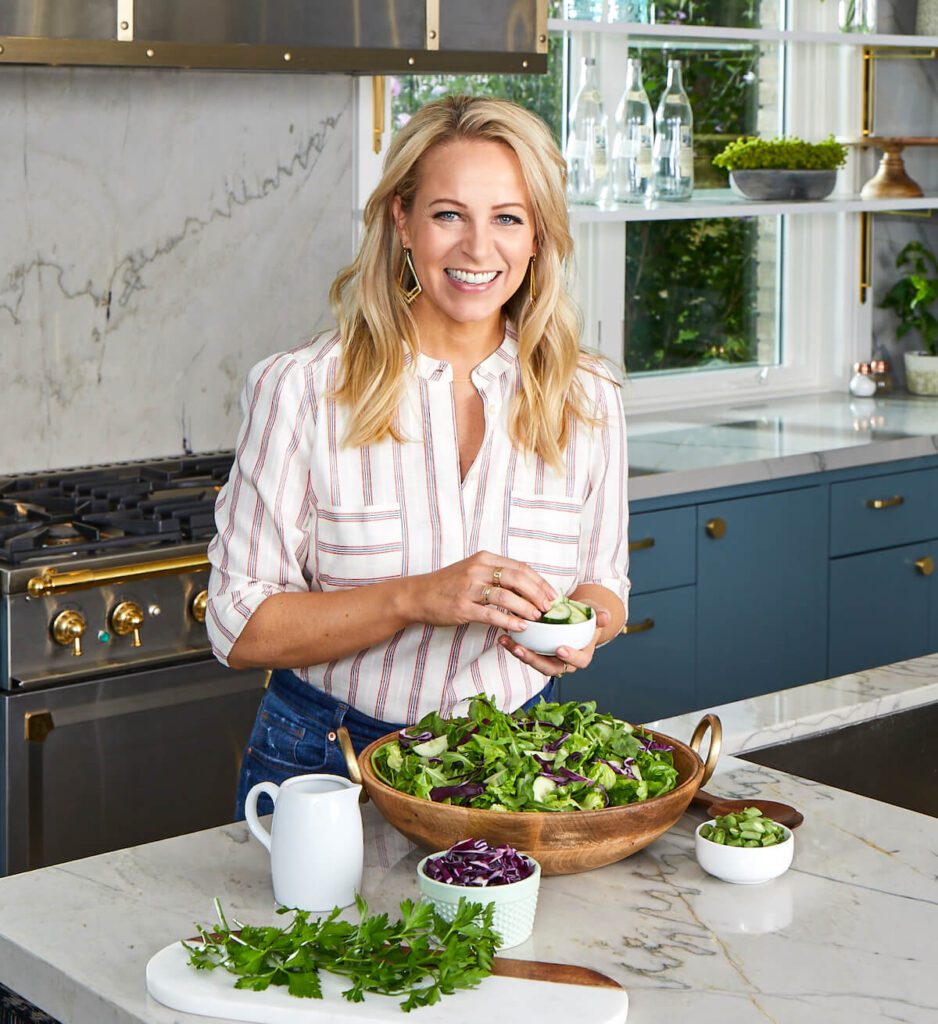 About Tara Teaspoon
I've been in the food publishing business for over 20 years, creating recipes & food-styling for magazines, books, television & advertising. Order my new cookbook & stick around for amazing things to eat.
Recipe by Tara Teaspoon. Photographs by Alexandra Rowley. Food Styling Simon Andrews. Food Stylist Gerri Williams. Originally published Dec 09/Jan 10 in LHJ.