These easy Moroccan lamb meatballs use classic Moroccan spices with a tantalizing apricot glaze. Serve them as an app with baguette or over couscous for a weeknight dinner.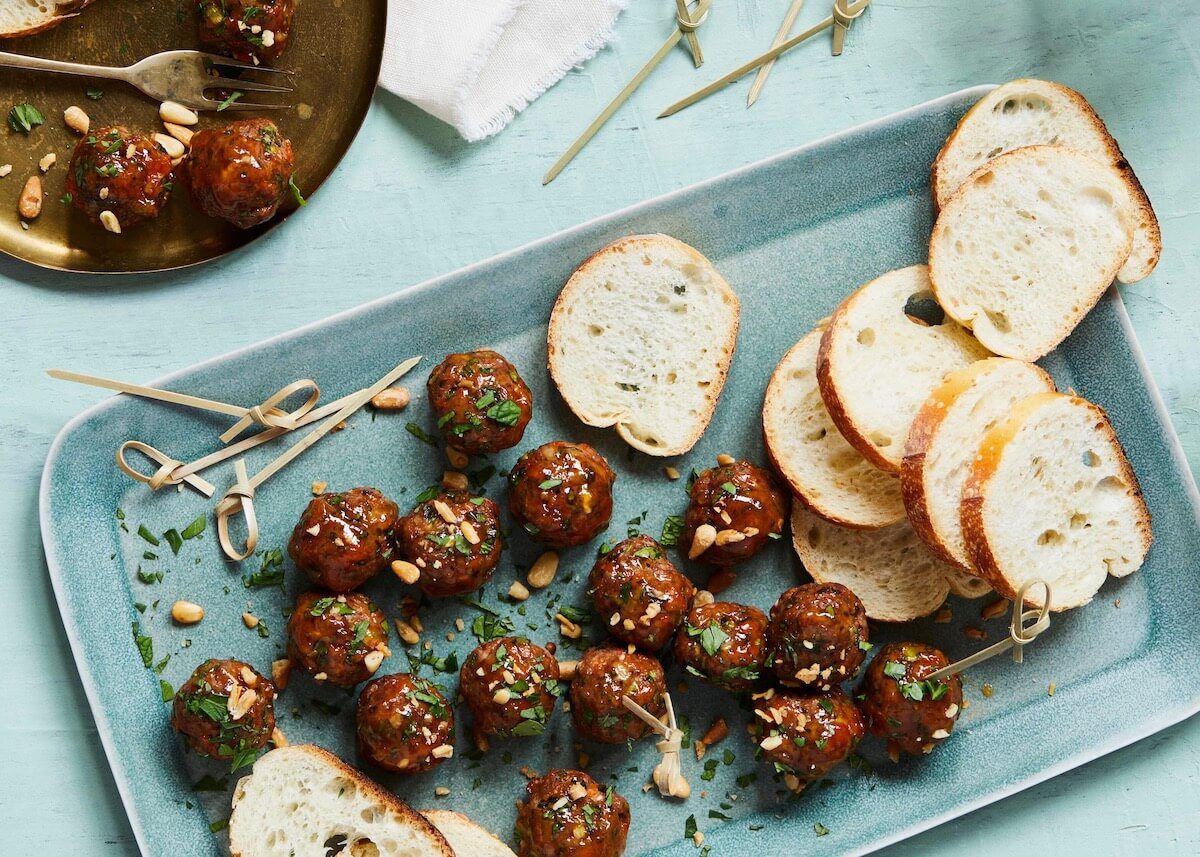 When you use Moroccan and Middle Eastern spices, your home will fill with earthy and savory aromas. My mouth is watering as I write this! And bonus: you most likely already have the spices in your cupboard.
There are so many different ways to enjoy easy ground lamb meatballs. Enjoy them as a fun appetizer or as a meal over rice or couscous.
Jump to:
Perfect for a starter nibble with baguette when entertaining, a buffet dish or simple weeknight dinner over couscous. This Moroccan meatballs recipe is something that you make when you want something fancy for dinner, but you want it EASY. The ground lamb elevates a common meatball to a delicacy level. Let me tell you, this is one amazing dish!
I fall in love with lamb every time I cook with it. My lamb kabobs are a go-to for the grill. The ground lamb has the same flavor, but it creates a smoother texture that is perfect for meatballs.
Moroccan lamb meatballs are tender and flavorful
Moroccan lamb meatballs are an easy, no-fuss way to enjoy the classic flavors of Morocco and fragrant Middle Eastern spices. I combined ground lamb with these savory and earthy seasonings that are commonly used in the Middle East and parts of Africa. The strong flavor of lamb lends itself perfectly to these flavors.
You can also use beef in this recipe, just an even swap for the lamb. But, I prefer lamb with the combo of seasonings and sweet apricot. If you have ever made meatballs (like my classic Italian meatballs), then this recipe will be super easy either way!
Since you don't need any breadcrumbs for the texture, these are gluten-free meatballs too.
Ingredients for ground lamb meatballs
All of the exact ingredient amounts are in the printable recipe card at the bottom of this post. First, here is some additional information about what I used to make them.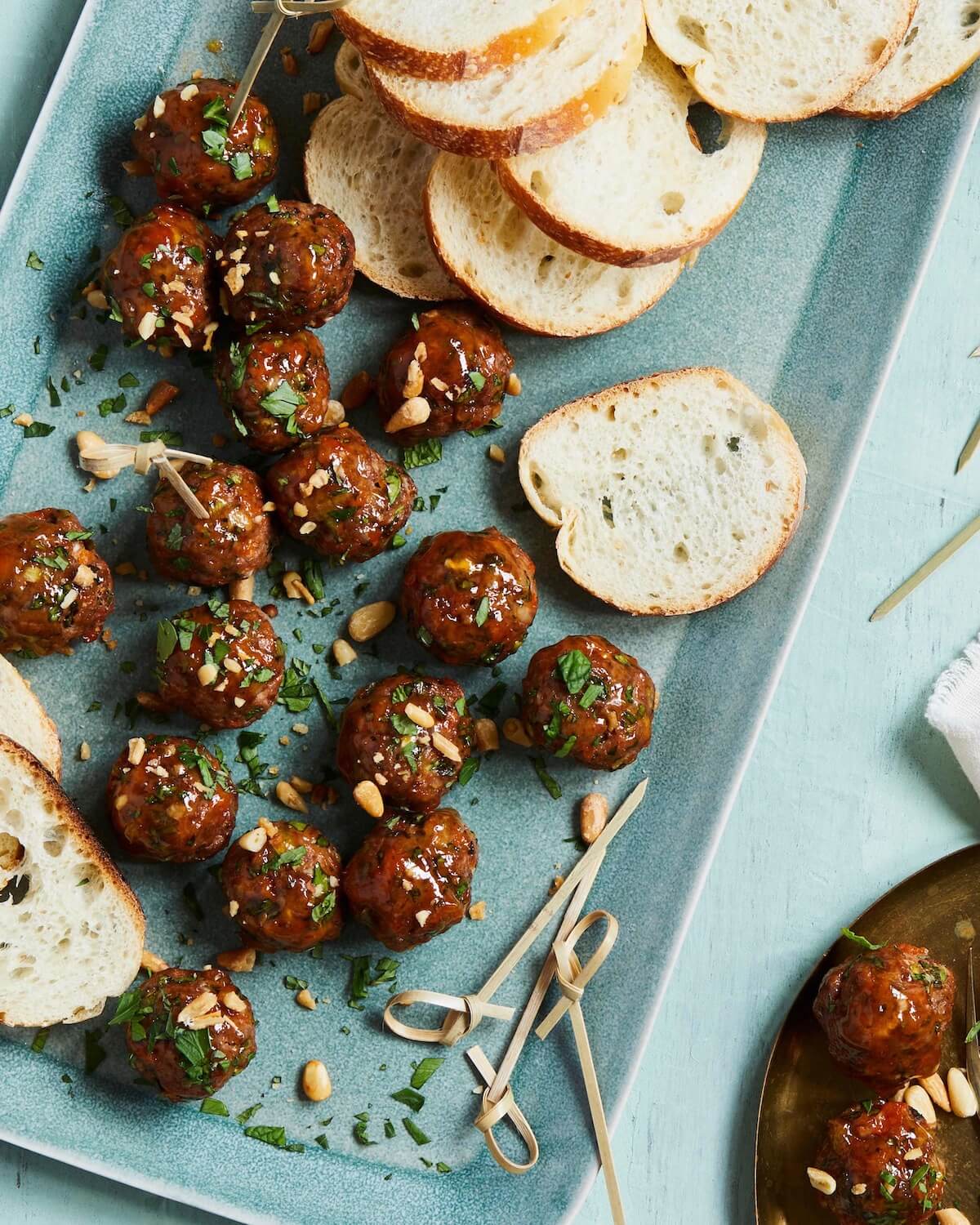 Classic Moroccan spices
Morocco is known for using cumin, ginger, nutmeg, and bright-colored spices like turmeric, saffron, and paprika.
Check out my 12 Easy Ways to use Herbs and Spices for more ideas to use the spices in your cupboard. Then read Spice Smarts to keep those spices fresh.
These are the dried Moroccan spices that I used:
Cumin - also used extensively in Mexican cooking.
Cinnamon - adds a sweetness to the savory.
Ginger - packs a bit of heat and sweet spiciness.
Coriander - the ground seeds of cilantro have a pleasant lemon essence.
Allspice - very heady and strong to balance the other flavors.
I also used these fresh herbs in the meatballs for a kick of flavor:
Parsley leaves
Mint leaves
Ground lamb meatball ingredients
If your grocer doesn't have ground lamb but has a meat counter, they can certainly grind some for you, just ask. This is what I used in my lamb meatballs:
Fresh parsley leaves
Mint leaves
Scallions
Garlic
Tomato paste
Dried apricots
After you bake the meatballs, top them with some toasted pine nuts. This makes them taste even better and more authentic.
How to make savory and sweet apricot glaze
Make extra apricot glaze. That's my biggest tip to you! It's so delicious!
You can use it on pork and chicken and it tastes amazing. Plus if you're serving these meatballs over rice or couscous you'll want extra sauce.
For the glaze, all you need are these simple ingredients:
Apricot preserves
Lemon zest
Lemon juice
Salt
Cayenne pepper
Since you need both lemon zest and lemon juice, use a fresh lemon. The fresh lemon is what gives the apricot glaze the bright and bold flavor. If you want it to have more spice, add more cayenne pepper.
How to store extra glaze
Store extra apricot glaze in the refrigerator in an airtight container. It will stay fresh for up to 2 weeks.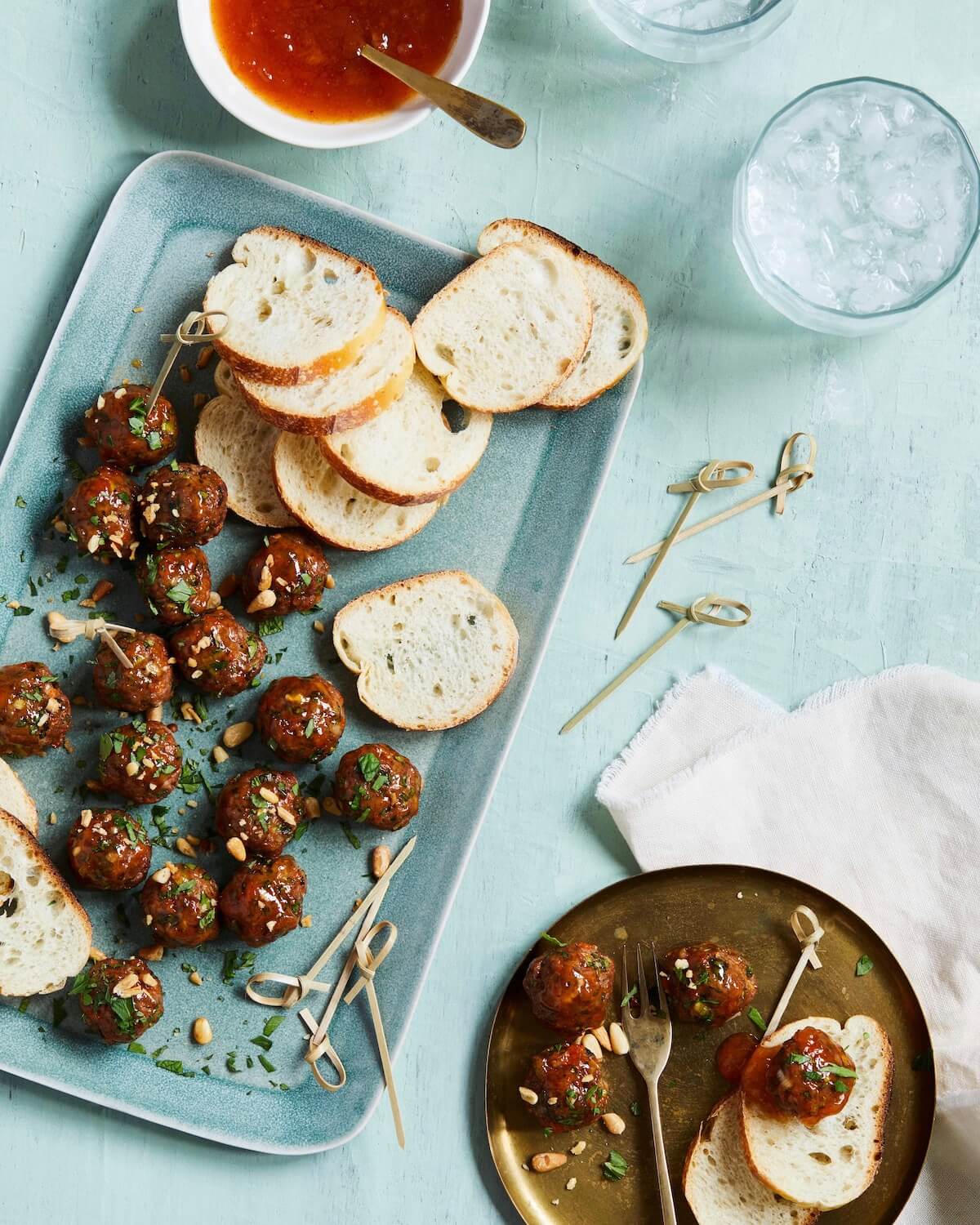 Simple instructions
For the entire recipe, scroll on down to the recipe card. First, I have a few extra tips for you.
Make the glaze first. This way, the spices can have time to settle and mellow, and really combine.
If you are going to serve the meatballs over rice or couscous, double the glaze recipe.
Mix the dried spices together in a separate bowl. This way, they distribute evenly within the meatballs.
Portion and roll the meatballs so they are all the same size. This way they will all bake at the same rate. I use a small cookie scoop for easy portioning.
Place a sheet of parchment on the baking sheet before you make the meatballs. It makes clean up so much faster!
Bake the meatballs until they are cooked through. The final temperature for ground lamb is 160ºF. They are small and will be safely cooked through in the time noted, but you can use my favorite meat thermometer if you want.
After they are completely cooked, brush them with glaze and top with mint and chopped pine nuts.
Serving ideas
You can serve these fancy gluten-free meatballs as a party appetizer or as a main course.
If you use them as an appetizer, stick decorative toothpicks into each meatball or offer them on the side for easy pickup. Set out some extra glaze for dipping. Add some rustic bread or baguette to the table.
They also make a fantastic main course. Serve them on top of rice or couscous. You can also serve them on a bed of lettuce as a salad.
Make-ahead tip: freeze the meatballs before cooking them for up to 2 months. Just thaw in the fridge and bake as directed.
More meatballs recipes
If you enjoyed these Moroccan lamb meatballs, here are some more ways to make meatballs. It's amazing how many different ways there are to make this simple dish.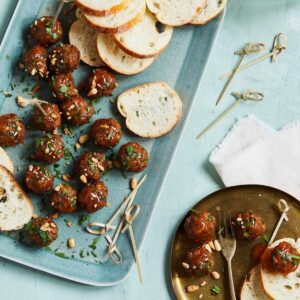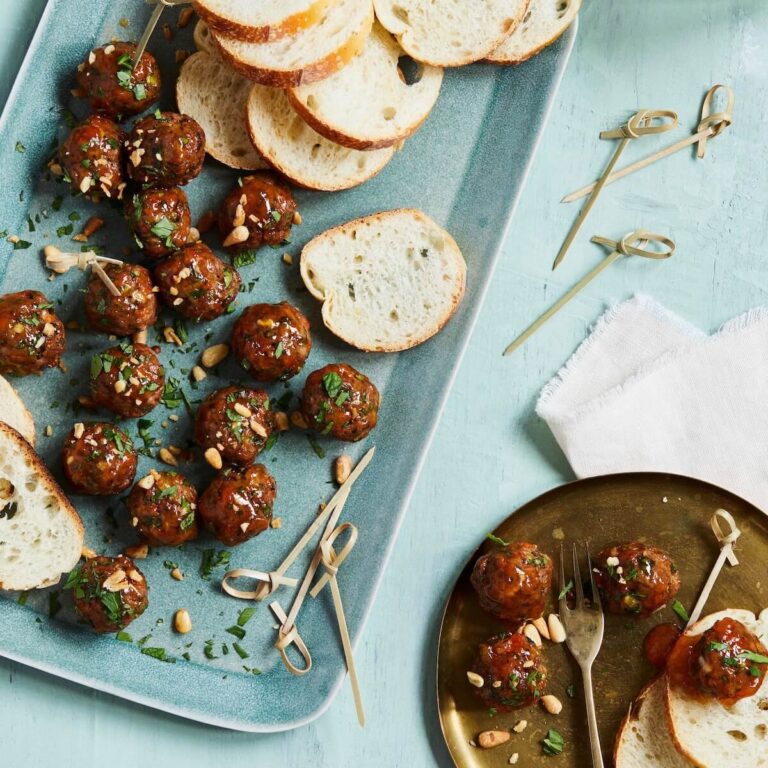 Glazed Moroccan Spiced Meatballs
Make Moroccan lamb meatballs using simple Middle Eastern spices for a delicious app or dinner. The sweet and savory apricot glaze is the perfect accompanyment.
Ingredients
½

cup

apricot preserves

Zest from 1 lemon

Juice of ½ lemon

½

teaspoon

Cayenne Pepper

1½

teaspoon

kosher or course sea salt

DIVIDED

¼

teaspoon

ground cumin

¼

teaspoon

ground cinnamon

½

teaspoon

ground ginger

½

teaspoon

ground coriander

¼

teaspoon

ground allspice

1

lb

ground lamb

3

scallions

green and white parts chopped

2

garlic cloves

minced

1

tablespoon

tomato paste

⅓

cup

flat-leaf parsley leaves

chopped

2

tbsps

mint leaves

chopped

⅓

cup

finely diced dried apricots

Toasted pine nuts
Instructions
Heat oven to 375°F. For the glaze: Stir together the apricot preserves, lemon zest and juice, ½ teaspoon salt and cayenne pepper. Set aside.

[Note: to serve the meatballs and glaze over rice or couscous, double the glaze recipe]

In a small bowl combine the remaining 1 teaspoon salt, cumin, cinnamon, ginger, coriander, and allspice. In a large bowl mix together the ground lamb, scallions, garlic, tomato paste, parsley, mint, dried apricots and spice mixture.

Roll mixture into 1-inch balls and place on a parchment-lined baking sheet. Bake until cooked through, about 20 minutes. Remove from oven and brush generously with glaze. Serve with extra glaze and topped with extra mint and chopped pine nuts. Can be served room temperature if desired.
Notes
• Nutrition facts are for 1 meatball and glaze.
• Serving suggestions:
Serve with rustic bread or baguette slices for a fun appetizer.
Serve meatballs over rice or couscous with extra glaze for a main dish.
Serve over a salad.
Nutrition
Calories:
40
kcal
Carbohydrates:
3
g
Protein:
2
g
Fat:
2
g
Saturated Fat:
1
g
Cholesterol:
8
mg
Sodium:
65
mg
Potassium:
47
mg
Fiber:
1
g
Sugar:
2
g
Vitamin A:
115
IU
Vitamin C:
1
mg
Calcium:
5
mg
Iron:
1
mg
Appetizers, Nibble and Finger Foods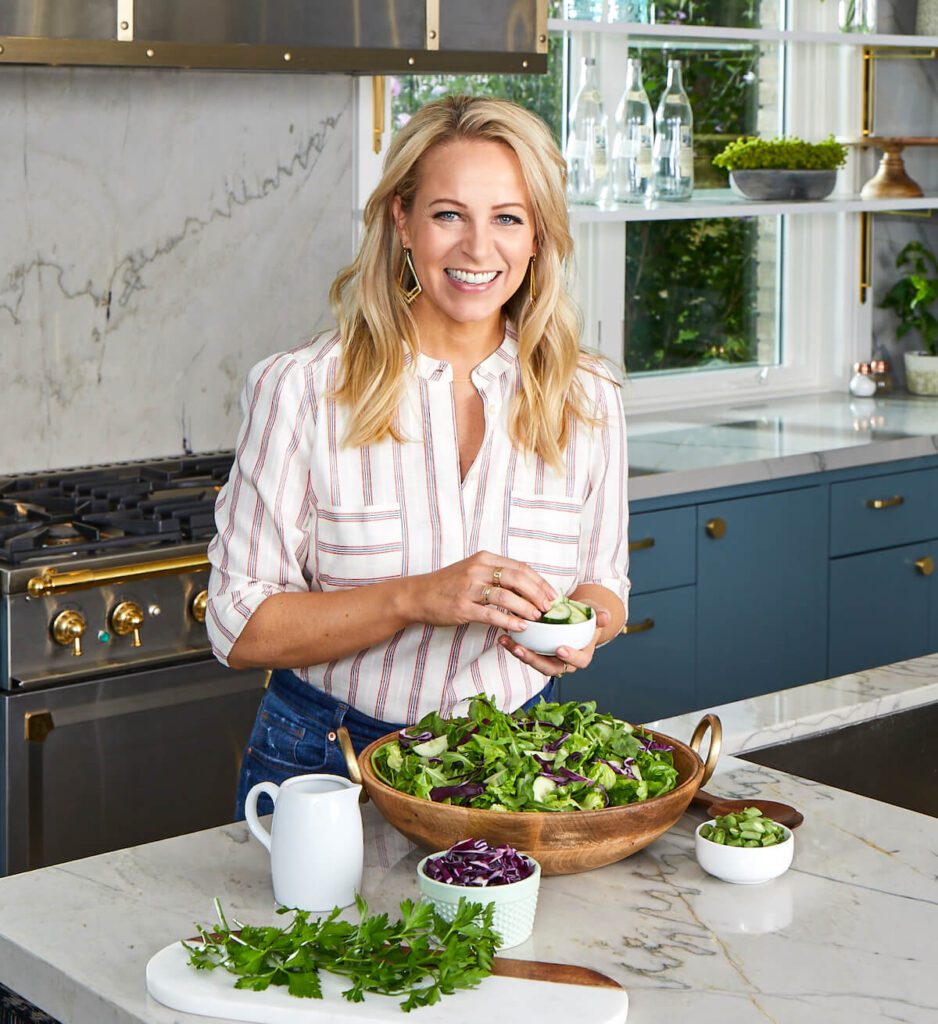 About Tara Teaspoon
I've been in the food publishing business for over 20 years, creating recipes & food-styling for magazines, books, television & advertising. Order my new cookbook & stick around for amazing things to eat.