---
This is really the best lemon curd recipe - it's easy, tart, thick and buttery. Much better than store-bought, and this smooth and creamy lemon curd keeps in the fridge for weeks.
Thick and tangy lemon curd is perfect as a cake filling, in a pastry shell to make a lemon tart, as a spread for biscuits, English muffins or scones, or just as a pudding topped with whipped cream!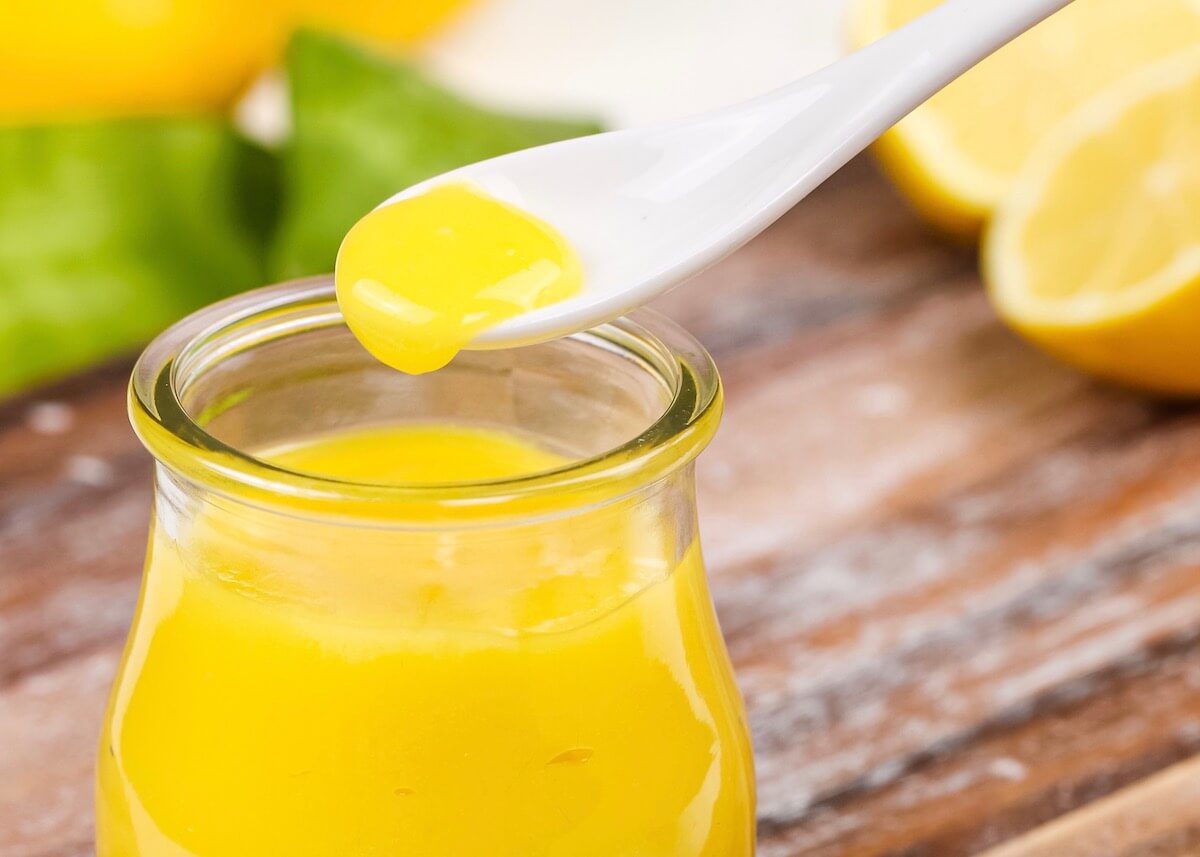 Jump to:
How to use lemon curd like a pro
The list of lemon curd uses is long. Long and delicious.
This velvety pudding is typically spread between layers of cakes, dolloped on meringues, English sponge cakes, toast, crumpets, English muffins, scones, muffins and biscuits.
You can stir it into cream to make a fool (fruit and whipped cream), swirl it in or on ice cream, spread it into tart shells or on top of shortbread to make a quick lemon bar cookie.
Fill or top cupcakes, whip it into frosting or layer it with cake and cream for a trifle or parfait dessert.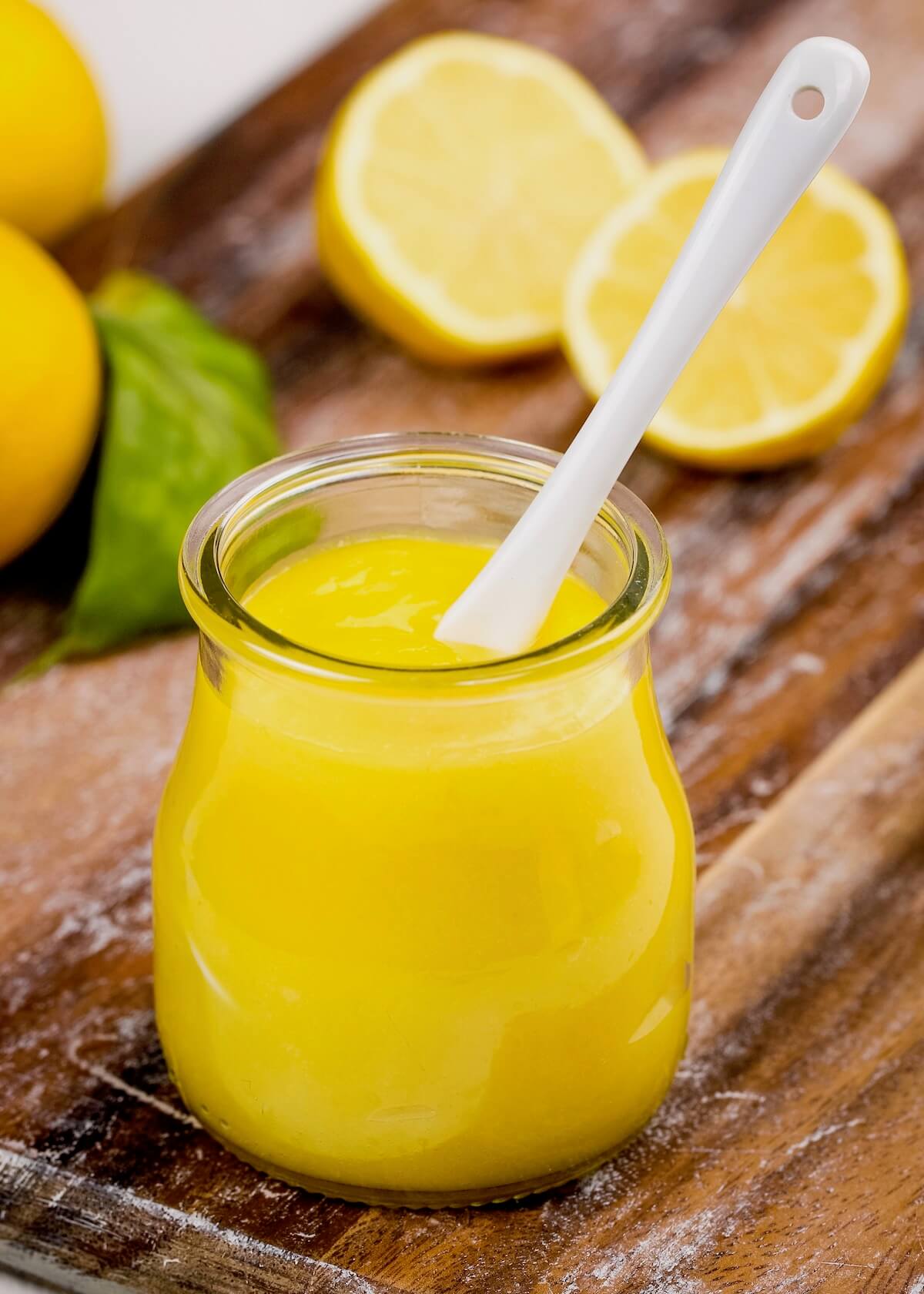 Just what is lemon curd?
This tart and smooth dessert custard is British in origin. Yep, the English perfected this lovely situation.
It actually derives from the idea of actual curd: lemon juice curdling cream then separated. The curds were used in tarts and things. Doesn't sound delicious to me.
I'm just grateful that the modern version of lemon curd is delicious, easy to make and sweet!
It's a simple mixture of 5 ingredients: lemon juice, lemon zest, egg yolks, sugar, and butter. I add a pinch of salt just for flavor insurance.
Curd can be made from all kinds of citrus juice, as well as purees, like mango. I love a good lime curd and if you're feeling fancy, make a grapefruit curd.
Lemon curd vs. lemon cream
Lemon curd is the intense, pudding-like mixture of eggs, lemon juice, butter and sugar. Lemon cream is really the same thing except the butter isn't melted into the lemon mixture.
An article in the Chicago Tribune talks about the method of whipping the butter into slightly cooled lemon curd, creating a silky, smooth lemon cream.
Lemon cream is kind of a pastry chef version of lemon curd. There are food science reasons why one would want to whip the butter into curd. The method does create an aerated version of lemony curd and seems very sophisticated. That being said, for filling a cake, or spooning on top of toast or a scone, my classic, rich lemon curd recipe is the best.
One of my favorite recipes using lemon curd:
Lemon Lover's Layer Cake is the perfect way to use lemon curd in dessert.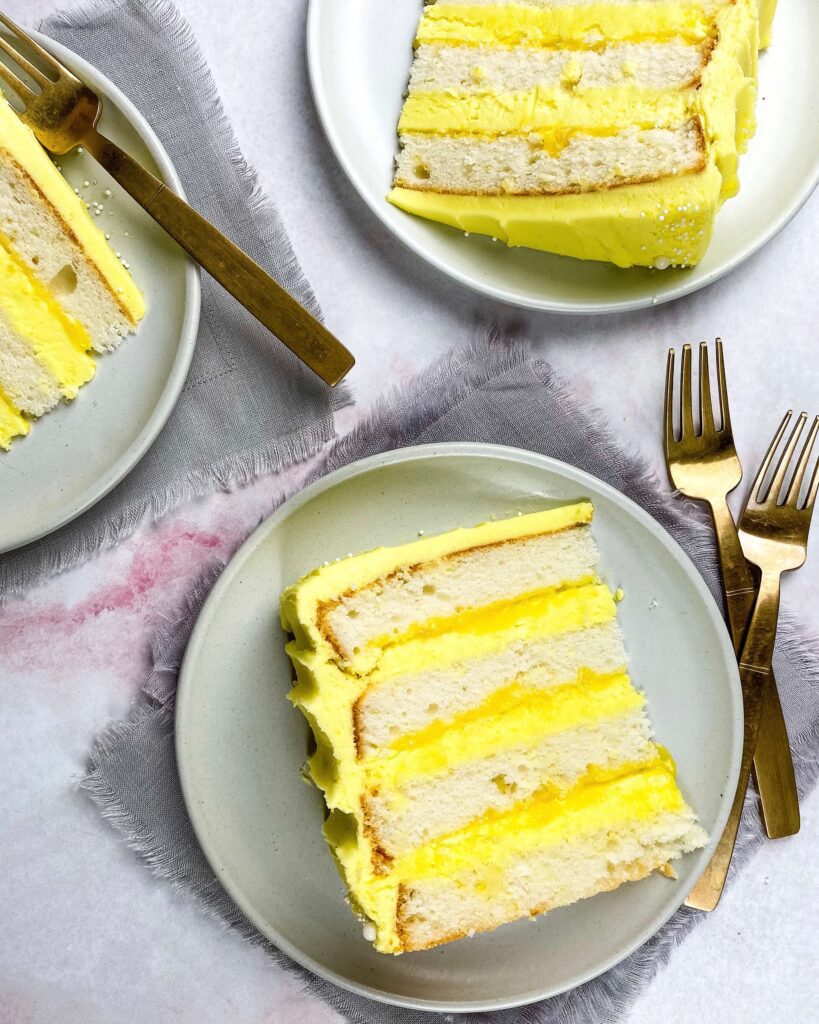 How to make it
Homemade lemon curd is super simple, but follow the rules or you'll end up with scrambled eggs in lemon juice.
You must gently cook the eggs, lemon juice and sugar. My recipe calls for butter to be melted in with the lemon juice. Some recipes have you stir the butter in near the end of cooking.
Using a double boiler is good insurance, helping you to not overheat the eggs as you cook, but just gentle heat in a heavy saucepan works for me. The heat causes the proteins in the eggs to coagulate and thicken the lemony mixture. Doing this slowly and gently will prevent curdling, which can easily occur over direct or high heat.
The key is to stir the mixture constantly. And, I go one step further and use a whisk. Constantly moving the mixture breaks the egg protein bonds creating the silky, sauce-like texture.
Lemon curd is gluten-free
There's no flour in lemon curd, and I don't even use corn starch for thickening. That makes this recipe completely gluten-free.
---
Tools you'll need for this recipe: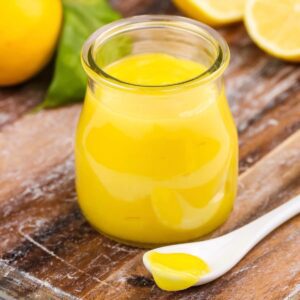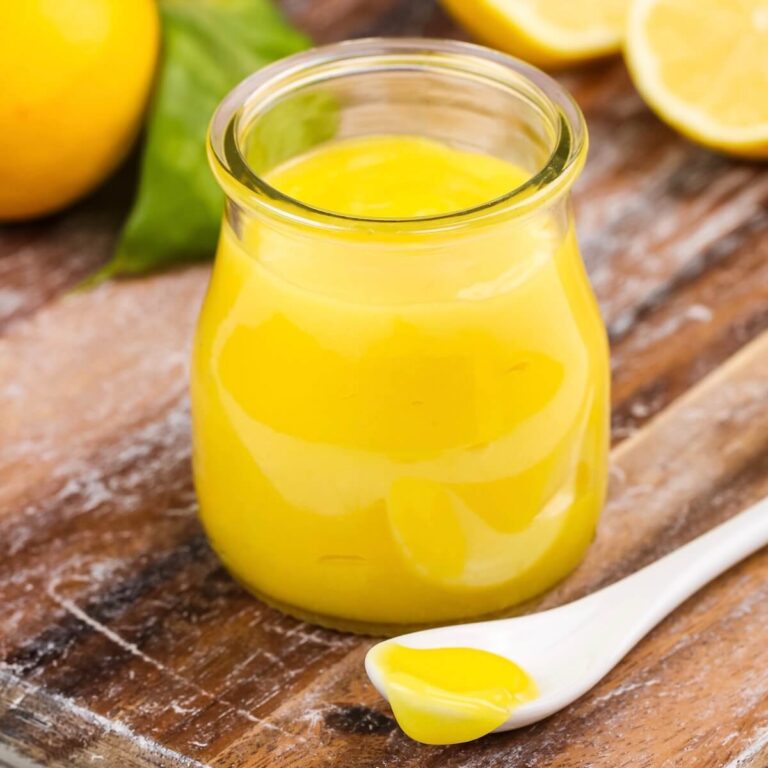 The Ultimate Lemon Curd Recipe
A homemade lemon curd recipe that's easy, smooth, just the perfect tartness and buttery. It is thick and spreadable and keeps in the fridge for weeks. Makes 1 ½ cups
Ingredients
½

cup

(1 stick) unsalted butter

3

tablespoons

lemon zest

½

cup

fresh lemon juice

⅛

teaspoon

salt

¾

cup

granulated sugar

6

large

egg yolks
Instructions
In a medium saucepan over medium-high heat, melt butter. Once butter is melted, add the lemon zest, lemon juice, salt and sugar. Whisk to combine.

Whisk in the egg yolks until smooth. Reduce heat to medium-low heat and cook, whisking constantly until the mixture thickens, 5 to 6 minutes. Don't let the mixture boil.

You can use the classic trick to check if the mixture is thick enough: dip a wooden spoon into the curd and draw your finger across the spoon; your finger should leave a path and the curd won't run to fill it in.

Immediately pour the curd through a fine-mesh sieve into a bowl. Use a rubber spatula to force all the curd through the sieve, leaving just the zest and any cooked bits of egg in the sieve. Scrape the bottom of the sieve to retrieve all the curd.

Transfer to a jar, cover and refrigerate until thick, about 4 hours. Or cover the top of the curd in the bowl with plastic wrap and let cool in the fridge to use for cake filling.

Curd will keep in the fridge up to two weeks.
Notes
*Nutrition is for ½ cup of curd.
This thick curd can be stored in the fridge for up to two weeks.
Use this curd for a cake filling. Try my Lemon Cake For Lemon Lovers.
Nutrition
Calories:
586
kcal
Carbohydrates:
55
g
Protein:
6
g
Fat:
40
g
Saturated Fat:
23
g
Cholesterol:
450
mg
Sodium:
119
mg
Potassium:
79
mg
Fiber:
1
g
Sugar:
51
g
Vitamin A:
1436
IU
Vitamin C:
23
mg
Calcium:
61
mg
Iron:
1
mg
Cake recipes for any occasion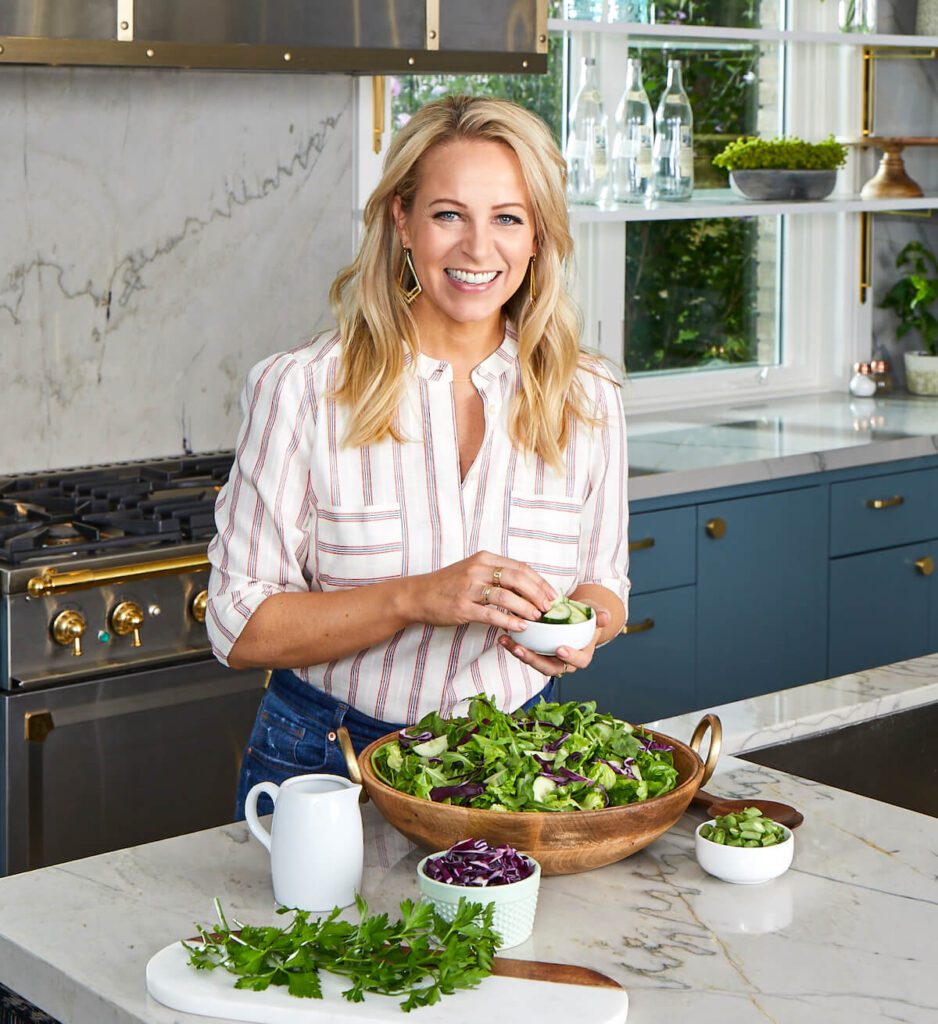 About Tara Teaspoon
I've been in the food publishing business for over 20 years, creating recipes & food-styling for magazines, books, television & advertising. Order my new cookbook & stick around for amazing things to eat.
Recipe by Tara Teaspoon. Photography by Darianne Edwards.