---
A little spice and a hint of lemon make this Ginger Pineapple Snack Cake a tasty treat for a party or picnic.
---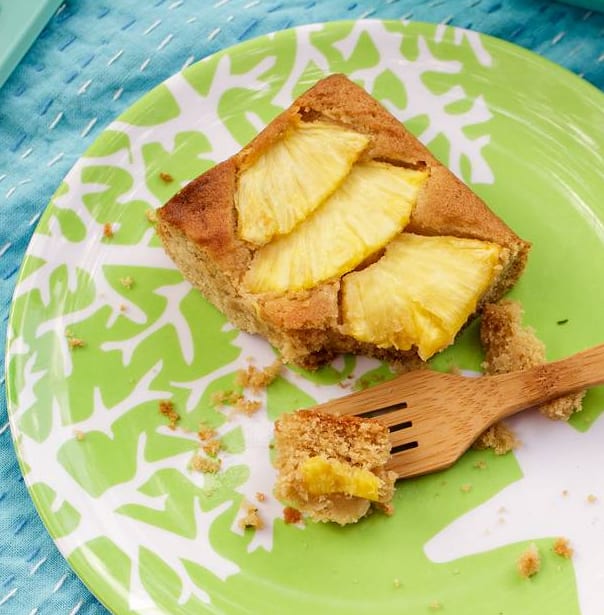 I think a little fruit with your cake makes it slightly healthy, no? Oh the ways I fool myself. I even added the word "snack" to the title to make it feel less indulgent! But my Ginger Pineapple Snack Cake is every bit as delicious as the most decadent of cakes.
Instead of cutting the pineapple in traditional rings, I opted for little fans. It's easy to slice the pineapple like this after you core it. This shape gives almost every bite of the cake its fair share of fruit.
The recipe method calls for lining the pan with parchment and letting the sides hang over two sides. This allows you to lift the cooled cake out of the pan completely to cut and serve if you desire. I use this trick for all baked goods in square or rectangle pans. It's a helpful alternative to just lining the bottom of the pan.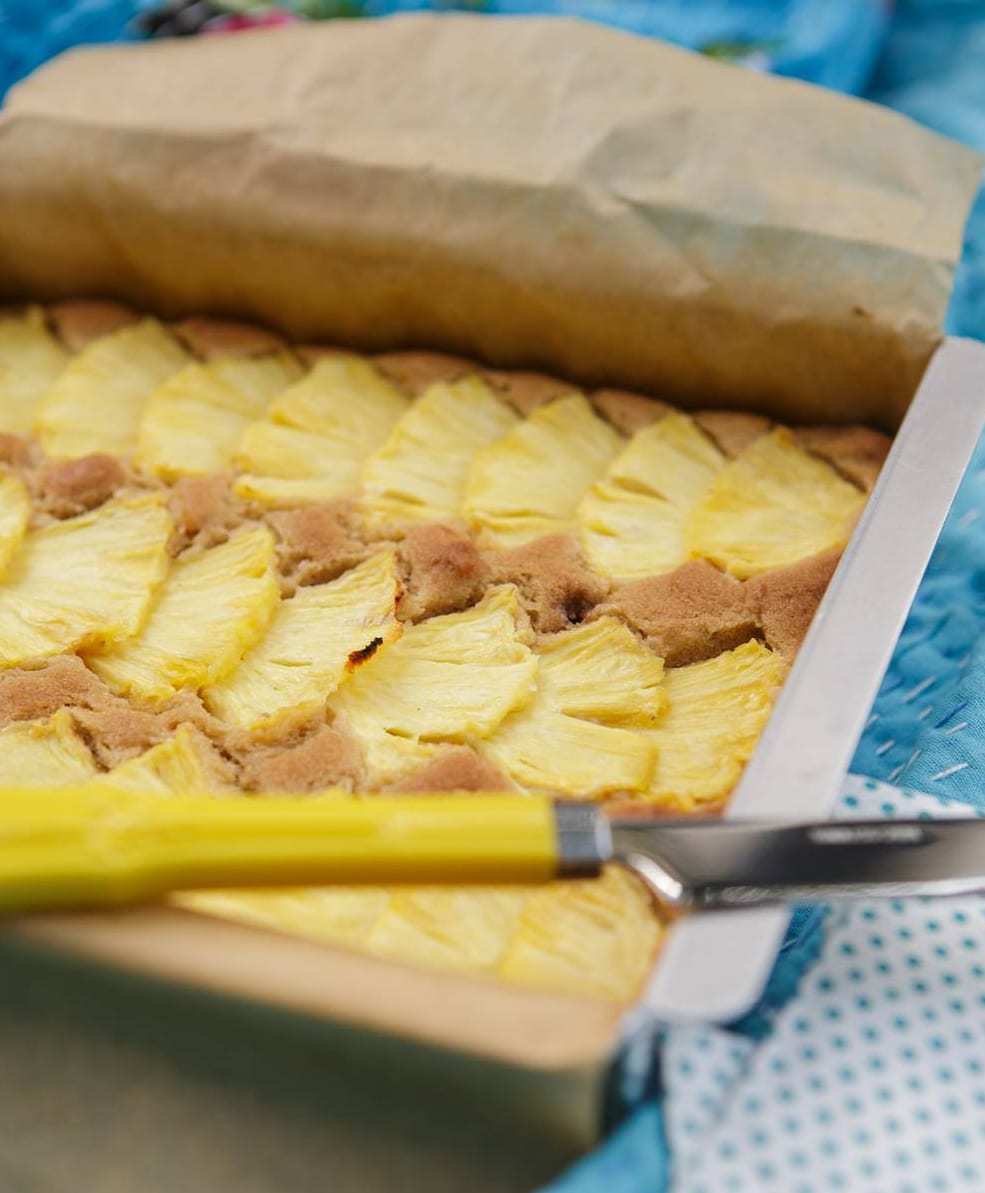 The method is a simple cream cake technique! Do you know why recipes call for adding eggs one at a time, and beating after each addition? It's a typical method. The reason being is you were instructed to beat the butter and sugars just before adding the eggs. You've incorporated air into the butter and sugar mixture, and if you added the eggs all at once it would deflate the mixture. The weight of the eggs would take all the air out of that cake's sails!
Beating air into the batter acts as part of the leavening for the cake. Beating eggs in one at a time allows the eggs to aerate before the next is added. Boom! Cooking knowledge for the day, check!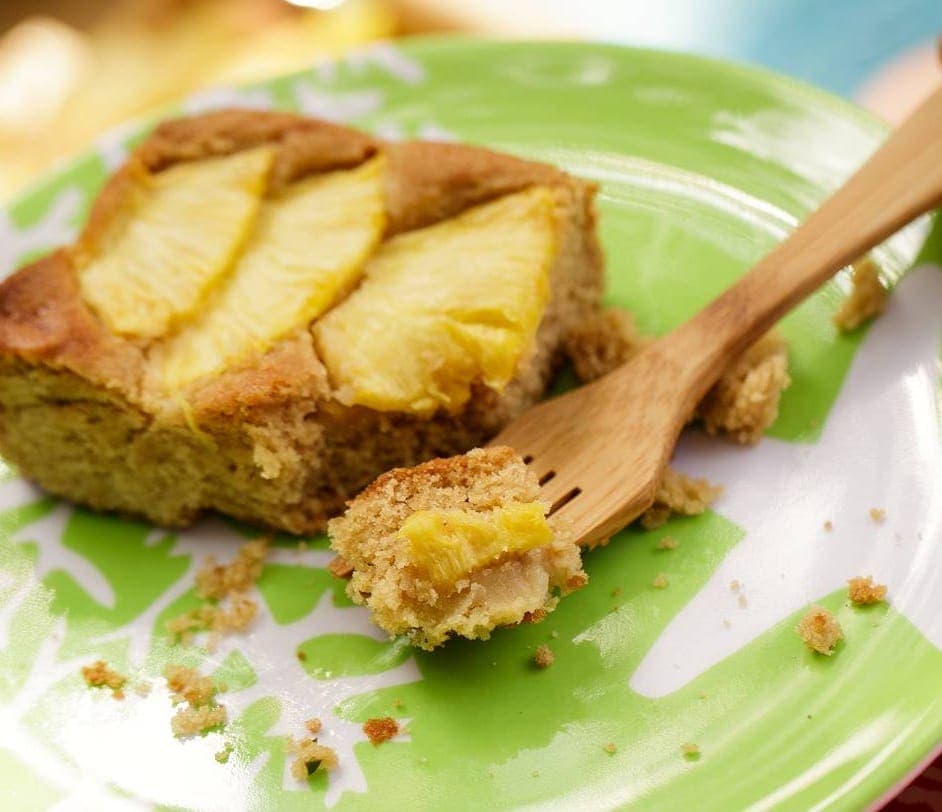 This cake is actually a very portable cake. Great for potlucks, spring parties and summer picnics. Keep it in the pan to travel and you have the perfect dessert...or snack.
More delicious cake recipes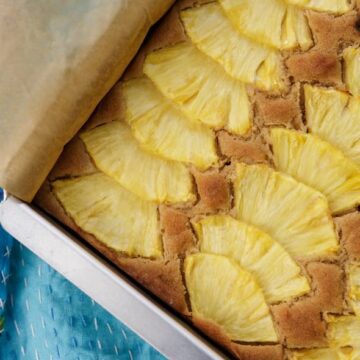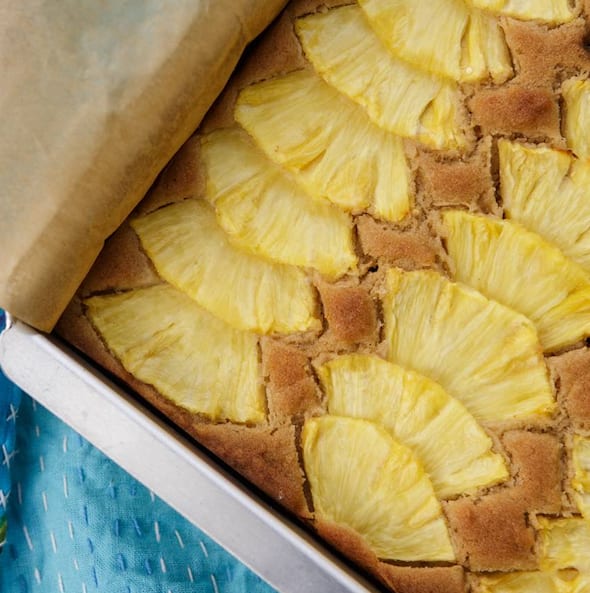 Ginger Pineapple Snack Cake
Surprise your guests with a gorgeous, easy-to-make dessert.
Ingredients
1½

cups

all-purpose flour

2

teaspoon

baking powder

¼

teaspoon

salt

½

teaspoon

ground ginger

5

tablespoon

unsalted butter

softened

¾

cup

light brown sugar

2

large eggs

⅓

cup

canola oil

1

teaspoon

lemon zest

1

teaspoon

vanilla extract

⅓

of a pineapple

sliced ¼ inch thick
Instructions
Heat oven to 350°F. Line an 8-inch square baking pan with parchment so that opposite edges hang over sides of pan and grease lightly. Whisk together flour, baking powder, salt and ginger; set aside.

In the bowl of an electric mixer beat the butter and sugar until fluffy, about 2 min. Add the eggs, one at a time, beating after each addition. Add the oil, lemon zest and vanilla and continue to mix until creamy, scraping sides of bowl as needed. Add the dry ingredients and mix until just blended.

Pour batter into prepared pan and arrange the sliced pineapple on the surface, overlapping slightly and pressing gently into the batter. Bake until done in the center, 45 to 50 min. Cool completely; transport in baking pan.
Notes
This cake is actually a very portable cake. Great for potlucks, spring parties and summer picnics. Keep it in the pan to travel and you have the perfect dessert...or snack.
Nutrition
Calories:
2781
kcal
Carbohydrates:
351
g
Protein:
32
g
Fat:
142
g
Saturated Fat:
45
g
Cholesterol:
480
mg
Sodium:
776
mg
Potassium:
1880
mg
Fiber:
9
g
Sugar:
191
g
Vitamin A:
2425
IU
Vitamin C:
146.8
mg
Calcium:
704
mg
Iron:
13.1
mg
Cake recipes for any occasion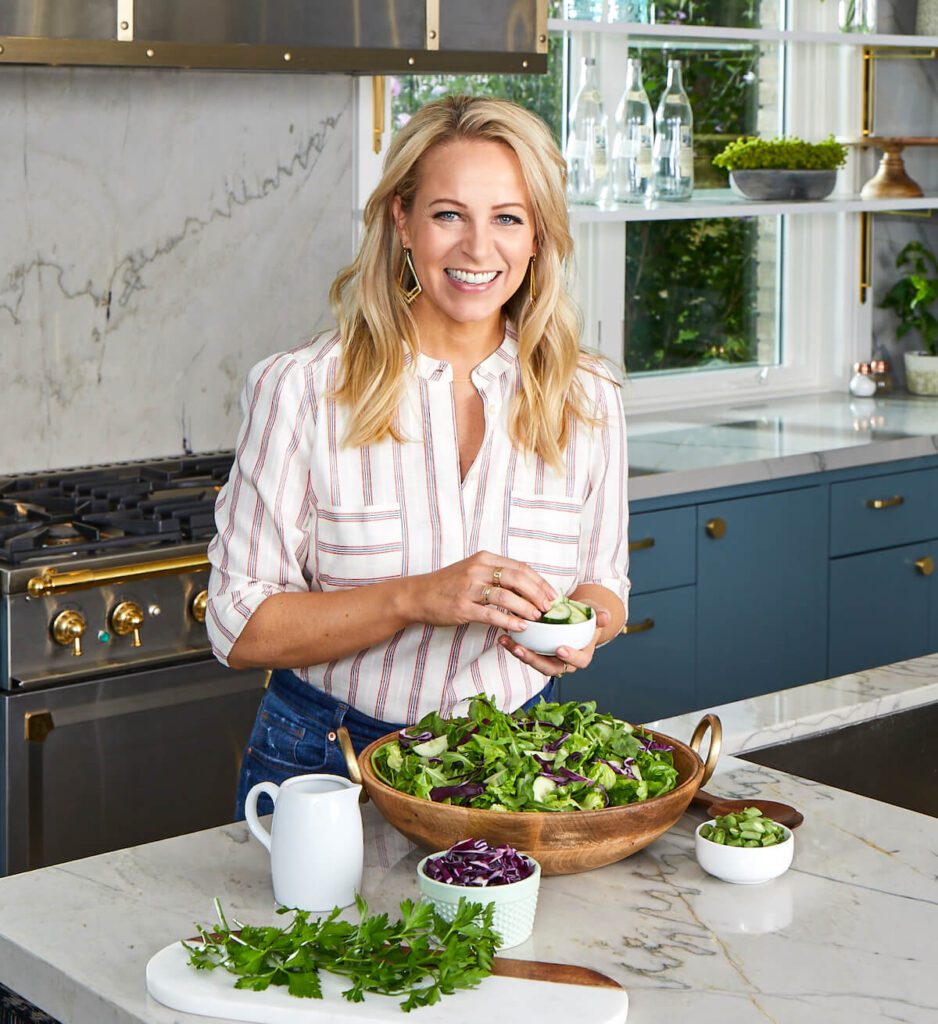 About Tara Teaspoon
I've been in the food publishing business for over 20 years, creating recipes & food-styling for magazines, books, television & advertising. Order my new cookbook & stick around for amazing things to eat.
Recipe Tara Bench & Hilary Merzbacher. Photographs Carol Von ZumwaltOriginally published . LHJ 6/13