Get the recipe for how to cook pork tenderloin on the grill! It's juicy, fast, and delicious served with goat cheese, rosemary and honey. I'm telling you, it's the easiest way to grill pork tenderloin and you'll love the simple spice rub.
---
After making this recipe I think you'll agree with me: this is the perfect grilled pork tenderloin. Not only do you get a little smokey goodness from the grill, but pairing it with tangy goat cheese, rosemary and honey makes for an amazing meal.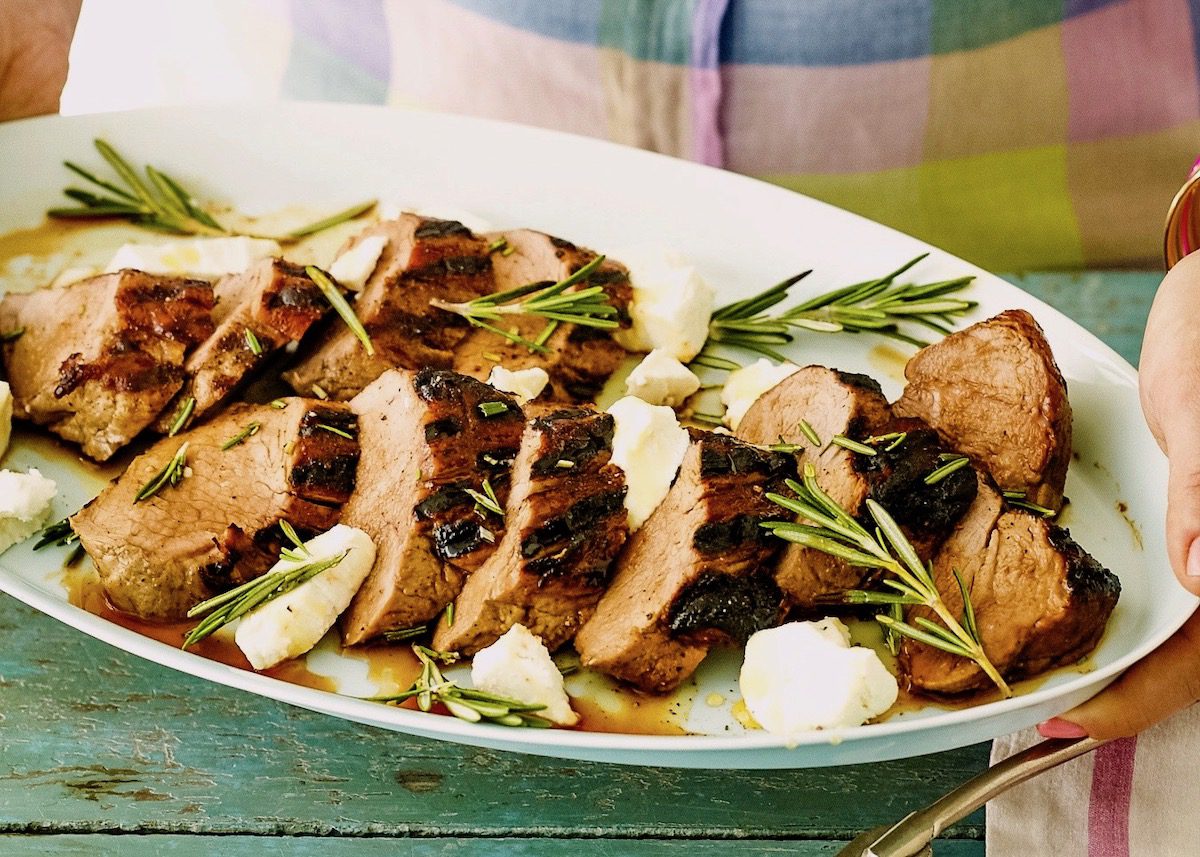 I love cooking with pork tenderloin because it's fast and flavorful. It takes less than 30 minutes from start to finish to grill pork tenderloin.
It's a summer dish you can have on the table for guests in less time than it takes to whip up burgers with all the fixings! That's my kind of cookout.
Plus it goes with almost any summer side dish.
Side dishes to serve with grilled pork:
Jump to:
Why is this the best grilled pork tenderloin recipe ever?
It doesn't take much to make perfect pork tenderloin on the grill. It's fast, easy and you get a lovely smoked flavor in less than half an hour.
Tenderloin is quite incredible cooked on the grill. With just a simple rub or marinade, it chars just enough and stays juicy inside. It will be a dinner staple in no time!
Pork tenderloin is at it's best when cooked to no more than 145ºF internal temperature. I'll talk more about this below. You don't want to over cook it.
The seasoning:
And, while not overcooking this pork cut is imperative, so is seasoning it! It's a very versatile cut, and salt is the only thing really necessary; it's a must.
I use a dry rub with salt, pepper, garlic powder, and coriander. With a little brown sugar, it renders the best tenderloin ever! You can also use your favorite marinade on tenderloin with fantastic results.
The finishing touches really take this recipe over the top. A well-seasoned tenderloin on the grill served with a drizzle of honey, pungent rosemary and tangy goat cheese are heavenly. That's what makes this tenderloin the best!
In this post:
I'll tell you more about why I love this recipe for pork tenderloin on the grill, how long to grill it, and the most delicious way to serve it. Read on!
That caramelized, seasoned outside is what makes grilled pork tenderloin amazing. And you could serve this simple recipe with anything! However, I think a tangy goat cheese, fresh rosemary and a drizzle of sweet honey is the best.
---
Newest recipes from Tara Teaspoon!
More pork tenderloin recipes:
I have another recipe for pork tenderloin that is equally delicious. I make kabobs with fresh orange and they are amazing.
I serve the kabobs with steamed or sautéed green beans. Both of these pork tenderloin recipes would also be great served with mashed potatoes or simple grilled veggies.
My all time favorite go-to tenderloin dinner has an easy apricot sauce you make right in the pan. You MUST try it!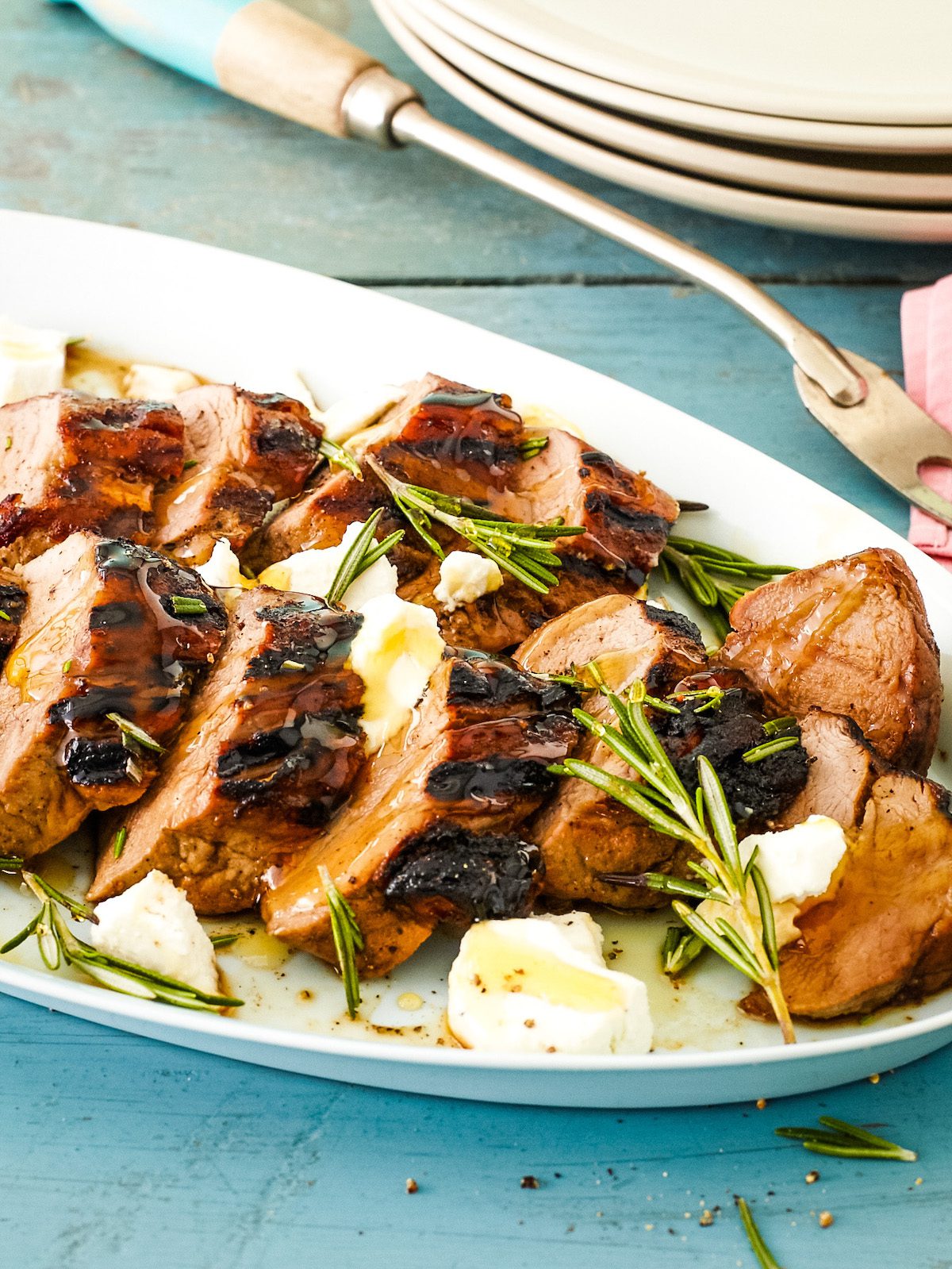 I'm going to give you a hint: You'll want to double this recipe!
The second you slice perfectly grilled pork tenderloin, the pieces start dissapearing. And you may just need a nibble as you slice, you know, for an appetizer!
How many people does one pork tenderloin serve?
One pork tenderloin serves about 4 people. If you have any big eaters it cuts this number down to 3!
Pork tenderloin is a thin, tender piece of pork. It's only 12 to 16 oz in weight. Often this cut is sold in packages of 2. This is perfect, and the recipe below is easy to double.
The best rub.
The rub is the first step to making this tenderloin the best. I use spices already in your pantry: garlic powder, coriander and black pepper. Adding brown sugar to the rub intensifies the caramelization as it grills.
A rub is a great way to season pork, chicken and other meat. It easily sticks to the outside without dripping off like a sauce, and toasts and caramelizes as it cooks.
You can use your own favorite rub for this recipe too. If you want to get a little fancy try my 10-ingredient rub!
• Terrific 10-ingredient BBQ Rub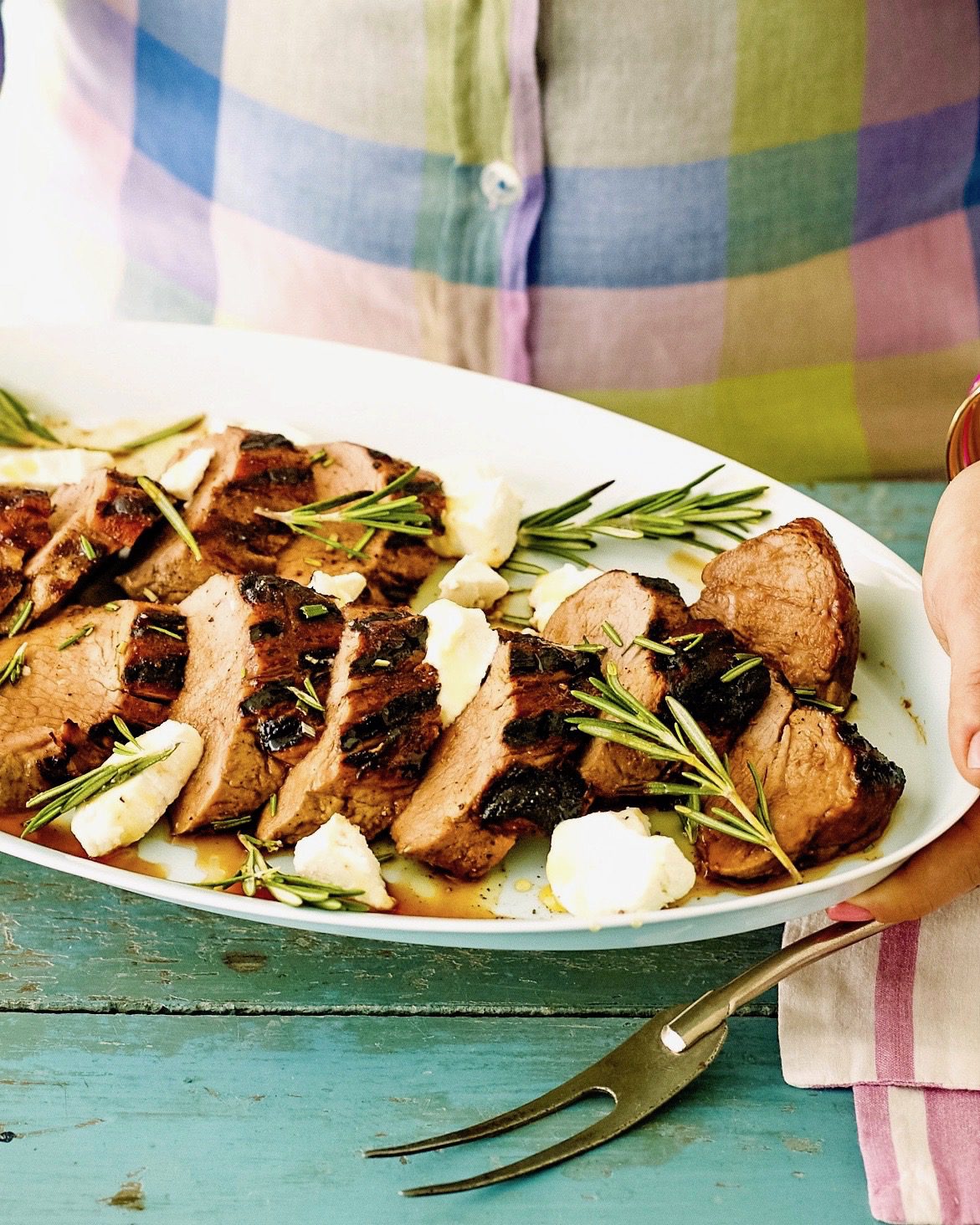 How long to grill pork tenderloin.
You'll want to have your grill prepped and an instant read thermometer before I tell you how long to cook pork tenderloin on grill! Those are essential tools.
A grill, obviously, is needed! Charcoal or gas is fine. I suggest cooking the tenderloin over medium-high heat. That's 375ºF to 400ºF. You'll cook your tenderloin 18 to 20 minutes depending on the thickness. The internal temperature should be 130ºF in the thickest part (as the meat rests the temperature will rise to 145ºF as the final temp.)
Most grills have heat zones that are created by direct or indirect heat. Direct heat is right over the flame or coals, while indirect is a lower temperature and not over the flames.
See more about direct and indirect grilling on my BBQ post.
This pork tenderloin can be cooked over direct heat as long as it's not at its hottest temperature. As mentioned above it should be around 375ºF. You can also sear and brown the tenderloin over higher heat and then move it to a lower heat to cook through.
Pork tenderloin temperature
I like grill pork tenderloin to 130ºF at its thickest point. The intense heat from the grill will cause the tenderloin to be very hot on the outside and the carry-over cooking will raise the temperature to about 145ºF before you slice it.
The grilled pork tenderloin temperature should be between 140ºF and 145ºF and will be safe to eat. You'll have a crisp, grilled outside and a juicy, pink inside.
---
Tools you'll need to grill pork tenderloin:
---
More easy dinners and main dish recipes:
Main Dish Recipes