This Chinese cashew chicken recipe is made with a simple but flavorful cashew sauce. Serve with rice and steamed veggies for an easy weeknight dinner!
---
Jump to:
I would wager you've had chicken with cashew nuts at a Chinese restaurant. If you haven't, someone you went with did!
It's one of the most popular and famous stir fry dishes at American Chinese eateries. So, how do you make cashew chicken stir fry at home?
In this post, I'll be dishing all my secrets for making the best chicken cashew stir-fry. It's an easy recipe that take less than an hour to prepare!
Is Cashew Chicken Actually Chinese?
Chinese cashew chicken has some pretty American roots. The gist is that chef David Leong moved from China to the United states in 1940.
He struggled with success cooking authentic Chinese food in Springfield, Missouri. Attempting to adjust his traditional homeland dishes to something the local folks might like, he came up with cashew chicken.
Everyone was in love and he soon opened Leong's Tea House, which found major success until the late 90's. Cashew chicken is still a mainstay in the community, as it is all over the country.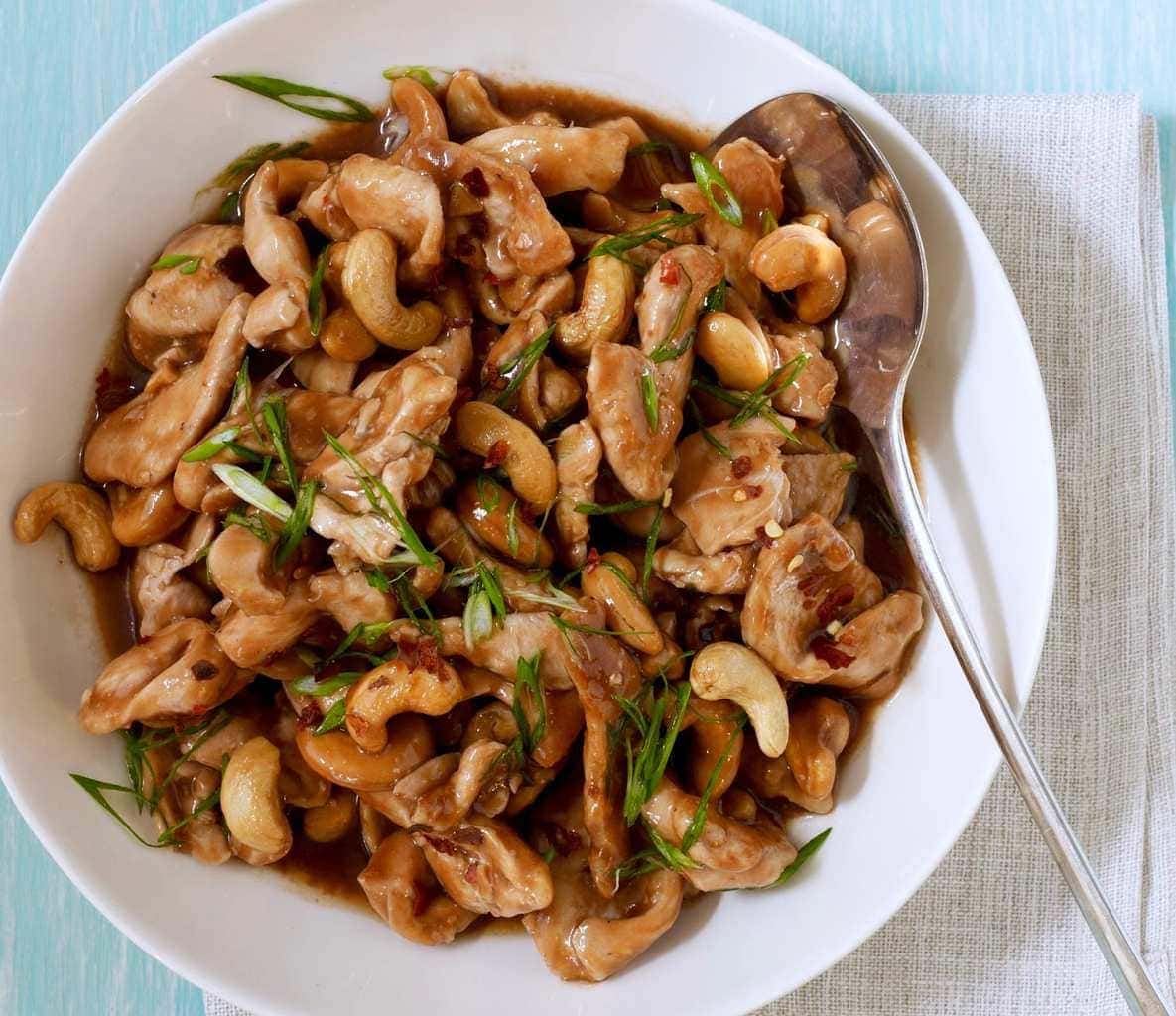 Ingredients in This Recipe
The secret to making an authentic tasting Chinese dish at home lies in a few ingredients. First, MSG.
Oh my goodness, I'm kidding!
By the way, these days the majority of American Chinese restaurants don't use MSG (monosodium glutamate, a flavor enhancer). But MSG has been proven to be completely safe for consumption.
The real secret to easy cashew chicken is to make a great sauce, and that includes ginger, garlic, Chinese rice wine and hoisin sauce. Building these flavors together and adding sweet, crunchy nuts creates a cashew chicken sauce that tastes like your favorite restaurants' classic dish.
Let's break down the key ingredients in teh cashew chicken sauce:
Fresh ginger and garlic. These two ingredients combine to give many stir-fry dishes their intricate base. Like a mirepoix (onions, celery, carrots) in French cooking, this combo is found in many Chinese dishes.
Shao Hsing, or dry sherry. Shao Hsing (Shaoxing) is a Chinese rice wine used for cooking. It's easily substituted for dry sherry and has the most to do with making this dish authentic when made at home. Both impart a savory, nutty and aromatic flavor to the stir fry sauce.
Hoisin sauce. This thick, fragrant, sweet and tangy sauce is a staple in stir-fry sauces and meat glazes. It's usually made from soy beans, fennel seeds, red chilies, and garlic, vinegar and sugar. Hoisin is often called Chinese ketchup, but it's much more complex as spices are often added. It's a perfect addition to an authentic dish.
Can I Use Ground Garlic and Ginger?
Nope! No substituting dried ginger or garlic powder here. The fresh ingredients are key.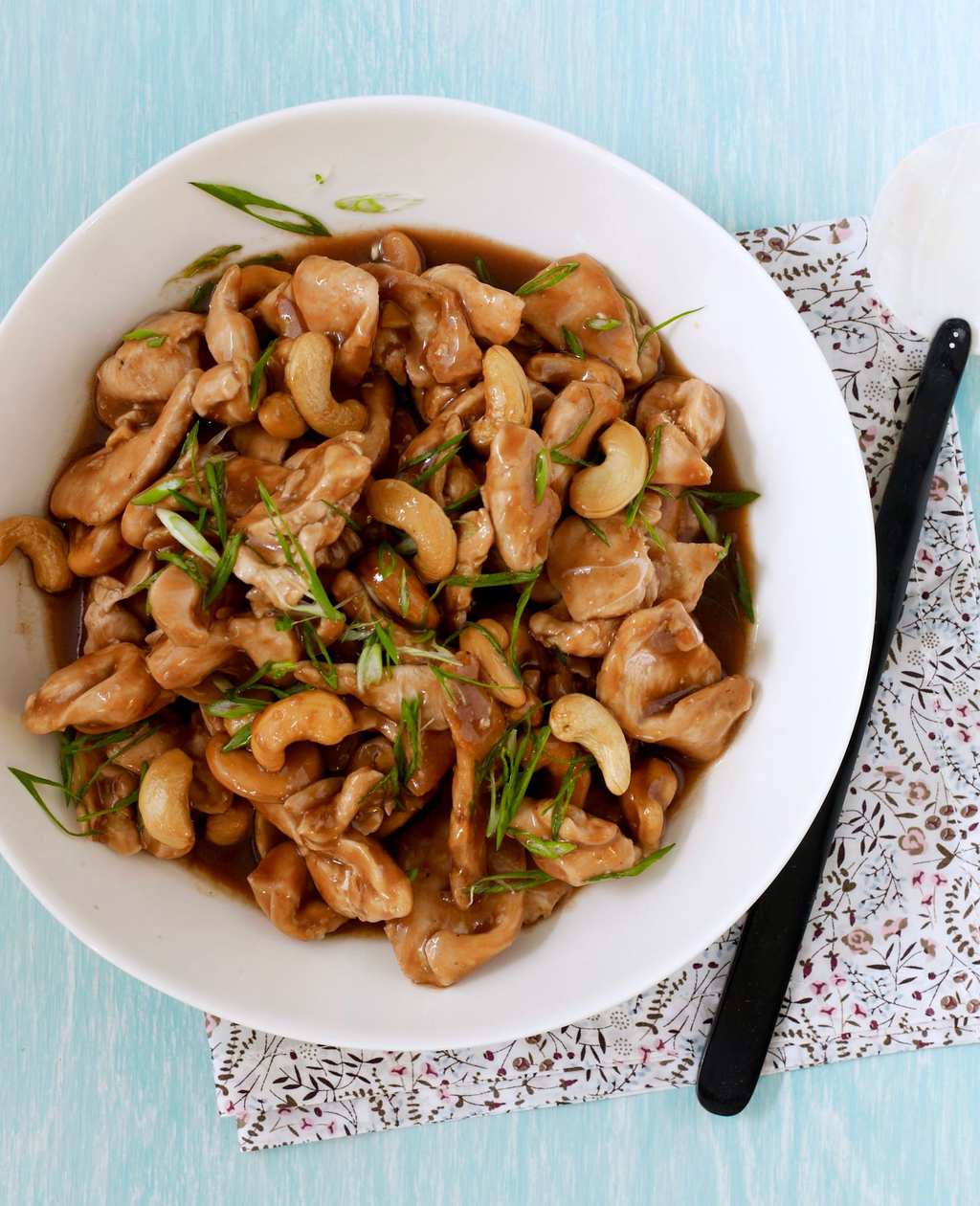 How to Make Cashew Chicken
Now that you know what ingredients to keep in the pantry you're ready to have this better-than-takeout dinner at home.
Here's a quick overview of how this recipe is made:
Pull out a large skillet or wok (check out this ceramic-coated nonstick option!).
Mix the sauce ingredients together in a bowl.
Cook the chicken, then simmer it in the sauce.
Finish with crunchy cashews to add the perfect texture and sweet flavor!
Serve this cashew and chicken recipe with long grain rice or sticky rice on the side. Enjoy!
Tips for Making Chicken with Cashew Nuts
Make spicy cashew chicken by adding extra red pepper flakes, or a sliced red chili to the sauce. Adjust the heat by adding a little chili at a time.
If you don't have sherry on hand, you may omit it. However, your cashew chicken sauce will lack the depth of flavor that mine had.
To round out the meal, steam some broccoli or saute mixed vegetables in a separate skillet.
More Easy Asian Dinners:
Let me know how it went!
Scroll to the bottom of the page to rate ⭐⭐⭐⭐⭐ and comment on this recipe. Leaving comments helps other too!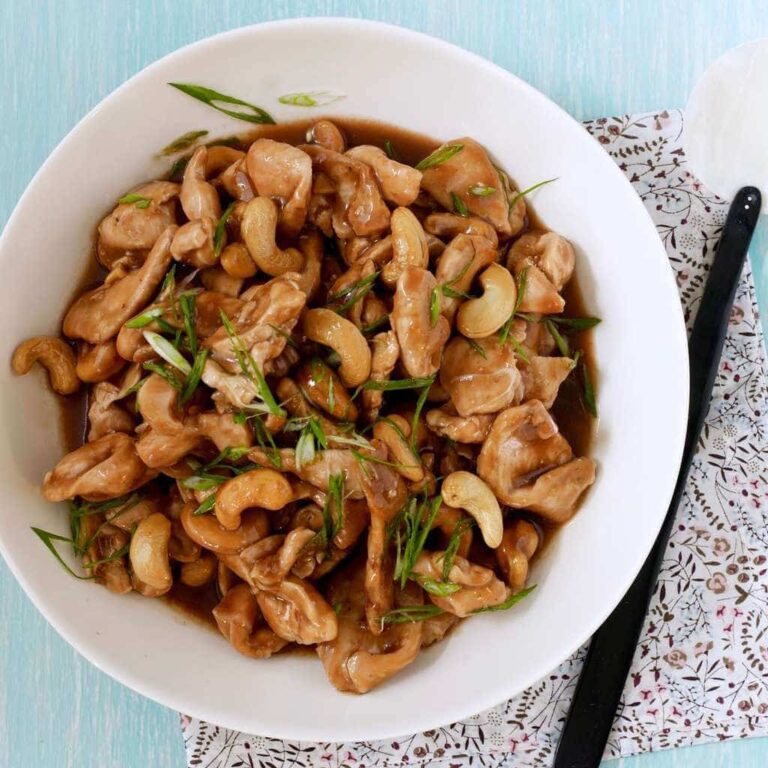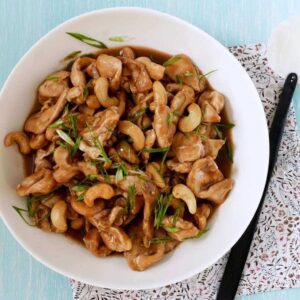 The Best Cashew Chicken Recipe
Real cashew chicken with a simple and authentic sauce tastes just like your favorite takeout.
Ingredients
4

boneless, skinless chicken breasts (1¾ pounds total), thinly sliced

3

tablespoons

dry sherry

2

teaspoons

grated fresh ginger

2

cloves

garlic

sliced

4½

teaspoons

cornstarch

¾

cup

low-sodium chicken broth

2

tablespoons

low-sodium soy sauce

3

tablespoons

hoisin sauce

1

tablespoon

rice vinegar

2

teaspoons

light brown sugar

2

teaspoons

canola oil or avocado oil

½

cup

unsalted toasted cashews

2

scallions

thinly sliced

¼

teaspoon

red-pepper flakes

cooked rice for serving
Instructions
In a bowl combine chicken, sherry, ginger, garlic and 2 teaspoon cornstarch. Chill 30 min. In another bowl combine broth, soy sauce, hoisin, vinegar, sugar and 2½ teaspoon cornstarch; set aside.

Heat a large nonstick skillet over medium-high heat, with 1 teaspoon canola oil. Sauté half the chicken until cooked through, about 5 min; transfer to a plate. Repeat with remaining chicken and oil.

Return chicken to skillet. Stir in broth mixture and bring to a simmer; cook until sauce thickens, about 1 min. Add cashews and serve with scallions and red-pepper flakes.

Serve with cooked white or brown rice if desired.
Notes
You can whip up this better than takeout cashew chicken recipe with just a little bit of prep. Serve with steamed rice.
Nutrition
Calories:
434
kcal
Carbohydrates:
16
g
Protein:
52
g
Fat:
15
g
Saturated Fat:
2
g
Cholesterol:
145
mg
Sodium:
742
mg
Potassium:
1025
mg
Fiber:
1
g
Sugar:
6
g
Vitamin A:
165
IU
Vitamin C:
4.3
mg
Calcium:
28
mg
Iron:
2.4
mg
---
Be sure to check out these other great international recipes from some of my fellow food bloggers.
Thailand - Thai Chicken Larb Salad
Germany -German Meatballs and Potatoes
Greece - Greek Style Grilled Lamb Chops
Italy -Fettuccini Alfredo
Italy - Wild Mushroom Risotto
Korea -Oven Baked Korean BBQ Chicken Wings
Sweden -Easy Swedish Cucumber Salad
USA - Instant Pot Bourbon BBQ Ribs
My new delicious and easy chicken recipes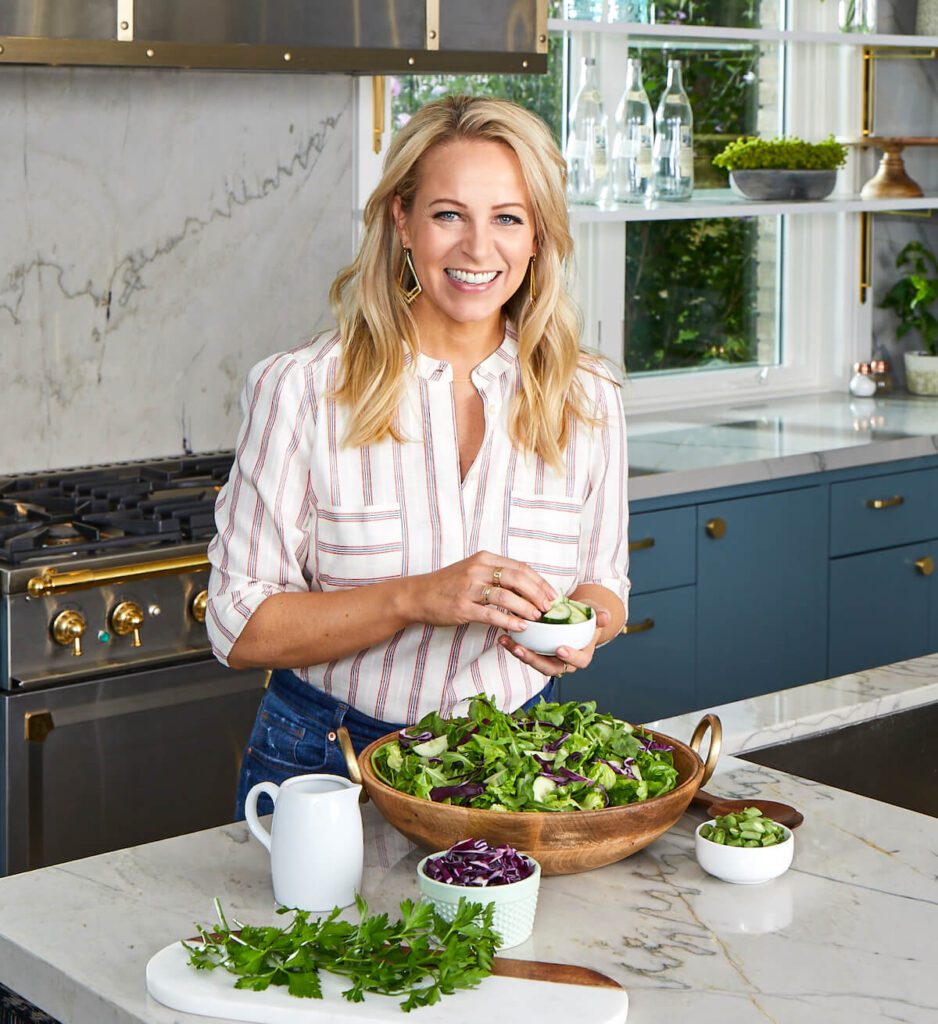 About Tara Teaspoon
I've been in the food publishing business for over 20 years, creating recipes & food-styling for magazines, books, television & advertising. Order my new cookbook & stick around for amazing things to eat.
Recipe Tara Teaspoon, Photograph Hallie Burton, Food Stylist Ann Disrude, Prop stylist Randi Brookman Harris. Originally published LHJ 09/10. Revised for content 04/22