Korean BBQ Chicken Skewers with a simple marinade bring authentic cooking home. Tender chicken and colorful vegetables only take a few minutes to make and grill. 
Hold on to your bamboo skewers, because these little kabobs are going to knock your socks off. Authentic Korean BBQ flavors are easy to put together at home, so you have a family-friendly meal in minutes.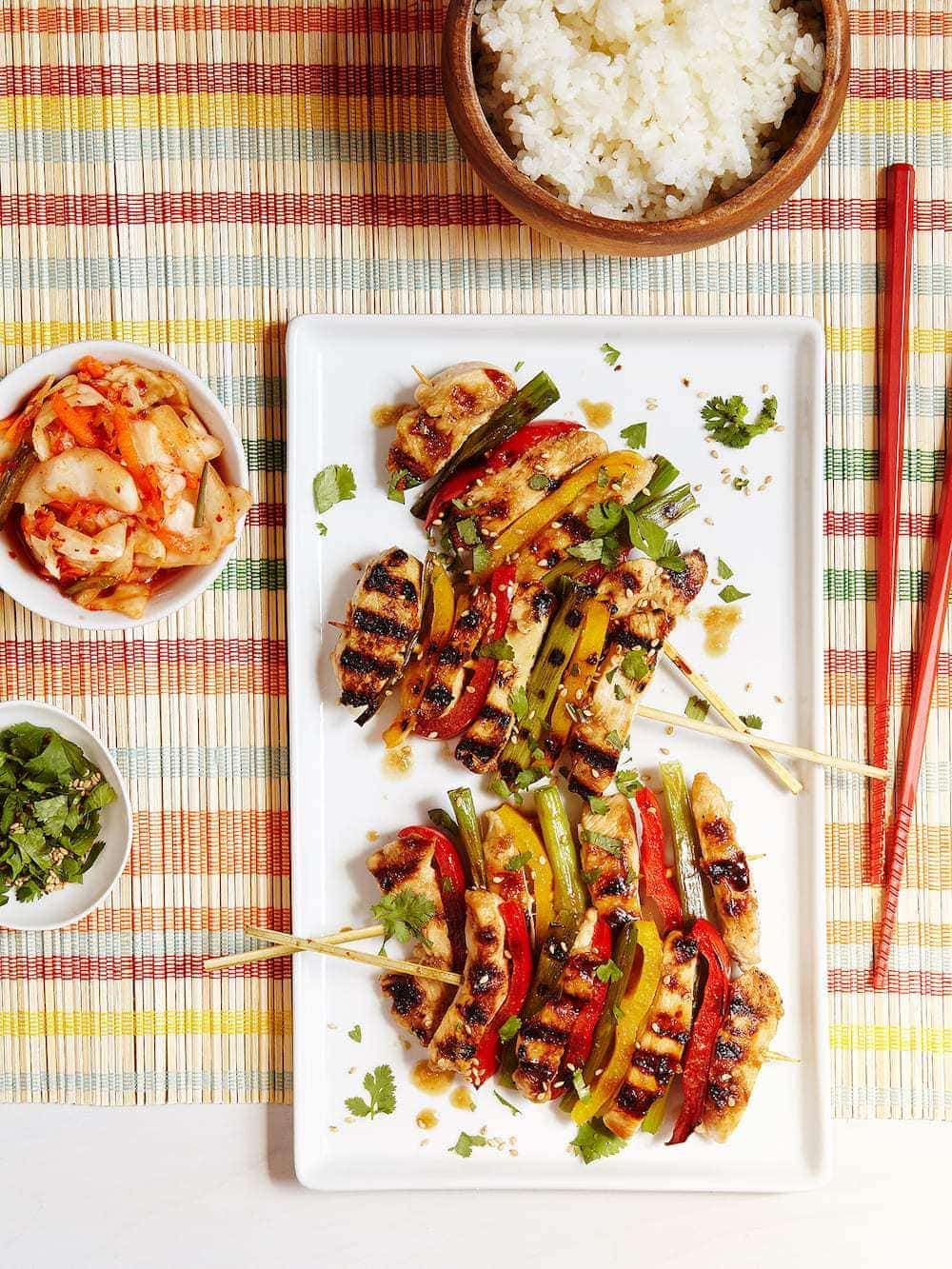 I love grilling for quick and simple meals. The meats and chicken I take the time to marinate first are always the stand-outs, like my tangy Lamb and Vegetable Kabobs. Even a quick 30-minute marinade like the Korean-inspired recipe here, impart massive amounts of flavor into the meat. Chicken especially soaks up marinades perfectly.
Make Korean BBQ at home with a simple marinade and kabob technique.
I start my Korean BBQ Chicken Skewers with flavors like garlic, ginger and soy sauce. Almost like a Japanese yakitori sauce or teriyaki sauce. I add a kick of acid from rice wine vinegar and some sesame oil for a real pop of Asian flavor. I included a splash of corn syrup because Korean kabobs are typically sweet. I didn't want too much, but just a little helps the chicken and veggies caramelize on the grill.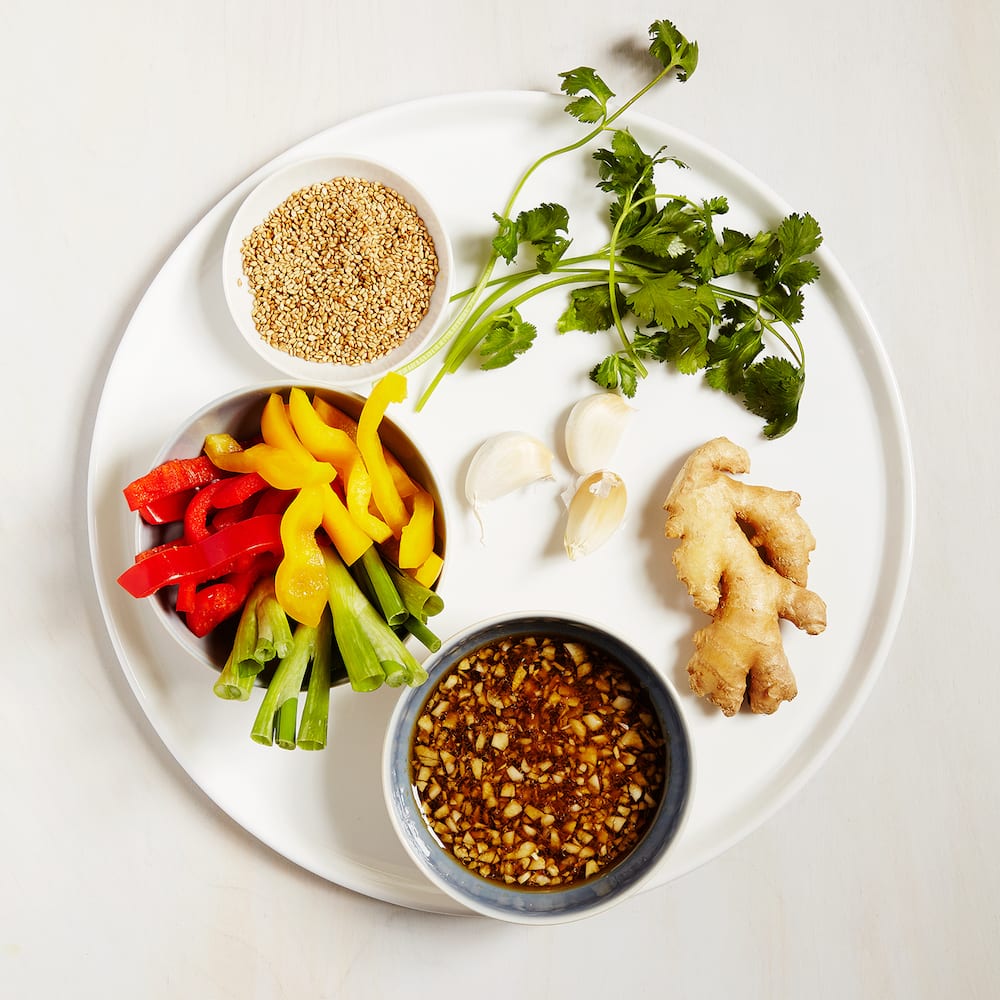 I cut colorful, sweet vegetables like red and yellow bell peppers and mild scallions all to the same size. My chicken gets cut to this same size as well. That way, everything cooks evenly and is done at the same time. It's also more fun for little hands and mouths to eat if you're feeding the kids. Feel free to experiment with other vegetables, just remember to cut them to this same size.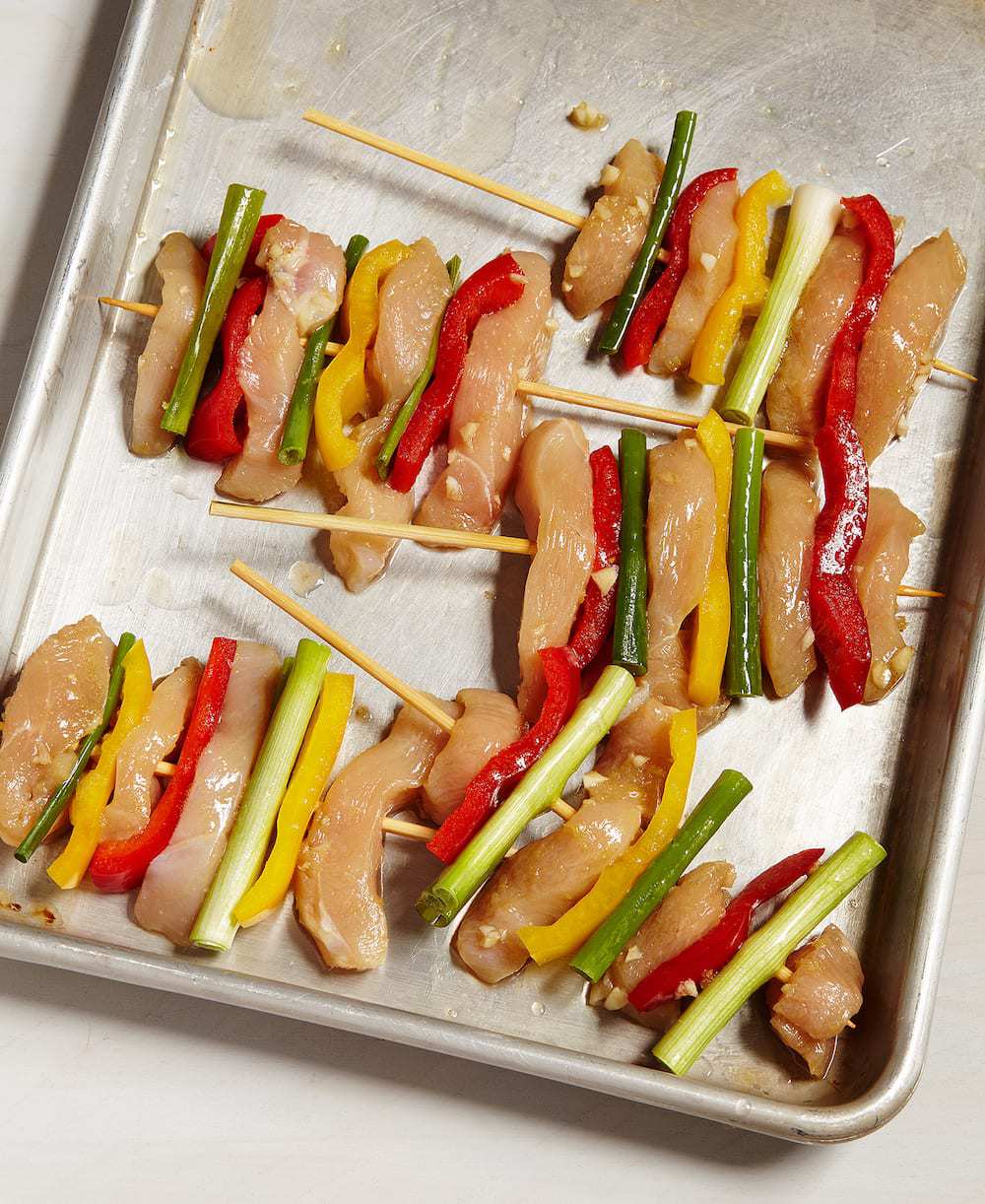 Once the chicken has marinated, only about 30 minutes, it's ready for the grill. Discard the marinade and thread the colorful veggies and chicken onto your soaked skewers. I soak the skewers so they don't burn on the grill. Get bamboo skewers here.
They only need a few minutes of cooking. Everything is cut so small, that 2 to 3 minutes on each side is all it takes.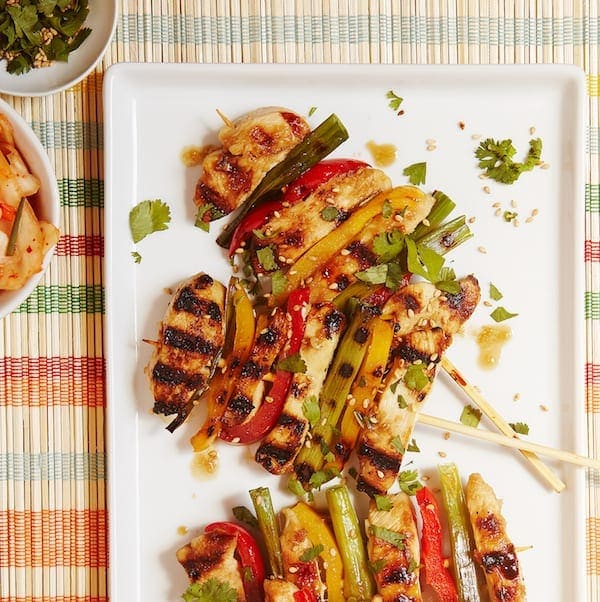 The kids will love eating their own skewers with some rice. I love to make sticky sushi rice, but long grain white rice or hearty brown rice is just as tasty. If you're feeling extra authentic, serve some kimchi on the side. It's a fermented pickled cabbage condiment that is very classic Korean. I love this Mother In Law's Kimchi!
I sprinkled the skewers with some cilantro and extra sesame seeds for garnish.
Korean BBQ Chicken Skewers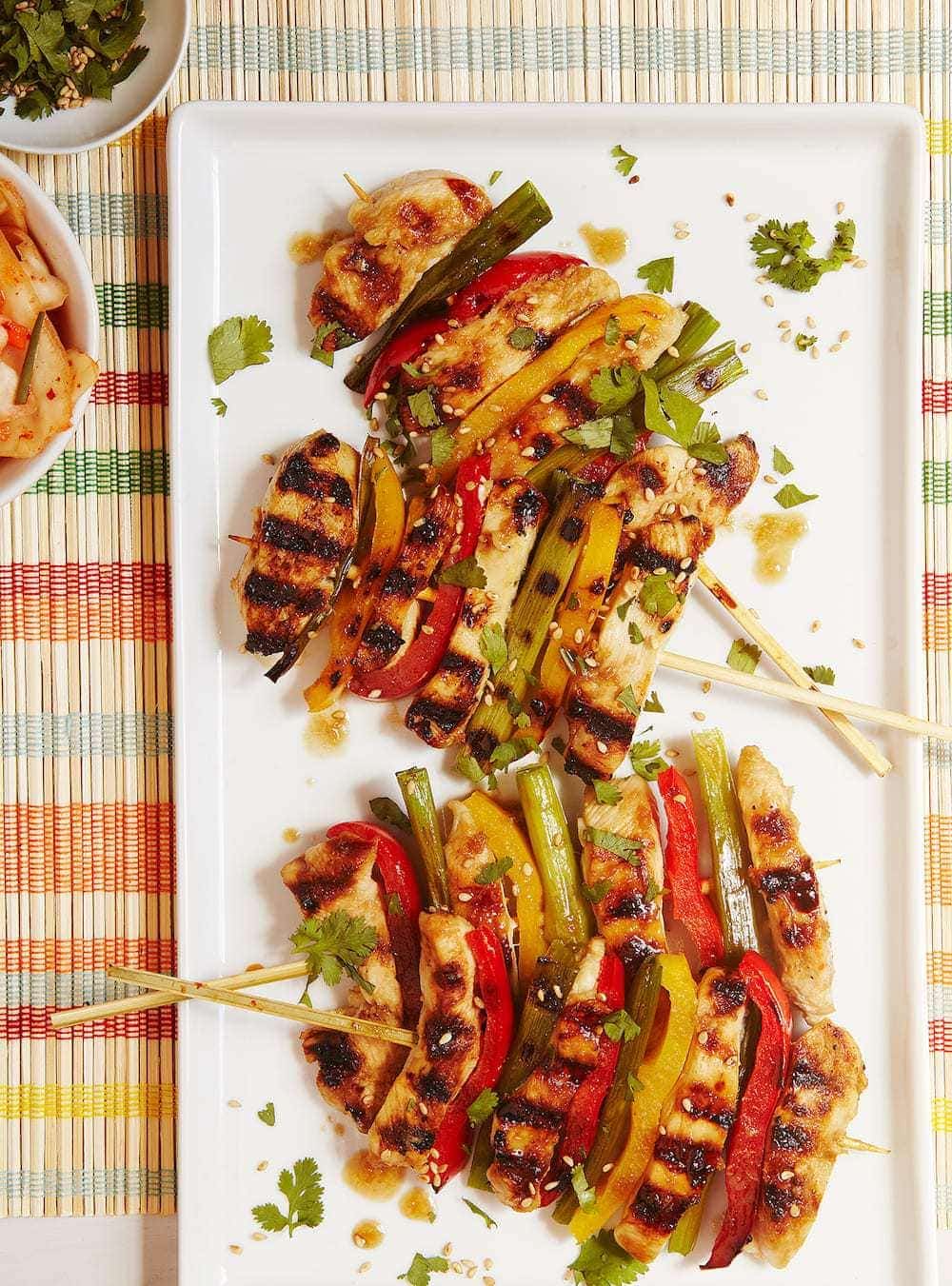 Korean BBQ Chicken Skewers with a simple marinade bring authentic cooking home. Tender chicken and colorful vegetables only take a few minutes to make and grill. 
Ingredients
Marinade:

2 cloves garlic, minced
1 inch fresh ginger, grated
¼ cup soy sauce
2 tbsp sugar
1 tbsp corn syrup
2 tbsp rice wine vinegar
2 tsp sesame oil

Skewers:

12 6-inch bamboo skewers, soaked in water 30 minutes
2 boneless, skinless chicken breasts
8 scallions
1 red bell pepper
1 yellow bell pepper
Cilantro leaves
1 jar kimchi for serving
3 cups cooked rice
Instructions
For the marinade whisk together the garlic, ginger, soy sauce, sugar, corn syrup, rice wine vinegar and sesame oil. Set aside.
For the skewers, slice chicken, scallions and bell peppers into strips all the same size, about ½-inch-by-2-inches. Add the chicken to the marinade, cover the bowl and refrigerate for 30 minutes.
Thread the chicken strips onto the skewers with the scallions and bell peppers about halfway down each skewer. Heat a grill or grill pan to medium-high. Brush grill with oil and cook skewers for 2 to 3 minutes on each side until the chicken is cooked and veggies are tender.
Serve sprinkled with cilantro alongside rice and kimchi.
https://tarateaspoon.com/korean-bbq-chicken-skewers-tara-teaspoon/
Pin the Korean BBQ Chicken Skewers for later!

If you love a good grilled dinner, try my Sunshine Chicken Skewers as well. Also great for little kid hands at dinner, or beautiful for a potluck summer party arranged on a platter.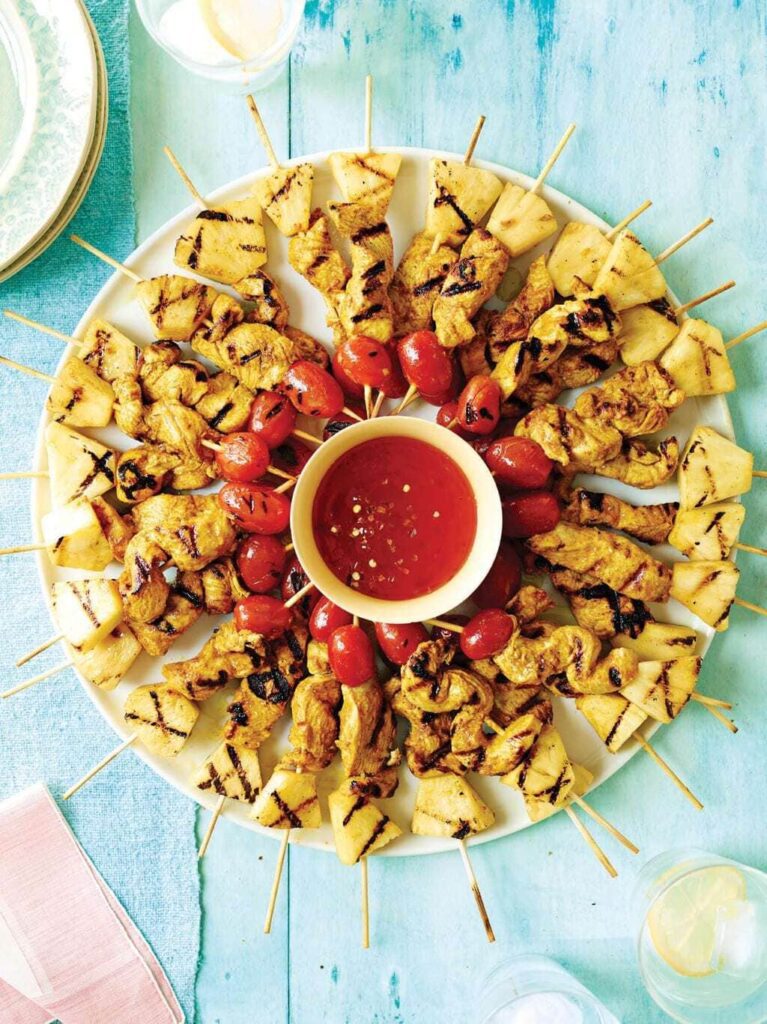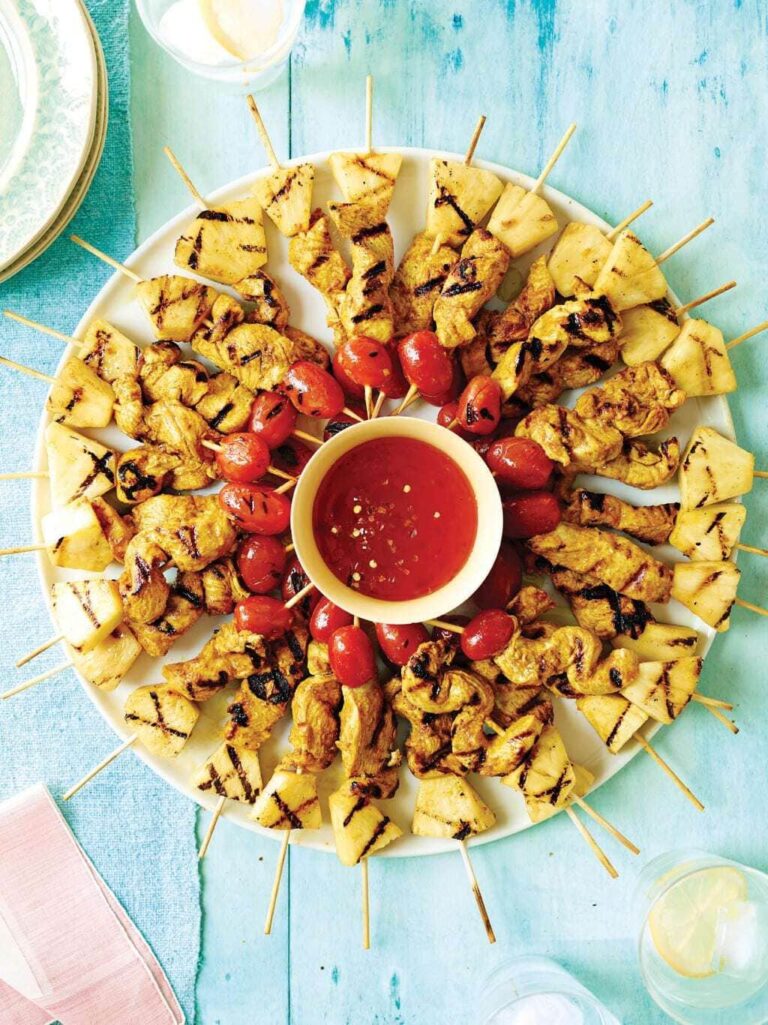 This post may include affiliate links. For more information please see my disclosure agreement.
Recipe by Tara. Photography Ty Mecham. Propping Veronica Olson. Recipe also appears on IHeartNaptime.net.