---
Sweet dates or figs and citrusy sumac season this garlic roasted broccoli side dish. Easy to make in the oven, this easy veggie side goes with just about any dinner.
This gorgeous recipe is from the cookbook Live Life Deliciously: Recipes for Busy Weeknights and Leisurely Weekends.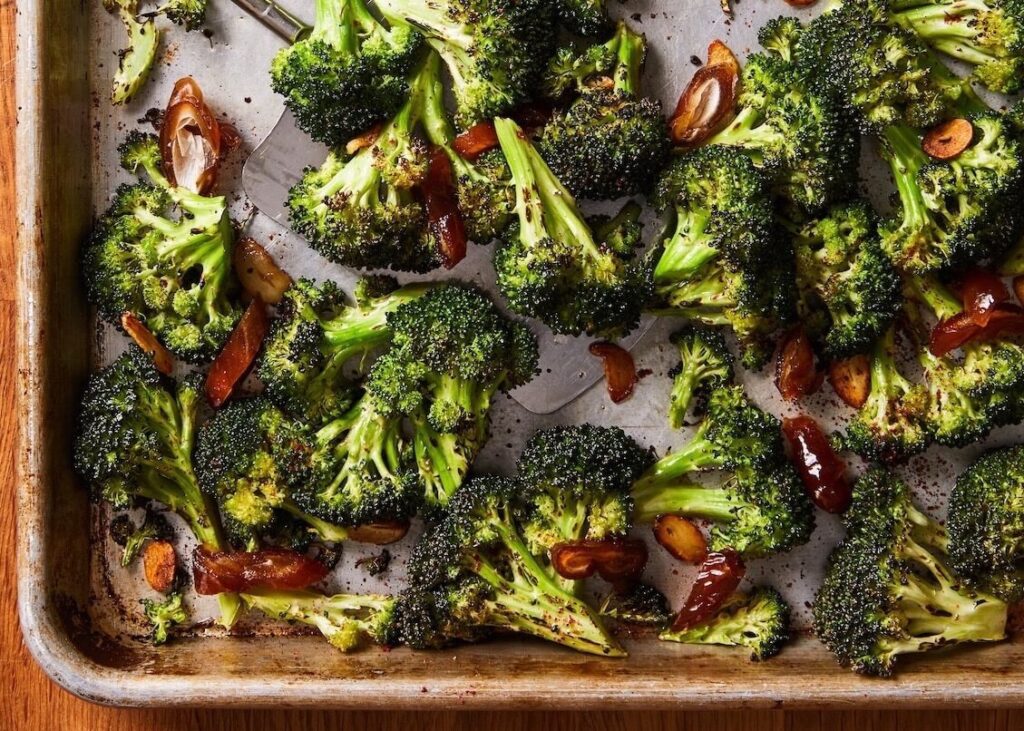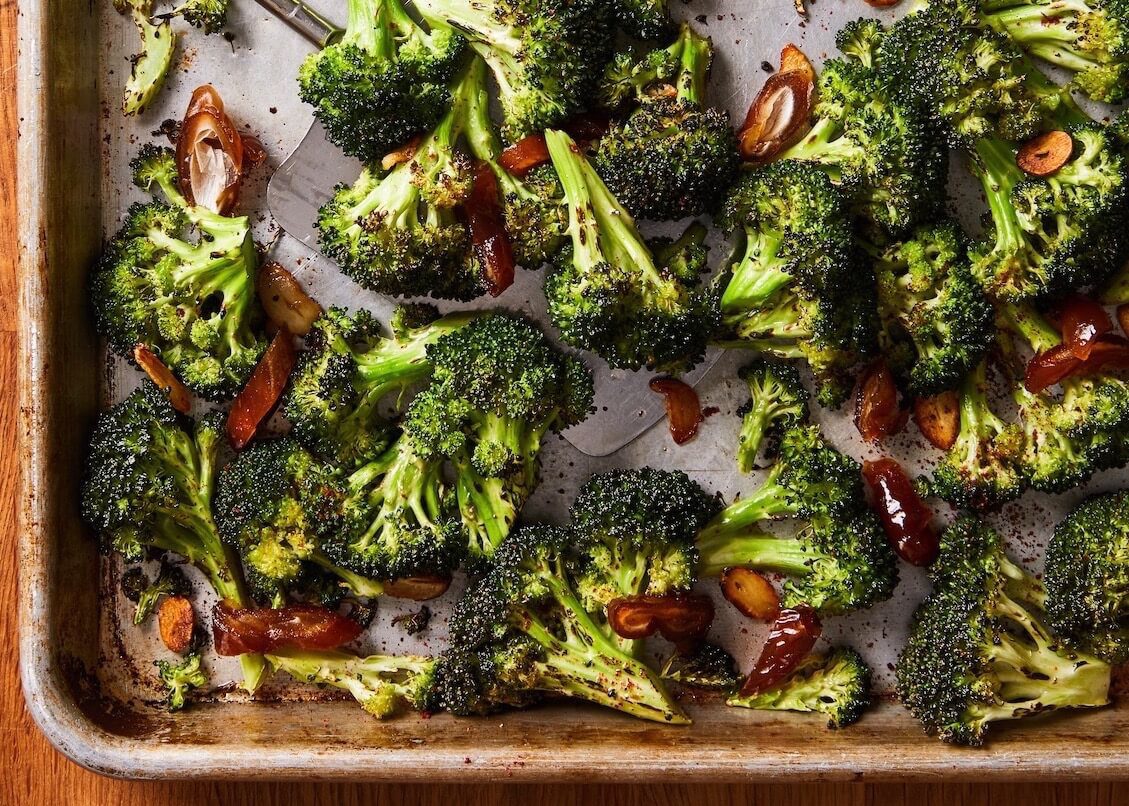 Jump to:
Sweet and savory garlic roasted broccoli
The added dried fruit give this savory side dish a delightful flavor boost. And, sumac, a citrusy and aromatic spice adds depth in one sprinkle.
For this side dish recipe, I slice my garlic cloves into thin slices and toss with the broccoli, olive oil, and seasonings. The garlic chips get perfectly crisp as they flavor the entire dish, and are a delight to eat with every bite.
Garlic is the perfect accompaniment to a simple green veggie, broccoli side dish. I mean, roasted broccoli happens to be divine with just salt and pepper, but adding garlic gives it an almost restaurant-quality flavor!
Speaking of gourmet vegetable side dishes that are super easy to make at home, I've got a few more for you to add to the menu: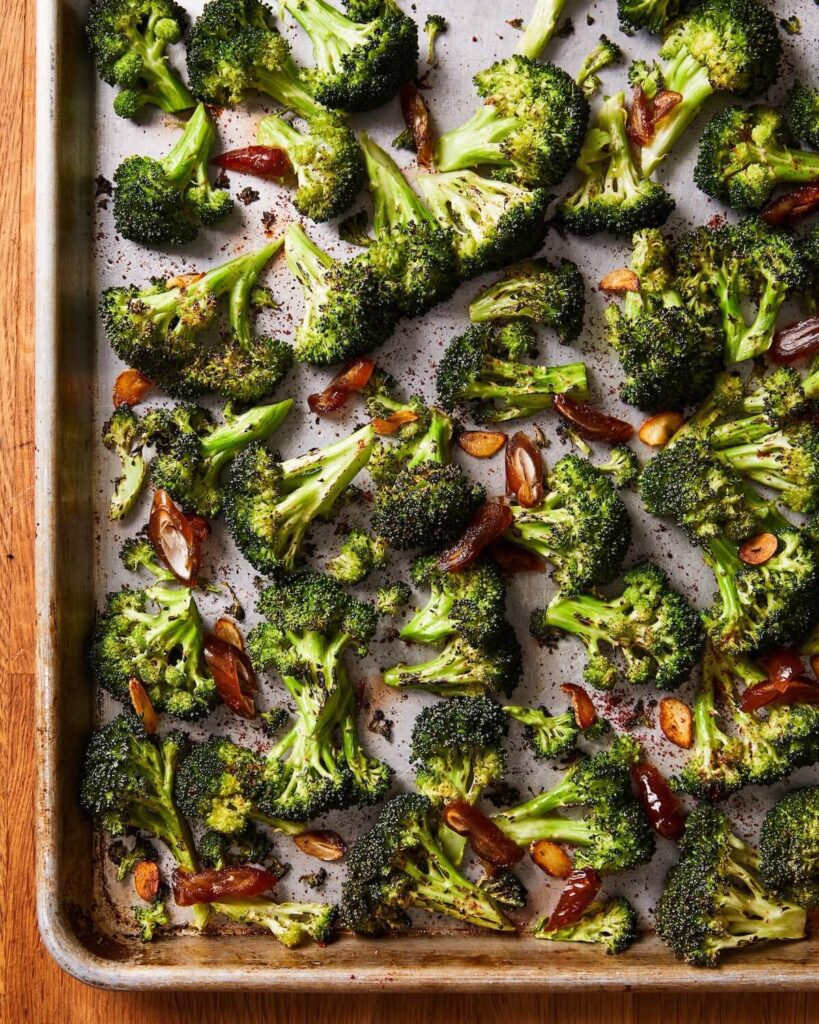 What does sumac taste like?
Sumac is a deep purply red-colored spice ground from the berries of the wild sumac flower. This wild plant is native to the Mediterranean region, growing from Italy to the Middle East. Sumac is primarily used in Middle Eastern cuisine and adds a bright acidic flavor to your dishes.
Broccoli sometimes gets a bad rap, especially for my picky eaters out there! That's why I love throwing a pinch of citrusy sumac to add brightness. If you buy sumac to make this, you can also use it for my Fattoush Salad with Chicken recipe.
No sumac? Use this instead:
If you absolutely can't get your hands on sumac, you can use lemon zest instead.
Add dried fruit for sweetness
Roasting broccoli gives each bite a caramelized, toasty flavor. The garlic adds savory goodness and adding dried fruit like dates or California dried figs takes this dish to another level.
Use pitted dates and slice them into thin slices on the bias so they look extra pretty.
If you are using dried figs, simply slice them thinly into pieces. The taste will be incredible no matter what dried fruit you add.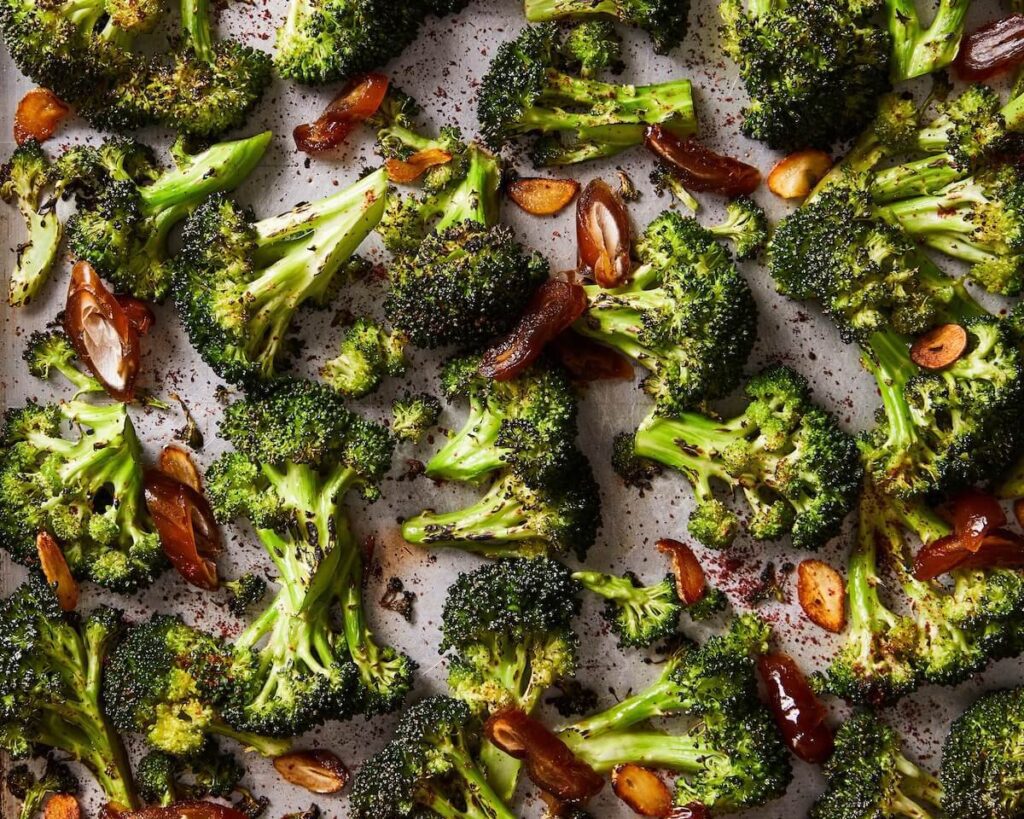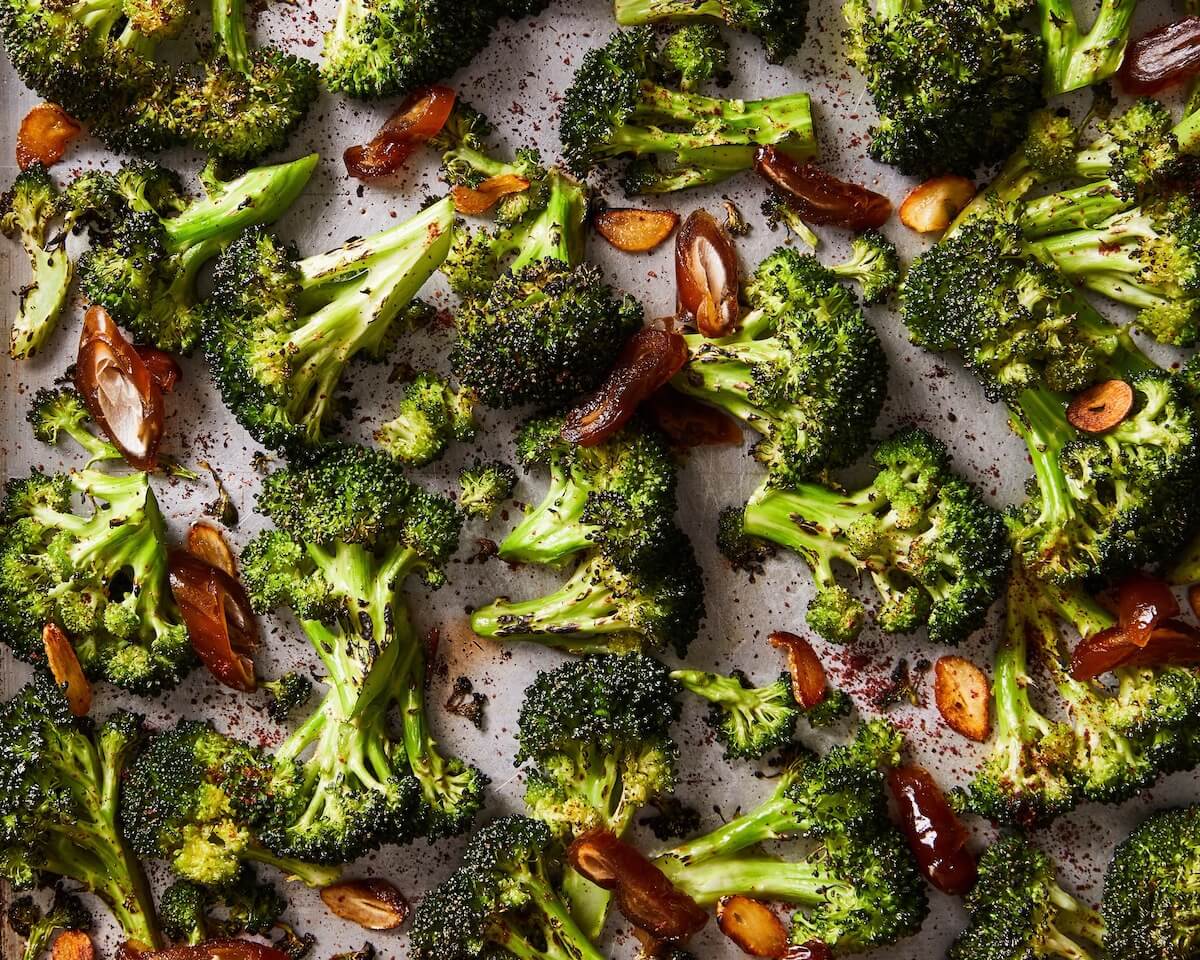 One of the best vegetable side dishes for holidays or weeknights!
This broccoli recipe is one of the best vegetable side dishes to serve with your main dish. This would pair perfectly with my Favorite Roasted Turkey, Prime Rib, or Roast Ham for an impressive holiday meal. Or, if you want to keep it more casual, you can serve this broccoli on any weeknight with my Grilled Pork Tenderloin or Spaghetti Squash and Meatballs.
How to make this easy roasted broccoli
My very favorite way to cook broccoli is to roast it in the oven. Roasting broccoli transforms it to another level. The oven caramelizes broccoli and adds so much flavor. And don't get me started on the burned crispy bits. SO GOOD.
Once you make this roasted broccoli recipe, you'll never want to make another broccoli side dish again!
The best broccoli side dish has plenty of interesting flavors. This one checks all the boxes. Salty. Spicy. Garlicky. Bright. Sweet. Did you ever think that broccoli could be all of those things?
How to roast broccoli in the oven
Just follow these simple steps to make the best roasted broccoli:
Preheat your baking sheet while you heat the oven. This helps create maximum crispiness!
Coat your broccoli with oil really well and place it on the hot baking sheet.
Don't move the broccoli around while it cooks.
Bake until the edges are a bit charred and the stalks are tender.
Add dates or figs and devour.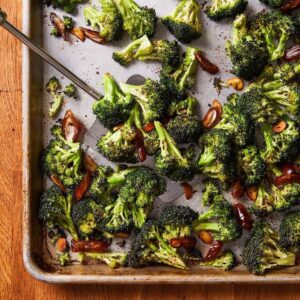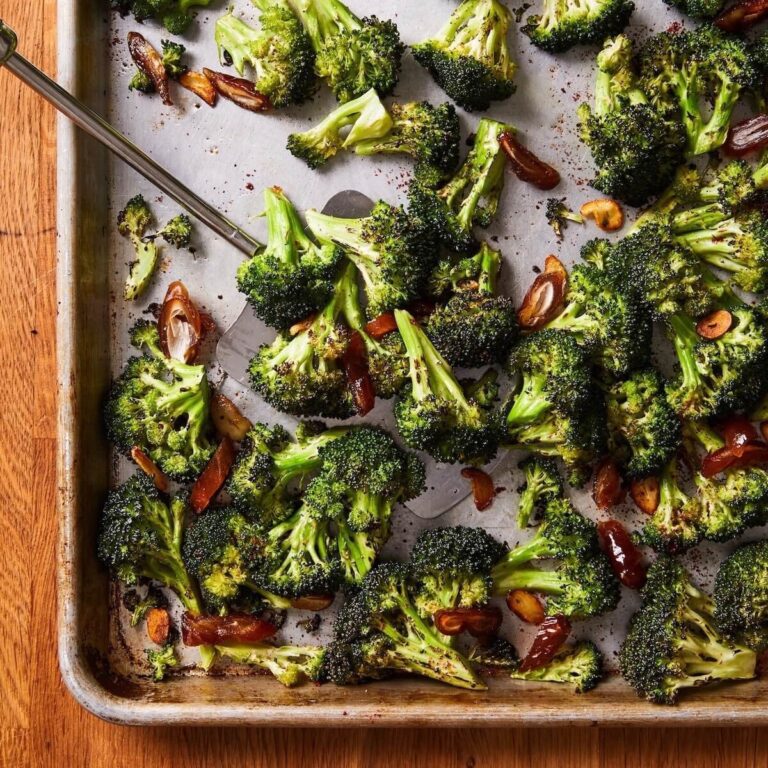 Garlic Roasted Broccoli with Sweet Dried Fruit and Sumac
Sweet dates and citrusy sumac season this garlic roasted broccoli side dish. Easy to make in the oven, this easy veggie side goes with just about any dinner.
Ingredients
2

pounds

broccoli

3

tablespoon

olive oil

2

cloves

garlic

thinly sliced

1

teaspoon

sumac

¾

teaspoon

kosher salt

½

teaspoon

ground black pepper

4

to 5

pitted dates or California dried figs
Instructions
Heat oven to 450°F. Place a rimmed baking sheet in the oven to heat while you prepare the broccoli.

Cut broccoli into small florets, slicing large florets in half. (You'll need 6 to 7 cups of florets.) In a large bowl, toss broccoli with olive oil, garlic, sumac, salt and pepper.

Carefully remove the hot pan from the oven and transfer the broccoli mixture to the baking sheet, using a rubber scraper to get all the good bits out of the bowl.

Return pan to the oven and roast broccoli until tender and a bit charred, about 15 minutes.

While broccoli roasts, slice dates on the bias, or slice dried figs thinly.

Add dates or figs and serve broccoli immediately.
Notes
Use other dried fruit like California dried figs. Slice the dried figs thinly and add as you would the dates.
Nutrition
Calories:
176
kcal
Carbohydrates:
16
g
Protein:
7
g
Fat:
11
g
Saturated Fat:
2
g
Sodium:
511
mg
Potassium:
717
mg
Fiber:
6
g
Sugar:
5
g
Vitamin A:
1413
IU
Vitamin C:
203
mg
Calcium:
109
mg
Iron:
2
mg
Awesome Side Dish Recipes!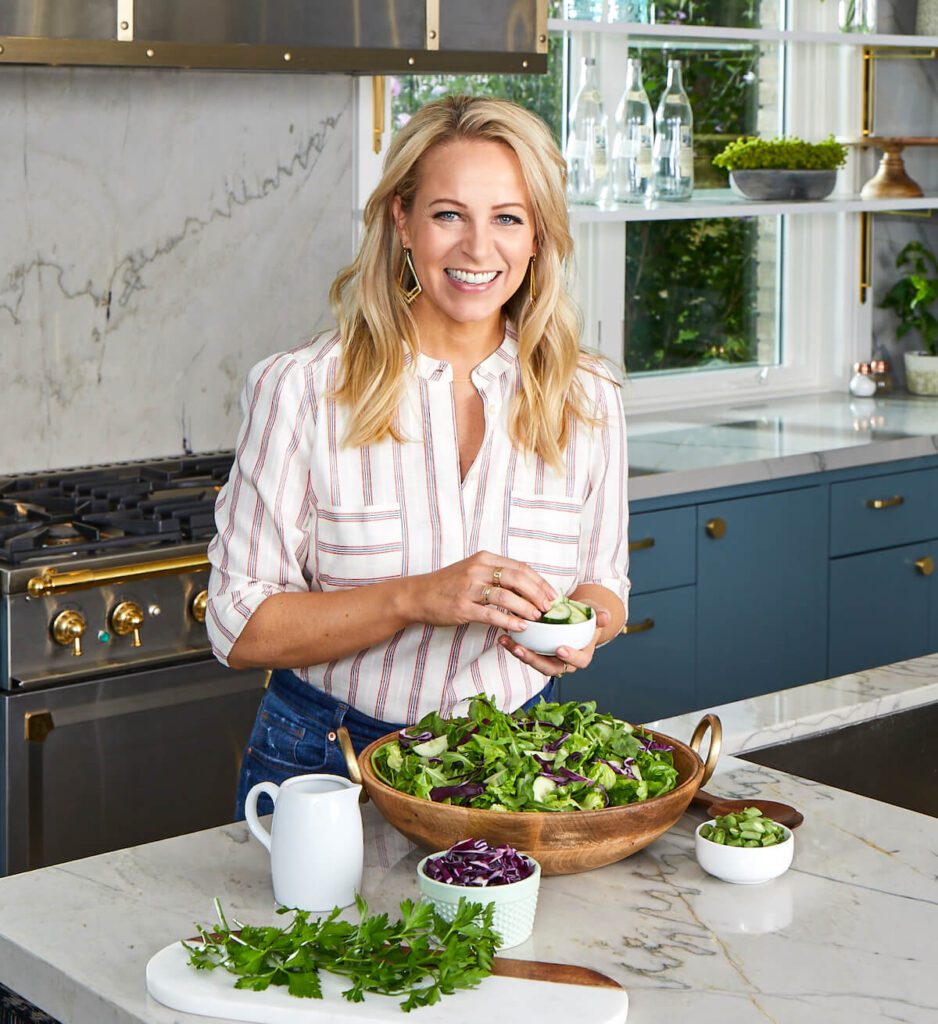 About Tara Teaspoon
I've been in the food publishing business for over 20 years, creating recipes & food-styling for magazines, books, television & advertising. Order my new cookbook & stick around for amazing things to eat.
Photography by Ty Mecham.