---
Lemon asparagus with olives and feta can be served hot, cold or room temperature. That simple fact makes it the most fuss-free side dish for a nice meal.
---
If you're looking for a simple, yet impressive side dish, go ahead and set your inner-chef free! This flavorful, unique asparagus recipe, gets blanched or steamed, topped and served. EASY!
You place this dish down on the table and suddenly your inner-chef is out! Out there for everyone to see. They're impressed. Audible ooos and ahhs. You brush it off, "It's just a simple side dish," you say.
Jump to:
This is one of the best asparagus recipes for a quick stove top side dish. Plus, I'll tell you how to cook asparagus in a pan so you don't need to use the oven.
Of all the asparagus side dish recipes this one is pretty perfect for a Mother's Day, Easter or spring Sunday dinner.
This side is also great for brunch or a buffet, when you need a make ahead side dish.
How to cook Asparagus
To keep this recipe easy I blanched the asparagus. If you've never done this, you'll love it. It's quite straight forward. All you need is, water! Yes, boiling water, and ice water.
When you blanch or steam asparagus, you get perfectly cooked asparagus and not over-cooked, mushy veggies.
You can serve the asparagus cold, right out of the ice water, or keep at room temperature, or as directed in the recipe, sauté it just to heat it through.
To blanch asparagus, bring a pot or high sided skillet full of salted water to a boil.
Make sure your water is boiling before adding the asparagus. It only cooks about 1 minute, so you want to make sure it doesn't hang out in warm water while it waits for the boil. That would cause it to be overcooked.
Have ready a large bowl of ice water. After 1 minute in the boiling water, the asparagus gets "shocked" in the ice water. This simply stops the cooking.
Shocking blanched asparagus in cold water keeps it crisp-tender. Perfectly cooked, but not mushy.
Lemon zest and slices add fresh flavor, Feta and olives add a sharp saltiness. It will be the hit of the meal!
---
---
Make ahead
The secret to a make-ahead recipe like this asparagus with lemon dish, is blanching. Green veggies love to be cooked this way.
Blanching cooks veggies to a tender-crisp texture. I know, that seems impossible. Really, though, they end up having a little bite to them, while also tasting cooked. It's veggie perfection.
Blanched asparagus can be served crisp and cold right out of the ice water, or at room temperature with all the delicious toppings.
I love to cook fresh asparagus, drain it from the ice water and store it in the fridge until I'm ready to serve it. You can simply top it then.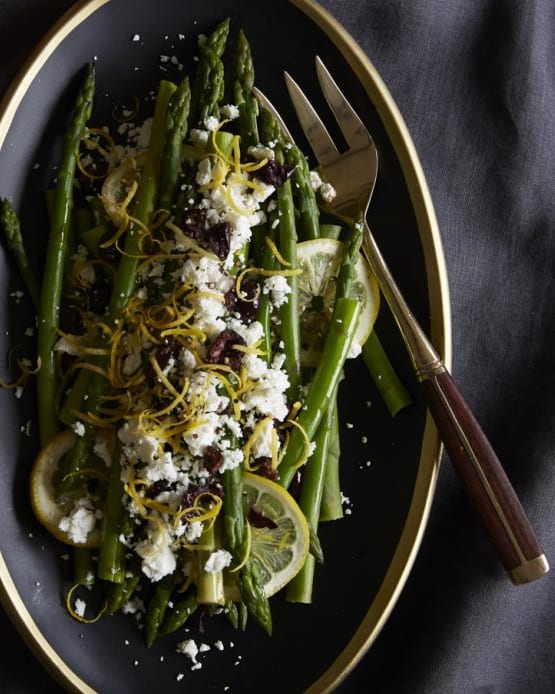 Healthy recipes
This is a keto asparagus recipe. It's also gluten-free and great for a whole foods diet.
If you are eating vegan, feel free to swap the feta cheese for a vegan cheese.
If served cold this is an an asparagus salad recipe. Great for a healthy meal with grilled chicken or other lean protein.
Blanching or steaming asparagus doesn't include any added fat. The flavor of the veggies comes out without a sauce. What a great way to eat healthy!
---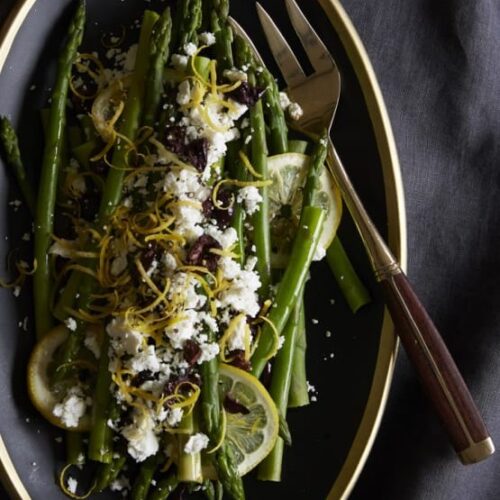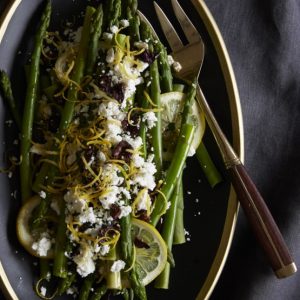 Asparagus with Lemon, Olives and Feta
Serve this side dish warm, cold or at room temperature. It's the perfect make-ahead side with green asparagus, tangy lemon and lemon zest and salty sprinkles of olives and feta.
Ingredients
Sea salt

1

lb

asparagus

tough stems trimmed

2

lemons

¼

cup

pitted Kalamata olives

quartered

½

cup

crumbled Feta cheese

Extra virgin olive oil

Ground black pepper
Instructions
Bring a large pot of salted water to a boil. Add the asparagus and cook until bright green and just tender, about 1 min. Remove and dunk asparagus into a bowl of ice and water. Once cooled, remove and drain.

Slice 1 lemon into thin slices and set aside. Zest the other lemon and reserve the zest.

To serve hot, heat 1 tablespoon olive oil in a skillet over medium-high heat and sauté asparagus until just hot, then proceed. To serve room temp, just assemble on a platter, cooled, as is.

Mix the asparagus and lemon slices on a platter. Top with the olives, feta, lemon zest and drizzle with a little olive oil. Sprinkle with black pepper and serve.
Notes
The secret to a make-ahead recipe like this asparagus with lemon dish, is blanching. Green veggies love to be cooked this way.
Nutrition
Calories:
100
kcal
Carbohydrates:
11
g
Protein:
6
g
Fat:
6
g
Saturated Fat:
3
g
Cholesterol:
17
mg
Sodium:
344
mg
Potassium:
315
mg
Fiber:
4
g
Sugar:
4
g
Vitamin A:
970
IU
Vitamin C:
35
mg
Calcium:
138
mg
Iron:
3
mg
---
Awesome Side Dish Recipes!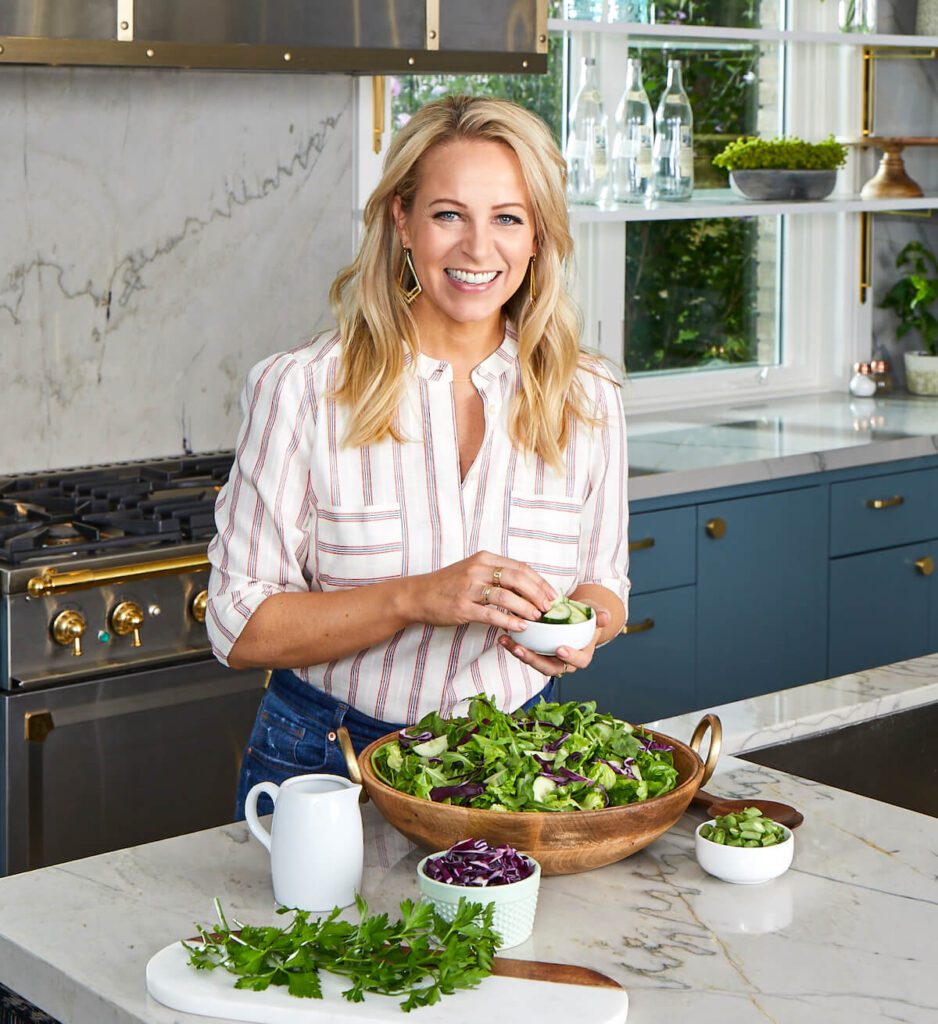 About Tara Teaspoon
I've been in the food publishing business for over 20 years, creating recipes & food-styling for magazines, books, television & advertising. Order my new cookbook & stick around for amazing things to eat.
Recipe and Food Styling: Tara Teaspoon. Photography and Props by Nicole Gerulat