---
Here you'll find 31 of the perfect potato salad recipes to go with your BBQ, a picnic, or just a summer meal. From classic potato salad, German-style, vegan, with eggs, without eggs, creamy, and more–scroll through to find one your crowd will love.
---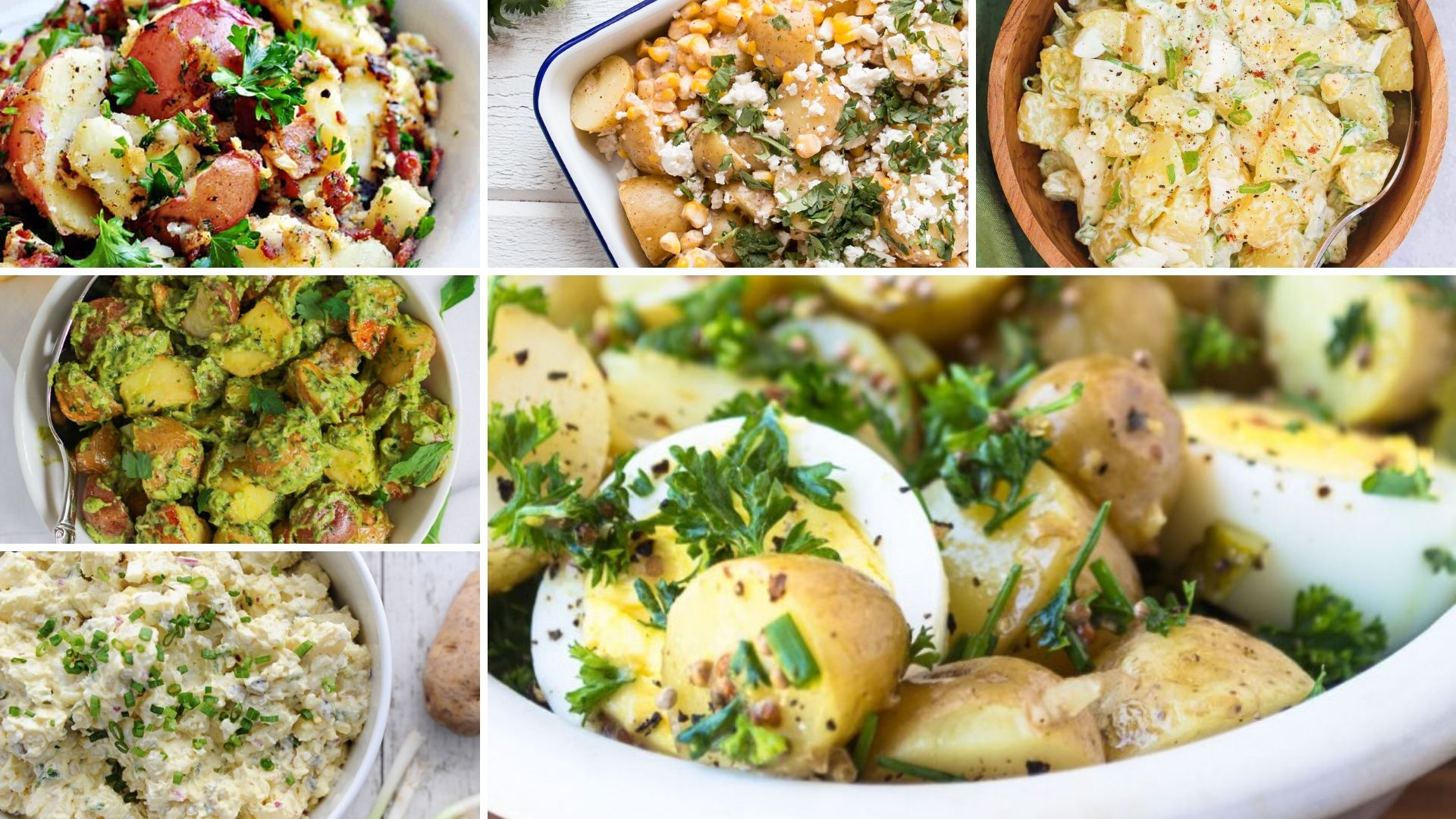 Table of contents for this post:
Jump to:
A homemade potato salad is a quintessential side dish for summer. This side dish complements everything from authentic BBQ, and Bacon Wrapped Chicken Drumsticks, to grilled kabobs and easy rib recipes.
You probably grew up with your mom or grandmother's take on a classic spud salad, and depending on where you lived, those recipes will all look different!
Whether you love this salad without mayo, with red potatoes, hot or cold German potato salad, a creamy potato salad with eggs, or without eggs, I have you covered!
I've collected the perfect list of potato salad recipes so you don't have to guess what recipe will work for your summer meal.
Choose from easy recipes, non-traditional flavors or those homestyle classics you grew up with. Comment below and tell me which one is your favorite!
Tips for prepping, transporting and storing potato salad
These helpful tips apply to most of the recipes included here. For the more unique, or vinegar-based salads you can refer to the individual post.
Cook potatoes whole with the skin on to prevent mushy potatoes. Cutting potatoes, then simmering them creates water-logged potatoes.
Unless your recipe calls for a specific potato, yellow or white waxy potatoes are best for texture and sturdiness.
Salt the water you are cooking the potatoes in.
---
For food-safety and quality, refrigerate the potato salad in airtight containers.
Properly stored, creamy potato salad will last for 3 to 5 days in the refrigerator.
Potato salad should not stay between the temperatures of 40 °F and 140 °F for more than 2 hours.
Keep potato salads in an ice-filled cooler if you are eating outside in the sun.
---
Red skin potato salad recipes
---
Make a potato salad with no mayo
---
Healthy potato salad recipes
---
Potato salads with eggs
---
Variations of German potato salad
---
Traditional recipes for potato salad
You'll want to try these salads with my BBQ recipes.
---
Crowd pleasers: Not-so-classic potato salad recipes
More side dish recipes I think you'll like!
Awesome Side Dish Recipes!
Also compiled by Megan Palmer