---
When it comes to your signature, juicy burgers, you may not think you can make a better burger. Think again! A blended burger has chopped mushrooms to extend the meat and add tons of flavor.
---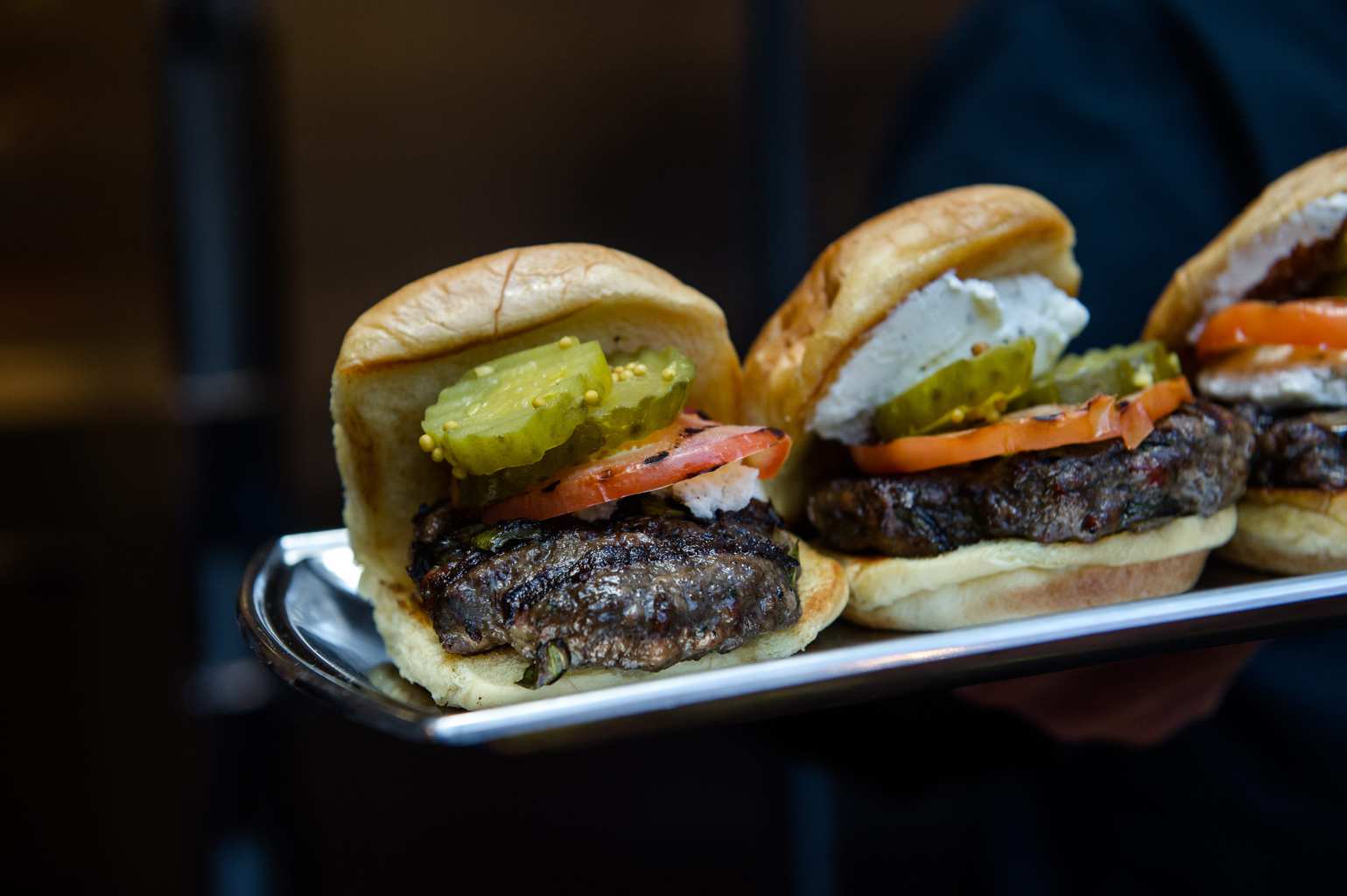 Hugh Acheson's Cremini-Lamb Burger with Charred Scallions, Boursin, Pickles and Tomato on a Potato Roll at the James Beard Foundation's Blended Burger Project launch event on March 28, 2016 at the James Beard House. Photo credit: Ken Goodman.[/caption]
Let's talk mushrooms, blended with your meat, making them more delicious, nutritious and sustainable. It's your new secret for grilling season, and I can say-- really tasty--from first hand experience!
This week I attended the kickoff event for the second annual James Beard Foundation's Blended Burger Project, a partnership with the Mushroom Council. Chefs from around the country participate in creating the most amazing blended burgers. The project is open to all chefs and last year nearly 250 restaurants joined in creating takes on this culinary concept.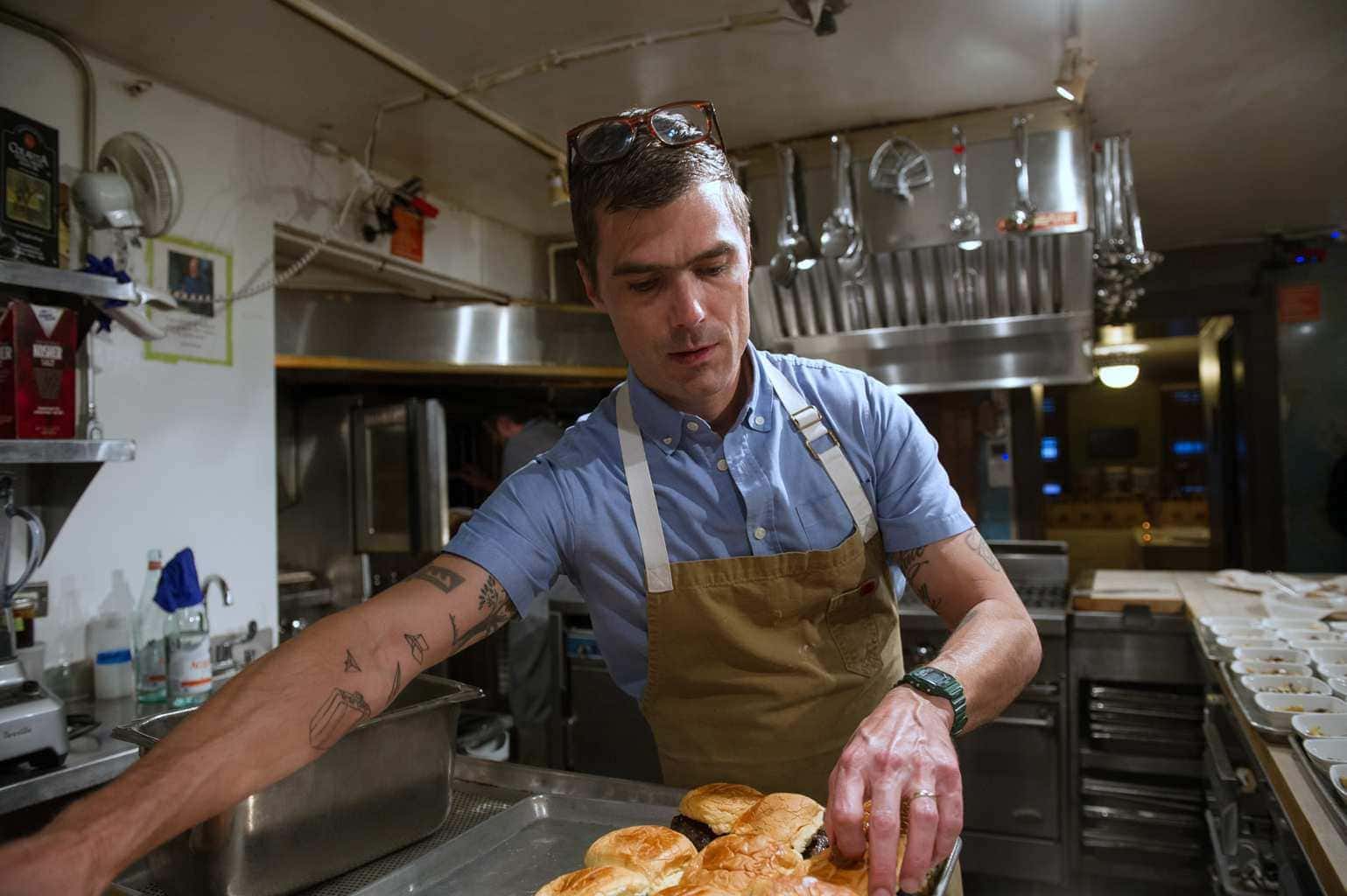 If you think about it, mushrooms are a perfect addition to homemade burgers. They have a meaty texture themselves, add moisture and earthy flavor. Cooked mushrooms also have an umami quality, that fifth basic taste chefs often talk about described as a 'pleasant savory taste.'
The addition of vegetables to ground beef is not new. Meatloaf is often loaded with savory blends of onions, celery and carrots. They add loads of flavor, moisture, and great texture that you're familiar with in meatloaf. Many a smart mom has used this trick to sneak veggies onto their kids plates, hiding everything from zucchini to spinach in ground meat.
Mixing meat with vegetables is a great way to stretch your grocery dollar, since veggies are cheaper than quality meat. Mushrooms also add vitamin D to your diet and help boost your immune functions. Try a variety of mushrooms in your burgers, from meaty portabellos to shiitake and button mushrooms.
The competition opened this week at the James Beard Foundation in New York City. I was happy to be able to attend and taste chef Hugh Acheson's take on a mushroom-blended burger. He mixed cremini mushrooms with ground lamb and topped it with Boursin cheese to make the most delicious meal.
I've included his recipe below. Try it out, and be inspired to try your own blended burger creations. You can be involved by helping your favorite chef win an opportunity to cook their blended burger and the historic James Beard House. Just go here to cast your vote.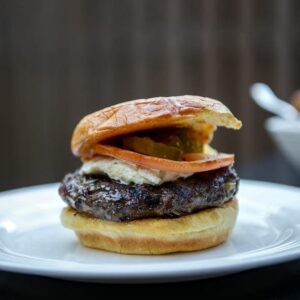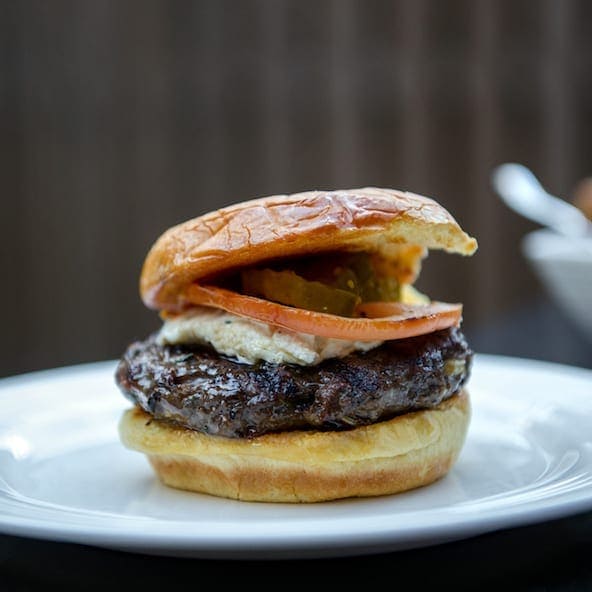 Cremini-Lamb Burger with Charred Scallions, Boursin, Pickles and Tomato
When it comes to your signature, juicy burgers, you may not think you can make a better burger. Think again! Recipe courtesy of the James Beard Foundation and chef Hugh Acheson.
Ingredients
8

oz

cremini mushrooms

finely chopped

4

tablespoon

unsalted butter

2

shallots

peeled and minced

1

clove

garlic

peeled and minced

1

tablespoon

chopped fresh thyme

1

bunch scallions

1

teaspoon

kosher salt

Ground black pepper

1

lb

ground lamb

1

tomato

sliced

16

crinkle cut dill pickles

1

container

(5 oz) Boursin cheese

4

potato buns
Instructions
Add 3 tablespoon butter to a large saute pan and place over medium-high heat. When the butter bubbles add the shallots and cook for 1 minute. Reduce heat to medium and add the garlic, mushrooms and fresh thyme. Cook for 10 minutes, stirring often. Season with ½ teaspoon salt. Transfer the mushroom mixture from pan to a large bowl and let cool.

Clean the pan with paper towel and place over medium-high heat and add the olive oil. Add the scallions to the pan and char them for 4 minutes on each side. Remove the scallions, chop into ½ inch pieces and add them to the mushroom mixture.

Place the ground lamb in a large bowl and season with remaining salt. Add the cooled mushroom mixture and mix well to thoroughly incorporate all components. Divide the mixture into 4 equal balls and form into patties about 5 inches in diameter and 1 inch thick. Refrigerate until ready to grill.

Spread the remaining 1 tablespoon butter on each bun and toast in a pan over medium heat until each side is a nice buttery brown. Remove and cool while burgers cook.

On a hot grill cook the burgers for 3 minutes per side. When they're done, rest the burgers off the heat for 3 minutes. Top each bun with a burger, some Boursin then a slice of tomato and pickles.
Notes
Blending mushrooms into your hamburger meat extends the meat to make more as well as adds flavor and texture.
Nutrition
Calories:
576
kcal
Carbohydrates:
28
g
Protein:
25
g
Fat:
39
g
Saturated Fat:
19
g
Cholesterol:
113
mg
Sodium:
1118
mg
Potassium:
711
mg
Fiber:
2
g
Sugar:
5
g
Vitamin A:
775
IU
Vitamin C:
9.6
mg
Calcium:
133
mg
Iron:
4.1
mg
Main Dish Recipes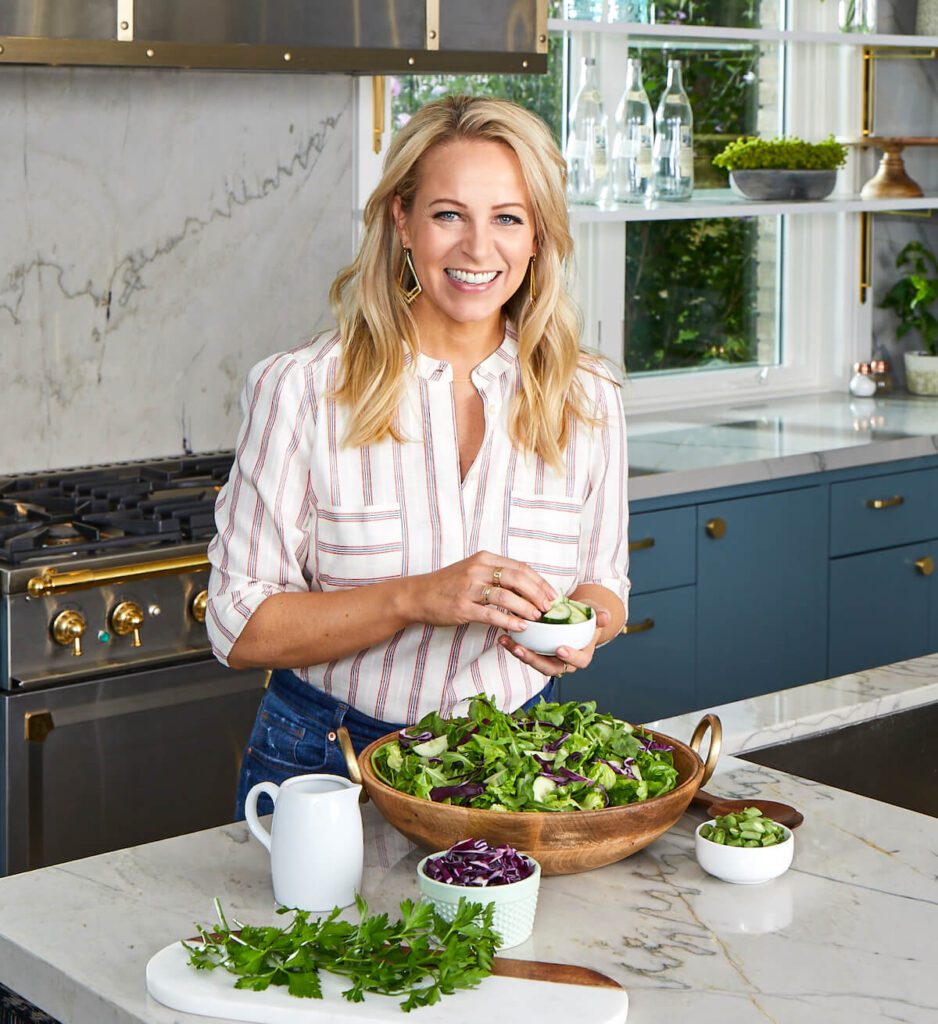 About Tara Teaspoon
I've been in the food publishing business for over 20 years, creating recipes & food-styling for magazines, books, television & advertising. Order my new cookbook & stick around for amazing things to eat.
Recipe and photos courtesy of The Blended Burger Project.