---
This healthy main dish and tasty side make Pork Chops with Lemon and Parsley with Grape Walnut Quinoa a complete meal in 35 minutes!
---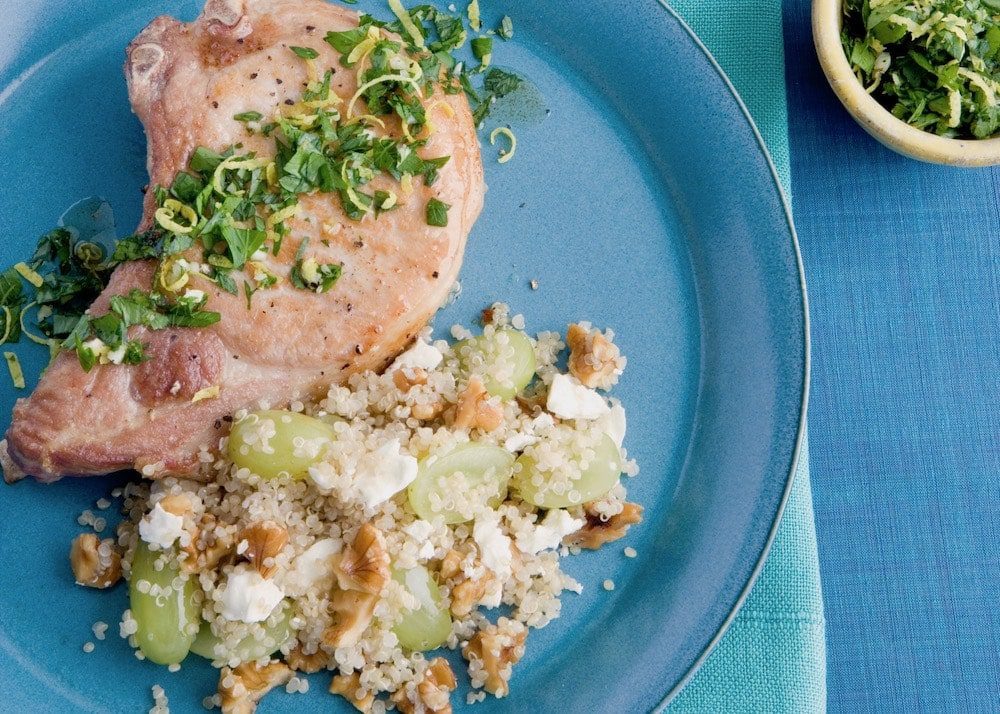 I often forget about pork chops. I know! How? They are as lean as chicken, easy to cook and shake up the dinner routine perfectly. I feel like I'm at Pork Chops Group Therapy; I've let down this fine meat and want to change.
They haven't totally lost their place at my table, I just need to consider their amazingness more often. Adjust my expectations of dinner even. It's all about compromise.
How to buy pork chops:
I like to get pork chops on the thicker side, at least one inch. You can certainly use thin cut chops that you might find in your grocery fridge, but adjust the cooking time; and they may not be quite as juicy.
Pork chops all come from the loin of the pig. The pork chops you typically see in the grocery store are from the loin and rib. There are four main chop cuts: blade chops, rib chops, loin chops, and sirloin chops. I used a rib chop for this recipe, with the bone. You can also use a boneless loin chop with great results.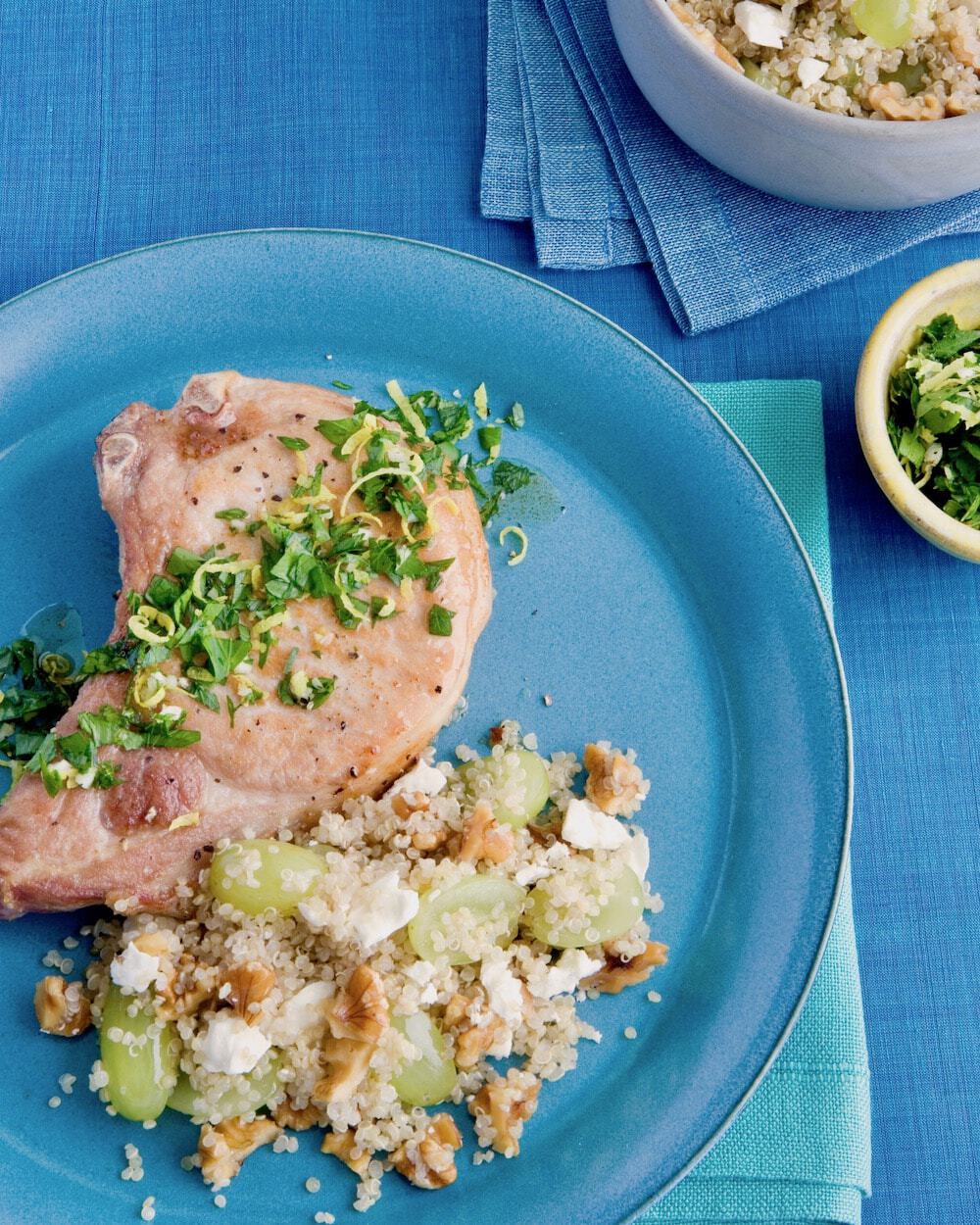 Flavors in Pork Chops with Lemon and Parsley:
Feel free to substitute chicken broth for the white wine when deglazing the pan. It's just enough flavorful liquid to soak up all the tasty browned bits from cooking the chops.
Parsley and lemon zest combine with garlic and course kosher salt to make a quick and flavorful condiment for the chops. It's a genius (if I do say so myself) burst of green and freshness for a winter dish.
How to make quinoa:
The quinoa alone is delightful. I make it as a side for other dinners and even as a potluck dish. I love the combination of sweet, juicy grapes, crunchy toasted nuts and salty, tangy cheese. Delicious!
The secret to great quinoa is to simply boil it like pasta! I cook mine in boiling, salted water to get a little more flavor. I boil for about 5 minutes and check for doneness. It usually doesn't take long and when it's tender, I drain it in a fine mesh sieve. You can cook batches of quinoa ahead of time and keep in the fridge, or even freeze in portions in a ziptop bag. Then thaw and use as you would fresh cooked quinoa.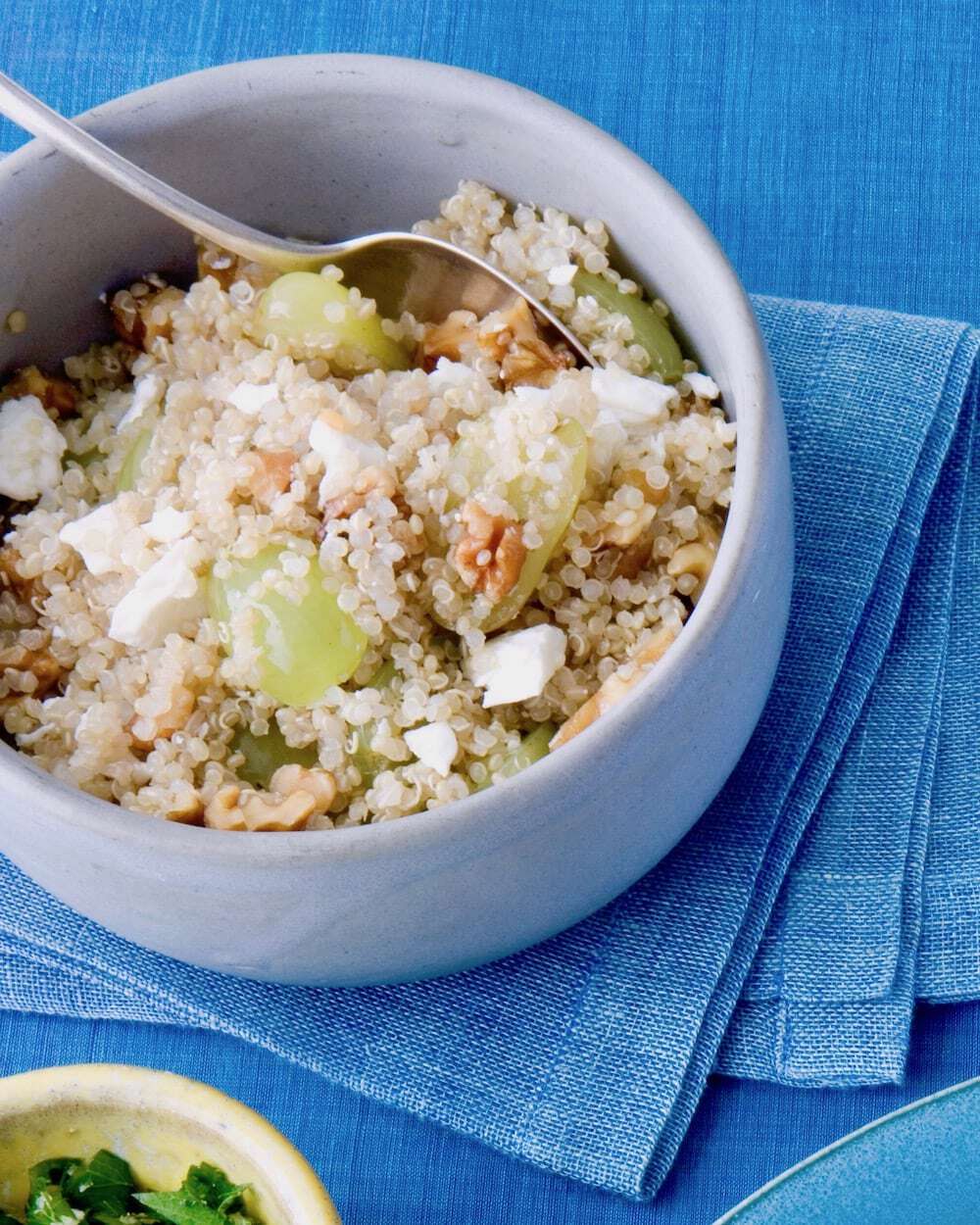 Main Dish Recipes
Recipe & Food Styling Tara Teaspoon. Photography Amy Kalyn Sims. Prop Styling Barb Fritz. Originally published in LHJ 01/08