A healthy main dish and tasty side make Pork Chops with Lemon-Parsley and Grape Walnut Quinoa a complete meal in 35 minutes!
I sometimes forget about pork chops. I know! How? They are as lean as chicken, easy to cook and shake up the dinner routine perfectly. I feel like I'm at Pork Chops Group Therapy; I've let down this fine meat and want to change. They haven't totally lost their place at my table, I just need to consider their amazingness more often. Adjust my expectations of dinner even. It's all about compromise.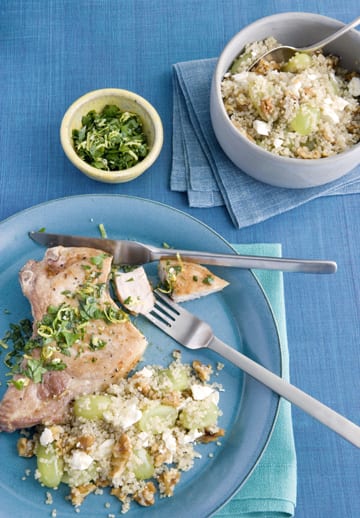 I like to get pork chops on the thicker side, at least one inch. You can certainly use thin cut chops that you might find in your grocery fridge, but adjust the cooking time; and they may not be quite as juicy.
Feel free to substitute chicken broth for the white wine when deglazing the pan. It's just enough flavorful liquid to soak up all the tasty browned bits from cooking the chops.
Parsley and lemon zest combine with garlic and course kosher salt to make a quick and flavorful condiment for the chops. It's a genius (if I do say so myself) burst of green and freshness for a winter dish.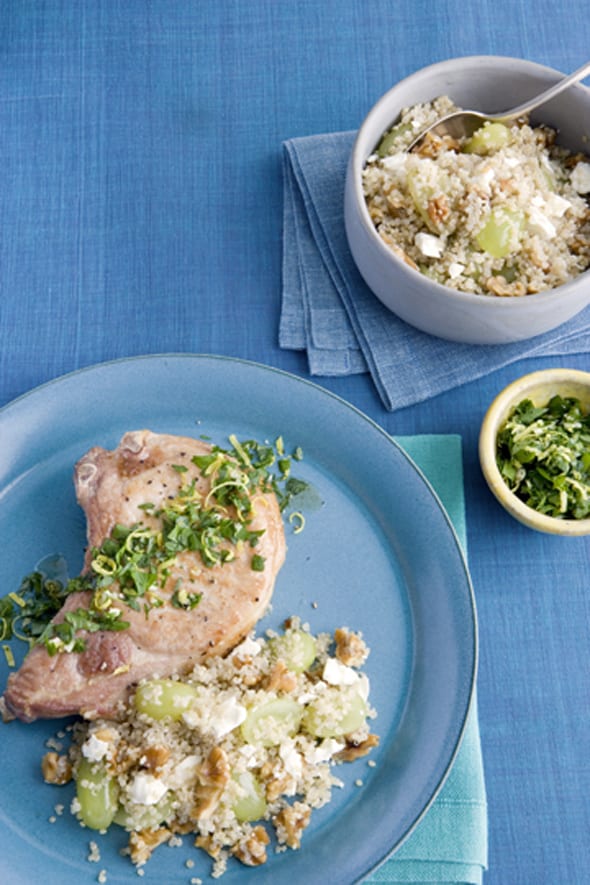 The quinoa alone is delightful. I make it as a side for other dinners and even as a potluck dish. I love the combination of sweet, juicy grapes, crunchy toasted nuts and salty, tangy cheese. Delicious!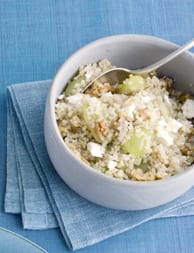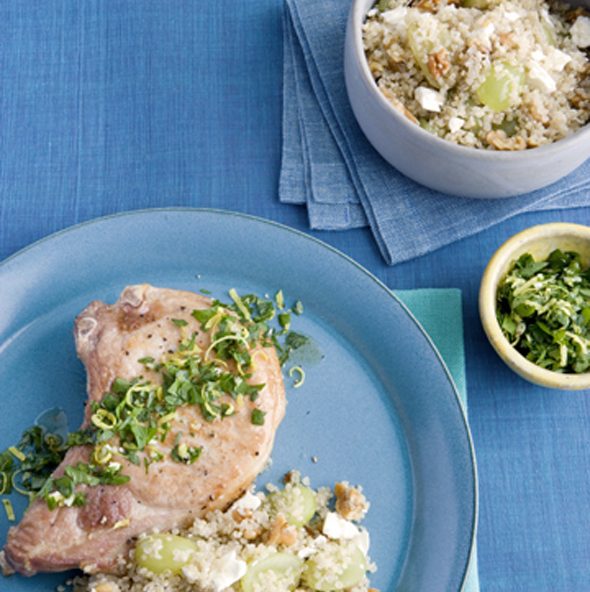 Lemon Parsley Pork Chops with Grape Walnut Quinoa
Ingredients
⅓

cup

chopped flat-leaf parsley

Grated zest from 1 lemon

1

small garlic clove

minced

¼

tsp

kosher salt

4

1-inch-thick center-cut, bone-in pork chops (2¼ lbs total)

1

tbsp

olive oil

½

cup

dry white wine

1

cup

quinoa

cooked according to package directions

1

cup

6 oz green grapes, halved

⅔

cup

3 oz crumbled feta

⅓

cup

1 oz walnuts, toasted and broken up
Instructions
In a small bowl, combine parsley, zest, garlic and salt; set aside. Pat pork chop dry; season with salt.

In a large skillet, heat oil over medium-high heat. Add chops and brown, cooking about 4 minutes. Reduce heat to medium and cook, turning once midway, until an instant-read thermometer inserted in center (without touching bone) registers 150°F, about 10 minutes total. Remove from heat and transfer chops to a plate.

For sauce, drain fat from skillet (discard) and add wine. Using a wooden spoon, stir to release browned bits from skillet. Simmer over medium heat until reduced by half, about 2 minutes.

In a large bowl, toss together quinoa, grapes, feta and walnuts; salt to taste. pour sauce over chops and sprinkle with parsley-zest mixture; serve with quinoa on the side.
Nutrition Facts
Lemon Parsley Pork Chops with Grape Walnut Quinoa
Amount Per Serving
Calories 510
Calories from Fat 203
% Daily Value*
Total Fat 22.5g 35%
* Percent Daily Values are based on a 2000 calorie diet.
Easy dinners are a relief for weeknights. Even better when these recipes can be used to entertain friends on the weekend too! Try my Corn Chorizo Tacos as fast crowd-pleasers, or Chicken and Rice Lettuce Wraps for a fun family dinner.
Recipe & Food Styling Tara Bench
Photography Amy Kalyn Sims
Prop Styling Barb Fritz
Originally published Ladies' Home Journal Jan 2008