A 10-minute side dish of tender green beans with charred artichokes and capers is a genius stove-top side dish recipe. Whether it's a quick summer side dish or the holidays, these beans are simple and flavorful and pair with almost any meal.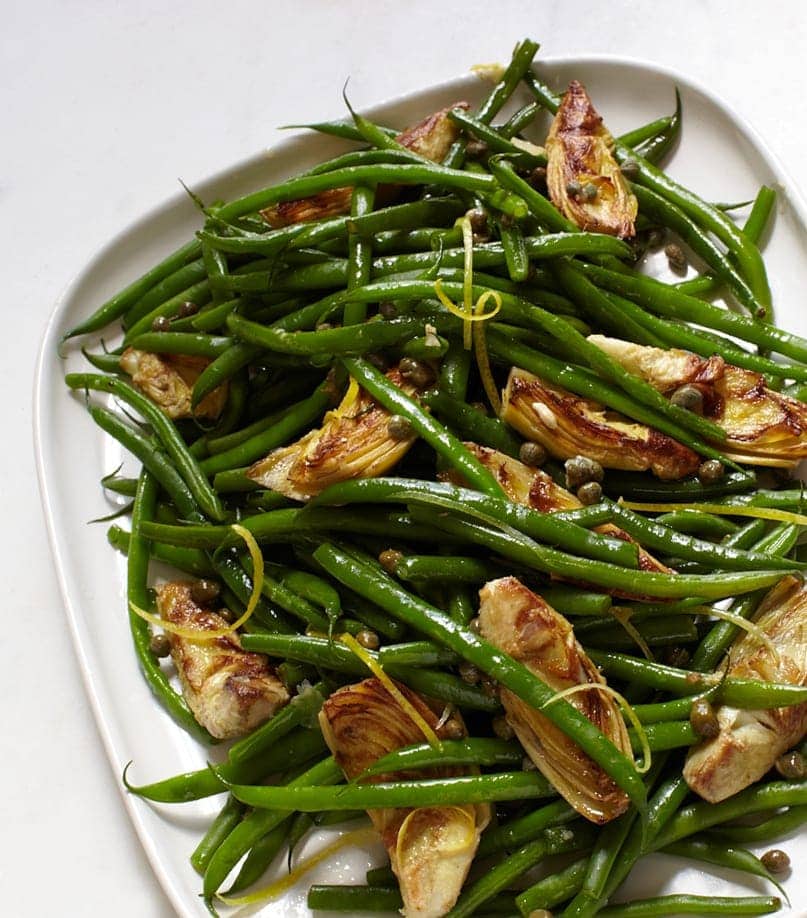 For many people, being called fast and easy has an unwelcome connotation. Not for me, I love the description. Is ten minutes too fast for you? I'm talking about cooking dinner people! Geez!
This unique green bean recipe is perfect as a:
Easter dinner side dish
Summer meals without using the oven!
Jump to:
An easy green bean recipe that takes 10 minutes!
Like a respectable lady, I know how to make it fast and super easy, when it comes to whipping up a side dish. Especially for Thanksgiving, this stove-top-only side dish is quite perfect and doesn't require the oven.
It only takes 10 minutes, including measuring, chopping, and cooking to make skillet green beans.
Ready to start the timer?
Go!
In the following photos, you can see exactly how long it took me to make the entire recipe. From prep to plate the entire process only takes 10 minutes!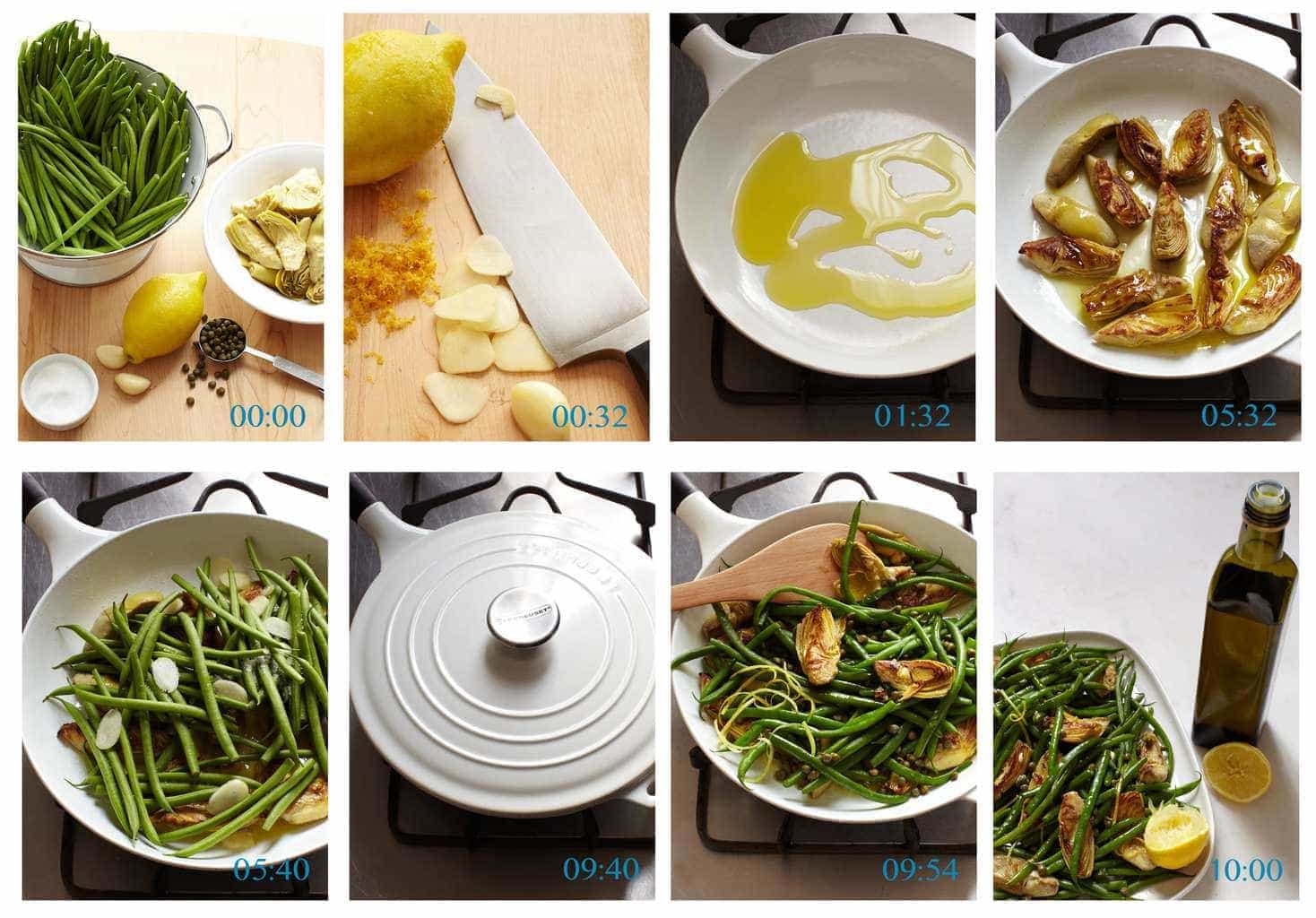 Use fresh beans for skillet green beans
This is one of those recipes using fresh green beans, and I think you'll agree it's the best option.
The tastiest way to prepare green beans is quick-cooking. Trust me. No one likes soggy green beans. Well, unless they are tender and baked inside loads of sauce and topped with crispy onions. You know the classic casserole dish!
In fact, the fresh green beans cook even faster on the stove than frozen beans.
Use frozen artichoke hearts to make it easy
Artichokes are a different story. I used frozen artichokes because they are already chopped and they didn't have a long cooking time like raw or fresh baby artichokes do.
The bold taste of capers is unmistakable. It brightens up this dish and you can taste them all over the crispy green beans and the tasty charred artichoke hearts.
🥗 How to cook fresh green beans on the stovetop
Fresh green beans are a cinch to cook on the stove. I use a non-stick skillet for easy cleanup and cook them just until tender. Here is an enameled cast iron skillet like I used in the pictures.
In this recipe I cook the artichokes first to let them get charred, or very caramelized.
After you do all your food prep and sauté the artichoke hearts for a few minutes, then add the green beans and the capers. A few minutes later, your skillet green beans side dish is ready!
TIPS FOR MAKING GREEN BEANS WITH CAPERS:
Place all the prepped ingredients in a row on the counter before you start cooking. This will speed up your process.
Use the small caper berries in a jar. Drain them from their brine, it's too salty to use. If you use the dry-packed, salted capers, just rinse them.
Even though you can buy dried lemon zest, it doesn't have the same fragrance as fresh fruit rind. Zesting a lemon takes less than a minute and it tastes so much better.
Shave a few seconds off your food prep time by using already peeled garlic from the store.
After you zest your lemon, put it aside, and use the fresh lemon juice at the end.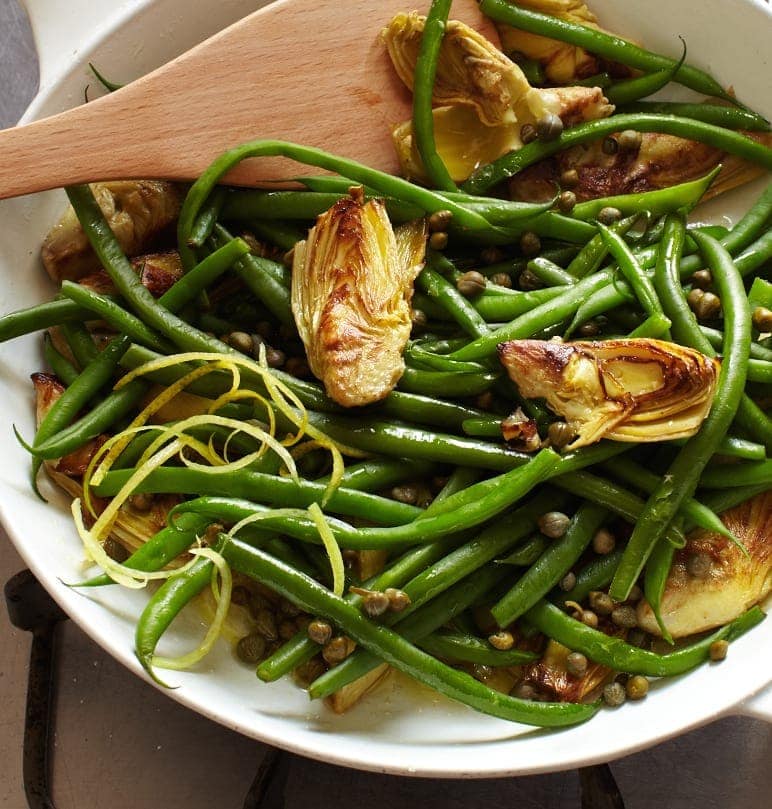 How to prep food quickly
The secret to this recipe is prepping your food all at once, then cooking the dish. Here's how I saved time in the kitchen (and you can too).
Get all your ingredients out and line them up on your cutting board.
Use a fruit zester to quickly remove the lemon zest. Just quickly rub it all over the lemon - your goal is to zest the entire thing.
Then, peel the garlic if you don't buy the peeled cloves. Use a sharp knife to thinly slice the garlic.
PIN THIS!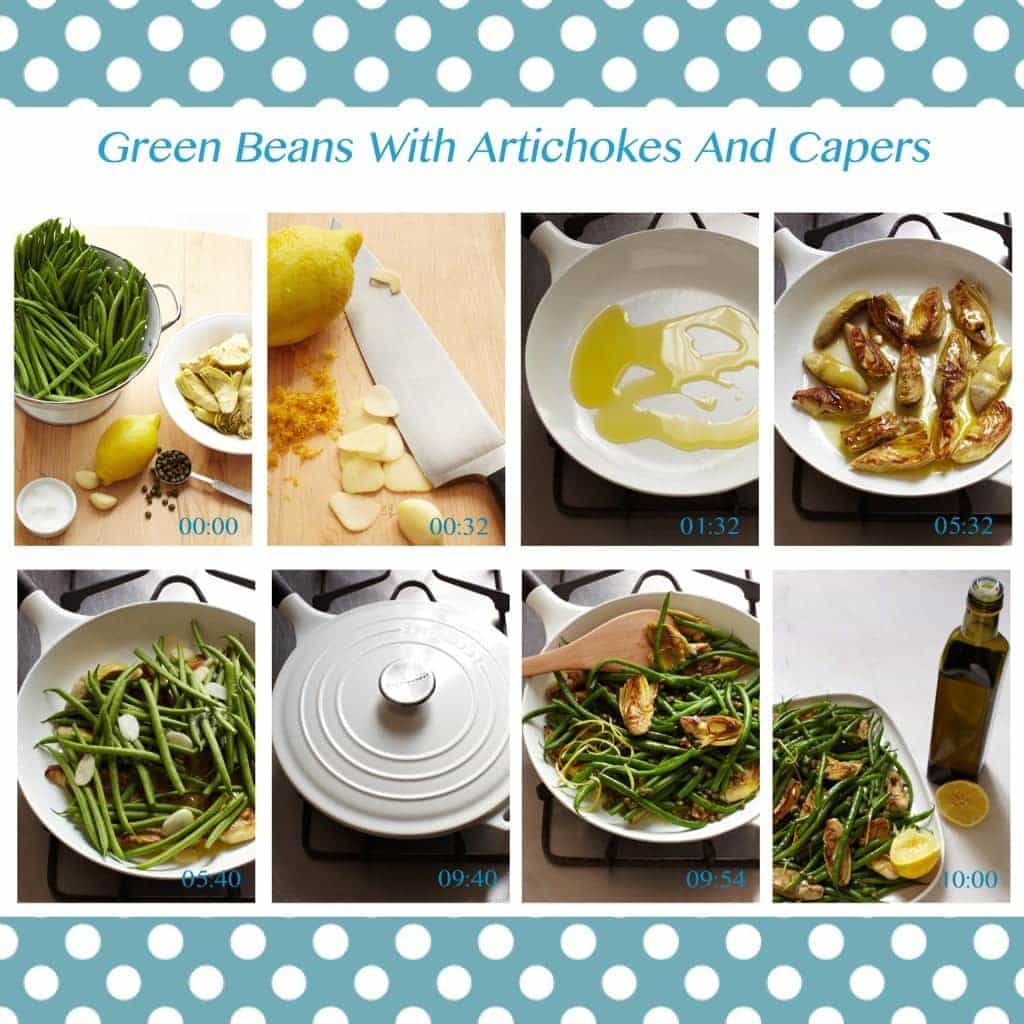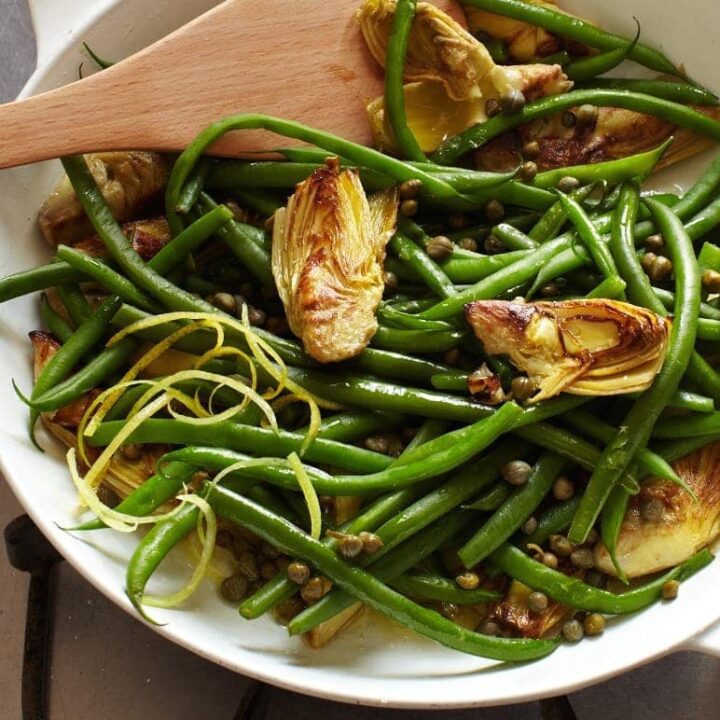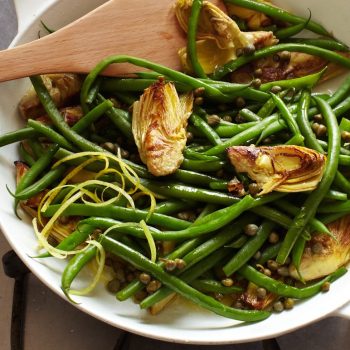 Skillet Green Beans With Artichokes And Capers
This recipe keeps the oven free for the rest of dinner, and can be made in a matter of minutes, especially with the pre-trimmed green beans available at the store!
Ingredients
3

tablespoon

olive oil

plus more for serving

1

pkg

(9 oz) frozen artichokes

thawed

1

pkh

(1 lb) trimmed haricots verts green beans

2

cloves

garlic

sliced

1

teaspoon

kosher salt

Zest from 1 lemon

2

tablespoon

capers

1 to 2

teaspoon

lemon juice
Instructions
Heat oil in a large nonstick skillet over high heat. Add artichokes and cook, without turning, until golden brown on one side, about 4 min. Add beans, garlic and salt on top of artichokes, reduce heat to medium high and cover pan with lid or foil. Steam 3 to 5 min, then gently toss everything together with zest and capers.

Drizzle with lemon juice and extra olive oil to taste before serving.
Notes
Have all ingredients "in a row" and this side is table-ready in less than ten minutes. Perfect for a big, busy meal.
Nutrition
Calories:
64
kcal
Fat:
7
g
Sodium:
467
mg
Vitamin C:
0.3
mg
Calcium:
2
mg
Iron:
0.1
mg
Awesome Side Dish Recipes!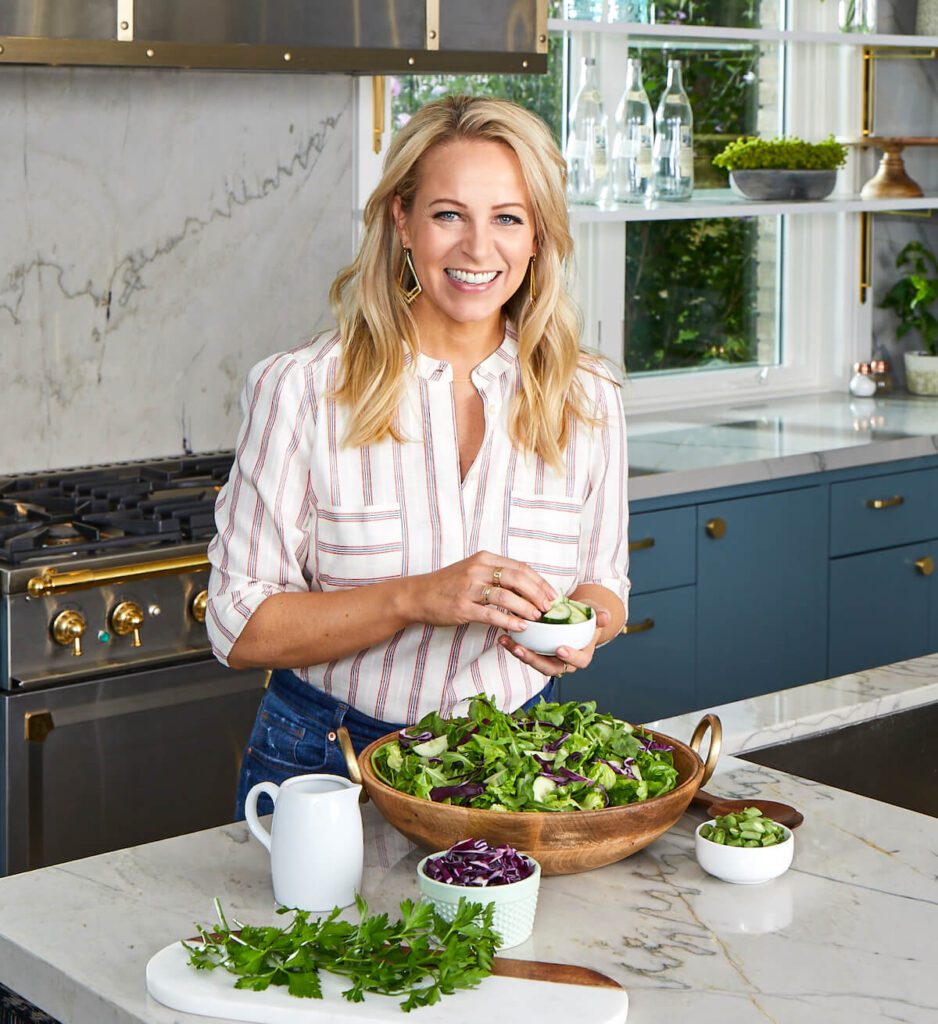 About Tara Teaspoon
I've been in the food publishing business for over 20 years, creating recipes & food-styling for magazines, books, television & advertising. Order my new cookbook & stick around for amazing things to eat.
Recipe by Tara Bench. Also written by Annie Kearns. Originally published in LHJ Nov 2012. Photography Seth Smoot. Food Styling Sara Neumeier. Prop Styling Michelle Wong