---
Pork tenderloin with rosemary apricot sauce is elegant enough for entertaining, but easy enough for a weeknight dinner.
---
This is one of my go-to meals. Pork tenderloin is a never-fail dish for me, and it always impresses. The sweet and savory sauce takes it to the next level. You'll think you're eating out at the fancy place, instead of staying in making a 30-minute meal!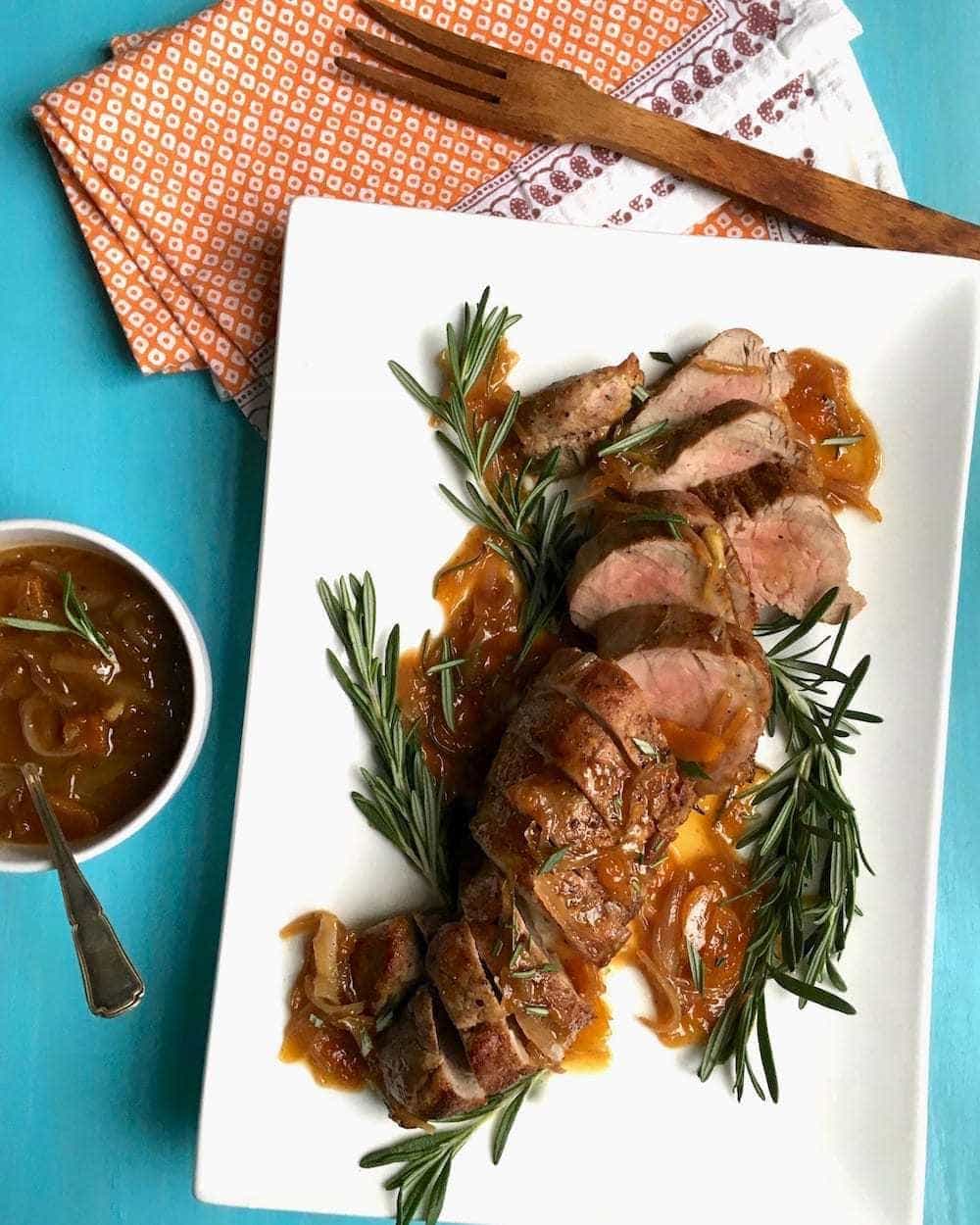 Pork tenderloin, not to be confused with pork loin, is usually 12 to 16-oz. Just enough for four adults as dinner, or a small family. If you're feeding more than that, just double the recipe. A tenderloin is lean and tender. It begs to be cooked perfectly though. Over-cooking pork tenderloin will, like many meats, just render it dry.
Since it is such a small cut, I cook mine to 130ºF on a meat thermometer. If you go much higher you'll run the risk of it drying out. I let it stand under foil in a warm little cocoon for a few minutes after roasting, so the temperature rises as it finishes cooking outside of the oven. You get a little pink, but cooked center and it stays tender and juicy.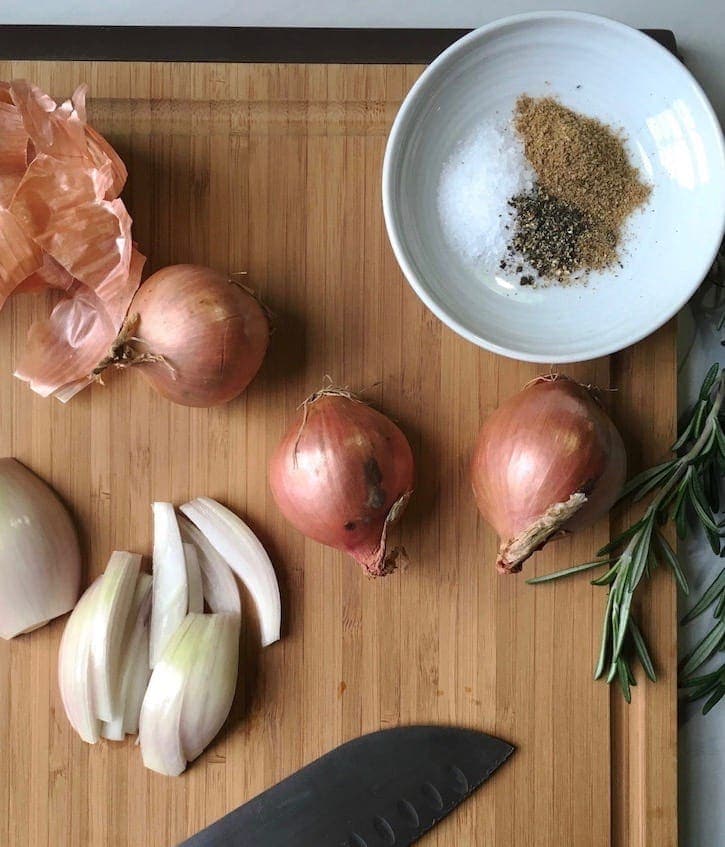 Tenderloins have a little layer of silver skin on the outside. That's simply a type of connective tissue that doesn't break down when cooked. It's best to remove it with a sharp knife before cooking. Sometimes it has already been trimmed for you, or you can ask your butcher to do it.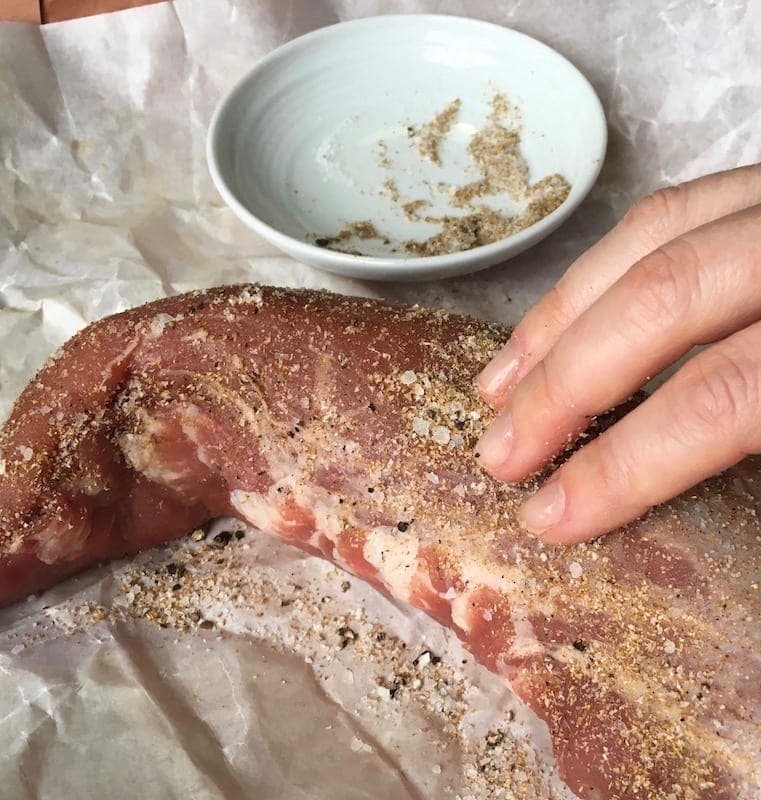 Don't let dinner get you down, whip up this Pork Tenderloin with Rosemary Apricot Sauce in under an hour.
To add delicious flavor, but keep this recipe quick, I opted for a dry rub. Coriander, salt and pepper is all it takes. Coriander is the seed of the cilantro plant. It has an aromatic and almost lemon-citrus flavor. It's just the right amount of seasoning for the meat so it doesn't overpower my lovely rosemary apricot sauce.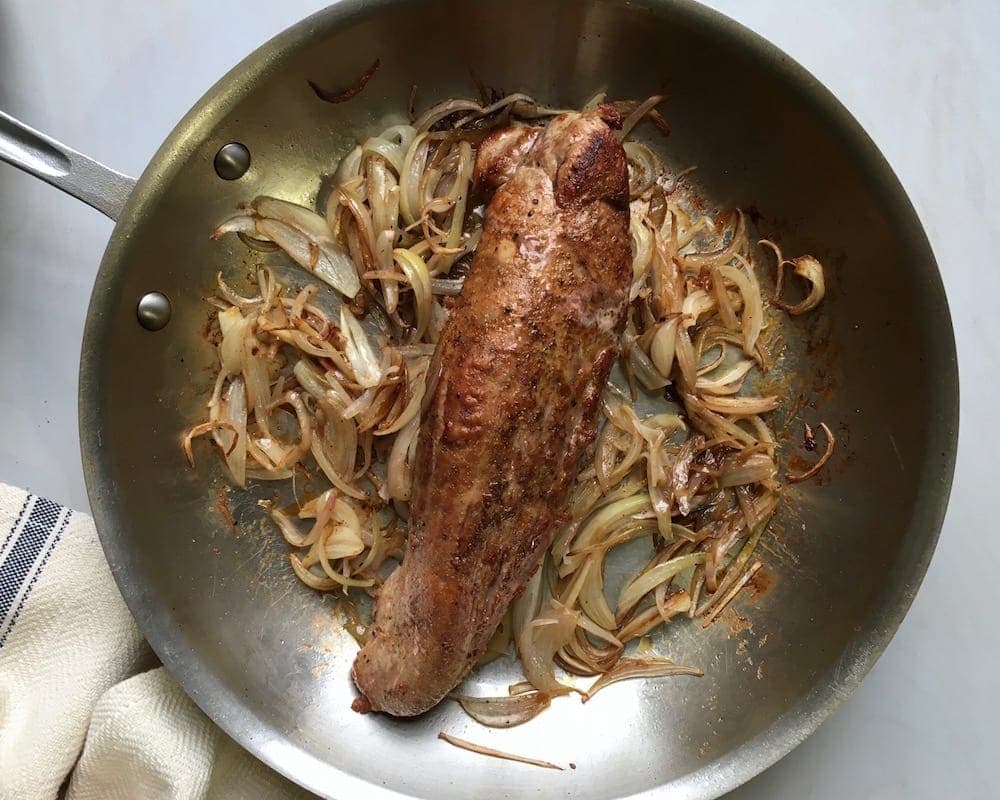 Browning the outside of the tenderloin gives it a nice look and caramelized flavors. I do that on the stove top and then add the shallots to the pan. Make sure your pan is oven-proof. The handle shouldn't be plastic. I also don't use a non-stick pan here. I like all the bits and crisps that end up in the pan to help flavor my sauce!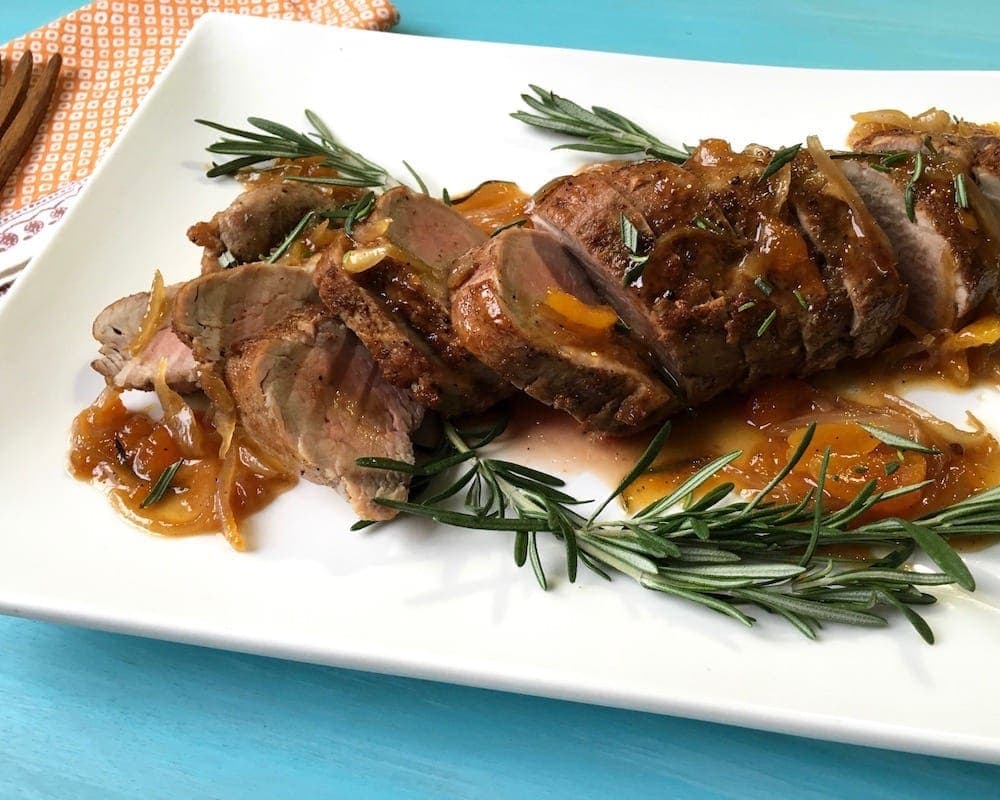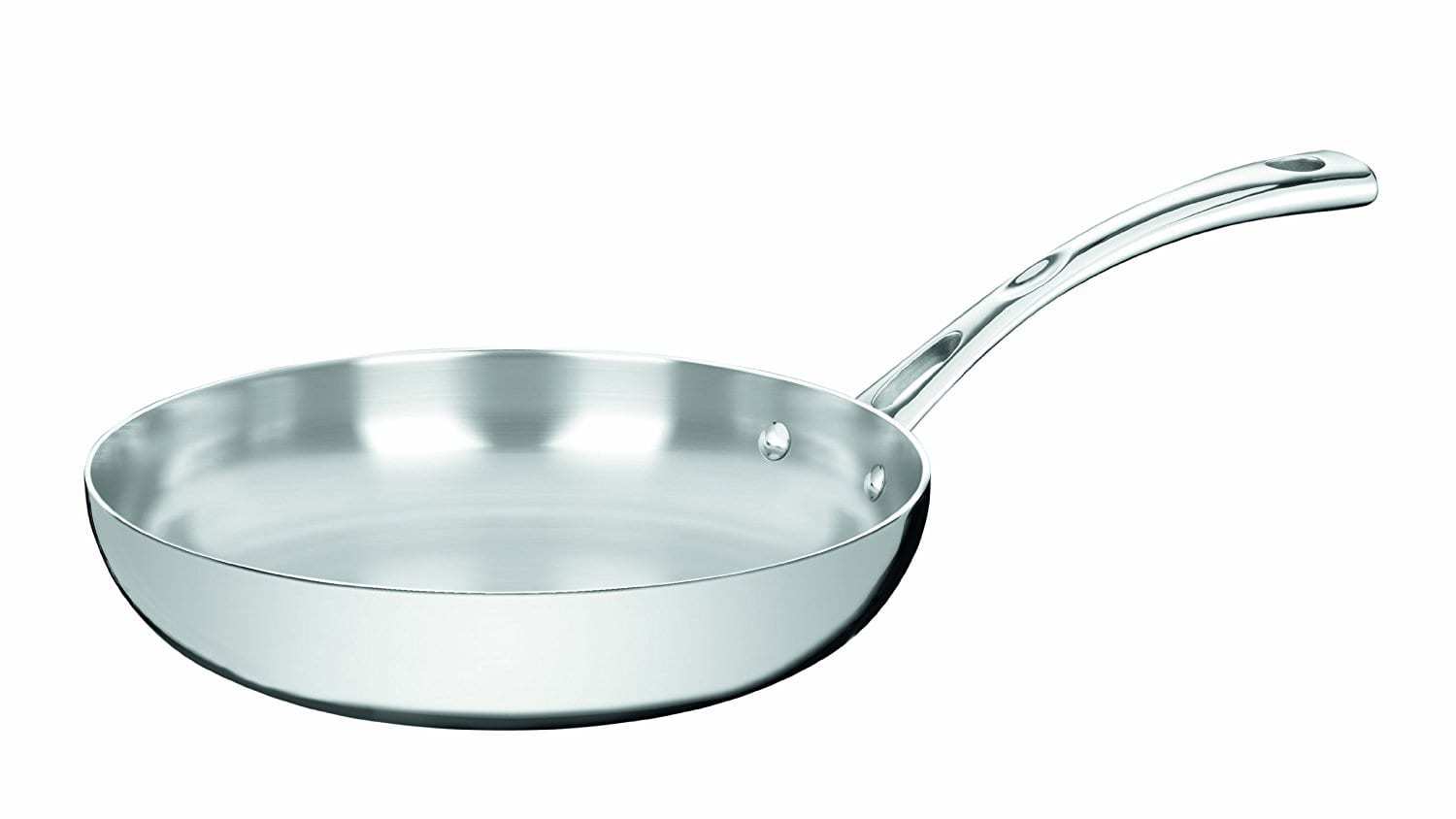 I really like this pan from Cuisinart. It's tri-ply, which means it has aluminum sandwiched between stainless steel (three layers!). The tri-ply layers aren't just on the bottom either. The layers go up the sides and make the pan conduct heat evenly.
You'll need a meat thermometer to check the temperature of the tenderloin. Gently test the temp in the chubbiest part of the meat and leave it there for several seconds to complete the reading. Remember 130ºF is great. If you want to take it to 135ºF that is fine for a less pink center.
The sauce is simple! Some apricot jam and chicken broth and you're basically done. The sauce gets made in the pan so you catch all those caramelized bits and bobs, and suddenly dinner is served.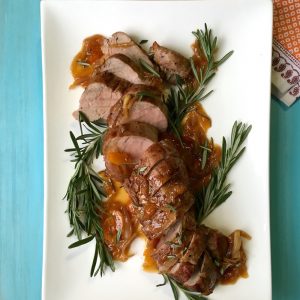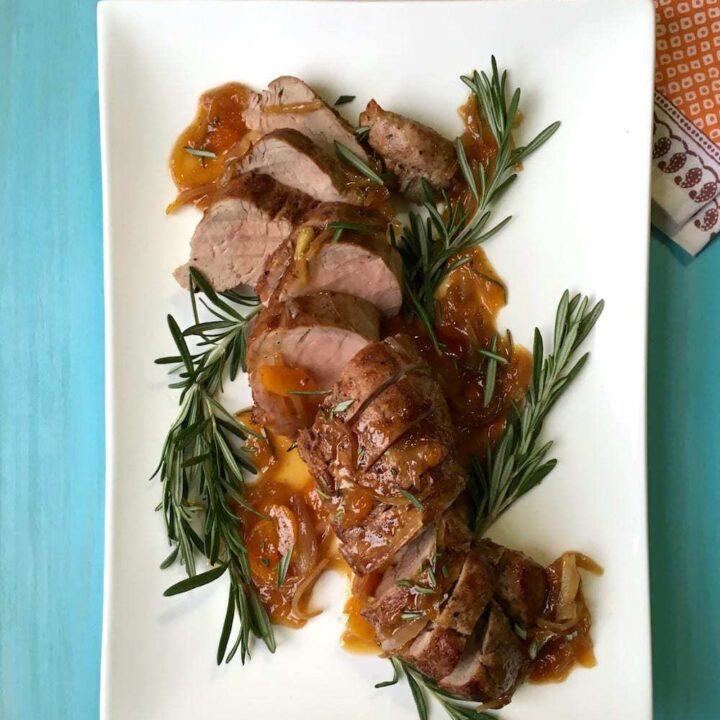 Pork Tenderloin with Rosemary Apricot Sauce
The key to not overcooking tenderloin is to use a meat thermometer. I like to serve this dish with steamed green beans or snow peas.
Ingredients
1

teaspoon

kosher salt

½

teaspoon

ground coriander

¼

teaspoon

ground black pepper

1

(1-to-1 ½-lb) pork tenderloin

silver skin removed

2

tablespoon

canola oil

4

small shallots

¾

cup

chicken broth

½

cup

apricot jam

2

sprigs rosemary

plus more for garnish
Instructions
Heat oven to 400ºF. Combine salt, coriander and black pepper. Rub all over tenderloin and let sit for a few minutes.

Heat oil in an oven-proof skillet over medium-high heat. Add tenderloin and cook, turning occasionally, until golden brown all over, about 8 minutes total. Add shallots and stir to coat with any oil in the pan. Transfer pan to the oven and cook until the internal temperature of the pork is 130ºF. Remove from oven, being careful of the hot pan handle. Transfer tenderloin to a cutting board and tent with foil.

Meanwhile over medium heat, add the chicken broth, apricot jam and rosemary to the shallots. Simmer until shallots are soft and mixture is saucy, 4 to 6 minutes. Slice tenderloin and serve with sauce. Garnish with rosemary if desired.
Notes
A good thermometer is key to be sure the tenderloin is not over-baked.
Nutrition
Calories:
698
kcal
Carbohydrates:
24
g
Protein:
95
g
Fat:
23
g
Saturated Fat:
6
g
Cholesterol:
295
mg
Sodium:
993
mg
Potassium:
1924
mg
Fiber:
1
g
Sugar:
15
g
Vitamin A:
61
IU
Vitamin C:
8
mg
Calcium:
45
mg
Iron:
5
mg
For more delicious and easy dinners, search my recipe index, or try some of these great options.
Main Dish Recipes
Use ramen noodles to make this fresh Crunchy Chicken Noodle Salad even more delicious.
A favorite easy dinner of mine is Coconut Curry Fish. A genius one pan dinner.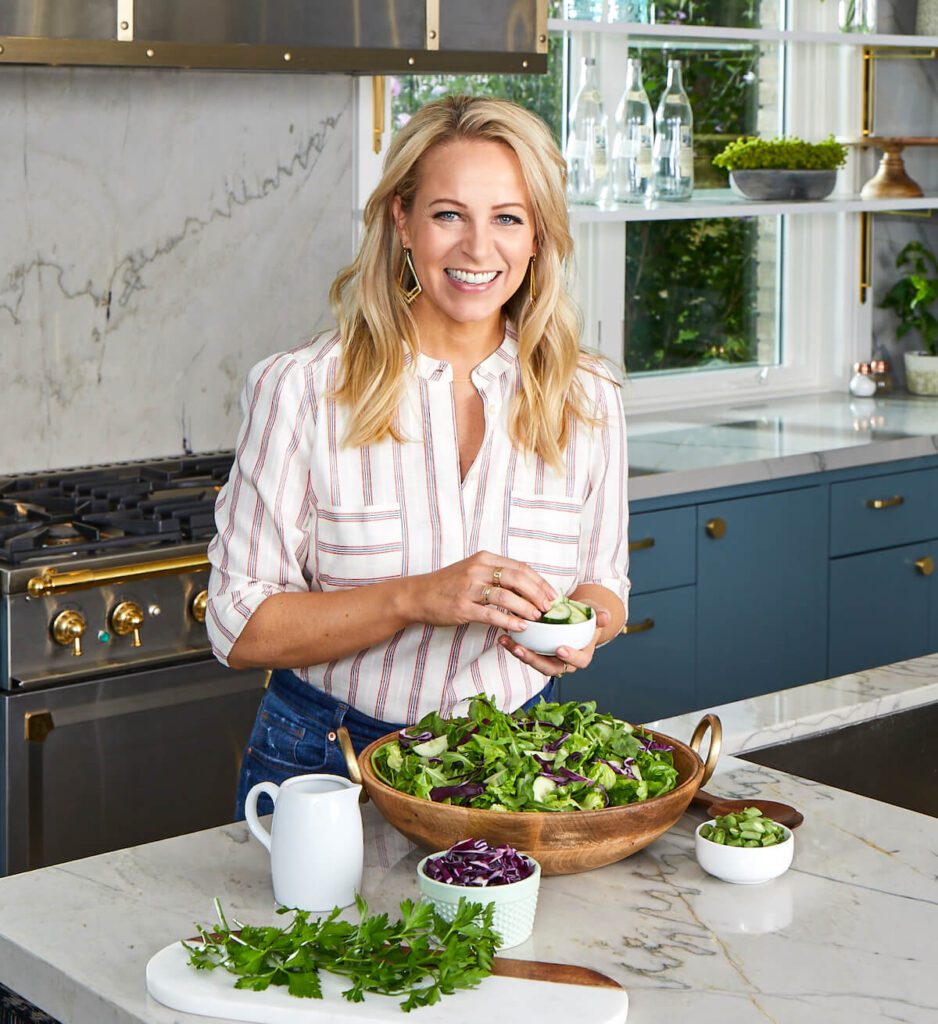 About Tara Teaspoon
I've been in the food publishing business for over 20 years, creating recipes & food-styling for magazines, books, television & advertising. Order my new cookbook & stick around for amazing things to eat.
Recipe, Photography and Styling by Tara Teaspoon. Originally published at I Heart Naptime blog.