---
This cakey and sweet cornbread recipe that is thick and soft, with a hint of honey. It's like the mile-high, moist Marie Callender's copycat cornbread, but easy and homemade. Plus this recipe is a breeze to double for a crowd!
---
I'm telling you, this is the ultimate homemade sweet cornbread recipe. It's no-fail, soft and cakey, and doesn't crumble to pieces when you smear honey butter on each slice! Isn't that all any of us want in life?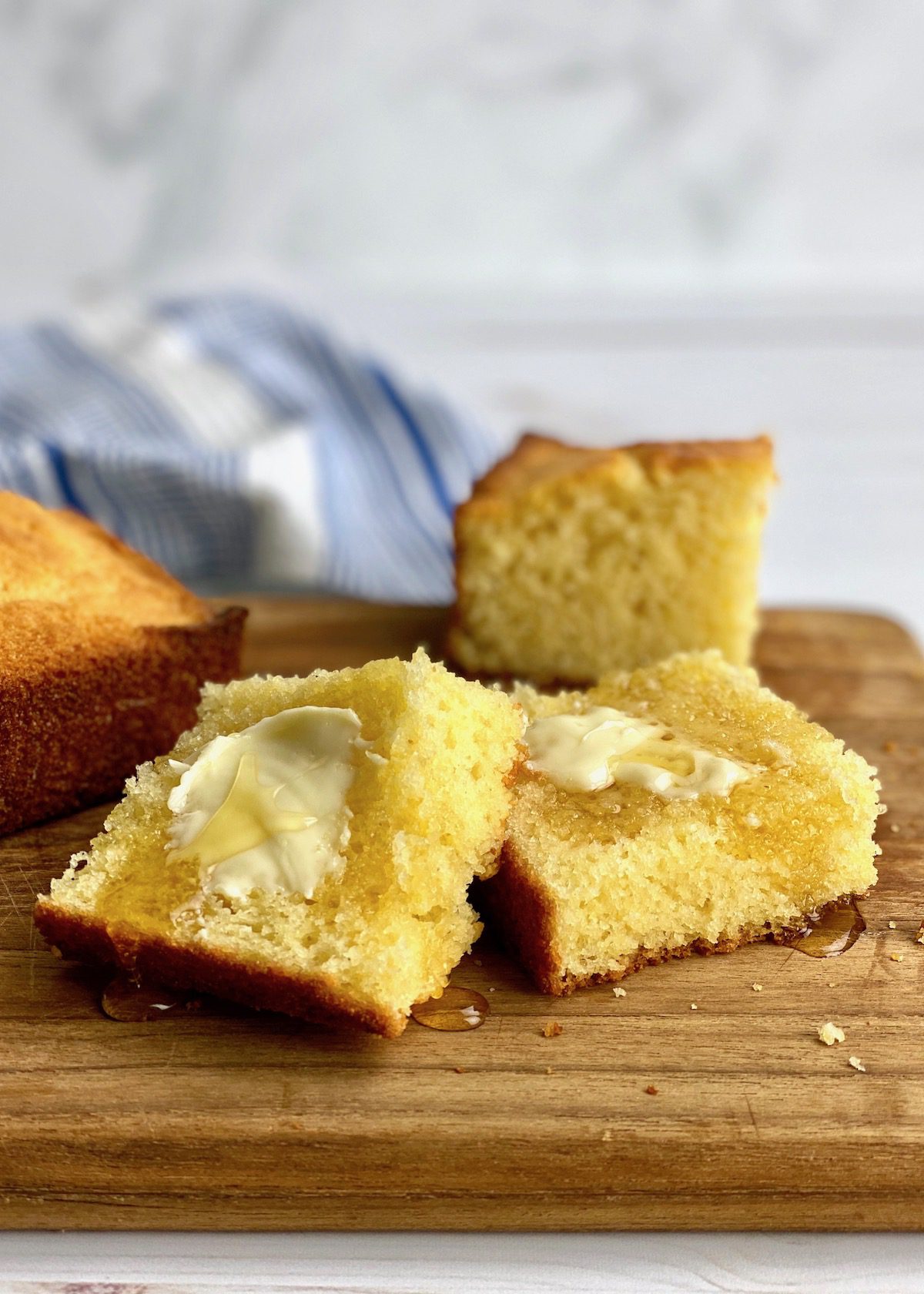 Jump to: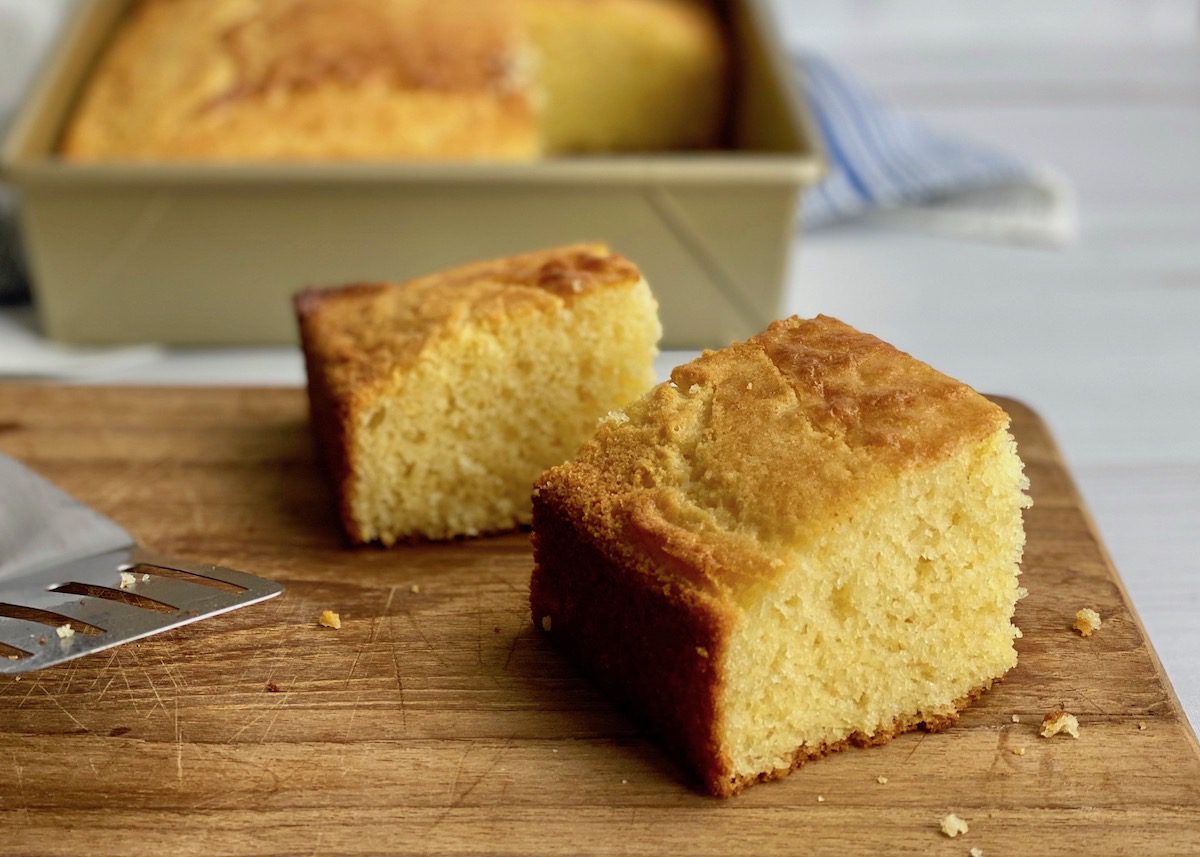 An easy recipe from scratch
I have been keeping this recipe under wraps for years! Well, that's not completely true. It is simply one of those recipes I make all the time, and don't think to shoot lovely pictures and share here on the blog.
It's time. No one should be without a moist cornbread recipe. Everyone should know how to make homemade cornbread, and why not make it the best soft cornbread recipe imaginable.
What to serve this cornbread with:
This cornbread is genius served with all kinds of dinner. Most of my family will even eat leftovers for breakfast! Here is what I like to serve it with: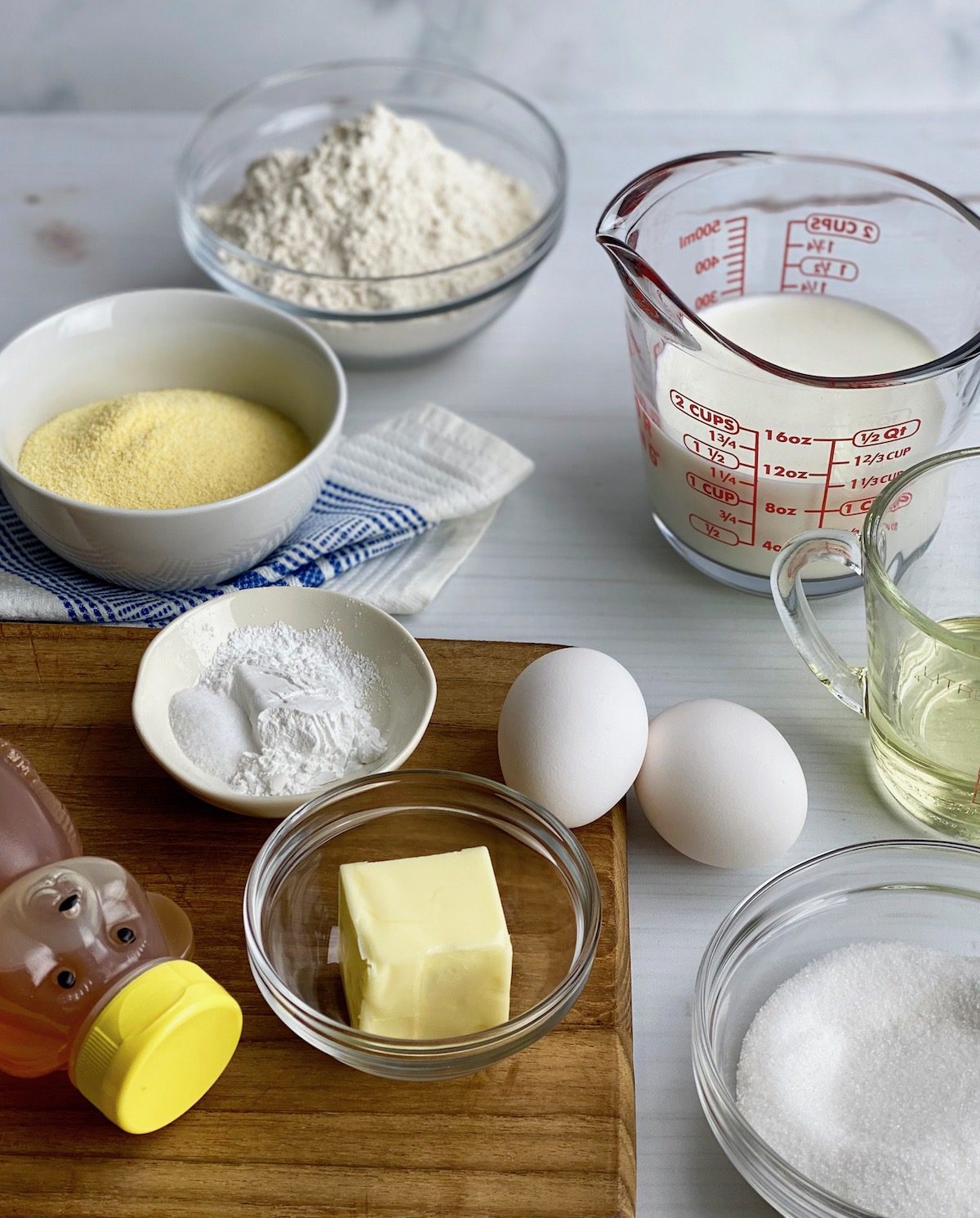 Use yellow cornmeal to make it golden and sweet
For this sweet, moist cornbread, I use yellow cornmeal. It gives the cornbread a pretty, buttery yellow color, and has a great flavor.
Yellow cornmeal is slightly sweeter than white cornmeal, so it's often preferred in baking muffins, bread, or pastries.
You can certainly use white cornmeal if you have it on hand or prefer it. The texture will be the same if you use white cornmeal, if it is the same grind as your yellow cornmeal.
I prefer finely ground cornmeal in this recipe. There is plenty of toothsome crunch, even when you don't use course ground cornmeal.
How to make cornbread moist
I remember being young and loving Marie Callender's cornbread when we would go out to eat. Each square seemed to be ten feet tall and was sweet and moist.
This recipe is like a copycat Marie Callender's cornbread recipe, but the flavor is buttery and homemade.
Instead of being savory, and dry like a classic, Southern cornbread (delicious in its own right), this easy recipe is soft and moist. So how do you make moist cornbread?
There is plenty of liquid in this recipe in the form of eggs and milk. Adding oil and melting the butter help to add to this moisture. The ratio of liquid to dry ingredients is close to 1:1 which results in a moist quick bread.
Baking the recipe in a small, 8-inch square or 1 ½ quart pan helps it stay lofty and tall, which also aids in a moist and tender middle. A double batch is perfect in a 9-by-13-inch baking dish and still stays tall and amazing.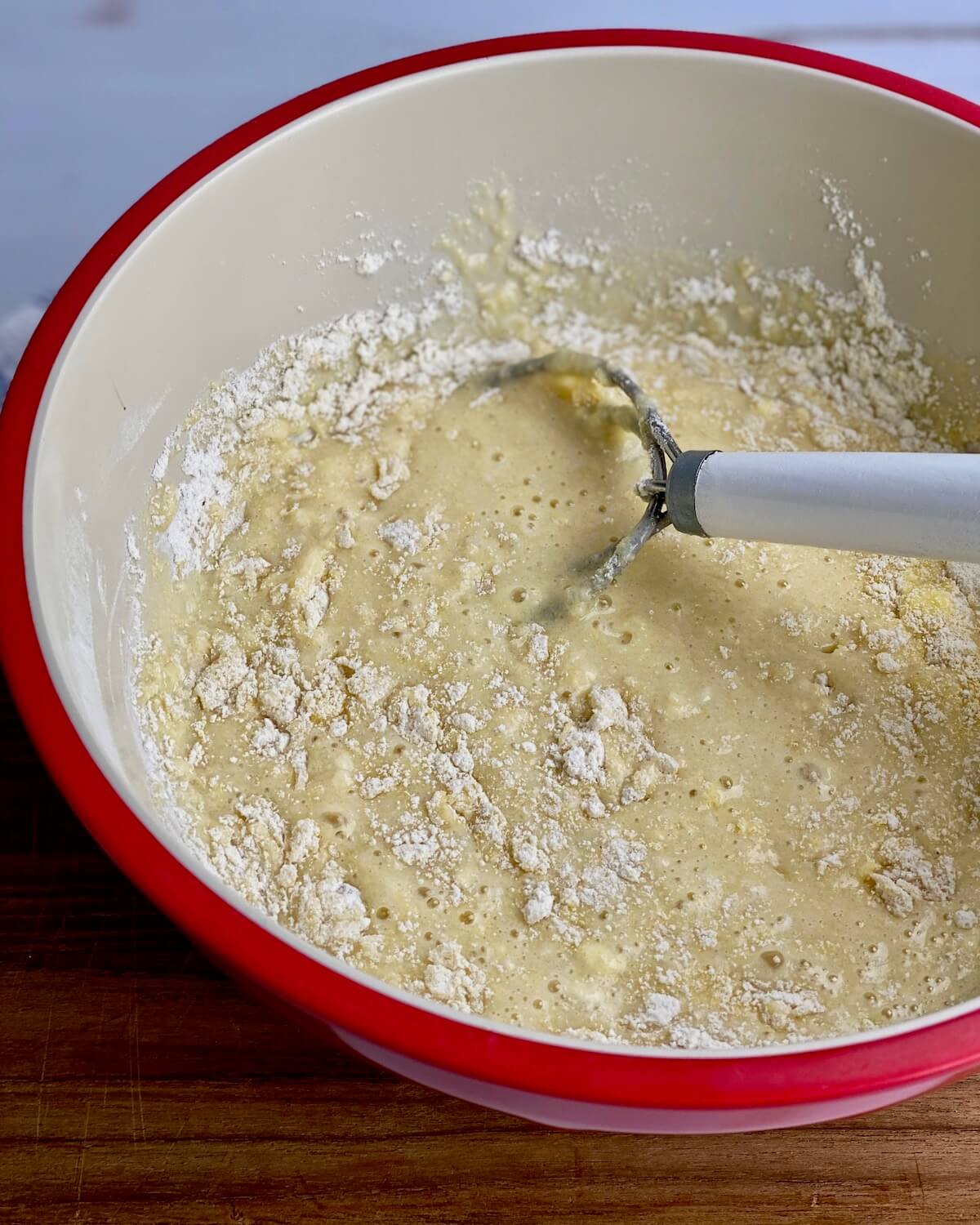 Can this recipe be made Gluten-Free?
You bet your hat this recipe can be made gluten free! In fact I have the most perfect gluten-free cornbread recipe post right here on this blog.
The recipe is exactly like this one and uses Cup4Cup all-purpose flour in place of the regular AP flour here.
The best way to store cornbread
Since this cornbread is made to be moist and soft, it's best to store any leftovers airtight so it doesn't dry out.
I store mine at room temperature:
• Store in the pan, wrapped well with plastic wrap.
• Keep it in a plastic bag at room temperature.
• Keep in an airtight plastic or glass container.
If it is in the pan you can reheat it to serve leftovers warm. Simply cover the pan with foil and bake at 350ºF for about 10 minutes. Or place a square in the microwave for a few seconds.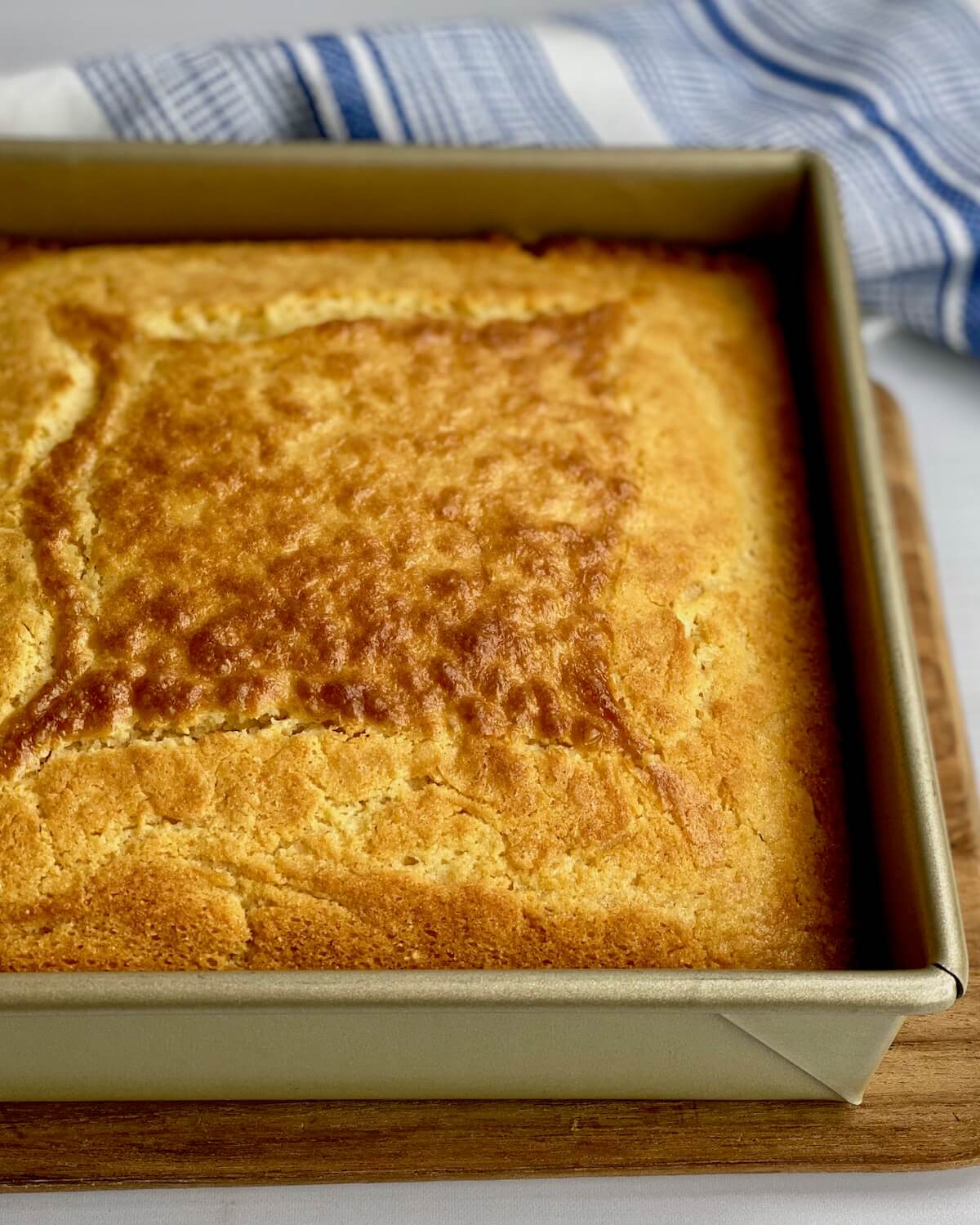 Is this sweetened with honey or sugar?
I call this a honey cornbread recipe because it has honey in the ingredients! However, there is only 1 tablespoon in the entire recipe. While the main sweetener here is sugar, the honey plays an important role.
Honey is a liquid form of sugar and helps the cornbread stay nice and moist. It also add a dimension of flavor! Just like that small amount of vanilla you use in baked goods, even a tablespoon of honey gives the cornbread a floral and caramelized sweet undertone of flavor.
How to make homemade sweet cornbread
There are a few tips to make note of when making cornbread from scratch. Homemade cornbread is easy, so no need to complicate it. And, no need to use a mix! You probably already have the ingredients handy.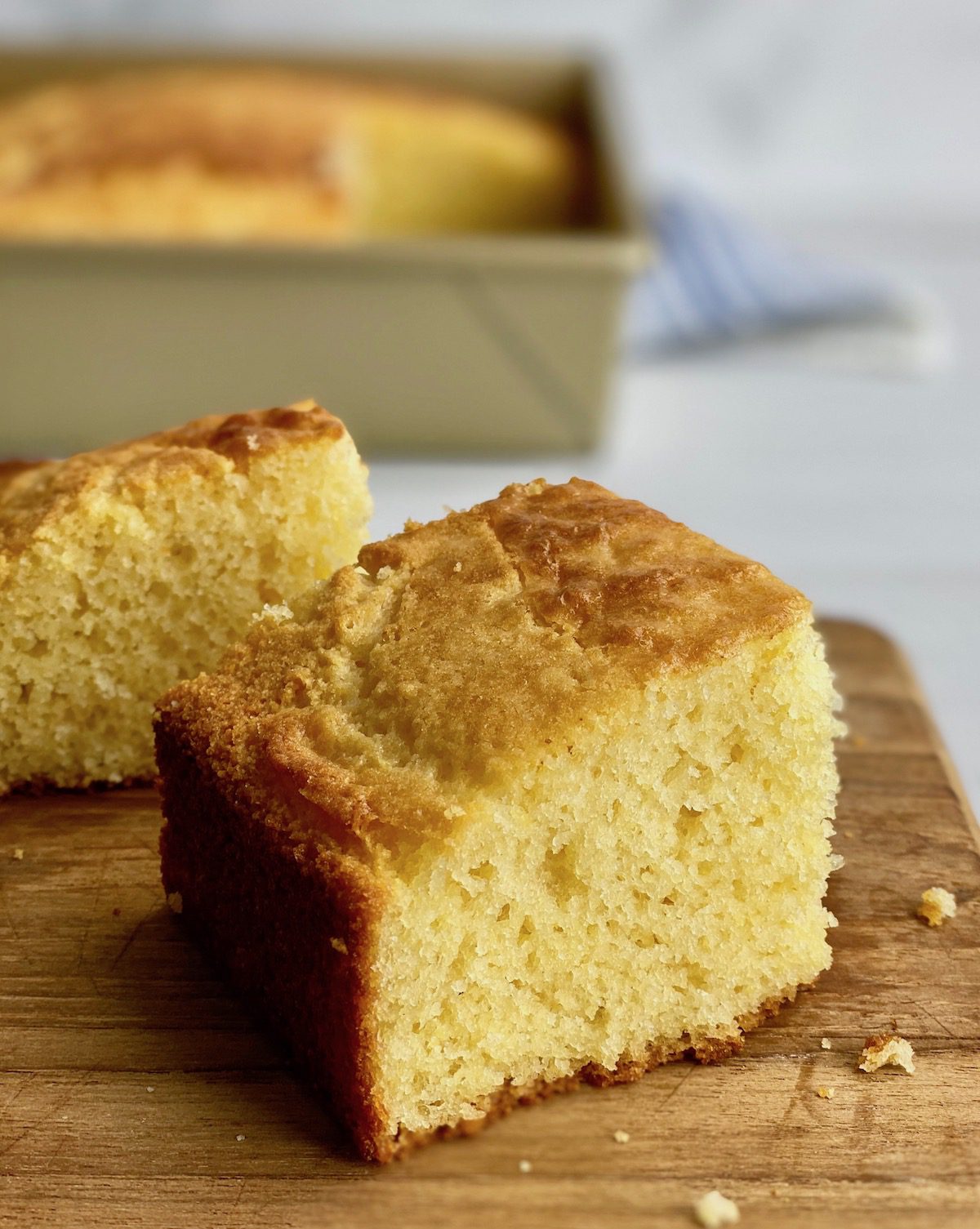 My tips for making cornbread from scratch:
Mis en place your ingredients. That means get out and measure all of the componants of the recipe. This takes only a few minutes and makes the assembly a breeze.
Whisk together the wet ingredients so everything is blended evenly before going into the dry mixture.
Keep the mixing process fast! Use a whisk to blend the wet and dry ingredients together quickly, breaking up any lumps. Don't slowly stir and take your time. This is meant to be quickly mixed and get into the oven. You don't want your leavening to lose its power.
Have your oven pre-heated. This takes at least 20 minutes. Even if your oven rings to signify it is heated after 10 minutes, the elements are still on full power and could cause your cornbread to cook unevenly. Wait the full 20 minutes so the oven is perfectly hot.
Can I make corn muffins?
I'm sure you could bake this recipe in muffin tins. I have not tried it so I don't know the proportions.
If you do try it, feel free to leave a comment with your process!
Can I freeze homemade cornbread?
You can easily freeze homemade sweet cornbread! Freeze the entire pan, baked and cooled, then wrapped in plastic wrap and foil.
Or, you can freeze the uncut cornbread outside of the pan, again, wrapped in plastic wrap then foil.
Also, freeze individual squares (if you're single like me, this comes in handy!). Wrap the same as above.
To thaw, leave the cornbread wrapped, at room temperature for several hours. The bigger the piece the longer it will take.
To reheat, you must unwrap, and remove the plastic. You can wrap it again in just foil and heat it in a 350ºF oven for 10 to 15 minutes.
Can I make this with fresh corn?
Some folks like cornbread with fresh corn kernels baked right inside. I have to say, I do love it this way if I'm serving it with chili. It just adds a little something!
You can stir in 1 cup of fresh corn kernels or frozen, thawed corn. If you'd like, try the roasted corn kernels from Trader Joe's for a fun flavor.
Because of the moisture the kernels add, you'll want to test the cornbread with a toothpick (to see if wet crumbs come out) before removing from the oven. You may need to bake it a minute or two longer.
Double the recipe
I rarely make this as a single recipe. I always double it. However, because it makes a lot, I left the original amount here.
A double recipe can be baked in a 9-by-13-inch baking pan or dish and just needs more cooking time.
Mix the batter the same way, in a larger bowl! And add 10 to 15 minutes onto the baking time.
Check for doneness by gently pressing on the top to see if the cornbread bounces back. You can also insert a toothpick into the center and see if it comes out relatively clean. If the cornbread is done the toothpick will be clean or just have a few little crumbs on it.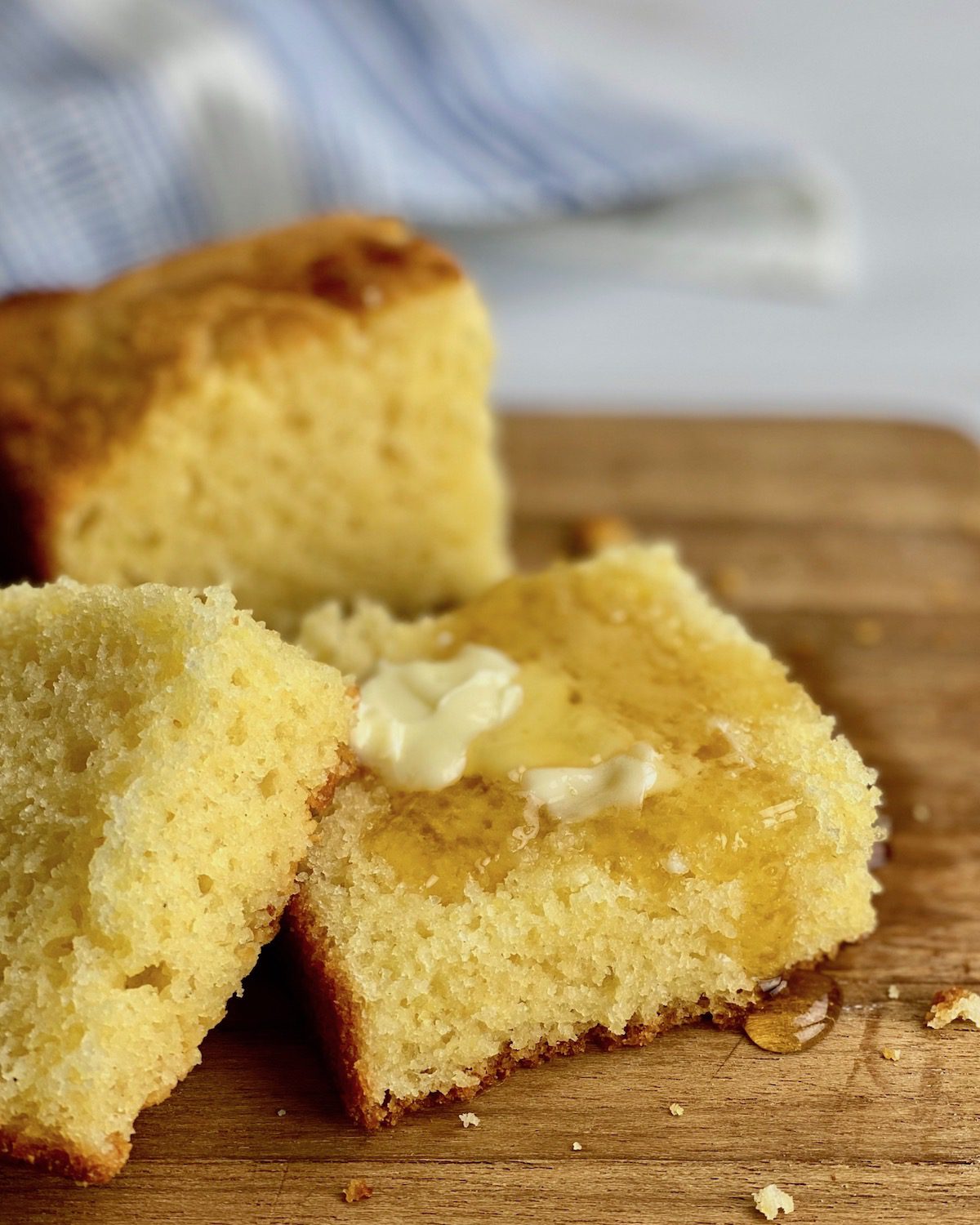 Add-ins for delicious flavor
Here are some simple, homemade sweet cornbread flavor add-ins that you can try:
Of course jalapenos! Add up to ⅓ cup finely diced, seeded jalapeno to the batter.
Add 1 small can chopped green chilis to the cornbread batter for a more intense chili flavor.
Grated cheese is delicious on it's own or with the chili additions above. Choose a strong cheese because you can't add too much without affecting the recipe. Add up to 1 cup grated sharp cheddar if desired.
Add subtle flavor with fresh or dried herbs. Stir in 1 teaspoon each chopped fresh thyme, sage and rosemary. Or 1 teaspoon of dried herbs.
Use homemade or store-bought cooked bacon bits to make a savory-sweet version. Add up to ⅔ cup chopped bacon bits.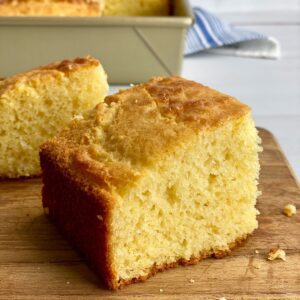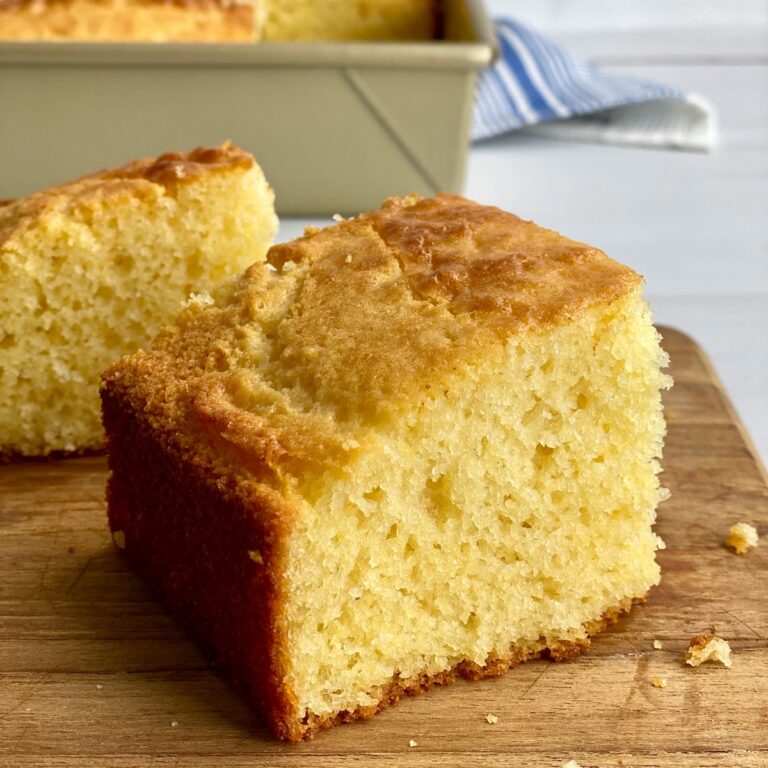 Homemade Sweet Cornbread
This sweet and moist cornbread is the best tasting cornbread I've ever made. The corn flavor comes through while being the perfect texture.
Ingredients
½

cup

yellow cornmeal

1½

cups

all-purpose flour

⅔

cup

granulated sugar

½

teaspoon

salt

1

tablespoon

baking powder

3

tablespoons

butter, melted

⅓

cup

oil (canola or avocado)

2

large

eggs

1

tablespoon

honey

1¼

cups

whole milk
Instructions
Heat oven to 350ºF. Grease an 8-inch square pan, or a 1½-to-2-qt baking dish; set aside.

In a medium mixing bowl, combine the cornmeal, flour, sugar, salt and baking powder. Whisk together and set aside.

In another bowl or large measuring cup, combine the melted butter, oil, eggs honey and milk. Whisk until the eggs are broken up and blended.

Pour milk mixture into the dry ingredients and whisk until smooth and just combined.

Transfer batter to the prepared baking dish and smooth with a spatula until it is in an even layer in the pan. Bake until a toothpick inserted in the center comes out almost clean, with no wet batter, 30 to 35 minutes.

Let cool for a few minutes and serve warm, or completely cool.
Notes
When you double this recipe, prepare a 9-by-13-inch baking dish or pan. You will need to bake the cornbread for 10 to 15 minutes longer.
This is almost identical in taste and texture to my Gluten-free Cornbread Recipe.
Serve this sweet cornbread with my favorite BBQ recipes.
Nutrition
Calories:
319
kcal
Carbohydrates:
41
g
Protein:
6
g
Fat:
15
g
Saturated Fat:
4
g
Cholesterol:
55
mg
Sodium:
195
mg
Potassium:
245
mg
Fiber:
1
g
Sugar:
19
g
Vitamin A:
232
IU
Calcium:
107
mg
Iron:
2
mg
More side dish recipes from Tara Teaspoon
Awesome Side Dish Recipes!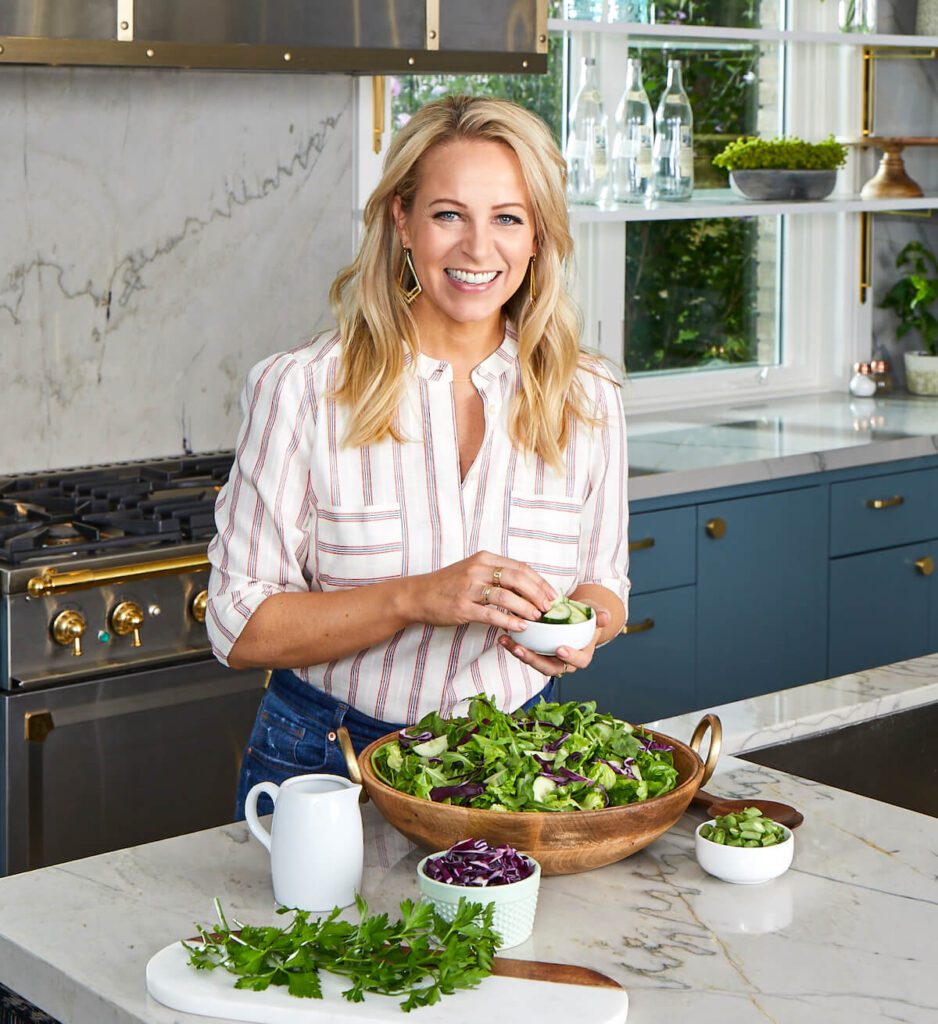 About Tara Teaspoon
I've been in the food publishing business for over 20 years, creating recipes & food-styling for magazines, books, television & advertising. Order my new cookbook & stick around for amazing things to eat.