This pumpkin hummus is ultra creamy and packed with fall flavors. Optionally top with crispy sage and garlic and serve with za'atar spiced pita chips for the ultimate fall snack!
This pumpkin hummus recipe is a fall spin on my all-time favorite creamy hummus. I swapped out half of the chickpeas for pureed pumpkin, then added a blend of warming fall spices to enhance the pumpkin flavor.
In the recipe card below, I've given instructions on how to make za'atar pita chips for dipping into this hummus. But don't stop there!
Use the hummus in sandwiches and wraps, as a dip for veggies and pita bread, or even add a dollop to roasted vegetables to enjoy as a side dish.
Jump to: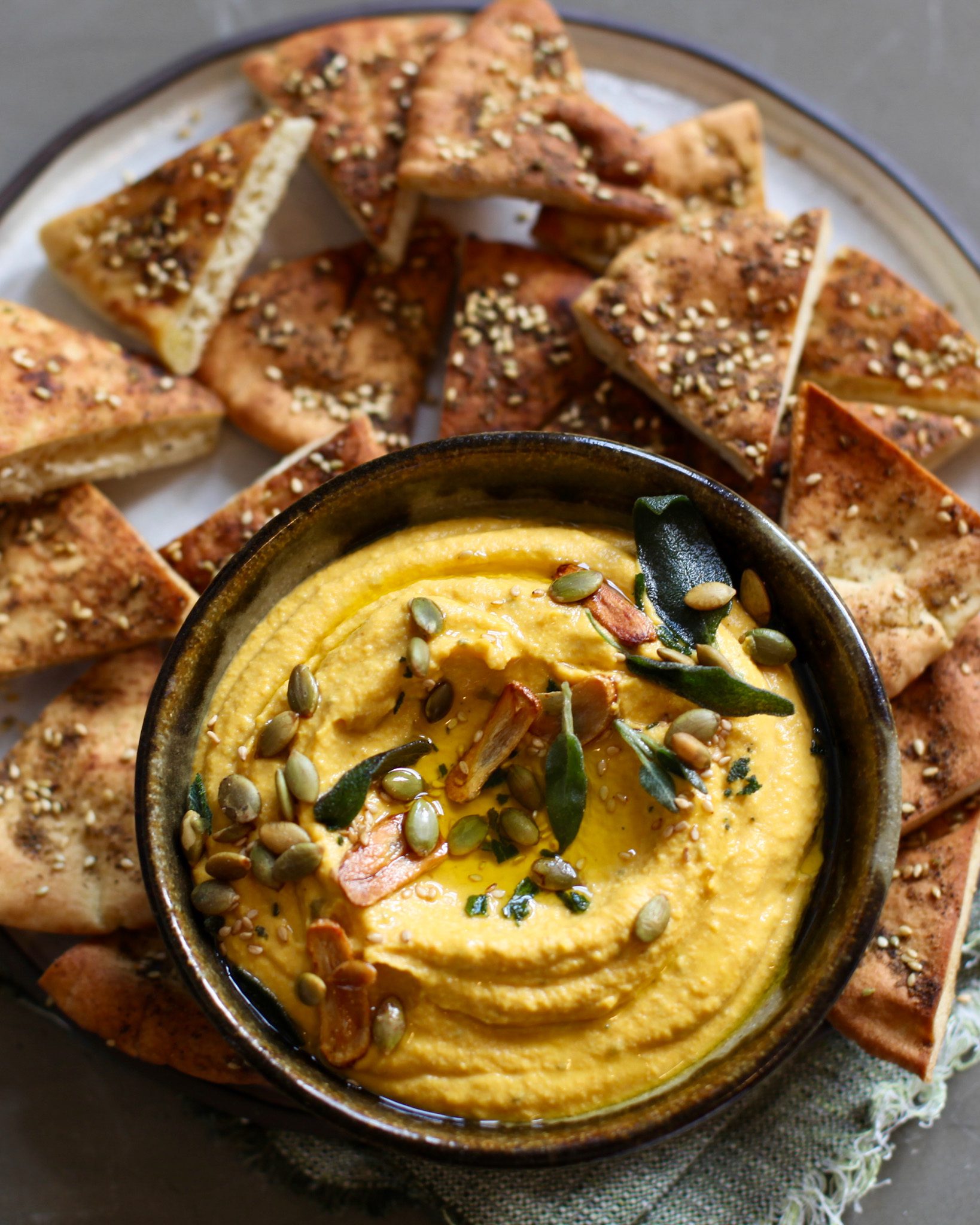 What's Needed for Pumpkin Hummus?
A quick scan of the ingredients list below will reveal a few secret ingredients. I boil the canned chickpeas in a mixture of water and baking soda to really soften them up and release the skins.
Don't worry, the chickpeas are rinsed thoroughly before being blended with the other ingredients. You won't taste the baking soda whatsoever once the hummus is finished!
Pumpkin puree is the star of this fall dip. I used an entire can so you don't have to store a half-used can of pumpkin later.
A blend of fresh and dried herbs and spices enhances the pumpkin flavor, while freshly squeezed lemon juice brightens the dip.
I recommend buying a good-quality tahini for this recipe. If your tahini tastes incredibly bitter, it's likely not the best quality.
Can Dried Chickpeas Be Used?
I prefer making this pumpkin hummus recipe with canned chickpeas simply because they're more convenient. However, I've given instructions in the recipe card below on how to make this dip with dried chickpeas.
Can Dried Herbs Be Used?
I used a mixture of dried and fresh herbs in this recipe, but you may use all dried if preferred. Dried spices are so versatile and can be used in lots of recipes!
How to Make Pumpkin Hummus
The only "special" step of this fall hummus recipe is that the canned chickpeas and baking soda are simmered on the stove-top for about 5 minutes. This loosens the skin from the chickpeas and makes them extra soft, resulting in restaurant-quality hummus.
Once the chickpeas have been simmered in the baking soda, they're drained and rinsed thoroughly in hot water.
From there, all you have to do is whiz everything up in a food processor and serve! I topped my hummus with crispy sage and garlic, sesame seeds, and pepitas but feel free to omit if you're in a rush.
How to Store the Hummus
Store this fall dip in an airtight container in the fridge for up to one week. I imagine it would also freeze well, although I can't say for certain.
Tips for Making This Dip
Make sure to buy pure pumpkin puree for this recipe and not canned pumpkin pie filling.
The crispy sage and garlic garnishes are optional and make the hummus special for a gathering. Certainly simplify the recipe if you are making it for a quick snack!
If you plan on serving this at a party, you can make the hummus dip in advance and crisp up the sage and garlic just before guests arrive.
Appetizers, Nibble and Finger Foods