---
Chicken Parmesan cups are a great after-school snack, Game Day appetizer, or a fun dinner for kids. Use frozen chicken bites to make this easy muffin tin recipe!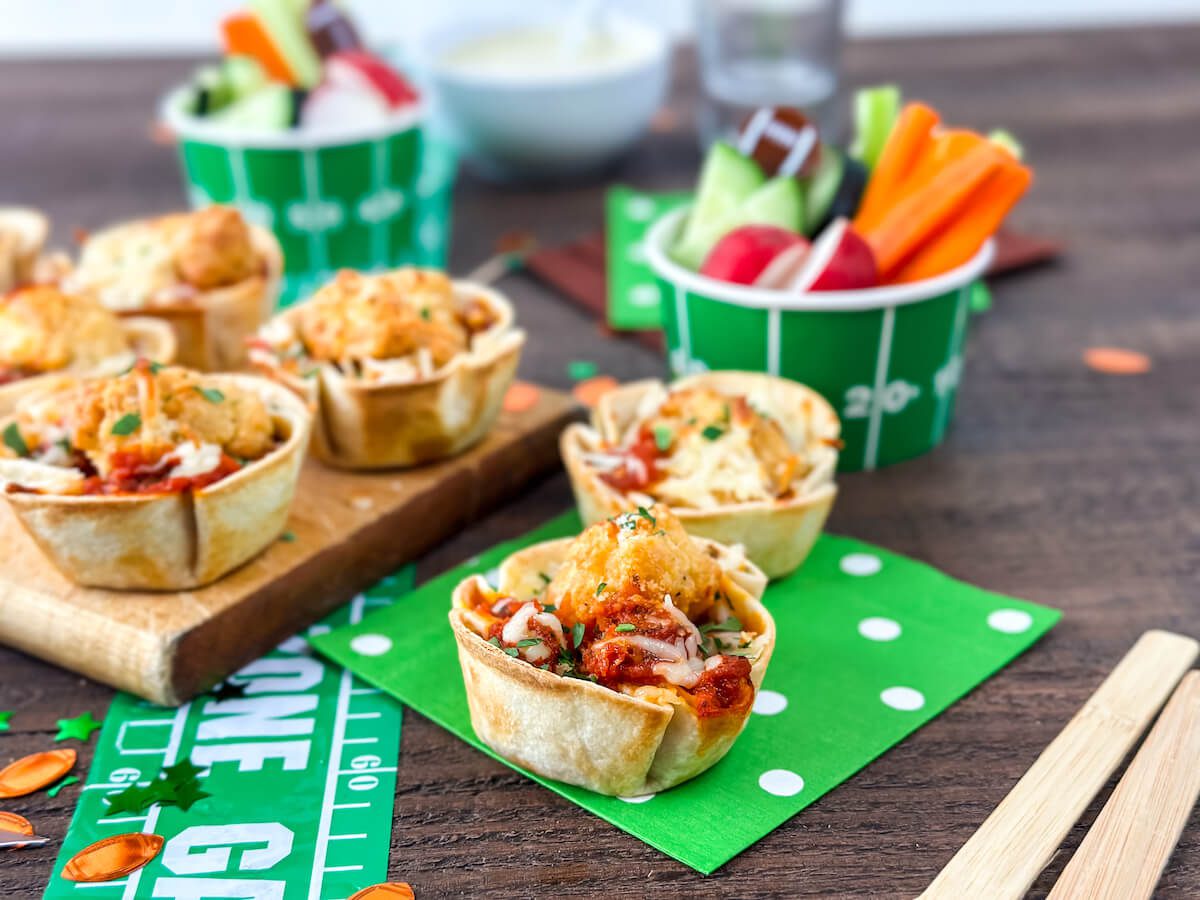 I'm sharing this recipe in partnership with FarmRich snacks. I love using their frozen snacks to create epic gatherings! Try some of these appetizer ideas with mozzarella sticks.
Jump to:
Chicken Parmesan Appetizer
I love a good chicken Parm! A crispy cutlet of breaded chicken smothered in marinara, and melted mozzarella is always tasty.
Why not make it mini and serve chicken Parm appetizers at your next party?
I've taken the classic flavors of baked chicken Parmesan and filled individual toasty cups. These hot snacks make great nibbles for kids after school, or game day appetizers for your gathering.
I've got a collection of Super Bowl snacks from near and far on the blog. Plus if you like mini, cheesy things, try homemade Mozzarella Bites for a BIG hit!
Chicken Parm Game Day Snacks
Throw an epic gathering with some easy game day snacks. Mini chicken Parmesan cups will do the trick, plus they are EASY!
I've added all the fixings of chicken Parm to a toasty, individual cup so they are easy to serve. No dripping sauce off of a toothpick for this game day food.
I honestly think the best game day snacks are easy, delicious, and not messy!
Using flour tortillas as baked cups, I created a hand-held appetizer that is great for a crowd. Add it to your snack plate along with some of my Nachos for a Crowd, or tasty kabobs while you root for the best team.
Bites in Cups for Kids
Kids love FarmRich Boneless Chicken Bites as much as adults! These individual cups can make great after-school snacks, or even a kid-friendly dinner.
The recipe makes 6 chicken Parmesan bites at a time so that's perfect for your kids and a few friends, or the kids and YOU!
I also suggest getting the kids to help you make these. There are simple, fun steps that kids who like to cook will enjoy. After making them with you, I'm sure they'll be confident to make them on their own.
How to make chicken Parm cups
This is all you need to make chicken Parmesan cups:
Frozen FarmRich Boneless Chicken Bites
Flour tortillas
Marinara sauce
Shredded mozzarella
Parmesan cheese
First bake the chicken bites for 15 minutes to warm them through.
Next cut the tortillas into 4 ½ - inch circles. I use this 4.5-inch cookie cutter.
While the chicken cooks, press tortilla rounds into standard muffin tins. Add mozzarella cheese and marinara sauce.
Top the marinara sauce with a hot chicken bite and sprinkle with Parmesan and extra mozzarella.
Bake chicken Parm cups about 18 minutes, let cook, and serve hot.
Party Tip:
I recommend doubling the recipe for a game day party. The recipe makes 6, and is easy to double for a crowd.
And if you can't find regular FarmRich Boneless Chicken Bites at the store, but only the flavors: no problem, just leave off the BBQ or flavored sauce packet in the package and use the chicken bites.
More Game Day Snacks
Let me know how it went!
Scroll to the bottom of the page to rate ⭐⭐⭐⭐⭐ and comment on this recipe. Leaving comments helps other too!
My new delicious and easy chicken recipes