---
Fudgy Holiday Peppermint Brownies get festive with a sweet, pink fluffy frosting top and crushed candy canes.
---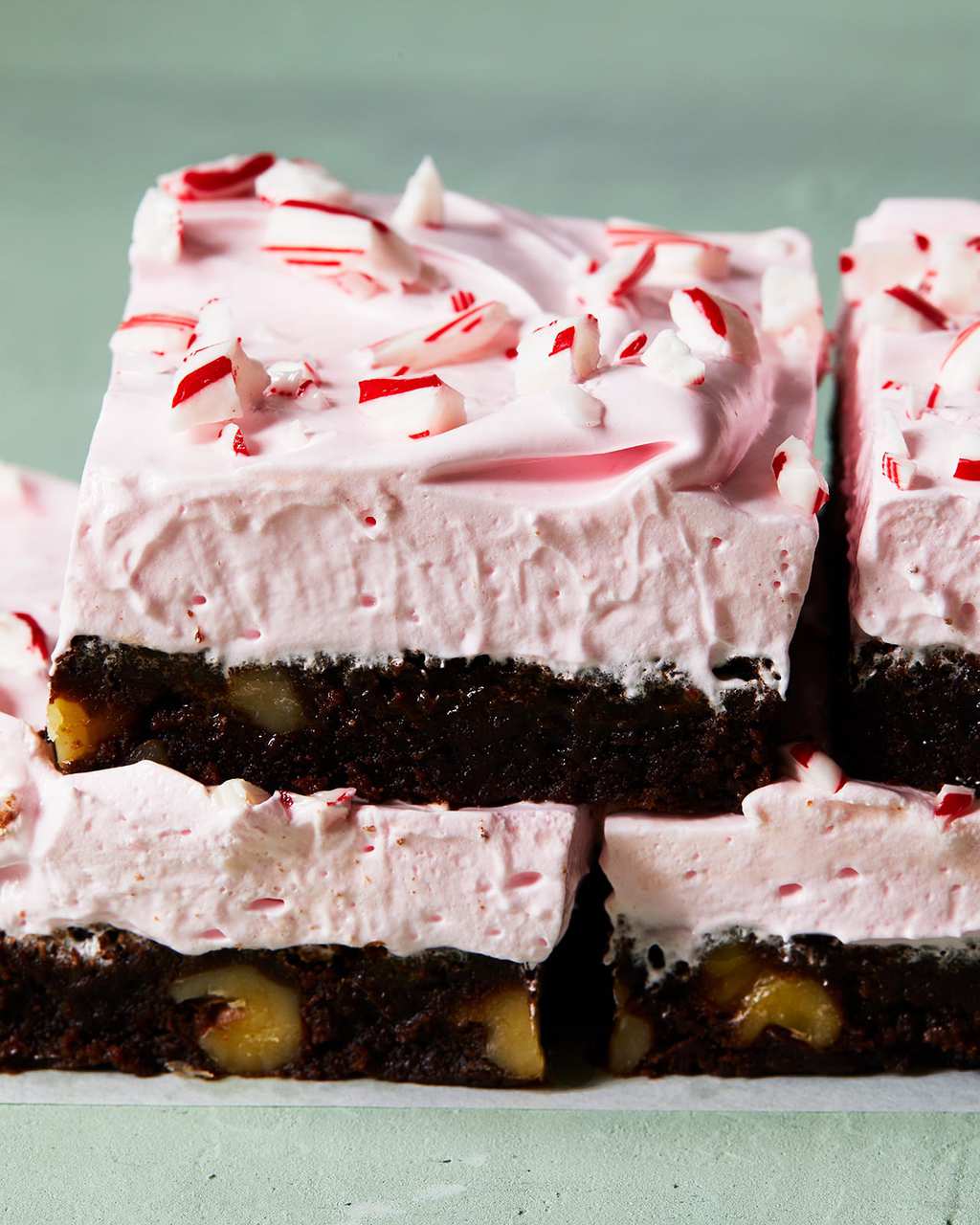 Peppermint brownies are one of those treats I wish were acceptable to eat all year round. They seem to only come out at Christmas, and rightly so, since peppermints and candy canes come out in volume!
I love pretty much any form of peppermint brownie. I wanted to create a recipe with the perfect match of thick, fudgy brownie, and light, fluffy topping as my go-to.
My fudgy brownies are killer on their own. So a fluffy peppermint topping only make them more heavenly. I use bittersweet chocolate, instead of just unsweetened cocoa to give the brownies a more divine texture. Whole eggs, dark brown sugar and vanilla extra round out the perfect density and flavor.
Limited Time Offer!
Click HERE to get your FREE copy of my Christmas Cookie Tips booklet!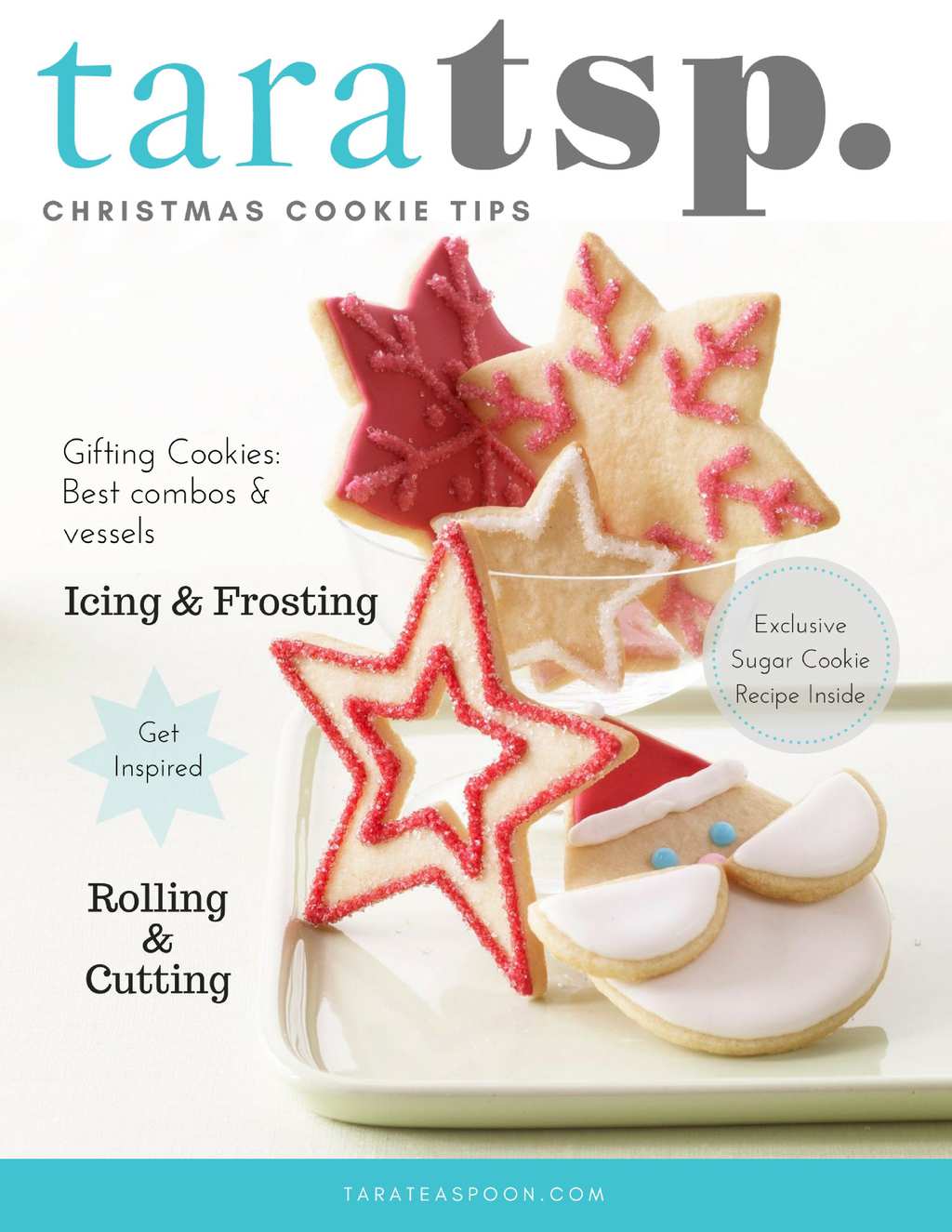 You could certainly skip the homemade brownie part of this recipe and use a box mix like my other fun brownie treats. I find box mix brownies to be nice and dense and chewy. This homemade version has more chocolate flavor and is more fudgy than chewy.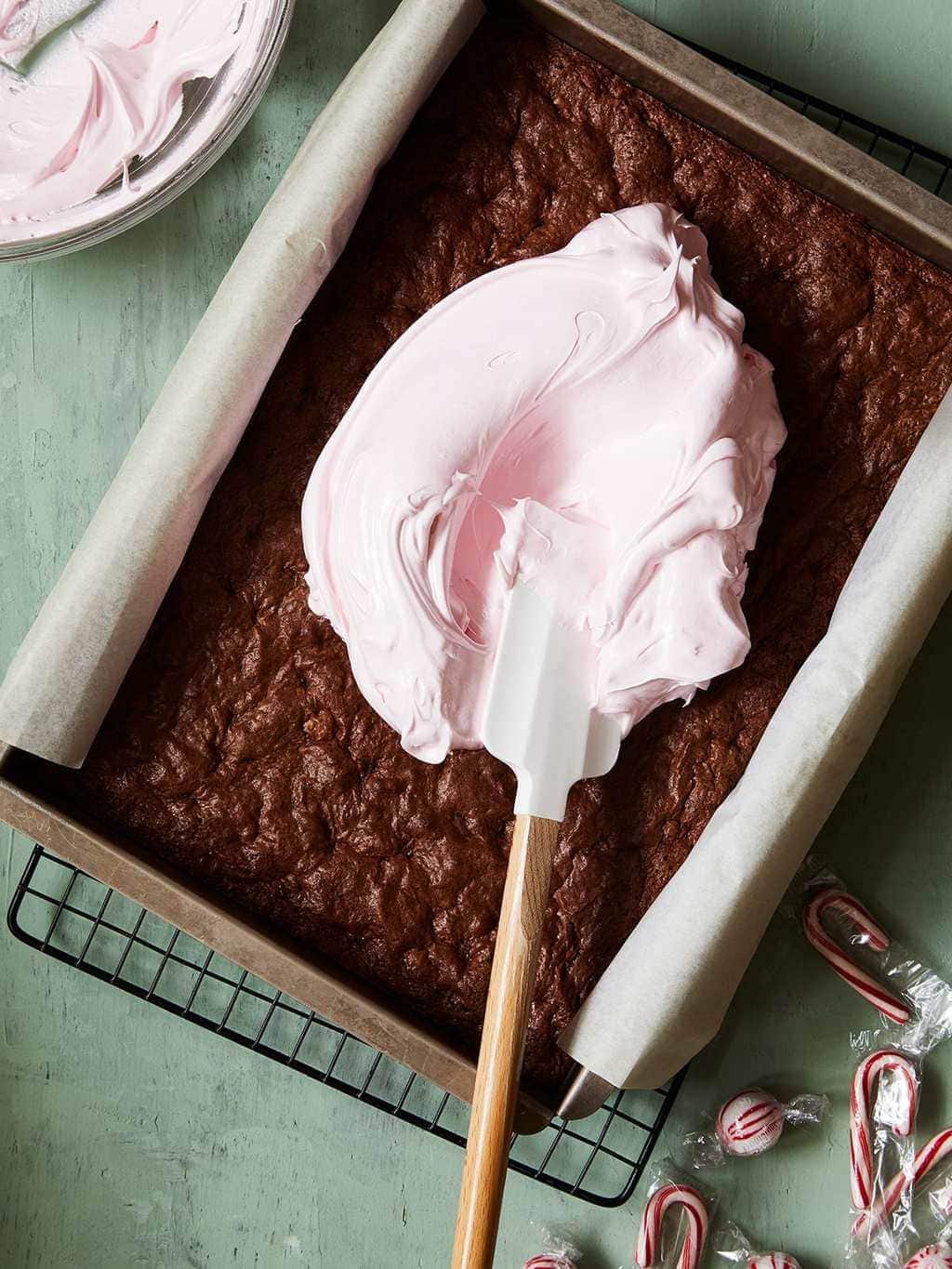 I also add walnuts to my brownies. It's really such a glorious combo with the chocolate and peppermint in every bite. You can leave the walnuts out, just note your brownies will be much thinner.
BROWNIE BAKING TIP:
Line your pan with foil or parchment so that the edges hang over the sides of the pan. By doing this, and not just lining the bottom of the pan, you create little handles to lift the entire batch of brownies out. This is desired so you are able to cut the brownies on a cutting board into nice clean squares. There's no digging that first or second square of brownie out of the pan in a mess.
I like a 9-by-13-inch pan with squared off corners, not sloped. Then even the corner pieces are perfect squares. Try this one: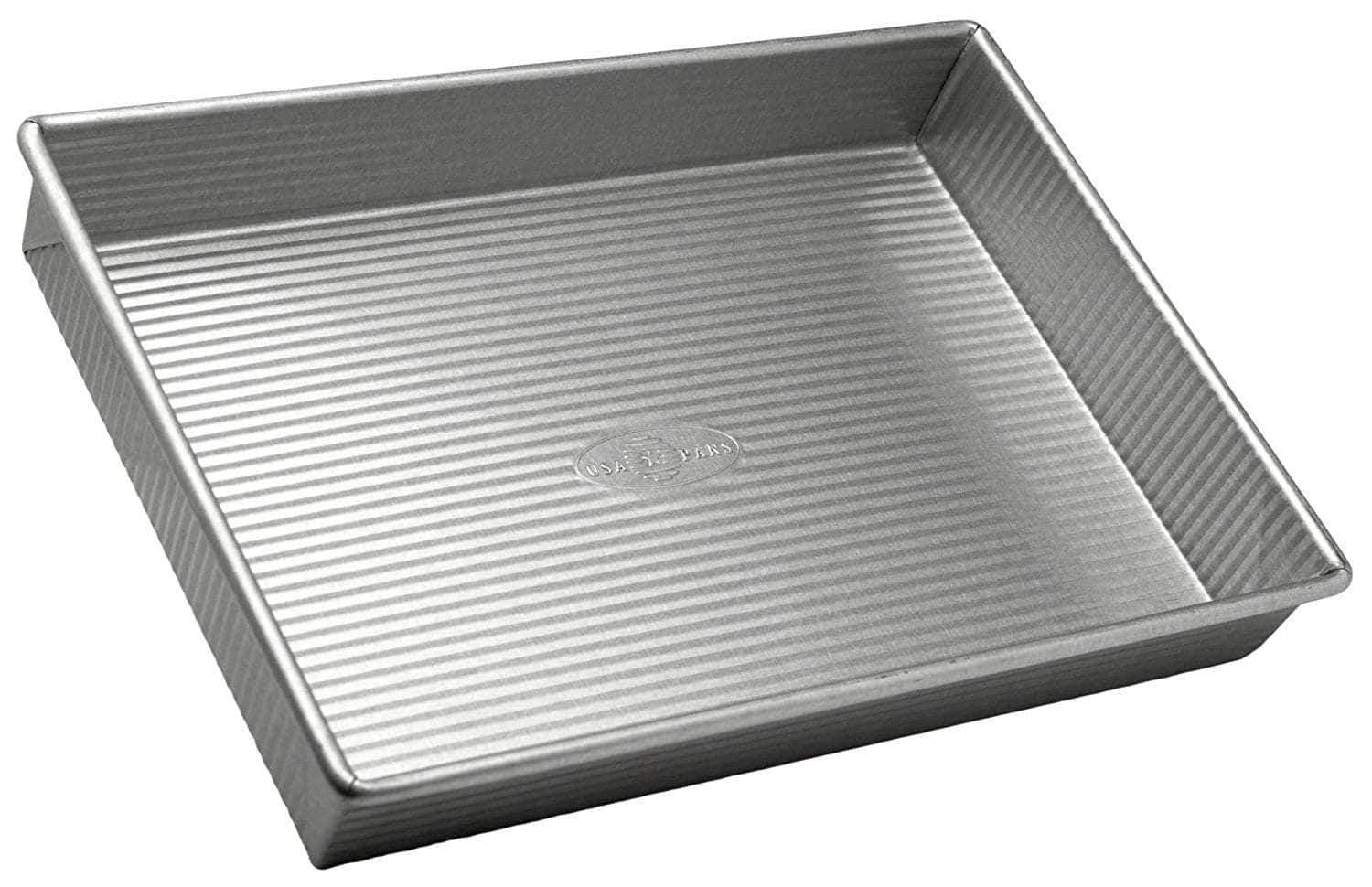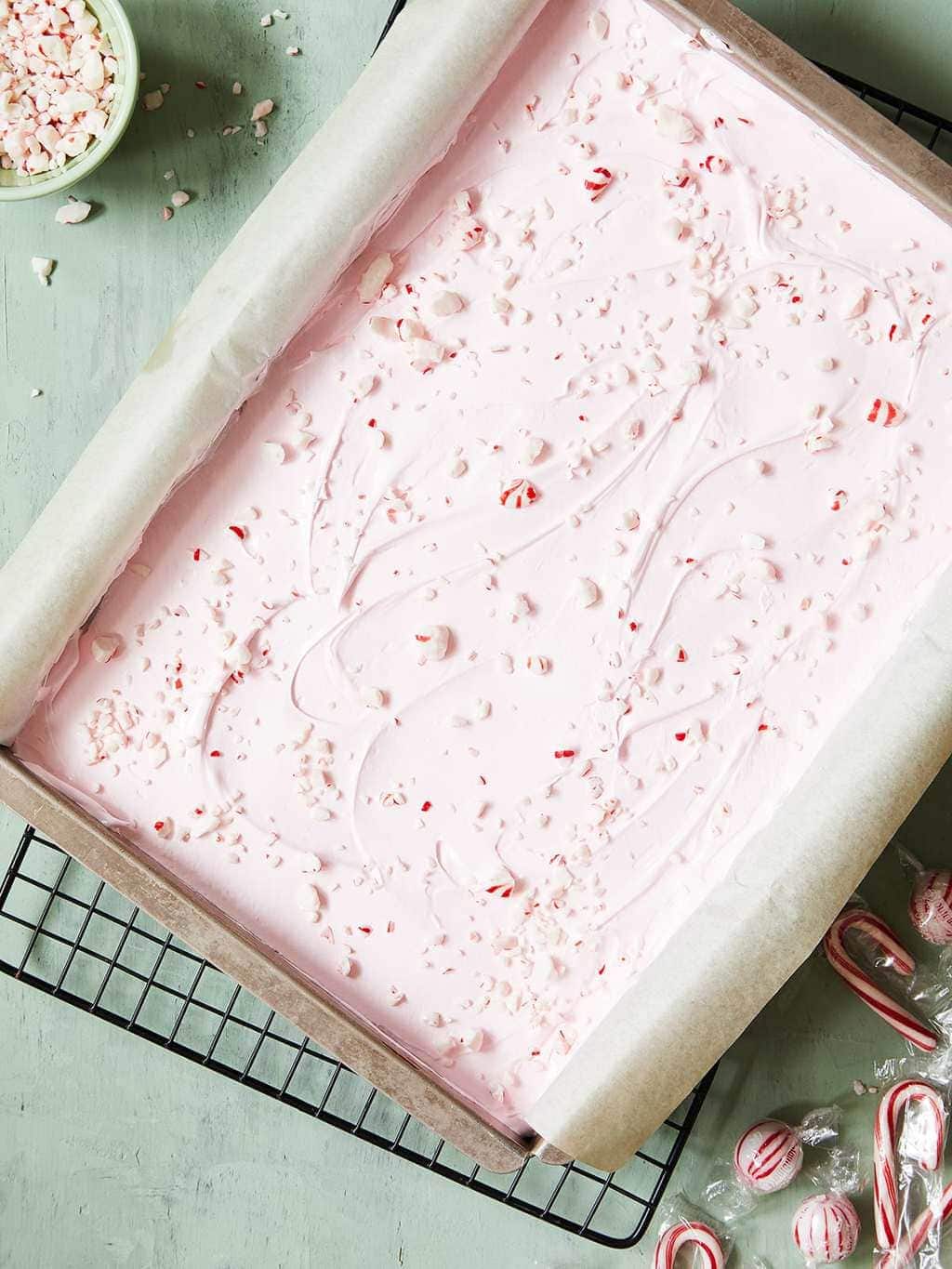 When the brownies are cooked and cooled it's time to make the topping. My topping is essentially a take on 7-minute Icing. Super light, and a mix between meringue and sugary frosting. I add peppermint extract and red food coloring to add that festive touch. But you have to use it right when you make it or it gets stiff. Don't start it until the brownies are done!
Peppermint Fluff Brownies are a brilliant way to spread holiday cheer!
I love spreading the topping with my favorite tool, a small offset spatula or use a silicone spatula. Once the topping is set (about 30 minutes later) you can cut the brownies. Make sure to lightly oil a slicing knife before cutting because that topping is sticky and those brownies are fudgy! Clean the knife and re-oil after each cut. Enjoy!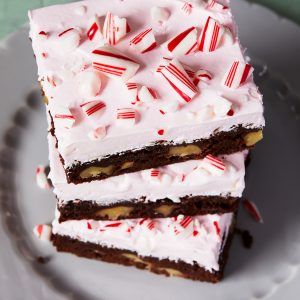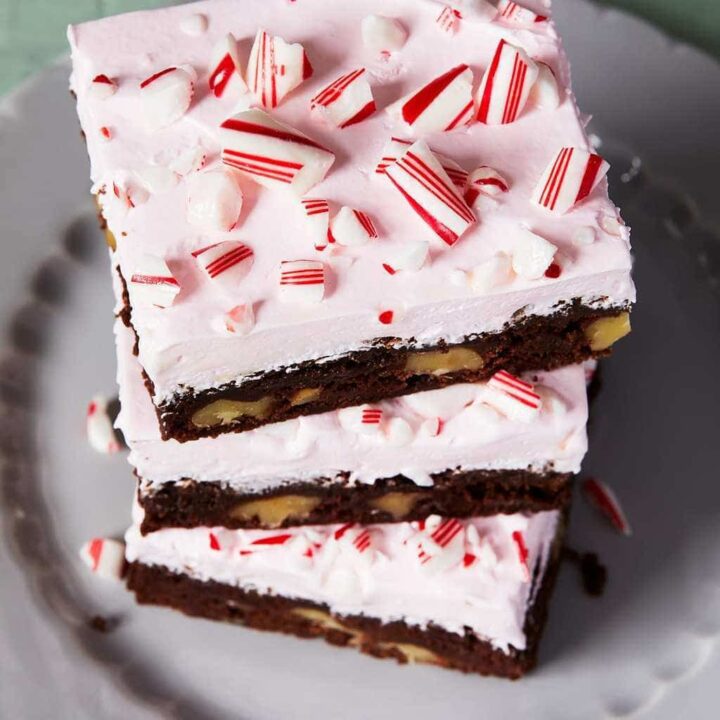 Holiday Peppermint Brownies
Fudgy chocolate Holiday Peppermint Brownies get extra festive with a sweet, pink, fluffy frosting top and crushed candy canes
Ingredients
¾

cup

unsalted butter

6

oz

bittersweet chocolate

chopped

3

eggs

¼

teaspoon

salt

¾

cup

dark brown sugar

¾

cup

granulated sugar

1

teaspoon

vanilla extract

1

cup

sifted all-purpose flour

¾

cup

chopped walnuts

optional

Cracked peppermint candies

1

recipe Peppermint Fluff

see below
Instructions
Heat oven to 350°F. Line a 9-by-13-inch pan with a strip of foil or parchment, allowing edged to hang over opposite sides.

Melt butter and chocolate in a microwave or double boiler; cool slightly. In a bowl, whisk together eggs, salt, sugars and vanilla; whisk in melted chocolate. Fold in flour until just combined. Stir in walnuts, if using.

Spread batter in an even layer in pan. Bake until toothpick inserted in the center comes out with a few crumbs, 20 to 22 min (don't overbake). Cool completely in pan.

Make topping and spread over brownies; let set at room temperature, 30 min. Lift brownies from pan using the parchment overhang. Lightly coat a knife with cooking spray, then trim ¼ inch off crisp edges of brownies to make clean sides. Cut brownies into squares, cleaning knife after every cut. Sprinkle candies over top.
Peppermint Fluff
Make this when you're ready to frost cooled brownies. In a heat-proof bowl over a pot of simmering water, combine 1 cup sugar, 4 egg whites and a pinch of salt. Whisk until sugar is dissolved completely and mixture is hot, about 5 min. Remove from heat, add ¼ teaspoon peppermint extract and 3 to 4 drops red food coloring and whip with electric mixer until mixture holds firm peaks, about 9 min.
Notes
You could certainly skip the homemade brownie part of this recipe and use a box mix like my other fun brownie treats. I find box mix brownies to be nice and dense and chewy. This homemade version has more chocolate flavor and is more fudgy than chewy.
Nutrition
Calories:
194
kcal
Carbohydrates:
21
g
Protein:
2
g
Fat:
11
g
Saturated Fat:
6
g
Cholesterol:
36
mg
Sodium:
36
mg
Potassium:
80
mg
Fiber:
1
g
Sugar:
16
g
Vitamin A:
211
IU
Vitamin C:
1
mg
Calcium:
19
mg
Iron:
1
mg
Check out some more fun peppermint treats for the holidays.
Soft Peppermint Sugar Cookies with Cream Cheese Frosting
No Churn Peppermint Chocolate Chip Ice Cream
Peppermint Marshmallow Sandwich Cookies
Festive Christmas Recipes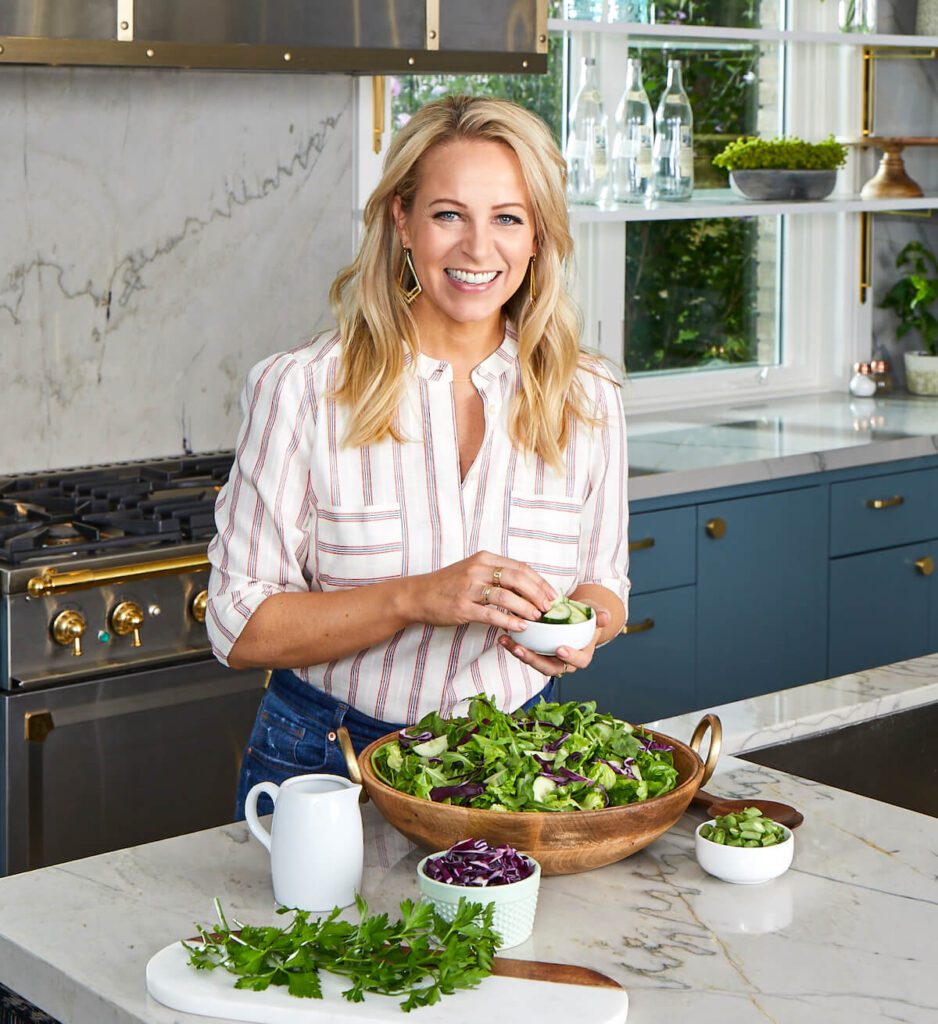 About Tara Teaspoon
I've been in the food publishing business for over 20 years, creating recipes & food-styling for magazines, books, television & advertising. Order my new cookbook & stick around for amazing things to eat.
Recipe & Food Styling by Tara Bench. Photographer Ty Mecham. Recipe originally Published LHJ Dec 09/Jan10