Peppermint marshmallow sandwich cookies will be the most festive cookie on your table this holiday. Plus they are soft, delicious, pepperminty and chocolatey. All of my favorite things!
I've mentioned that I load up on the chocolate and peppermint combo this time of year. I can't get enough. So when it comes to baking, I get it in anywhere I can.
I also dream of homemade marshmallow and all the ways I can possibly use it. This version – peppermint, of course, and sandwiched between two soft chocolate cookies. Oh you guys it's heavenly.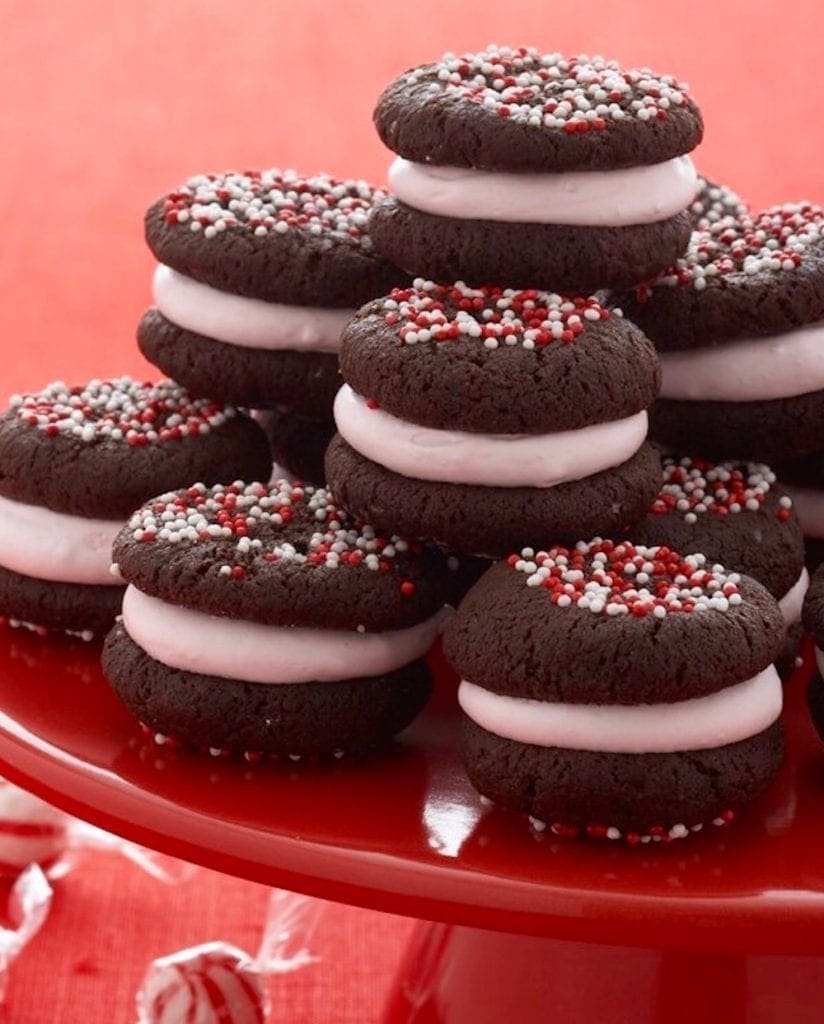 The cookies are like little mini brownie bites. I love making mini cookies! (Mostly because the guilt of eating a lot of them doesn't ruin my holiday! haha). And they are cute to serve and share. The cookies are simple, and really easy to pull of your baking sheets if you use parchment. I love the flat sheets here because the edges don't curl up and drive me nuts.
Chocolate & peppermint marshmallow sandwich cookies make lovely little holiday food gifts. But don't forget to leave some for Santa on Christmas Eve!
If you've never made homemade marshmallow, don't even worry! It's quite simple. You will need a candy thermometer for the sugar syrup. You cook the sugar to soft-ball stage, which is clearly marked on the thermometer.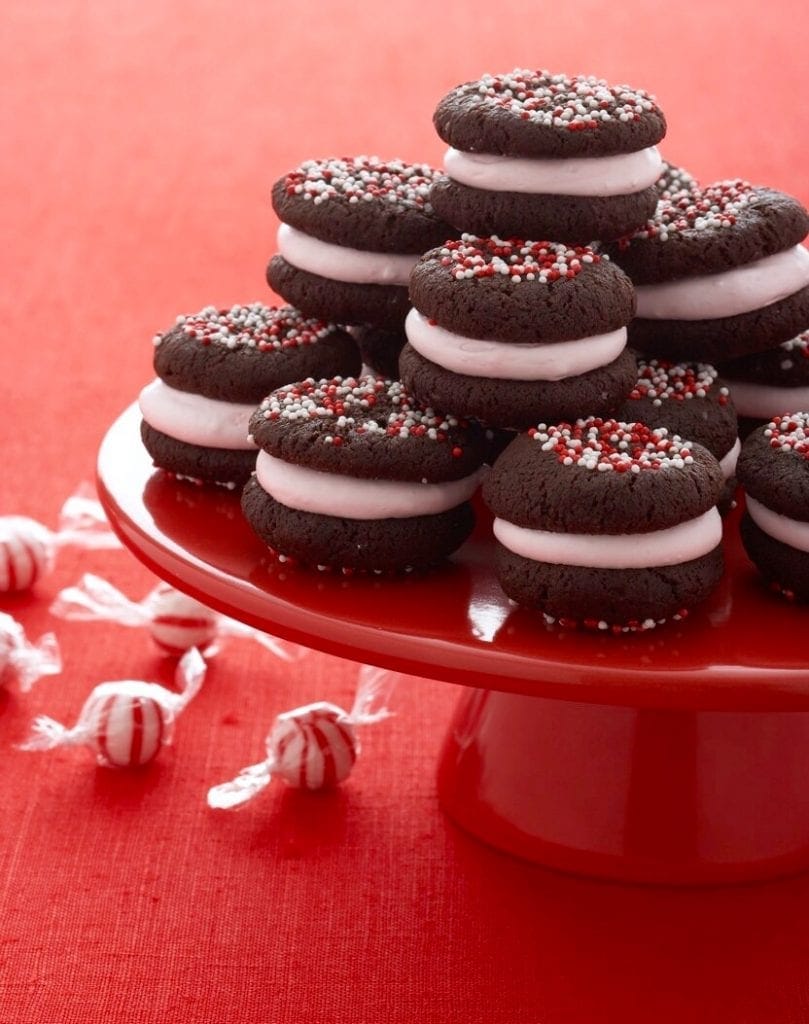 Follow the directions for softening the powdered gelatin. It will form a soft little pillow in the bottom of the mixing bowl and then you'll pour your sugar syrup over the top. As you beat this mixture together it cools and will start to form marshmallow!
I tint my marshmallow with a little food coloring to make it a cute pepperminty pink, then stir in crushed candy canes. You just must know that homemade marshmallow needs to be used immediately, before it sets. So have your cookies baked and cooled before you start making it.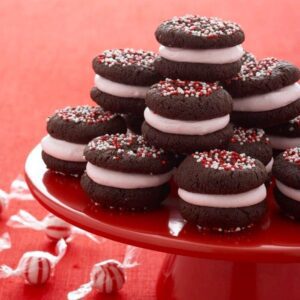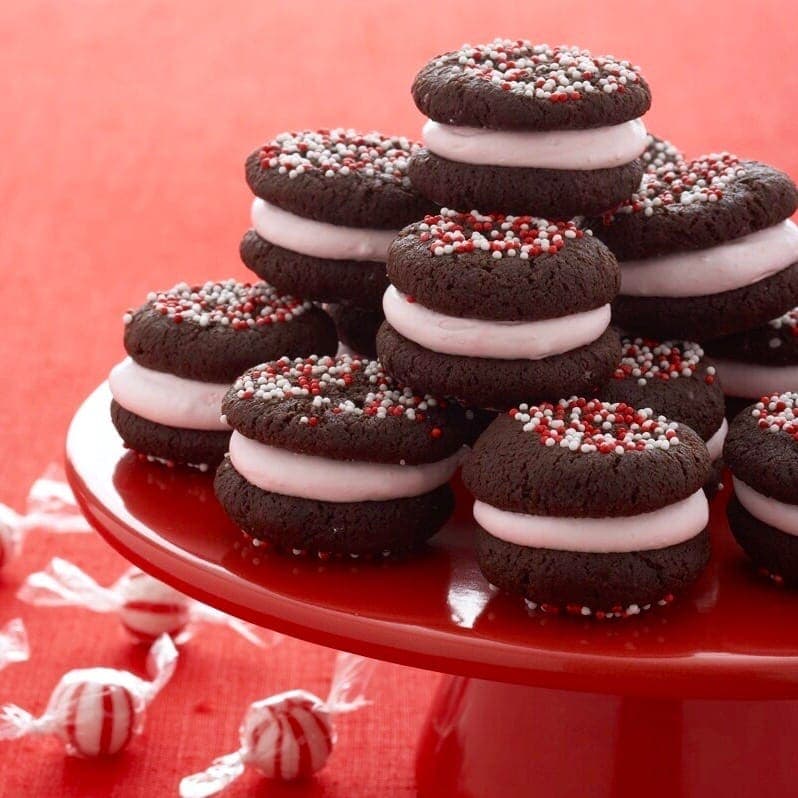 Peppermint Marshmallow Sandwich Cookies
Ingredients
*Cookies:*
1

cup

all-purpose flour

½

cup

unsweetened cocoa powder

½

tsp

baking soda

½

tsp

salt

4

oz

unsweetened chocolate

chopped

1

cup

unsalted butter

1½

cups

sugar

1

tsp

pure vanilla extract

2

large eggs

1

cup

red and white nonpareils
*Peppermint Marshmallow*
1

packet unflavored gelatin

⅓

cup

cold water

1

cup

sugar

2

oz

peppermint candies very finely crushed

⅓ cup

Red liquid food coloring

optional
Instructions
For Cookies:
Heat oven to 325°F and place rack in center. Line one baking sheet with parchment paper. In a medium bowl, whisk together flour, cocoa, baking soda and salt; set aside. In a medium saucepan, melt together chocolate and butter over medium heat, stirring occasionally. Let stand until cool, about 20 min. stir in sugar and extract until combined. Stir in eggs until combined well. Add flour mixture and stir until a soft dough forms.

Roll cookies into ¾-inch balls. Dip tops in nonpareils and place, coated side up, 1 inch apart on prepared sheet. Bake until set but not firm to the touch, 10 to 13 min. Using a metal spatula, transfer cookies to a wire rack and let cool completely.
Meanwhile, prepare Peppermint Marshmallow:
In a large mixer bowl, sprinkle gelatin over cold water and let stand until softened, about 5 minutes

Meanwhile, in a small saucepan, combine sugar and ¼ cup water. Stir over medium-high heat until sugar dissolves. Using a pastry brush dipped in water, brush down sugar crystals on sides of pan. Place a candy thermometer into mixture. Boil (do not stir) until syrup registers 238°F (soft-ball stage), about 10 minutes. Pour into gelatin.

Using the whisk attachment, beat gelatin mixture on medium-low speed until sightly cooled, about 5 minutes. Increase speed to medium-high and beat to soft peaks, about 12 minutes. Stir in candy until combined. Tint with food coloring (if using). Use immediately.

Transfer half to a large decorating bag fitted with a ½-inch plain tip or coupler. Pipe mounds, about ½ inch high, on flat side of half of the cookies. Top with remaining cookies, making sandwiches.
Recipe Notes
Can be made ahead. Store in an airtight container at room temperature, in single layers separated by waxed paper, up to 2 days.
Nutrition Facts
Peppermint Marshmallow Sandwich Cookies
Amount Per Serving (1 g)
Calories 110
Calories from Fat 36
% Daily Value*
Total Fat 4g 6%
* Percent Daily Values are based on a 2000 calorie diet.
Let the baking continue with more holiday favorites!
Try these Coconut Cherry Balls. A sugar dusted shortbread cookie with coconut and tart dried cherries.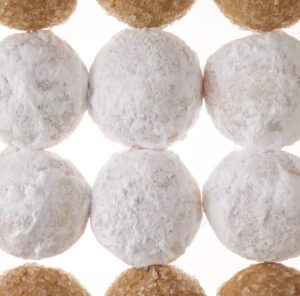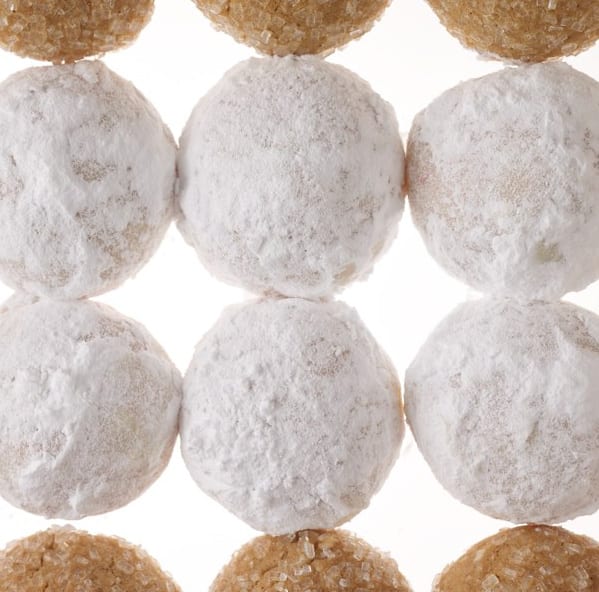 Christmas is even more special with this cardamom scented Pulla Bread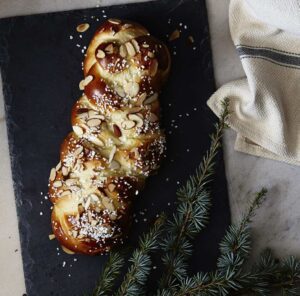 This post may include affiliate links. For more information please see my disclosure agreement.
Recipe & Food Styling Tara Bench
Photographer Ellie Miller
Prop Styling Renata Chaplynsky
Originally published Ladies' Home Journal Dec 2007