Peppermint Cloud Brownies with marshmallows are the ultimate, easy, holiday treat!
• • •
Peppermint and chocolate are one of my favorite combos. At the holidays I get to indulge in every which way! Hot cocoa, candy bark, cookies and I always make these brownies!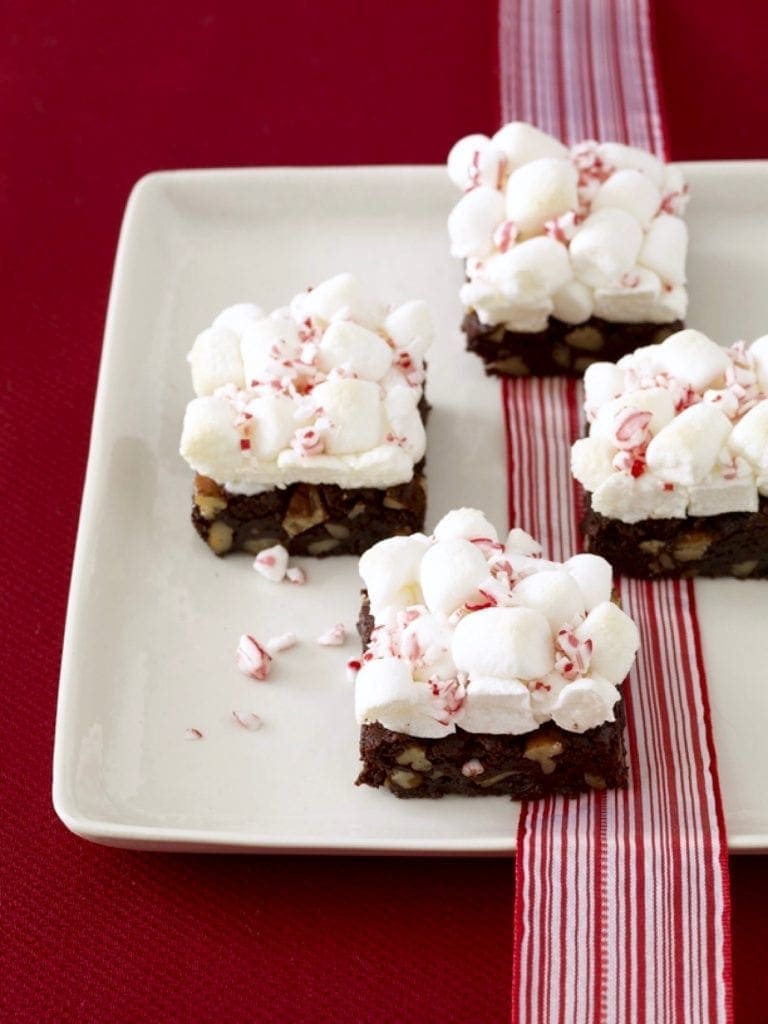 This post may include affiliate links. For more information please see my disclosure agreement.
Not only are they a delicious combo of peppermint and chocolate, but they are loaded with crunchy pecans (omit if you must) and topped with fluffy marshmallows. It's sort of a take on Rocky Road Brownies plus peppermint.
I clearly like brownies and creating all sorts of delicious desserts with them. Check out my ideas for thinking outside the brownie box!
The marshmallows go on towards the end of baking so they get perfectly toasted, but not melted. The sprinkling of crushed peppermint sticks to the warm marshmallow and each bite is heavenly.
Before slicing these brownies with marshmallows, grease your knife to keep it from sticking to the fluffy white puffs!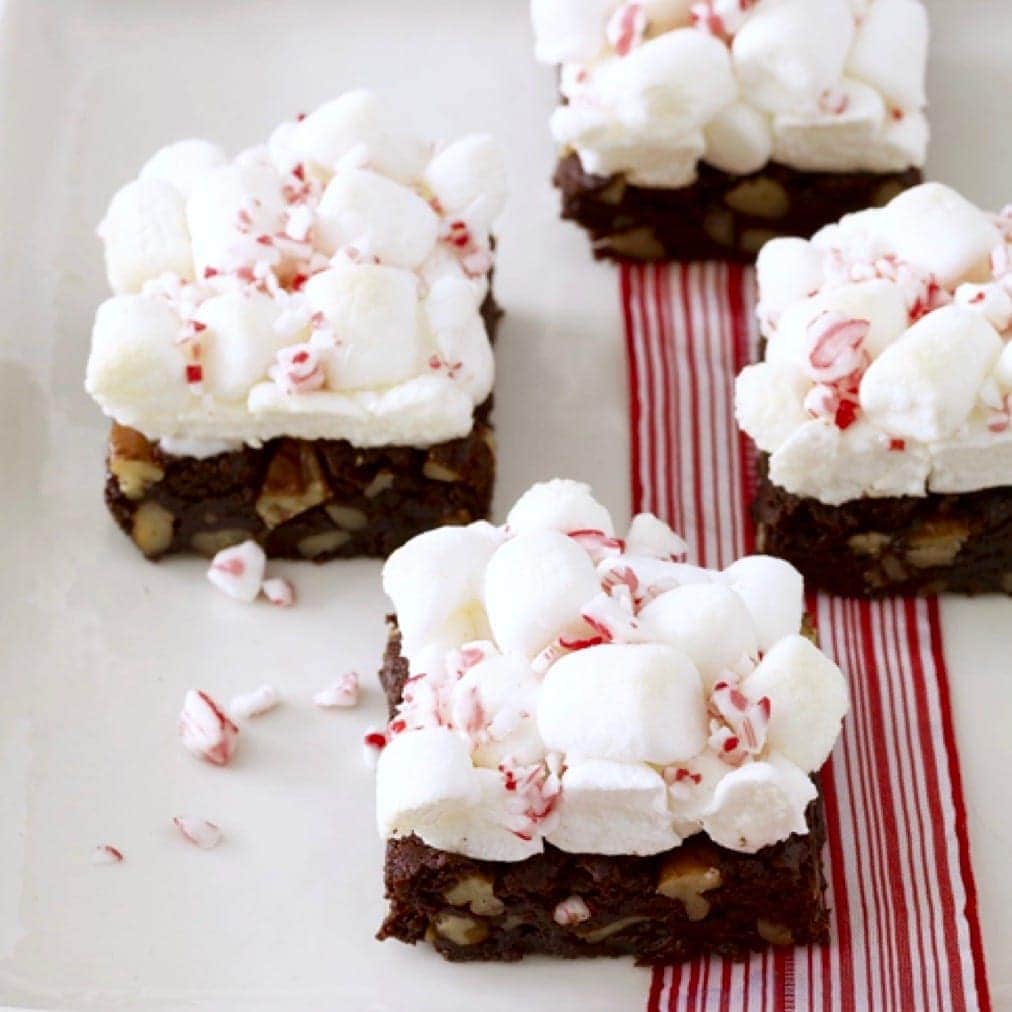 I've got a great tip for you when baking brownies.  Cut the parchment lining so it fits just inside the edges on the bottom; then make sure two of the edges hang over the sides of the pan. These hangovers, as I like to call them, act as handles once the cookies are cool and you can lift the entire batch out of the pan. Place them on a cutting board and cut perfect squares, without having to dig each one out of the pan.
These parchment sheets are my favorite. Much easier to work with than the roll. And if you think you won't use 500 sheets, you'll be surprised at how fast they really go. It's a dream to not have to clean pans after cookies, roasting veggies, drippings from fruit pies and the list goes on!
My brownies with marshmallows call for an 8-inch square pan. I love this one because of the straight sides. It's easy to cut the parchment strips to fit right inside. I use this parchment trick on so many of my recipes including these One Pan Sugar Cookie Bars.
Scroll down for the recipe: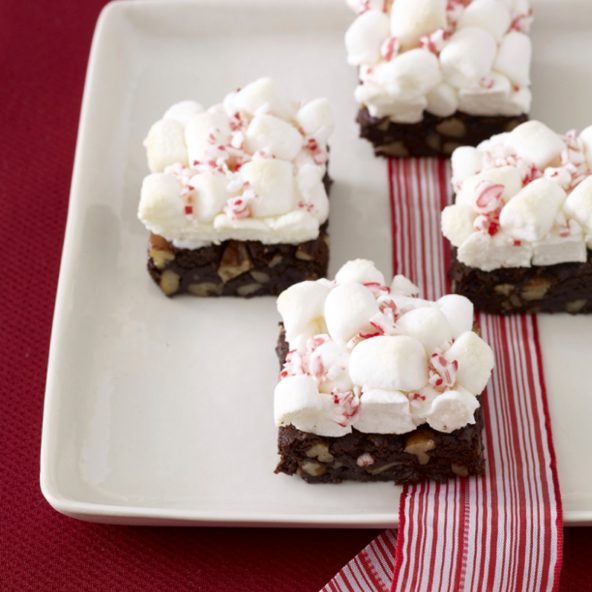 Peppermint Cloud Brownies
Peppermint Cloud Brownies with marshmallows are the ultimate, easy, holiday chocolate and minty treat!
Yield
:
16
brownie squares
Ingredients
8

tbsp

1 stick unsalted butter, plus more for pan

2

oz

semisweet chocolate

½

cup

unsweetened cocoa

¾

cup

packed light-brown sugar

2

large eggs

½

cup

all-purpose flour

¼

tsp

salt

⅔

cup

2½ oz chopped pecans

⅓

cup

milk

1

tsp

vanilla extract

1 ⅓

cups

mini marshmallows

3

tbsp

crushed peppermint sticks
Instructions
Heat oven to 350ºF. Butter an 8-inch square pan and line with a strip of parchment overhanging on two sides. Butter parchment; set aside.

In a saucepan, melt butter, chocolate and cocoa on low heat, stirring until smooth. Remove from heat and stir in sugar, eggs, flour, salt, nuts, milk and vanilla until combined.

Spread batter into prepared pan. Bake until just set, 20 min. Remove from oven, top with marshmallows and bake until marshmallows are puffed, another 5 min. Immediately sprinkle with peppermint. Cool in pan. Loosen edges and lift brownies from pan using parchment. Use a buttered knife to cut into squares. Store airtight up to 1 day.
For more of my favorite holiday treats, don't miss the Christmas recipe page!
And indulge in this cookies as well.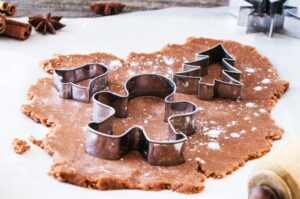 The perfect gingerbread cookie recipe is super simple and has a delicious balance of molasses and spice.
 PIN Here:

Recipe and Food Styling Tara Bench. Originally published in Ladies' Home Journal Dec 2008. Photography Antonis Achilleos. Prop Styling Gerri Williams