One pan sugar cookie bars are a game-changer! Leave the rolling pin and cookie cutters in the drawer and turn your dough into this bar-cookie dream.
• • •
The draw of a soft, frosted sugar cookie is strong. But the thought of rolling out dough, cutting it, gathering the scraps and doing it again–then baking tray after tray, usually doesn't sound appealing.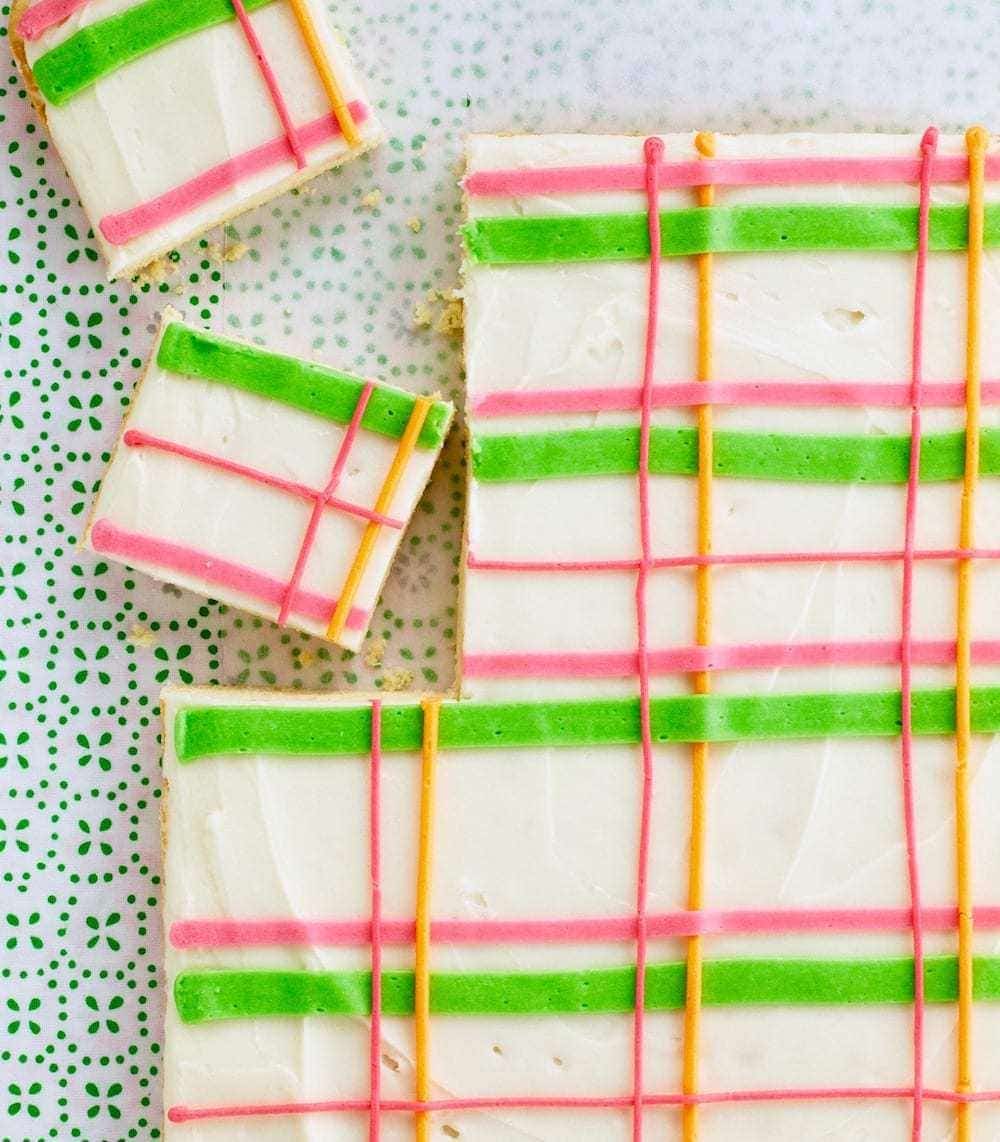 It's a labor of love for sure!
Well I promise I love you just the same, even when I make one pan sugar cookie bars. Same delicious ingredients, same great taste and texture, but a mere fraction of my time and energy. I love that!!
Keep reading to find out how easy it is to make One Pan Sugar Cookie Bars! You'll have so much extra time, you can get creative with the frosting.
It really is just as simple as pulling out your butter, sugar and eggs. Mixing them together. And pressing the dough into a pan. Everything you dreamed.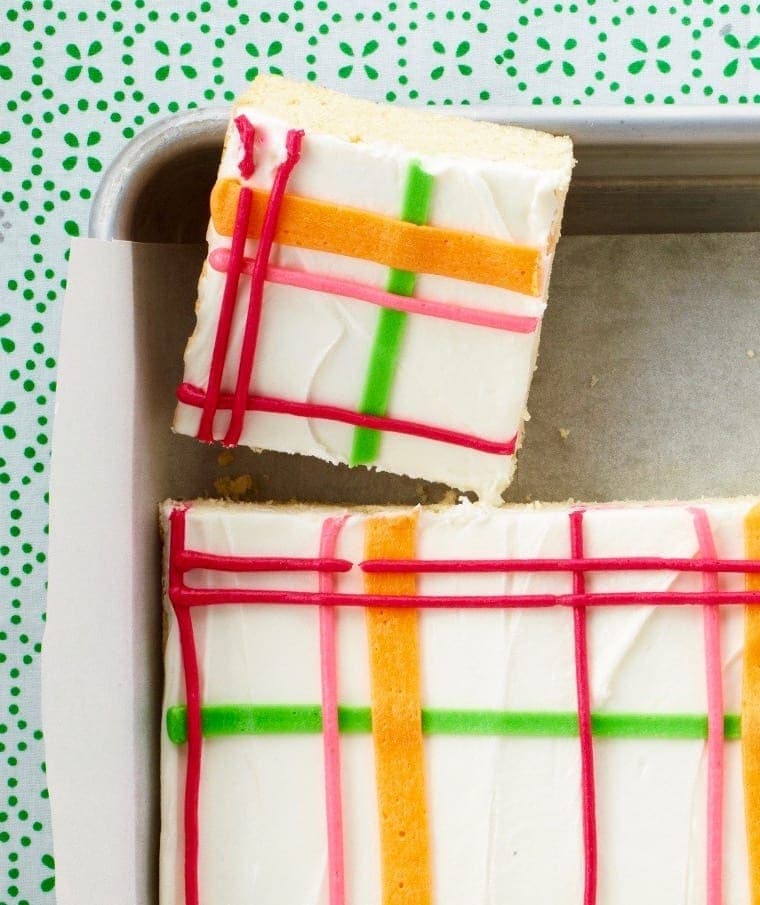 I'll admit, I had so much extra time on my hands I opted to play around with my frosting. It only took a minute to mix some food coloring into a few bowls of extra frosting and pipe lines on the top. Lines! I'm not asking for anything fancy here.
Piping lines of colorful frosting is a cinch. Or you can take it easy and use colorful sprinkles to decorate these sugar cookie bars.
I used plain tips for the lines, number 3 for the tiny lines, number 5 for the chubby ones  – the two flat lines were made with the plain side of basket weave tip number 47 and ribbon tip number 44 for the thinner stripe.
Can't you just see these striking designs in every color? For every holiday or occasion? I do get carried away. Here are just a few of the plaid designs I played around with.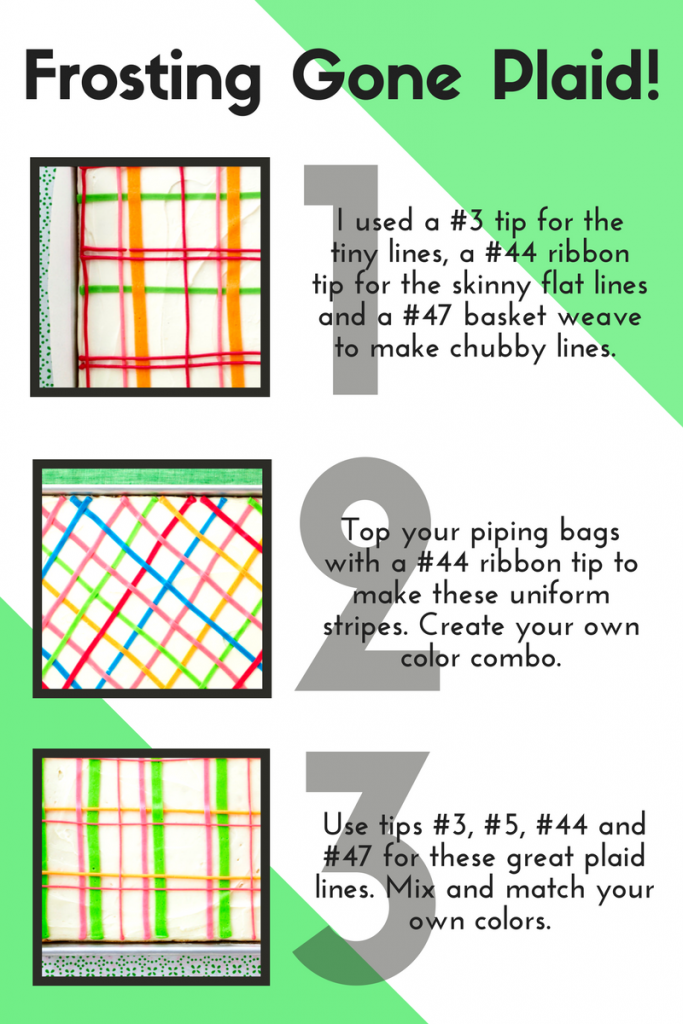 What I will tell you about the technique of a bar cookie, is this: It's very important (only to make your life easier) to line the bottom of the sheet pan with parchment. Cut it so it fits just inside the bottom of the pan and lays flat. Then allow the ends to hang over the pan a bit. This will allow you to remove the sugar cookie bars in one piece to frost and cut easily outside of the pan.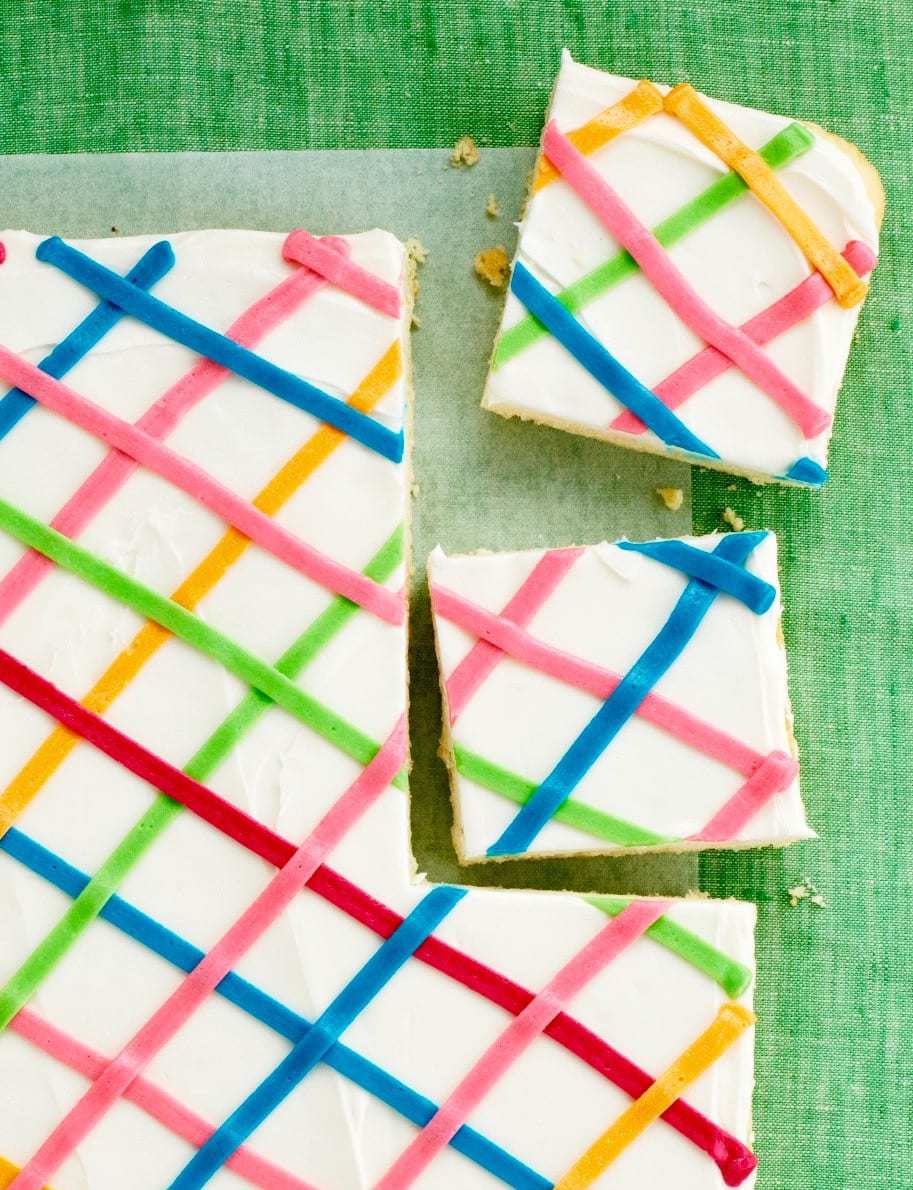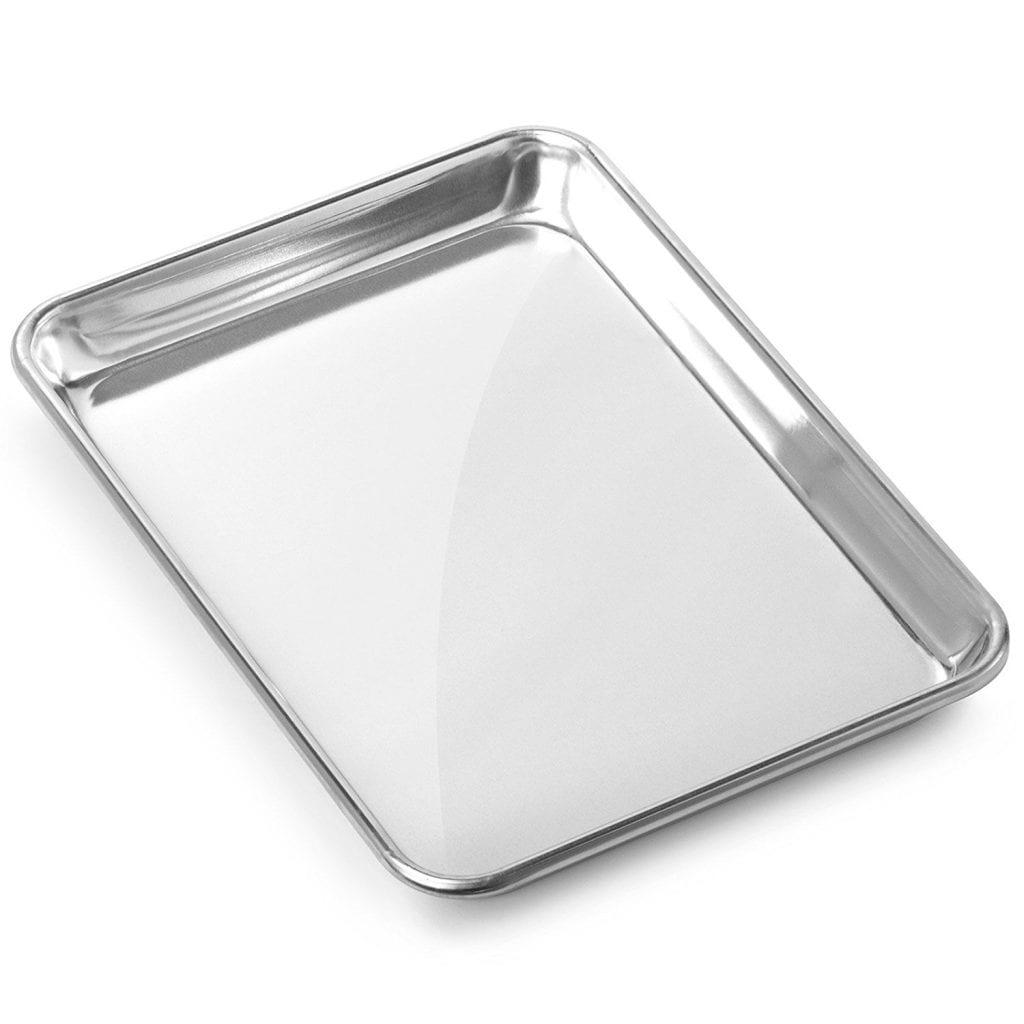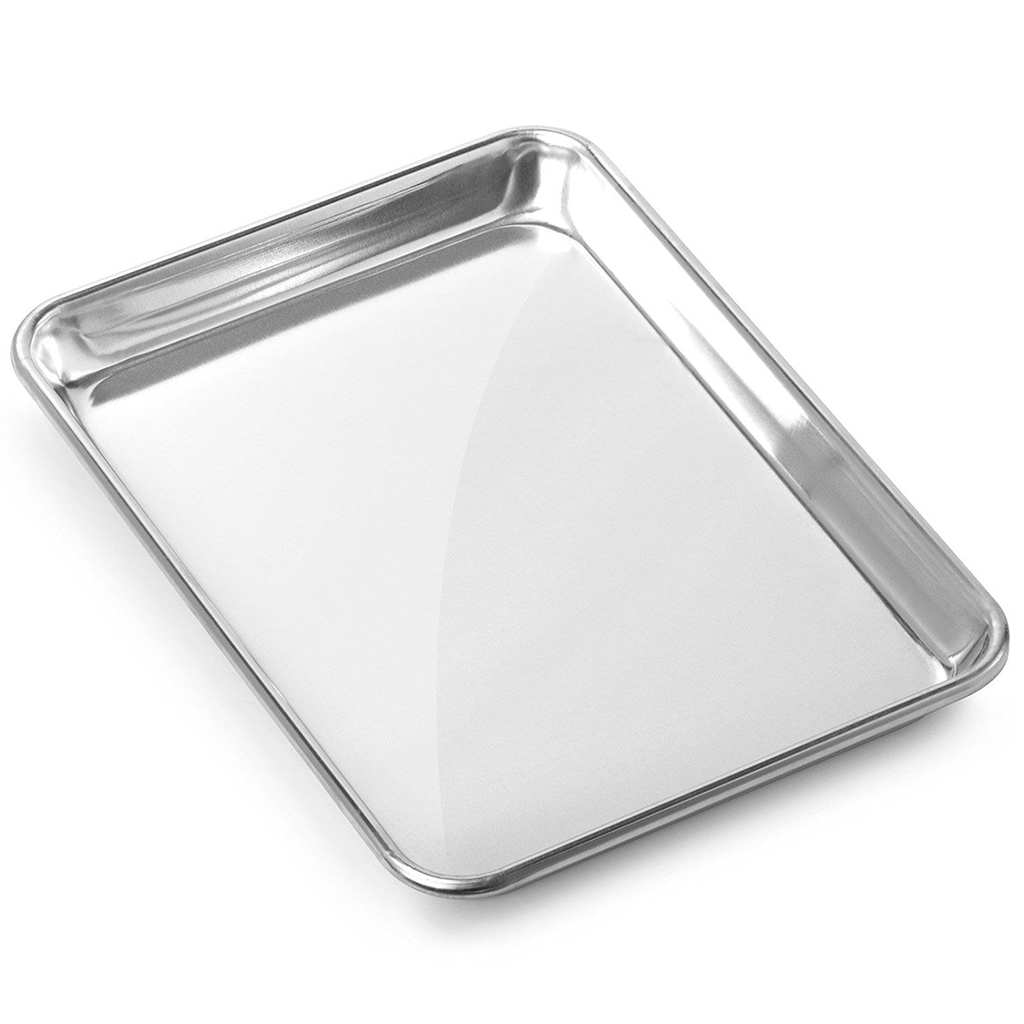 I also just love my quarter sheet pans! They are genius for these bar cookies because they aren't very deep. Of course a 9-by-13-inch pan is the exact same size, and works well. It's just deeper.
This 9-by-13 pan has straight sides and nice sharp corners. It's great for cookies and brownies because you get perfect squares even from the end pieces!
Share your One Pan Sugar Cookie Bars creations by tagging me on Instagram! @tarateaspoon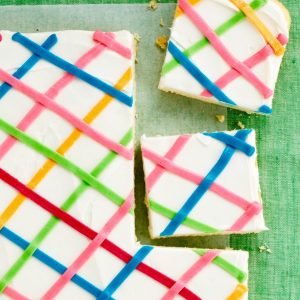 One Pan Sugar Cookie Bars | Tara Teaspoon
Get creative and decorate these One Pan Sugar Cookie Bars in a plaid pattern. You can also ice them in a solid color and add sprinkles.
Ingredients
2½

cups

all-purpose flour

½

tsp

baking powder

½

tsp

salt

½

cup

unsalted butter

softened

1

cup

granulated sugar

1

large egg

1

large egg white

2

tbsp

sour cream

1

tsp

vanilla extract

Vanilla Frosting

recipe below
Instructions
Heat oven to 350°F. Line a 9-by-13-inch pan with a strip of parchment, allowing edges to hang over opposite sides. In a large bowl whisk together flour, baking powder and salt.

In another bowl beat together butter and sugar until light and fluffy. Stir in egg, egg white, sour cream and vanilla and mix until blended. Add flour mixture and stir until just combined.

With greased hands, gently press dough into pan. Bake until the edges are lightly golden, 17 to 19 min. Cool completely, then frost and decorate. Use the parchment overhang to lift from pan; slice and serve.
Vanilla Frosting-- Beat together 6 tbsp softened, unsalted butter, 2½ cups confectioners' sugar and 3 to 4 tbsp milk until fluffy. Stir in ½ tsp vanilla extract and ⅛ tsp salt. Tint with food coloring.
Pin this recipe!

I love baking, and I know you do too! Here's another favorite of mine: Black Sesame Chocolate Chip Cookies. They have a secret ingredient!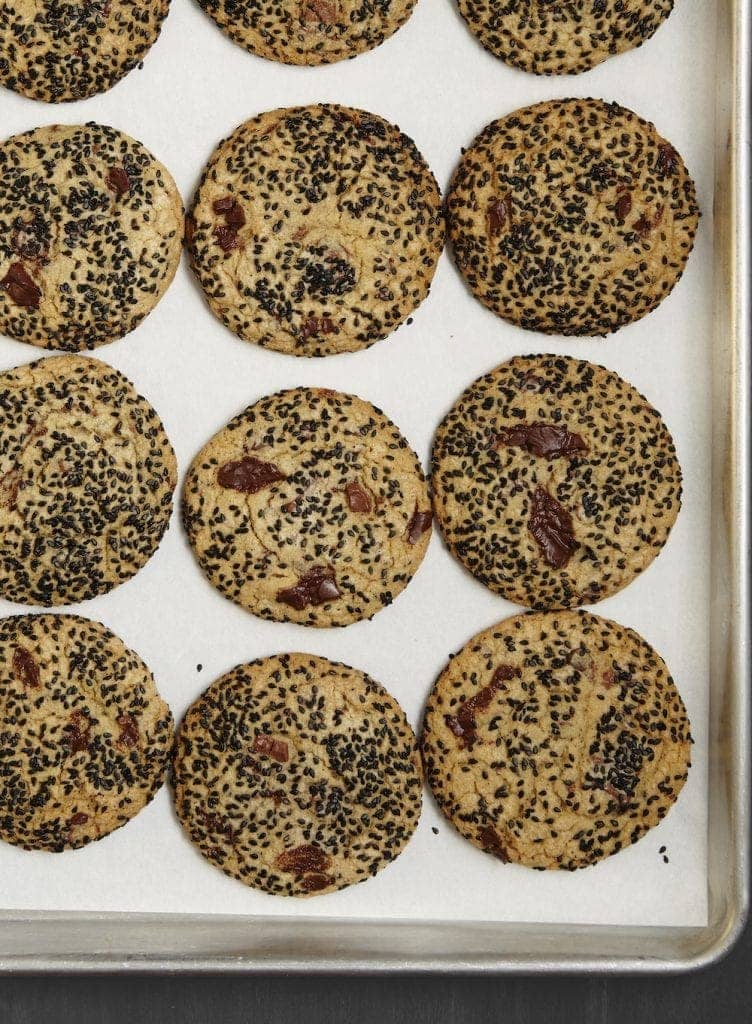 This post may include affiliate links. For more information please see my disclosure agreement.
Recipe Tara Teaspoon. Photography William Brinson. Props Penelope Bouklas. Originally published in LHJ 03/14.