This is the BEST chewy brownie recipe. These brownies are both fudgy and gooey! With just 10 pantry ingredients, they have double the chocolate and a classic crinkle top. Made easier by melting ingredients in the microwave, and they fit perfectly in a standard 9-by-13 inch baking pan.
---
Homemade brownies are one of my favorite desserts to make. I have many different varieties besides classic chewy brownies. Some of my other favorites are gooey caramel brownies, cookie stuffed brownies, and peppermint cloud brownies.
I'll tell you the secrets to chewy brownies, and give you a recipe for the ultimate brownie recipe. These classics are rich, chocolatey, dense, and flavorful, and make a full 9-by-13-inch pan. Plus try the Best Frosting For Brownies if you want to top them off!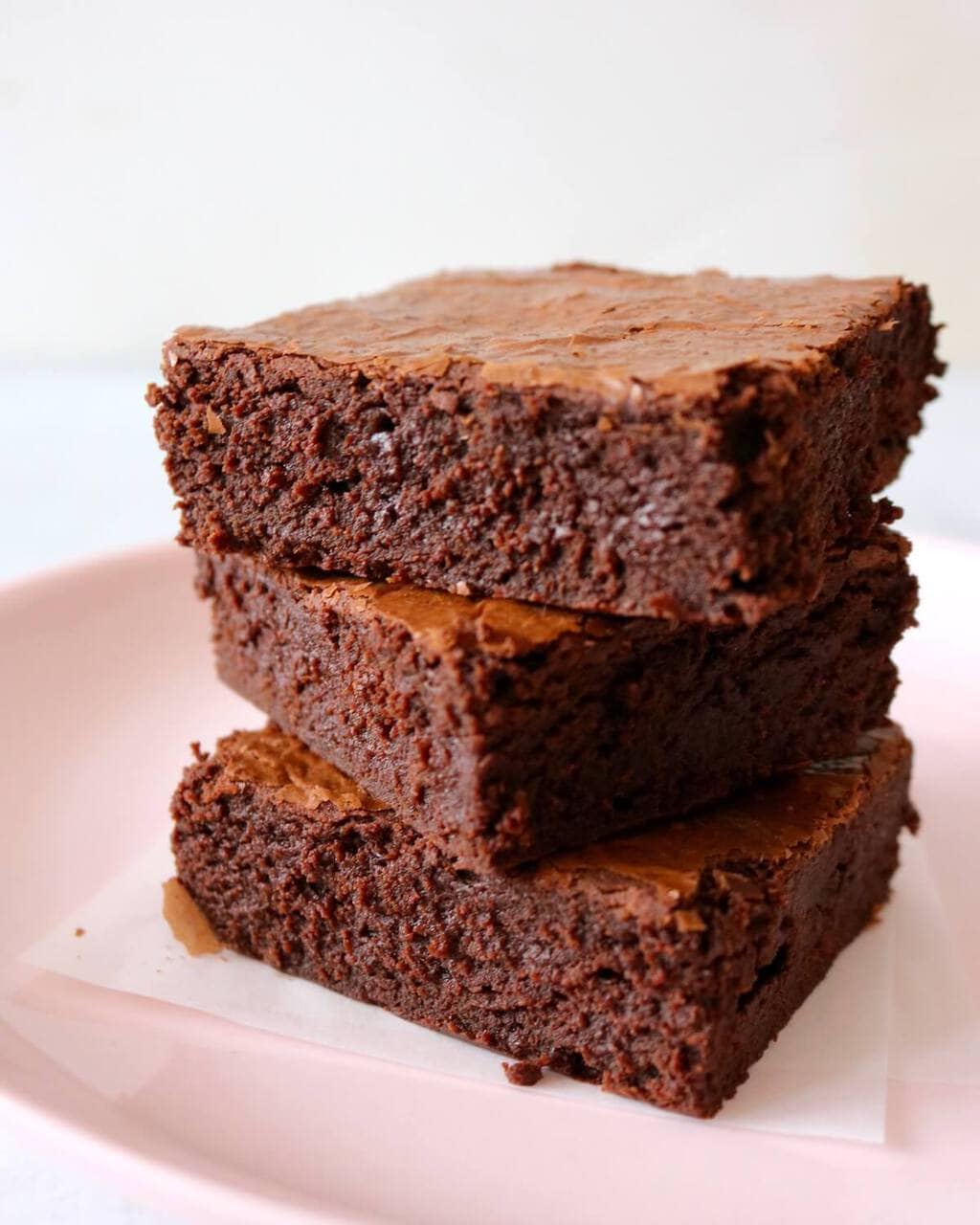 In short, this is the BEST fudgy brownie recipe. It uses a genius blend of chocolatey goodness to create perfectly dense, chewy brownies every single time. They're my favorite dessert especially when warm with vanilla ice cream.
Jump to:
This chewy fudge brownie recipe uses the microwave to help minimize the mess while baking. It's a no-nonsense recipe that results in moist brownies that don't taste underdone!
These brownies are made with unsweetened cocoa powder and melted chocolate, which gives them a dark, intense flavor. Frosting on top packs in a powerful punch of sweetness that ties everything together.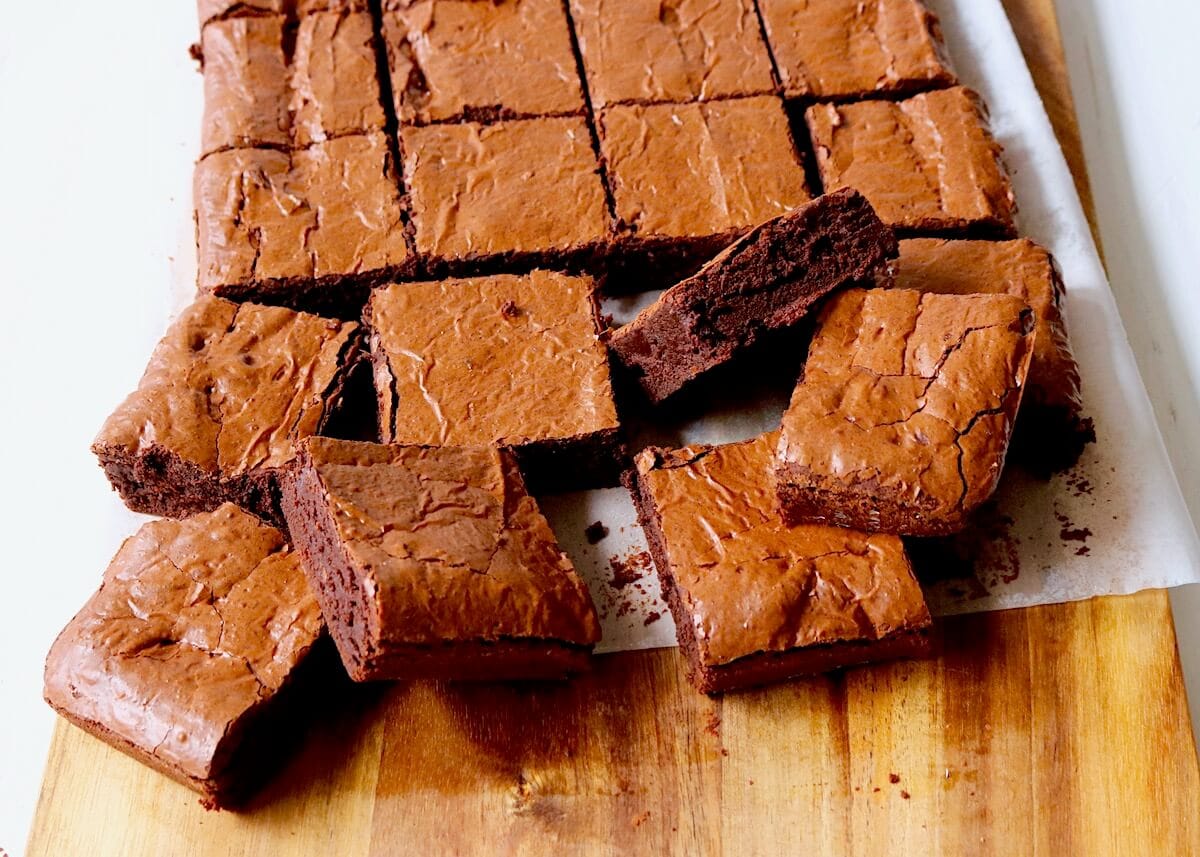 Homemade vs. Box Mix Brownies
If you're a fan of boxed brownie mixes, and especially love the crowd-favorite, Ghirardelli brownie mix, you'll love these EVEN more.
Boxed brownie mixes usually result in dense, chewy brownies and that's what we've become accustomed to. That being said, a homemade brownie will be much more tender, have real chocolate and vanilla flavor, and a more authentic buttery melt-in-your-mouth texture.
That being said, I love a boxed mix sometimes, and have a dedicated post to delicious mix-ins for boxed brownies if you're interested!
Ingredients in this chewy brownie recipe
One of my favorite aspects of this ultimate brownie recipe is that it's so easy to follow and has only 10 ingredients! Most of the ingredients can already be found in your home:
Unsalted butter - I use unsalted so I can control the amount of salt in the recipe. If you only have salted butter on hand, you can just reduce the salt in the recipe by a pinch.
Semisweet chocolate - This adds richness and texture to the classic chewy brownies. You can use bittersweet chocolate here if you want a less sweet brownie, but semisweet will give you the typical brownie flavor.
Unsweetened cocoa powder - You'll need this for the deep chocolate flavor a true fudge brownie recipe calls for. Don't use Dutch processed, regular unsweetened cocoa is perfect.
All-purpose flour - You can swap this for gluten-free all-purpose flour and make gluten free homemade brownies!
Baking powder - The leavening boost the eggs will need to help these brownies bake into chewy deliciousness! Otherwise they'd be hockey pucks!
Salt - Use regular table salt or a finely ground sea or Himalayan salt. It distributes better in baked goods than Kosher salt.
Granulated sugar - Adds needed sweet flavor and structure to this baked good.
Light brown sugar - The added molasses in brown sugar helps create a caramelized chocolate flavor in the brownies.
Eggs - Always use large eggs in baking, as that is what was used to test the recipe. Using larger or smaller eggs would change the chemistry and liquid amount in the brownies.
Vanilla extract - Even a splash of vanilla extract brings out the caramel and chocolate flavors in baked goods.
Can the brownies be frosted?
Absolutely! Let the brownies cool completely, then top with my favorite brownie frosting.
Add nuts with your frosting!
In fact, if you have a crowd that doesn't love nuts, but you do, this is a great place to add them to your brownies. Right after I frost the brownies I sprinkle half the pan with chopped walnuts of pecans before the frosting sets.
That way I get my brownies with nuts, and others don't have to eat them!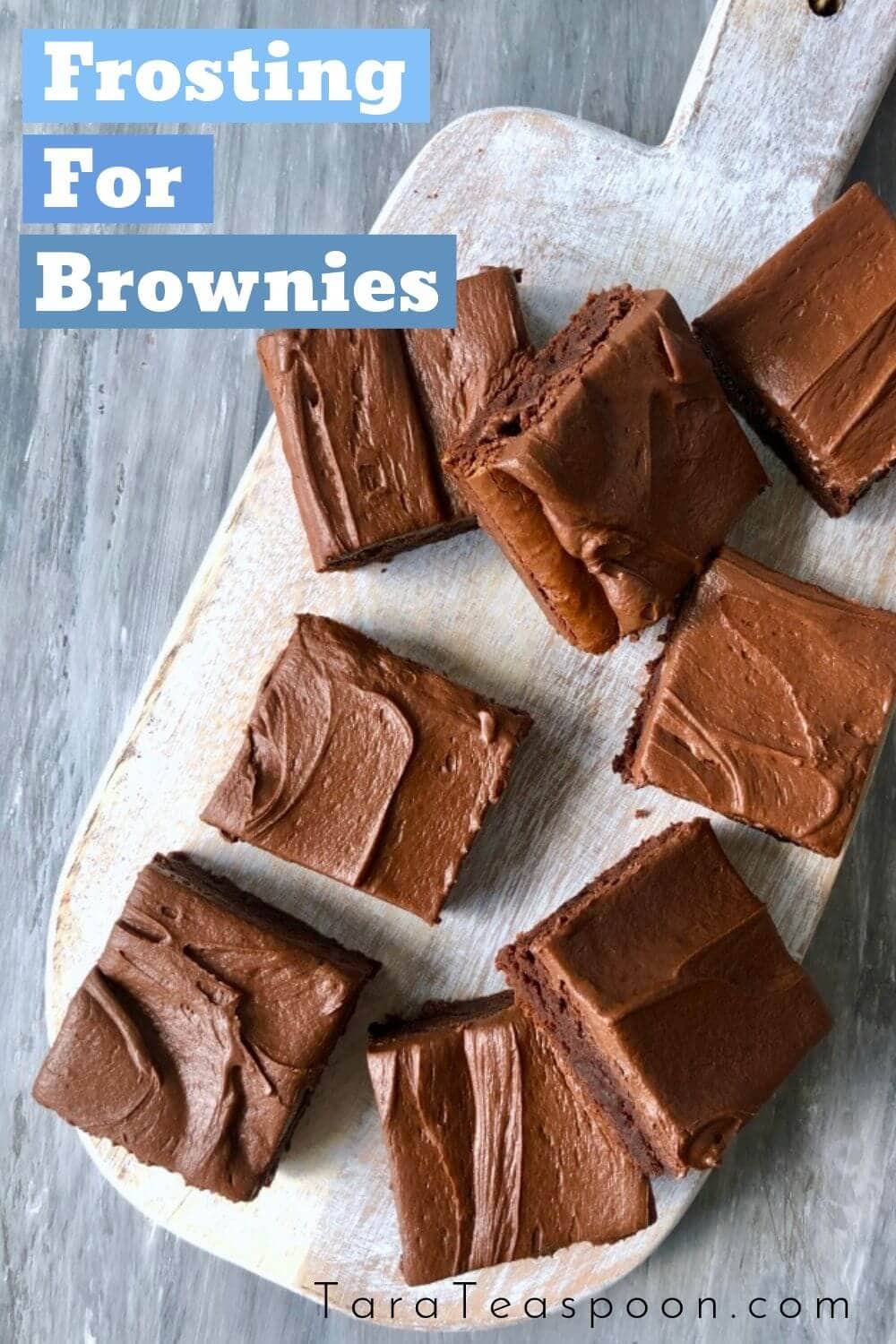 How to make chewy chocolate brownies
The best chewy brownies are made by following the right baking method, and including correct amounts of each ingredient.
The mixture of white and brown sugar, melting the butter, cocoa, and chocolate together, and beating the egg mixture just the right amount all contribute to chewy brownies.
To make chewy brownies melt the butter, chocolate, and cocoa together in the microwave to intensify the cocoa and chocolate flavor. I let this mixture cool a bit before mixing it into the other ingredients.
Meanwhile, beat the sugar, eggs, and vanilla until pale (about 2 to 3 minutes). Stir in the cooled chocolate mixture, followed by the dry ingredients.
Transfer the brownie batter into a parchment paper-lined 9-by-13-inch pan or a quarter sheet pan.
Bake for about 30 minutes, then cool before slicing.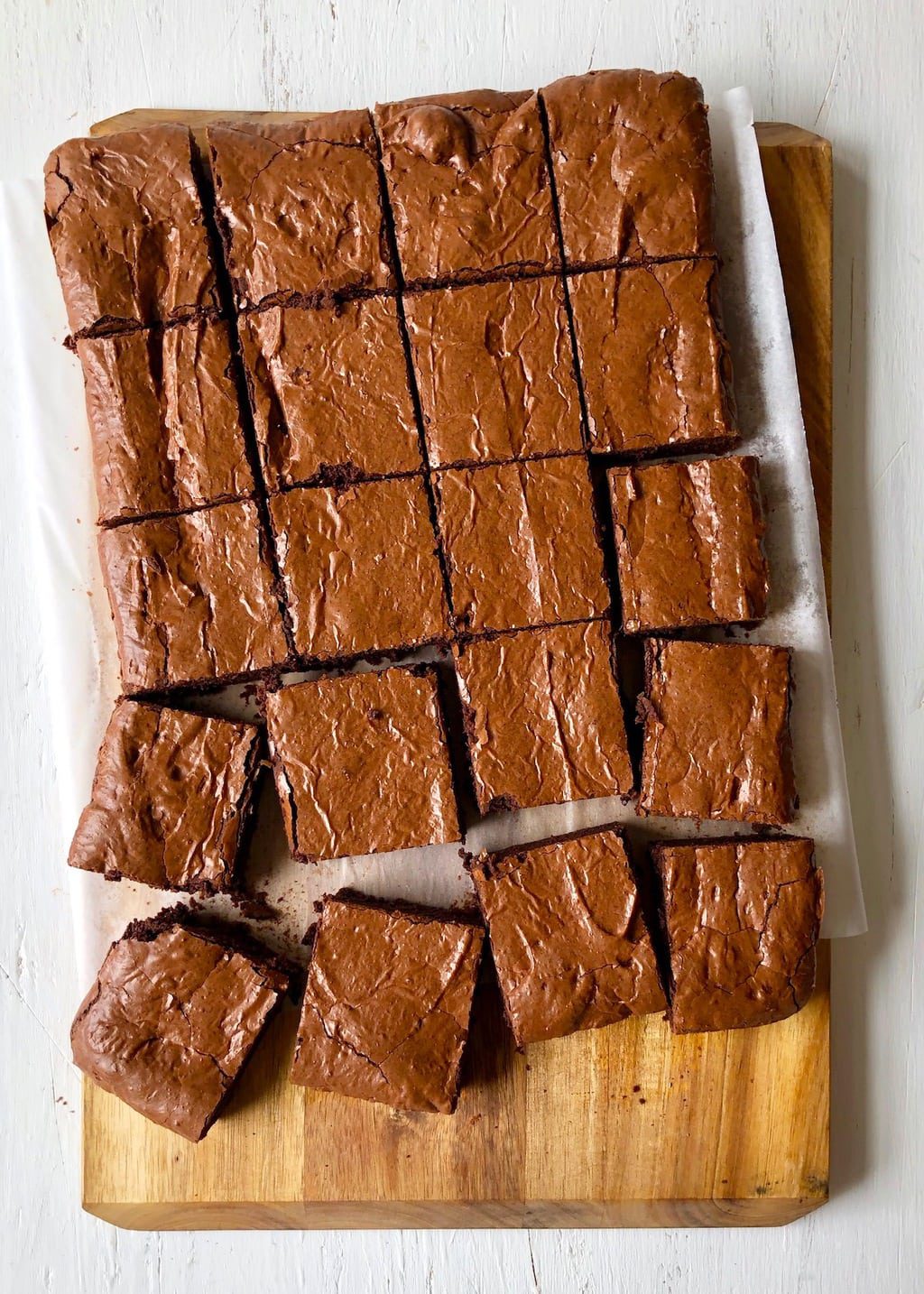 What makes brownies chewy?
Wondering how to make homemade brownies more chewy? Well, I achieve perfectly chewy brownies using a few tricks:
Using a mixture of granulated and brown sugar creates the perfect sweetness and chew, since the brown sugar has a bit of molasses in it.
Four whole eggs help with leavening, making the brownies rise. It also makes them rich and chewy.
Beating the sugar and eggs until pale helps amp up the chewy factor as well.
How to tell when homemade brownies are done
For this ultimate brownie recipe, I bake the brownies for about 27 to 30 minutes at 350ºF.
You'll know the brownies are done when a toothpick inserted into the center of the pan comes out with a few crumbs, but is not wet.
Overcooking brownies is easy because you can't tell doneness by the color. The toothpick test is great, but if in doubt remove the brownies from the oven! They will continue cooking slightly in the pan.
How to cut chewy brownies cleanly
First, you'll need to let the pan of brownies cool completely. Then, run a sharp chef's knife under warm tap water and pat it dry.
Press the knife into the brownies until it cuts all the way through. Wipe the knife carefully with a towel that's been dampened in warm water and repeat this process until you've cut the entire pan into squares.
Avoid sawing the knife back and forth while cutting the brownies. This creates jagged edges and tears them apart.
You can also use a plastic knife to cut brownies. Like the disposable kind you take on a picnic! It acts as a non-stick knife and cuts clean slices.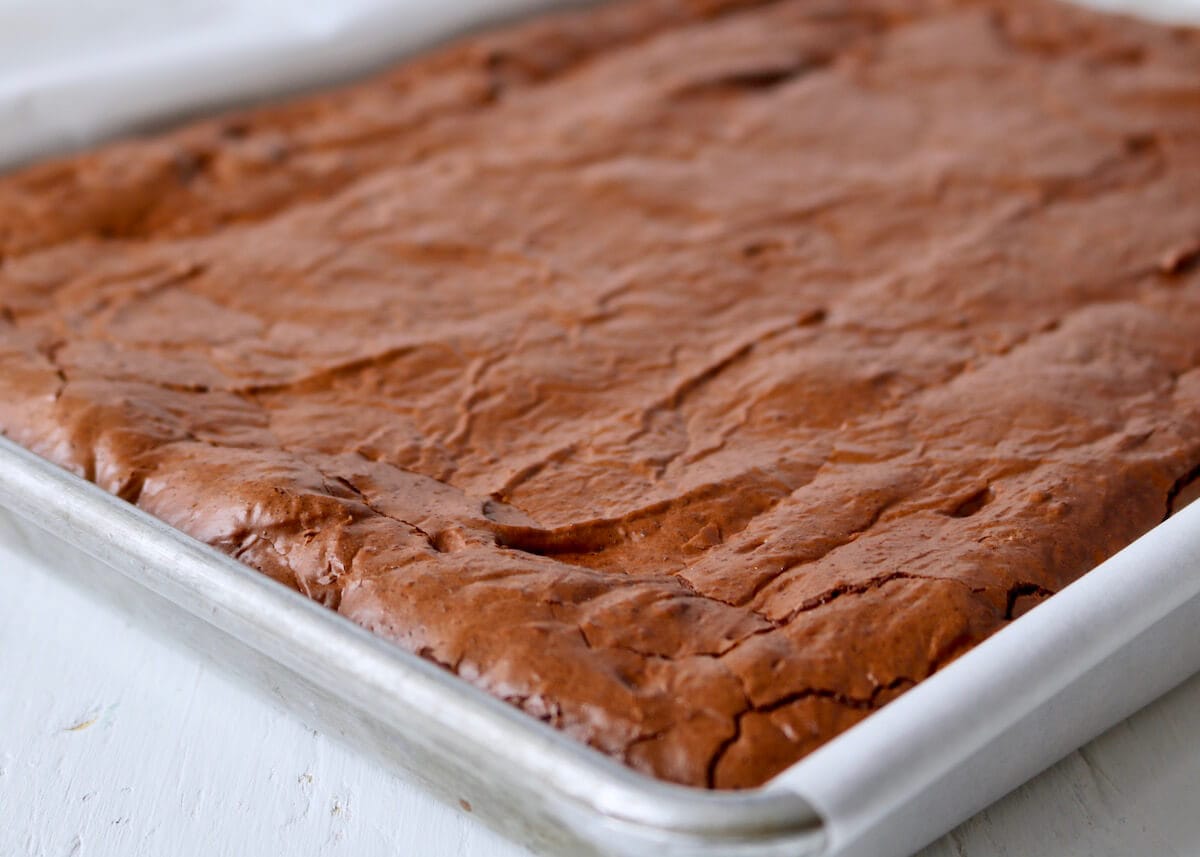 Brownie recipe add-ins
You can add nuts or chocolate chips to these classic brownies. Or you can frost them and sprinkle additions on top.
This brownie recipe can act as the perfect homemade brownie base to my creative mix ins. Look for different flavors in my post about Think Outside Of The Box Brownies.
Tips for the best chewy brownies
For a dark chocolate taste, swap the semisweet chocolate for bittersweet chocolate. The brownies have enough sugar to keep them sweet with darker chocolate.
Store in an airtight container at room temperature for up to three days.
Frost using my favorite brownie frosting recipe and top with chopped nuts, if desired.
Frequently Asked Questions
How long do chewy brownies last?
They'll last up to three days at room temperature. Cover the pan with aluminum foil. You can also store cut brownies in an airtight container.
What makes a brownie chewy vs. fudgy?
A super fudgy brownie often has less flour and an additional egg or egg yolk as well as more fat (butter) added to the batter. Chewy brownies have a touch more flour but are still moist and rich. I've struck a perfect mix in this recipe.
Should I use baking soda or baking powder in chewy brownies?
A small amount of baking powder is used in this recipe to give the brownies. Chewy brownies don't need much leavener, it's best for them to be dense so they remain fudgy and chewy.
More easy brownie recipes:
When it comes to brownies, there seems to be an unlimited number of options. Here are some of my favorites.
Let me know how it went!
Scroll to the bottom of the page to rate ⭐⭐⭐⭐⭐ and comment on this recipe. Leaving comments helps other too!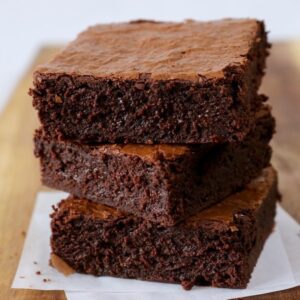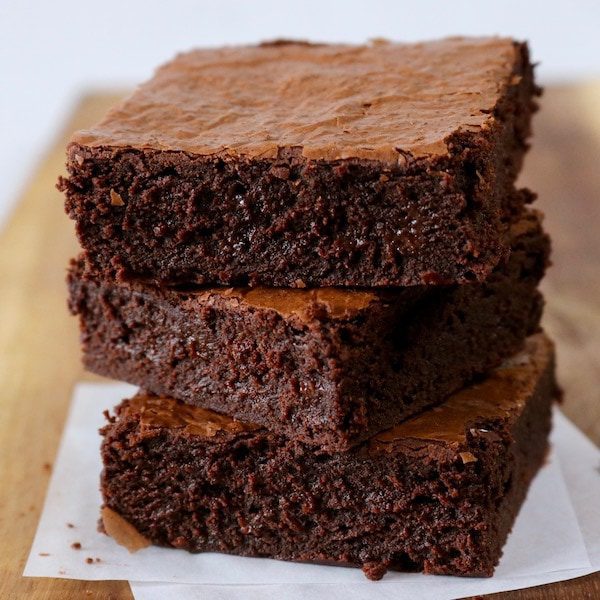 The Ultimate Homemade Chewy Brownies
This is the BEST chewy brownie recipe, these brownies are both fudgy and gooey! With just 10 ingredients, they have double the chocolate and a classic crinkle top. Made easier with the microwave, they fit perfectly in a 9x13 baking pan.
Ingredients
12

tablespoons

unsalted butter

12

ounces

semisweet chocolate

chopped

½

cup

unsweetened cocoa powder

1½

cups

all-purpose flour

½

teaspoon

baking powder

½

teaspoon

fine salt

1

cup

granulated sugar

1

cup

light brown sugar

4

large eggs

1

tablespoon

vanilla extract
Instructions
Heat oven to 350ºF. Line a greased 9-by-13-inch pan (or quarter sheet pan) with foil or parchment allowing it to hang over the sides. Set aside.

Put butter, chocolate, and cocoa in a medium microwave-safe bowl and microwave until butter is melted. Stir, microwaving for 30 more seconds if needed, until chocolate is melted and mixture is smooth. Let cool slightly.

Whisk together flour, baking powder, and salt and set aside.

Put sugar, eggs and vanilla in a large mixing bowl and beat on medium-high speed until pale, 2 to 3 minutes. Add chocolate mixture; beat until combined. Add flour mixture; beat, scraping down sides of bowl, until well incorporated.

Pour batter into prepared pan; smooth top with a spatula. Bake until a toothpick inserted into the brownies comes out with a few crumbs, but is not wet, 27 to 30 min (don't over bake). Let cool in pan, then lift out brownies. Cut into squares, or frost and then cut.
Notes
For a darker chocolate taste, swap the semisweet chocolate for bittersweet chocolate. the brownies have enough sugar to keep them sweet with darker chocolate.
Store in an airtight container at room temperature for up to three days.
Frost using my brownie frosting recipe and top with chopped nuts if desired.
Nutrition
Calories:
366
kcal
Carbohydrates:
48
g
Protein:
5
g
Fat:
18
g
Saturated Fat:
11
g
Polyunsaturated Fat:
1
g
Monounsaturated Fat:
5
g
Trans Fat:
1
g
Cholesterol:
65
mg
Sodium:
97
mg
Potassium:
224
mg
Fiber:
3
g
Sugar:
34
g
Vitamin A:
332
IU
Calcium:
44
mg
Iron:
3
mg
Tasty cookie recipes!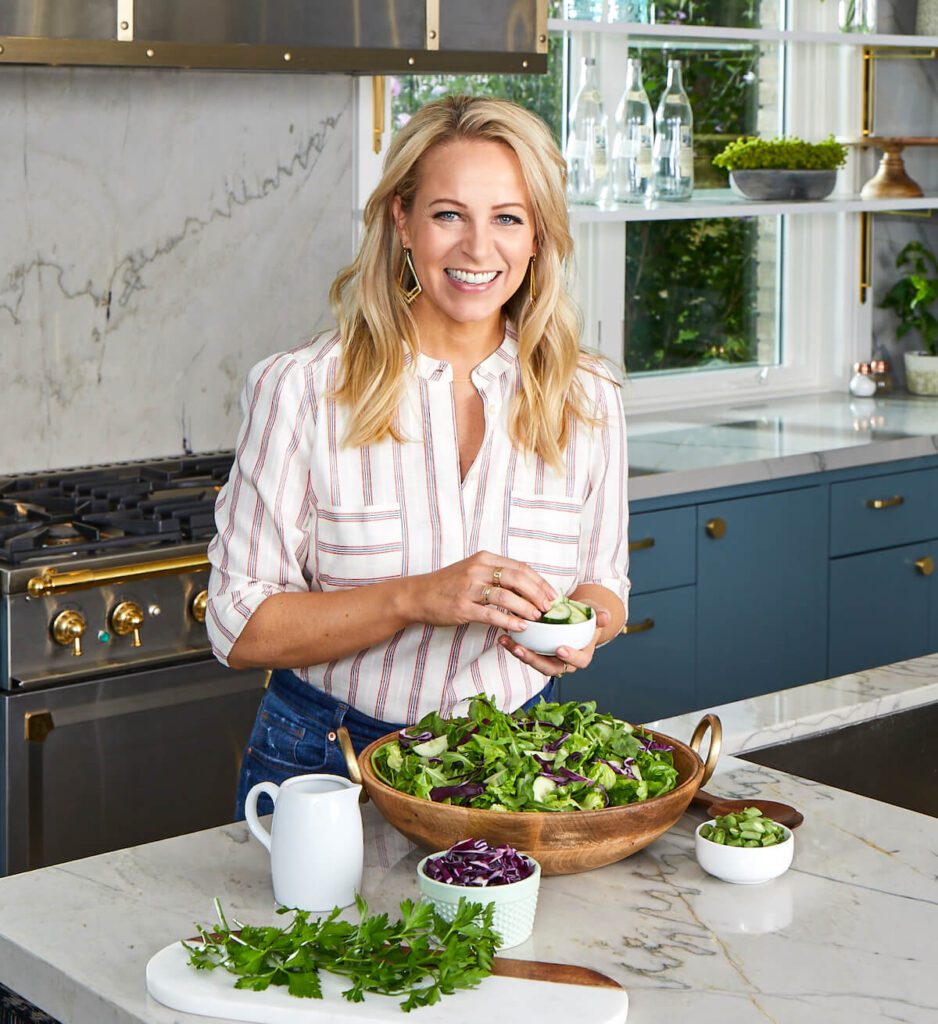 About Tara Teaspoon
I've been in the food publishing business for over 20 years, creating recipes & food-styling for magazines, books, television & advertising. Order my new cookbook & stick around for amazing things to eat.
Recipe, food styling, photography Tara Teaspoon. Updated August 2023