Carmelitas are delicious cookie bars with a buttery rolled oats base, chocolate, and gooey caramel. This recipe makes a full 9-by-13-inch pan of oatmeal bars with a thick layer of rich, decadent filling.
---
Check out the step by step Carmelita recipe instructions for these classic cookie bars. They are super easy to make and will become your new favorite treat.
Try some of my other cookie bar recipes like Pistachio Cherry Bars, or One Pan Sugar Cookie Bars. You'll also love Dulce de Leche Bars and Coconut Key Lime Bars.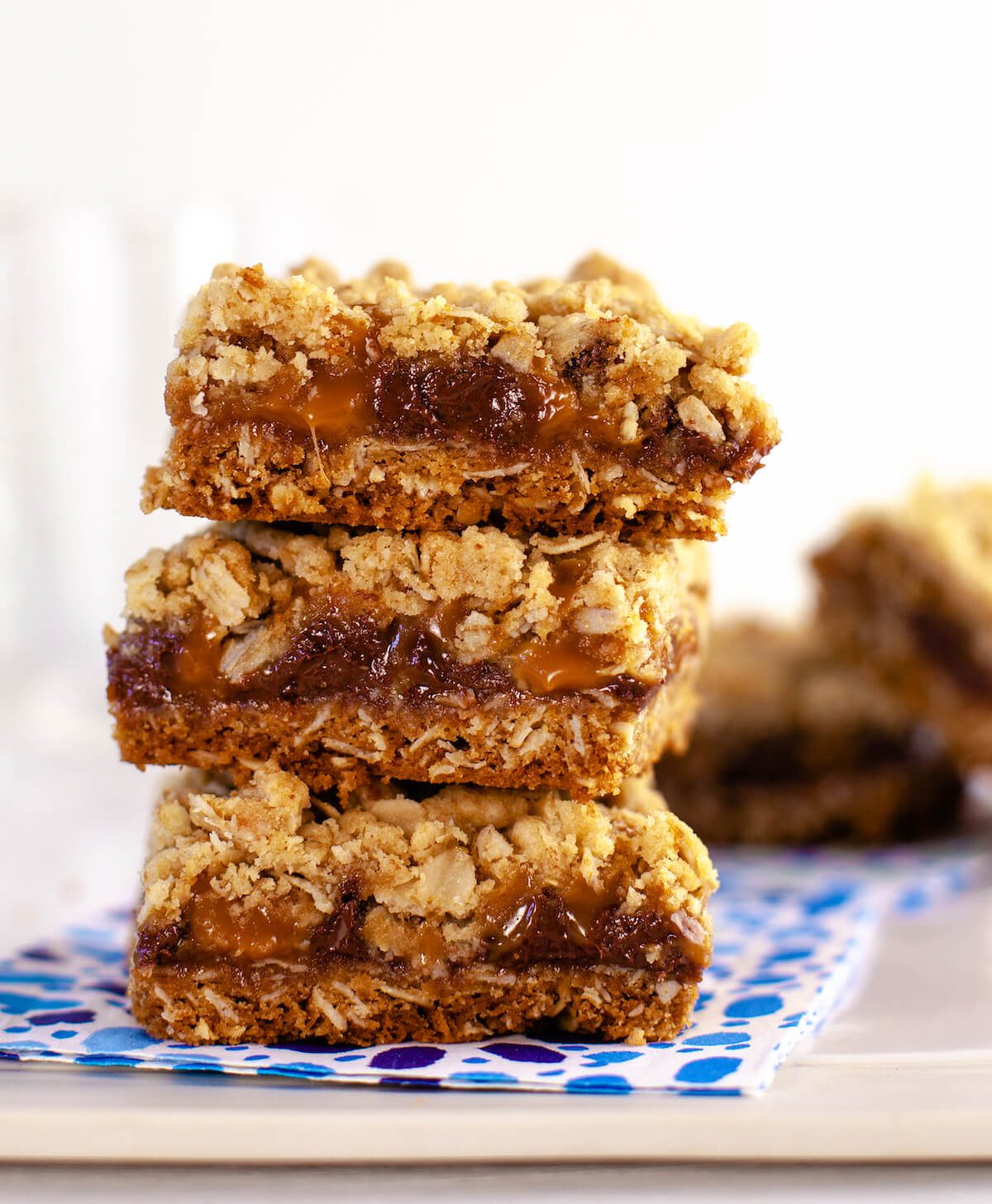 Jump to: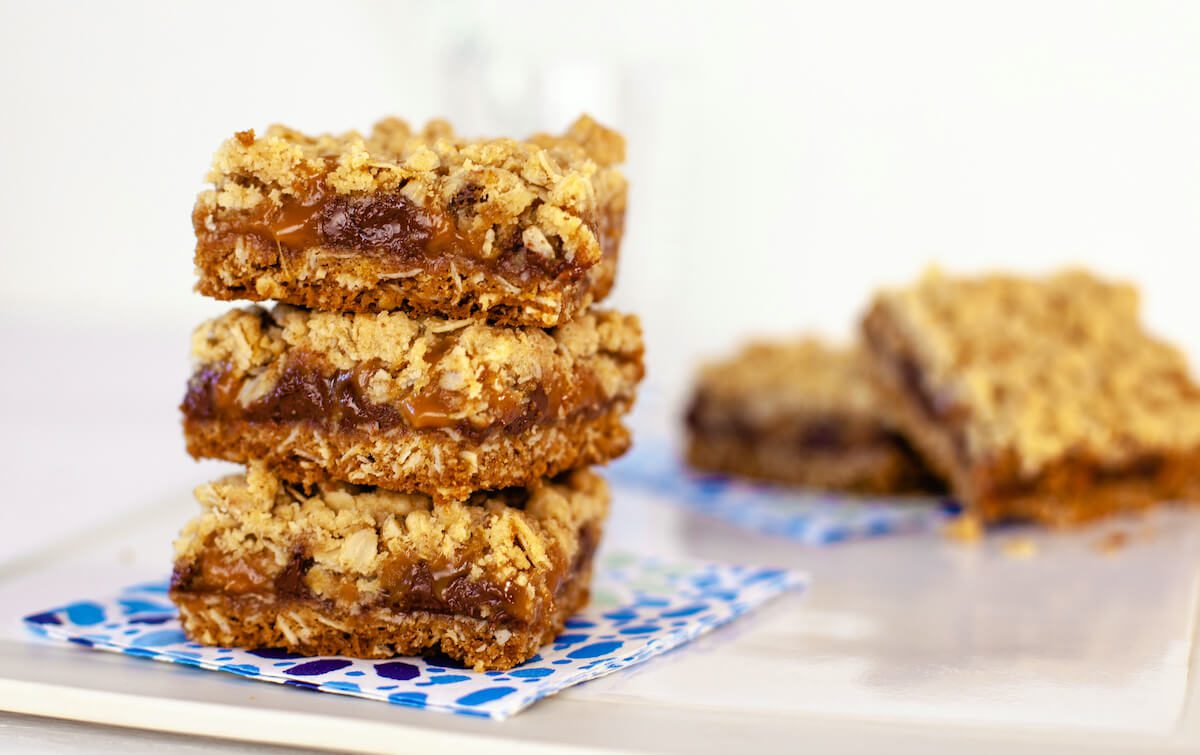 The Best Carmelitas Recipe
I made these oatmeal caramel bars growing up and there was just nothing better. So, when I was an editor at Martha Stewart Living magazine, I shared my recipe in her Kids magazine. I called them Oatmeal Bars.
They were a great recipe for the school bake sale story I was writing, and these Carmelita bars are a fantastic after-school snack as well.
I make them for parties, BBQ's, picnics and birthdays too.
One of the things that makes my recipe the best, is it makes a full 9-by-13-inch pan. Most recipe you find are just an 8-by-8-inch pan, and I never find that's enough.
These bars go fast, and if they don't they can easily be stored in a covered container, or frozen to enjoy later.
What are Carmelitas?
Carmelitas are oatmeal cookie bars with chocolate chips and melted caramel baked in the middle.
Oatmeal Carmelitas were a Pillsbury Bake-Off recipe from the 1960s and versions have been printed in magazines and served at restaurants like Potbelly for many years. Without researching, my guess is that first versions are in community cookbooks as far back as the 1950s.
You won't find a better Carmelita bars recipe anywhere! This one has the perfect oatmeal cookie base and the right amount of caramel and chocolate filling. My oatmeal cookie bar isn't too crumbly, and it's tender and buttery.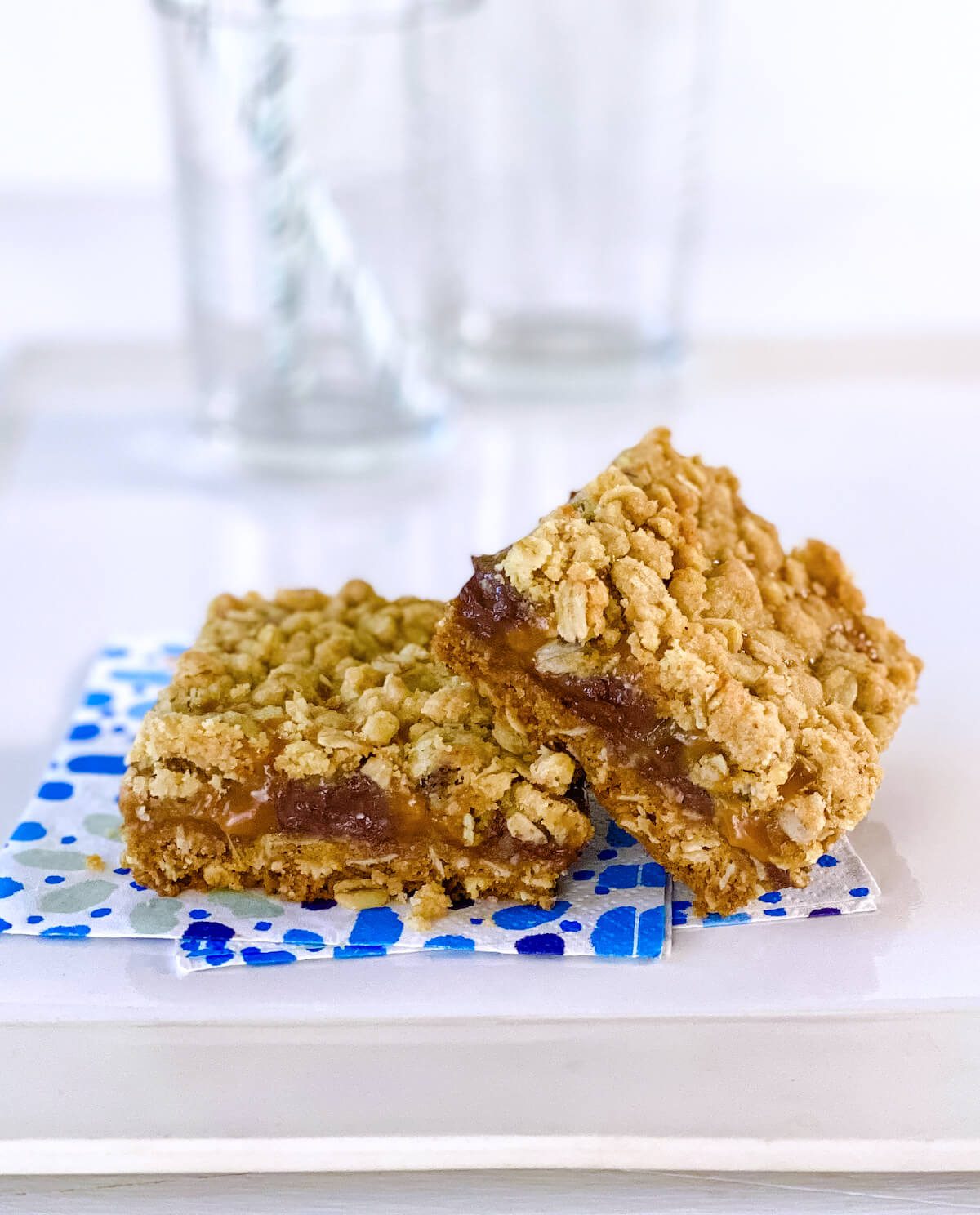 Tara's Carmelitas Ingredients
My oatmeal carmelitas are super simple. You'll only need a few ingredients. You probably already have most of them in your pantry.
caramels (more on which ones to use below)
heavy cream
all-purpose flour
light brown sugar
baking soda
old-fashioned rolled oats (not instant or quick oats)
salt
butter
chocolate chips
How to make Carmelitas
Here's how to make oatmeal bars with caramel and chocolate:
•Melt the caramel by heating the unwrapped caramels and cream in a saucepan.
•Make the oatmeal shortbread dough and press half into prepared baking pan.
•Sprinkle on the chocolate chips and drizzle the caramel over the par-cooked bottom crust.
•Crumble the rest of the dough over top in an even layer.
•Bake again until the top just is beginning to brown and dough is cooked through.
•Cool the cookies then lift from pan, cut, and enjoy!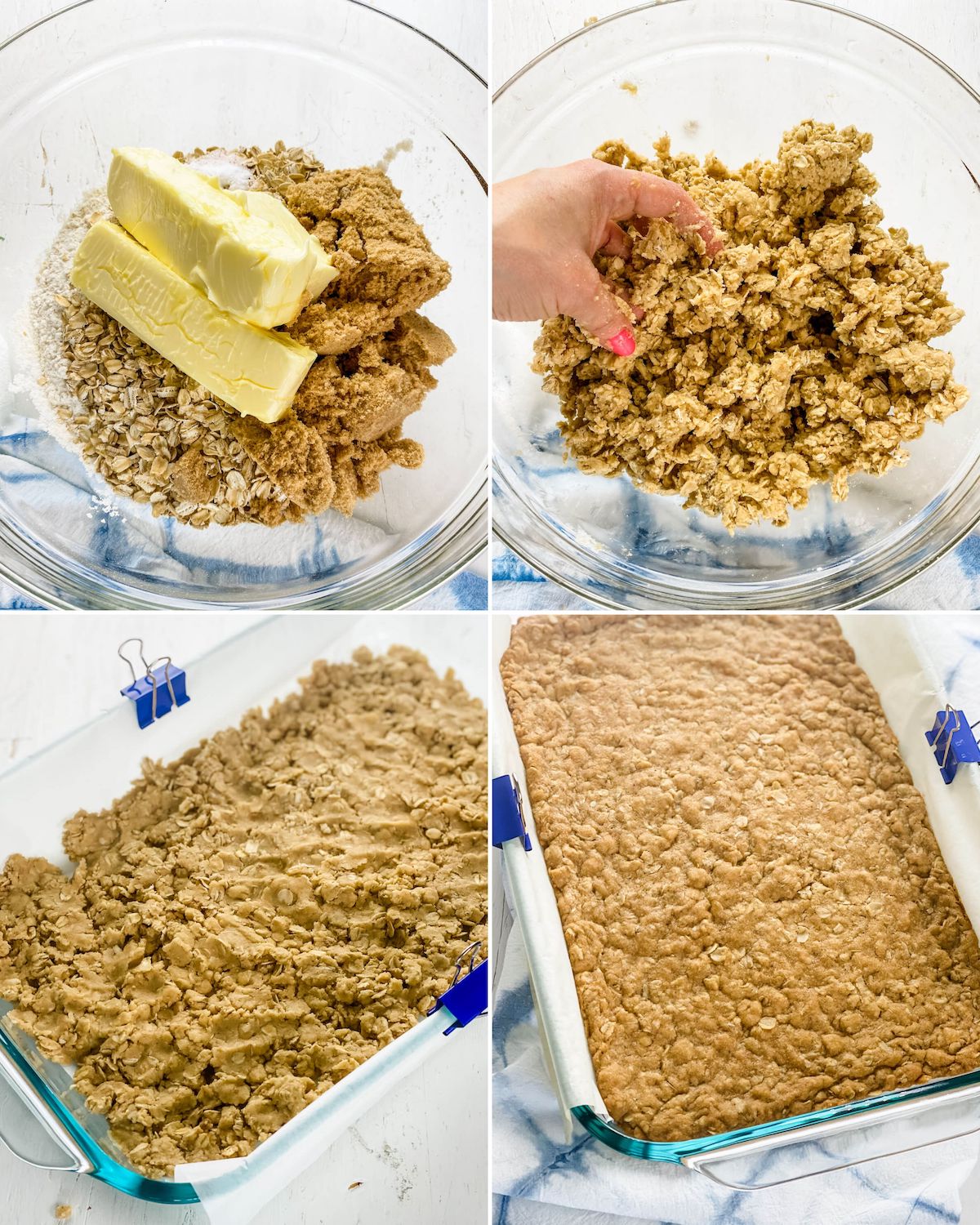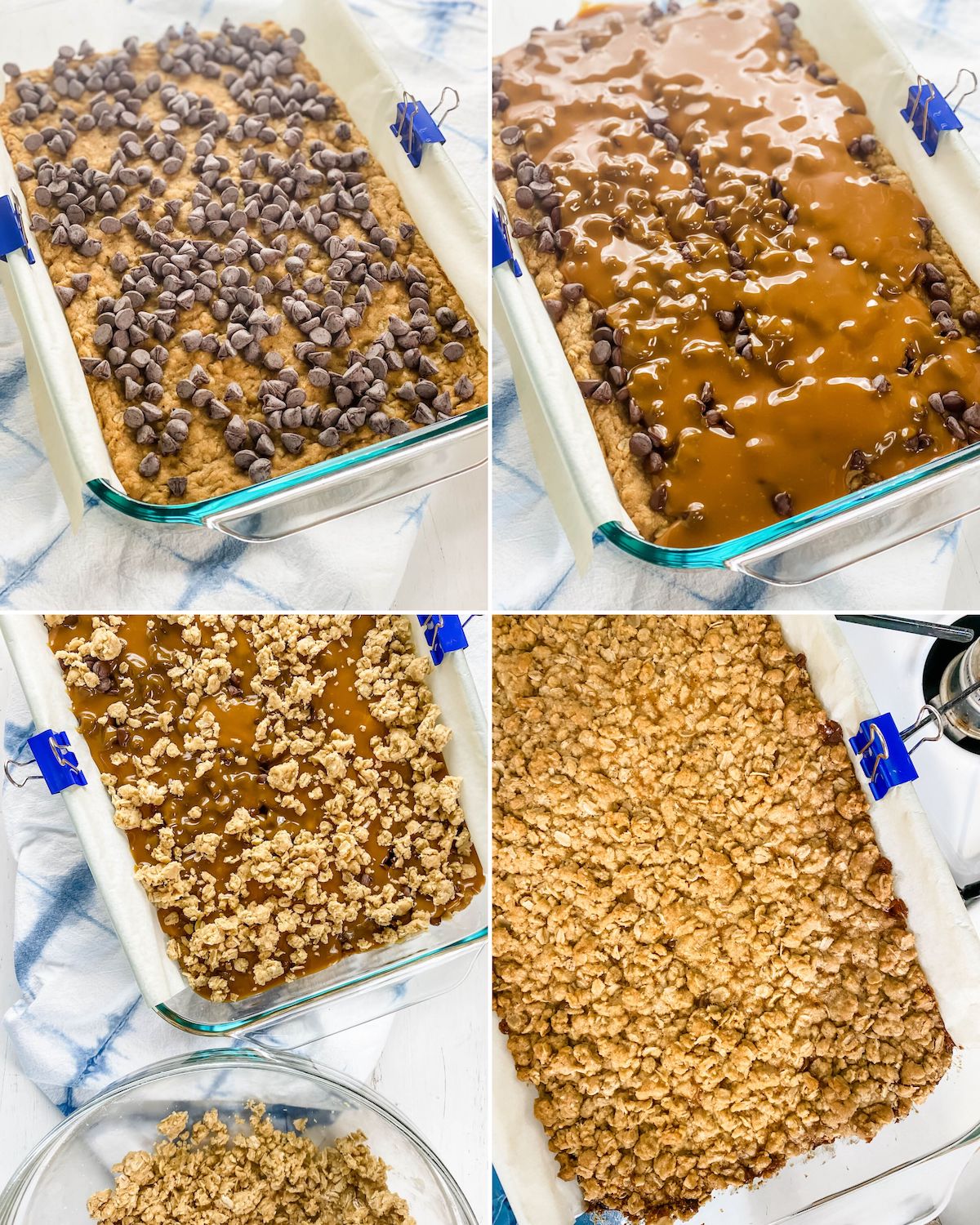 What Caramel To Use
There are two brands of soft caramel candies that are readily available and work well for Carmelitas.
Kraft square caramels are easy to find. In the last few years Werther's has made soft caramels and they are available at most stores as well.
Both brands are great to use, but the caramels are different sizes.
I use 14 ounces of caramels. That's about 50 Kraft Caramels and 58 Werther's Caramels.
The packages are unfortunately small and you'll probably need two bags to get the right amount for one recipe. Kraft in particular has changed their standard bag from 14 ounces to 11 ounces. What a shame!
That being said, I don't think anyone will complain about a few extra caramels around the house to snack on!
Tips for this Easy Carmelitas Recipe
For this recipe, I like to line a 9-by-13-inch baking dish or pan with parchment paper so that clean-up is easy and mess-free.
If you don't have pre-cut parchment sheets, cut your parchment so that a couple of inches hang off two edges. This will make it easy to lift the bars out of the pan once they're baked.
I spray the bottom of the pan with cooking spray before I add the parchment. You can fold down the loose ends and tack them down with oven-safe binder clips, but you don't need to.
After you take the Carmelitas out of the oven, let them cool before removing them from the pan. If you'd like, you can cut off the crunchy edges so your bars are soft and decadent. I personally like the crunchy edges, though.
How to store these cookie bars
If you have any leftovers, you can store these cookie bars in an airtight container on the counter for a few days.
Can I make Gluten Free Carmelitas?
You can use gluten-free flour in place of all-purpose flour in this recipe. The texture will change a bit, but they will still be delicious! Be sure to use gluten-free oats when available.
Cookie Classics To Try:
Let me know how it went!
Scroll to the bottom of the page to rate ⭐⭐⭐⭐⭐ and comment on this recipe. Leaving comments helps other too!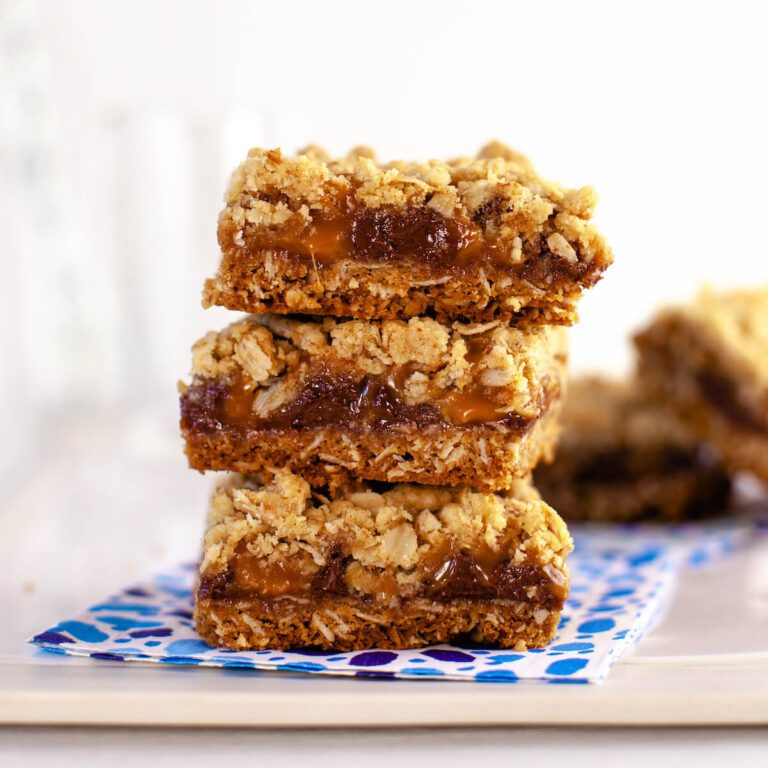 Easy Carmelitas Recipe
Delicious oatmeal cookie bars filled with a layer of chocolate and caramel. Make a 9-by-13-inch pan to share.
Ingredients
Cooking Spray

48

to 58

soft caramel candies*

(14 ounces)

½

cup

heavy cream

2

cups

all-purpose flour

1

cup

light brown sugar

packed

¾

teaspoon

baking soda

1¼

teaspoons

salt

2

cups

old-fashioned rolled oats

2½

sticks

unsalted butter

soft but not warm

1

cup

semisweet chocolate chips
Instructions
Prepare a 9-by-13-inch baking pan by spraying with cooking spray and lining with parchment so two ends hang over. Clip with metal binder clips if desired.

Unwrap caramel candies and place in a medium saucepan with the heavy cream. Heat, stirring, over medium-high heat, until caramels are melted, about 5 minutes. Set aside to cool.

In a large mixing bowl combine the flour, baking soda, salt, brown sugar and oats. Add the butter and with a mixer or your clean hands, mix the butter into the dry ingredients until a soft, but crumbly dough forms.

Transfer half the dough to the prepared pan and gently pat into an even layer on the bottom of the pan. Bake until just turning light golden, 18 to 20 minutes. Don't over-bake.

Remove bottom crust from oven and sprinkle with chocolate chips. Carefully pour melted caramel over the chocolate in an even layer. Crumble the remaining dough over the top of the caramel.

Bake cookie bars another 18 to 20 minutes, until the top crust is just turning golden and cooked. It shouldn't be doughy.

Let cookie bars cool completely, or until barely warm and firmed. Use a spatula to release the caramelized edges from the pan and then lift the bars out using the parchment paper.

On a cutting board, trim caramelized edges if desired, or just cut into 16 squares.

Bars can be stored in an airtight container for up to 3 days, or wrapped tightly and frozen for up to a month.
Notes
* What soft caramels to use:
There are two brands of soft caramel candies that are readily available and work well for Carmelitas.
Kraft square caramels and Werther's soft or chewy caramels. Both brands are great to use, but the caramels are different sizes.
I use 14 ounces of caramels. That's about 50 Kraft caramels and 58 Werther's caramels.
The packages are unfortunately small and you'll probably need two bags to get the right amount for one recipe.
Nutrition
Calories:
376
kcal
Carbohydrates:
41
g
Protein:
4
g
Fat:
22
g
Saturated Fat:
13
g
Polyunsaturated Fat:
1
g
Monounsaturated Fat:
6
g
Trans Fat:
1
g
Cholesterol:
47
mg
Sodium:
250
mg
Potassium:
153
mg
Fiber:
2
g
Sugar:
20
g
Vitamin A:
557
IU
Vitamin C:
0.1
mg
Calcium:
39
mg
Iron:
2
mg
Tasty cookie recipes!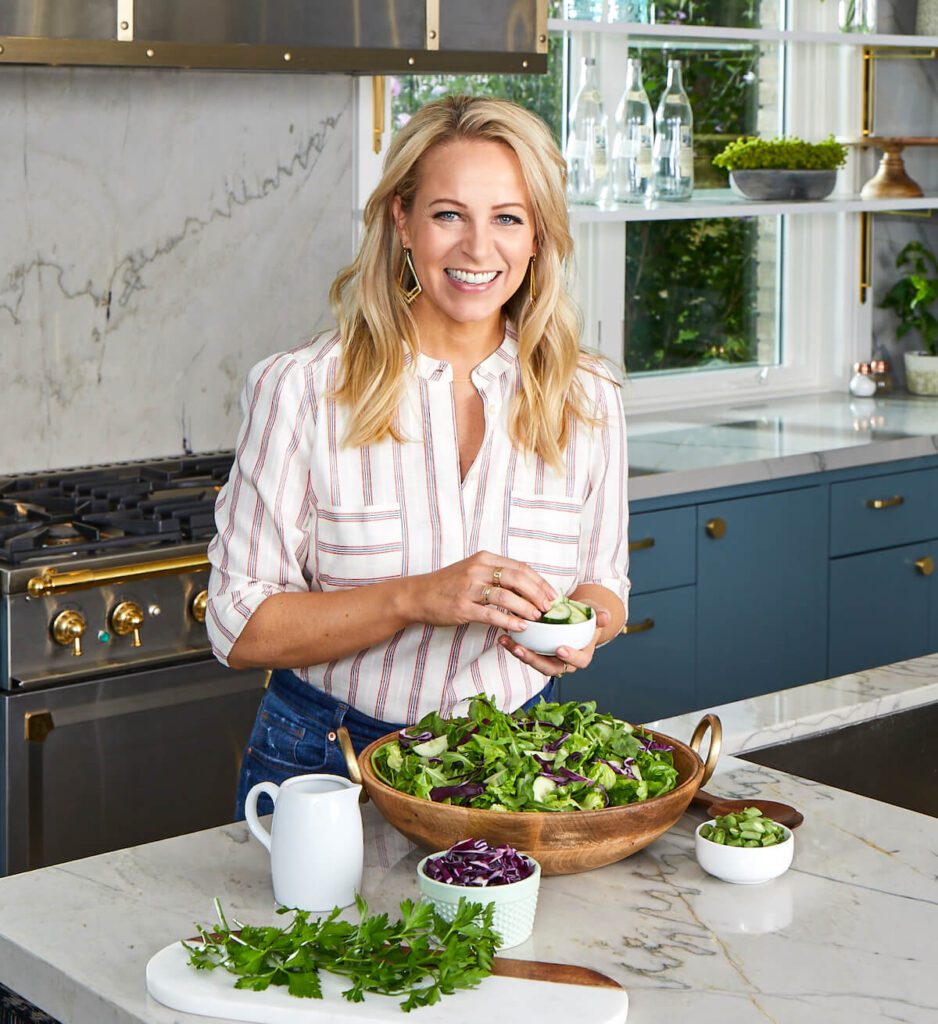 About Tara Teaspoon
I've been in the food publishing business for over 20 years, creating recipes & food-styling for magazines, books, television & advertising. Order my new cookbook & stick around for amazing things to eat.