The ultimate Cookie Stuffed Brownies bring all of my favorite things together in one gloriously delicious cookie bar. Check out all three versions, Oreo, Nutter Butter and mint Milano!
• • •
What do you get when you combine chocolate chip cookies, Oreos, and brownies all layered in one pan? Cookie Stuffed Brownies a.k.a Slutty Brownies, of course!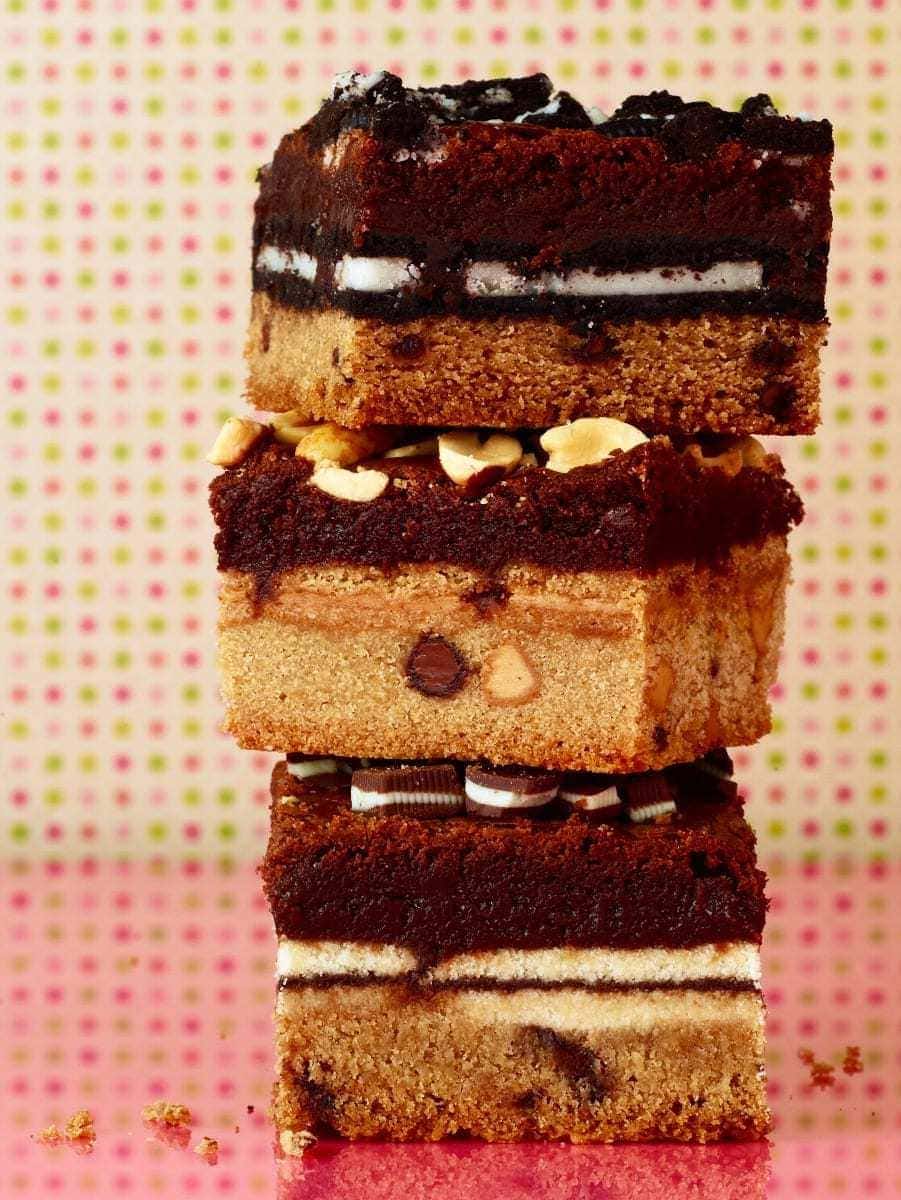 This post may include affiliate links. For more information please see my disclosure agreement.
What are Slutty Brownies?
My Cookie Stuffed Brownies are a take on the original recipe found on The Londoner Blog called Slutty Brownies. This version was also super popular on What's Gaby Cooking! These seriously indulgent dessert bars have goodies baked right into them.



Cookie Stuffed Brownies consist of a layer of chocolate chip cookie dough smooshed in the bottom of your 8- by-8-inch pan.  (Read below to learn how to line the pan for easy cookie removal!). Next comes store-bought cookies layered on top of the cookie dough. Top off everything with the brownie batter, bake and dig in.
Imagine the delicious variations of cookie stuffed brownies! So many treats – So few days!
I have taken this layered deliciousness a few steps further with some delightful variations.  Let's jump right in. Is there a better combination than chocolate and peanut butter?  Not in my book!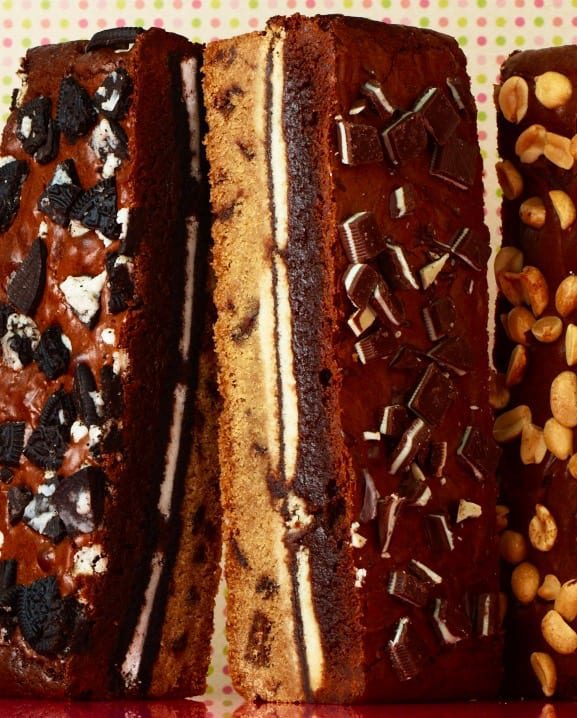 Make Peanut Butter Cookie Stuffed Brownies!
Indulge by adding some peanut butter to the chocolate chip cookie dough (recipe variation below) and then nestling Nutter Butter cookies between the cookies and brownies in place of the original Oreos.  Oh my! It's as easy as the original but you get that peanut butter punch from all directions.
Mint Cookie Stuffed Brownies
You know and love Pepperidge Farm Milano Cookies. You know and love Andes Mints. Bring them together in your own cookie bar! Replace the mini chocolate chips in the chocolate chip cookie recipe with chopped Andes Mints and the Oreos with Milanos (you can use mint Milanos for extra flavor too). Layers and layers of fantastic minty lusciousness.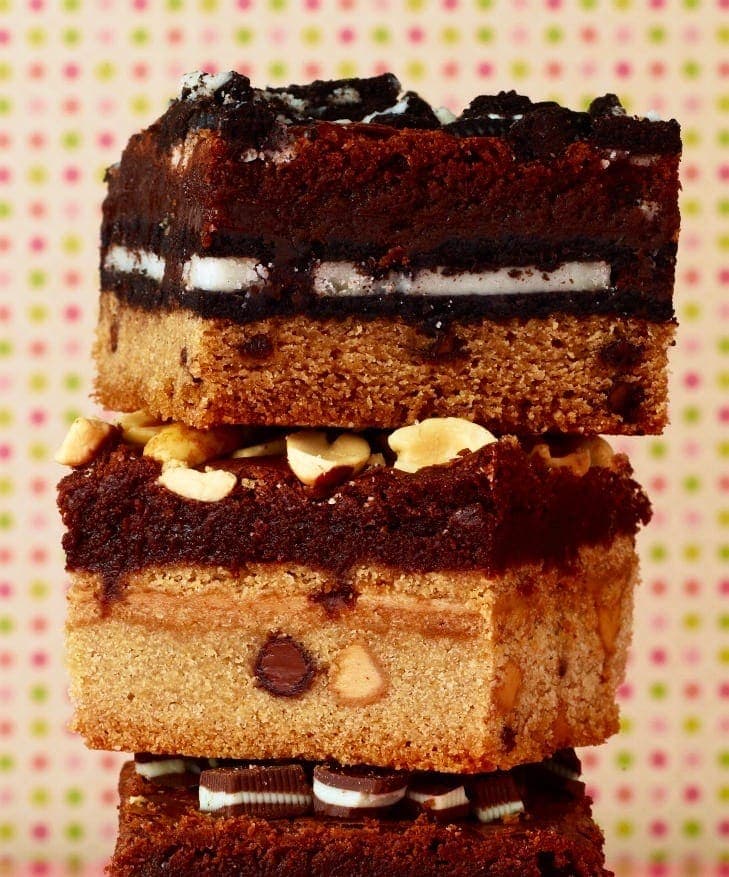 When all of these lovely bars come from the oven they are ooey and gooey goodness and need a scoop of ice cream immediately.  If you prefer to let them cool a bit longer, they will cut into very pretty pick-up-and-eat brownies.  In either case,  I like to line my pan with a strip of parchment long enough to allow the edges to hang over opposite sides.  When cooled, the bars lift right out of the pan using the parchment as the lifter.  Then you are easily able to slice the bars into beautiful squares right on your cutting board.




The Ultimate Cookie Stuffed Brownies a.k.a. Slutty Brownies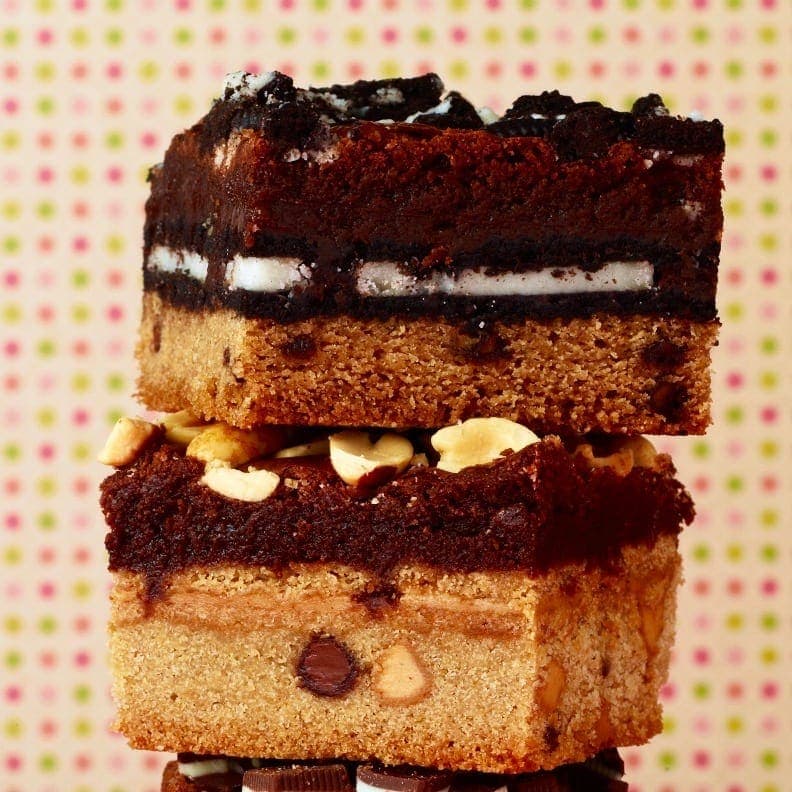 Ingredients
Chocolate Chip Cookie Layer

½ cup unsalted butter, softened
¾ cup granulated sugar
¼ cup light brown sugar
1 large egg
½ tsp vanilla extract
1½ cups all-purpose flour
¼ tsp salt
¼ tsp baking soda
½ cup mini chocolate chips
16 Double Stuf Oreos, plus more for the top

Milk Chocolate Brownie Layer

6 tbsp unsalted butter 8 oz milk chocolate, chopped
⅔ cup light brown sugar
1 tsp vanilla extract
2 large eggs
⅔ cup all-purpose flour
1 tbsp unsweetened cocoa powder
¼ tsp salt
¼ tsp baking powder
Instructions
Heat oven to 350°F. Grease an 8-by-8-inch baking pan and line with a strip of parchment, allowing edges to hang over opposite sides.
For the chocolate chip cookie layer, beat together the butter, granulated sugar and brown sugar. Add egg and vanilla; beat until fluffy. Stir in the flour, salt and baking soda, then add chocolate chips. Press dough into the bottom of the pan. Top with a single layer of Oreos.
To make brownie batter, melt together butter and chocolate and cool slightly. Stir in brown sugar, vanilla and eggs until smooth. Add flour, cocoa powder, salt and baking powder and stir until batter is smooth and glossy. Pour over Oreos in the pan.
Top brownie layer with extra crumbled Oreos. Bake until a toothpick inserted into the center comes out almost clean, 60 to 65 min. Allow to cool, then run a spatula around edges to loosen from pan. Use the parchment overhang to lift brownies out of the pan; slice and serve.

Nutter Butter-PB Variation

Substitute smooth peanut butter for ½ cup of the unsalted butter in the chocolate chip cookie recipe. Make as directed otherwise. Use Nutter Butter cookies in place of the Oreos and sprinkle peanuts on top of the brownie layer.

Mint and Milano Variation

Substitute chopped

Andes Mints

for ½ cup of the mini chocolate chips in the chocolate chip cookie recipe. Make as directed otherwise. Use

Pepperidge Farm Milano Cookies

in place of the Oreos and sprinkle extra chopped Andes Mints on top of Brownie layer just after baking.
Notes
You can also make Nutter Butter-peanut butter or Andes Mint-Milano cookie variations of these bars.
https://tarateaspoon.com/cookie-stuffed-brownies/
PIN THIS

Recipe Tara Teaspoon. Photography William Brinson. Props Penelope Bouklas. Originally published in LHJ 03/14.