Mandarin & Prosciutto Bruschetta make every guest sing a little song of love! Salty, sweet, crunchy and indulgent bites; perfect for gatherings, or anytime you need a glorious nibble.
When I developed this recipe, I think I ate these for lunch and dinner that day. They are supposed to be appetizers. Appetizers! Little nibbles. Restrain yourself only if you can! I didn't.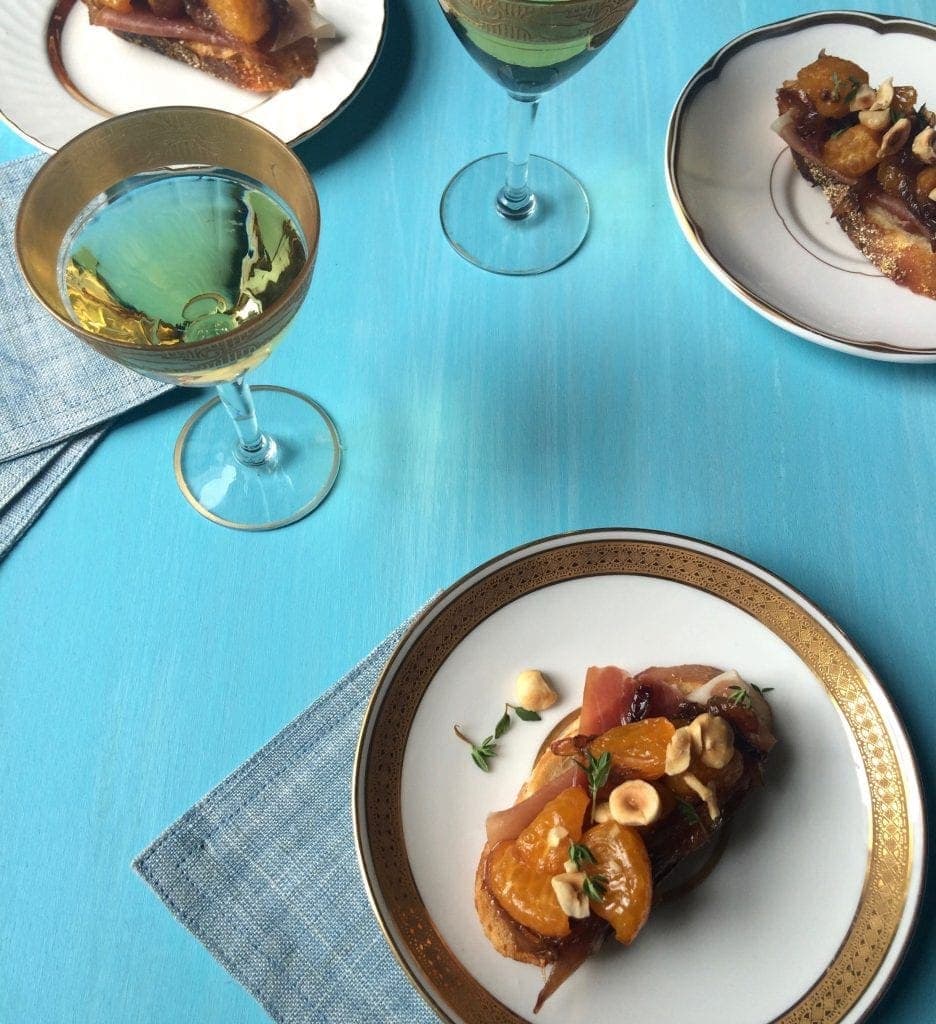 It's party season–appetizer season! If you want to get fancy…the hor d'oeuvres time of year. (I have to look that darn French word up every time I write it! I can spell bouillabaisse no problem, but hor d'oeuvres my brain hates)
Bruschetta or crostini are simply slices of toasted baguette topped with deliciousness. You can make the toasted slices of bread ahead of time for party prep. I keep mine in a zip-top bag for a few days and they stay crispy if you've cooked them so they are dried out to perfection.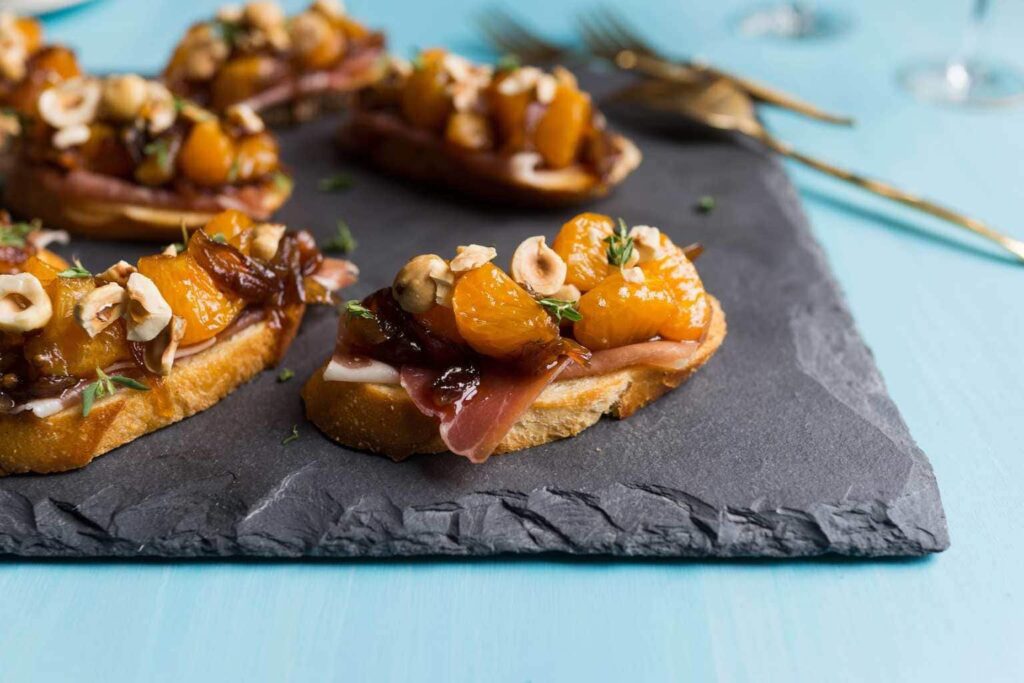 I was tasked with creating recipes for everyone's favorite snack, those Wonderful Halo mandarins. Oh, I swear I can peel and eat 10 of those in one sitting! The little segments were perfect paired with savory caramelized shallots and salty prosciutto, then I added a buttery crunch with hazelnuts. The Halos burst juicy sweetness into your mouth with every bite.
Make extra Mandarin & Prosciutto Bruschetta bites because these nibbles are addictive. You're guests won't stop eating!
I usually double the caramelized shallot portion of this recipe. It keeps well in the fridge, and if you don't use it for other wonderful things, you'll have extra for the next batch of bruschetta bites!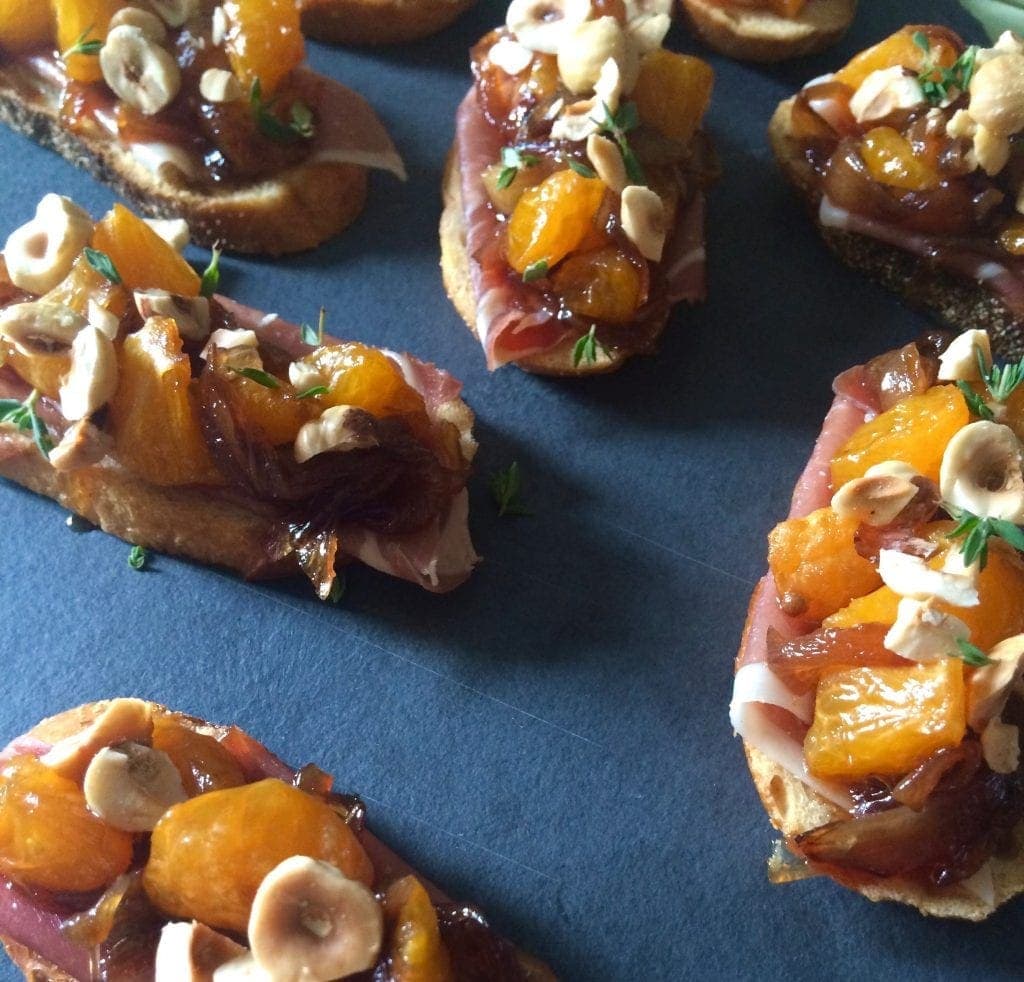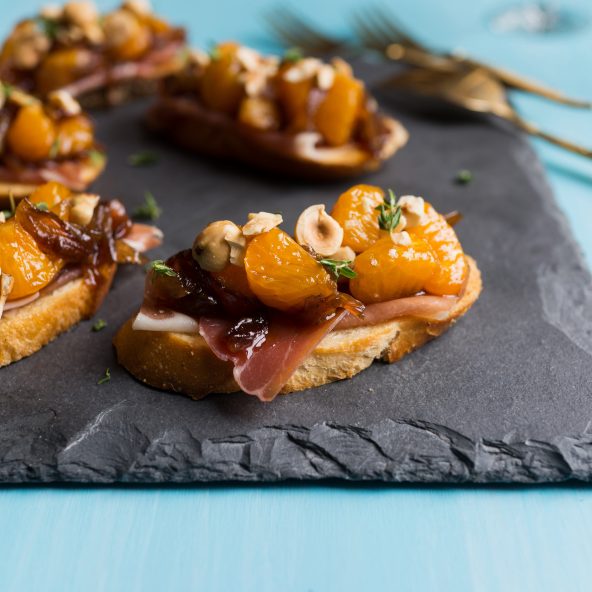 Mandarin & Prosciutto Bruschetta
Toasted crostini gets topped with a little slice of prosciutto, mandarin and shallot chutney for a sweet and salty bite and burst of juice.
Ingredients
1

baguette

Olive oil

2

cups

sliced shallots

½

tsp

kosher salt

½

cup

white balsamic vinegar

½

cup

brown sugar

1

bay leaf

1

tsp

crushed coriander seeds

1

cup

Wonderful Halo mandarin segments

roughly chopped

14

slices

prosciutto

Toasted hazelnuts

crushed

Fresh thyme
Instructions
Heat oven to 375ºF. Slice baguette thinly, brush with olive oil and bake until just toasted. Let cool.

In a skillet over medium heat saute the shallot and salt in 1 tbsp olive oil until soft and translucent, about 20 min. Add the vinegar, brown sugar, bay leaf and coriander seeds and let simmer until vinegar is reduced and almost gone. Add the Halo segments and stir. remove from heat.

Top toasted baguette slices with a ½ piece of prosciutto, a spoonful of the Halo chutney and sprinkle with hazelnuts and thyme.
This post may include sponsor mentions or affiliate links. For more information please see my disclosure policy.
Photos by Tara Bench unless otherwise noted
Recipe by Tara Bench