I'm going to tell you how easy it is to make store bought BBQ sauce taste better with a few simple ingredients. You can use this spruced-up sauce on your favorite BBQ recipes like ribs and chicken!
---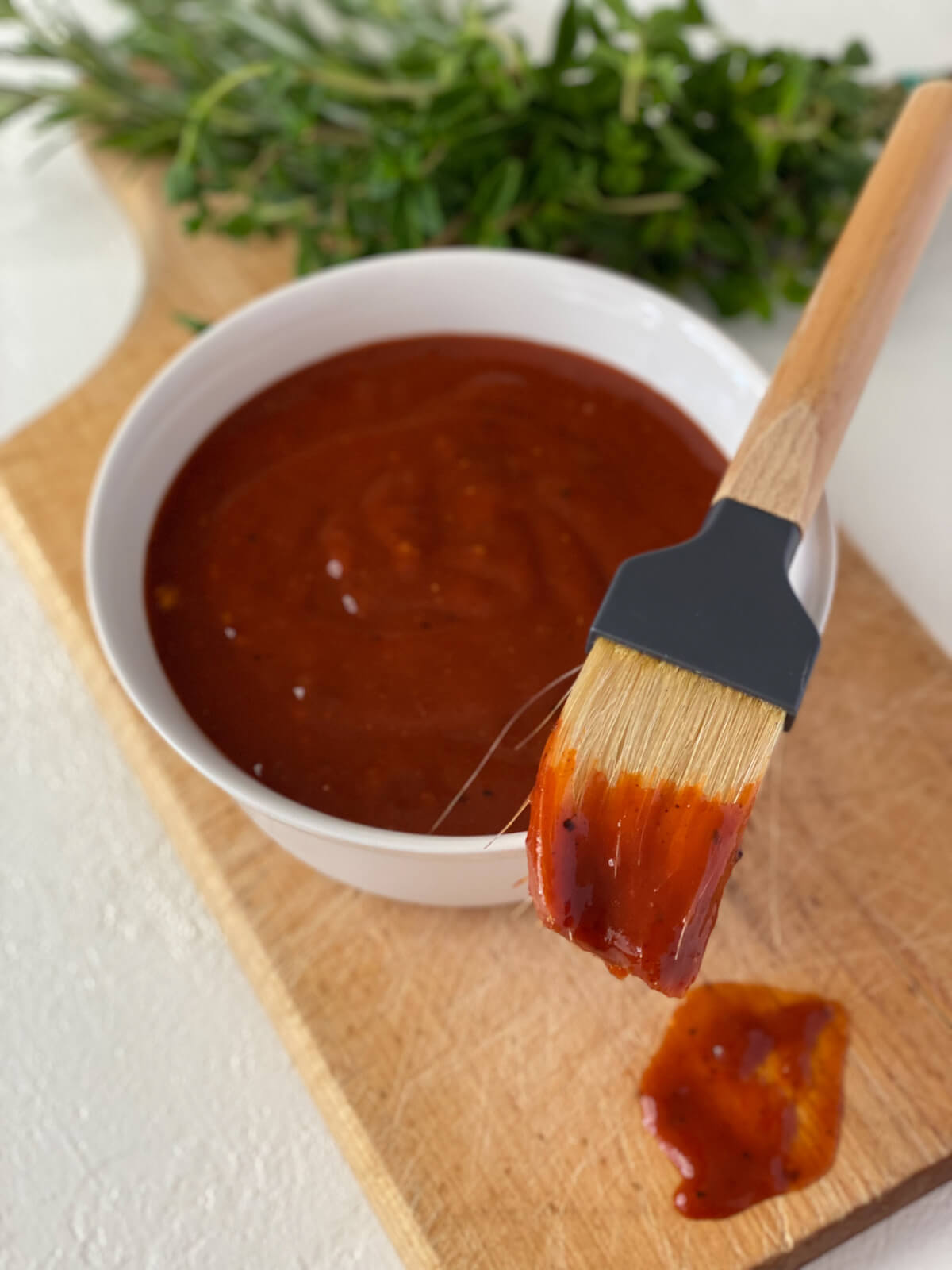 I love this hack for making store bought BBQ sauce taste like a complex, homemade condiment! I've researched all kinds of regional BBQ and developed awesome recipes, and know there are flavor differences that you sometimes can't get from a jarred sauce.
I make a lot of homemade BBQ sauces because I can control all the flavors, from smoky, spicy, or boozy, to sweet and sticky, tangy, and mild.
I'll tell you how to make bbq sauce taste batter in half the time using store bought sauce.
Jump to:
Adding a few ingredients to a jar of sauce can add smokiness and depth of flavor. You probably have everything in your kitchen already for this easy bbq sauce recipe.
Let me know how it went!
Scroll to the bottom of the page to rate ⭐⭐⭐⭐⭐ and comment on this recipe. Leaving comments helps other too!
Store bought sauce that tastes like homemade
Every BBQ pit master has their own secret recipe for barbecue sauce. Some mix together a huge list of ingredients, some simmer their sauce for hours to blend flavors, and others won't even tell you what their secret is!
You can make your own pit-master-worthy condiment, and I'll tell you how to doctor up bottled BBQ sauce so it's easy!
How to use it
This doctored up store-bought BBQ sauce tastes like a homemade BBQ sauce for ribs when you add your favorite additions.
Use it on chicken, pulled chicken or pork, beef brisket, and even kebabs.
Check out my Memphis BBQ sauce for some flavor inspiration, or make your own Southern BBQ sauce recipe using this semi-homemade trick. Add my mop sauce to make bottled BBQ sauce a North Carolina style basting sauce.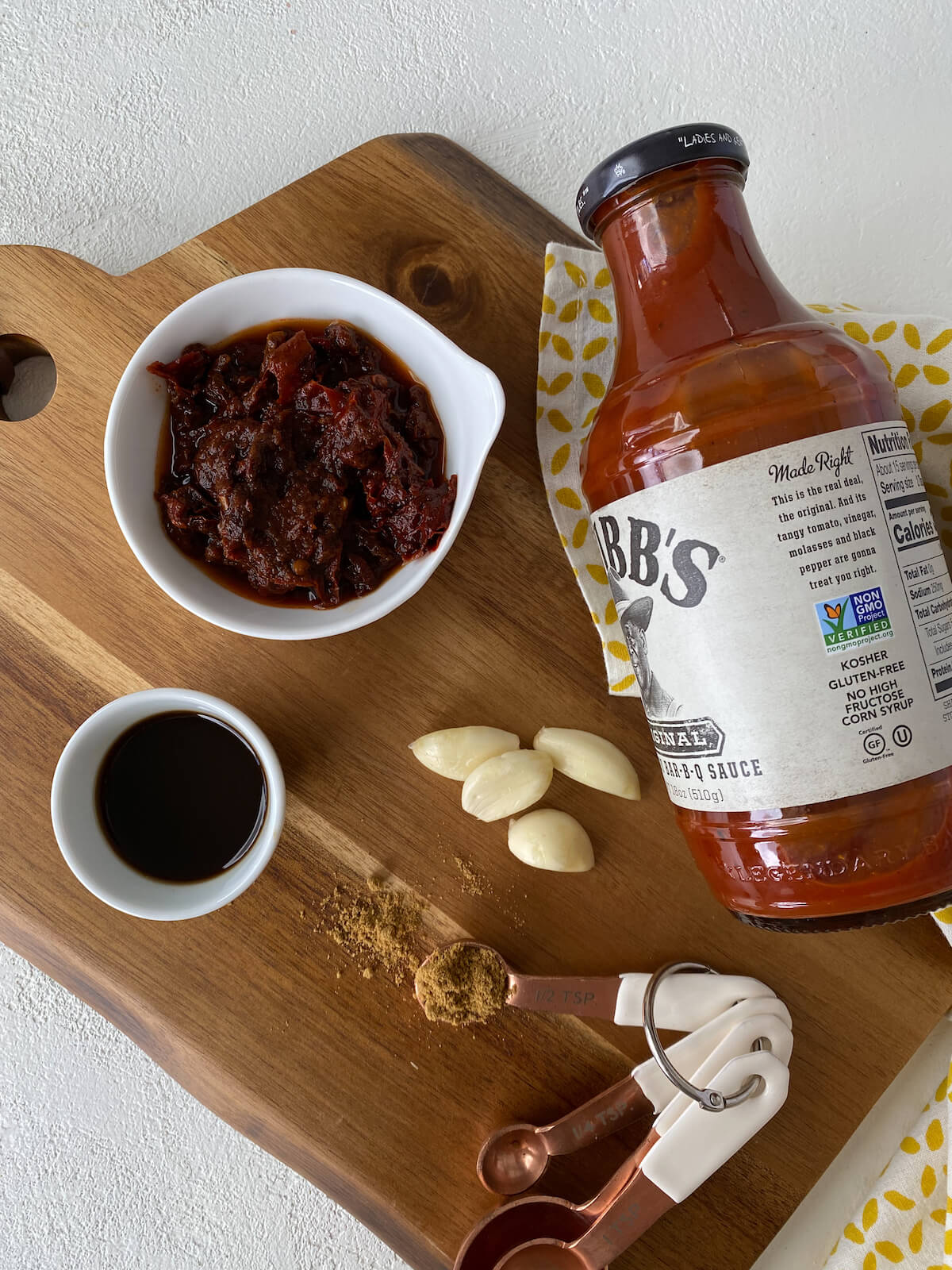 How To Doctor Up Bottled BBQ Sauce
You can punch up BBQ sauce with ingredients you probably already have in your pantry or fridge.
Grab a bottle of the best store bought BBQ sauce and follow my recipe, or create your own. Think of that pre-made barbecue sauce as a blank canvas! Add smoky, spicy, or tangy flavors for a semi-homemade bbq sauce that tastes just like it's from scratch.
You can spice up bbq sauce and add some texture and flavor to store-bought bbq sauce with chopped kimchi, bacon bits, sautéed onions, or jalapeños, fresh herbs, or fruit like pineapple and peaches.
Regional BBQ Sauce Flavors
Check out all my regional barbecue recipes here, and take note of the great variety of flavors.
You can look to North Carolina for that tangy, vinegar-based sauce that I use on my pulled pork or brisket. The base is a simple mop sauce, that can be a great addition to a bottled sauce.
South Carolina BBQ loves a little spice, so add yellow mustard, and/or hot sauce like Frank's RedHot or Louisiana-style to your jarred sauce.
A Memphis BBQ Sauce is a true finishing sauce great for chicken, pork, and ribs. I add honey or cane syrup, onion, cider vinegar, allspice and cinnamon spices to a jarred sauce to recreate my homemade version. It is a sweet, tangy, and thinner BBQ sauce.
Kansas City BBQ is known for its ribs, and a doctored up BBQ sauce is perfect to add during the last couple minutes on the grill. A thick, rich, and sweet BBQ sauce will do here.
Texas loves some real Tex-Mex heat and smoky flavor. Add chipotle, chili powder or jalapeños to a jarred sauce for an easy gourmet drizzle. I use a spicier sauce on my Texas Beef Brisket.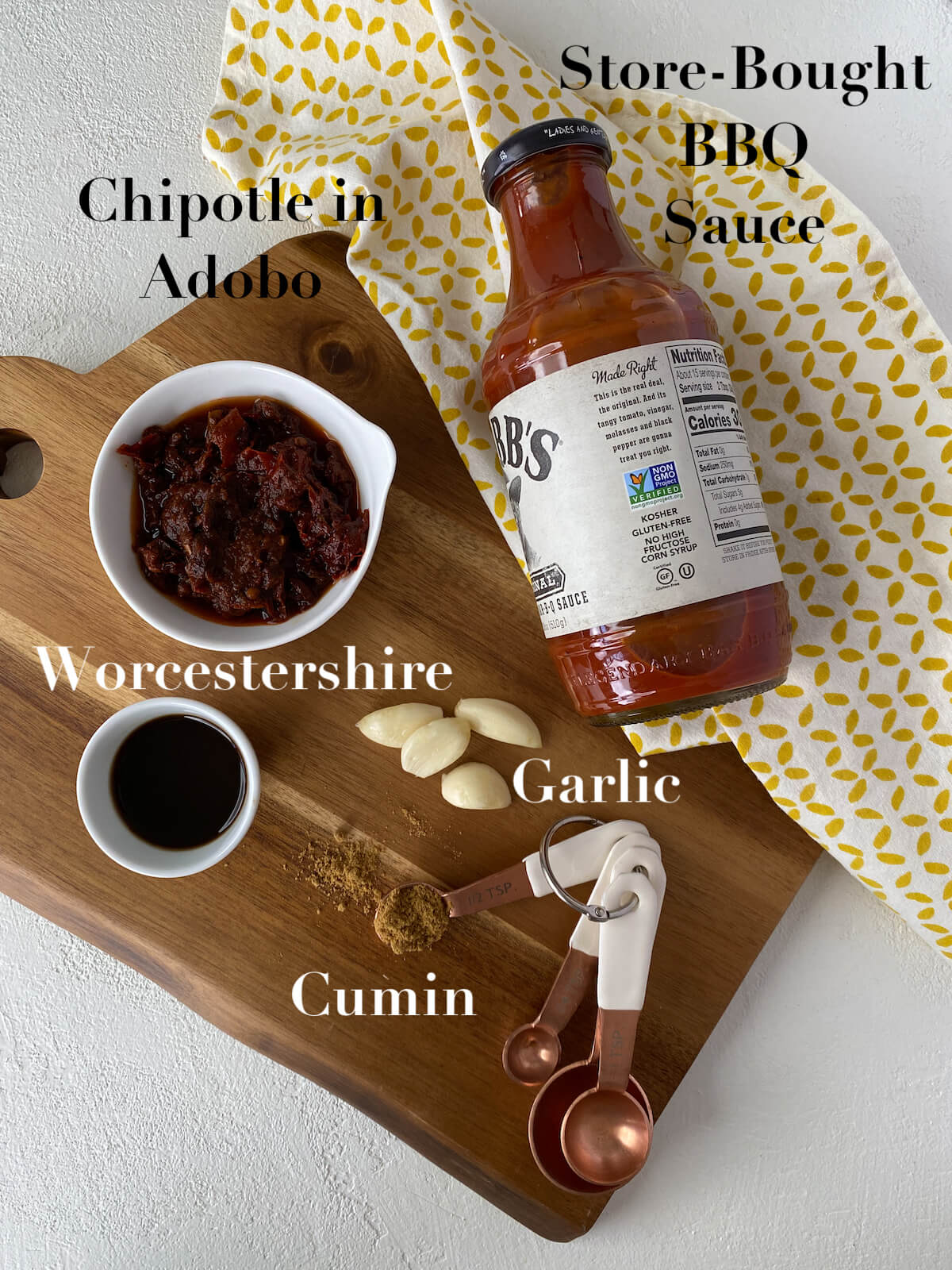 What To Add To Store-Bought BBQ Sauce?
The simple recipe for making store bought BBQ sauce taste better is below. But if you want to get creative, use some of these ingredients in your barbecue sauce recipe.
Spices like: Smoked paprika, chili powder, cayenne, coriander, onion powder
Fresh herbs like: rosemary, oregano, parsley
Chipotle chilis in adobo
Harissa
Kimchi
Bacon bits
Sautéed onions or Jalapeños
Mop sauce or vinegar
Bourbon
Hot sauce like Frank's RedHot or Tabasco
Yellow mustard
Brown sugar, honey or molasses
Crushed Pineapple
Peaches
Grape jelly
Soy sauce, fish sauce, and/or sesame oil
Liquid smoke (just a little)
Orange juice concentrate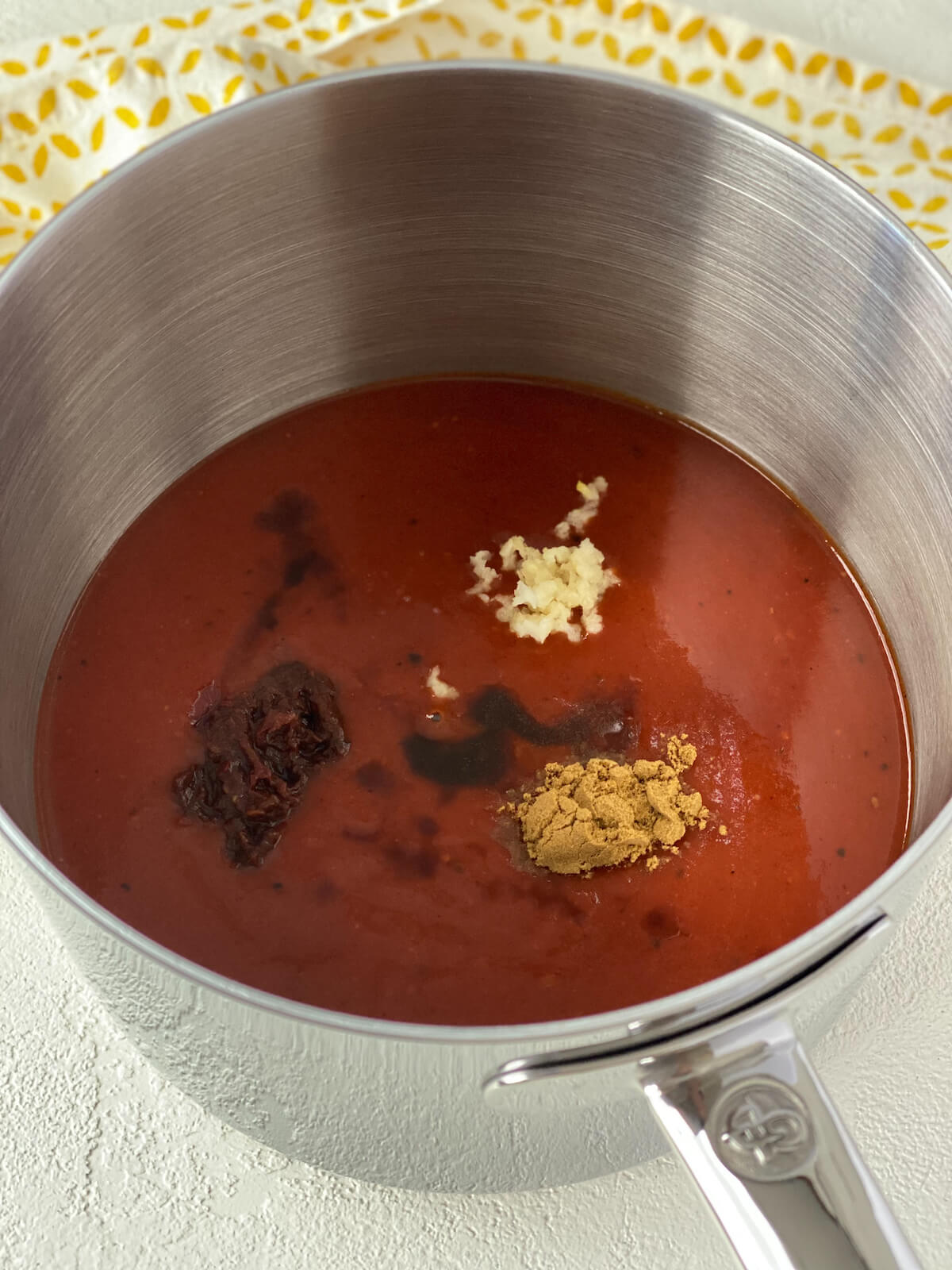 What To Make For A BBQ
Whether you're making the main dish or the sides, a BBQ can be a classic American meal. Here are some ideas of what to serve at a BBQ: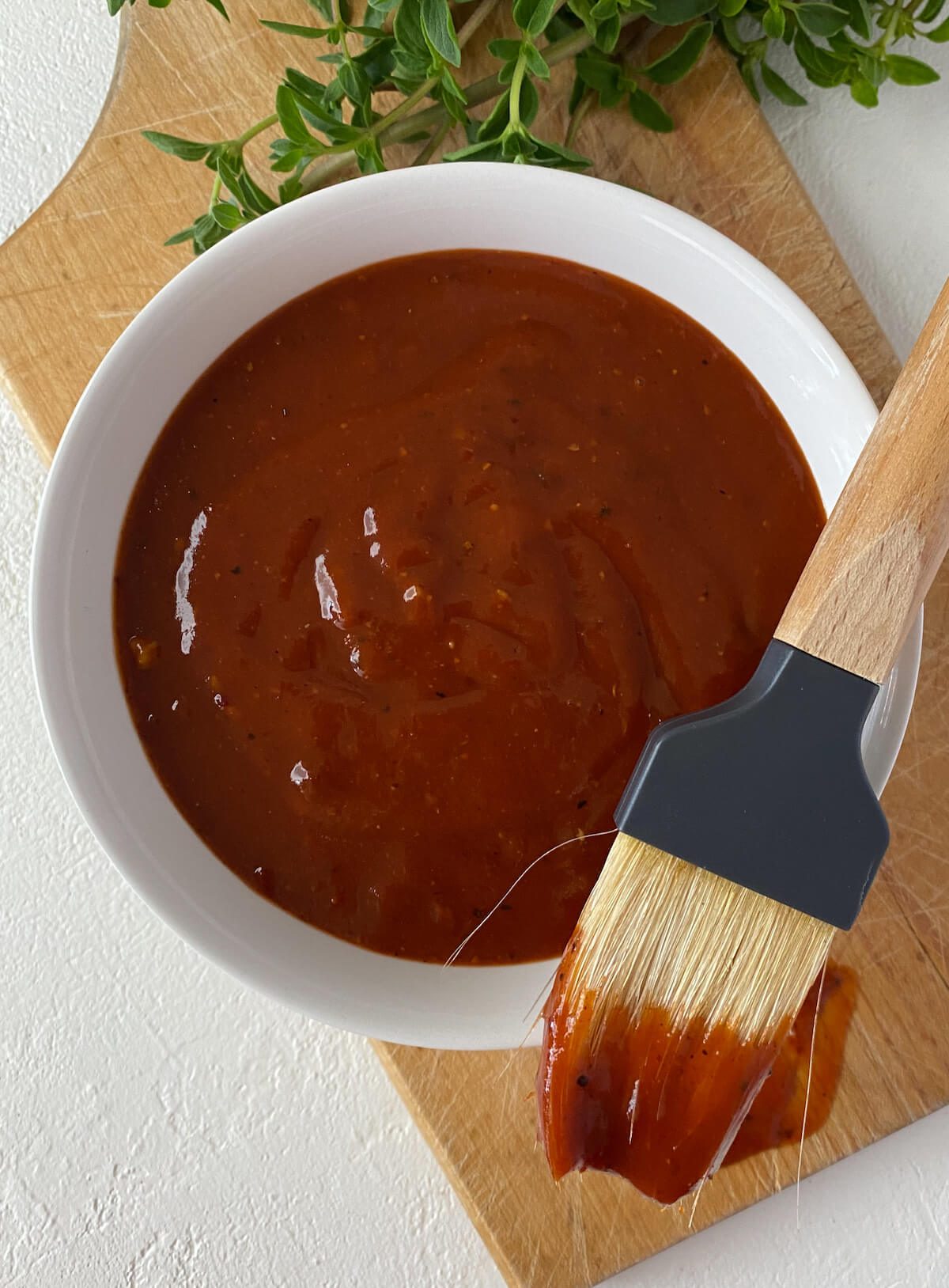 Side Dishes For A BBQ
Good sides for a BBQ are typically salads, baked beans, and fresh fruit and vegetables.
Coleslaw
Corn on the Cob
BBQ Baked Beans
BBQ Sauce FAQs
How can I make BBQ sauce spicy?
Here's how to spice up BBQ sauce: Add anything with heat! You can add anywhere from a pinch to a few tablespoons of spice depending on what the ingredient is. Try some cayenne, chipotle chilis in adobo, hot sauce like Tabasco, chili oil, or red pepper flakes. Add a little at a time to taste.
How long does BBQ sauce last in the fridge
Opened or doctored BBQ sauce can last 2 to 4 months if stored airtight in the refrigerator. That's great news for grill masters. Ingredients sugar as vinegar and sugar make it resistant to easy spoilage.
If the opened sauce comes in contact with bacteria you'll notice mold, or if there is an off smell, please discard.
How to thin out BBQ sauce:
Thin thick or sticky BBQ sauce by adding flavorful liquids like mop sauce, vinegar, alcohol like bourbon, fruit juices, pureed fruit, or beef or chicken broth.
More BBQ Sauce Recipes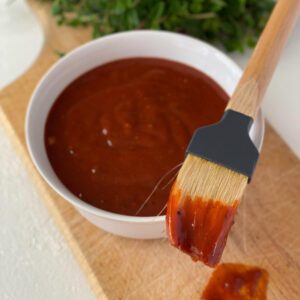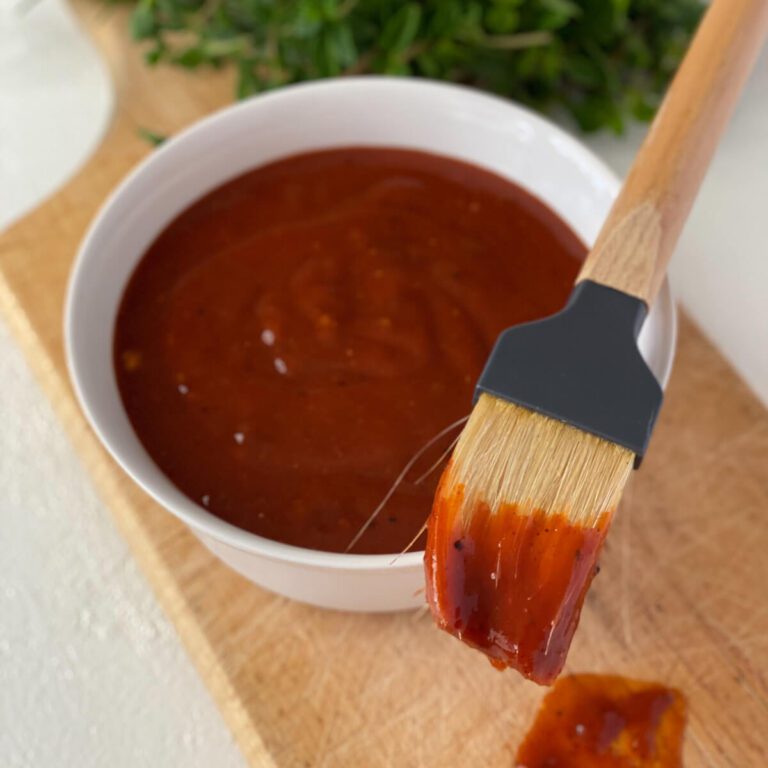 Better Store Bought BBQ Sauce
No need to make homemade sauce to get rich, flavorful BBQ. Spruce up a jar of store-bought bbq sauce to make a competition-worthy condiment!
Adding a few ingredients to a jar of bbq sauce can add smokiness and depth of flavor. You probably have everything in your kitchen already. MAKES 1 ½ cups sauce
Ingredients
1

jar

(18-ounces) BBQ sauce

2

cloves

garlic

minced

1

tablespoon

Worcestershire sauce

½

teaspoon

ground cumin

1½

teaspoons

minced chipotle in adobo
Instructions
In a medium saucepan over medium-high heat, combine all the ingredients. Bring to a simmer, stirring, and then remove from heat. Use immediately or let the sauce cool to room temperature.

Store sauce in the fridge for up to a month.
Notes
Nutritional Analysis: for ⅛ of the recipe.
Tip:
The smoky chipotle pepper give the BBQ sauce a nice flavor, and spice. You can reduce the amount to 1 teaspoon for less spice, or up it to 2 or 2 ½ teaspoons for more of a kick.
Nutrition
Calories:
4
kcal
Carbohydrates:
1
g
Protein:
0.1
g
Fat:
0.03
g
Saturated Fat:
0.004
g
Polyunsaturated Fat:
0.01
g
Monounsaturated Fat:
0.02
g
Sodium:
41
mg
Potassium:
23
mg
Fiber:
0.1
g
Sugar:
0.3
g
Vitamin A:
50
IU
Vitamin C:
1
mg
Calcium:
5
mg
Iron:
0.2
mg
Try these finger-licking-good BBQ recipes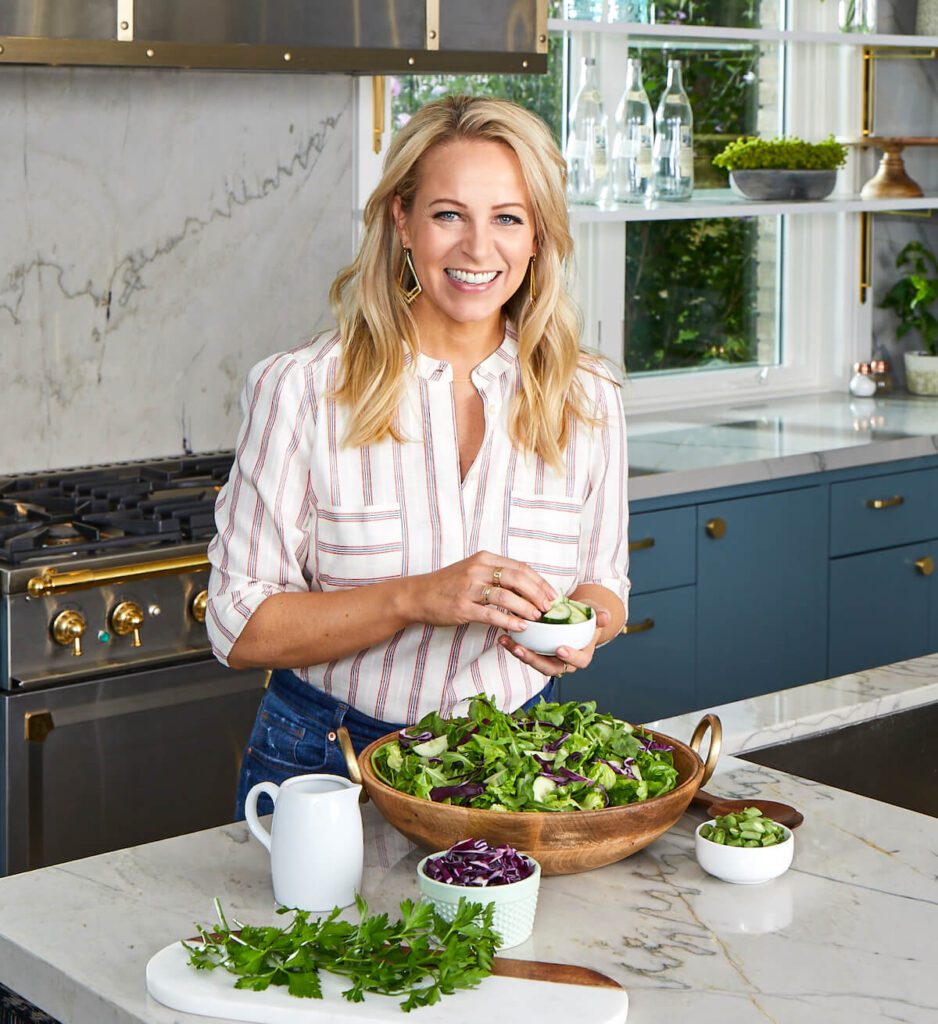 About Tara Teaspoon
I've been in the food publishing business for over 20 years, creating recipes & food-styling for magazines, books, television & advertising. Order my new cookbook & stick around for amazing things to eat.