---
Ropa Vieja is a favorite dish at my local Cuban restaurant. It's a slow cooker braised beef stew with peppers and great tomato flavor. I recreated it so I could dish it up any time!
---
This ropa vieja braised beef stew with peppers and onions resembles a heap of colorful rags, or "old clothes." Thus the Spanish name: Ropa Vieja! It heralds from clear back to the Middle Ages, but I'm sure there have been some changes (wink).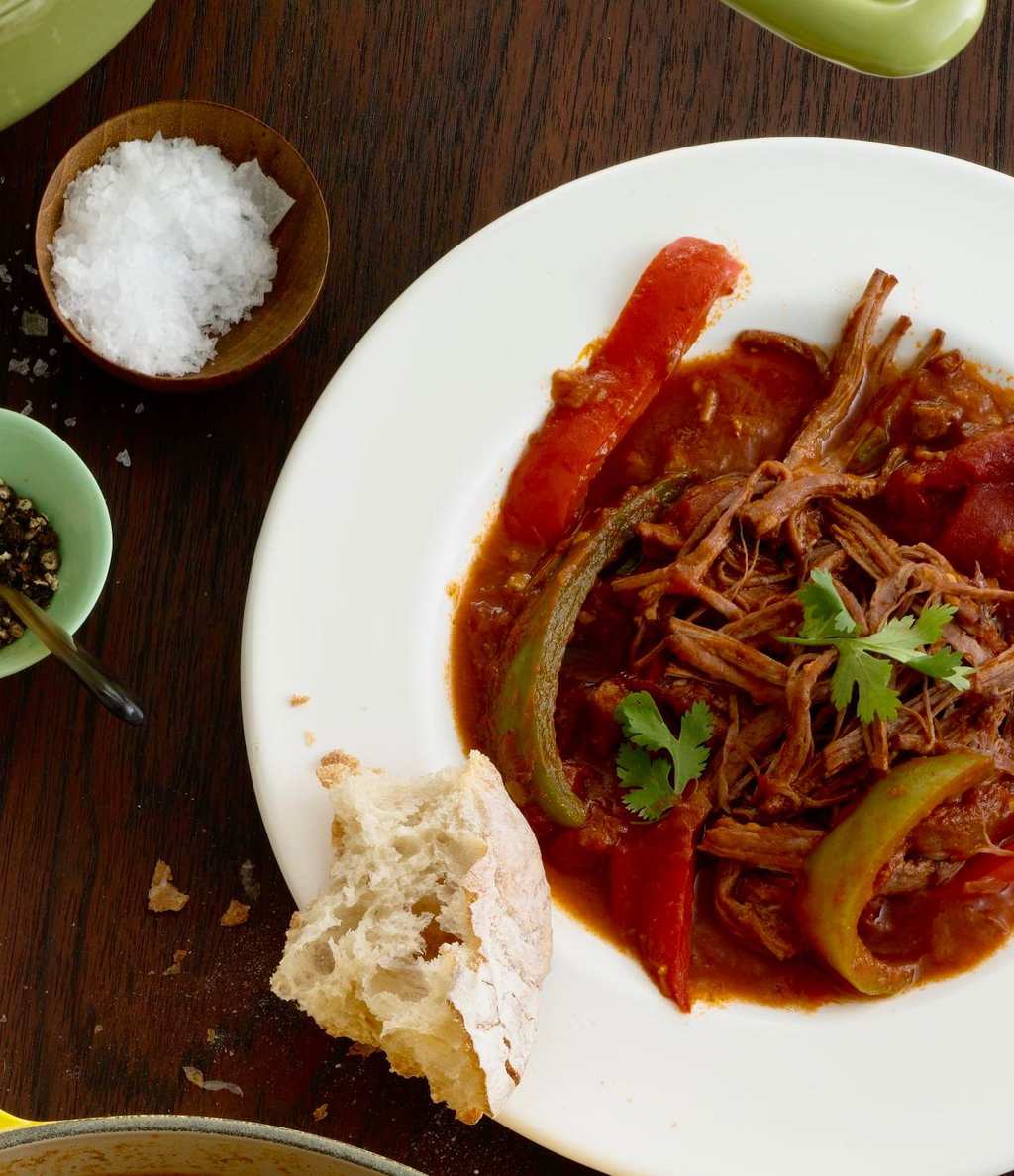 What is Ropa Vieja?
Popular in Spain, it was traditionally a way to stretch the leftovers of other stews. Hmm I'm into this...I am always concocting things from the leftovers lurking in my fridge! The recipe and tradition made it's way to Cuba where it got it's current, and my favorite, flavor profile.
There's a Cuban Chinese restaurant up the street from my apartment here in NY. Flor de Mayo has been around since I can remember. And yes, it's Cuban and Chinese dishes in one restaurant! Lucky Peach magazine explains:
"[There was an] exodus of ethnic Chinese from Cuba from 1959 through the 1980s. The Cuban-Chinese are largely the descendants of the quarter million indentured Cantonese laborers who traveled to Latin America in the late nineteenth century in hopes of finding their fortunes or supporting families back home. Instead, they found themselves shunted into backbreaking labor like planting and harvesting sugarcane for Caribbean plantations. In Cuba, many of them remained behind, raised families, and developed a culture that was neither entirely Chinese nor Cuban. For a while, Havana's Chinatown thrived, and proved a popular dining and drinking destination for both foreign tourists and locals.

But when Fidel Castro swept into power and began to target the merchant class, the Cuban Chinese found themselves in jeopardy. The ones who moved to the U.S. opened up inexpensive "Criollo China" eateries catering to fellow exiles—ropa vieja on one page of the menu, chow mein on another."
The ropa vieja there is my favorite. Perfectly tangy and tomatoey, just a little fatty, sweet peppers and onions that melt in your mouth, all served over yellow rice with beans. Of course there are other versions, but I happen to love this one.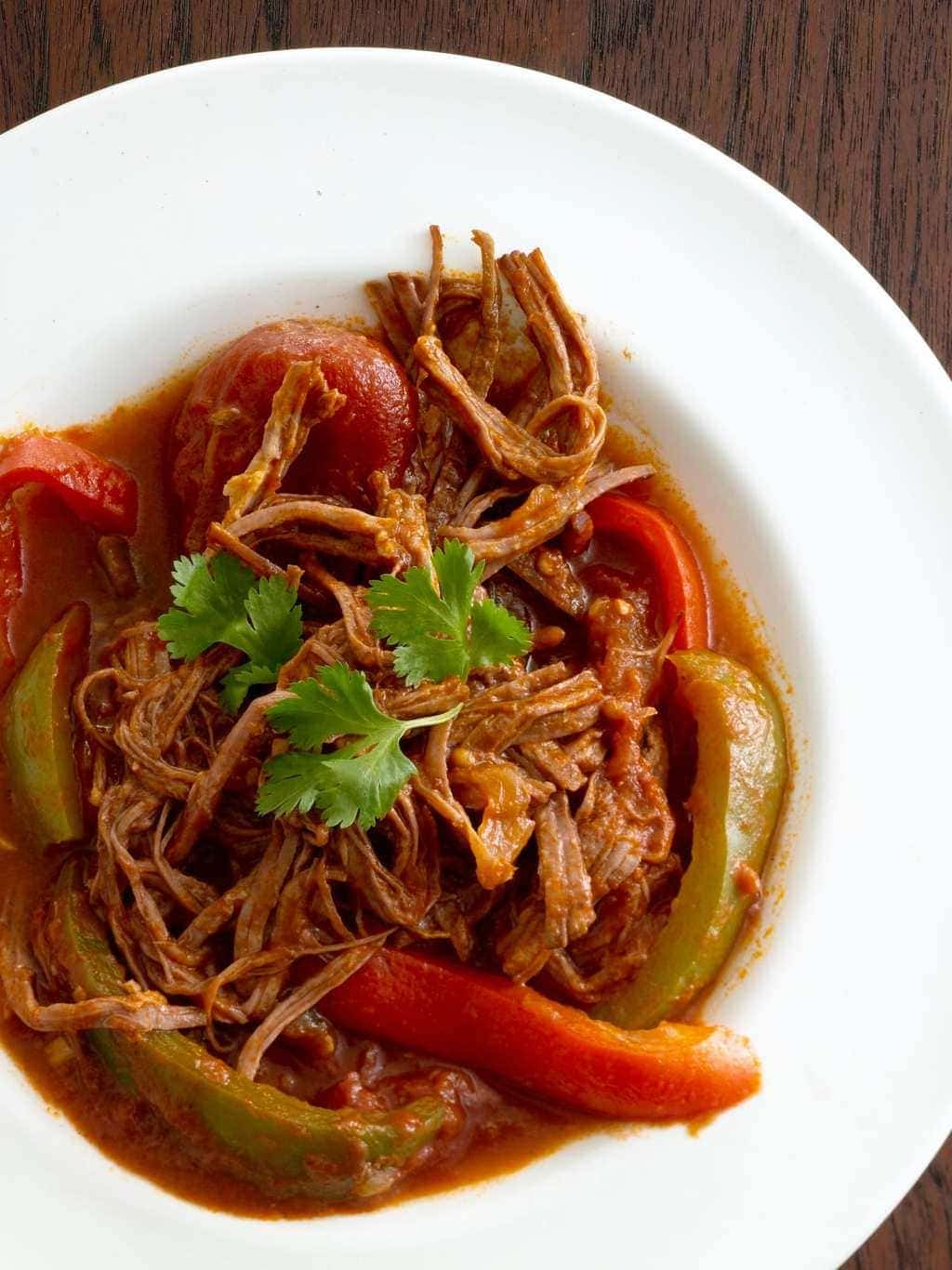 Could I make ropa vieja in the slow cooker?
I knew I had to figure out how to make the same delicious stew at home, because one day, heaven forbid, I won't live in NY or the restaurant will go the way of so many and shutter.
Plus who doesn't love a good slow cooker recipe? I make mine in my trusty Hamilton Beach slow cooker. But since the recipe calls for browning the beef before stewing it,I have my eye on this gem. You can sear and slow cook all in one machine! Magical.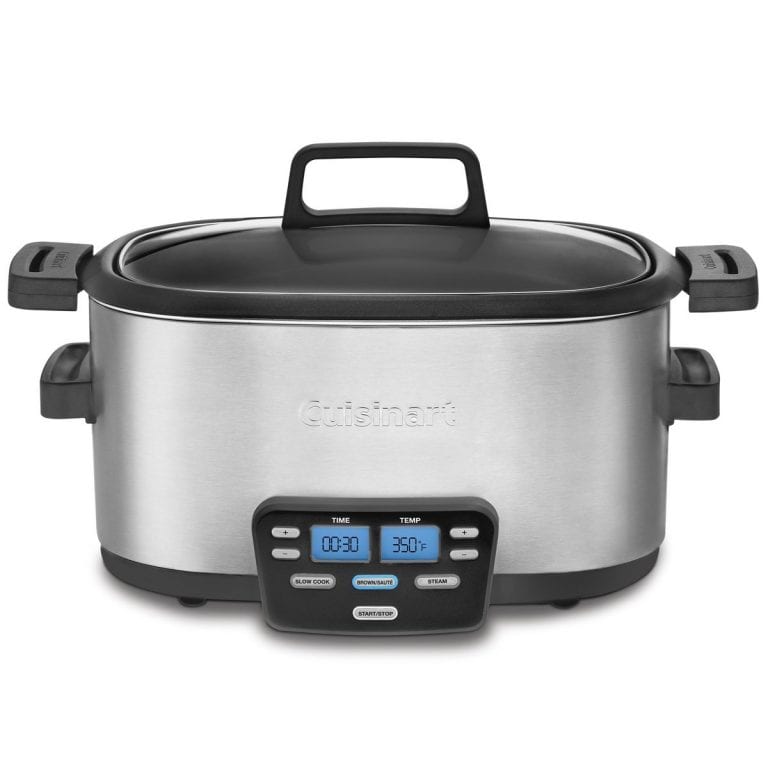 Instant Pot Update:
I wrote this recipe before Instant Pots existed! Now you can make this recipe right in your multi-cooker because of all the capabilities. You can sauté and then turn the machine to slow cook or pressure cook so the meat gets nice and tender. I have a Breville multi cooker and love it!
How to make Ropa Vieja or Cuban Beef Stew:
I pulled out my veggies, a little sofrito for depth of flavor and voila! Behold the make-at-home version of this homey, delicious dish.
Sofrito is similar to mirepoix in that it mixes onions and veggies, often with tomatoes, and is used as a flavor base for many Latin dishes. Usually loaded with garlic, onions and chili peppers, it adds a bit of spice to each dish.
Traditional sofrito is made in batches and kept in the fridge. Onions, garlic, tomatoes, peppers and herbs are cooked until very soft. The flavor base is spooned into the pan when making soups, stews and sauces. I bought prepared sofrito for this dish because of the ease and traditional flavor.
I used flank steak, the traditional beef used for this Cuban stew. It is a tough piece of meat, but once braised, it is easy to shred and delicious.
Sear flake steak in vegetable oil.
Add onion, bell peppers, garlic, canned tomatoes, tomato paste, sofrito, sugar, cumin, oregano, a bay leaf and salt.
Braise or slow cook about 5 hours. Serve with rice and beans.
Be sure to cook up some yellow rice and beans (my preference is black beans in their sauce, but they offer pinto if you'd like!).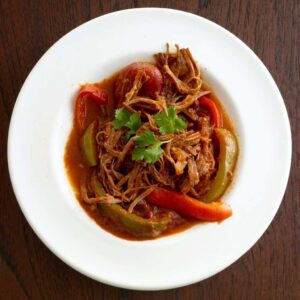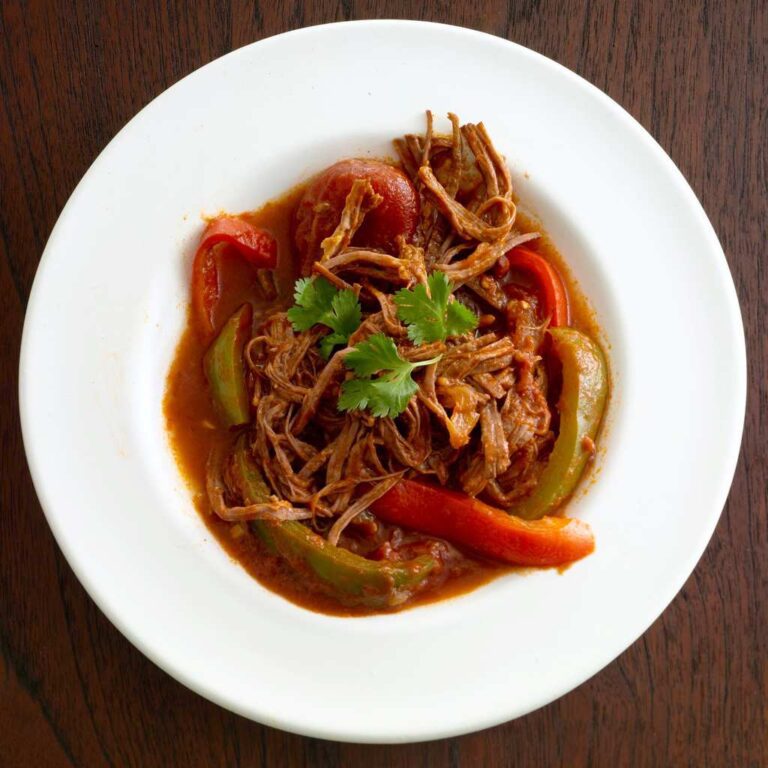 Ropa Vieja (Slow Cooker Cuban Braised Beef)
I simplified a classic Cuban stew by using sofrito, a jarred sauce base; look for it in the Latin section of your supermarket.
Ingredients
1

tablespoon

vegetable oil

1½

lbs

flank steak

trimmed of fat, cut into 2 pieces

1

large yellow onion

sliced ½ inch thick

1

green bell pepper

sliced ½ inch thick

1

red bell pepper

sliced ½ inch thick

2

cloves

garlic

minced

1

can

(28 oz) can whole tomatoes

3

tablespoon

tomato paste

¼

cup

sofrito

1

tablespoon

sugar

1½

teaspoon

ground cumin

1

teaspoon

dried oregano

1

bay leaf

½

teaspoon

kosher salt

Chopped cilantro
Instructions
Heat oil in a large nonstick skillet, Dutch oven or pot over medium-high heat. Add steak and brown well on both sides, about 5 min. Transfer to a 4-quart slow cooker using, with all remaining ingredients except cilantro. Cook until meat is fork-tender, 10 to 12 hr on low or 5 to 6 hr on high for slow cooker or 3 hr at a simmer on the stove.

Remove meat; shred and return to stew. Serve with cilantro and rice and beans if desired.
Notes
Be sure to cook up some yellow rice and beans to serve with this deliciousness.
Nutrition
Calories:
214
kcal
Carbohydrates:
9
g
Protein:
26
g
Fat:
8
g
Saturated Fat:
4
g
Cholesterol:
68
mg
Sodium:
374
mg
Potassium:
614
mg
Fiber:
2
g
Sugar:
6
g
Vitamin A:
861
IU
Vitamin C:
45
mg
Calcium:
42
mg
Iron:
3
mg
More Amazing Slow Cooker Recipes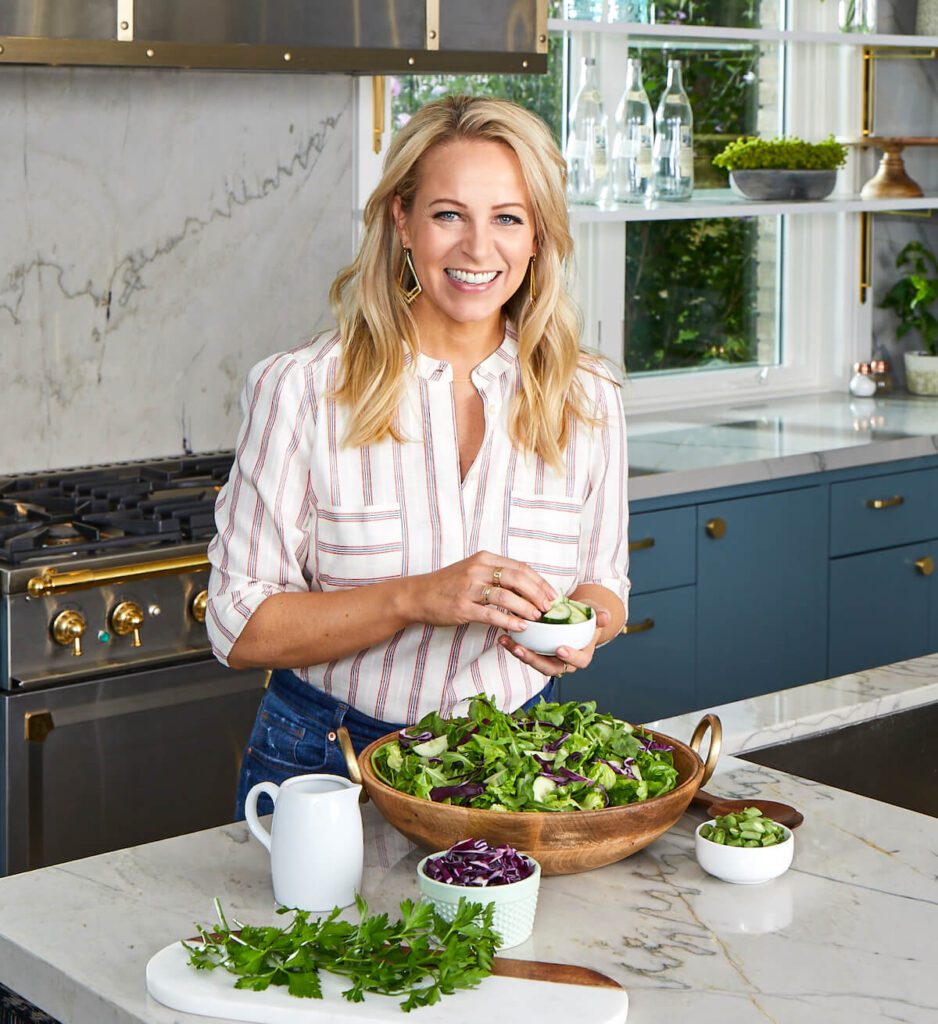 About Tara Teaspoon
I've been in the food publishing business for over 20 years, creating recipes & food-styling for magazines, books, television & advertising. Order my new cookbook & stick around for amazing things to eat.
Recipe by Tara Teaspoon & Susan Vajaranant. Originally published LHJ Ladies' Home Journal 02/10. Photography Lisa Hubbard. Food Styling Simon Andrews. Prop Styling Mary Ellen Weinrib