This is an easy turkey pot pie with gravy, potatoes, carrots, and peas topped off with a buttery crust. It's literally the best way to use Thanksgiving leftovers and happens to be my dad's all-time favorite turkey pot pie. See why!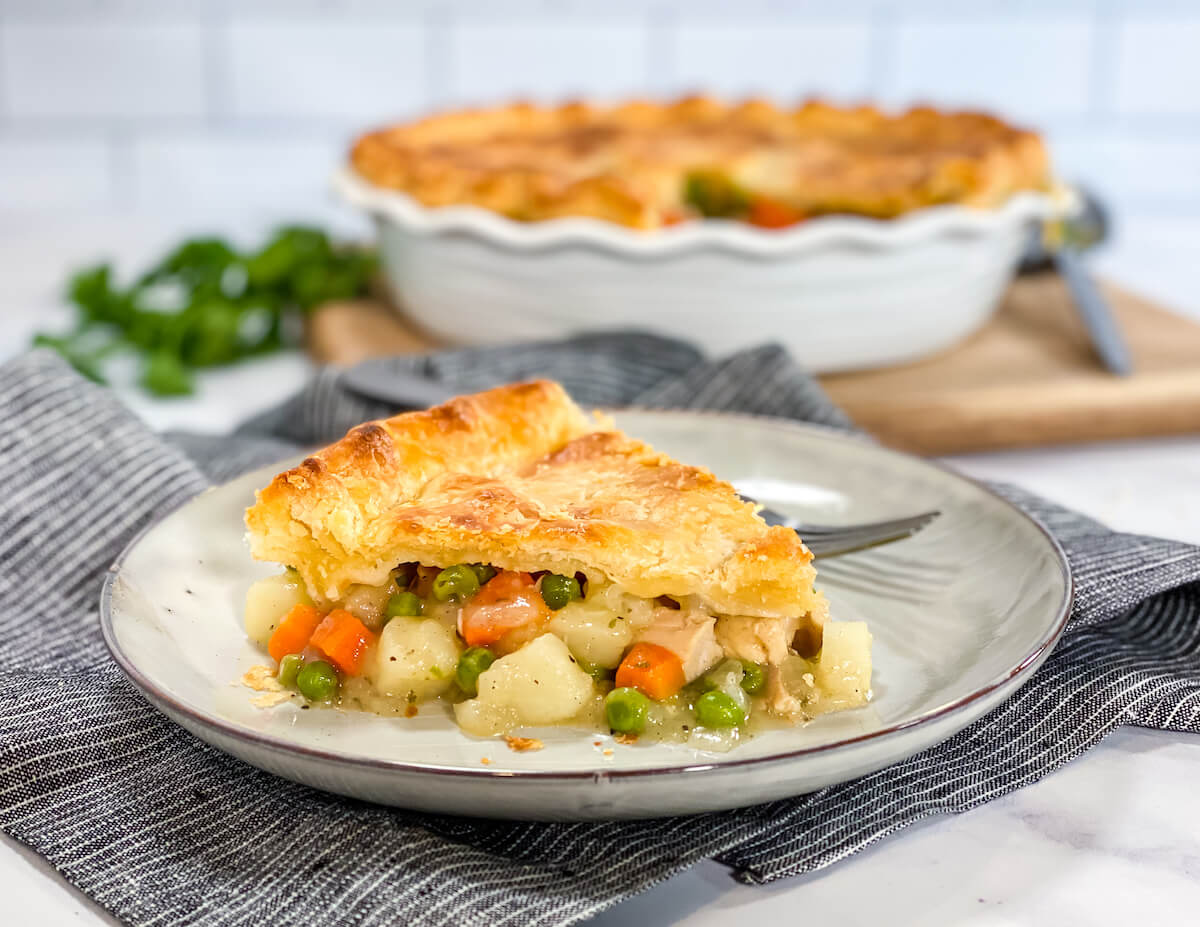 Jump to:
Leftover turkey and gravy pot pie:
Inevitably, you ate way too many sides and have a ton of turkey leftover, right? This pot pie is PERFECT for leftover Thanksgiving turkey!
My speedy Turkey Tetrazzini is another classic comforting dish that uses leftover turkey. It's a creamy, cheesy noodle casserole that you'll love to throw together even if it's not Thanksgiving! (I just get roasted turkey at the deli counter!)
One of my favorite non-traditional ways to use up turkey is Thanksgiving Leftovers Turkey Poutine with Sweet Potato Fries. It's the most glorious poutine you've ever had!
You can make this pot pie anytime of year!
It's true! No need for Thanksgiving leftovers – simply ask your deli counter attendant to cut you a chunk or large piece of roasted turkey. You'll shred or dice it at home!
You'll want to purchase 8 to 9 ounces of roasted turkey to get the 1 ¾ cups you need for this recipe.
Make sure to get fresh roasted turkey, and not the sandwich meat variety. Those are packed with water and seasonings and won't be the same.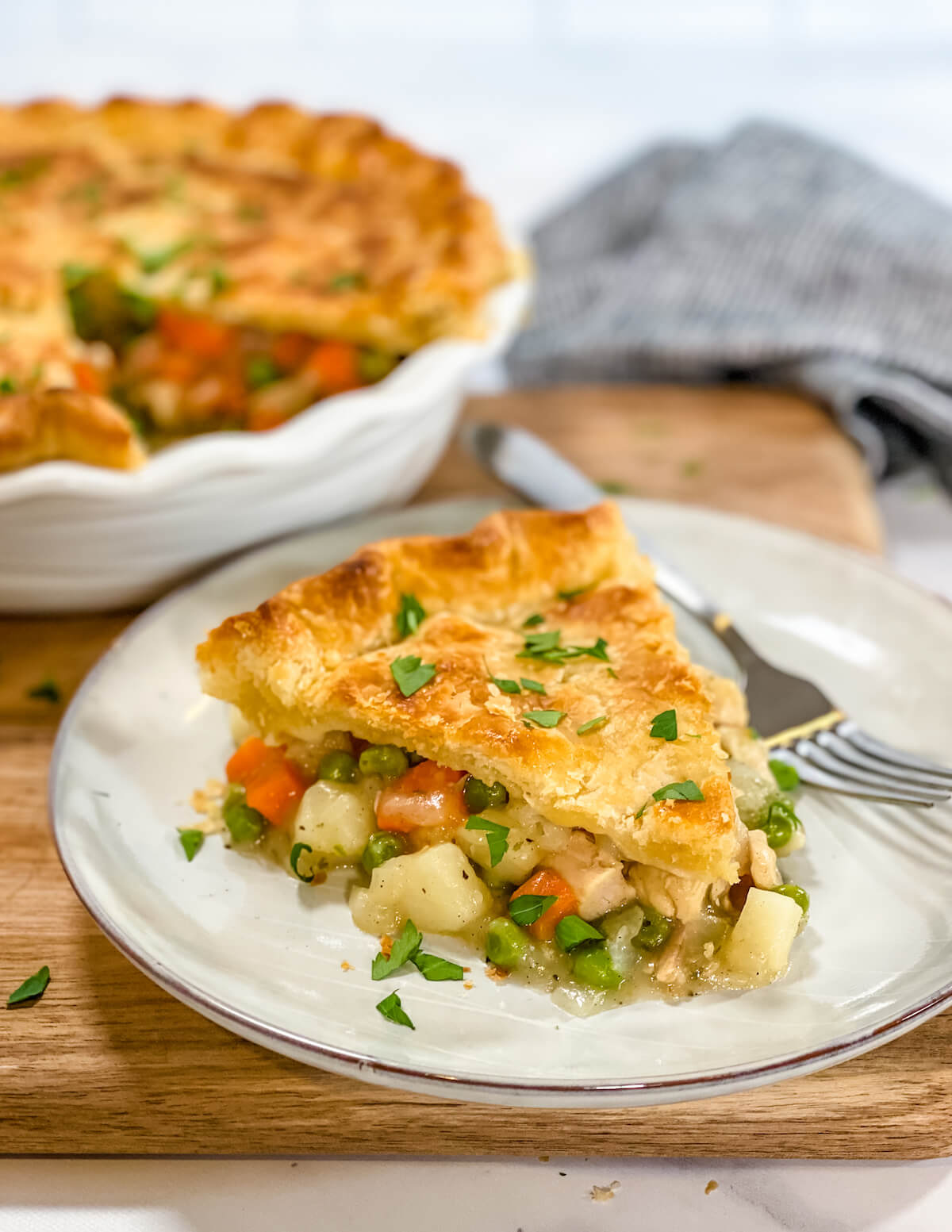 I call this Dad's turkey pot pie!
One of the best things about having turkey in the fridge is dad's leftover turkey pot pie. We call it that at our house, because it's one of his favorite dinners!
This isn't your average pot pie. I didn't want a thick, creamy sauce. Instead, I made a flavorful gravy just like that delicious stuff you ladle onto your mashed potatoes at Thanksgiving.
Do I need leftover gravy or turkey broth? No!
I made my own turkey broth for this dish, but you can easily use chicken broth from a box or a can. Or, if you have about 2 cups leftover gravy from dinner, whisk it until it's smooth and use that instead.
I like to add the herbs and pepper in the recipe below even if I'm using flavorful leftover gravy.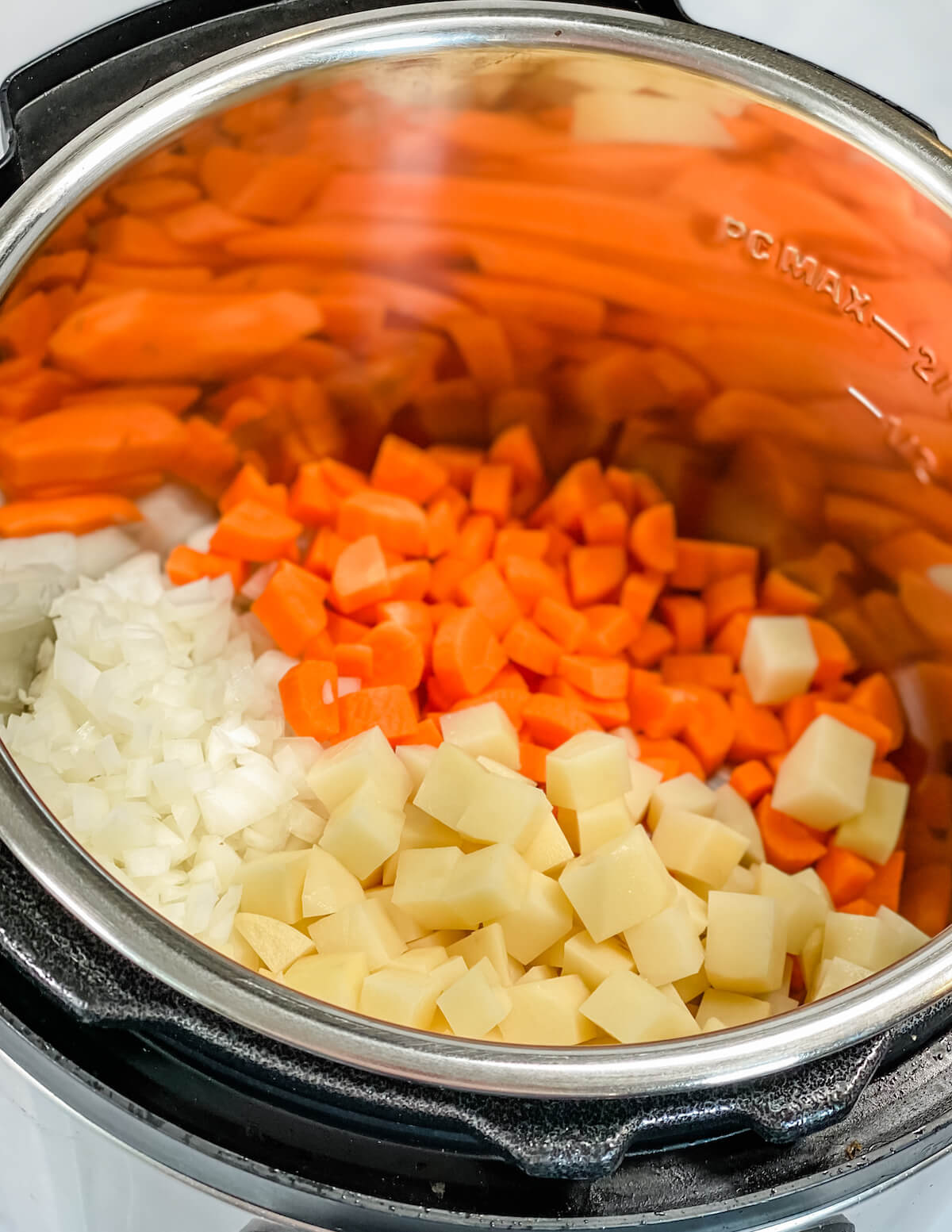 Turkey pot pie with potatoes, carrots, and peas.
Potatoes, carrots, and peas are one of those combinations that taste SO classic in a pot pie.
As a kid, I didn't mind eating peas and carrots if they were baked into a delicious, savory pie! Maybe you can use this trick to get your kids to eat vegetables too?
Try other vegetables too:
To make the recipe even more simple, swap the peas and carrots for 1 ¾ cups frozen mixed vegetables.
You can even use lima beans or cut up green beans in place of the peas if you're not a fan. I get it, I know a lot of picky eaters!
You could also try parsnips instead of carrots if you have them leftover, or use some sweet potatoes with the regular potatoes for a touch of sweetness.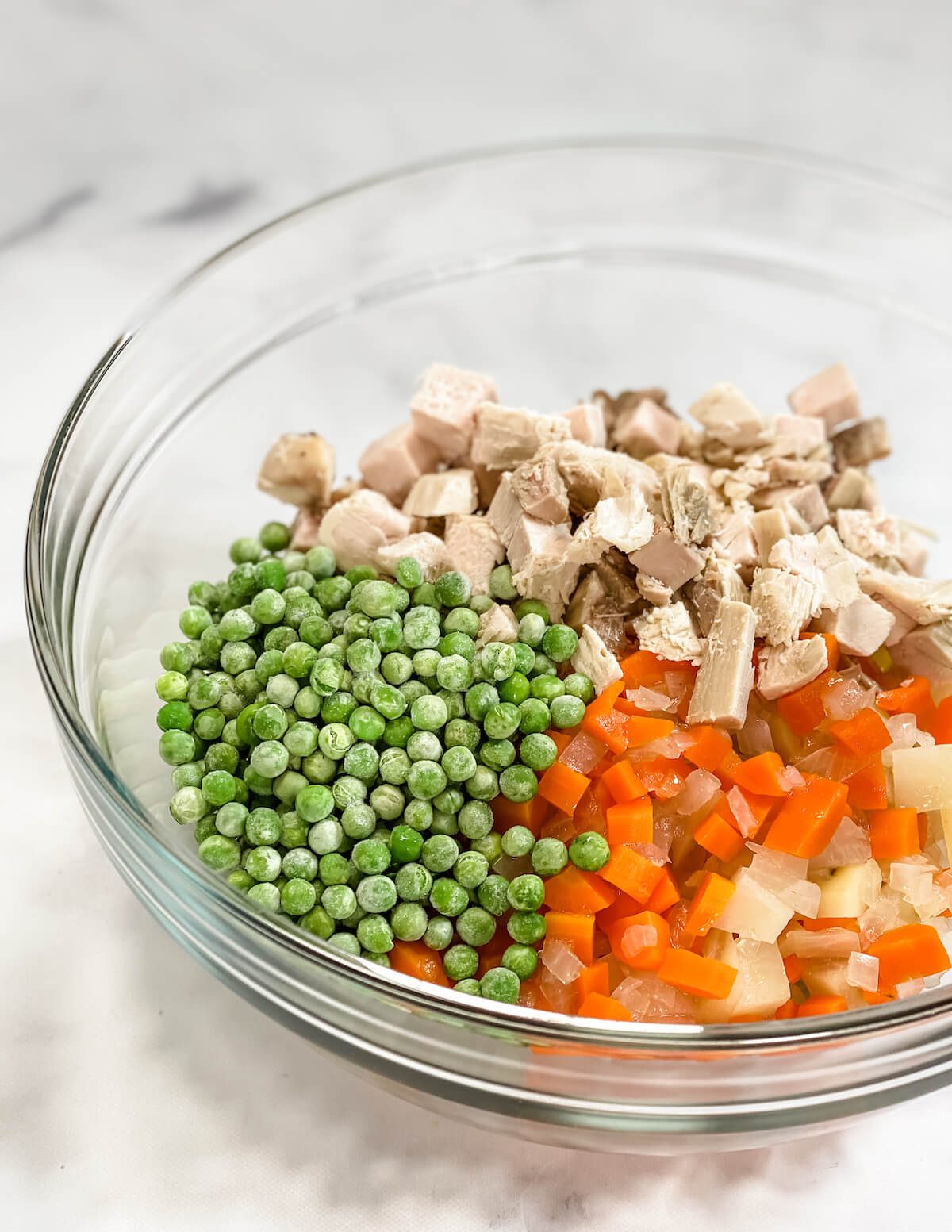 Easy prep and equipment:
To speed up the cooking process and to ensure that everything is cooked just right, I precook the veggies in my Instant Pot. Then I pour everything into a deep-dish 9-inch pie dish. You can use any oven-safe baking dish that will hold 5 ½ cups filling with a little room for bubbling.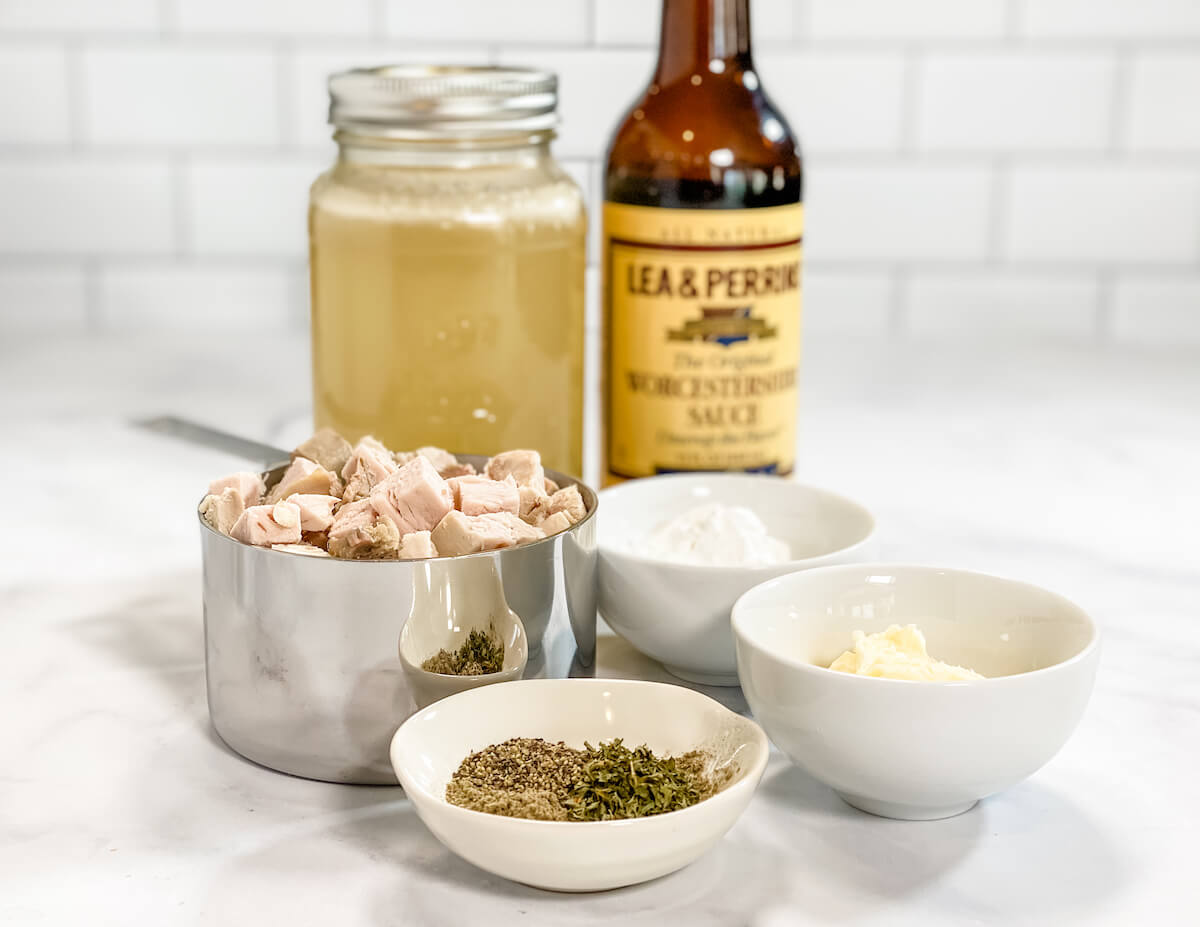 ---
Flavor the gravy with herbs and umami:
I love adding herbs like sage or thyme. I love sage, but thyme is very traditional in pot pies. You can use your favorite!
Add a little bit of Worcestershire sauce and extra bouillon because it adds a little bit of umami flavor that you might have gotten from turkey drippings. You want a super flavorful gravy because the potatoes and the turkey are simple in flavor.
Turkey pot pie crust
My perfect pie crust recipe is not hard at all!! It will only take you a few minutes to whip up the most delicious homemade, buttery crust. And you'll feel so accomplished for making it from scratch.
Don't you dare skip out on me and buy a store-bought pie crust! They just never bake perfectly and taste like chemicals!
I have a blog post where I go through all the tips on crust! If it's your first time making a pie crust from scratch, definitely check out my Perfect Butter and Shortening Pie Crust Recipe. I go through all the common mishaps for first-time pie makers so you can feel confident and prepared to make a tender and flaky pie crust.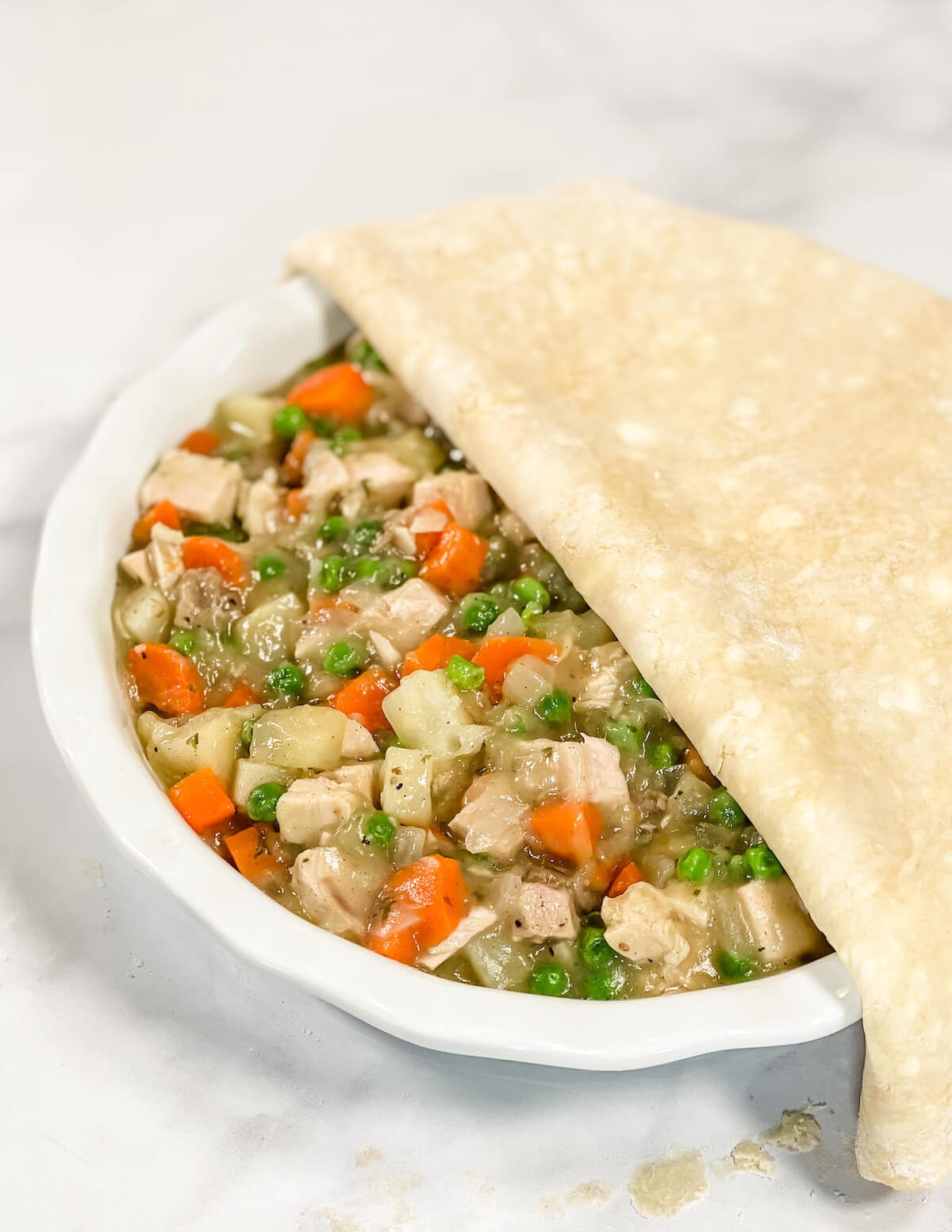 Can I use gluten-free pie crust?
You could also make this pot pie gluten-free for your gluten-sensitive friends and family members. All you have to do is make or buy a high-quality gluten-free crust, and use GF All-Purpose flour in the filling (I like Cup 4 Cup gluten-free flour)
I have had mixed success with gluten-free pie crust when I've made it from scratch, but there are quite a few options for mixes or pre-made at health food stores.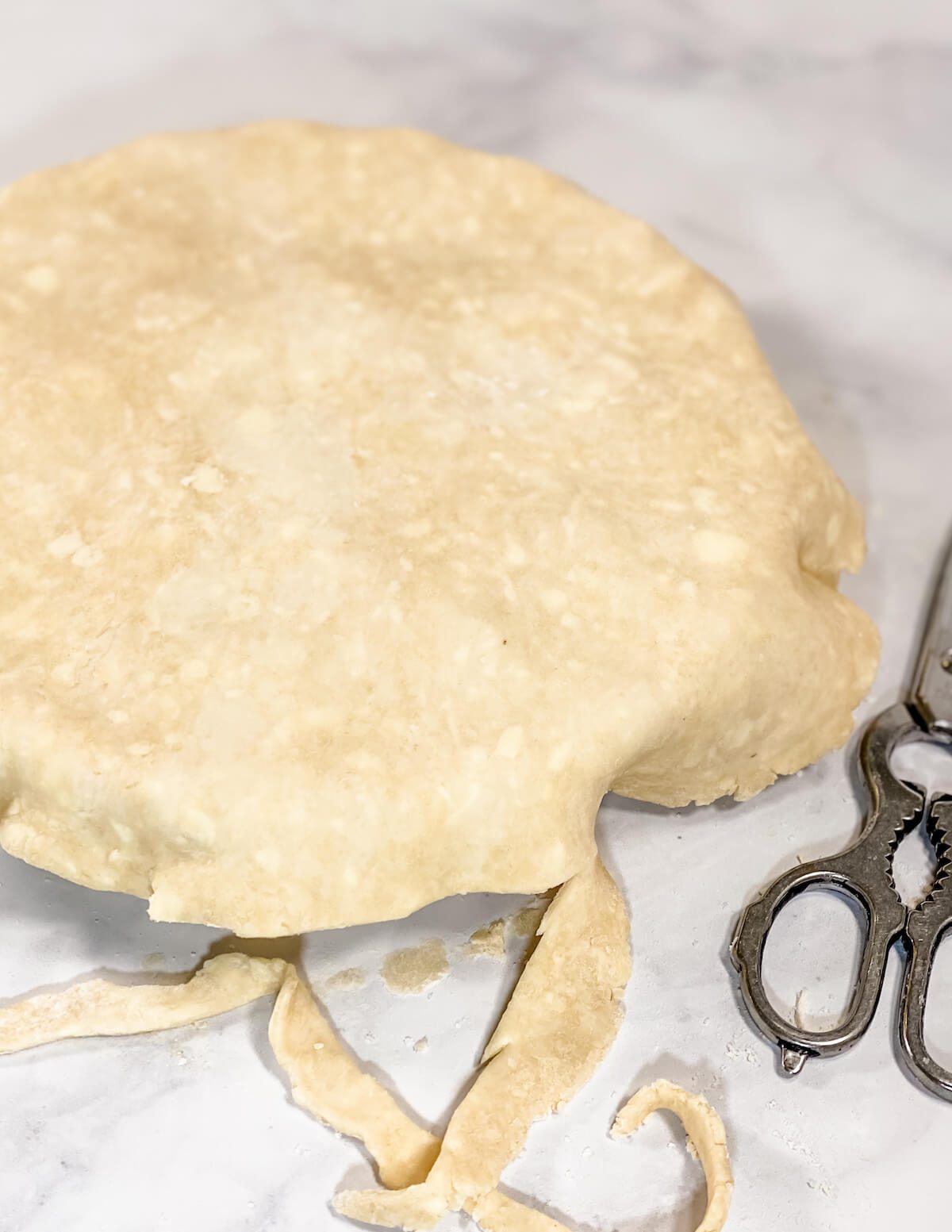 The dish
If you're baking this pie in a square baking dish, simply roll the crust more square than circular.
I like this 9-by-9-inch square dish or a deep dish pie dish for a pot pie. It should have a capacity of 2 ½ to 3 quarts.
I like to trim the crust with about an inch overhang on the dish or pie plate. Then fold that excess under so you have a nice edge to crimp. Use your fingers to make a classic pie crimp along the edges.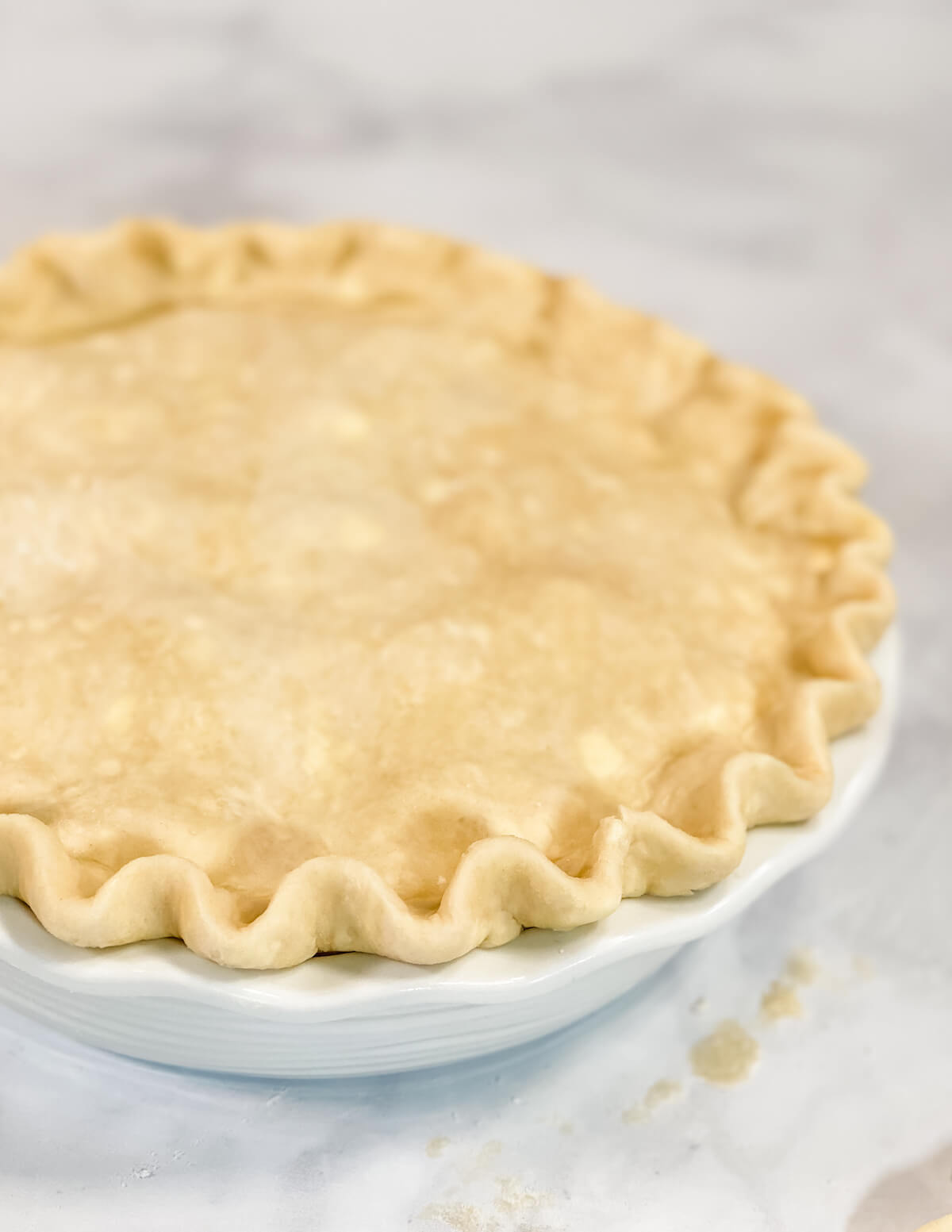 Making turkey pot pie from scratch isn't that terrifying, is it? I believe in you. And once you master my pie crust you can make any of my other pie recipes.
Try some dessert pie recipes too!
Black Bottom Chocolate Cream Pie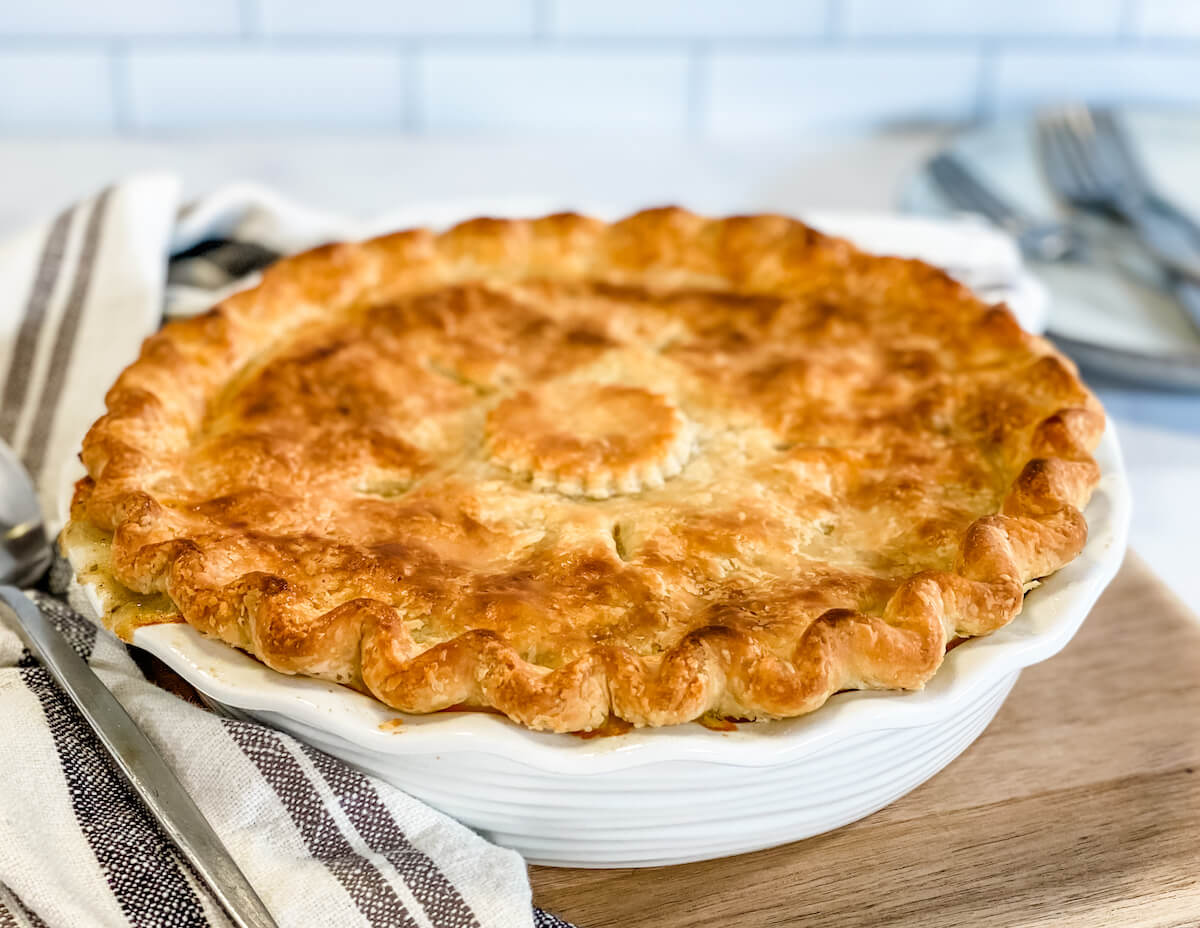 Turkey pot pie calories and serving suggestions:
This savory pie will serve 6 to 8 people. For six servings each serving will be approximately 360 calories.
Serve the pie with a side salad or fresh fruit if desired. It's really a full meal in and of itself! No side dishes necessary.
My family loves a little drizzle of ketchup on top too!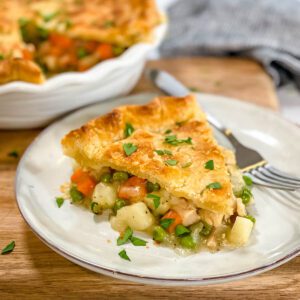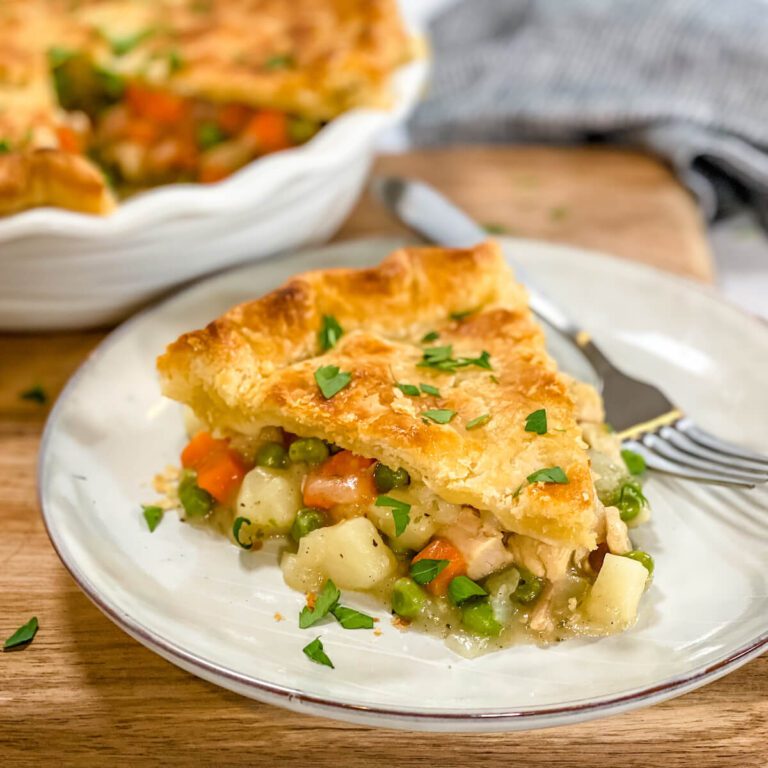 Turkey Pot Pie with Gravy
This is an easy turkey pot pie with gravy, potatoes, carrots, and peas topped off with a buttery crust.
Ingredients
1½

cups

peeled, diced potatoes (diced ¼ to ½ inch)

1¼

cups

cups diced onion (1 medium onion)

1

cup

diced carrot

1

teaspoon

kosher salt

DIVIDED

3

tablespoons

unsalted butter

2

tablespoons

all-purpose flour

2

tablespoons

cornstarch

1¾

cups

turkey or chicken broth

1

teaspoon

Worcestershire sauce

½

teaspoon

Better than Bouillon

Chicken or Turkey flavor

¼

teaspoon

dried thyme or sage

½

teaspoon

dried parsley

¼

teaspoon

ground black pepper

1¾

cups

diced or shredded cooked turkey

¾

cup

frozen peas
Instructions
Make sure to have your pie crust made, and chilling.

Combine the potatoes, onion, carrot, and ½ teaspoon salt in an Instant Pot or pressure cooker. Add 3 tablespoons water. Cook on high pressure for 2 minutes and manually release the pressure when time is up. Alternatively steam or microwave the vegetables, covered, until just tender but not overly soft. They will continue to cook in the pie.

Heat oven to 400ºF. In a saucepan over medium heat melt the butter. Add the flour and cornstarch and whisk until combined and smooth. Whisk in the chicken broth, whisking vigorously until smooth and incorporated. Add the Worcestershire, thyme, parsley, black pepper and ½ teaspoon salt. Cook, stirring constantly until mixture is boiling. Boil, stirring, for 1 minute and remove from heat.

In a large mixing bowl (or the insert of the Instant Pot) combine the cooked vegetables, gravy, turkey, and peas. Taste mixture and season with salt to taste.

Transfer filling to a 9-inch deep dish pie plate. You can also use a 9-by-9-inch baking dish or pan (it should be a 2½-to-3-quart capacity).

Roll out pastry crust, to a 12-inch circle, on a lightly floured surface and top the pie. Trim the edges to about an inch overhang and fold under. Crimp crust edges as desired.

Whisk together the egg and 1 tablespoon water. Brush some egg wash over the crust. Make 4 or 5 vent holes in the top crust with a knife.

Bake, on a foil-lined baking sheet to catch the drips, until crust is golden and center is bubbling and hot, 35 to 40 minutes. Cover crust with foil or a pie shield if the crust gets dark brown. Let cool 10 to 15 minutes before serving.
Notes
Pot pie can be frozen, uncooked. Prepare up until baking and wrap in plastic wrap, then aluminum foil. Freeze for up to 3 months. To cook from frozen, do not thaw. Bake as directed in the recipe, increasing time to 50 to 60 minutes baking time. • You can make a gluten-free turkey pot pie by using gluten-free all-purpose flour and a gluten-free pastry crust. • Make a chicken pot pie by swapping the turkey for cooked chicken and using chicken broth. • Make a beef pot pie by swapping the turkey for cooked, diced roast beef. Use thyme, not sage, and beef broth and bouillon rather than the poultry flavors.
Nutrition
Calories:
358
kcal
Carbohydrates:
37
g
Protein:
11
g
Fat:
19
g
Saturated Fat:
7
g
Trans Fat:
1
g
Cholesterol:
36
mg
Sodium:
873
mg
Potassium:
486
mg
Fiber:
3
g
Sugar:
4
g
Vitamin A:
3899
IU
Vitamin C:
18
mg
Calcium:
44
mg
Iron:
2
mg
My new delicious and easy chicken recipes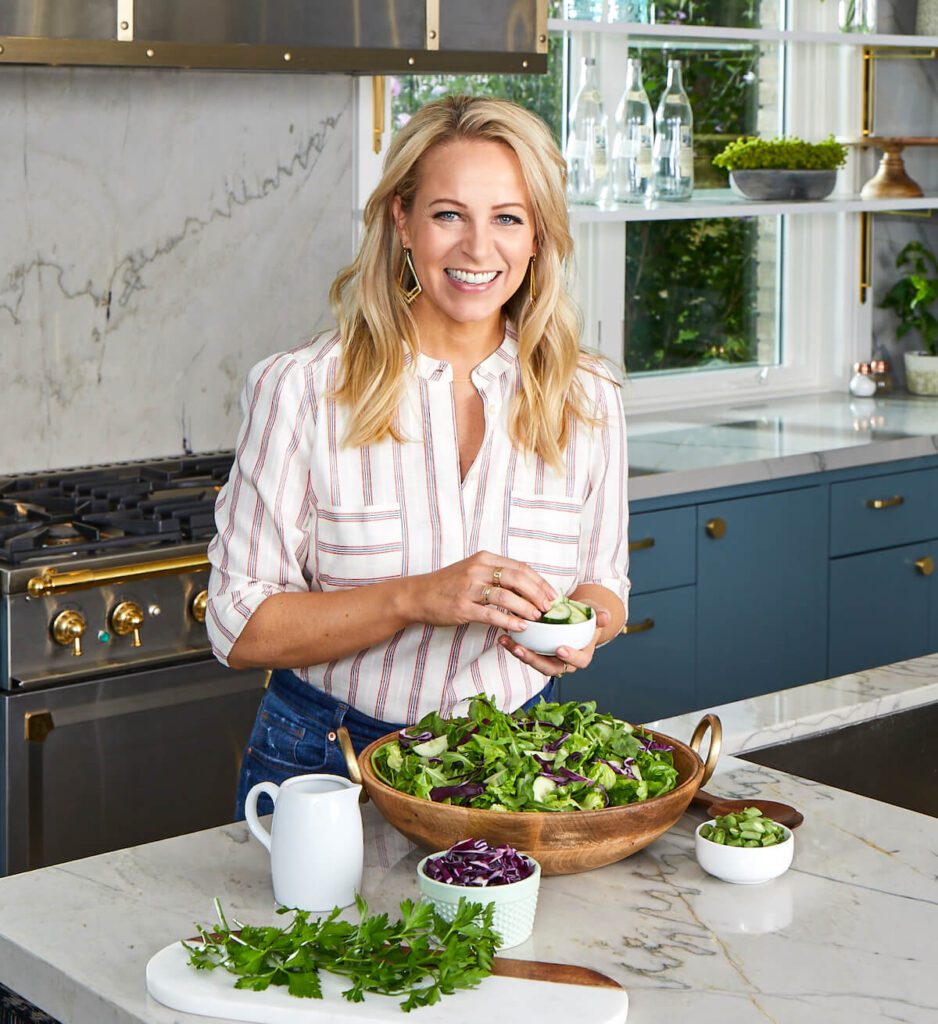 About Tara Teaspoon
I've been in the food publishing business for over 20 years, creating recipes & food-styling for magazines, books, television & advertising. Order my new cookbook & stick around for amazing things to eat.