You'll love adding stuffing and turkey to this Thanksgiving leftovers poutine recipe. Sweet potato poutine is a creative way to use Thanksgiving leftovers and store-bought fries.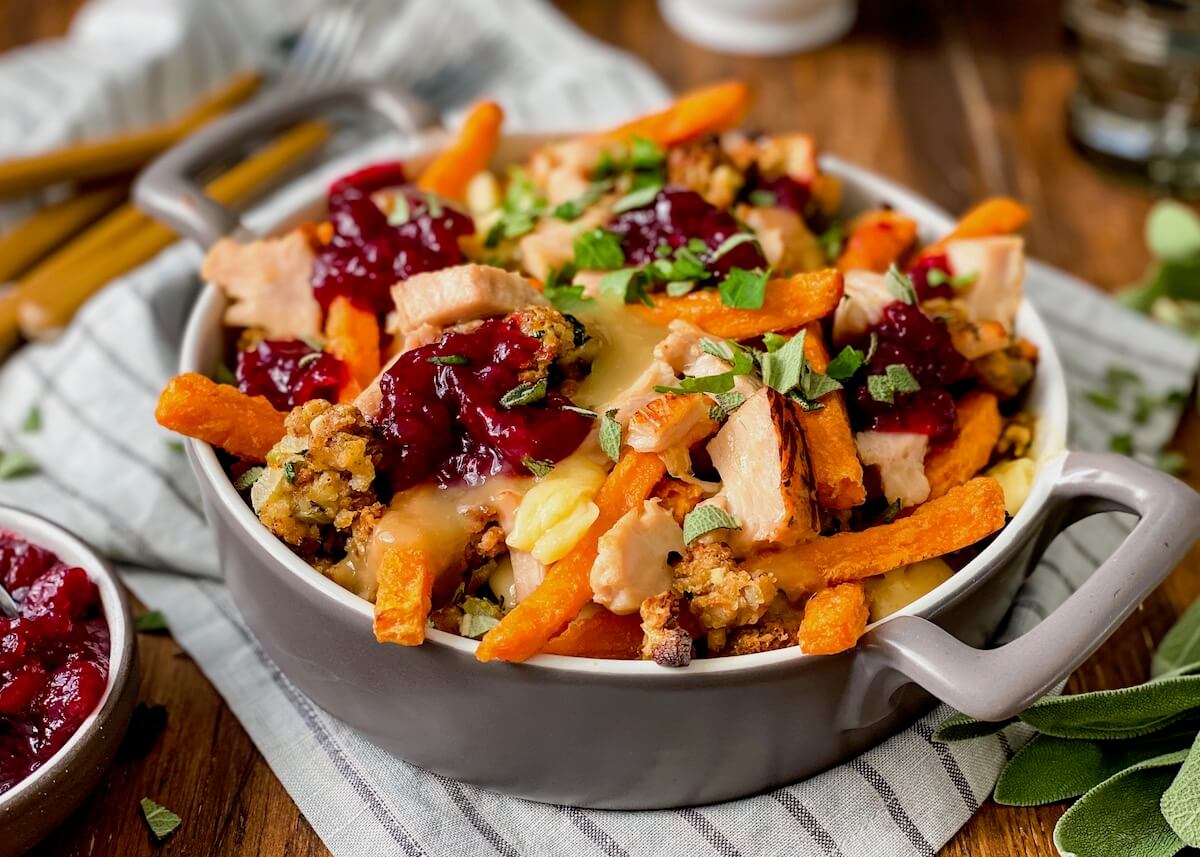 Jump to:
This is it!! This is your new favorite Thanksgiving leftovers recipe. It is absolutely to-die-for!
You may have just enjoyed Thanksgiving dinner, a lovely Christmas dinner, or just a tasty turkey dinner with all the yummy sides. So I'm going to show you the most delicious leftover Thanksgiving turkey recipes out there!
Before you dig in, you may want to check out the recipes that made this dinner happen!
Thanksgiving Leftovers Sweet Potato Poutine
I just LOVE eating Thanksgiving leftovers. Just maybe as much as the dinner itself. If you are always wondering what to make with Thanksgiving leftovers, meaning all of them, have I got the recipe for you.
I make poutine because it turns into dinner in a bowl, and who can turn down fries and gravy. Not me!
Instead of using regular fries, I make sweet potato poutine and top it with the standard cheese curds and gravy.
My new take on this dish is to add turkey, stuffing - yes stuffing - and cranberry sauce. Whooo eeeee! So delicious.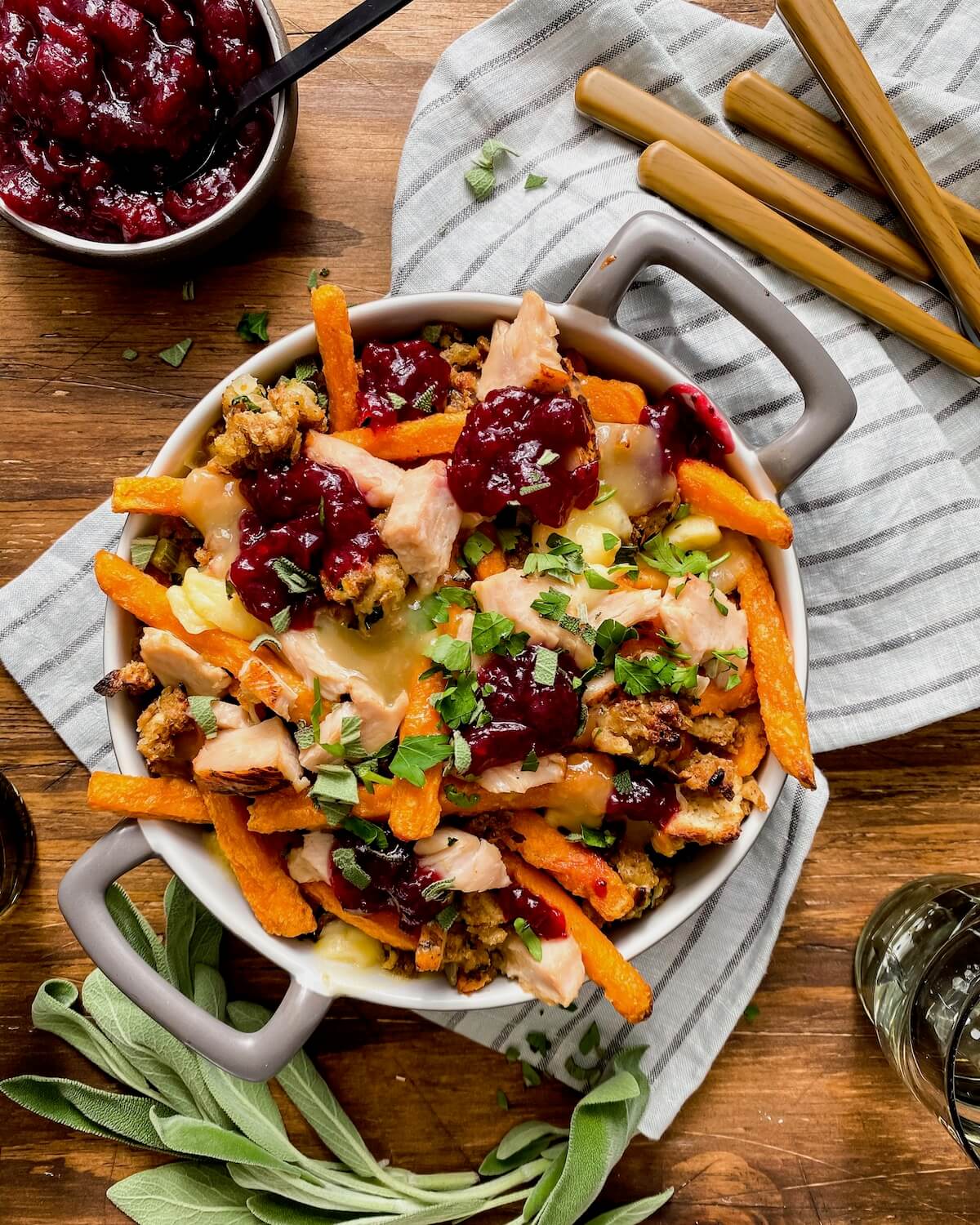 Newfie poutine made into American poutine
What in the world is Newfie poutine?
You wouldn't know what Newfie poutine was unless you have lived in Canada, and more specifically Newfoundland, Canada.
A Newfoundland classic: Newfie poutine is really called Newfie Fries or Newfoundland Fries, and there is a great take on the recipe on Food Network Canada. The main description is fries, or stuffing, covered with gravy. Yes, please!
Some recipes for this poutine call for adding chicken and peas. This pretty much it tastes like Thanksgiving dinner in a bowl.
I'm fine riffing on this riff of classic Canadian poutine (fries, gravy, and cheese curds) and making American poutine. Adding all my favorite American Thanksgiving tastes to a smothered fries dinner.
I love a good origin story, and Wikipedia gives us poutine history!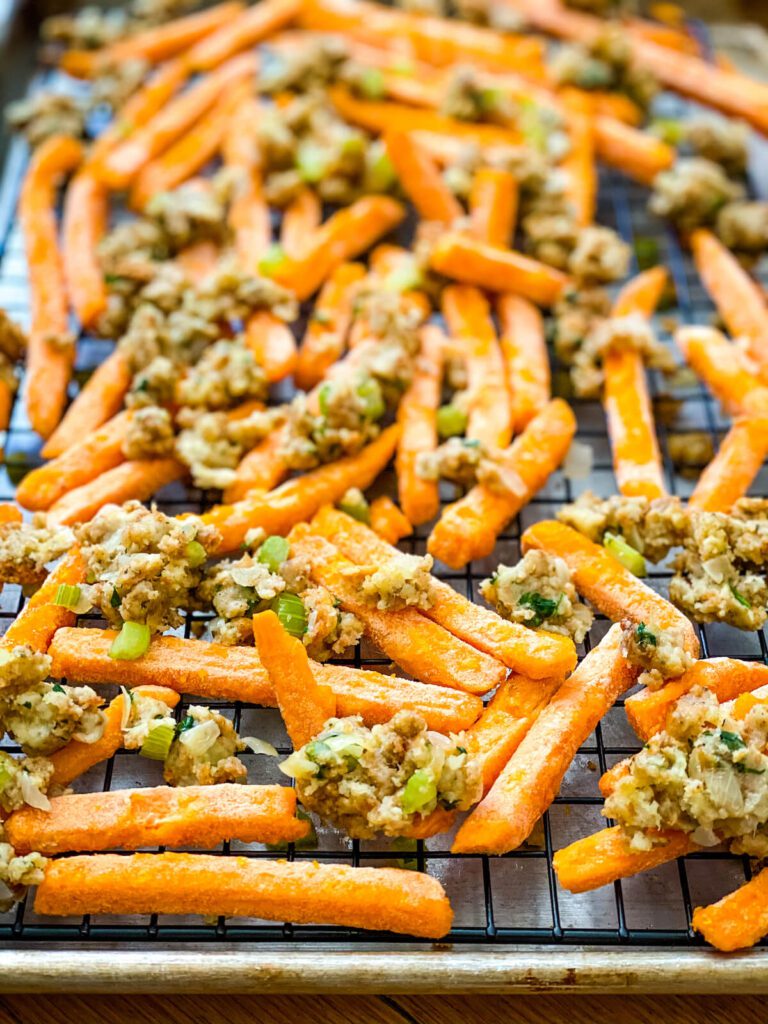 Creative ways to use your Thanksgiving leftovers
There are turkey sandwiches, and one of my favorites: Turkey Tetrazzini. There are turkey pot pies and turkey soup too! The list goes on. Thanksgiving leftovers are usually pretty abundant. That is, unless you just served 100 people!
You could make quesadillas filled with melty cheese, cranberry sauce, turkey, and veggies. Dip it in salsa and enjoy!
Try other baked casseroles, curries over rice, and more. The list goes on with creative ways to use Thanksgiving leftovers. I think sweet potato fries poutine is one of the best!
Sweet potato poutine adds the sweet flavor or one of my favorite things: sweet potato fries, and savory goodness like gravy and stuffing.
Can other potatoes or fries be used?
Yes! I love sweet potato poutine, and love that you can switch things up and use regular French fries for this recipe. Any kind of potato fries or diced potatoes works well with the gravy and turkey leftovers.
Try frozen classic French fries.
Use cottage fries (Diced baked potato or diced hash browns)
Try home fries, or thick-cut French fries.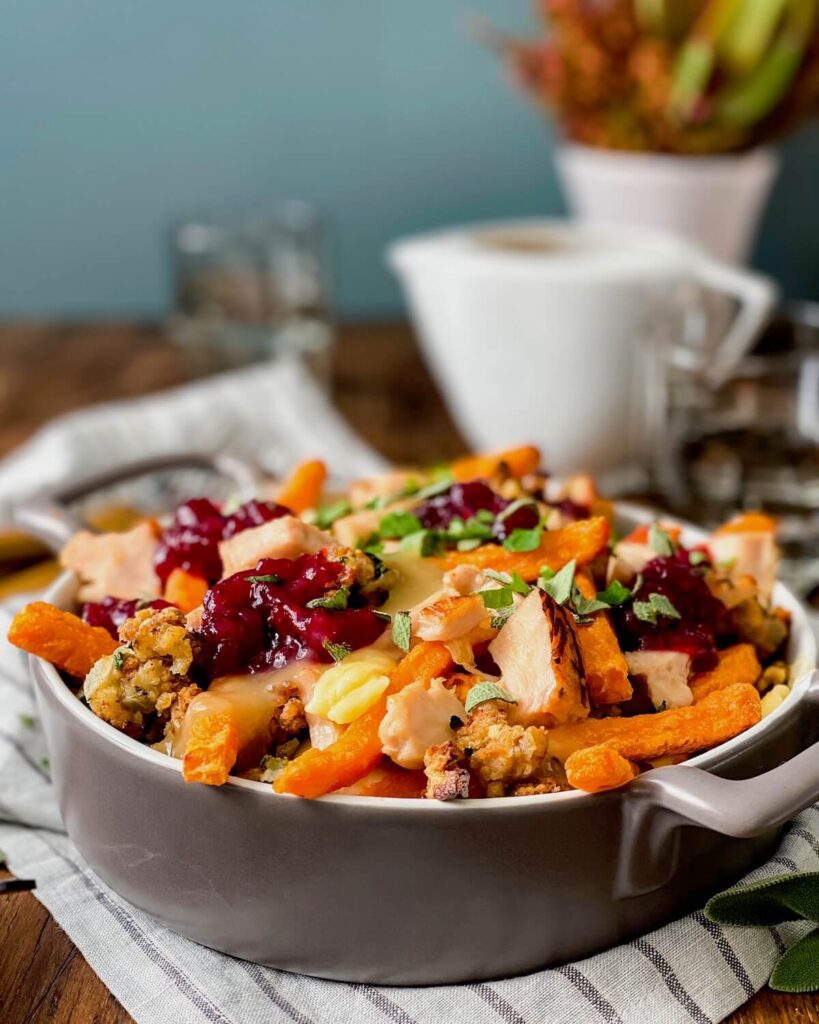 Poutine FAQs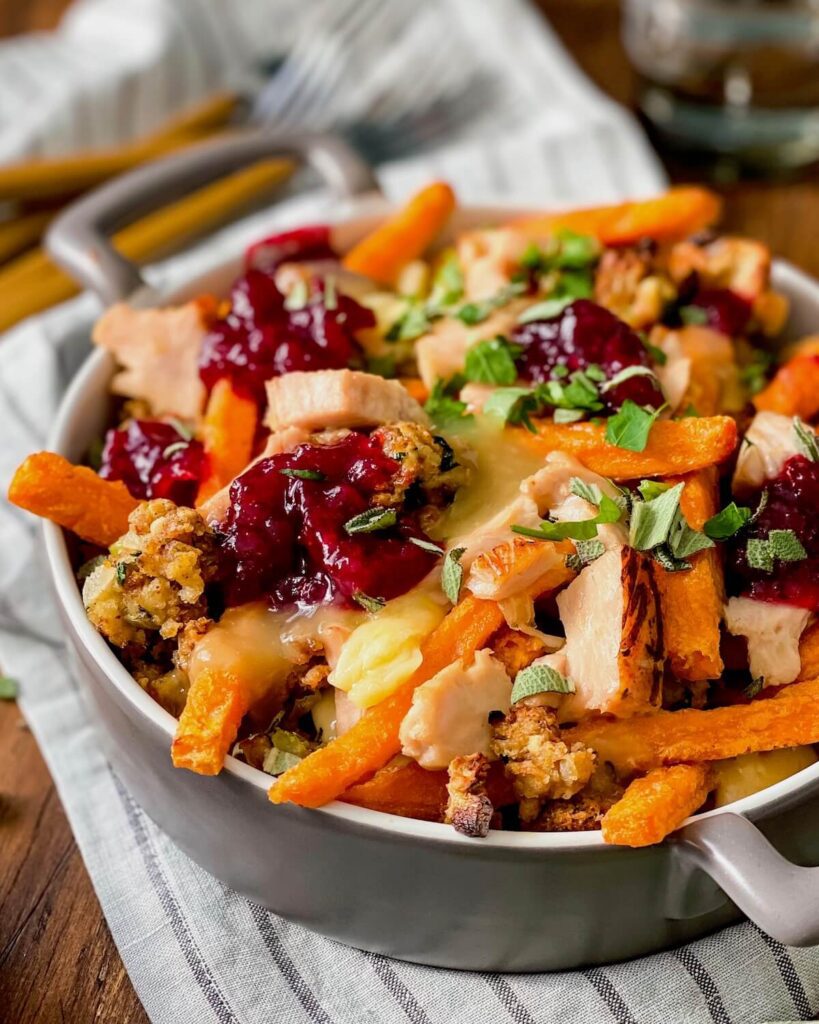 You can use an air fryer:
An air fryer is perfect for making this Thanksgiving leftovers recipe.
Cook the fries and stuffing on the rack of your air fryer instead of in the oven. Adjust cooking time depending on your air fryer, and use the same method. Cook the fries for almost the entire time they need, and then add the stuffing for the last few minutes.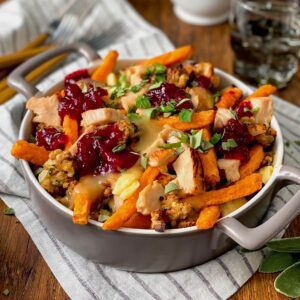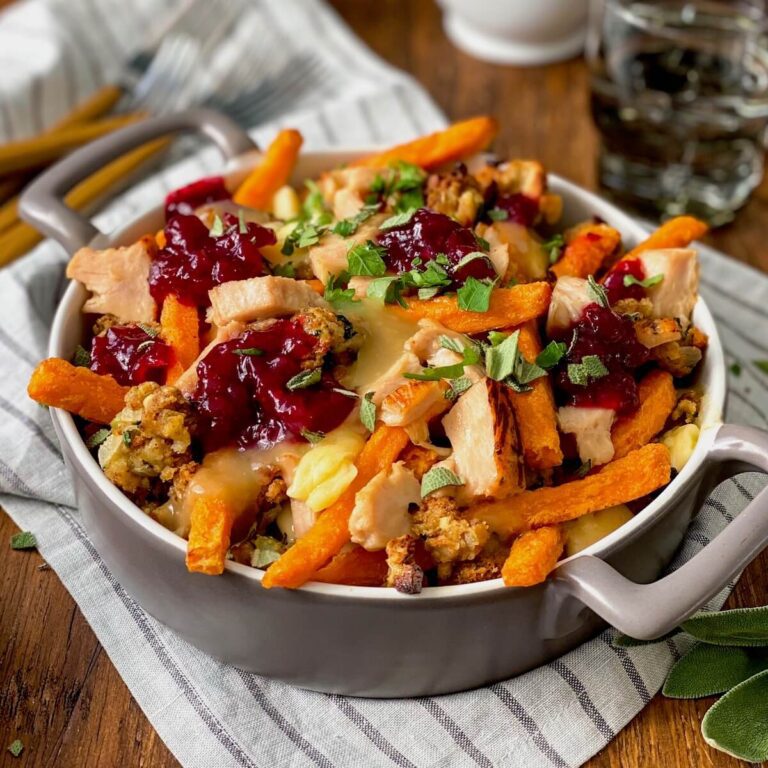 Thanksgiving Leftovers Poutine with Sweet Potato Fries
Sweet potato poutine is a creative way to use Thanksgiving leftovers and store-bought fries. I even add stuffing to make this poutine recipe more delicious.
Ingredients
1

15 oz

bag frozen sweet potato fries

1½

cups

prepared bread stuffing

(use leftovers or make it from a mix)

2

cups

turkey gravy

1½

cups

(8 oz) diced or shredded cooked turkey

1

cup

(4 oz) cheese curds

1

cup

cranberry sauce or cranberry jelly

Chopped fresh herbs such as parsley or sage
Instructions
Heat the turkey gravy in a saucepan. Add the diced turkey to heat through and keep warm while the fries cook.

Spread sweet potato fries on a metal cooling rack set over a baking sheet. Bake until heated through and just starting to crisp, about 12 minutes.

Remove fries from the oven and add bits of bread stuffing to the rack along with the fries. Return to the oven and bake until hot and crisped, 5 to 7 minutes more.

Immediately layer fries, stuffing, and cheese curds in a serving dish or on plates, allowing the cheese curds to melt with the hot fries.

Strain turkey from gravy using a slotted spoon and add to the poutine. Serve with extra gravy drizzled on top, cranberry sauce, and herbs.
Notes
Use an air fryer:
Make this recipe by cooking the fries and stuffing in an airfryer. The setting should be at 400ºF to 425ºF.
Variations:
Swap sweet potato fries for regular fries or home fries.
Use shredded cheddar cheese or diced fresh mozzarella in place of the cheese curds.
Nutrition
Calories:
452
kcal
Carbohydrates:
50
g
Protein:
20
g
Fat:
20
g
Saturated Fat:
8
g
Cholesterol:
57
mg
Sodium:
1145
mg
Potassium:
157
mg
Fiber:
3
g
Sugar:
30
g
Vitamin A:
285
IU
Vitamin C:
1
mg
Calcium:
233
mg
Iron:
1
mg
Main Dish Recipes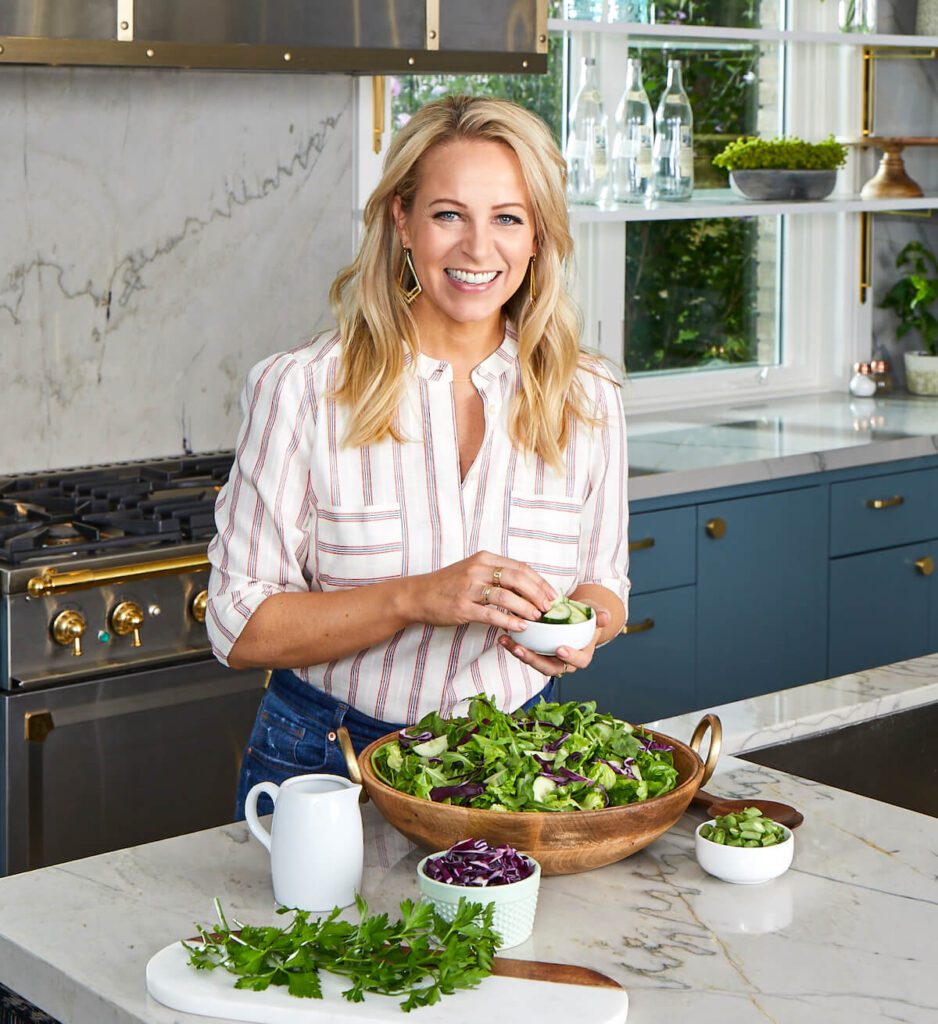 About Tara Teaspoon
I've been in the food publishing business for over 20 years, creating recipes & food-styling for magazines, books, television & advertising. Order my new cookbook & stick around for amazing things to eat.