Crunchy Chicken Noodle Salad with juicy oranges, radishes and snow peas makes eating salad your new favorite thing!
By adding some crunchy ramen noodles to this Asian-inspired salad, you get a more filling, fun meal. There are a few recipes for ramen noodle salads out there, using different dressings and flavors. I love fresh veggies and cabbage with sesame dressings. That Asian flavor isn't overpowering like an Italian vinaigrette, and I usually have the ingredients for it in my pantry. I used my Ginger Sesame Dressing on this version.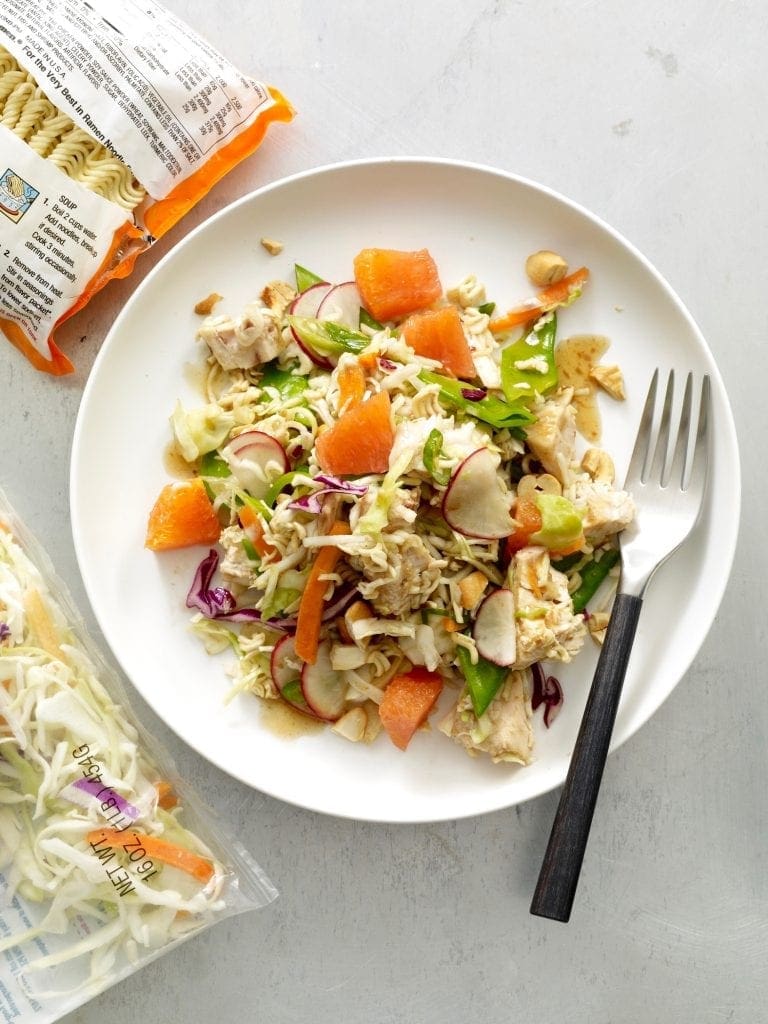 I saved us all about ten steps by calling for coleslaw mix! You're welcome. This Crunchy Chicken Noodle Salad comes together in a flash with pantry staples like ramen and salad mix. I added chopped cashews for extra yum.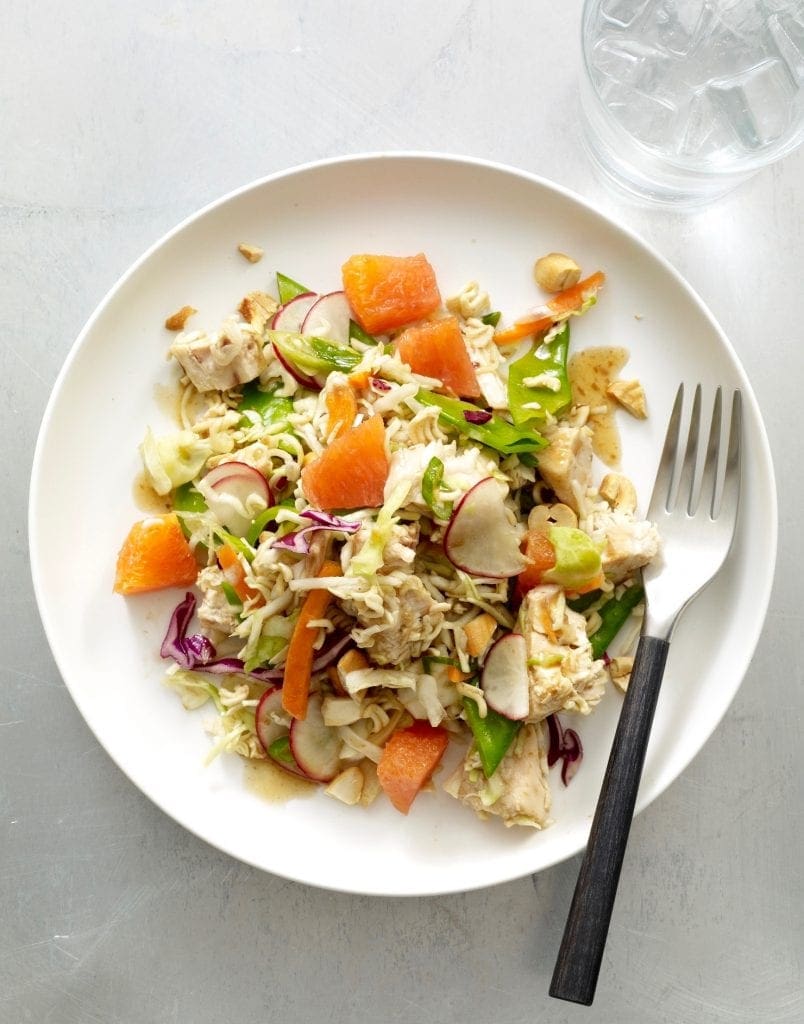 I call for letting the salad rest in the fridge for a bit. This allows the dressing to soften the noodles a little. They are just a little too crunchy without resting. I used a mandolin to slice my radishes so thin. You can just slice with a knife if you like, or even just cut them into slivers.
To cut the orange I supremed it. That means I cut the fruit away from the membrane. Simply cut the rind off of the entire orange and cut on either side of each slice of orange, slipping it right out. I then just cut the slices into bite-sized pieces.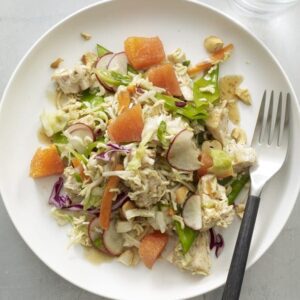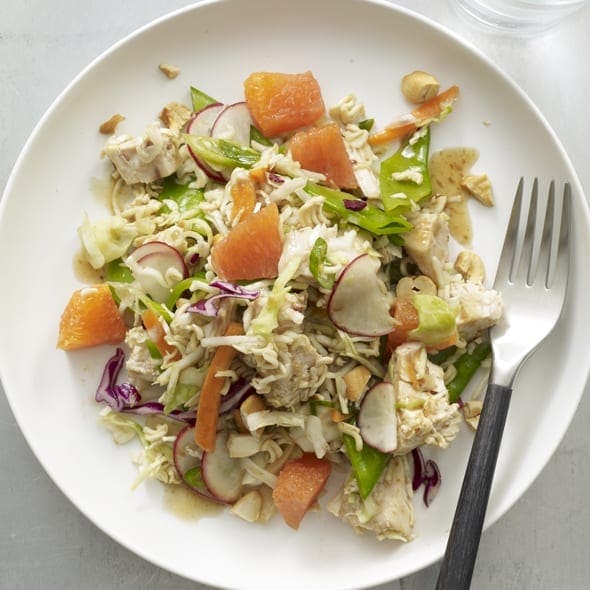 Crunchy Chicken Noodle Salad
You can substitute a can of mandarin oranges for the orange and try any kind of nut in place of cashews.
Ingredients
1

pkg ramen noodles

discard flavor packet

1½

cups

diced cooked chicken

6

radishes

thinly sliced

1

orange

peeled and diced

1

scallion

thinly sliced

5

oz

1 cup snow peas, chopped

½

cup

coarsely chopped unsalted cashews

1 16-

oz

pkg coleslaw mix

¾

cup

sesame ginger dressing Ginger Sesame Dressing
Instructions
Break uncooked ramen into small pieces in a large bowl. Combine with chicken, radishes, orange, scallion, snow peas, cashews and coleslaw.

Toss salad with dressing, cover with plastic wrap and refrigerate 25 min or up to 1 hr. Noodles will get softer the longer they sit.
Nutrition Facts
Crunchy Chicken Noodle Salad
Amount Per Serving
Calories 410
Calories from Fat 158
% Daily Value*
Total Fat 17.5g 27%
* Percent Daily Values are based on a 2000 calorie diet.
Right now I'm on a salad diet! I went on a trip and ate too too much! So…salad for me. But I have lots of great recipes, so if you're in the same boat, or just love fresh dinners for summer, try The New Wedge Salad, with iceberg lettuce, beets, pancetta, hazelnuts and of course blue cheese. Chicken and Rice Lettuce Wraps are kind of a salad you can eat in your hand! I made a flavorful rice salad and you wrap your own portion in soft butter lettuce leaves. Enjoy!
Recipe by Tara Bench
Photography by Antonis Achilleos
Food Styling by Paul Grimes
Prom Styling by Paige Hicks
Originally published in Ladies' Home Journal May 2011