---
This Summer Melon Dessert with Coconut Sauce brings the juicy, sweet flavors of watermelon, cantaloupe and honeydew together with a creamy coconut drizzle.
---
Is there anything better than a refreshing melon on a hot summer day? I don't think so either! This summer melon recipe is perfect if you want to know how to take things to the next level with fresh fruit dessert.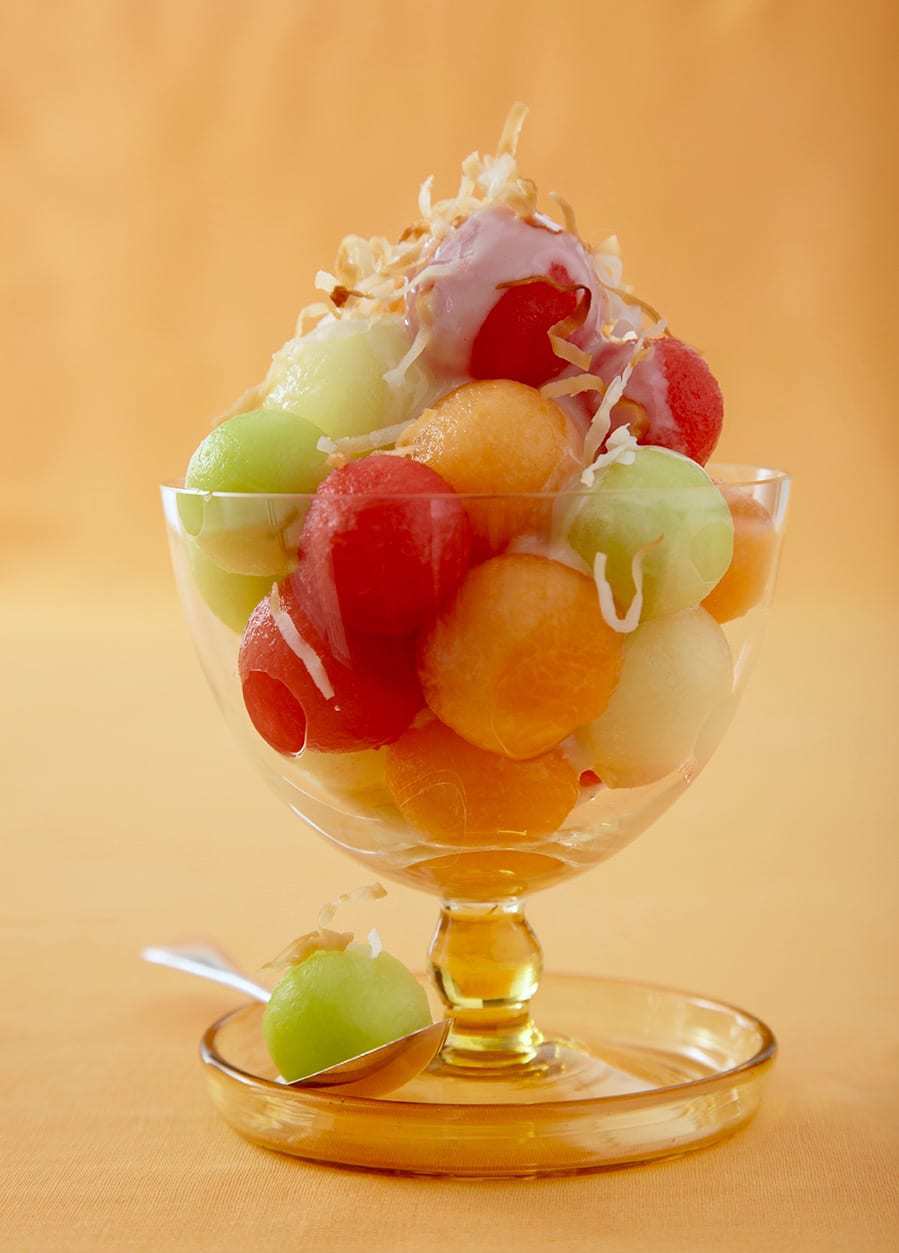 If you want to know what to pair with coconut, you've come to the right place. This summer dessert recipe pairs perfectly with my easy, creamy coconut sauce. Did I mention the coconut sauce can be made ahead of time? You can store it in your refrigerator for up to two days. To get you started, here is my favorite brand of coconut milk.
Try this coconut sauce dessert recipe on ice cream too!
I'll show you how to dress up fresh summer melon! Try this summer melon dessert with coconut sauce.
How to make the perfect melon balls:
Half the fun of this recipe is the presentation. If you've ever tried to create melon balls, you might know that it's hard to make a full ball and sometimes you end up with an odd ½ or ¾ ball shape. To make a perfect crisp ball, start by cutting your melon in half.
I recommend using a metal melon baller as opposed to a plastic one because the balls tend to come out looking cleaner and prettier. Place the melon baller tool down into the melon with the entire half circle scoop. Make sure you press down firmly until the melon fills up the entire scoop. Simply twist a full 360 degrees to get a full round ball.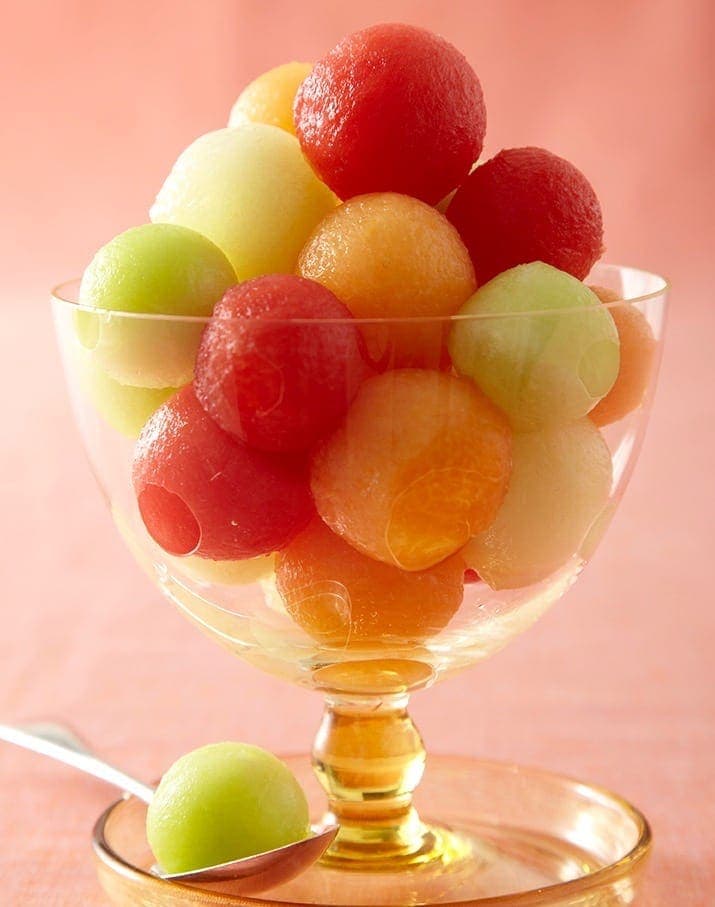 This is the perfect summer dessert recipe. Not only is it sweet, refreshing and unique, but it's low fat! No heavy cream, loads of sugar or cake. Jus a bit of unsweetened coconut milk and sweetened condensed milk in the coconut sauce recipe.
This is the best dessert recipe that you need to make this summer! Why? Just a few simple ingredients packs in luscious, juicy flavor everyone will love.
For a homemade summer melon dessert, you've got to pick the right melons! When it comes to picking honeydew and watermelon, surprisingly enough shiny rinds are not your friend. Here are some tips.
How to pick the best melons:
A good rule of thumb when choosing melons is the weight. It should feel relatively heavy compared to its size. When picking watermelons specifically, look for one with a big creamy, yellow belly which indicates that the melon is fully ripe. In addition, when it comes to choosing both honeydew and watermelon, shiny rinds are not your friend. You want to find a dull looking melon as it indicates that it's ripe and ready.
When a honeydew is ripe, it will have a pale yellow color and won't be too green! Now for the cantaloupe. Smell the blossom-end of the melon to make sure it smells sweet. In addition, make sure there are no bruises and feel the melon to make sure it's firm all the way around.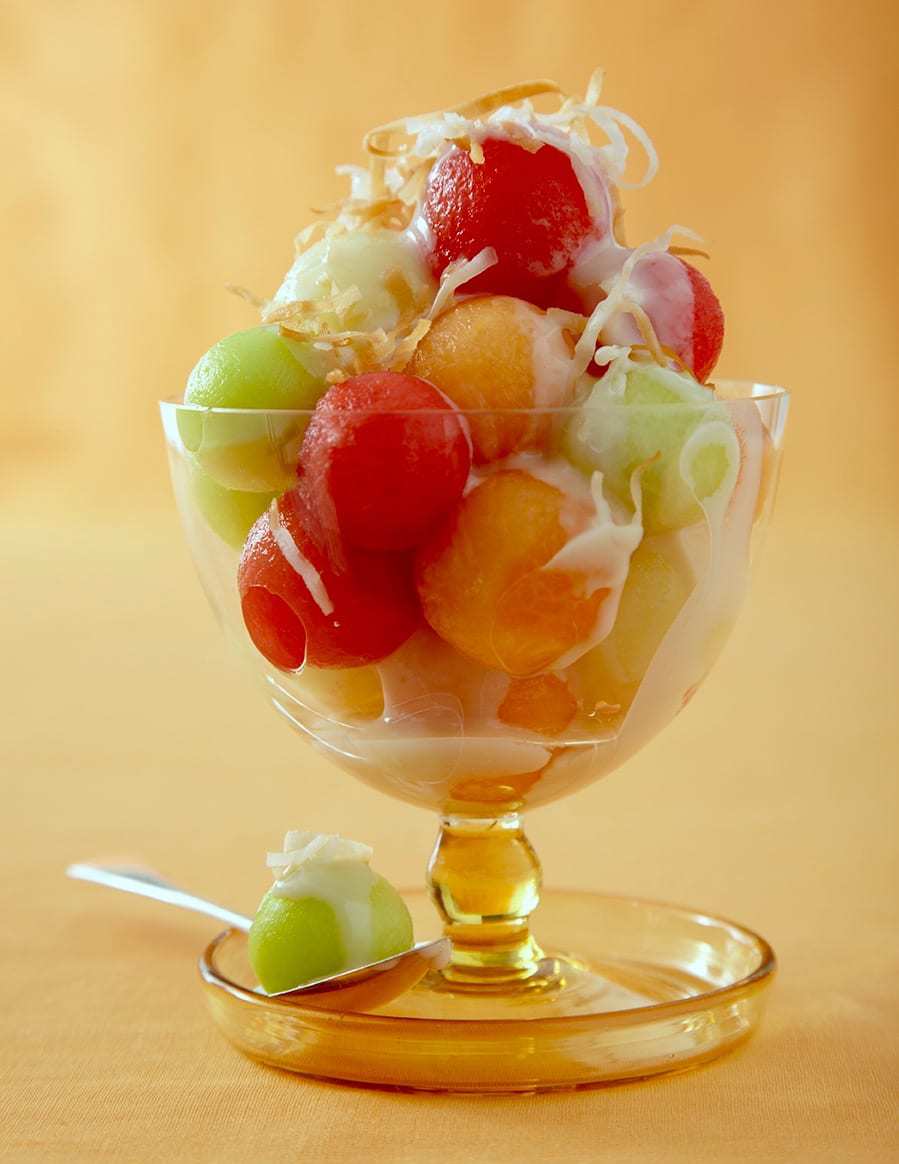 I hope you enjoy one of my favorite melon dessert recipes this summer, complete with a creamy coconut sauce!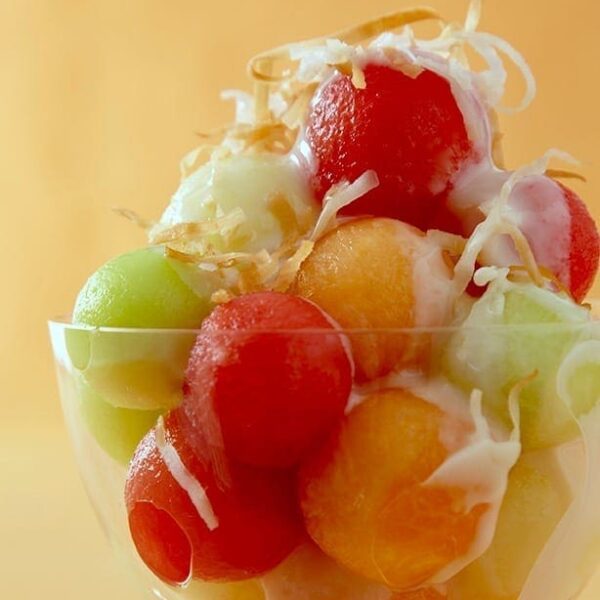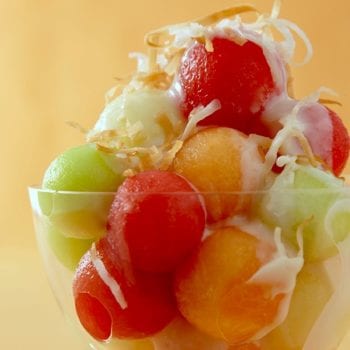 Summer Melon Dessert with Coconut Sauce
This Summer Melon Dessert with Coconut Sauce brings the juicy, sweet flavors of watermelon, cantaloupe and honeydew together with a creamy coconut drizzle.
You can make the coconut sauce up to two days ahead. Just refrigerate until ready to use.
Make melon balls ahead and store in a covered container in the fridge.
Ingredients
⅓

cup

sweetened condensed milk

½

teaspoon

vanilla extract

5 to 6

cups

melon balls from about 8 lbs melon

1

cup

shredded sweetened coconut, lightly toasted
Instructions
In a small saucepan over medium-high heat, combine coconut milk and sweetened condensed milk. Bring to a simmer and cook, whisking often, until thick 15 min. Allow to cool and add vanilla extract. Sauce can be made up to 2 days ahead and chilled.

Divide melon among bowls; serve with sauce and shredded coconut.
Notes
Cantaloupe, charentais, honeydew, crenshaw, and watermelon are all delicious melon options with my sweet coconut cream. Try different varieties.
Nutrition
Calories:
318
kcal
Carbohydrates:
28
g
Protein:
4
g
Fat:
22
g
Saturated Fat:
19
g
Cholesterol:
8
mg
Sodium:
101
mg
Potassium:
329
mg
Fiber:
3
g
Sugar:
23
g
Vitamin A:
70
IU
Vitamin C:
2.3
mg
Calcium:
82
mg
Iron:
1.4
mg
Try some of my other delicious summer party dessert recipe ideas:
No-bake Lemon Icebox Pie
Coconut Key Lime Bars
Pink Lemonade Cake
Mini Ice Cream Pops
Ice Cream Profiteroles
New dessert recipes from Tara Teaspoon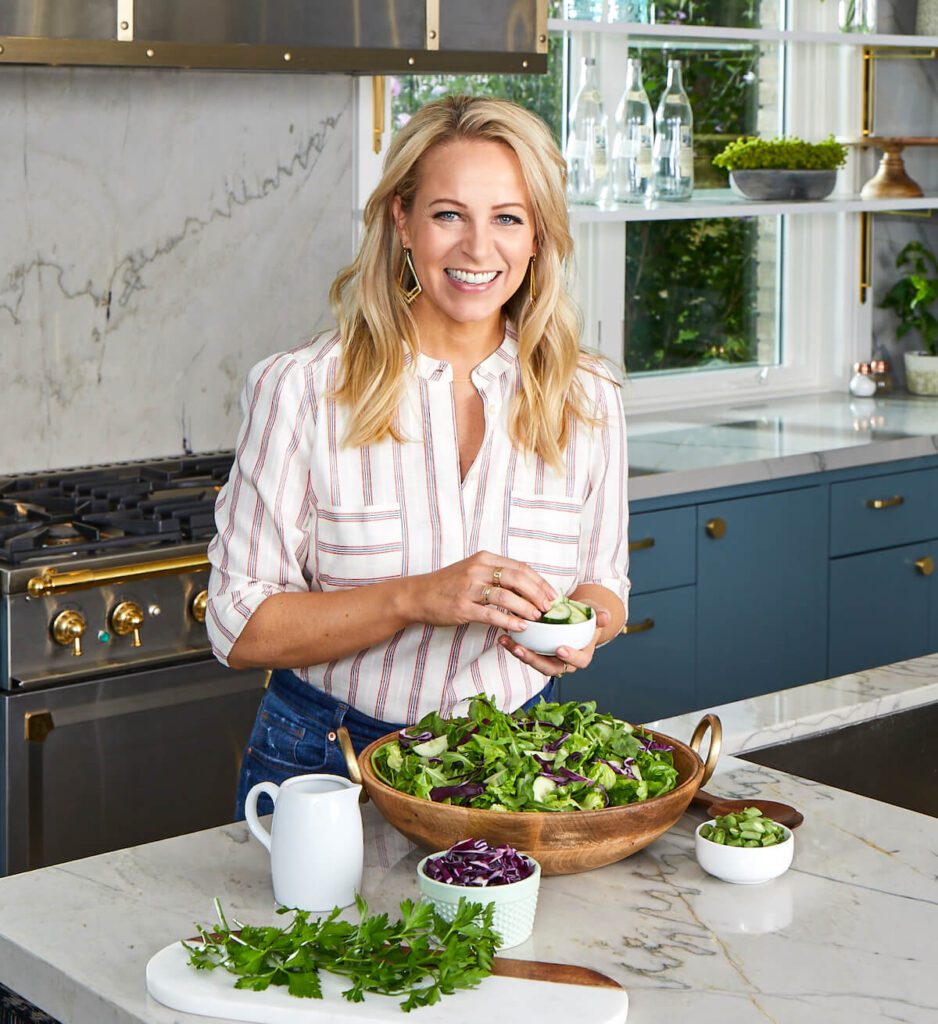 About Tara Teaspoon
I've been in the food publishing business for over 20 years, creating recipes & food-styling for magazines, books, television & advertising. Order my new cookbook & stick around for amazing things to eat.
Recipe Tara Teaspoon. Words Ashlin Almquist. Photography Yunhee Kim. Props Deborah Williams. Originally published in LHJ 08/10.