This post for Ice Cream Profiteroles may include affiliate links. For more information see my disclosure agreement.
Ice Cream Profiteroles is a fancy way of saying "the best cream puffs you've ever tasted!" I used vanilla ice cream instead of the classic pastry-cream filling for a summer dessert everyone will love.
When I think of one of my favorite, and most impressive desserts, Ice Cream Profiteroles immediately come to mind. I mean who wouldn't want this in front of them at a summer party!
Profiteroles is the French way of saying cream puffs. Feel free to refer to these little numbers either way, but profiteroles (prof-IT-er-rolls) just sounds so cute and fancy coming out. They're pretty darn tasty going in as well!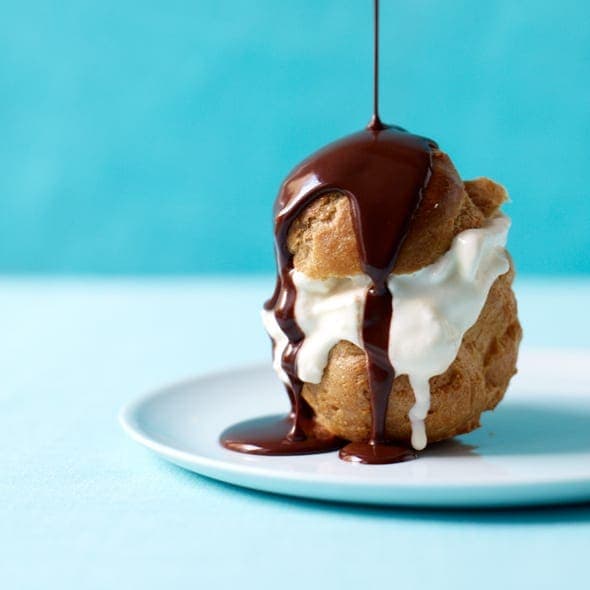 Don't be intimidated making cream puffs. These are hard to mess up. Now if I were having you make eclairs or some other fancy, piped pate au choux dessert I'd make you be more technical. But this pate au choux (cream puff dough) is simple and doesn't need to be piped. Simply spoon it onto parchment and bake.
It's a cooked dough, so it's mixed in a saucepan. Melt butter, sugar, water and salt together and add some flour. Eggs are incorporated one at a time. You don't add the eggs all at once because the flour mixture needs to gradually get used to them, like a slowly cultivated relationship! As one egg is absorbed and mixed in, the dough is ready for another one.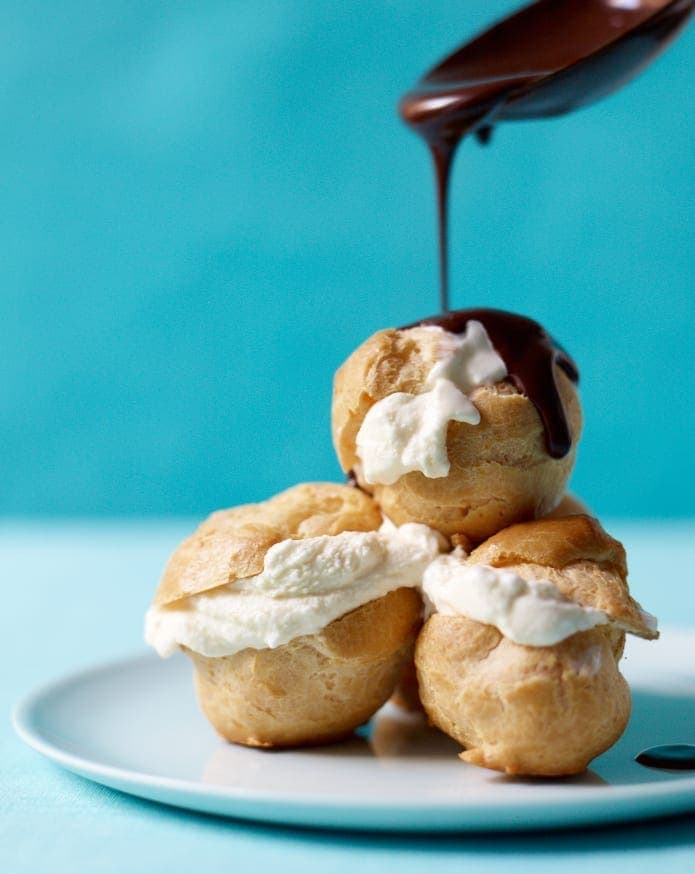 I filled my little baked cream puffs with vanilla ice cream for a classic summer situation. But any flavor will do. Think mint chip! Or strawberry, pistachio or even coffee. All are perfection in this dessert.
I also make my own fudge sauce. I do it because it's quite easy and super delicious–the recipe is below. If you're into the store-bought kind I'd suggest this awesome sauce trio that includes a white chocolate sauce!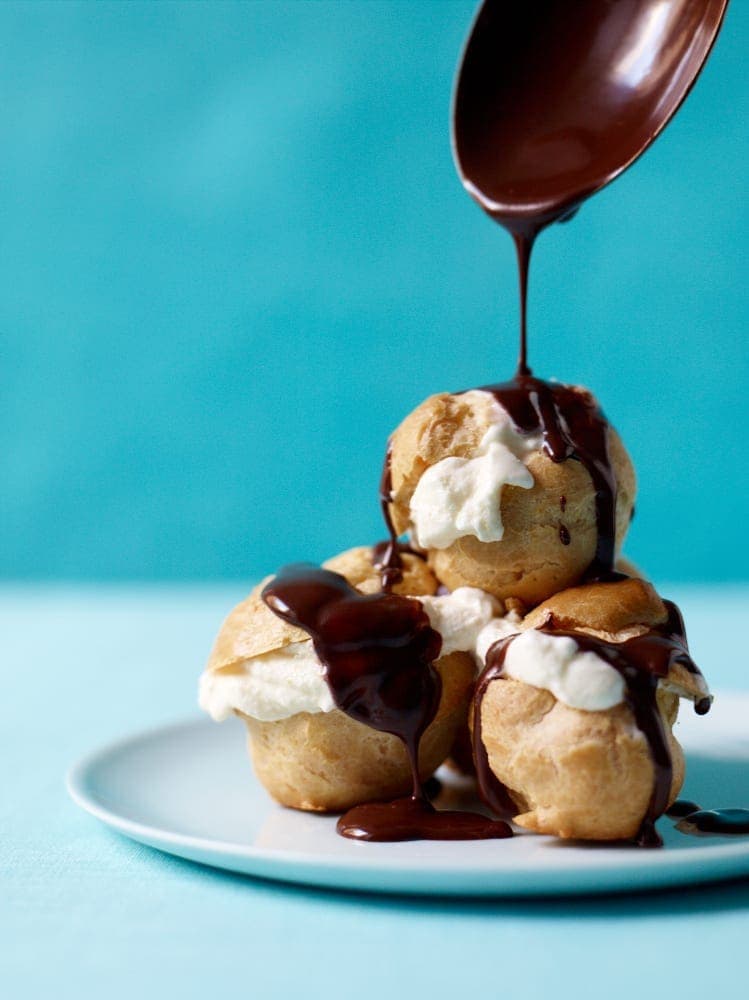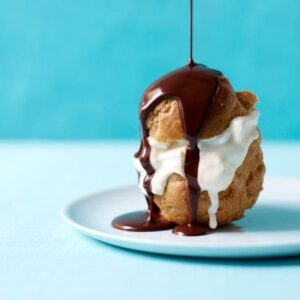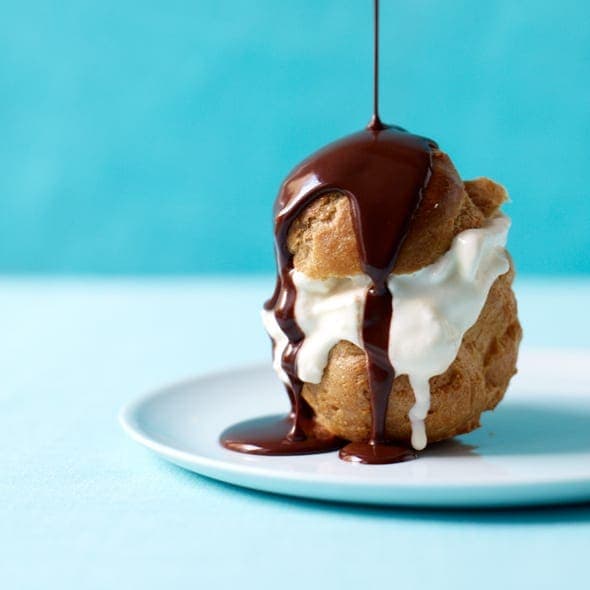 Ice-Cream Profiteroles
I used vanilla ice cream instead of the classic pastry-cream filling. Feel free to experiment with other ice cream flavors.
Ingredients
¼

cup

½ stick unsalted butter

½

tsp

sugar

⅛

tsp

salt

½

cup

all-purpose flour

2

large eggs

Vanilla ice cream

Chocolate Fudge Sauce
For Fudge Sauce
¼

cup

sugar

¾

cup

unsweetened cocoa

½

cup

heavy cream

3

tbsp

butter

1

tsp

vanilla extract

Pinch

of salt
Instructions
Heat oven to 425°F. Line two baking sheet with parchment.

In a small saucepan over high heat bring ½ cup water, butter, sugar and salt to a boil. Immediately remove from heat and stir in flour with a wooden spoon. Continue to stir until mixture pulls away from sides of pan, about 30 sec. Let cool 2 min.

Add eggs one at a time, stirring after each, until batter comes together.

Drop slightly rounded teaspoonfuls of batter 1 inch apart on baking sheets. Smooth pointy tops with a wet finger.

Bake 10 min, then reduce oven temperature to 350°F and bake until golden brown, 10 to 12 min more. Let cool on wire racks. Store in an airtight container until ready to serve.

Cut off tops and fill with ice cream. Put four or five pastries in each bowl and drizzle with warm chocolate sauce.
For Fudge Sauce
Stir together sugar and unsweetened cocoa in a small saucepan. Stir in heavy cream and butter. Bring to a boil, stirring constantly, over medium heat; boil 30 sec. Remove from heat and stir in vanilla extract and a pinch of salt. Serve immediately or cool and refrigerate in an airtight container up to 1 month. Reheat over low heat before serving.
Desserts are an essential and anticipated part of any meal. I mean sometimes I don't anticipate it, I just eat it first. This No-Bake Cheesecake Tart won't disappoint and it's gorgeous, and since mangoes always please, try Blow Your Mind Coconut-Mango Pie.
Recipe Tara Bench
Originally published in LHJ June 2011
Photograph Con Poulos
Food Stylist Susie Theodorou
Prop stylist Deborah Williams