Once you make homemade chocolate ice cream for the first time, you'll never reach for it at the grocery store again! Make a rich chocolate custard to freeze at home that will forever be your ultimate chocolate treat.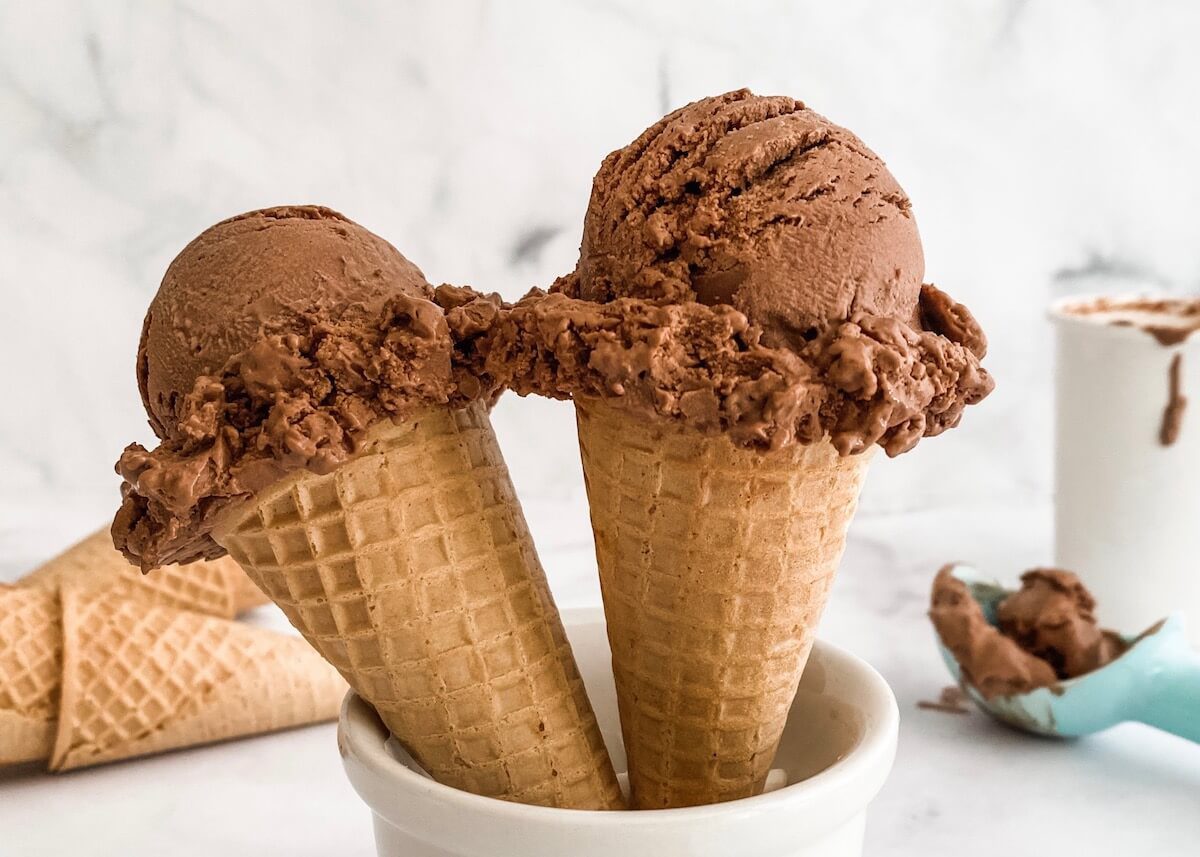 Jump to:
Let's be honest, it's a fun summer treat to have a homemade frozen dessert, and this chocolate custard ice cream has got to be one of my favorites.
I invested in an ice cream compressor and it doesn't get enough use in my opinion! (P.S. you don't need a fancy compressor, you can use any ice cream maker!)
As a summer rule I make sure my fridge is stocked with heavy cream, half and half, and milk just in case the urge for ice cream hits!
One bite of this homemade chocolate ice cream is like releasing a wave of rich flavor you won't be able to get enough of.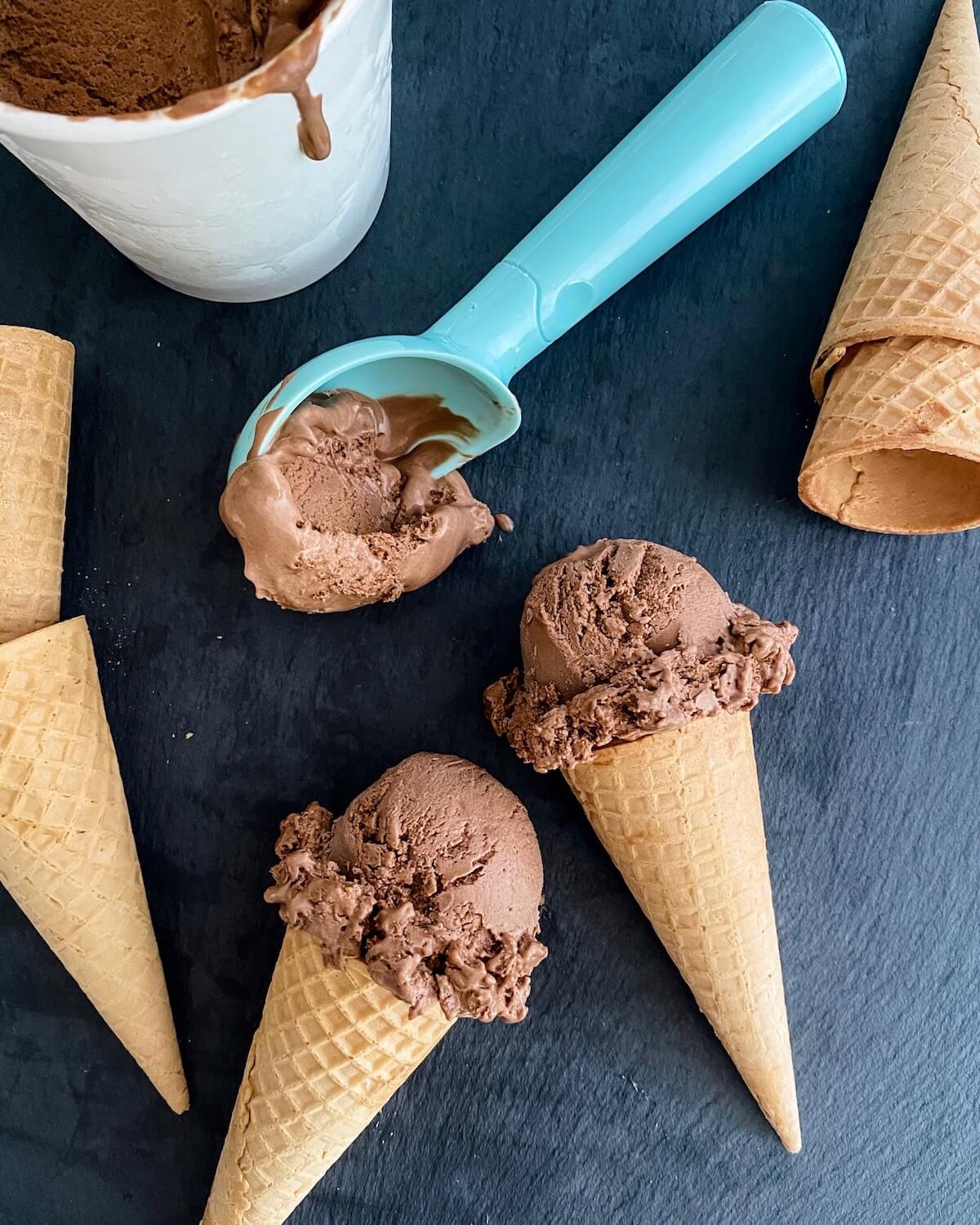 Ingredients in the Chocolate Ice Cream
This frozen delight is made with ingredients you probably already have in your fridge and pantry:
Granulated sugar
Salt
Unsweetened cocoa powder
Cornstarch
Heavy cream
Whole milk
Eggs
Semi-sweet chocolate
Vanilla extract
Pure and simple foods for the best chocolate ice cream. I don't recommend substituting any of the ingredients listed above for lower fat alternatives. You need all that fat to make a smooth and creamy ice cream!
How to Make Chocolate Ice Cream
Having made ice cream so many times before in my test kitchen, I knew I wanted to add cocoa to deepen the chocolate flavor. Cream and milk can inhibit flavors because of the rich fats–so punch those flavors up a bit.
I also changed the method of cooking. Custards can be tricky, and I think my method is foolproof!
I mix together any dry ingredients first to prevent clumping. The granules of sugar break up any lumps in the cocoa and cornstarch.
Then whisk in the yolks, milk, and cream at the beginning of my cooking. Then they are fully mixed in before things start heating up.
Try using my favorite style of whisk! A spiral whisk gets into every corner of the pan.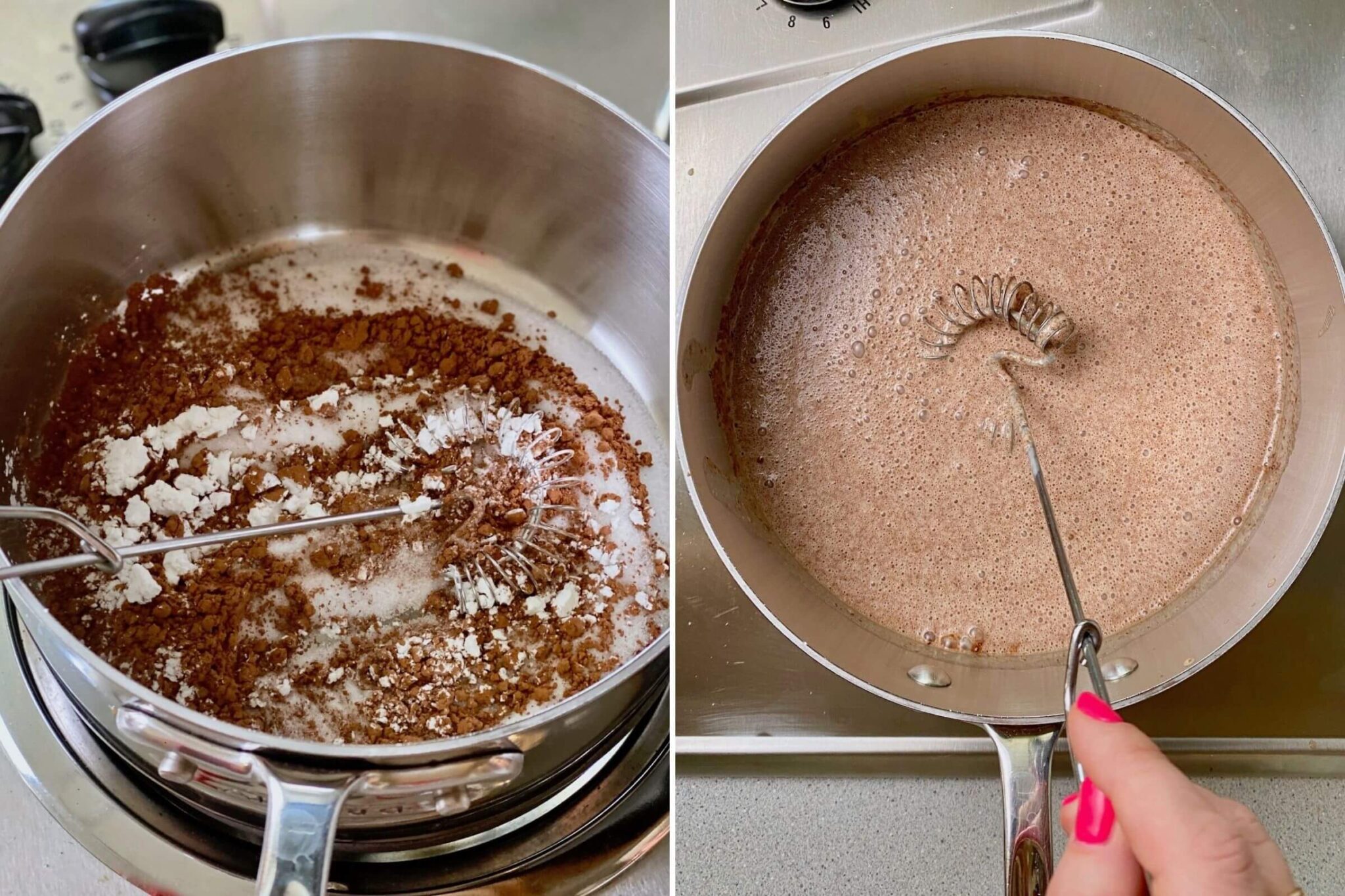 Add the chopped chocolate and then whisk and stir constantly over the heat. The mixture will begin to thicken then start to bubble. Remove from heat after cooking.
I suggest straining this hot mixture through a fine-mesh sieve to remove any bits of egg. This step just makes for an ultra-smooth texture.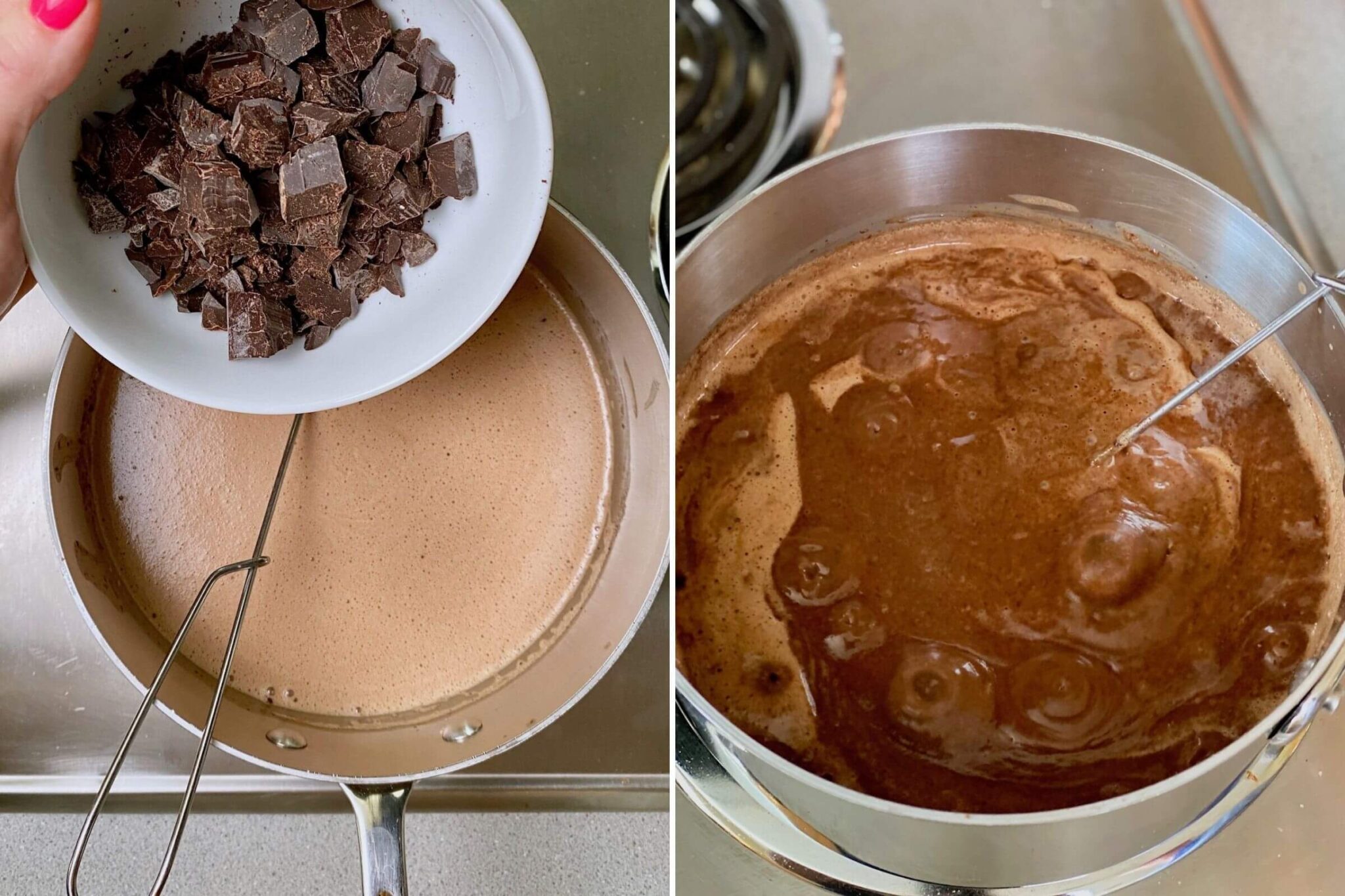 The nice thing is you don't have to churn it right away. In fact, it's best if you let the mixture sit in the fridge for at least 3 hours or overnight.
I left mine in the fridge for 3 days before I had time to churn it! The mixture needs time to — what we foodies call — cure or age. Read more about this below.
When everything is set and ready, just pour the mixture into an ice cream compressor, or the chilled bowl of an ice cream churn, and mix according to the machine instructions.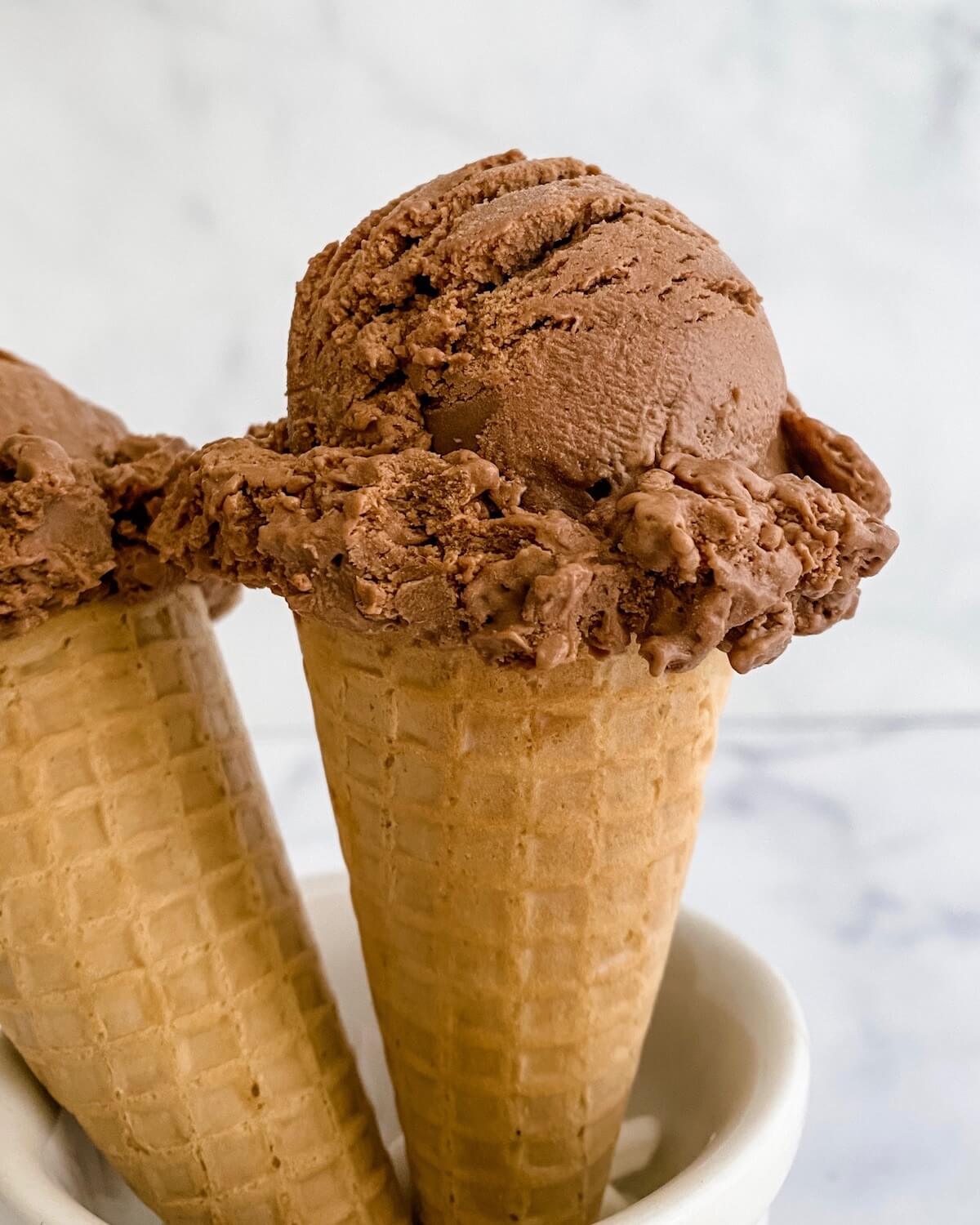 Why Does the Ice Cream Base Have to Age?
The scientific reasons for aging your ice cream base are diverse. Serious Eats covers the topic well here.
Reason #1: Aging your ice cream base ensures it is completely, if not extra, cold. Your ice cream will churn and freeze faster if the base is cold, creating a more stable, smooth ice cream.
Reason #2: Aging your ice cream base allows the fat in the custard to solidify and crystalize, creating an ice cream that churns up lighter and fluffier because that strong structure can hold air better.
Can I Skip the Aging Step?
If don't have time to age or cure your base, you can skip it. Just make sure to cool it to lower than 40ºF over an ice bath before hitting the ice cream maker!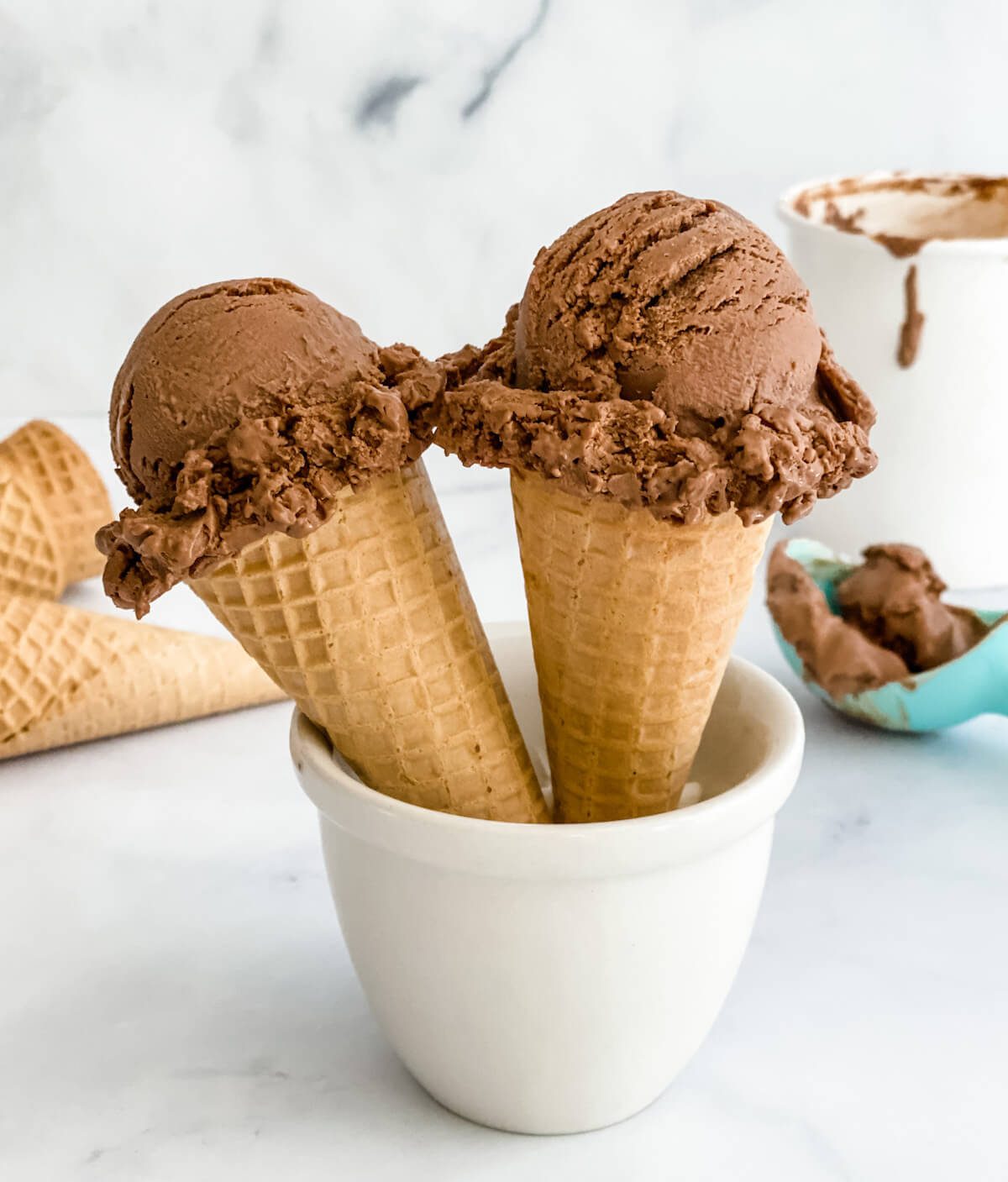 The Best Ice Cream Makers and Compressors
I really love my Breville compressor. This Cuisinart Ice Cream Maker is also an affordable option if you're going for a compressor workhorse. A compressor is an electric ice cream maker that doesn't require pre-freezing a bowl.
For an ice cream maker version that uses a frozen bowl, try this Cuisinart electric churn. Simply freeze the bowl insert ahead of time and it stays cold just long enough to spin that easy homemade chocolate ice cream.
If you're a traditionalist and want to use ice and rock salt to make your frozen dessert, I recommend this Hamilton Beach appliance. Oh, and be sure to use rock salt! Any other salt does not melt the ice properly.
How Long Does Homemade Ice Cream Last?
I would totally understand if there isn't any ice cream left the day you make it (it's that delicious).
If you are really good at exercising self-control and you don't eat it all right out of the compressor, just transfer it to these Frozen Dessert Containers. I find them easier to scoop out of than plastic or metal containers. Plus they're just so cute. Or, simply keep your ice cream in an airtight container.
Homemade ice cream will last about one month in the freezer. Because it's made with simple, real ingredients, this chocolate custard ice cream can develop freezer burn more easily. So make sure to store it in an airtight container, even pressing plastic wrap right on the surface to keep air out!
Tips for the Best Chocolate Ice Cream
This recipe uses whole milk, heavy cream, and egg yolks. Don't substitute any of these ingredients for lower fat alternatives, otherwise, your ice cream won't turn out ultra-rich and creamy. It may be icier in texture.
Use a good quality semi-sweet chocolate bar for this recipe. I prefer using an actual chocolate bar rather than chocolate chips because chocolate chips contain stabilizers that make them difficult to melt. You can also use high-quality chocolate pellets.
I highly recommend letting the ice cream base cure or age in the fridge for a few hours or overnight before churning it. Trust me, it makes a big difference in how the ice cream tastes, and the texture!
More Easy Ice Cream Recipes:
I mix delicious things into chocolate and vanilla ice cream to make 24 Different Ice Cream Flavors.
You can also make Mini Ice Cream Pops with ice cream and sprinkles.
If you love classic ice cream flavors, be sure to make this Homemade Eggless Vanilla Ice Cream next!
Delicious Pie and Tart Recipes
Recipe by Tara. Photography Con Poulos for LHJ 2012 and Tara Teaspoon