You'll never want to go out for chocolate ice cream again once you've made this recipe! A creamy smooth dessert that melts in your mouth.  
The freezer section always overwhelms me with ice cream options that are usually too frozen to scoop, and often bland on flavor. And let's be honest, those fancy brands that taste great, are pricey, plus they aren't quite as convenient as my own kitchen.
I bought an ice cream compressor several months ago and it's been calling my name for what seems like forever! Determined to make homemade ice cream to test it out, I made sure my fridge was stocked with heavy cream, half and half and milk (I didn't know yet what recipe I would use and which type of dairy it would need!)
I found a chocolate ice cream recipe, in one of the many cookbooks that fill my apartment, and headed to the kitchen. I've made my own ice cream recipes before, but I'm always curious about others, and what I might find in a book. As I prepared my ingredients, I started to see ways to fiddle with the recipe!
Having made ice cream so many times before in my test kitchen, I knew I wanted to add cocoa to deepen the chocolate flavor. I also changed the method of cooking. Custards can be tricky, and I think my method is foolproof! I mix together any dry ingredients first to prevent clumping. Then whisk the yolks into the cream at the beginning of my cooking. Then they are fully mixed in before things start heating up.
One bite of this homemade chocolate ice cream is like releasing a wave of rich flavor you won't be able to get enough of.
This frozen delight is made with ingredients you probably already have in your fridge and pantry: granulated sugar, salt, cocoa, cornstarch, heavy cream, whole milk, eggs, semi-sweet chocolate and vanilla. Pure and simple foods. 
The nice thing is you don't have to churn it right away. In fact it's best if you let the mixture sit in the fridge for at least 3 hours or overnight. I left mine in the fridge for 3 days before I had time to churn it! The mixture needs time to, what we foodies call, cure or age. The scientific reasons for aging your ice cream base are diverse. Serious Eats covers the topic well here.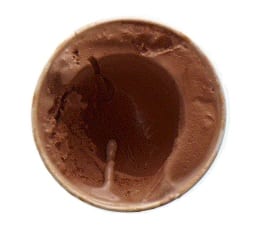 My go-tos and favorite reasons are:
Aging your ice cream base insures it is completely, if not extra, cold. Your ice cream will churn better if the base is cold, creating a more stable, smooth ice cream.

Aging your ice cream base allows the fat in the custard to solidify and crystalize just so, creating an ice cream that churns up lighter and fluffier because that strong structure can hold air better.
If you're not in the mood to age or cure your base, just make sure to cool it to lower than 40ºF over an ice bath before hitting the ice cream maker!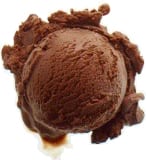 Ice Cream Makers
When everything is set and ready, just pour the mixture into an ice cream compressor. I really love my Breville  compressor.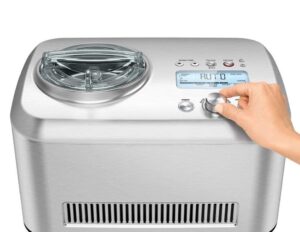 This Cuisinart Ice Cream Maker is also an affordable option that'll work great.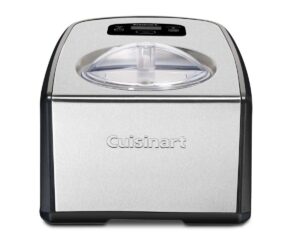 For a ice cream maker version that uses a frozen bowl, try this Cuisinart electric churn. Simply freeze the bowl insert ahead of time and it stays cold just long enough to spin that homemade chocolate ice cream.
If you're a traditionalist and want to use ice and rock salt to make your frozen dessert, I recommend this Hamilton Beach appliance. Oh and be sure to use rock salt! Any other salt does not melt the ice properly.
I would totally understand if there isn't any ice cream left the day you make it (it's that delicious). If you are really good at exercising self-control and you don't eat it all right out of the compressor, just transfer it to these Frozen Dessert Containers. I find them easier to scoop out of than plastic or metal containers. Plus they're just so cute.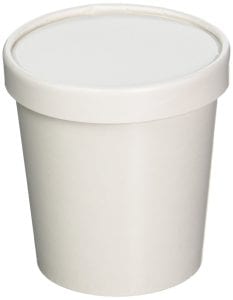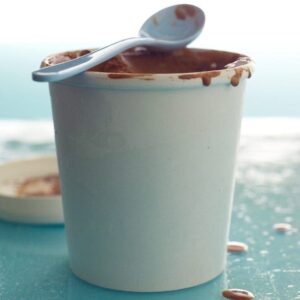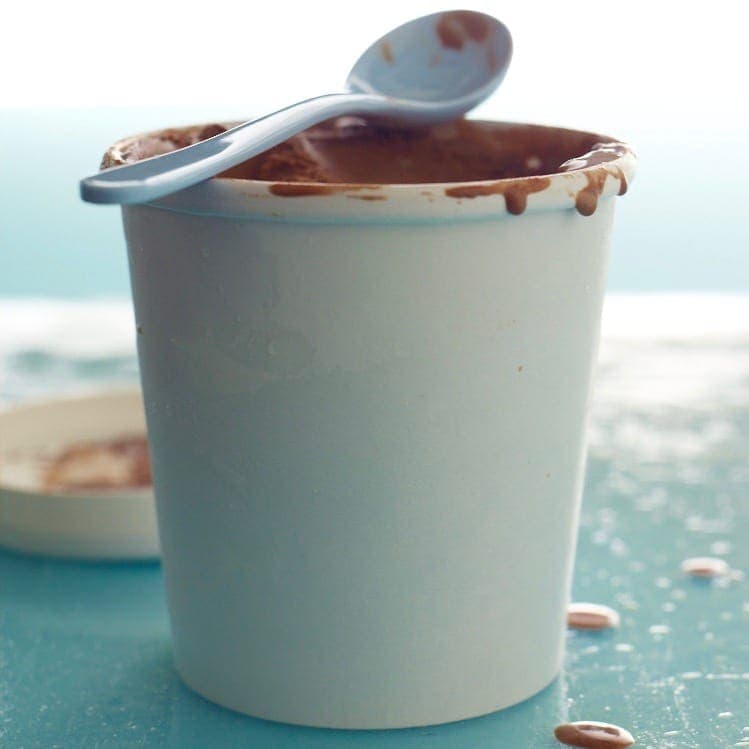 Addictive Homemade Chocolate Ice Cream
You'll never want to go out for ice cream again once you've made this recipe! A creamy smooth dessert that melts in your mouth.
Ingredients
2/3

cup

granulated sugar

Pinch

of salt

3

tbsp

cocoa

1

tbsp

cornstarch

2

cups

heavy cream

1

cup

whole milk

4

egg yolks

4

oz

semi sweet chocolate

coarsely chopped

1 1/2

tsp

vanilla
Instructions
In a heavy saucepan combine the sugar, salt, cocoa and cornstarch, whisk to combine. Add the cream and milk and stir over medium-high heat. Whisk in the egg yolks. Add the chocolate and cook, whisking constantly, until the chocolate is melted and the custard begins to thicken. When you see a bubble rise on the surface take the pan off the heat.

Stir in the vanilla and cool. (You can stir it over an ice-bath, or cover the surface with plastic wrap and let it cool to room temperature)

Transfer to a covered container and refrigerate for 4 hours or overnight.

When ready to churn, remove from the fridge and churn according to your machine instructions. Transfer to a freezer-safe container and freeze until solid, at least 3 hours.
Pin it for later!

Recipe by Tara. Photography Con Poulos for LHJ 2012.