The ultimate rhubarb upside-down cake recipe with flavorful rhubarb syrup and whipped cream. Tender yellow cake and poached rhubarb make this cake the best upside-down cake you'll ever bake!
---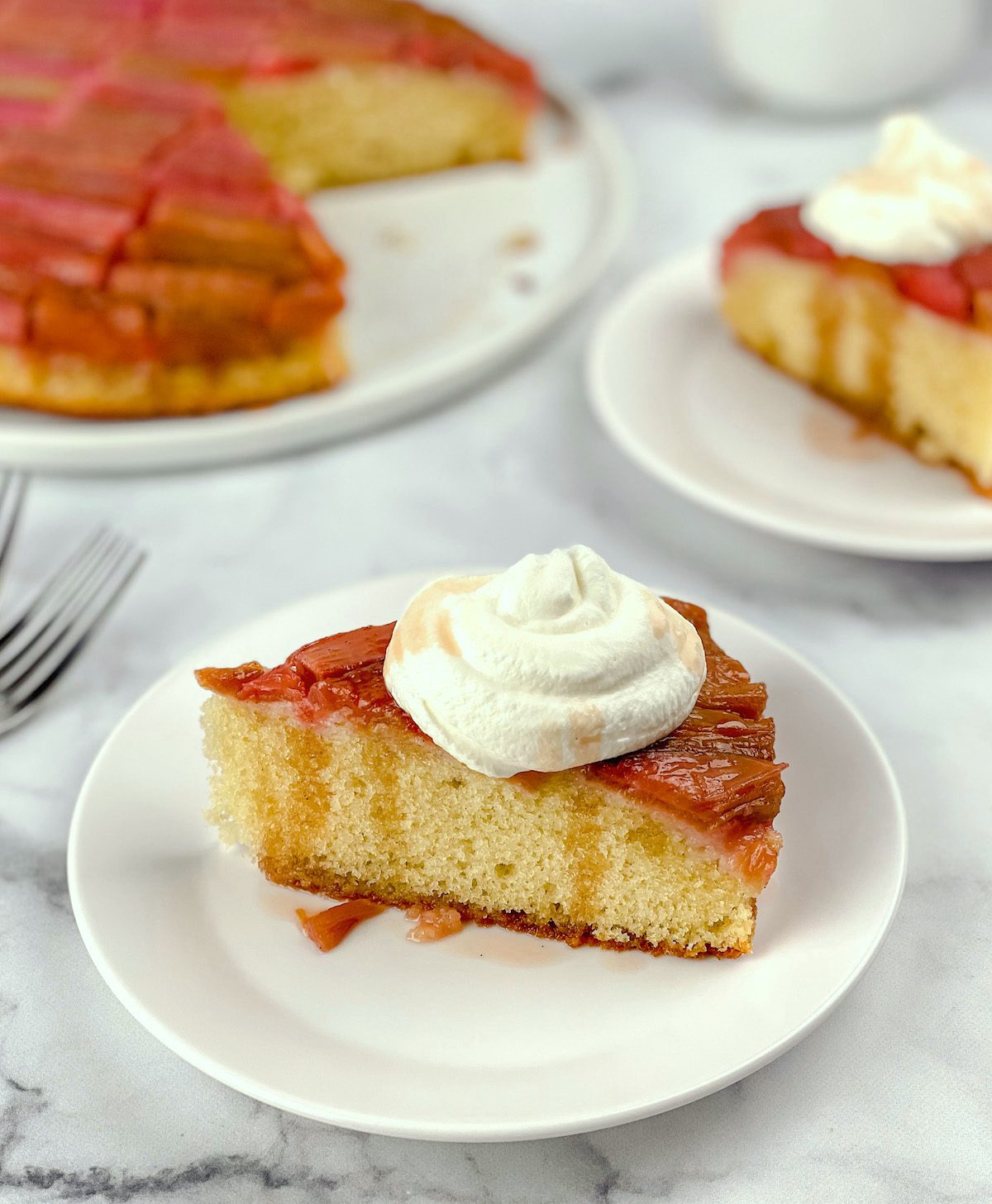 Let me know how it went!
Scroll to the bottom of the page to rate ⭐⭐⭐⭐⭐ and comment on this recipe. Leaving comments helps other too!
Jump to:
The Best Rhubarb Upside-Down Cake
This is the perfect buttery upside-down cake with sweet and tangy poached rhubarb. I made a sweet rhubarb sauce to drizzle over the cake just before eating.
Serve with whipped cream. The cake is tender and there is a lovely balance of buttery cake and rhubarb.
To make the cake, you'll create a layer of tender pieces of rhubarb that bake at the bottom of a cake as well as a delicious syrup to serve drizzled over the cake.
The benefits to making a rhubarb upside-down cake are that the tender and juicy rhubarb doesn't make the interior of the cake soggy because it's not mixed into the batter.
The tangy veggie (yes, veggie not fruit!) caramelizes at the bottom of the pan as the cake bakes and then is flipped over to create a flavorful topping for the tender yellow cake.
You can make this cake with fresh or frozen rhubarb, and in a cake pan or in a cast iron pan. It is delicious right after it's made, or the next day for breakfast!
Tip: Find out more about rhubarb's veggie status, when it's in season, and more on my post about EVERYTHING Rhubarb!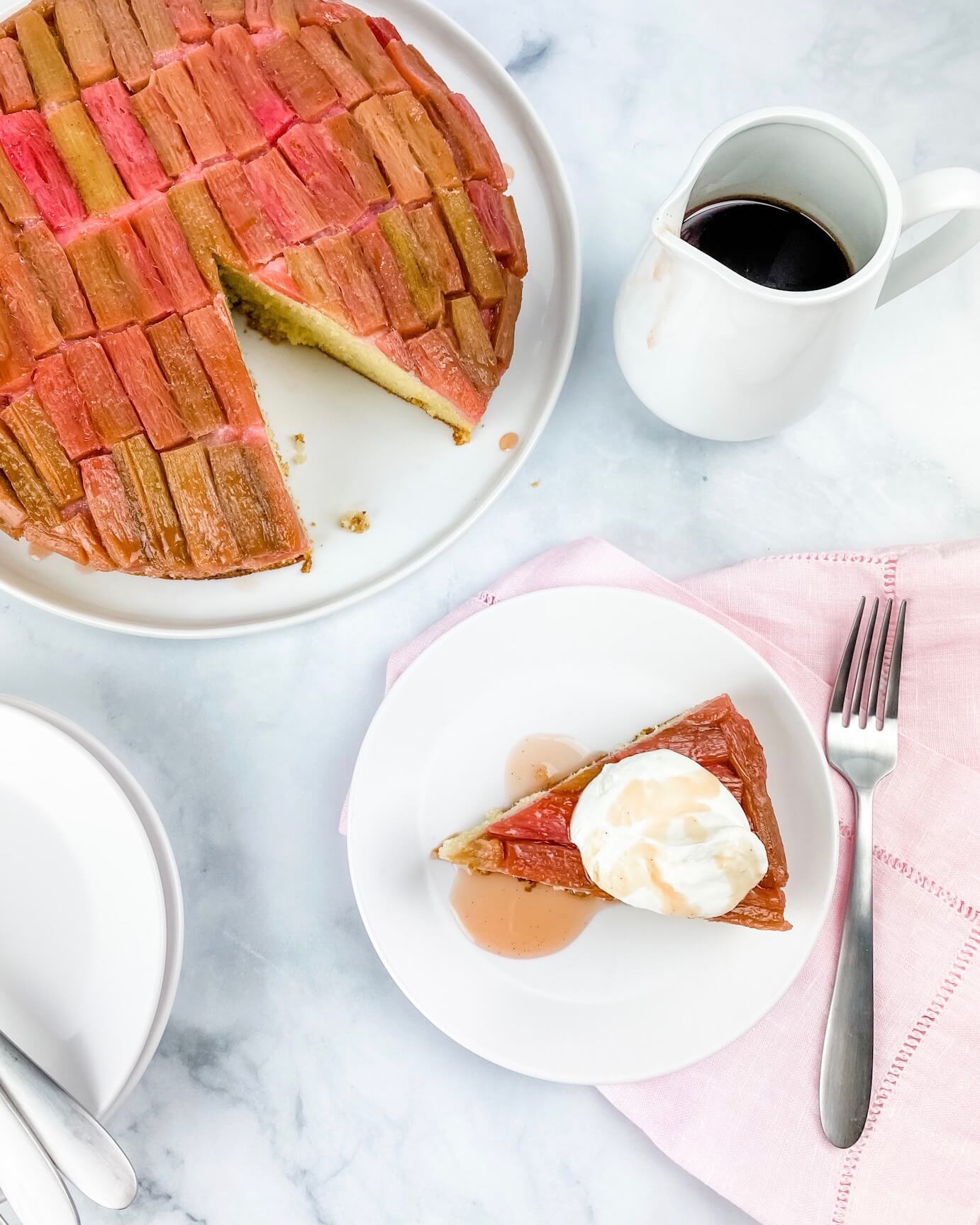 Recipe Ingredients
This is a rhubarb upside down cake from scratch, but if you've been around Tara Teaspoon long, you know I am a huge fan of cake mix. I use cake mix in a lot of my recipes!
There are definitely recipes for rhubarb upside down cake with cake mix, but I wanted less of the cake mix flavor so the rhubarb would really shine.
The single layer cake recipe I use makes this an easy rhubarb upside down cake. I wouldn't lead you astray. It's completely worth it!
To prepare the recipe for upside down rhubarb cake, you'll need:
Rhubarb
Granulated sugar
Vanilla extract
Cornstarch
Salted butter
Eggs
All-purpose flour
Salt
Baking powder
Milk
The rhubarb syrup that gets drizzled over the cake is a simple combination of rhubarb, sugars, water, and vanilla.
Can I Use Frozen Rhubarb?
Yes, you may use frozen rhubarb to make this upside-down cake recipe.
If using frozen rhubarb in this recipe, you can toss semi-thawed rhubarb pieces with the sugar and add it right to the cake pan.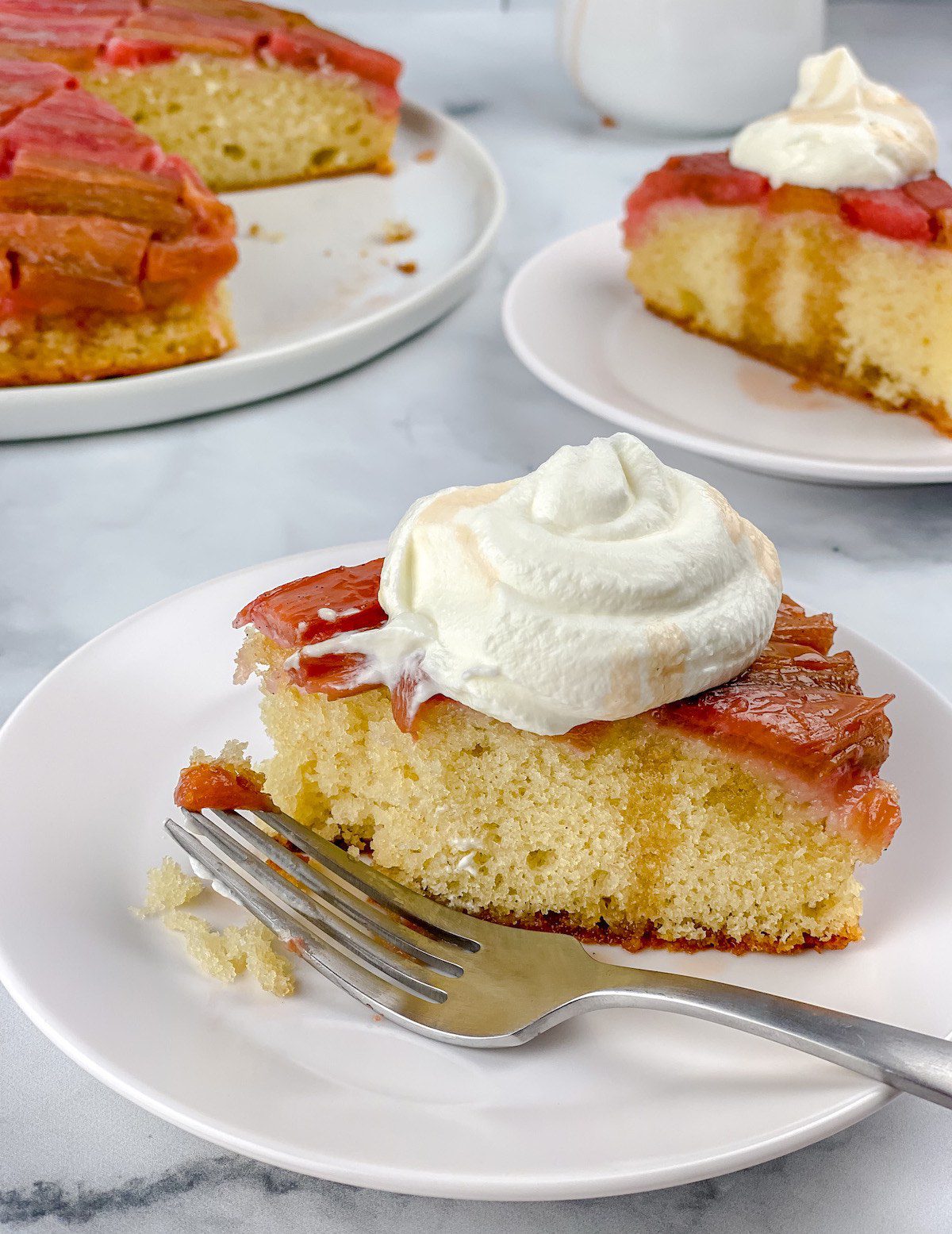 How to Make Rhubarb Upside-Down Cake
This rhubarb-upside down cake recipe is so easy to make! It requires a little assembly, but not much.
Keep reading for an overview of how this recipe comes together, along with step-by-step photos.
1. Prep the Cake Pan & Make the Rhubarb Sauce
You'll already have the oven heated, so this is a great way to heat the butter in the 9-inch cake pan. Just melt it for a few minutes. Watch it closely so the butter doesn't burn. A little browning is ok.
I also make the rhubarb syrup ahead so it can simmer and steep to develop color and flavor.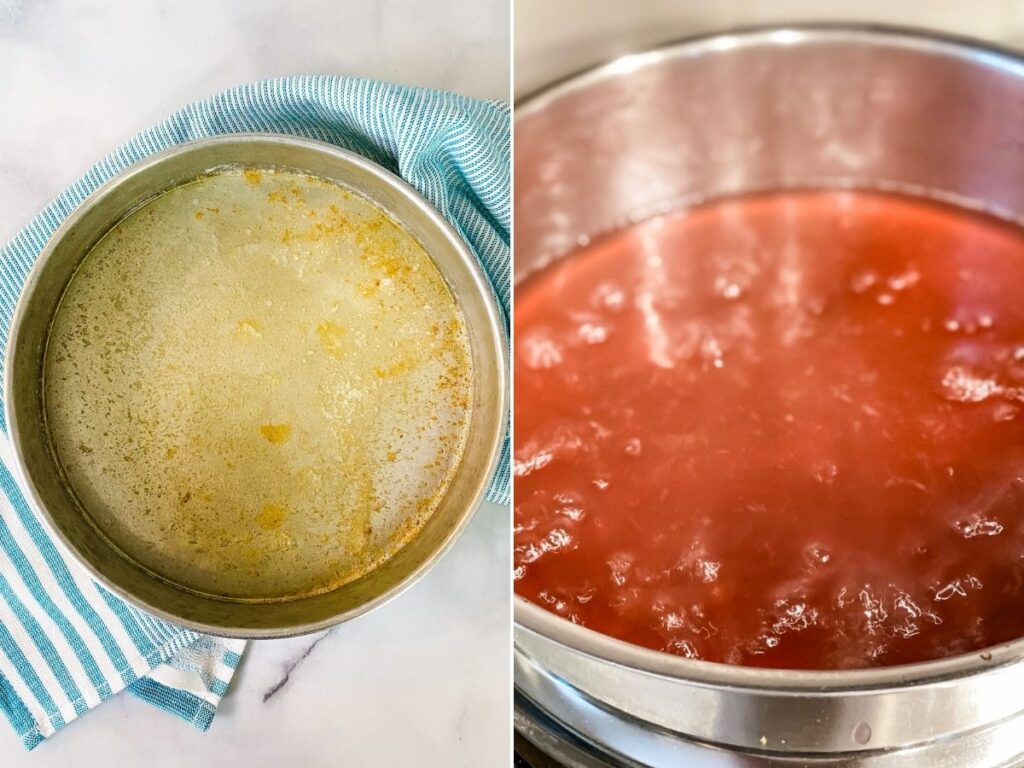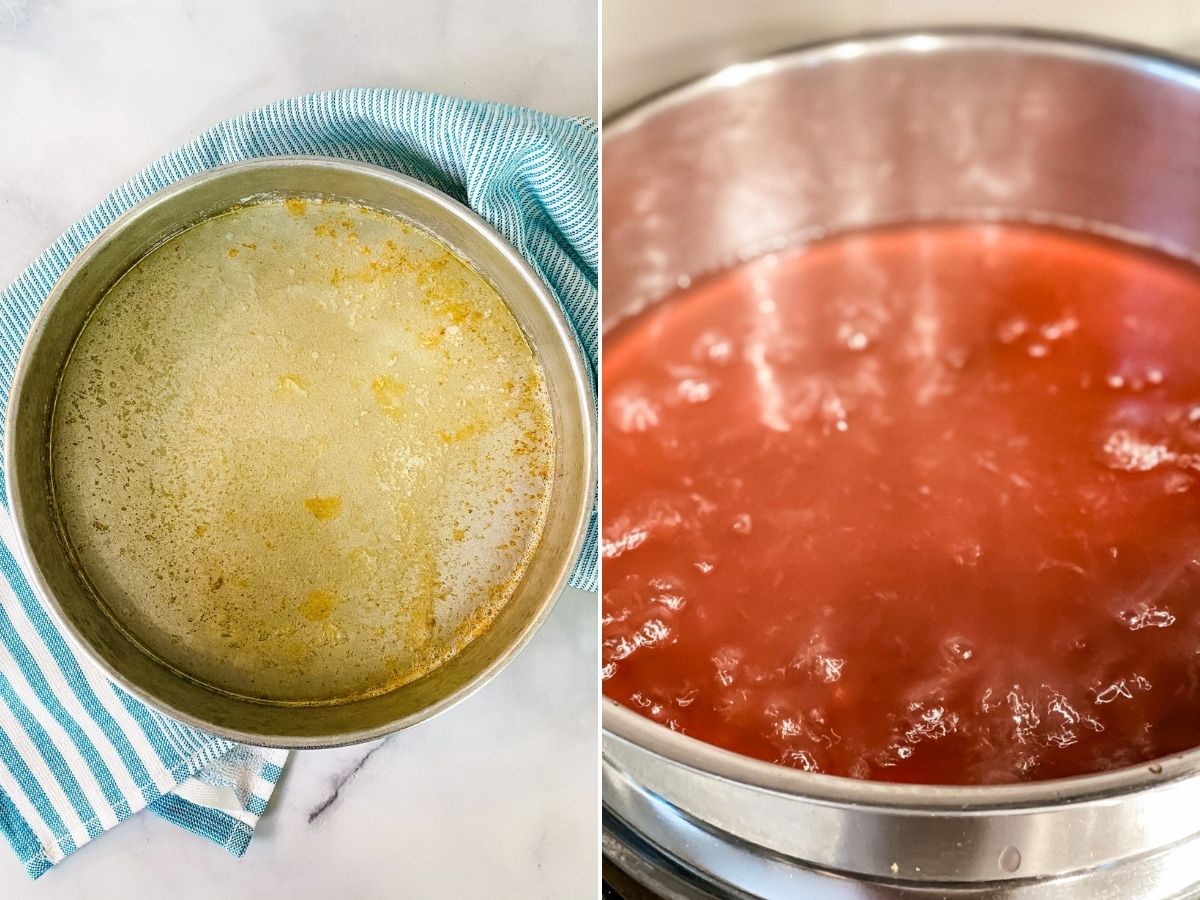 2. Assemble and Bake the Cake
Toss the rhubarb pieces with loads of sugar and vanilla and then arrange in the butter right in the pan. Sprinkle the extra sugar over the top.
Gently spread the cake batter over the top of the rhubarb and then bake!
Bake the cake on foil or a baking pan. I have tested it at different altitudes and the juices sometimes seep out the sides at different elevations!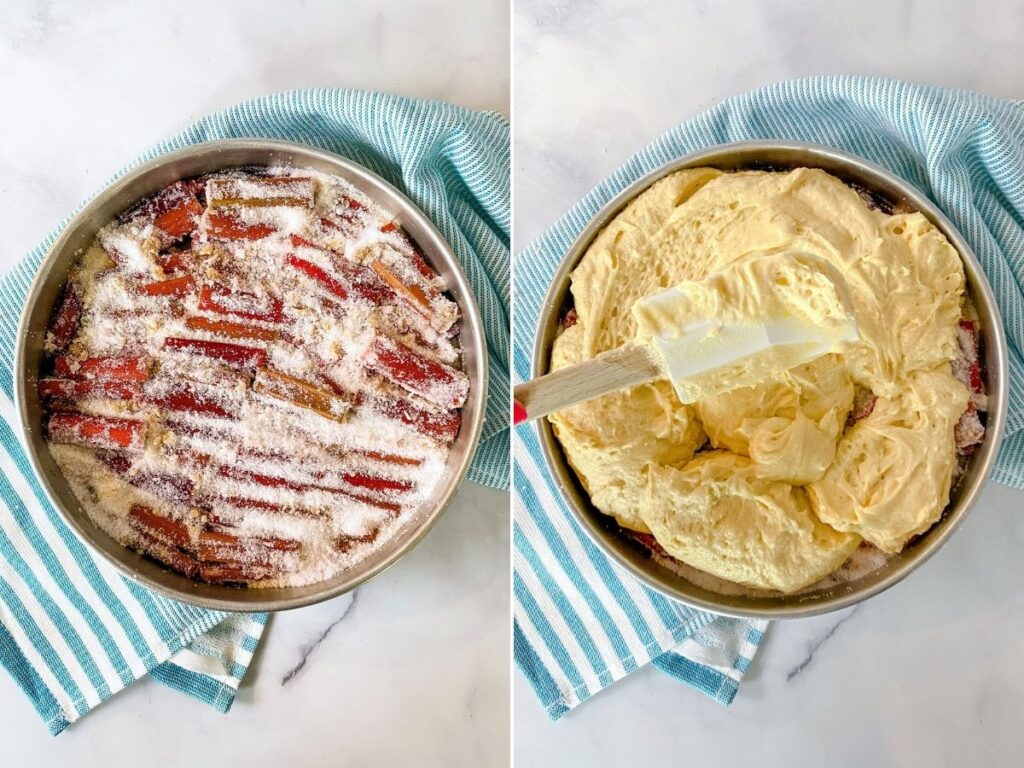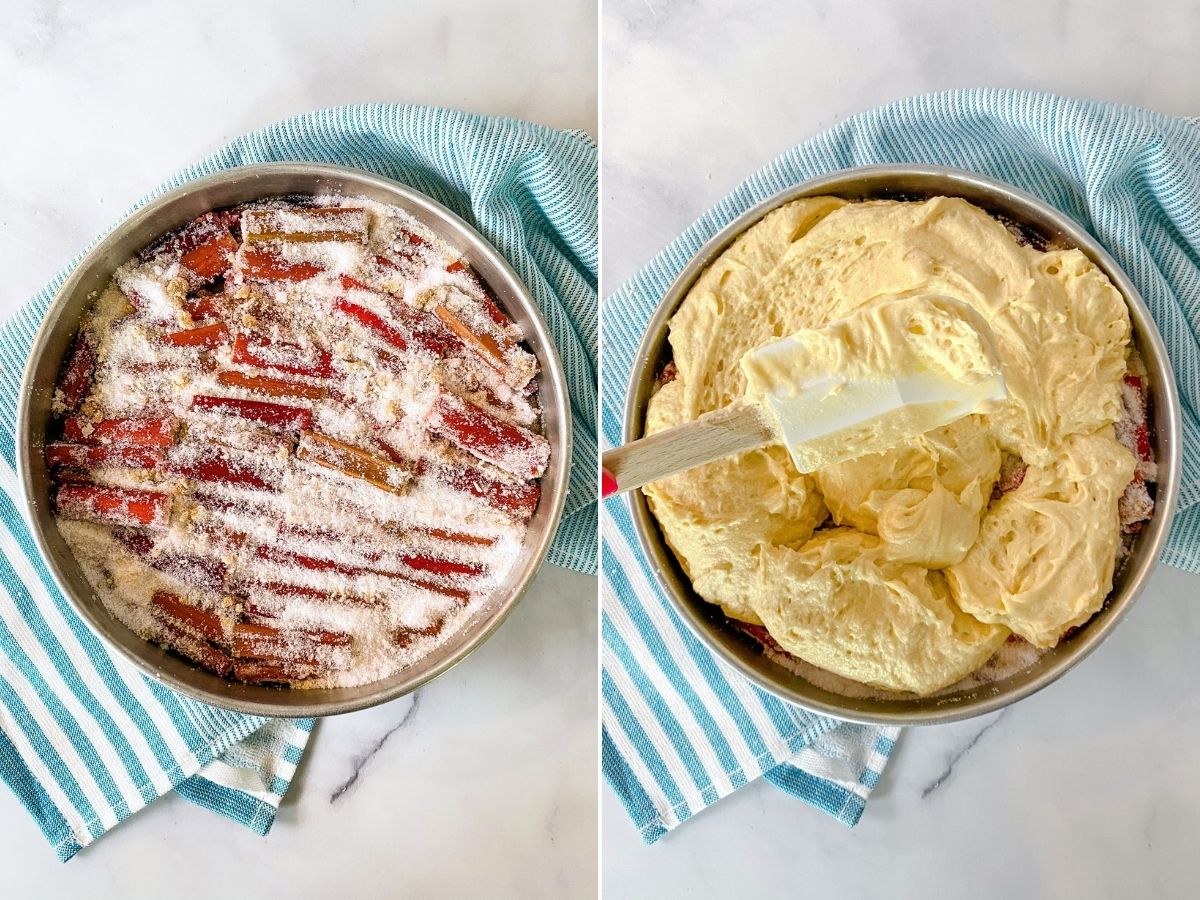 3. Glaze and Serve the Cake
Brush some of the warm, strained sauce over the cooled cake to make it glisten before serving.
This step is optional, but adds a little sheen! Serve the sauce for drizzling over each slice of cake. It's such a special addition to a homey cake.
You'll see that Cooks Illustrated brushes their cake with melted red currant jelly. I like that I don't have to buy another ingredient.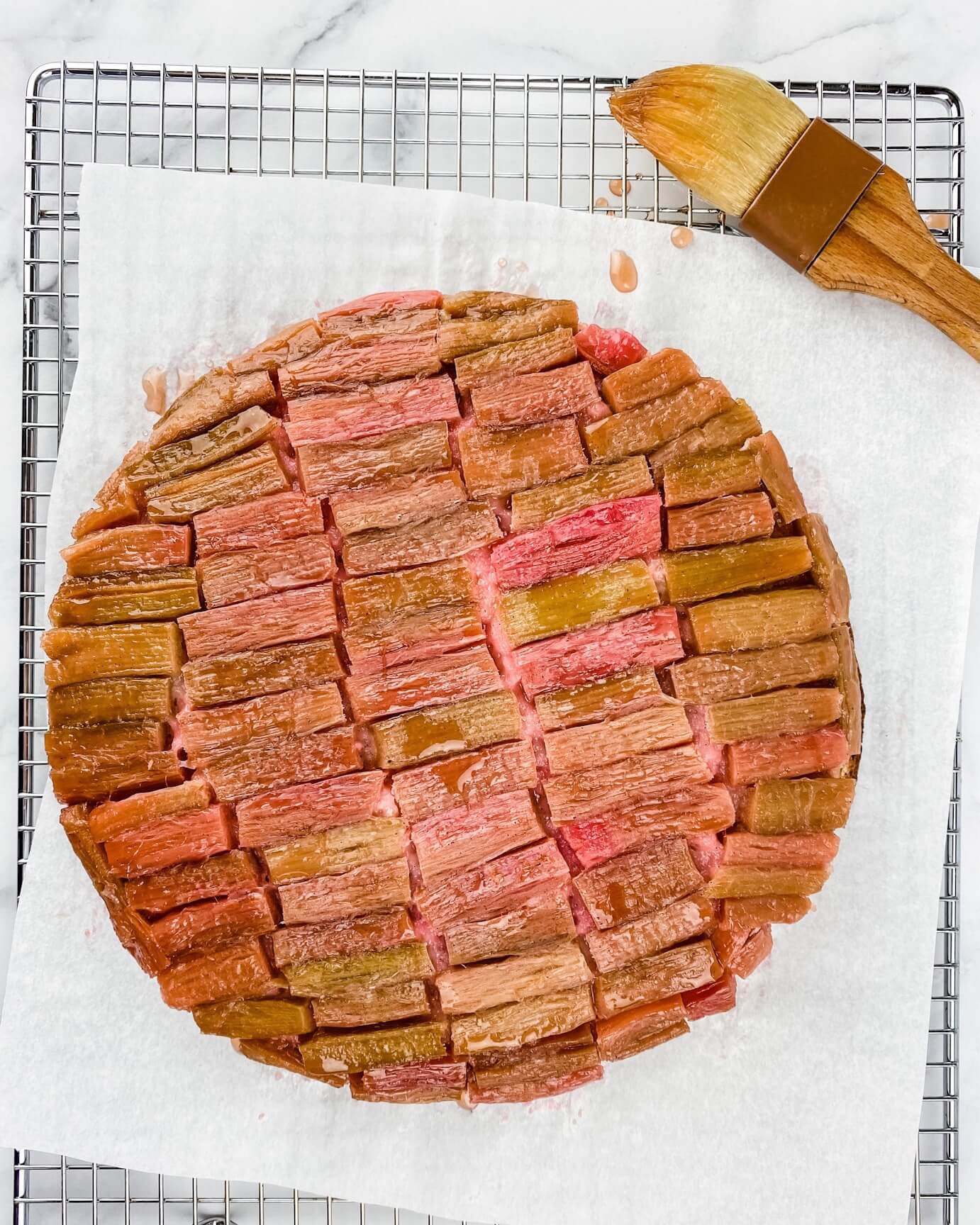 How to Serve Upside-Down Rhubarb Cake
Here are some tips for serving this cake:
Depending on how domed your cake gets when baked, you may want to gently trim the dome off the top before turning the cake out. This will create a nice flat bottom. (I found that a dome formed at sea level, but not at high altitudes).
Turn the cake out of the pan after about 15 minutes so the rhubarb is still warm and comes out of the pan. If any pieces remain in the pan, nestle them back onto the top of the cake.
Wait until the cake is almost all the way cool before serving.
Slice the cake with a sharp knife and gently saw through the rhubarb to create clean slices.
Serve with whipped cream and rhubarb sauce for the best taste.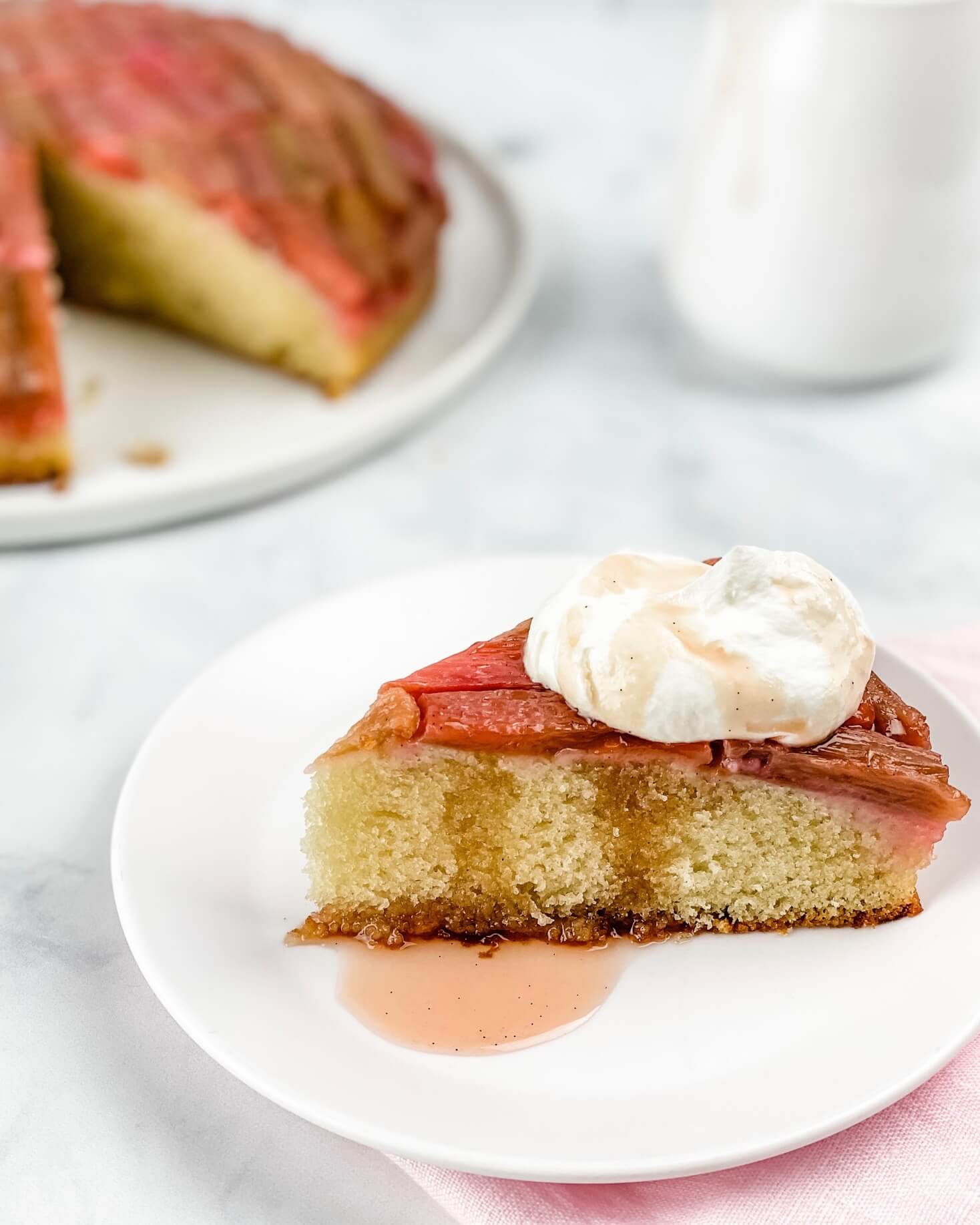 Tips for the Best Rhubarb Cake
For me, a recipe for rhubarb upside down cake needed to check a few boxes:
It must look as beautiful as it tastes, so the rhubarb needs to hold shape.
I want the cake to be tender and flavorful, not coarse or dry and bland.
Should have simple baking steps and nothing tricky.
To achieve this, I added the rhubarb raw but tossed it in sugar prior to baking it with the cake.
I also cut the rhubarb into pieces about 2 inches long. This does a few things: It allows you to create a pretty design for the top of the cake, and the pieces aren't in super long strips that are hard to cut and eat. So it looks beautiful and is delicious to eat and serve.
You can certainly cut smaller pieces of rhubarb. That works equally as well, it just looks more rustic.
Here are a few more tips, including basic cake-baking hints:
Cut the stalks of rhubarb into about 2-inch pieces.
Make a rhubarb syrup to enhance the tangy goodness.
Bring cake ingredients to room temperature before mixing to create the perfect cake texture.
If any rhubarb sticks to the pan when the cake is turned out, quickly nestle the pieces back into place on the cake while it's warm.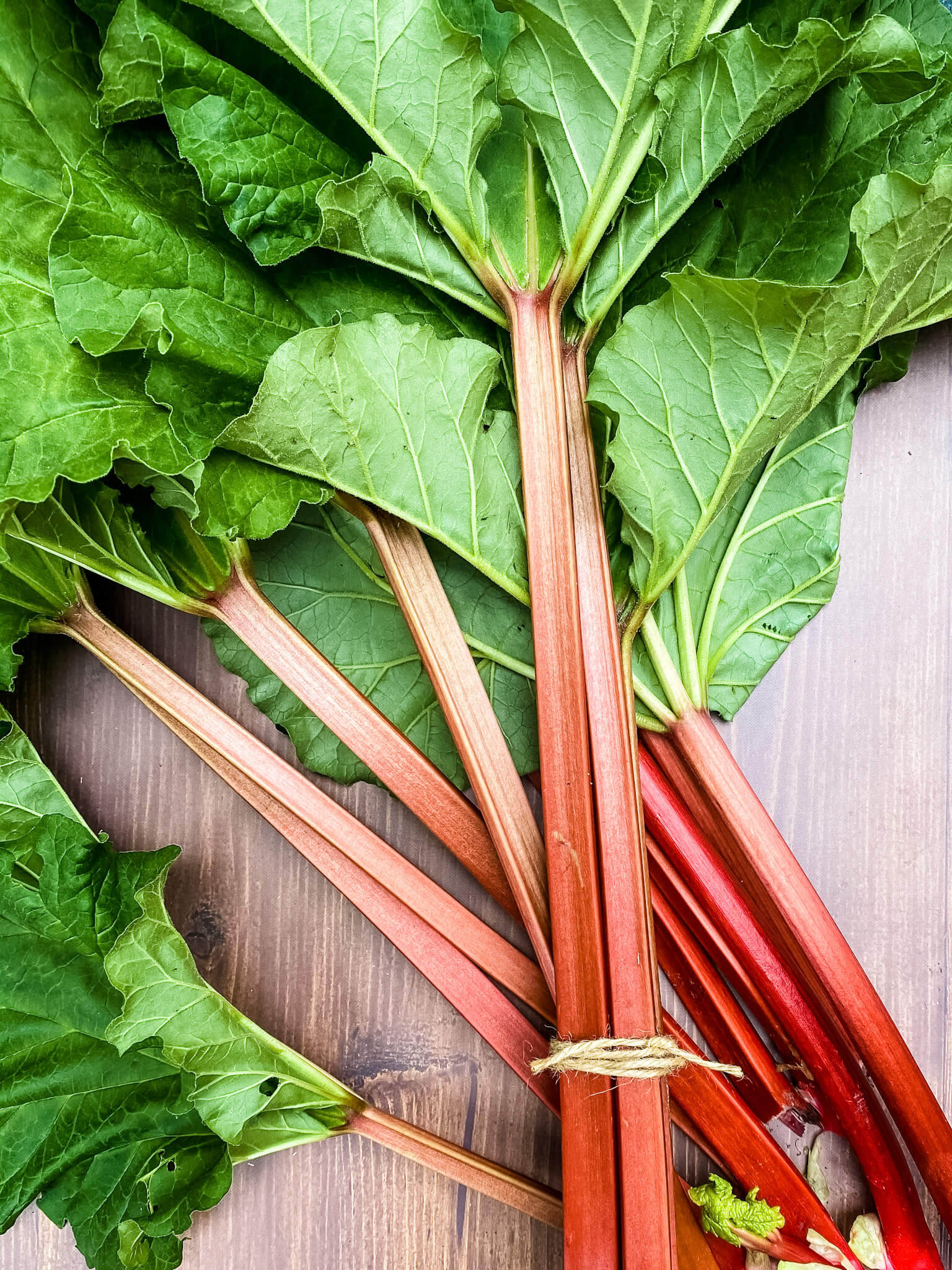 More Rhubarb Recipes:
If you have a bumper crop of rhubarb or just love it, I have some great info on how to prep and freeze rhubarb, how to make the best rhubarb crisp (no strawberries involved), and a rhubarb muffin recipe to die for.
More classic recipes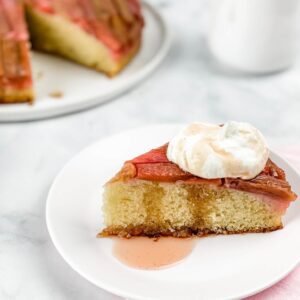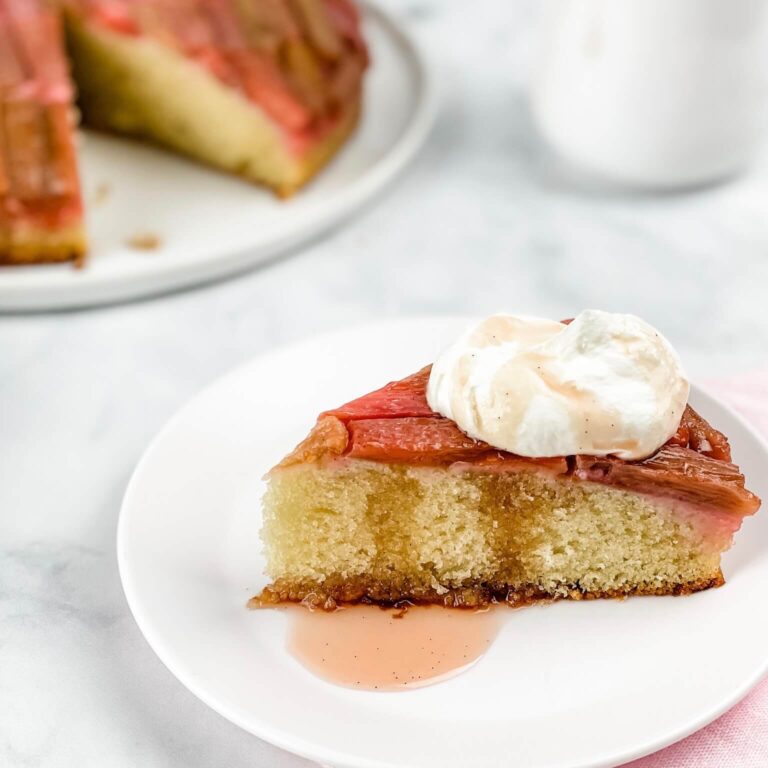 Rhubarb Upside Down Cake
With a gorgeous syrup and tender and flavorful homemade cake, this rhubarb upside-down cake is the ultimate spring dessert.
Ingredients
For the Rhubarb Syrup
2

ounces

(½ cup) chopped rhubarb

¼

cup

light brown sugar

1

cup

granulated sugar

1

teaspoon

vanilla extract or vanilla bean paste

1

cup

water
For the Rhubarb Upside Down Cake
1

pound

rhubarb

1¾

cup

granulated sugar

3

teaspoons

vanilla extract or vanilla bean paste

1½

teaspoons

cornstarch

11

tablespoons

salted butter

room temperature

2

large eggs

room temperature

1⅓

cups

all-purpose flour

¼

teaspoon

salt

1¼

teaspoons

baking powder

½

cup

whole milk

Sweetened Whipped Cream

for serving
Instructions
For the Rhubarb Syrup
For the Rhubarb Upside Down Cake
Heat oven to 350°F. Add 3 tablespoons of the butter to a 9-inch cake pan. Melt in the oven for about 1 minute, remove and set aside.

Trim the ends of the rhubarb and discard, then slice stalks into 1 or 2-inch pieces. In a bowl toss together with ¾ cup granulated sugar, 1 teaspoon vanilla and cornstarch. Arrange the rhubarb mixture in the bottom of the cake pan with the butter, lining up rhubarb if desired and making sure there are no large gaps (pieces may not fit in a single layer). Set aside.

In the bowl of an electric mixer fitted with the paddle attachment, cream remaining 8 tablespoon butter and 1 cup granulated sugar until lightened, about 1 minute. Add eggs, and 2 teaspoon vanilla. Beat until fluffy and combined, about 1 minute.

Add the flour, salt, and baking soda and stir slowly until almost combined. Add the milk while the mixer is going on low speed. Increase speed slightly and beat for 10 to 15 seconds to combine. Stir by hand to evenly mix batter then pour over the rhubarb in the pan. Gently spread into an even layer.

Place the pan on a baking sheet and bake, until the cake is golden and a toothpick inserted in the middle comes out with only a few crumbs, 35 to 40 minutes.

Cool cake in pan about 15 minutes, then loosen edges with a knife and invert cake by placing a platter or parchment lined plate over the cake pan and gently flipping it over.

If any rhubarb stayed in the pan, gently remove it and nestle it back onto the cake. Cool cake, then brush with rhubarb syrup before serving if desired.

Serve with rhubarb syrup and whipped cream. Cake can be stored, covered, for up to two days. Syrup can keep in the fridge for up to a week.
Notes
• See tips in the post for extra information
• Use extra rhubarb syrup on hot cereal or drizzled on pancakes.
Nutrition
Calories:
552
kcal
Carbohydrates:
96
g
Protein:
5
g
Fat:
17
g
Saturated Fat:
11
g
Polyunsaturated Fat:
1
g
Monounsaturated Fat:
5
g
Trans Fat:
1
g
Cholesterol:
84
mg
Sodium:
240
mg
Potassium:
323
mg
Fiber:
2
g
Sugar:
77
g
Vitamin A:
630
IU
Vitamin C:
5
mg
Calcium:
121
mg
Iron:
1
mg
Cake recipes for any occasion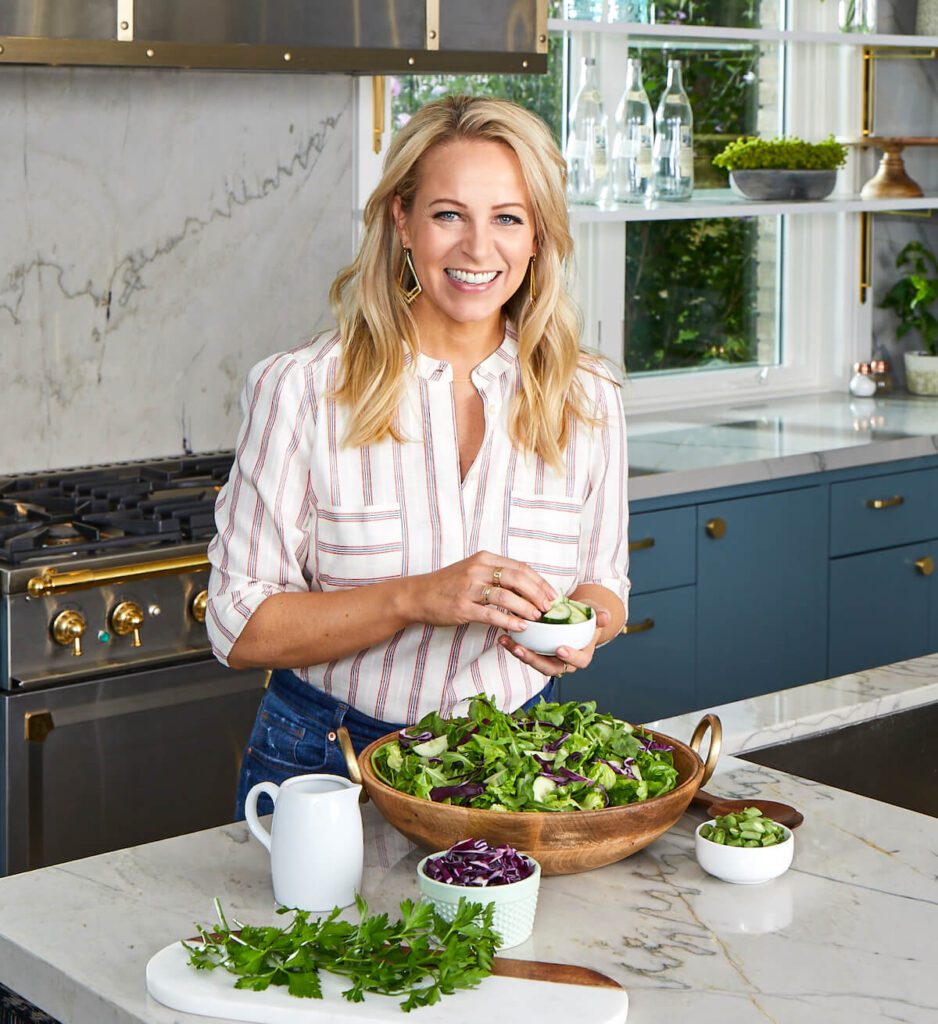 About Tara Teaspoon
I've been in the food publishing business for over 20 years, creating recipes & food-styling for magazines, books, television & advertising. Order my new cookbook & stick around for amazing things to eat.