---
This oven pot roast with vegetables like potatoes and carrots is — dare I say it? — better than mom used to make. It's easy, comfort-food-goodness that's simple enough to cook any night of the week!
---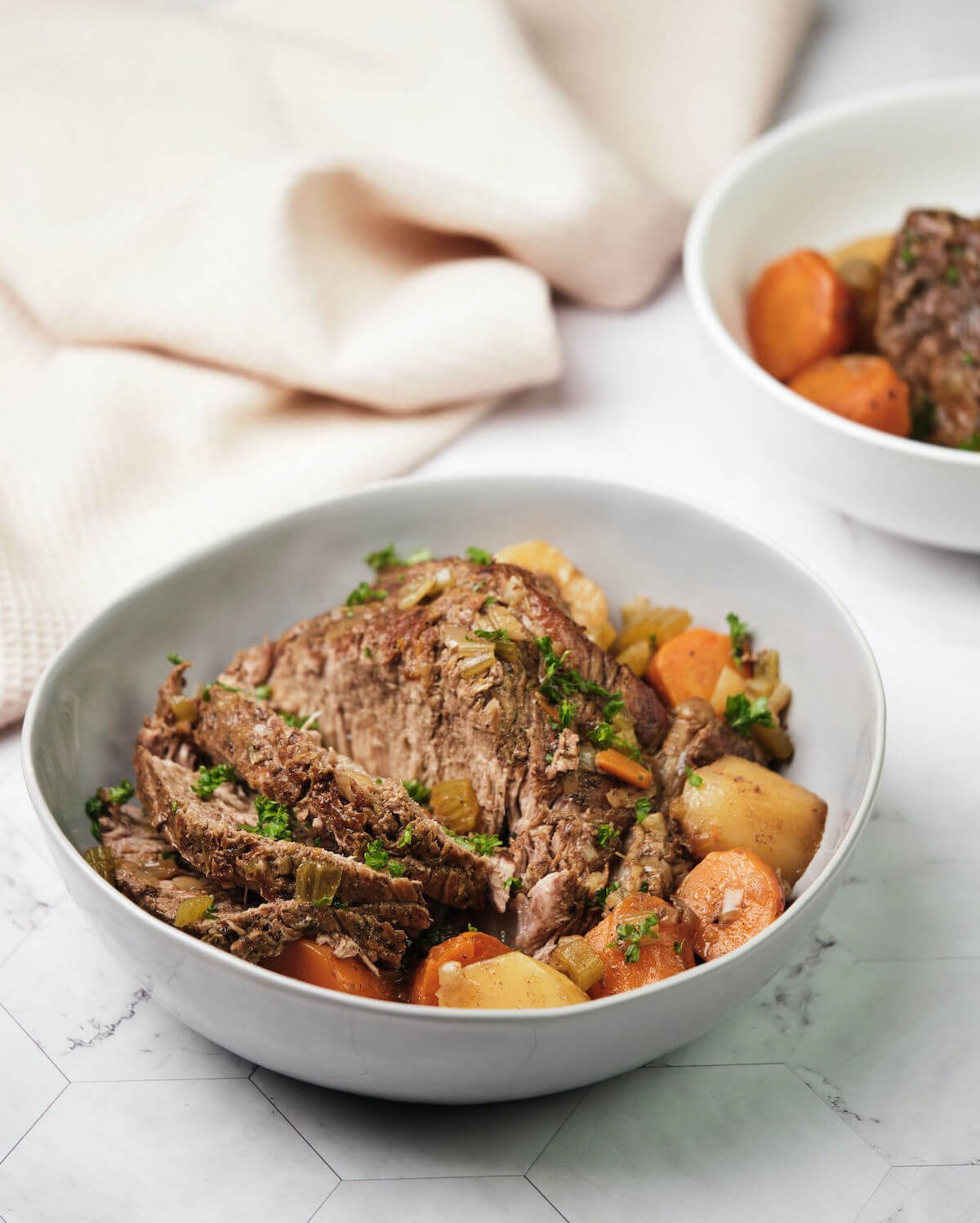 Jump to:
Traditional Roast and Potatoes
It's a Sunday dinner go-to, but I can never wait for the weekend. I've made this pot roast dinner recipe so easy it's become a great option for, let's say...Wednesday?!
Like the roast your mom used to make, this one has simple but robust flavors, it's melt-in-your-mouth tender, and foolproof! Now, I don't know your mom or her pot roast, but this is a pretty killer recipe.
This dish certainly has made its mark on the weekend menu. It's a Sunday staple and never disappoints.
Leftover pot roast is great with some BBQ sauce on a roll for BBQ Beef Sandwiches! Try some of my popular sauces: Memphis BBQ Sauce, and Better BBQ Sauce.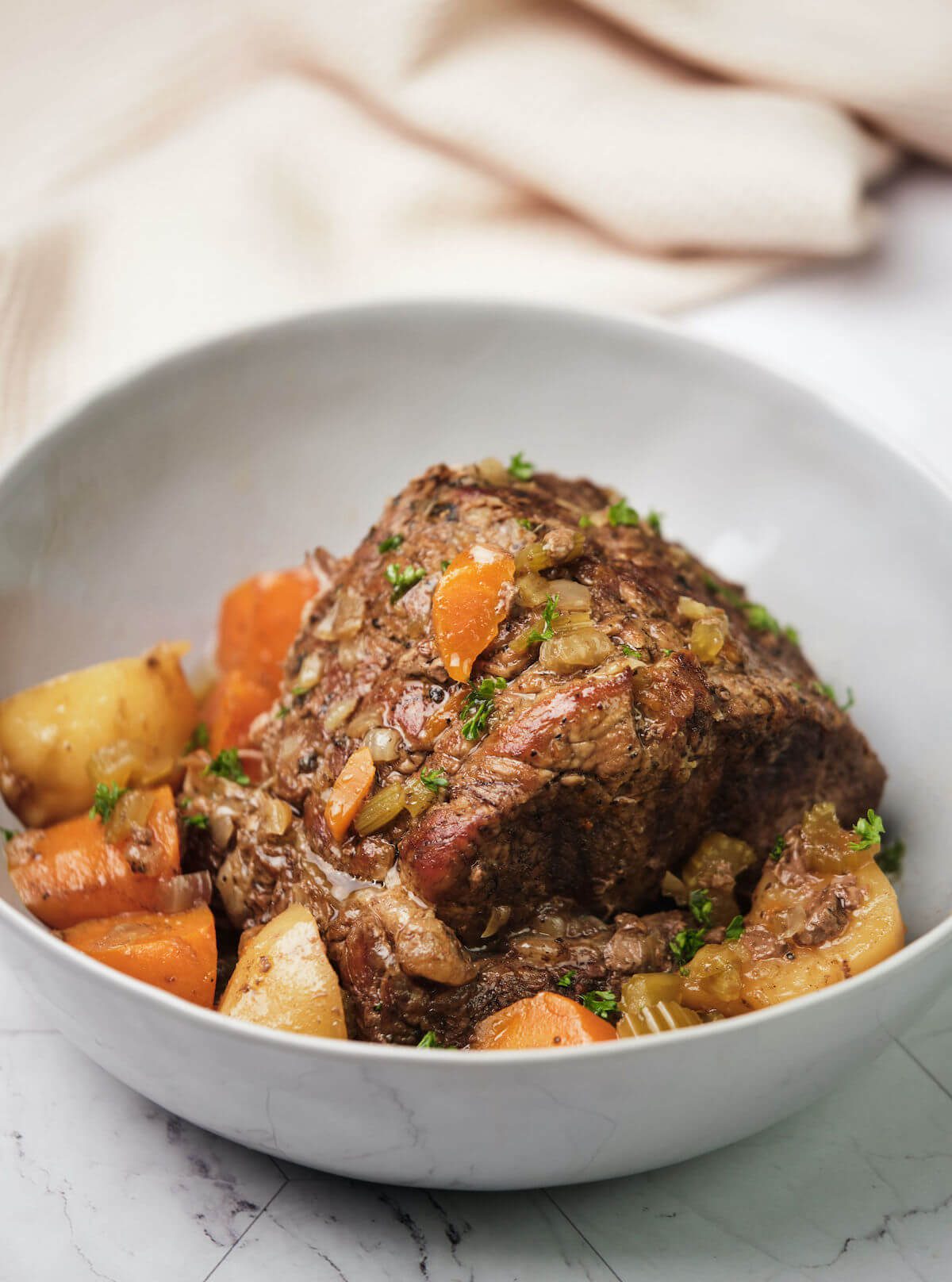 I've headed to New Hampshire most of the last few years to stay at a little lake house with some friends. My friend Paul has hosted this get together for almost 15 years and I love when I get the chance to go.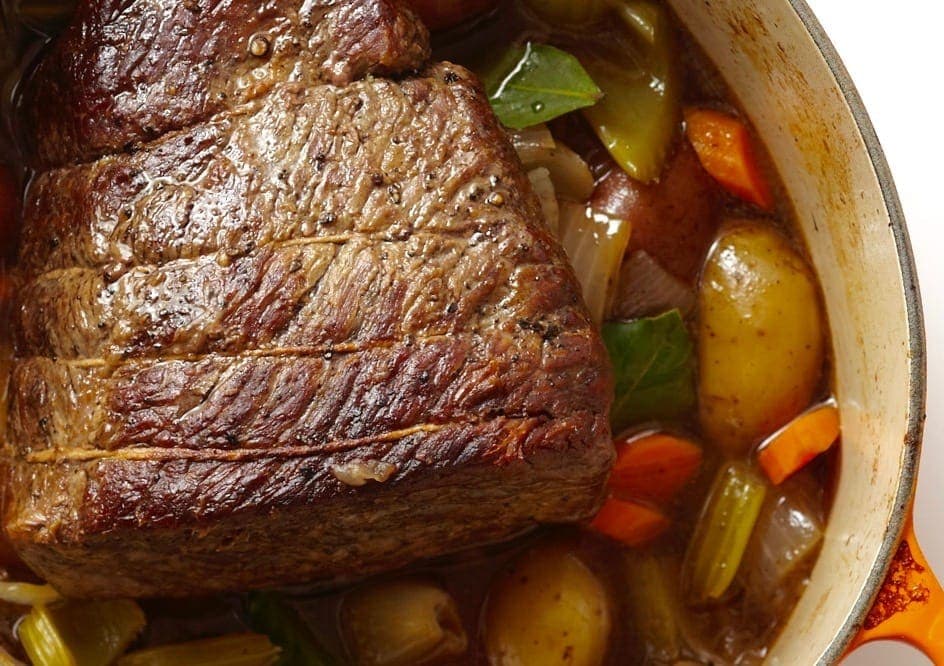 I usually throw my Dutch ovens and slow-cookers in the trunk, so we can make comfort food all weekend long. One of our favorites is my classic pot roast with potatoes and carrots.
I add all the lovely veggies to the pot so they get flavorful as they cook with the roast. They don't need any seasoning other than what's in the Dutch oven or slow cooker.
I use carrots, celery, onions and potatoes as the vegetables for my pot roast. At the lake house I usually leave the potatoes out and cook them separately so we can have mashed potatoes on the side. That's my favorite variation! Then the pan sauces from the pot roast can become the gravy. So delicious!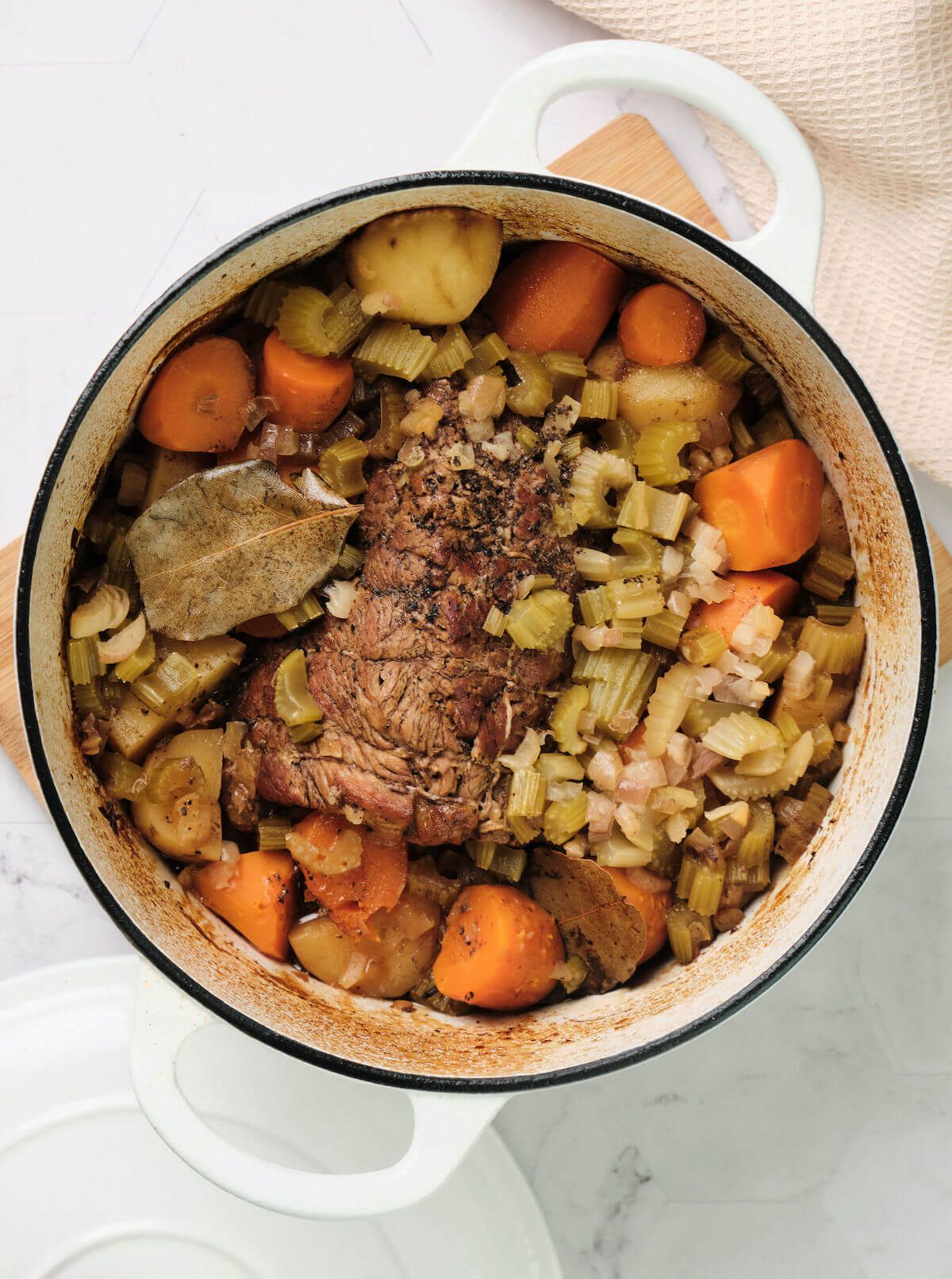 Ingredients Needed for a Classic Pot Roast Dinner
I love how simple but delicious this pot roast dinner is!
For the pot roast vegetables, I used a mixture of celery, potatoes, carrots, and onion. The onion and celery in particular are very aromatic and add flavor while also bulking up the recipe.
Bay leaves and Worcestershire sauce add even more flavor, and beef broth provides some salt and moisture to ensure the pot roast doesn't dry out.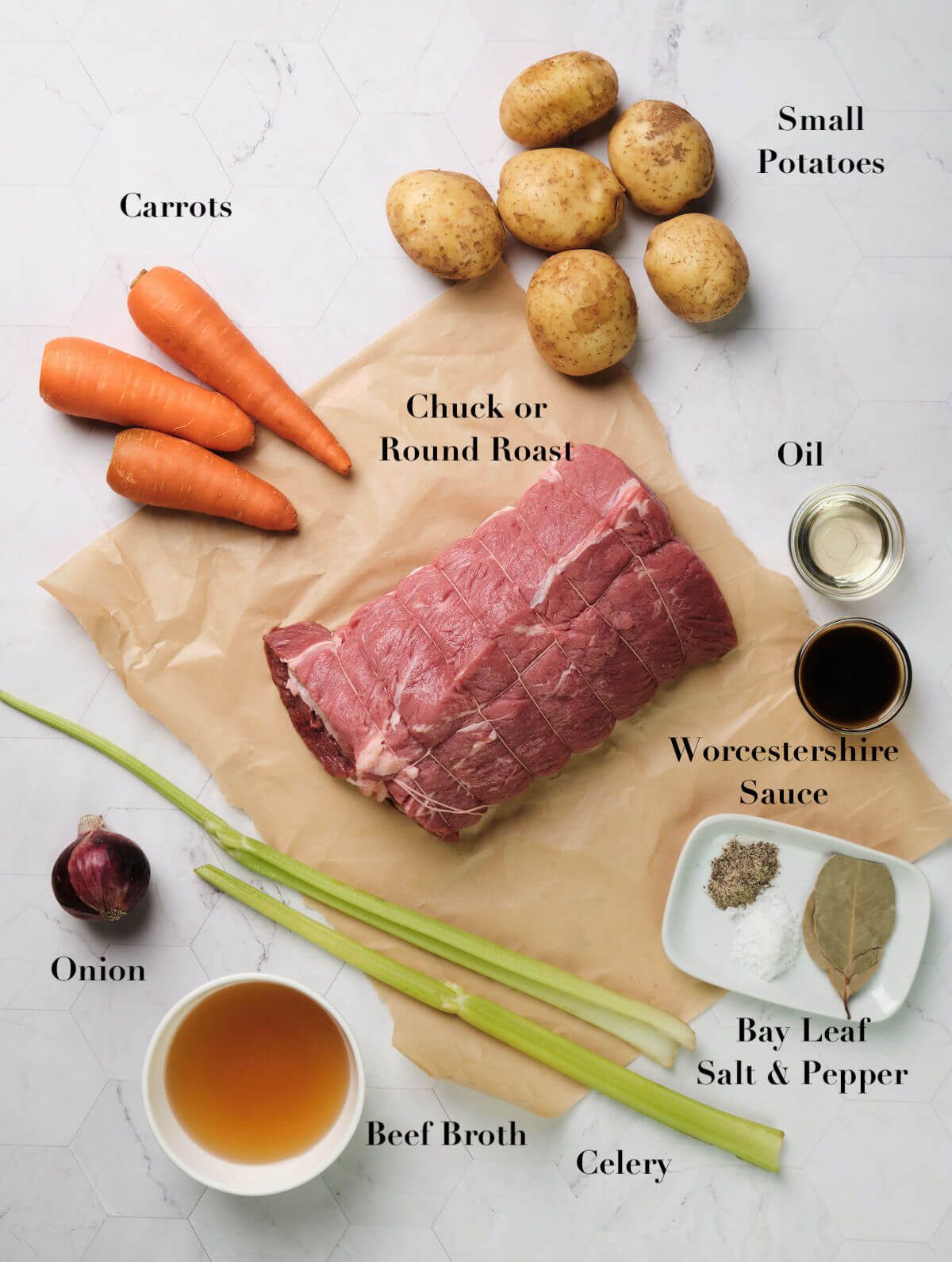 Classic Beef Pot Roast FAQs
What's the Best Cut of Beef for Pot Roast?
If you're wondering how to make the most perfect and best classic pot roast, it all starts with the beef. The cut you choose determines the texture and even the flavor!
For all the answers I go to the Beef Checkoff's website Beef It's What's For Dinner. The checkoff chef Dave Zino used to come into our test kitchen at the magazine and talk to the editors about new cuts, how to use different cuts, steaks and roasts, and tell us anything new in the beef industry. It was great education!
I still go to the website to check on cuts, the names, and remind myself of those I haven't used in a while!
For this particular dutch oven pot roast recipe, I recommend buying a chuck or round roast.
What Are the Best Potatoes for Pot Roast?
I prefer using any type of small potatoes to make my dutch oven pot roast. New potatoes or red potatoes would both work here.
When To Add Vegetables to Roast in Oven?
For this chuck or bottom round roast in the oven with vegetables, I add the vegetables immediately after I sear the roast and before I place the dutch oven into the oven for several hours. The vegetables will poach until tender in the cooking liquid and have a delicious infused-beef flavor.
The Two Ways to Cook a Pot Roast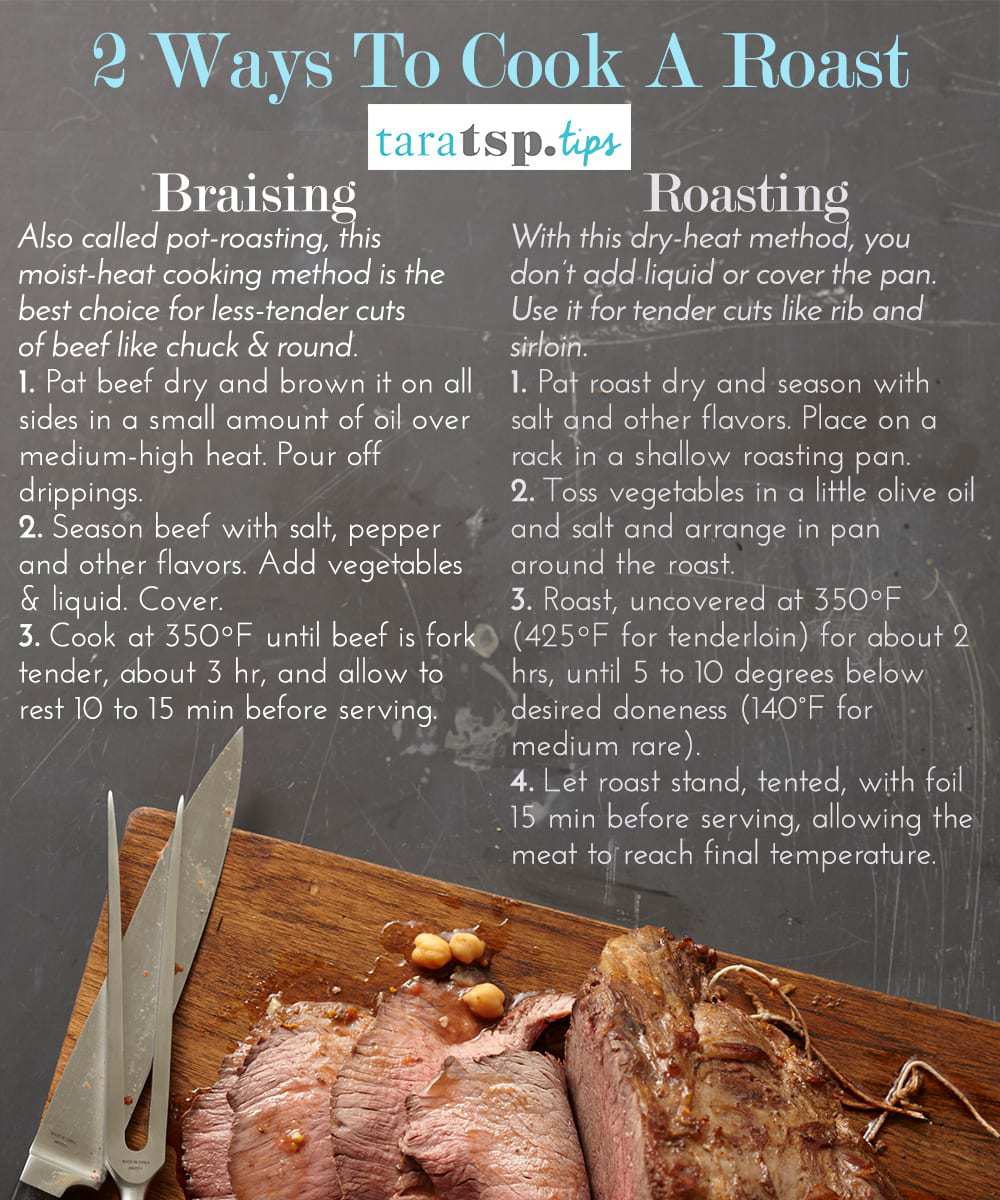 Depending on the cut of beef you have, there are two great ways to make a pot roast in the oven with potatoes and carrots.
For more tender cuts like prime rib and sirloin, you use the roasting method. These roasts don't get covered. It's a dry-heat cooking method. They don't need the help of moisture and steam to tenderize.
For roasts from the chuck or round, that need slower, lower, longer cooking times to tenderize and become fall-apart-delicious, use the braising method. This is where a slow cooker, dutch oven or covered casserole cooked in the oven come in. They trap the moisture in the pan with the roast to help those tough bits break down and soften.
How to Cook a Pot Roast in the Oven
I've given slow cooker instructions in the recipe card below, but here's an overview of how I make a Dutch oven pot roast in the oven. I show you when to add vegetables to roast in the oven, and all the delicious seasonings to use.
Heat oven to 325°F.
Tie roast with kitchen twine if it is boneless or not compact.
Heat a little canola oil in a Dutch oven and sear beef on all sides until dark brown. Season with salt and pepper.
Add potatoes, celery, carrots, onion, bay leaves, Worcestershire sauce and beef broth to the pan.
Cover and roast in oven until beef is fork-tender, 3 to 3 ½ hours.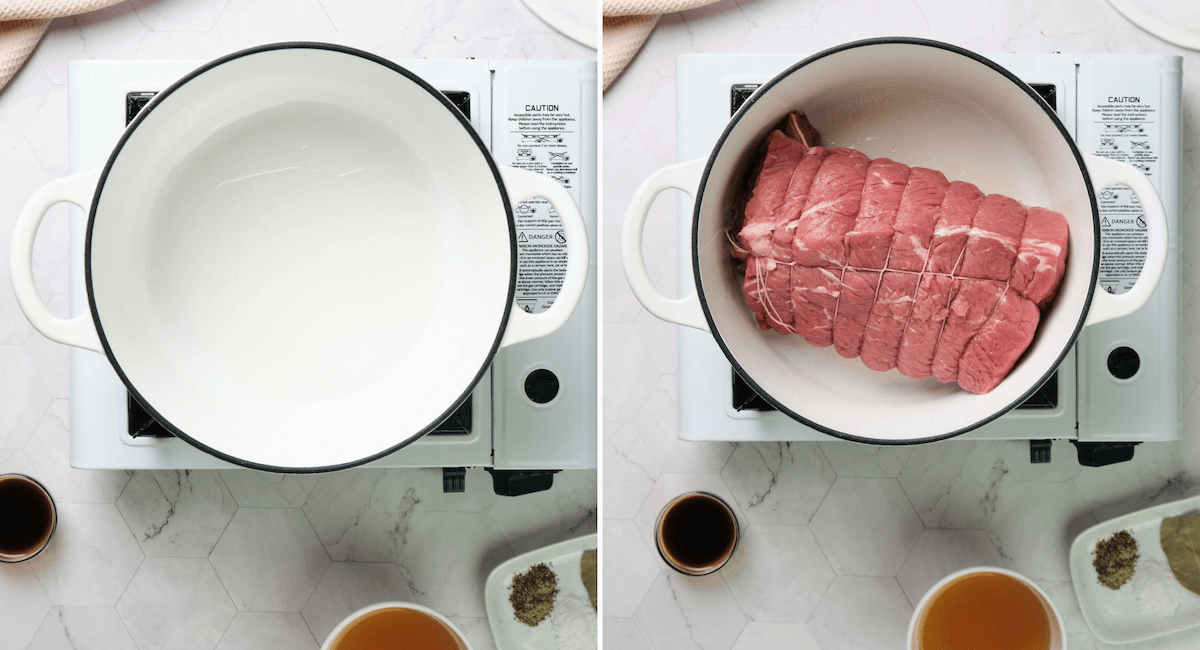 I use an oil that is good for high heat. Canola oil or avocado oil works well.
A roast tied with kitchen twine will stay compact while browning and will cook evenly.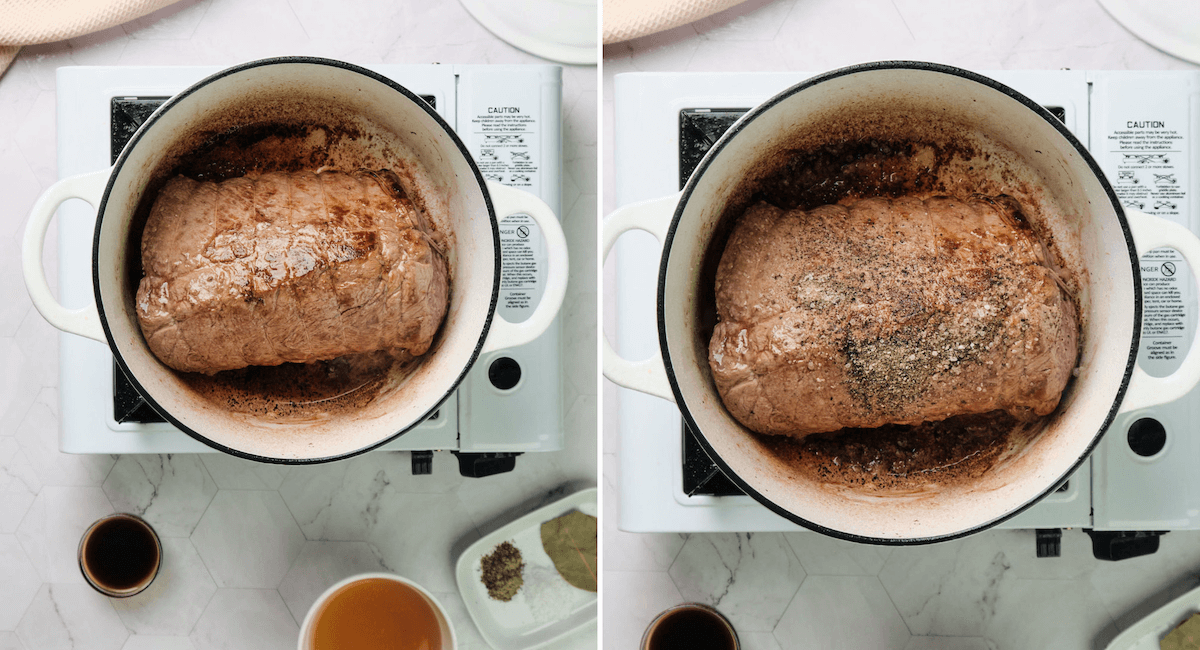 Caramelizing, or browning the meat adds the classic flavor to a pot roast. If you are braising this in a slow cooker, you can't skip this step, so brown the meat in a large skillet or pot, and use the broth to deglaze the pan so you can pour all the flavored juices into the slow cooker.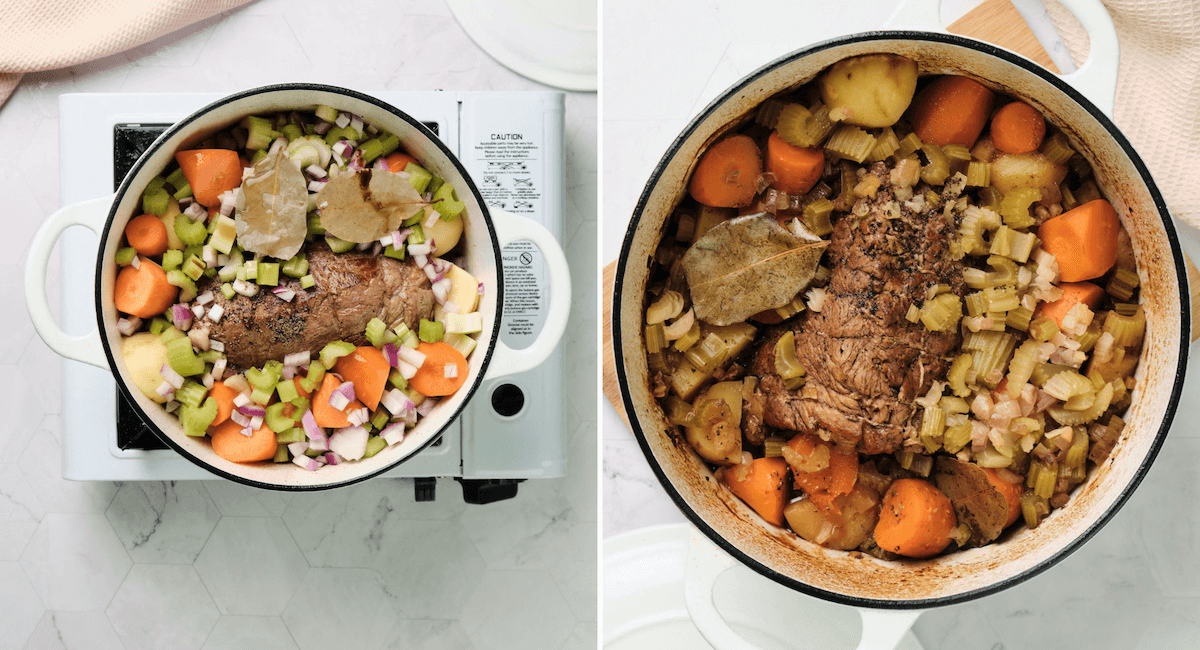 How to cook a roast in the oven with vegetables:
Look at the step by step images to see the beef roast with vegetables in a Dutch oven. Once you've browned the roast, you will add the seasonings, vegetables and liquid.
Cover the Dutch oven with a lid and place the entire pot in the heated oven. The roast will braise inside the pot right in the oven. After three hours, check the roast to see if it is very tender. Cook another 30 minutes if you want it more tender.
Equipment Needed for This Recipe
Knowing what to cook your delicious pot roast in is also key to a great meal. Slow-cookers are of course great–and here are some other options.
Make pot roast in a slow cooker
Follow the recipe through step 1. Instead of adding the vegetables to your Dutch oven or pot, remove the roast and place it in a slow cooker.
Then add the beef broth to your Dutch oven and deglaze the pot by scraping the browned bits from the bottom. Pour the broth and browned bits into the slow cooker, add the vegetables and remaining ingredients and proceed.
Cover the slow cooker and cook on high for 4 to 5 hours, until the roast is very tender.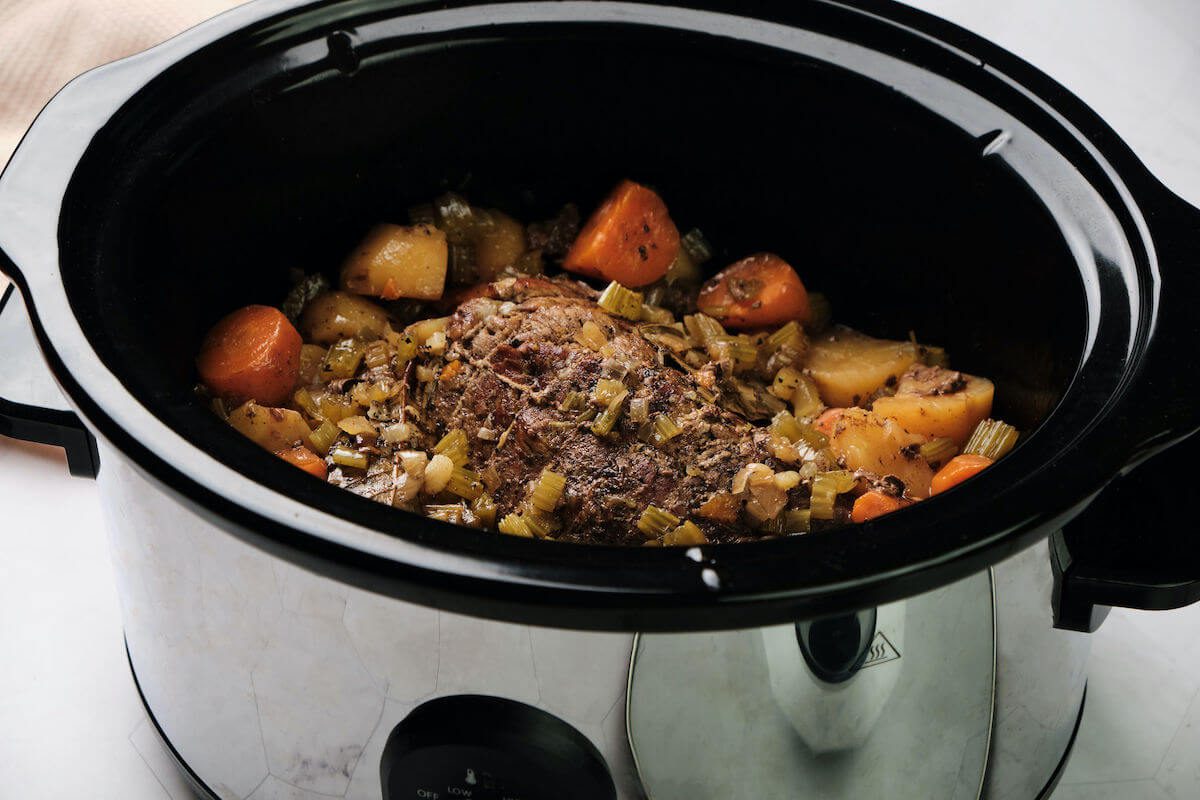 What to Serve with Pot Roast
Pot roast sides are pretty much cooked right in the Dutch oven with the roast!
However, if you want more sides than this pot roast with potato and carrots offers, then I have some suggestions.
For more Sunday-best, or even easy weeknight meals, try these other great recipes from Tara Teaspoon.
Warm Salmon and Arugula Pasta Salad is my favorite way to eat pasta. Yes! As a salad. A fresh and delicious pasta salad with peppery arugula and seasoned salmon comes together in minutes.
Honey-Rosemary Chicken With Yukon Gold Potatoes is a slow-cooker favorite. A slightly sweet and savory meal the entire family will dig into.
---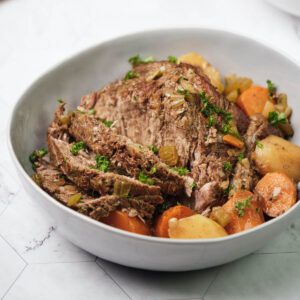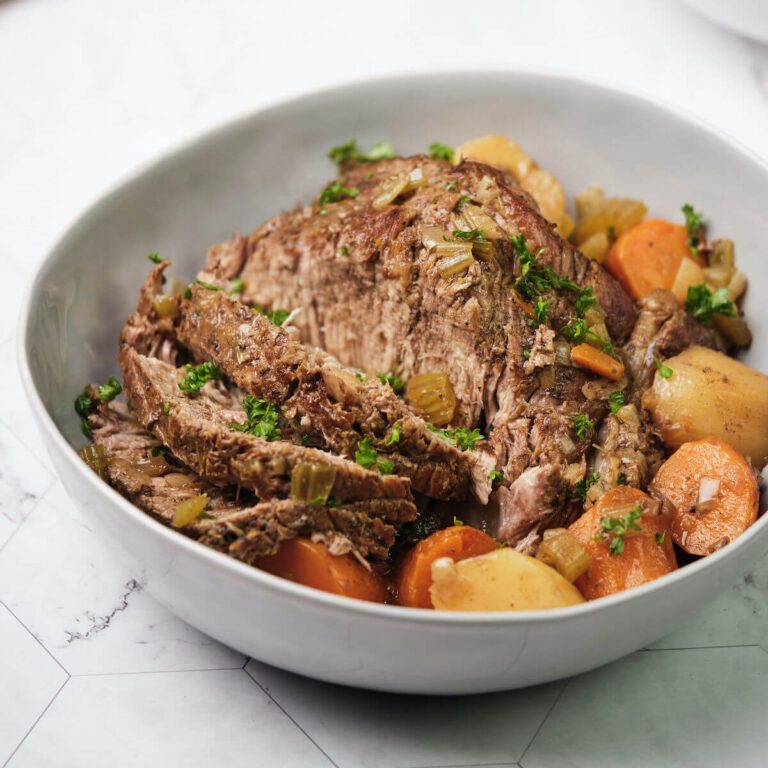 The Best Classic Oven Pot Roast With Vegetables
This classic pot roast with potatoes and carrots is — dare I say it? — better than mom used to make. It's easy, comfort-food-goodness!
Ingredients
3 to 3½-

pounds

chuck or round roast

1

tablespoon

canola or avocado oil

Salt and pepper

6

small potatoes

quartered

2

ribs celery

cut

3

carrots

cut

1

large onion

diced

2

bay leaves

2

tablespoons

Worcestershire sauce

½

cup

beef broth

Kitchen twine

if needed
Instructions
In the oven:
Heat oven to 325°F. Tie roast with kitchen twine if it is boneless or not compact. Heat canola oil in a Dutch oven and sear beef on all sides until dark brown. Season with salt and pepper.
In a slow cooker:
Sear and brown the roast in a large pan then remove and place in a slow cooker crock. Season with salt and pepper.

Follow Step 2 from oven instructions, but slow cook on high for 5 to 6 hours until roast is very tender.
Notes
Whether to braise or to roast, the cut makes the difference. Check out my tips in the post.
Nutrition
Calories:
525
kcal
Carbohydrates:
6
g
Protein:
52
g
Fat:
33
g
Saturated Fat:
14
g
Cholesterol:
183
mg
Sodium:
377
mg
Potassium:
1094
mg
Fiber:
1
g
Sugar:
3
g
Vitamin A:
5190
IU
Vitamin C:
4
mg
Calcium:
71
mg
Iron:
6
mg
Main Dish Recipes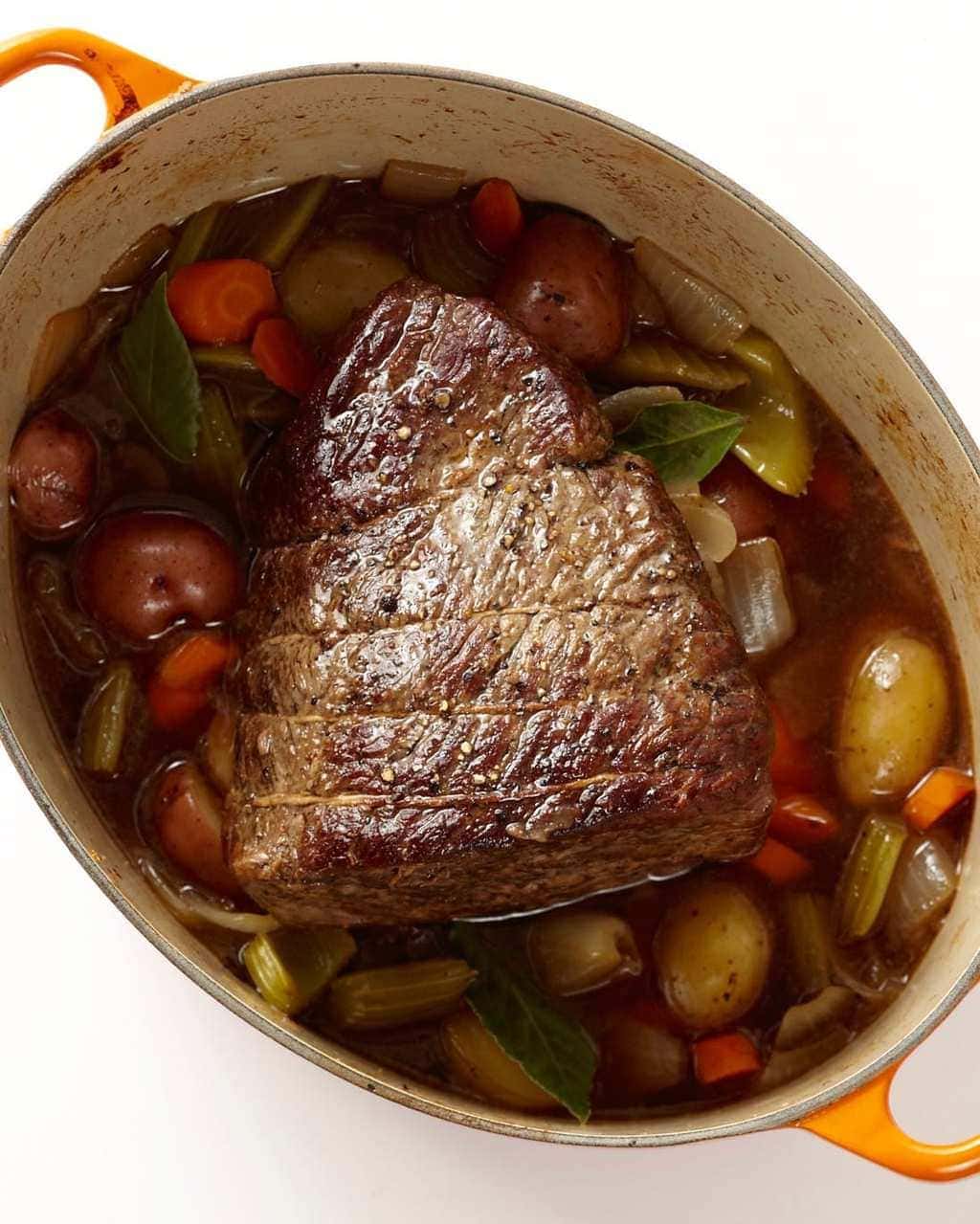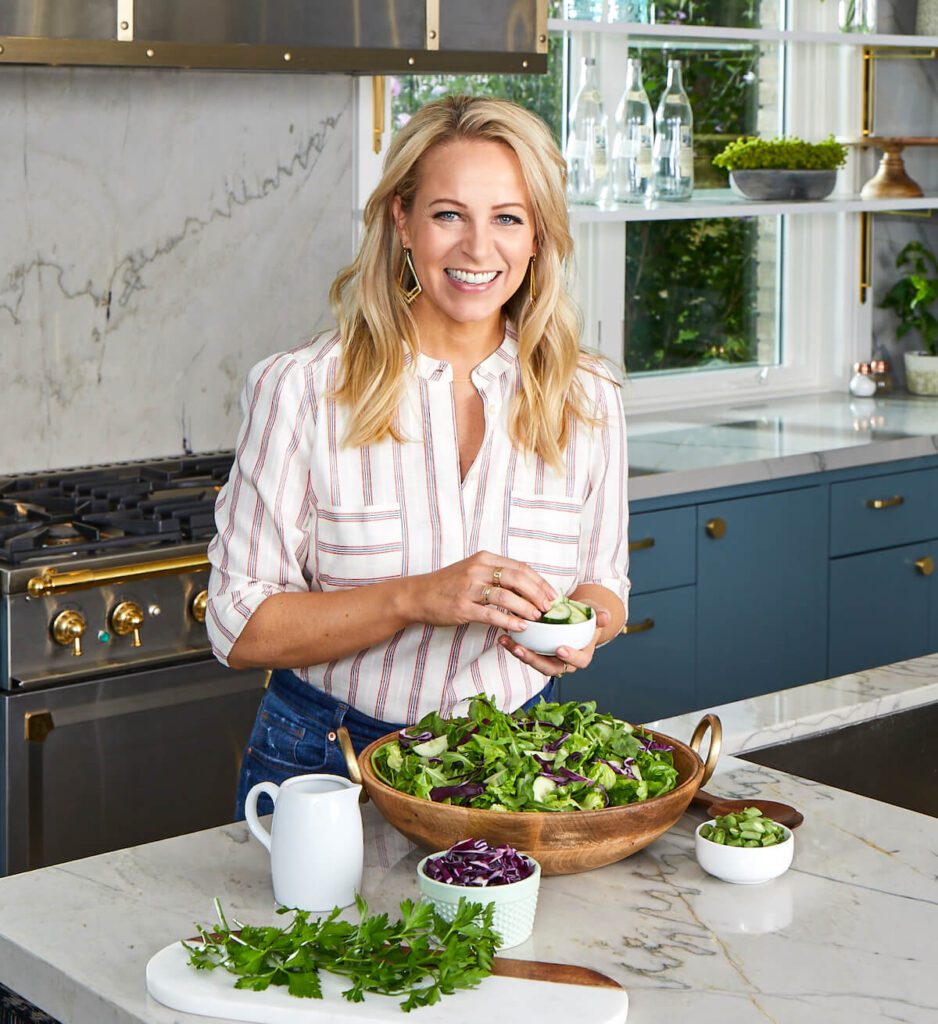 About Tara Teaspoon
I've been in the food publishing business for over 20 years, creating recipes & food-styling for magazines, books, television & advertising. Order my new cookbook & stick around for amazing things to eat.
Recipe Tara Teaspoon, Originally published in LHJ Dec11/Jan12. Updated March 2023.