---
These buttery black licorice caramels will be a hit with, well, everyone. Watch the video to see the step by step instructions to make them yourself.
---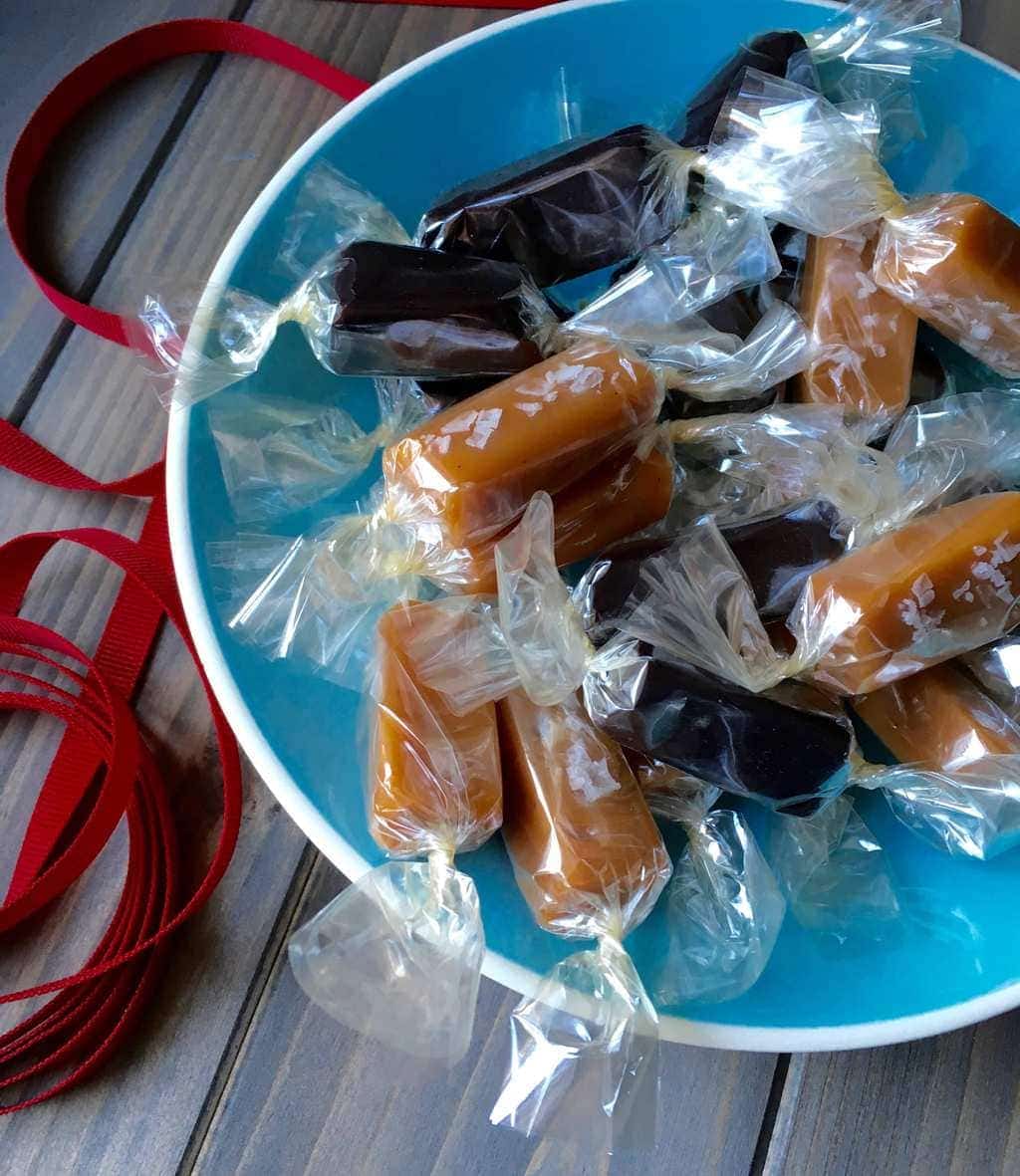 My mom used to hand me the wooden spoon (there were no silicone spatulas back then) and hold her hand over mine with the spoon handle inside, then swirl the caramel in the pan in a "figure 8." Always a figure eight pattern—so that there were no spots on the bottom of the pan that didn't get stirred and then scorch.
Once I got the figure eight motion down she'd let go of my hand and let me do it. She'd attach the candy thermometer onto the side of the pot and show me a line where the mercury needed to rise to before I could stop stirring.
I actually loved it. I would watch the sugar and butter mixture bubble and turn from blonde to gold, then to caramel brown. All the while watching the mercury rise. Then we would stir in the black coloring and anise oil and the entire house it seemed would smell like deliciousness.
Now when I make caramel I laugh thinking how smart my mom was to teach her 5 or 6 year old to stir the caramel for almost half an hour so she didn't have to stand by the stove that entire time! Good form mom! Good form.
Watch my how-to video below to see how we made these Buttery Black Licorice Caramels. Don't worry, we sped the almost 25 minutes of stirring up, so you can go on with your day! LOL
Also try my Vanilla Salted Caramels, recipe here. And find the pretty cellophane candy wrappers here if you don't want to use waxed paper.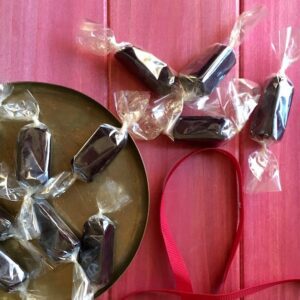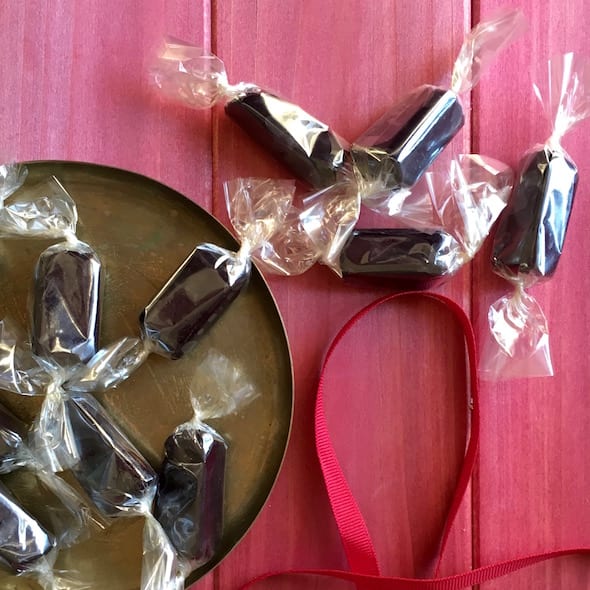 Buttery Black Licorice Caramels
The recipe for these divide black caramels came from Aunt Leila Ruth, my grandfather's little sister. Mom has made these for as long as I can remember. I grew up stirring the caramel and wrapping them. Convince everyone to try these! Even if they don't love black licorice, they will fall for these little candies.
Ingredients
1

cup

2 sticks unsalted butter

2

cups

granulated sugar

1

can

sweetened condensed milk

1 ½

cups

light corn syrup

¼

teaspoon

sea salt

1

teaspoon

anise oil

1

teaspoon

black gel-paste food coloring

cellophane wrappers or waxed paper
Instructions
Line a 9-by-13 inch pan with parchment and spray with cooking spray.

Using some butter, coat the inside of a 4 qt heavy saucepan. Add the sticks of butter, sugar, sweetened condensed milk, corn syrup and salt. Cook over medium-high heat until butter is melted, stirring constantly. Reduce heat to medium.

Insert a candy thermometer into the pan and continue stirring constantly until the temperature is 244ºF (for sea level. check local temperature adjustments according to your elevation), or medium firm-ball stage. Remove from heat.

Stir in anise oil and black food coloring and pour into prepared pan. Pan will be hot. Transfer to a flat surface and let cool overnight. When caramel sets after a few hours you can wrap the pan in plastic wrap to rest overnight.

Transfer caramel to a clean cutting board and remove any parchment. Cut with a sharp knife into desired sizes. I cut mine about ½ inch deep and 1 ¼ inches long. You will get over 100 pieces.

Wrap well in cellophane or waxed paper. Will keep for up to 2 weeks.
Notes
These new-fangled silicone spatulas are just the ticket for stirring candy!
Nutrition
Calories:
5894
kcal
Carbohydrates:
1008
g
Protein:
33
g
Fat:
219
g
Saturated Fat:
138
g
Cholesterol:
622
mg
Sodium:
1430
mg
Potassium:
1523
mg
Sugar:
1007
g
Vitamin A:
6730
IU
Vitamin C:
10.3
mg
Calcium:
1246
mg
Iron:
1
mg
Newest recipes from Tara Teaspoon!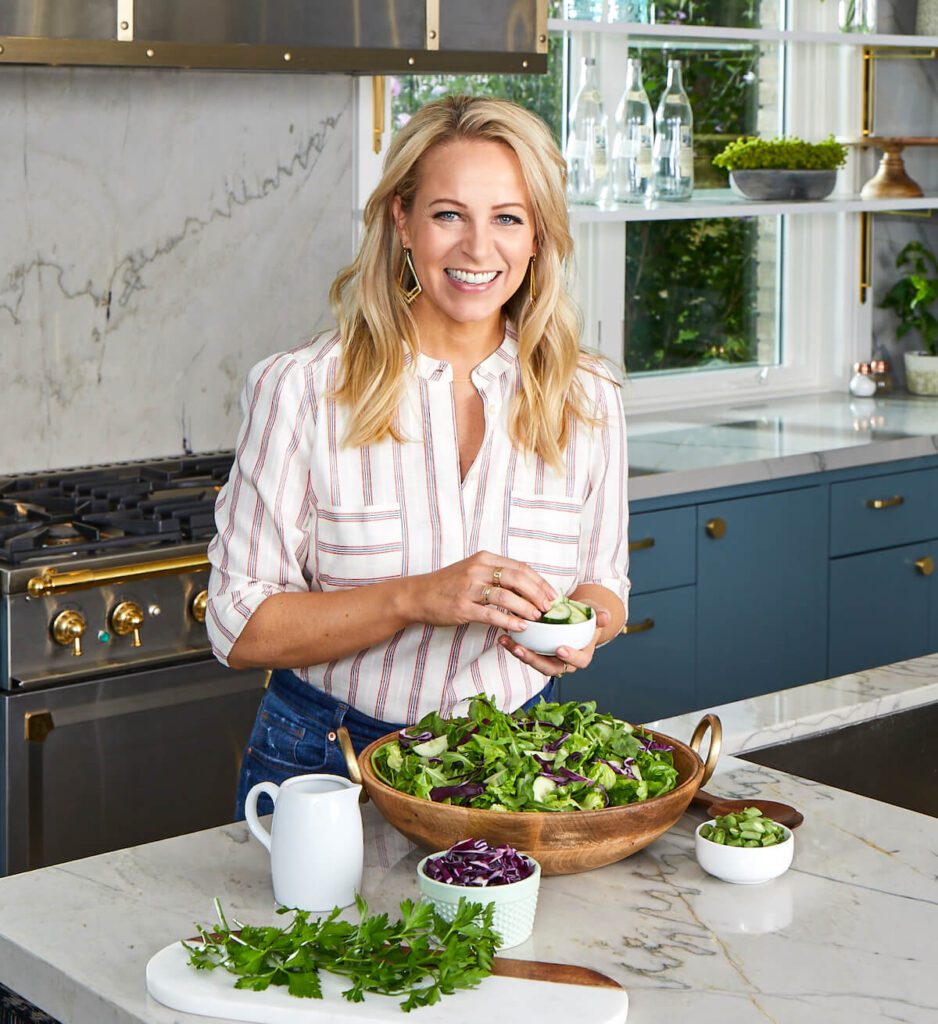 About Tara Teaspoon
I've been in the food publishing business for over 20 years, creating recipes & food-styling for magazines, books, television & advertising. Order my new cookbook & stick around for amazing things to eat.
Recipe from Mom. Photography Tara Bench. Videography and editing Melanie Donahoo