---
What will you be eating in 2020? Here are the current food trends for the next year. From flavors, health food and snacks, to new produce and drinks.
---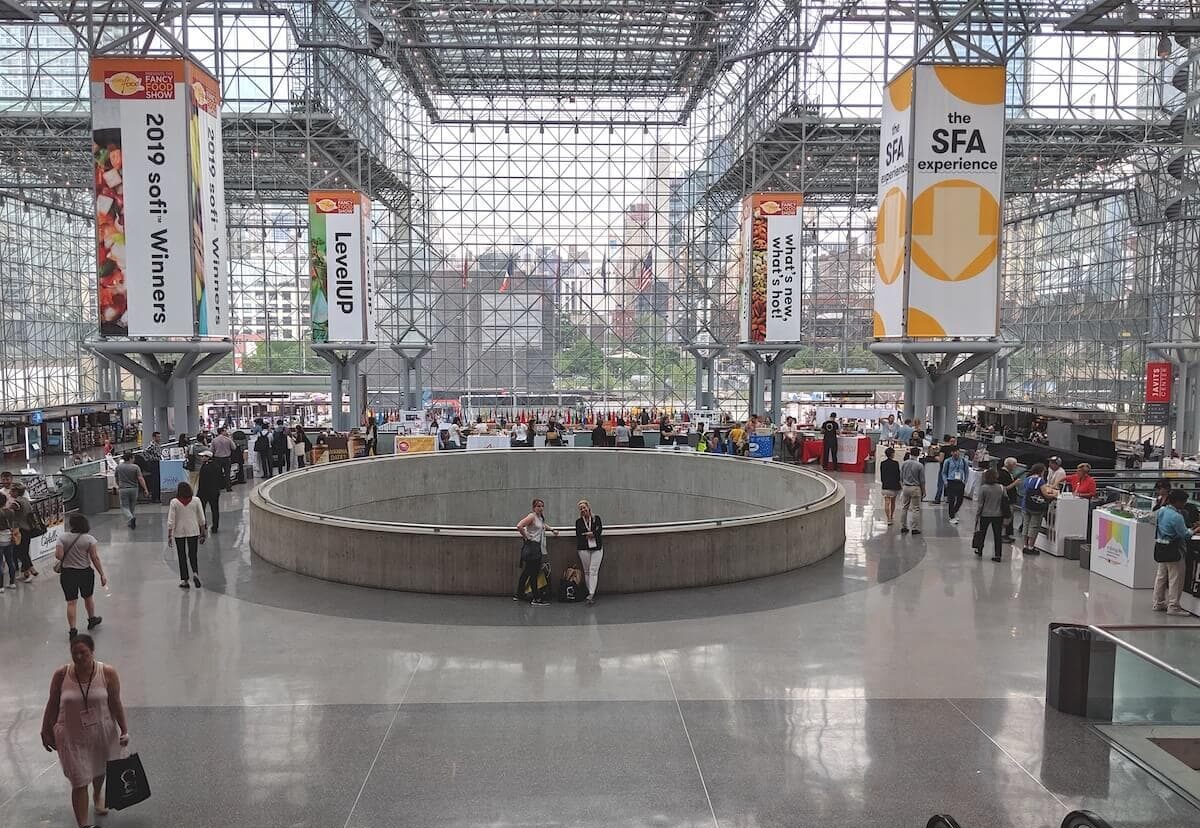 If you want to know what's new in the food world, what the current food trends are or what you'll see on grocery store shelves in the next year, you go to the Summer Fancy Food Show. It is an annual event produced by the Specialty Food Association, here in New York.
I spent two days taste-testing the newest offerings in food, just for you! You're welcome.
Current Food Trend Overview:
In the last few years we have seen veggie-forward snacks come into the food arena.
Cauliflower is a heavy-hitter as a low-carb, gluten-free flour and rice substitute, but this year we saw it take the snacking stage.
Make my Cauliflower Mac 'n' Cheese.
Coconut everything! Of course there is the electrolyte-heavy coconut water, and delicious coconut flakes (in all flavors), but coconut-based snacks, prepared foods and coconut milk based treats were prevalent.
One delicious push this year was in the ice cream arena. We saw high quality, sustainable ingredient ice cream, dairy-free ice cream made with all sorts of nut milks, low-calorie ice creams, and even ice cream made from vegetables! I'll admit it was a pretty great way to "hide the veggies."
Probiotic focused foods and beverages stood strong as in years past. Kombucha took the stage as a healthy alternative to soda or alcohol, with new flavors and healthful additives.
Gluten-free eating is still an important trend where new innovation comes out every year. We saw (and sampled) lots of gluten-free pastries, granola bars, and other delicious snacks. Celiac and gluten intolerant folks are set!
America's sweet tooth is as strong as ever, and health-conscious eaters will be pleased with the many sugar alternatives and plant-based sweeteners making their way into treats and snacks.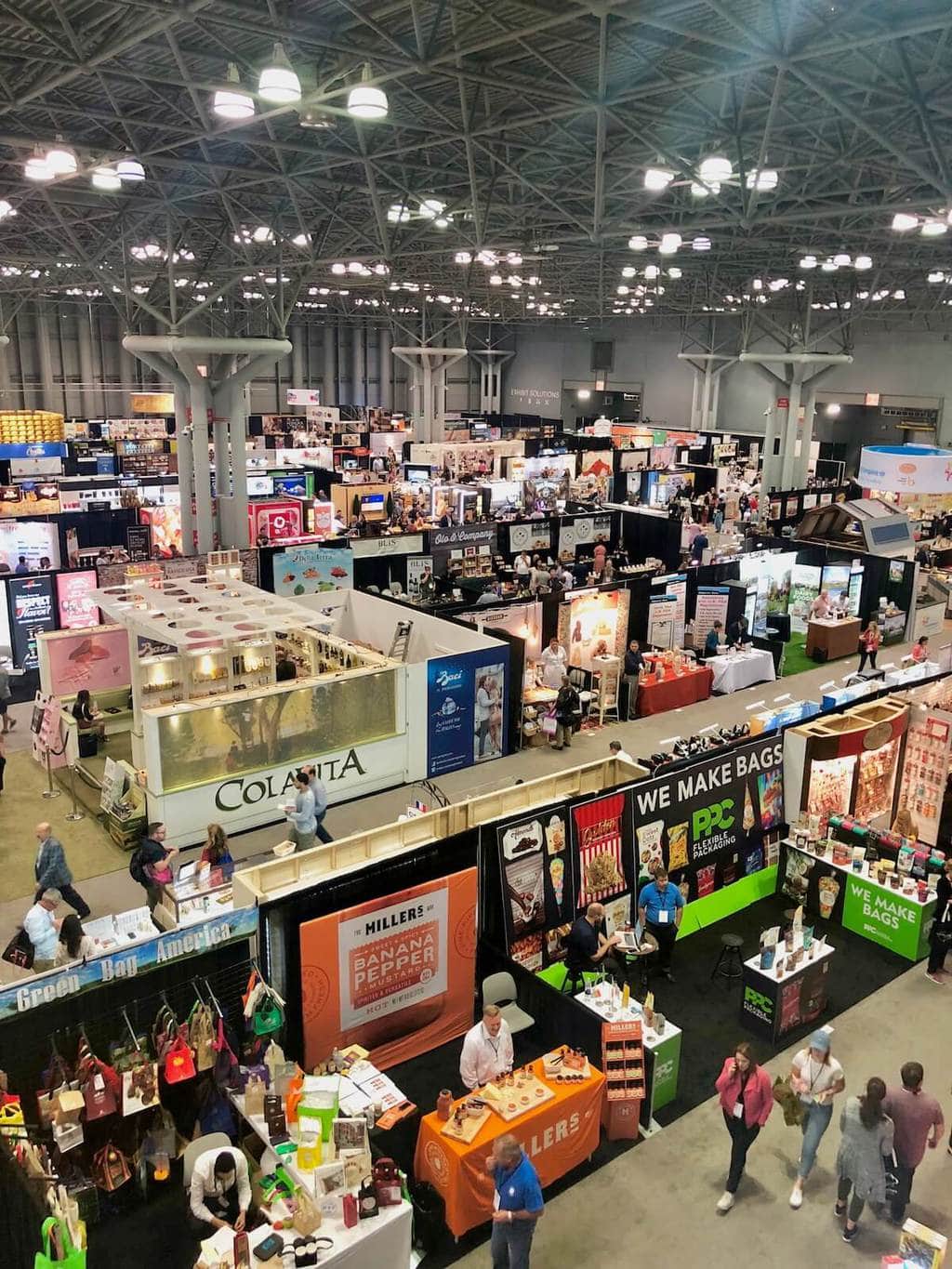 What does Food Sustainability mean?
Years ago there was a shift towards food sustainability. This means that the food products (and often their packaging) are sourced from resources that are environmentally-conscious in their production.
Sustainable farming practices, low environmental impact, animal welfare, promotion of good public health practices and community support are all factors when it comes to classifying "sustainable" food products.
This year at the Fancy Food Show, a lot of food products seen were made with extra care, and responsibly sourced.
One of these was 5 Spoke Creamery. A family-owned company located in upstate NY that takes extra care to produce high quality and environmentally-friendly cheeses. And their entire facility is 100% solar-powered!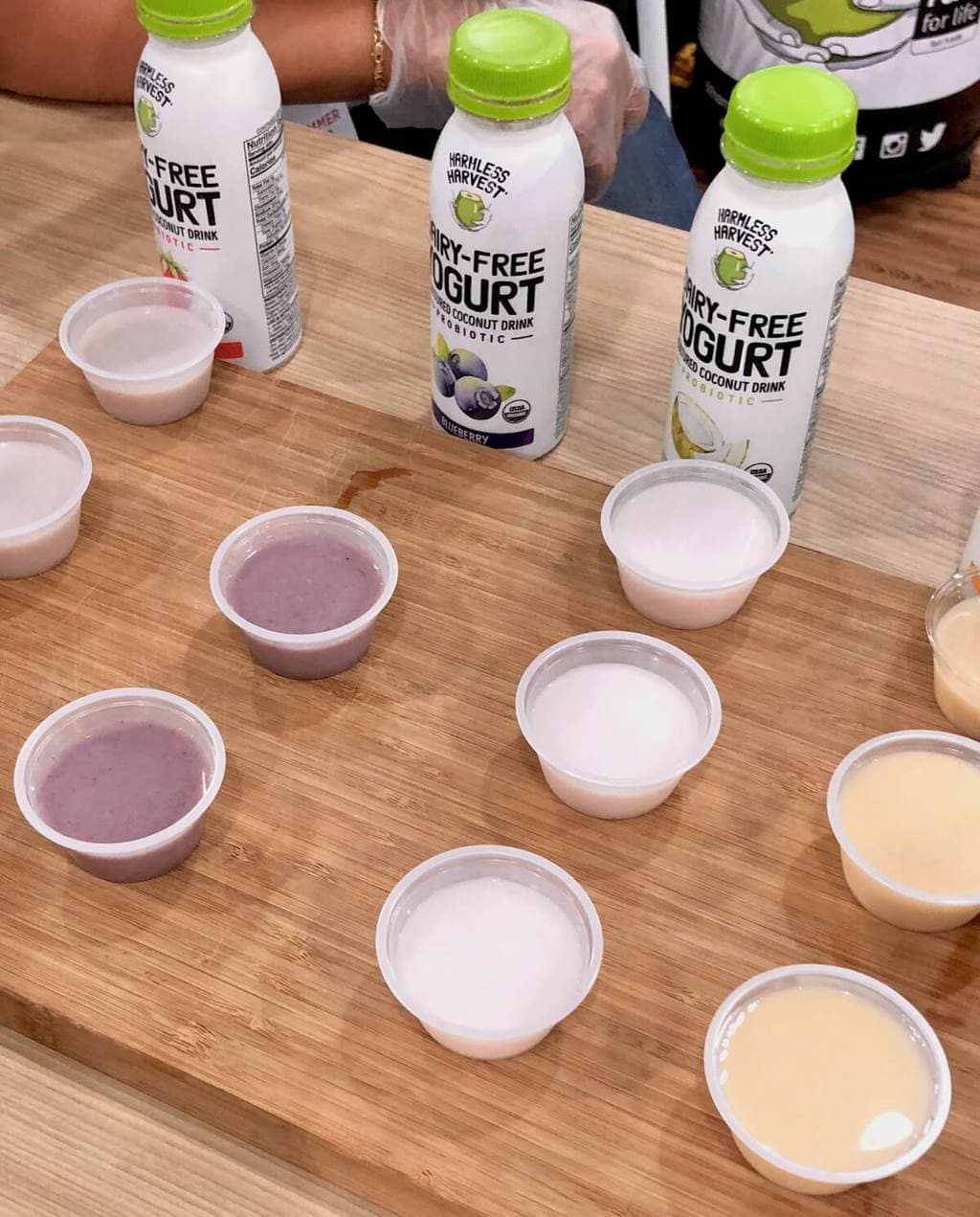 Food Trends: Coconut
Coconut everywhere! Coconut water, with different flavors. Coconut flakes, coconut snacks, baked goods made from coconut flour, and even coconut milk straight from the coconut!
Try my Magnificent Coconut Macaroons to make your own coconut treat.
My good friend Robert at Melissa's Produce showed us their easy-straw coconut that is now in stores! It is a baby, yet mature coconut that fits in the palm of your hand. With a straw provided in the packaging, you puncture the soft eye of the coconut and drink the coconut water. It was so fun sipping straight from the fruit!
One of the popular brands that carry coconut water was Harmless Harvest. They have coconut water that is pink! The antioxidants in the originally clear coconut water react with with light and they turn the drink pink.
Lots of coconut yogurts are rolling out. Full of probiotics and dairy-free, they are a great-tasting sweet snack! At the show, our favorite coconut yogurt came from the Coconut Collaborative. They have low-calorie, coconut-based yogurts and desserts in delicious flavors. (Hello, salted caramel and chocolate dessert pots!)
Creative Snacks Co. coconut snacks are clusters of goodness: coconut flakes, chia seeds, sunflower seeds, pumpkin seeds, cranberries, cashews and almonds all packed together. They come in great snack-sized combinations!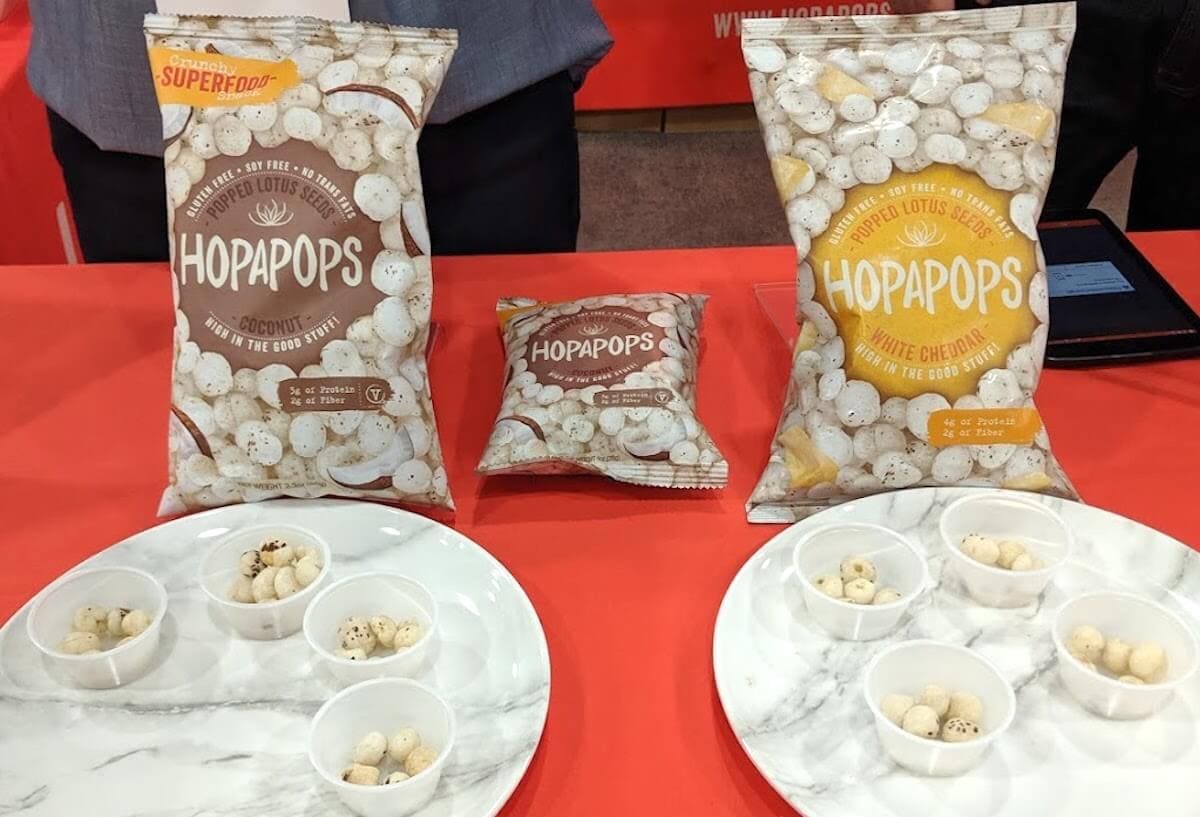 Fancy Food Show Veggie-Forward Snacks
Another emergent theme to take note of, are vegetable-based carb substitutes. This included broccoli pizza crust, tasty and deliciously packaged veggie snacks, and even vegetable-infused ice cream.
There seems to be a significant change of direction – veggie forward – in relation to the snack industry!
From popped lotus seeds (my personal fave), to bars stocked with quinoa or chia seeds; each offers a distinct texture and flavor.
Hopapops was a favorite snack. The basis of the snack is the seed of the lotus flower, and it comes in coconut and white cheddar flavors.
Biena has chickpea puff snacks that are so satisfying! They have white cheddar, vegan ranch, and 'blazing hot' in crunchy chickpea puffs that are light and flavorful.
It seems snacks are becoming the creative stage with new combinations--like the dried citrus and dried aloe vera packs from the Alō Snacks company.
Cauliflower was probably the most used veggie we saw at the show! It has been a trend for carb substitutes for years now, but is finally entering the snack world. Cauliflower is so versatile and healthy, so it found its way into many different products and flavors.
Cauliflower advocates, Caulipower, has a fun motto: "Live life on the Veg!", and it really echoes the trends of food and snacks. They have so many creative substitutes: pizza crusts, tortillas and even cauliflower breaded frozen chicken tenders!
If you're looking for some variety, From the Ground Up Snacks have a huge variety of recognizable, kid-oriented snacks. They come in all different shapes like stars, stalks, pretzels, tortilla chips and crackers.
Rhythm Superfoods introduced their easy, classic cauliflower snacks. They come in delicious and crunchy snack flavors as White Cheddar, Sea Salt, and Buffalo Ranch.
Gluten-Free Everything
I have a family member with Celiac disease, so I am a huge fan of healthy, tasty, gluten-free products. It seemed that only a few years ago there were no choices. Now those that eat gluten-free can enjoy so many previously off limits food.
Gluten-free granola was everywhere this year. Served in packaged protein bars or as a topping with nut mix-ins. It was tasty and varied.
Gluten-free pastries have been around for a while. This year bakers have stepped up their game, providing even French-style pastries that taste pretty darn good.
King Arthur Flour came out with new gluten-free microwaveable desserts. They were delicious, a single serving and taste just like gluten flour brownies or chocolate chip cookies!
Bobo's Bars were a standout favorite. Handmade from their factory in Boulder, CO, they are packed with delicious and unique flavors like banana, peanut butter and jelly, and even peach.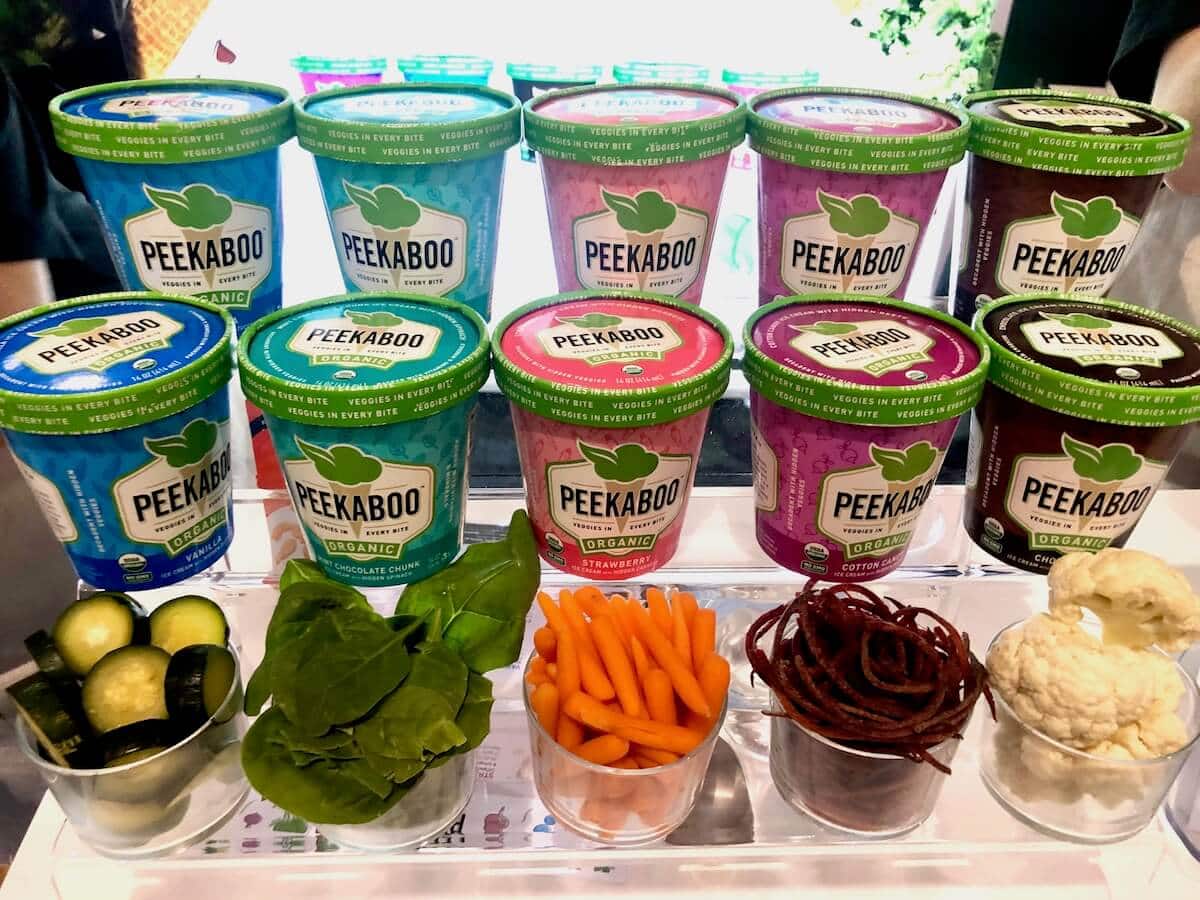 What's new with Ice Cream?
Once we thought frozen yogurt was the health cure for our ice cream cravings. Those days have come and gone, and now we know we can enjoy the good stuff, but just in limited portions!
The ice cream folks are pulling out all the stops. Making really delicious ice cream in crazy flavors--and some are even super healthy!
Jeni's Ice Cream, as always, is artisanal ice cream made using whole ingredients and grass-fed cows. I like that.
Malai ice cream is an artisanal, eggless ice cream with flavors inspired by the flavors of India. Now that's super cool.
Peekaboo Ice Cream is packed with veggies! Yes, actual vegetables. Beets, carrots, spinach and cauliflower. But you can't even taste them. You'll have to try it to believe it! The lovely traditional ice cream flavors shine.
Health and Wellness:
You may be one of the millions of Americans focused on eating for health, wellness, and sustainability. An ever-growing trend, with products that continue to be innovative and improved.
Probiotics & Kombucha
Kombucha was a highly saturated product at the show. A variety of brands advertised kombucha as a health-conscious alternative to soda or alcohol.
The popularity of kombucha is only going to grow in the coming months, as it has the last few years.
Kombucha is the naturally fizzy drink that Specialty Food News predicts will rival craft beer! Some other probiotics and gut cleaners we saw included vinegar drinks and additives to waters. Alcohol-free drinks are also trending.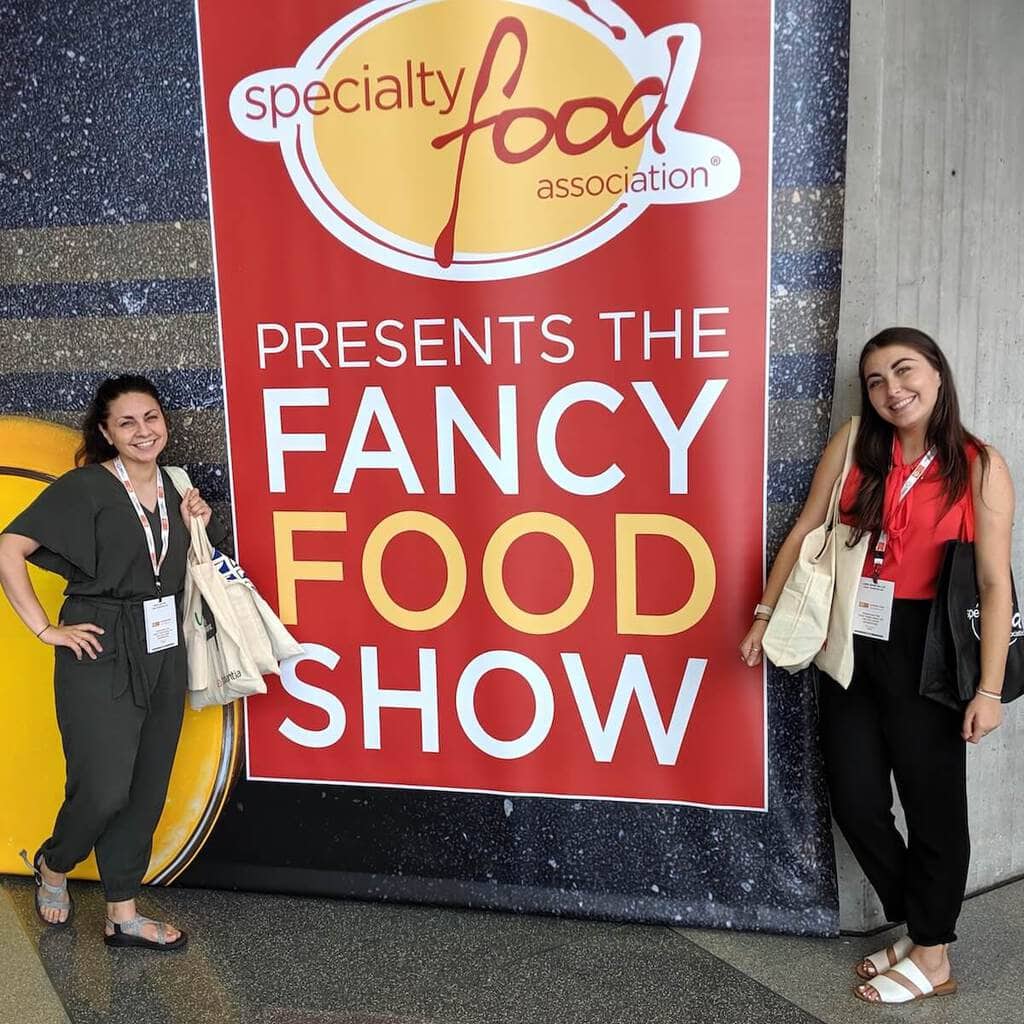 A few last, delicious thoughts on trendy food.
Food brands are infusing pure maple syrup with flavors that deem it ideal for pairings with cheese, cocktails, ice cream, and tea.
You can also now find maple syrup with exciting flavors like chili pepper, pecan wood, hibiscus, and elderberry.
Check out Runamok Maple for these pairing collections!
The most fun chocolate is always found at the Fancy Food Show. Who would have thought this absolute classic treat would be so versatile. This year in chocolate, fair trade, super dark and ethically sourced chocolates are still the rage.
One of our favorite unique chocolate companies is MilkBoy Swiss Chocolates. They have a pine-flavored chocolate bar. It truly tastes like Christmas!
Compiled and written for Tara Teaspoon by Tessa Samuelsen & Anne Marie Miller. 8/19.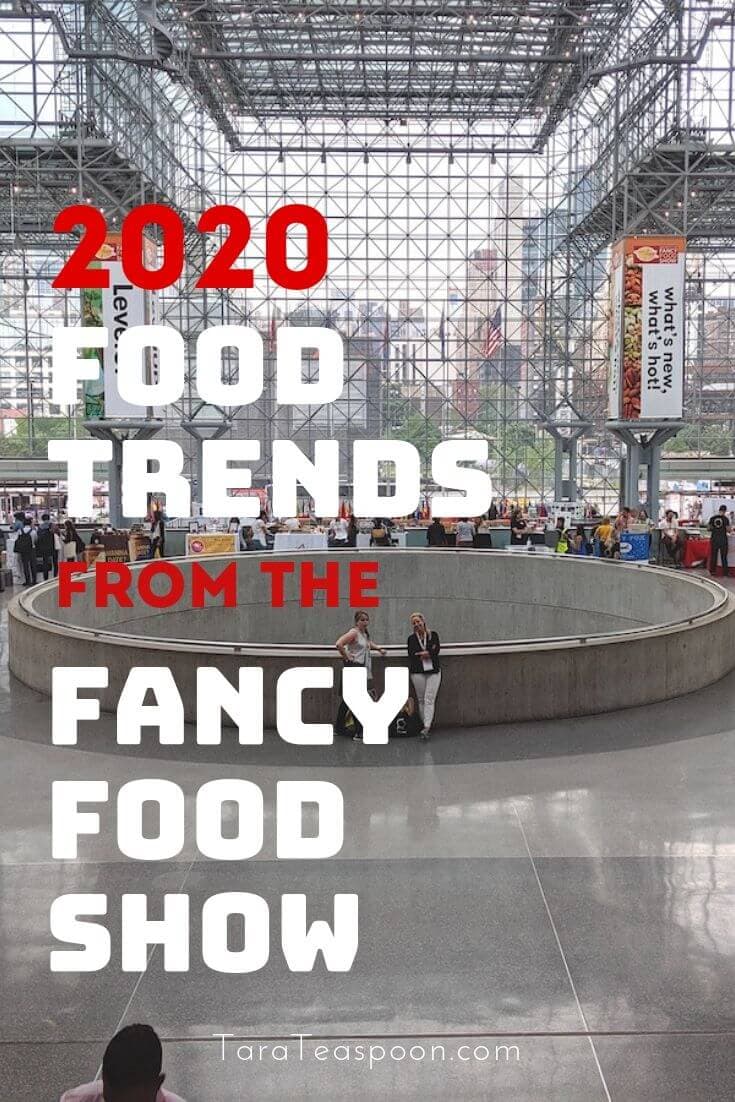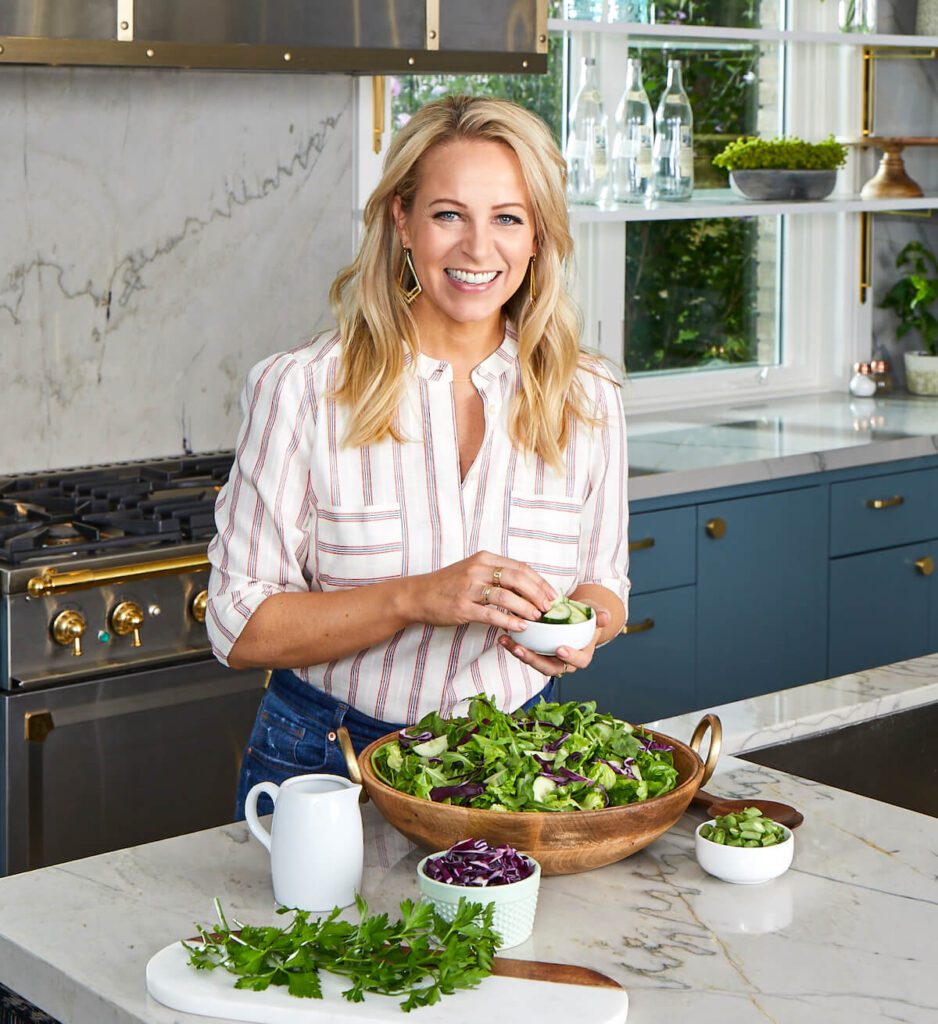 About Tara Teaspoon
I've been in the food publishing business for over 20 years, creating recipes & food-styling for magazines, books, television & advertising. Order my new cookbook & stick around for amazing things to eat.