Hey Basil, you don't own pesto! This arugula hazelnut pesto variation is out of this world, and may be your go-to summer sensation.
I'm not starting an argument here, but really, Basil, take a break. You are fantastic in my Classic Pesto, you're tasty with tomatoes, and you do pizza a great service – but I know I can mix things up with arugula hazelnut pesto and be just as happy!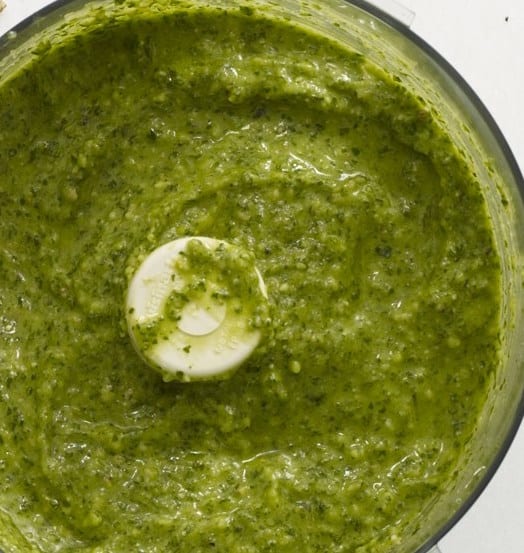 You know I like playing around with different flavors and combinations. I wanted to make a pesto with a little kick. Arugula has that green, peppery taste I love and hazelnuts are sweet and strong. Strong enough to stand up to arugula and shine through.
I used skinned hazelnuts to avoid too much of the bitter skin. Blend them up with the arugula, cheese and olive oil just as you would in classic pesto. I swapped Parmesan for Pecorino and added some lemon juice to brighten all of the flavors.
The biggest change, addition, variation, whatever you want to call it, that I made was adding dried figs. Yes! Sweet black mission figs, roughly chopped, get blended into the pesto. I actually replaced the garlic with the sweet fruit to balance the strong flavors of the greens and nuts. Hazelnuts and figs are a match made in heaven to begin with, but mixed into an herby sauce, they are quite heavenly.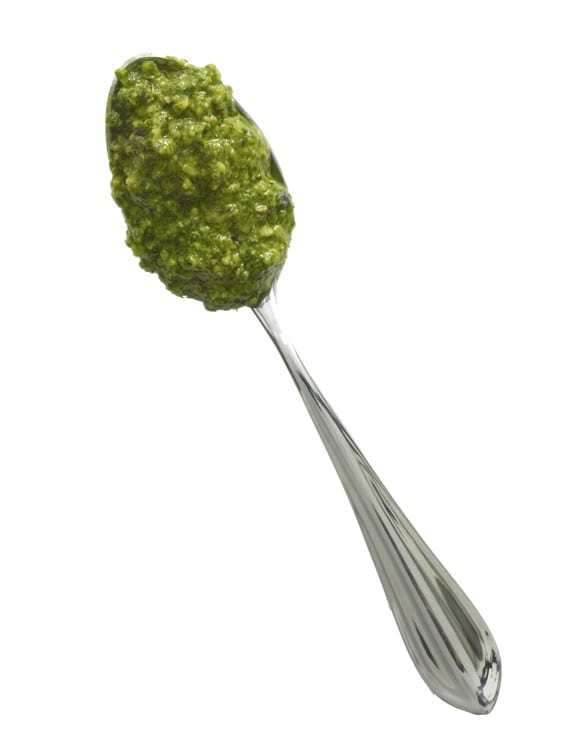 Use this fun sauce as you would regular pesto, on pasta, or serve it as a dip for veggies. It's also great with pork. The sweet fig flavor comes through just enough and it works so well as a spread to melt on grilled pork chops or tenderloin.
Storing Tip: I love to make things ahead and have them at the ready. To store arugula hazelnut pesto, or any of your herb sauces up to 4 days in the fridge, press plastic wrap onto the surface, smoothing out the air bubbles. The wrap will keep it from oxidizing and turning brown.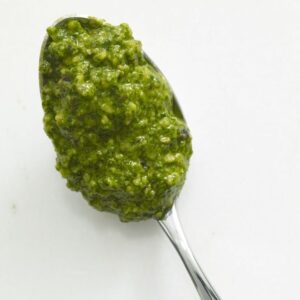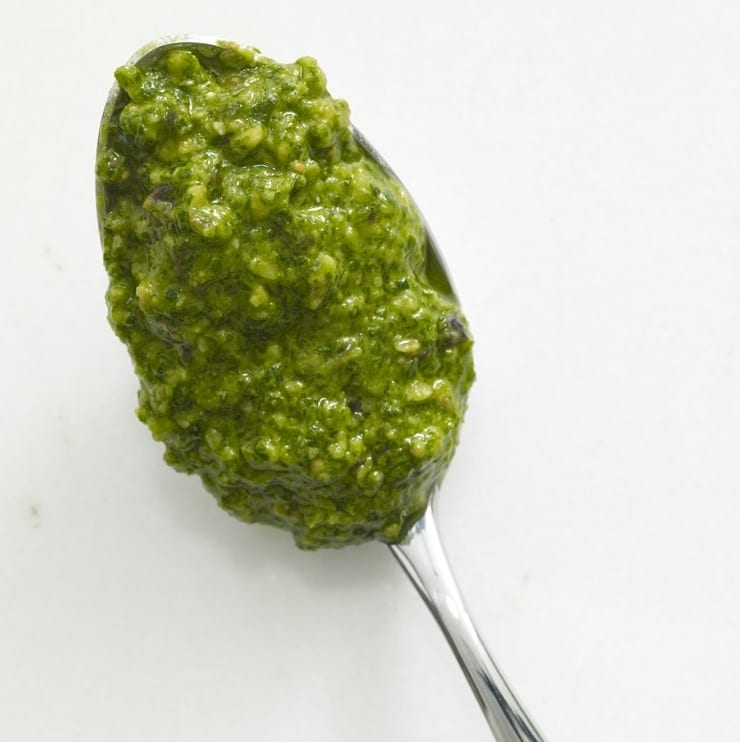 Arugula Hazelnut Pesto
Perfect with pork chops and roast beef or as a vegetable dip.
Ingredients
4

cups

packed arugula leaves

6 to 7

dried black mission figs

roughly chopped

1/2

cup

2 1/2 oz skinned hazelnuts, lightly toasted

1/2

cup

grated Pecorino cheese

1 1/2

teaspoons

lemon juice

1/2

teaspoon

kosher salt

3/4

cup

extra-virgin olive oil
Instructions
Combine all ingredients, except the oil, in the bowl of a food processor. Pulse until the mixture is finely chopped. With the motor running, slowly pour the oil into the feed tube. Use immediately or freeze for up to a month.
Recipe by Tara Bench
Originally published in Ladies' Home Journal Aug 2010
Photography Antonis Achilleos
Food Styling Cyd Raftus McDowell
Prop Styling Paige Hicks