Avocado mash toasts are all the rage in the food hub of New York.
I don't remember the first time I had one. But we made them for breakfast or lunch all the time in the test kitchen. We would use whatever grainy delicious bread that was left over, and that perfectly ripe avocado sitting on the counter. It's easy to top it with anything you find in the fridge, (a dash of original Cholula hot sauce is always my favorite).
This recipe is for a simple sweet and tangy slaw to go on top, and it's divine.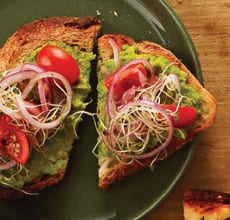 Avocado Toasts with Sprouts
For breakfast, lunch or dinner, this avocado toast hits the spot.
Serves 4
¼ red onion, sliced
6 grape tomatoes, quartered
2 tsp lemon juice
½ tsp sugar
Pinch Kosher salt and black pepper
1 avocado
Alfalfa sprouts
Toss together onion, tomatoes, 1 tsp lemon juice, sugar, salt and pepper; set aside. Mash 1 avocado with another tsp lemon juice and salt and pepper to taste. Spread avocado on 4 toasted slices of rustic bread, top with onion slaw and a pile of alfalfa sprouts.
Recipe Tara Bench
Photography William Brinson
Prop Styling Kira Corbin
Food Styling Adrienne Anderson