---
Yeah, I went there – gooey Maple Walnut Sticky Buns with caramel, drippy icing and an addictive filling. Your morning just got better.
---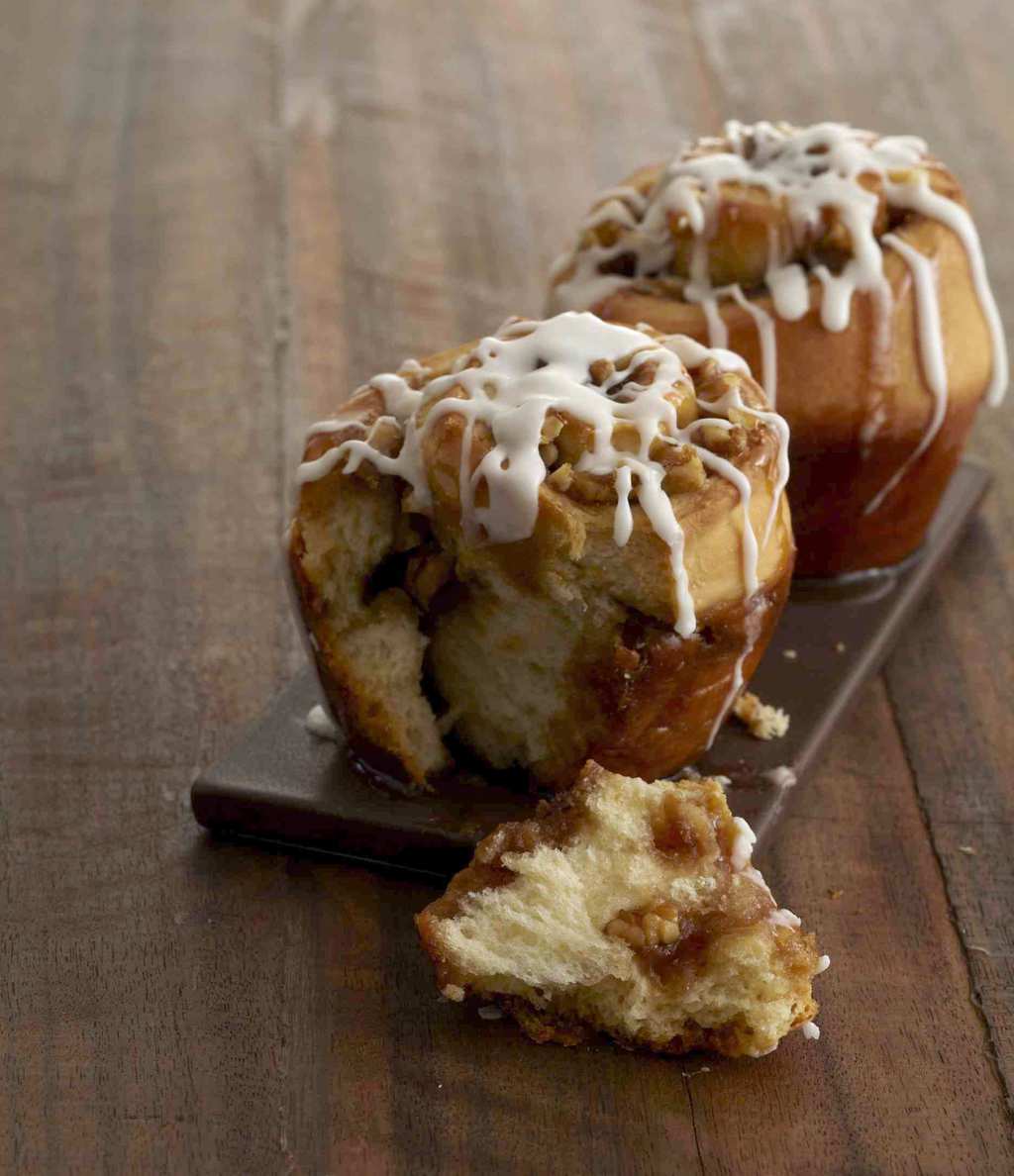 Here in New York City I have some of the best bakeries in the world outside my door. Artisan breads, flaky croissants and delectable pastries at my fingertips. And you'd better believe I take advantage of them, despite that I have to wear my chubby-clothes for a week afterwards.
One of my favorite pastries at some of these shops are the sticky buns. I had to figure out how to make a version at home! Usually they are a tender brioche-style dough, not too sweet and very buttery, with crunchy nuts doused in caramel.
The dough was fairly easy. It's a yeast dough, loaded with butter, enriching milk and eggs. One reason I say it is so easy, is there's no trick to this yeast dough. With all the rich ingredients it stays very soft and gets mixed completely in your mixer. You don't need to deal with a sticky mess on your counter, kneading by hand.
I kept everything streamlined and opted to buy caramel sauce instead of make my own. Guess what!? It's NBD (no big deal), it tastes amazing and cuts out about a million steps. I also can't leave well enough alone and wanted a unique, fun, morning flavor so I added maple to the recipe. Thank goodness I'm crazy like that, because dang! They are like a mix between my favorite pastry and a maple donut. Heaven.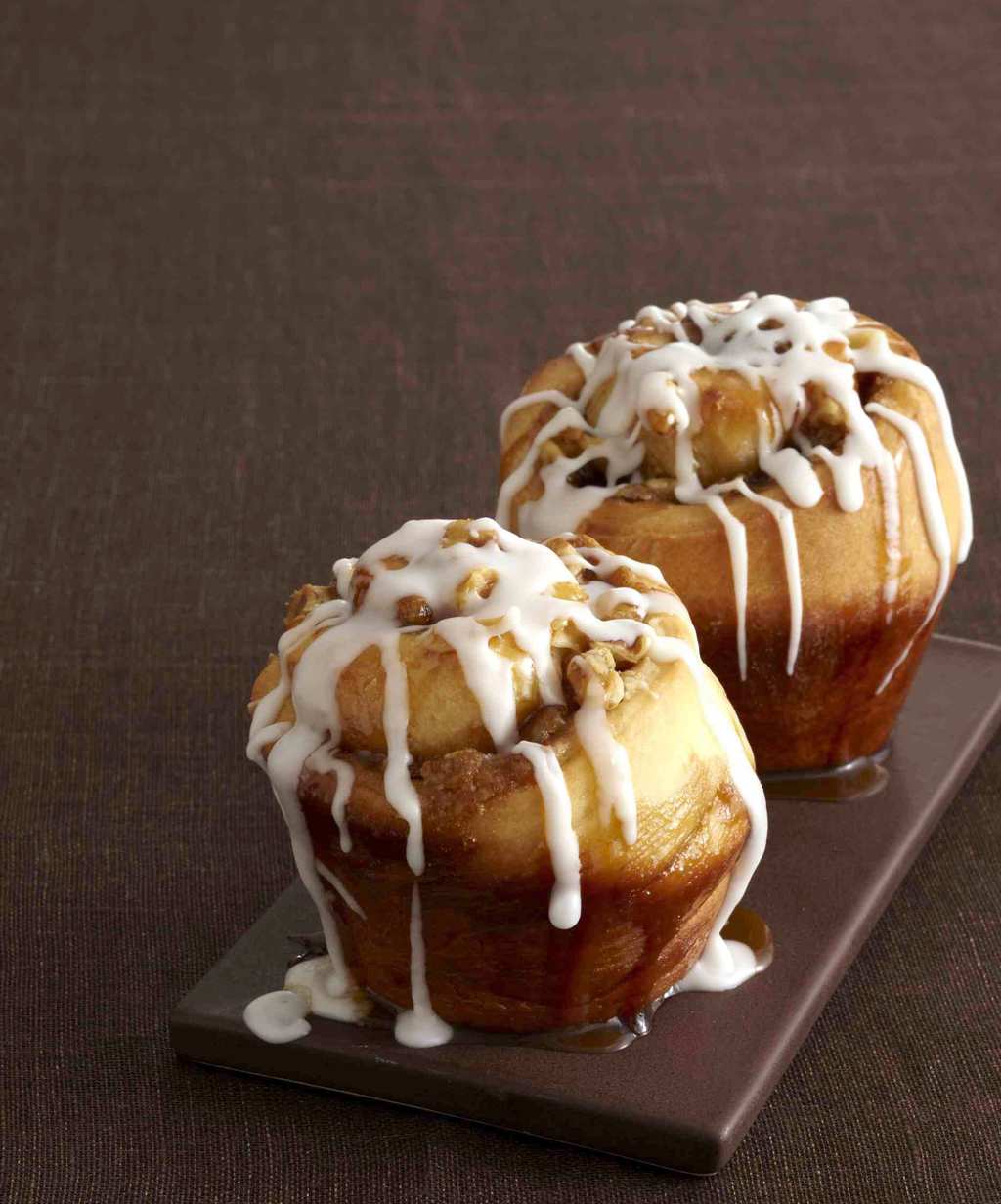 Genius really struck when I started experimenting with a make-ahead option. These babies freeze! You can make them large or standard size and freeze them unbaked for up to 3 months. Pull them out 2 or 3 hours before baking and bam! you have breakfast, brunch, or a little nibble for a baby shower spread.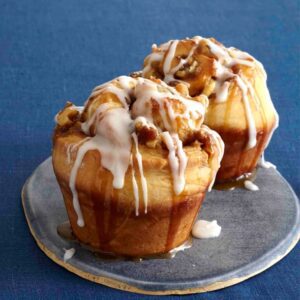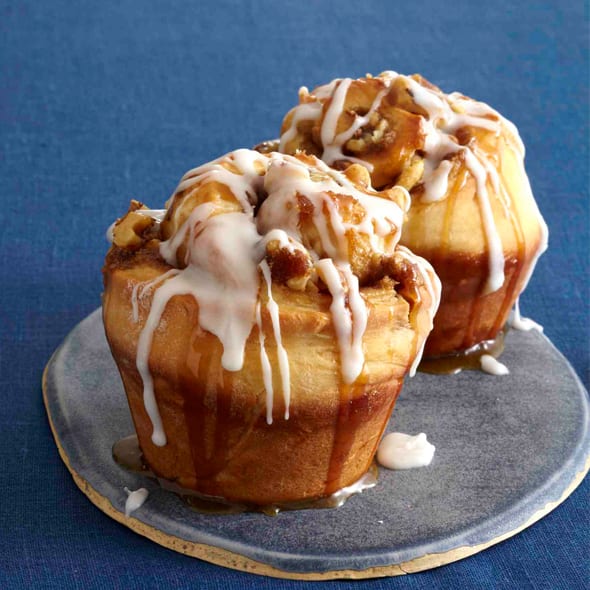 Maple-Walnut Sticky Buns
This recipe makes a dozen large buns so if you aren't serving a group, you can freeze some to bake later. To make smaller, standard-size buns for a crowd, see note at the end of the recipe.
Ingredients
1

cup

milk plus 2 tbsp

2

pkg

(1½ tbsp) active dry yeast

⅔

cup

granulated sugar

21

tablespoon

unsalted butter

softened

3

eggs

at room temperature

5⅓

cups

all-purpose flour

1¼

teaspoon

salt

3

teaspoon

maple extract

1

cup

packed light brown sugar

2

cups

walnuts

chopped

⅓

cup

caramel topping sauce

such as Smucker's

1½

cups

confectioners' sugar
Instructions
Scald 1 cup milk (heat to steaming). In a mixing bowl combine warm milk, yeast and sugar. Let yeast start to bubble, about 5 min.

Add 12 tablespoon butter and eggs to mixer and beat, with the paddle attachment, until slightly blended. Stir in flour and salt, about 2 min. Scrape down sides of bowl and continue mixing on medium speed to develop the dough, 3 min more.

Transfer dough to a greased bowl and cover with plastic wrap; set aside in a warm place and let rise until doubled, about 1 hr. Grease tow large-cup muffin tins. Melt 6 tablespoon butter and stir in 1½ teaspoon maple extract; set aside.

Gently punch down dough and divide in half. Roll into 2 12-by-18-inch rectangles on a lightly floured work surface. Spread maple-butter mixture evenly over both rectangles. Sprinkle each with half the brown sugar and walnuts. Roll tightly into logs, starting at the long edge, and pinch seams together. Cut each log into 6 3-inch pieces for a total of 12 buns. Place in muffin tins cut side up, cover and allow to rise for 30 min. Heat oven to 325°F Bake until golden brown, 28 to 30 min.

Combine caramel topping and 1½ teaspoon maple extract. carefully remove hot buns from pan and place on a clean baking sheet; drizzle with caramel.

For icing: Melt 3 tablespoon butter and stir together with confectioners' sugar and 2 tablespoon milk; drizzle over buns. Serve warm or cool. Store airtight for up to two days.
To make 18 standard-size buns:
Grease 18 standard-size muffin tin cups. Fill and roll dough as directed. Cut each log into 9 2-inch pieces. Place cut side up in muffin tins, cover and let rise 30 min. Bake as directed, 22 to 25 min.
To Freeze:
Prepare buns as directed, in either size. Do not let rise a second time; cover pan, freeze until solid, then keep frozen in pan or transfer frozen buns to a zip-to bag. To bake, thaw in pan and let rise at room temperature until double in size, 2 to 3 hr. Bake as directed.
Notes
These babies freeze! You can make them large or standard size and freeze them unbaked for up to 3 months. Pull them out 2 or 3 hours before baking and bam! you have breakfast, brunch, or a little nibble for a baby shower spread.
Nutrition
Calories:
8484
kcal
Carbohydrates:
1082
g
Protein:
131
g
Fat:
421
g
Saturated Fat:
177
g
Cholesterol:
1156
mg
Sodium:
3316
mg
Potassium:
2613
mg
Fiber:
33
g
Sugar:
543
g
Vitamin A:
8560
IU
Vitamin C:
3.1
mg
Calcium:
933
mg
Iron:
41.6
mg
If you are throwing a buffet event these rolls are perfect. You can also try my Spring Vegetable Ricotta Tarts and the luscious Raspberry French Toast Strata.
Delicious bread and quick-bread recipes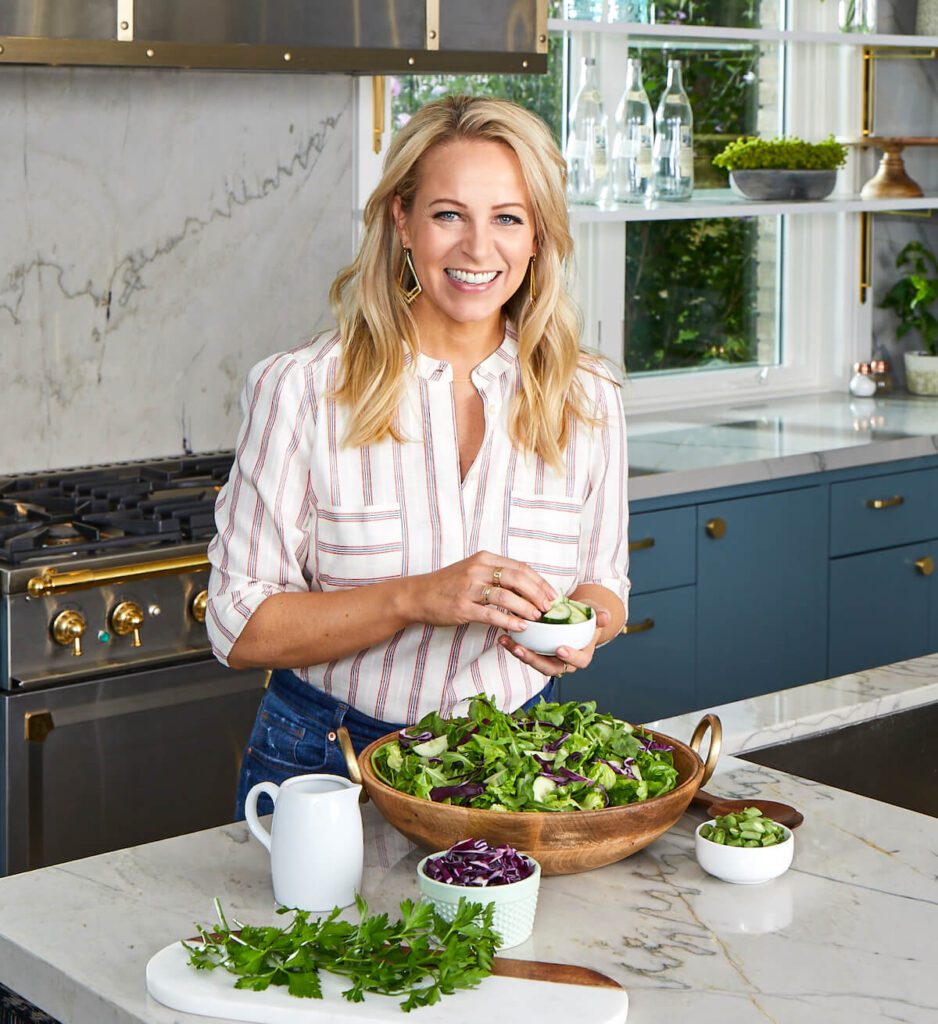 About Tara Teaspoon
I've been in the food publishing business for over 20 years, creating recipes & food-styling for magazines, books, television & advertising. Order my new cookbook & stick around for amazing things to eat.
Recipe by Tara Bench. Photographer: Lisa Hubbard. Food Stylist: Susan Vajaranant. Prop Stylist: Penelope Bouklas. Originally published in LHJ 11/11