---
Perfect pears fat free dessert is a glorious ending to a healthy meal. Sweet, caramely and creamy, it is satisfying and guilt-free!
---
I always need something sweet after dinner. And when I'm on a healthy kick, that usually means something less-than-satisfying. However, I've found a guilt-free, fat free dessert, caramelized, creamy and spiced-to-perfection treat that leaves me as happy as a clam!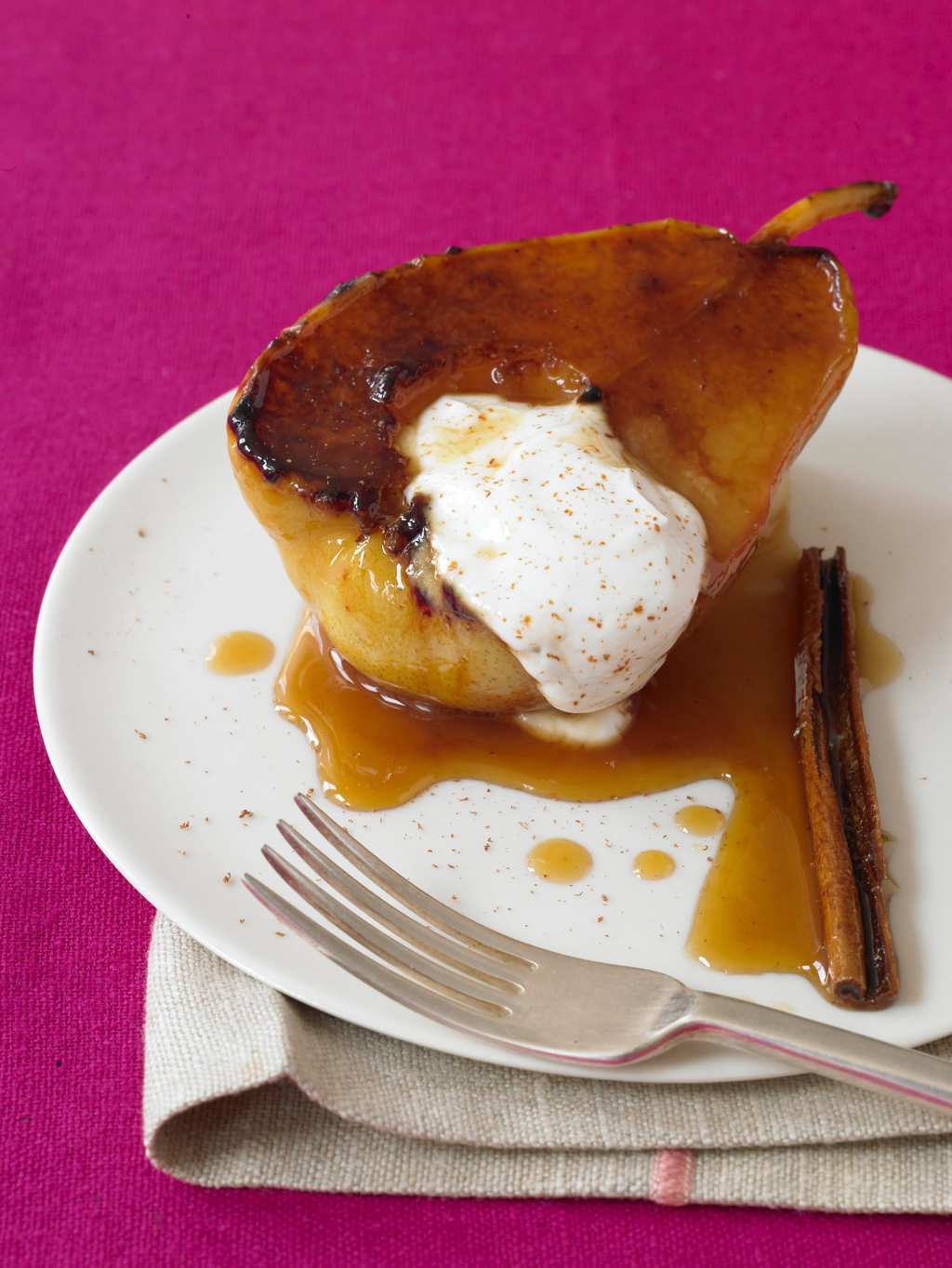 With just a few ingredients, fresh pears and a little skillet time, you have a treat that is all the decadence you need. Plus this is wintertime so pears are still delightfully in season and ripe to perfection.
What type of pear should I bake with?
I didn't specify what variety of pear to use in this perfect pears fat-free dessert, because any variety will work. It can be a crisp-sweet one such as Bosc, Seckel or Concord, or a soft, juicy Bartlett, Comice or Anjou. You choose whatever looks the best at your market. You'll feel healthy just looking at them!
Bosc, Seckel or Concord will have a bit more texture with this recipe because they aren't cooked for very long. The softer, juicy pears will be, well, softer and more tender. It depends on your preference. I really like making this fat free dessert with Bartlett pears.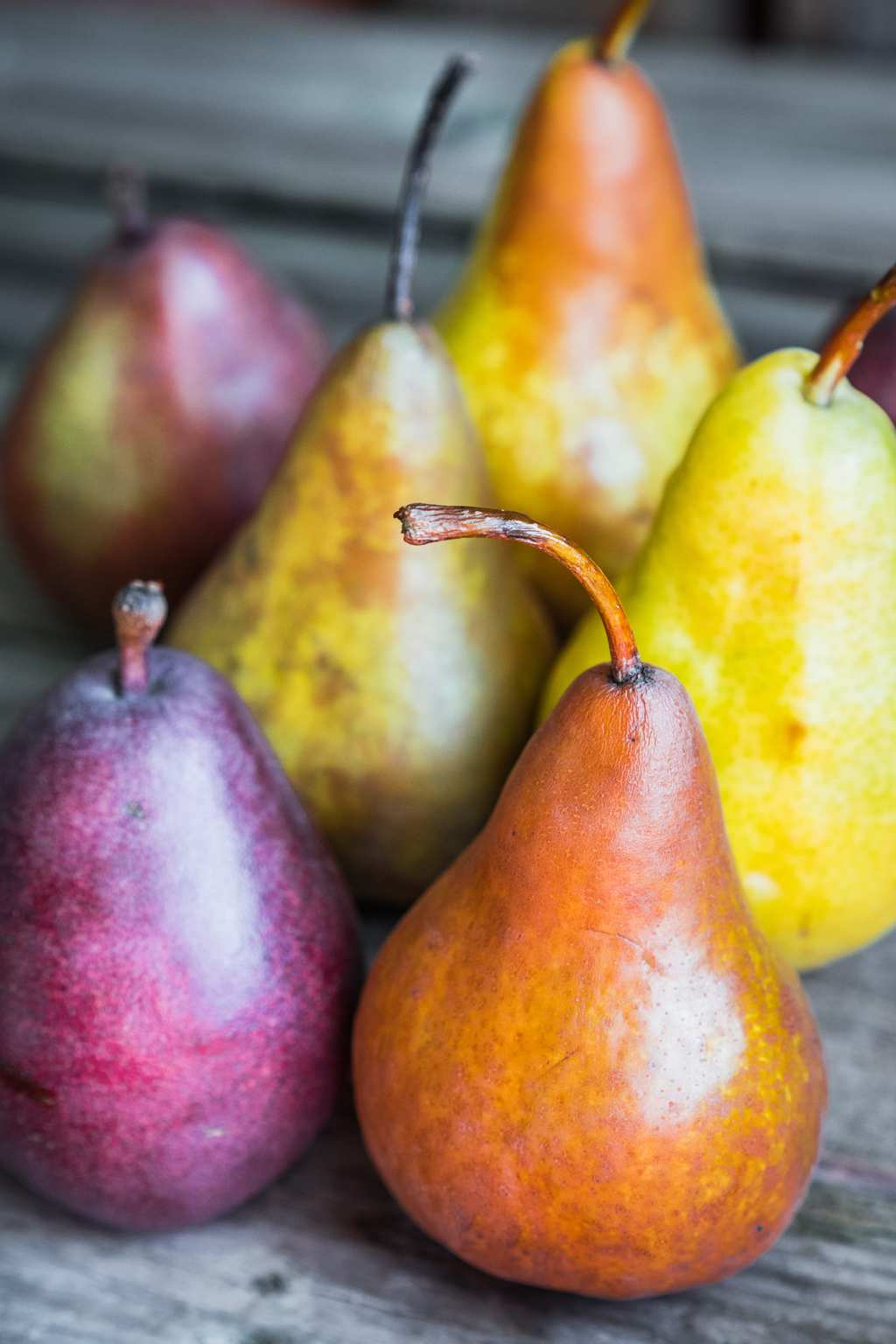 I mean, just last night I was eating my world-famous chocolate chip cookies for dessert and they were amazing! But folks, today is a new day. I am determined to be a little more fat-free for a while. Especially since a few members of the fam and I just started a diet contest. There is big money on the line, and I need to win!
Just knowing I have a perfect pears fat free dessert to look forward to gets me through my healthy salad!
How to make a healthy dessert:
To make a fabulous fat free dessert I sautéed the sliced side of the pears in a skillet with orange juice. Yes juice! The juice cooks the pears to a delicious softness, while the natural sugars in the juice and pear begin to caramelize as they cook. It also creates this caramel sauce to drizzle over the pears when you serve them.
Use a nonstick skillet of course. Teflon is fine and works, but make sure yours is scratch free. Throw away those scratched Teflon pans, they aren't healthy! I really like ceramic nonstick pans like this one from GreenPan. The ceramic doesn't scratch so I can use metal spatulas, and it's slick and slidey just like a nonstick should be.
Tasty fruit just wasn't enough, so I added a dollop of fat-free Greek yogurt. The creaminess is what my mouth needed and the tang of the yogurt, with the sweet of the fruit, is divine. Enjoy!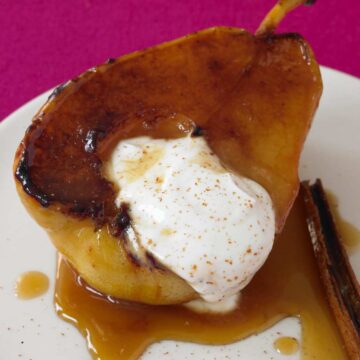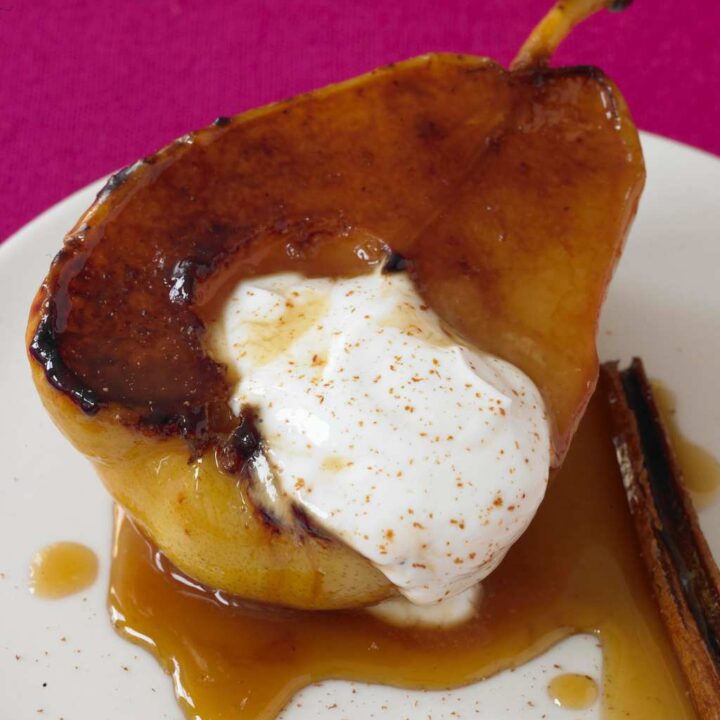 Perfect Pears Fat Free Dessert
Perfect pears fat free dessert is a glorious ending to a healthy meal. Sweet, caramely and creamy, it is satisfying and guilt free!
Ingredients
4

pears

1½

cups

orange juice

3

tablespoon

light brown sugar

Fat free Greek yogurt

Cinnamon
Instructions
Slice pears lengthwise and remove seeds with a spoon or melon-baller. Place pears, sliced side up, in a large nonstick skillet over medium-high heat with orange juice and light brown sugar. Cover pan with lid or aluminum foil and simmer until pears begin to soften, about 5 min. Remove lid, turn pears over and simmer another 2 min.

Heat broiler with rack 6 inches from heat. Line a baking sheet with foil; transfer pears, sliced side up, to pan and broil 1 to 2 min until caramelized. Continue to simmer juice in skillet, scraping sides with a spatula as needed. Reduce sauce until just thickened and about ⅓ remains. Serve pears with fat free Greek yogurt, cinnamon and sauce.
Notes
For a fun, seasonal swap, use mandarin or clementine juice in place of the orange juice.
Nutrition
Calories:
88
kcal
Carbohydrates:
22
g
Sodium:
2
mg
Potassium:
202
mg
Fiber:
2
g
Sugar:
16
g
Vitamin A:
115
IU
Vitamin C:
27.1
mg
Calcium:
17
mg
Iron:
0.3
mg
Just a little treat won't hurt! It really won't. It's all about portion control, and eating a balanced diet. So if your sweet tooth still strikes, here are some other favorites.
New dessert recipes from Tara Teaspoon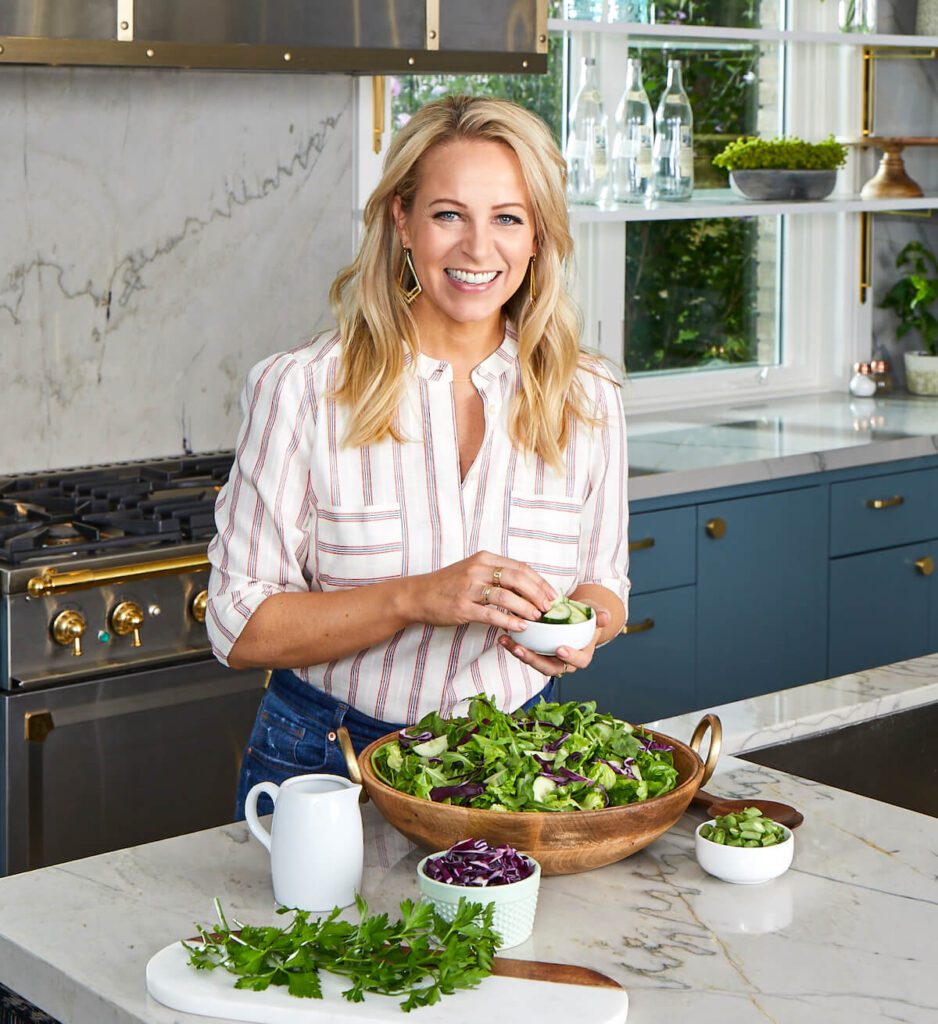 About Tara Teaspoon
I've been in the food publishing business for over 20 years, creating recipes & food-styling for magazines, books, television & advertising. Order my new cookbook & stick around for amazing things to eat.
Recipe by Tara Teaspoon. Photographs by Miki Duisterhof. Prop Styling by Jen Everett. Food Styling by Jee Levin. Originally published in LHJ 11/09