---
Sesame Chicken with Apple-carrot Slaw will make dinnertime oh, so easy and delicious. In-season apples are a mix of tart and sweet, crunchy and juicy. They go perfectly with its Sesame Ginger dressing. The whole family will love this simple fall dinner.
---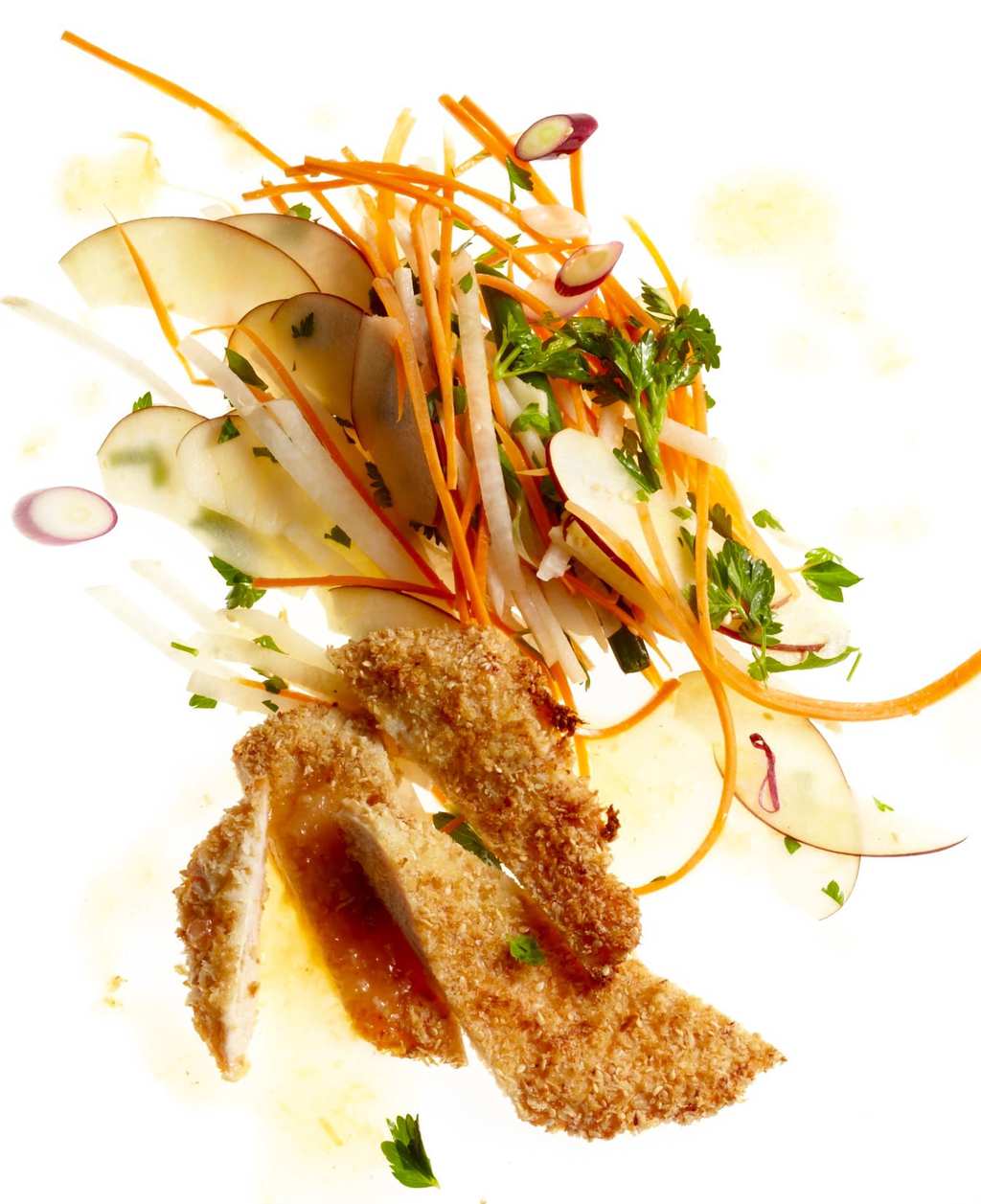 I love breading chicken with crunchy panko. Those Japanese-style breadcrumbs make for a perfectly crisp coating. I added sesame seeds into the coating for some fun variation to make it sesame chicken! Served with an apple, carrot and jicama salad, it's divine.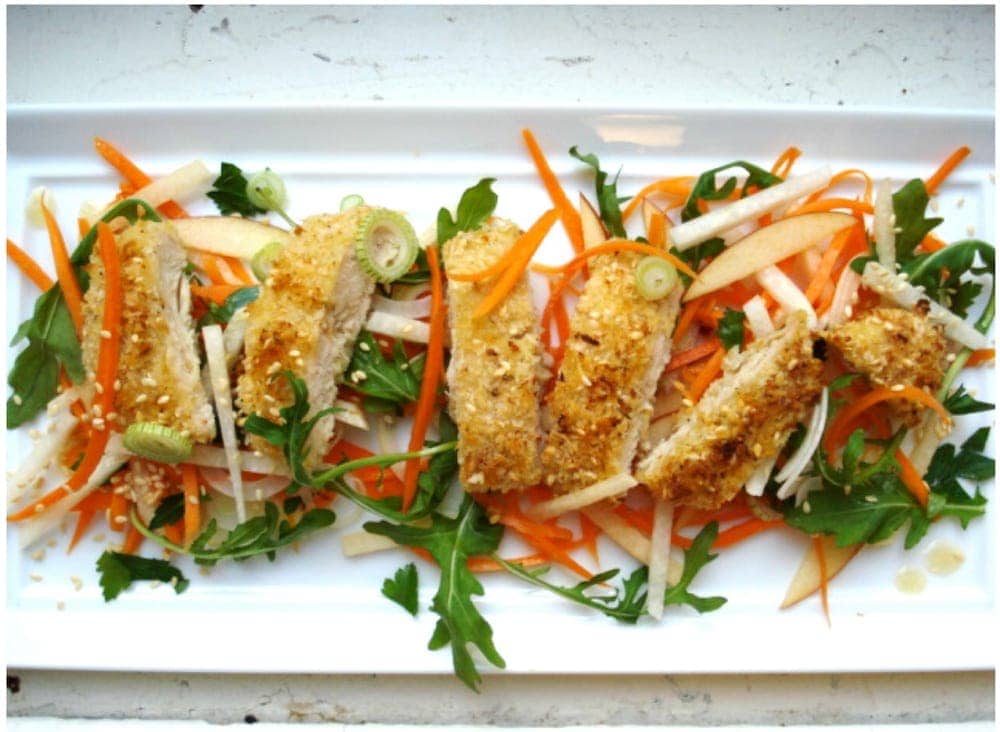 Fall is in the air for sure, but I still want summer-fresh dinners that aren't too heavy. Stews, soups and casseroles will come soon enough! This chicken is baked so it's even more light and healthy. No frying in oil and making a mess. (Although I often welcome that mess because it's equally delicious pan-fried).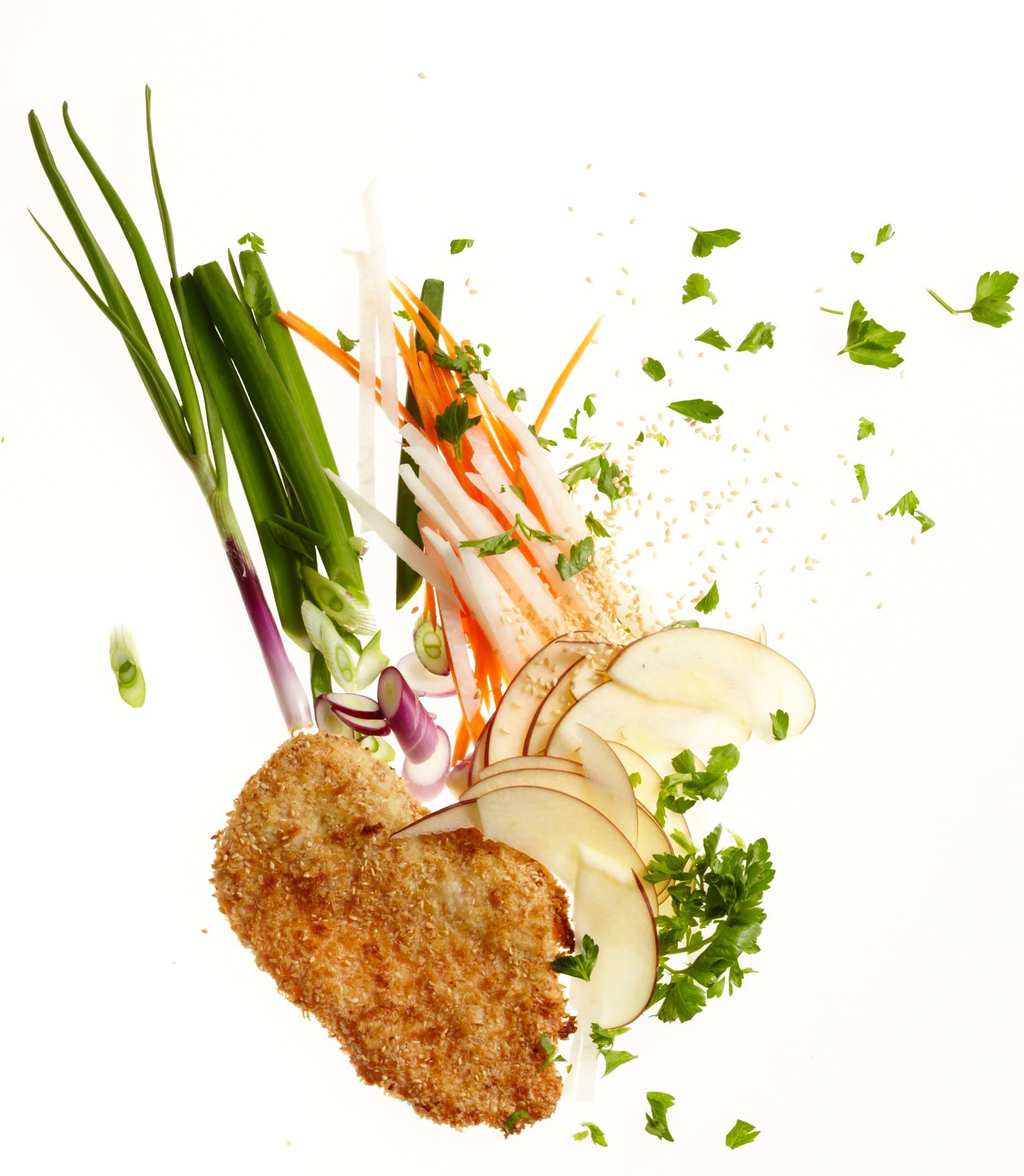 Simple ingredients like scallions, jicama, apples and carrots make the slaw. Now listen, I didn't slice and cut all of these with a knife. I used a mandolin. I like two kinds. One is this Japanese version and the other is a simple hand held version by Oxo.
At work we call the Japanese version by it's brand name. Someone will yell out "I need the Benriner!" and we know it's the mandolin. Before I figured that out I was always so confused at what they were asking for! LOL. Both work really well for making thin julienned strips and slices of veggies and fruits.
The kids may not be able to wield the mandolin just yet, but they'll have a blast helping with sesame chicken breading, and the older ones could make the Sesame Dressing by themselves! Speaking of the dressing - my favorite whisk for making vinaigrettes and dressings is a flat, u-shaped whisk.
Whisks like these fit right in the bottom of a bowl and there's less work involved and you stir together all of the ingredients.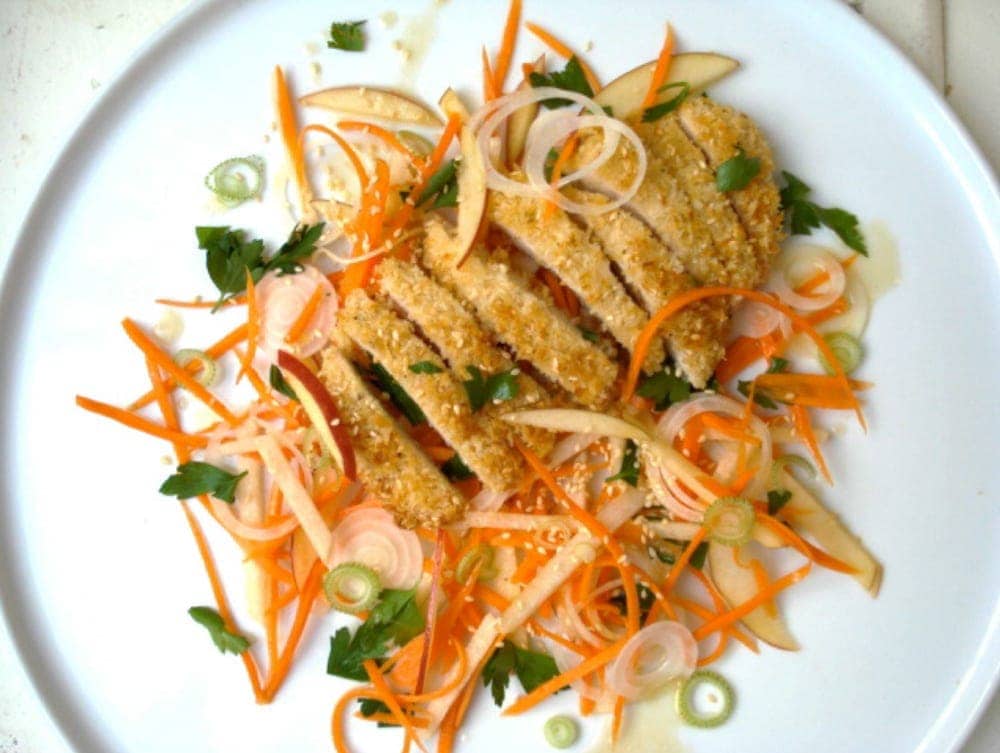 This is one of the images I took in the test kitchen when I was developing the recipes. I used shallots here instead of scallions. Later I changed it to green onions for variety with the other recipes in the story. Either way it's delicious and I want you to feel free to mix and match whatever you want into this crunchy apple slaw.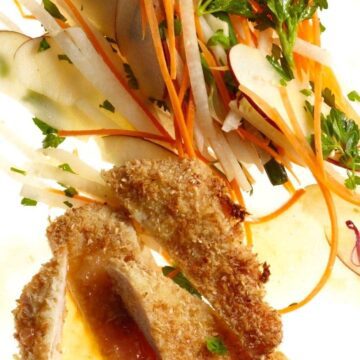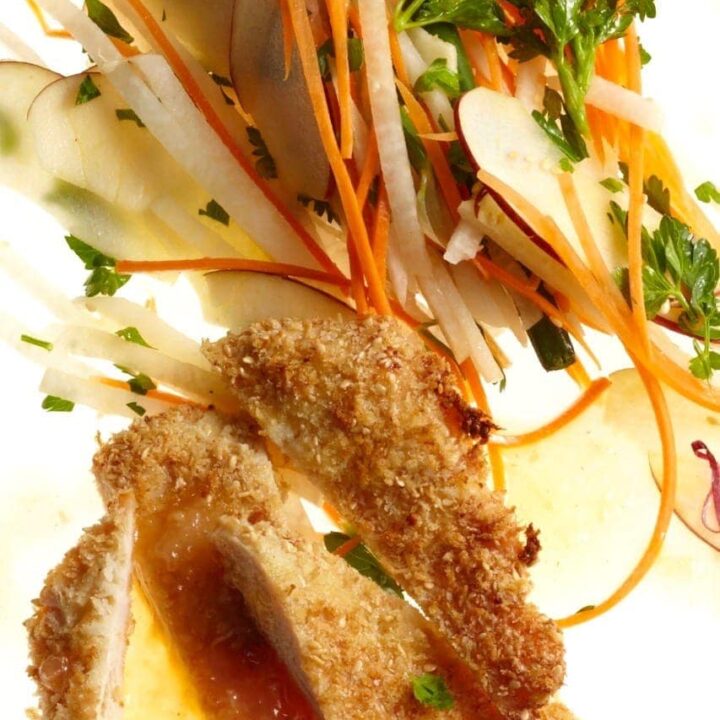 Sesame Chicken with Apple-carot slaw
The slaw is delicious, the chicken is tasty, but the sesame dressing is amazing! You may want to make double for a salad the next day.
Ingredients
1

cup

panko bread crumbs

3

tablespoon

toasted sesame seeds

plus extra for salad

¼

teaspoon

cayenne

2

teaspoon

kosher salt

1

tablespoon

melted butter

4

chicken cutlets

1

Red apple

2

medium Carrots

grated or julienned

2

Scallions

sliced

½

medium Jicama

peeled and julienned

⅓

cup

Flat-leaf parsley

chopped
Sesame Ginger Dressing
Whisk together:

1

teaspoon

grated fresh ginger

4

teaspoon

sugar

¼

cup

fresh lemon juice

5

tablespoon

canola oil

2

teaspoon

sesame oil

½

teaspoon

sriracha hot sauce.
Instructions
Heat oven to 400ºF. In a shallow bowl mix together bread crumbs, sesame seeds, cayenne, salt and butter. Dip chicken cutlets into beaten egg, then into panko mixture.

Bake on a foil-lined baking pan until golden and cooked through, about 12 min. Slice to serve with slaw.

Combine sliced apple, julienned or grated carrot, thinly sliced scallions, julienned jicama, chopped flat-leaf parsley and toasted sesame seeds for the slaw. Serve chicken on top with Sesame Dressing.
Notes
Using your mandolin makes for simple prep!
Main Dish Recipes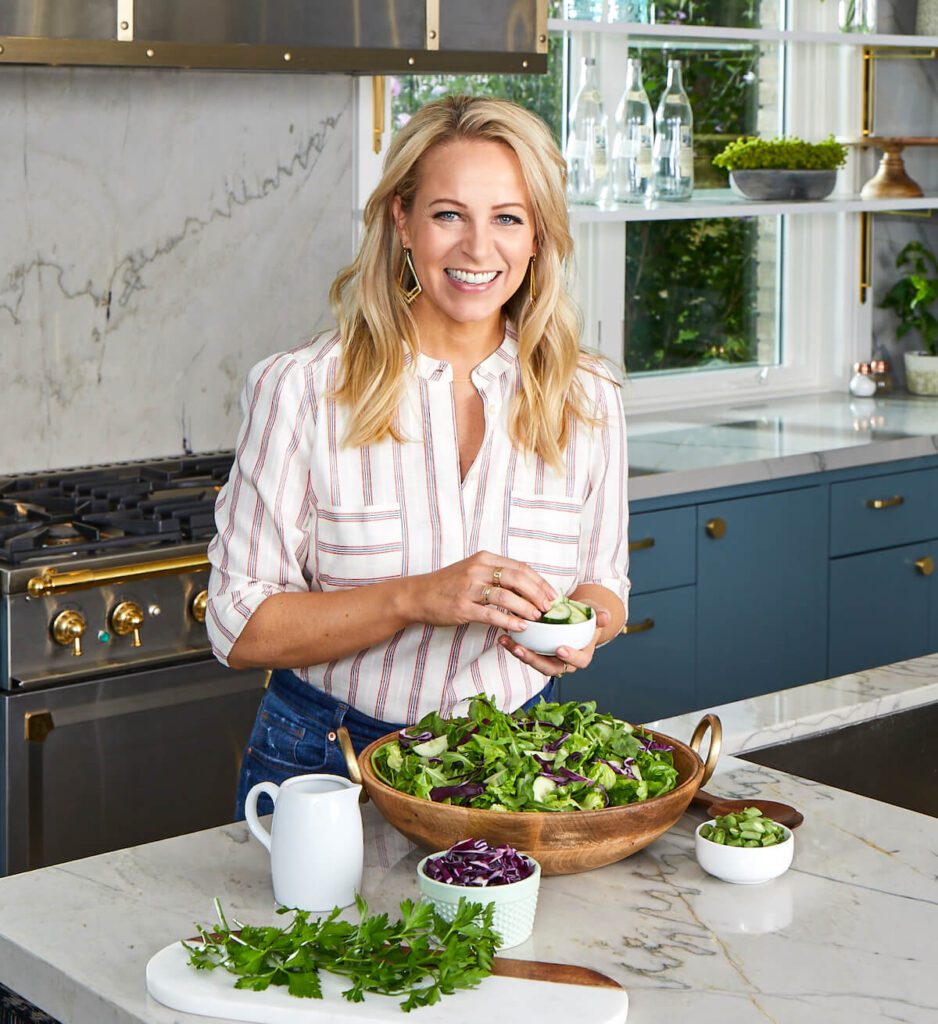 About Tara Teaspoon
I've been in the food publishing business for over 20 years, creating recipes & food-styling for magazines, books, television & advertising. Order my new cookbook & stick around for amazing things to eat.
Recipe by Tara Teaspoon, Photographer Yunhee Kim, Food Stylist Paul Grimes, Originally published LHJ August 2011