Surprise! This savory herb sauce isn't your standard fare. Sun Dried Tomato Pesto combines classic basil pesto flavors with tangy tomatoes.
Pesto, packed with basil and Parmesan, is summer's generous gift to my belly. Of course I eat it on pasta, sometimes with a splash of cream or ricotta–but I also spread it on my sandwiches, use it as a veggie dip and dollop it on my grilled meats. It's so versatile.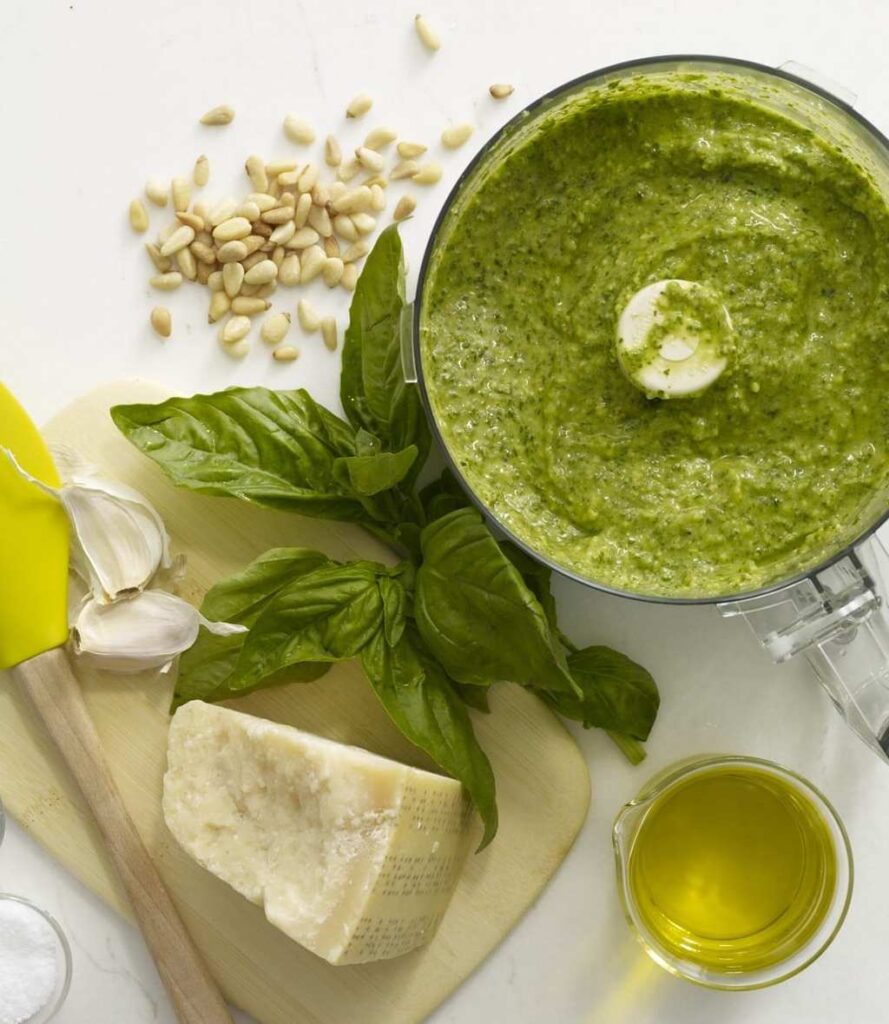 It's also easy to change up and mix up! I swap the Parmesan for other cheeses like Pecorino or Feta, replace the pine nuts with almonds or hazelnuts and even add olives, or in this case sun dried tomatoes!
You can use this pesto like you do the plain Jane kind, but the tangy tomatoes make it really tasty on grilled sausage or brushed onto fish.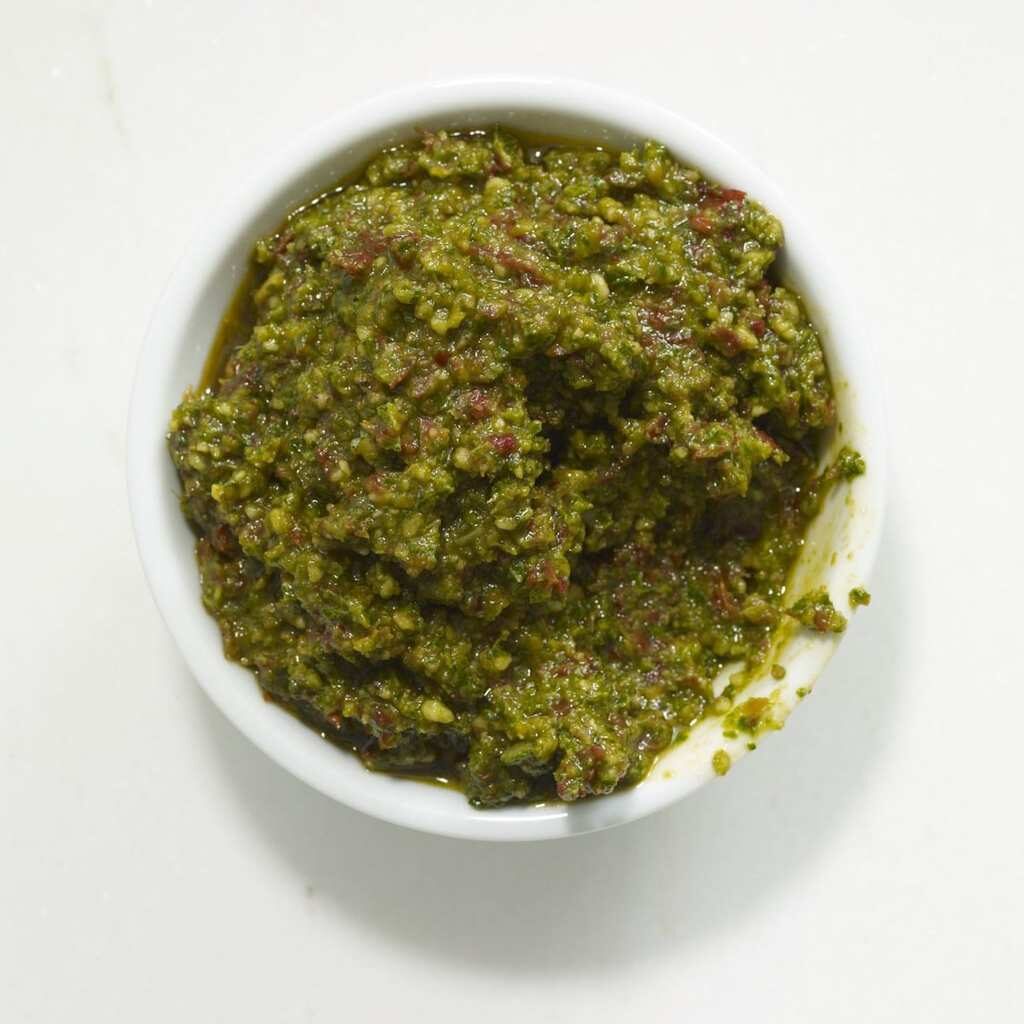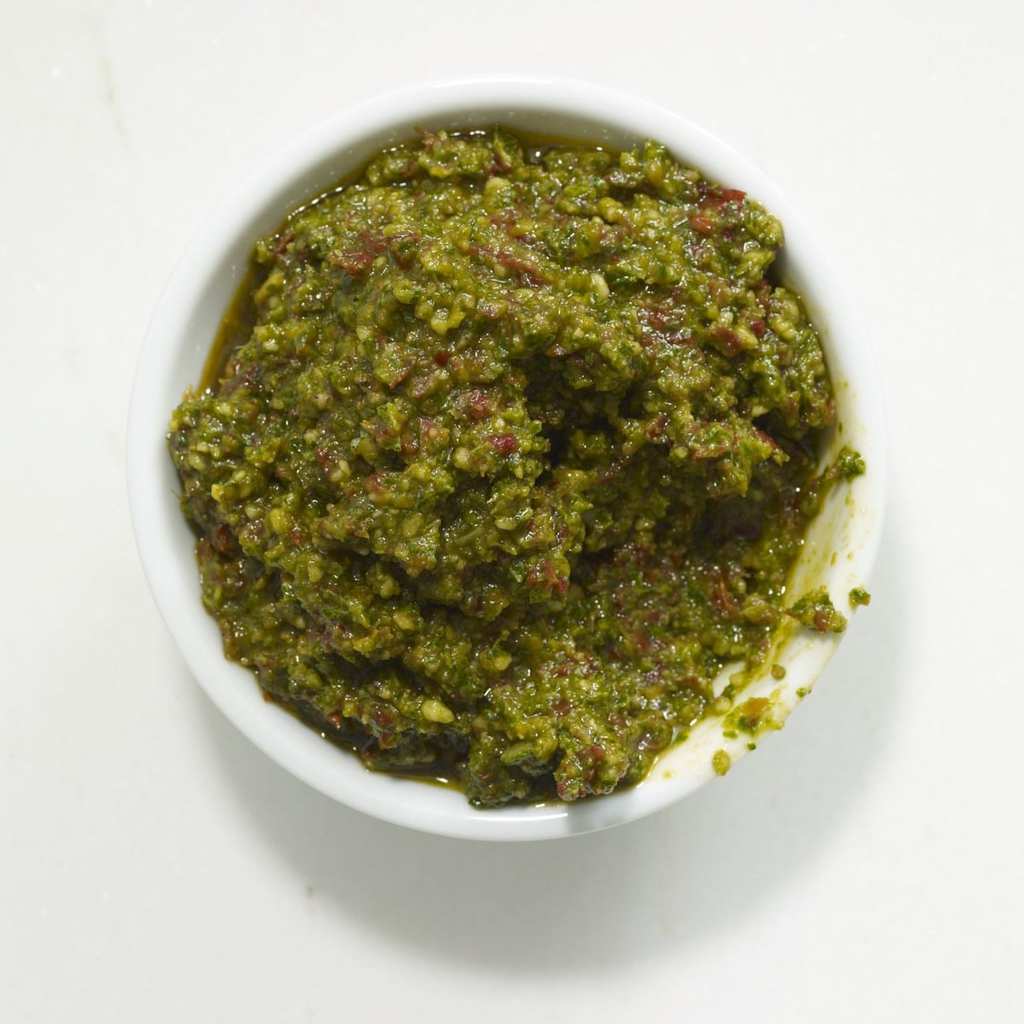 Look at that gorgeous sauce. The best part is pesto lasts and lasts in the fridge, even the freezer. Cover tightly and freeze for up to a month, or keep in the fridge, covered, for a week. If you are storing it in the fridge, keep it from oxidizing by pressing plastic wrap right on the top surface. This will keep air from getting in and prevent it from taking on odors from the fridge.
I kept the sun dried tomato pesto pretty close to my Classic Pesto, and just added tomatoes. I added a lot because I wanted the flavor to stand out from the strong garlic, Parmesan and basil. 1 cup did the trick. I like the tomatoes packed in oil (I use the oil in vinaigrette later!) because they are soft and easy to blend and chop. Some brands come vacuum-sealed and are very soft. Those would be great as well.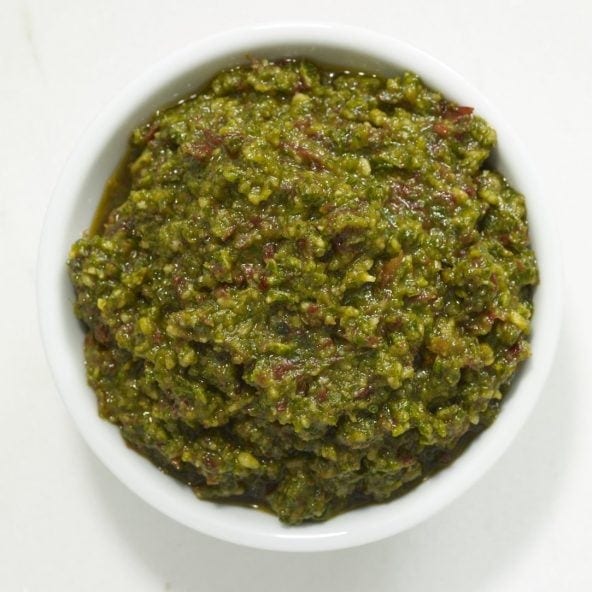 Sun Dried Tomato Pesto
Serve this over grilled sausage; it's also delicious on fish and pasta.
Ingredients
4

cups

packed basil leaves

1

cup

sun-dried tomatoes packed in oil

roughly chopped

3/4

cup

3 1/2 oz pine nuts, lightly toasted

1/2

cup

grated Parmesan

2

cloves

garlic

roughly chopped

1/2

teaspoon

kosher salt

1

cup

extra-virgin olive oil
Instructions
Combine all ingredients except the oil, in the bowl of a food processor. Pulse until the mixture is finely chopped. With the motor running, slowly pour the oil into the feed tube. Use immediately or freeze for up to a month.
Recipe by Tara Bench
Originally published in Ladies' Home Journal Aug 2010
Photography Antonis Achilleos
Food Styling Cyd Raftus McDowell
Prop Styling Paige Hicks